Weight plates make the bar heavier. Heavy bar makes strong human. Here is a breakdown of the best cast-iron weight plates for home gyms.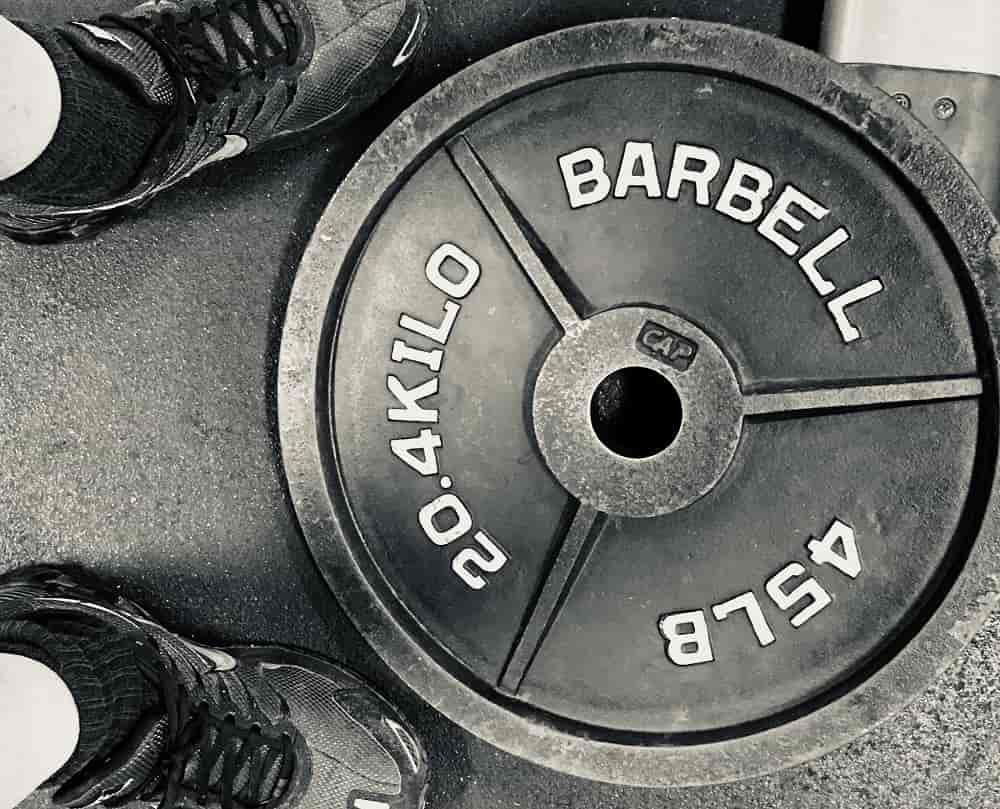 Weight plates are the unheralded stars of the show when it comes to building a home gym.
Even though other equipment tends to get more attention because of added features (power racks, glute ham developers, etc etc), at the end of the day, if you are lifting weights, you are lifting weight plates.
Big, heavy, cast-iron or steel plates.
In this guide to the best weight plates, we are going to breakdown the best of the "old school" weight plates, the meat and potatoes of any weight room, steel, and cast-iron plates.
?️ Looking for bumper weight plates? I've put together a detailed breakdown of the best bumper plates in this comprehensive guide.
There are a ton of different weight plates on the market.
There are three key things you should be on the hunt for:
? Weight plate variance. Even though the plate says "45lbs," this isn't always the case, especially with cast-iron plates. Some companies have a tighter variance (ahem, Rogue and Bells of Steel) than others.
? Center hole machining. This is another "huh, this is a thing?" that new home gym aficionados quickly learn—quality plates have a clean center-hole that is free of chips and snags that damage barbells and make it hard to slide the weights on and off the bar.
? Cost. With each weight plate we list the price of a 45lb plate to give you an idea of pricing for the range of the weight plate presented.
Okay, that's a lot of stuff for something as simple as a piece of molten iron.
Below is a breakdown of the best cast-iron weight plates on the market, including key features, price points, and much more.
Let's get into it.
Rogue Deep Dish Plates
⭐ Best cast-iron weight plate
An iconic design that harks back to the early days of powerlifting, Rogue's Deep Dish Weight Plates are cast of ductile iron in the USA.
Ductile cast iron is great as it the casting process produces a higher tensile strength and doesn't degrade and corrode in the same way as standard gray cast iron plates.
They are precision machined, which gives them a more accurate weight compared to other cast-iron plates (Rogue guarantees them within 3% of stated weight). The plates are covered with an e-coat finish that is thinner than powder coating also results in a cleaner, smoother finish.
Key features:
Rogue's Deep Dish Plates are available in four different sizes, from 25lb all the way up to 100lb (that's not a typo!). The 100lb plate is nearly 3 inches wide.
Made in the USA
Accurate to within 3% of stated weight
Price for a pair of 45lb Rogue Deep Dish Cast-Iron Plates: $155 (Shop @ Rogue)
One complaint is that the design of the plates changes from 45lbs to 35lbs. In terms of function, this doesn't really matter, but when you are spending a bunch of money to outfit a killer home gym aesthetics to fit into the equation.
It would be nice for the plates to have an even look, but again, if this is something that matters deeply to you, it is something you should be aware of.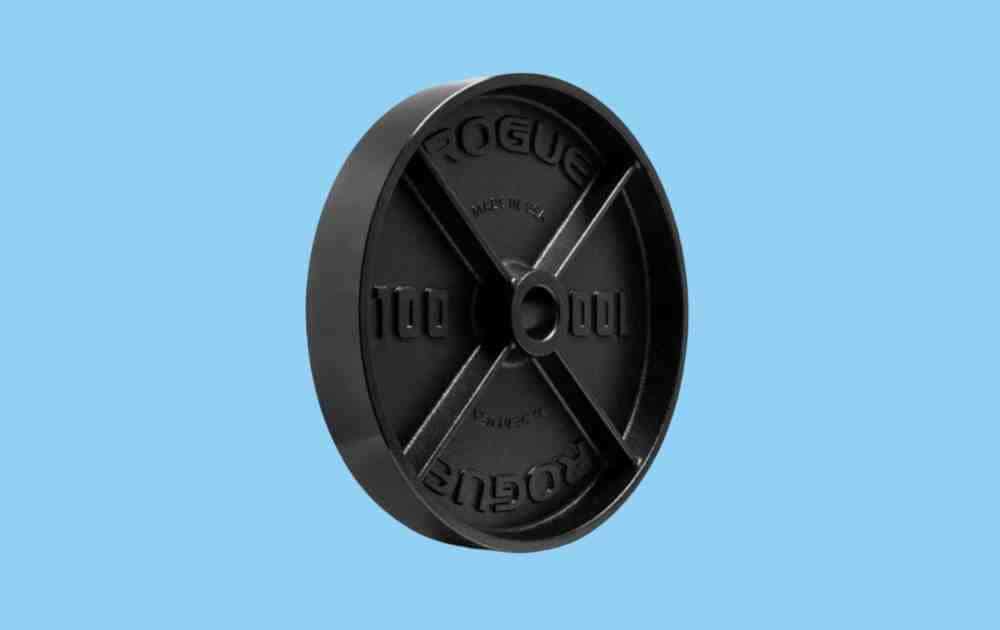 Bells of Steel Machined Iron Weight Plates
⭐ Most accurate cast-iron plate when it comes to stated weight
I will say right off the bat that this is a bit of a biased review. Kaevon, the founder of Bells of Steel, and I used to kick it back in the day when we both worked at the same bar. Solid doorman, even more of a solid human!
Anyhoo.
I've been a big supporter of his stuff, and my reviews are fair (I pay full retail for everything I get) and honest. Whether it's Bells of Steel's wall ball, weightlifting drop pads, or their adjustable weight bench, regardless of being pals, I love BoS's stuff and their customer service is far better than most fitness companies I've dealt with.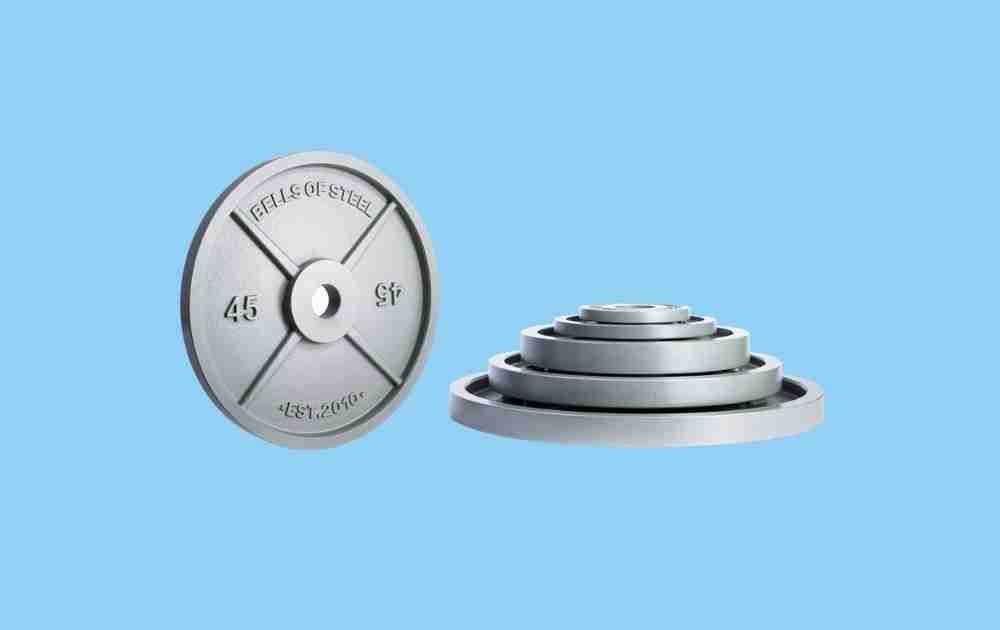 Bells of Steel's Machined Iron Weight Plates are among the best on the market. The design of the plates is exceedingly simple, with the poundage listed the BoS logo rocking the at the top.
In terms of accuracy in weight and dimensions, you won't do better. BoS guarantees the plates to be within 2% of actual weight, which is significantly better than most of the generic weight plates that litter Amazon, and more importantly for lifters who are stacking lots of plates on the bar, the center hole is precision drilled for exactly 50mm.
Price-wise, a pair of 45lb plates will run you just under $200. You can also save a bit of money by buying a full set that includes their full range of weights, from 2.5lb to 45lb (605lbs total) for around $1,300.
The price might not stop you in your shoes, but Bells of Steel offers free shipping on their weight plates, which can be a massive cost saver, and they also offer additional discounts on orders of over 1,000lbs.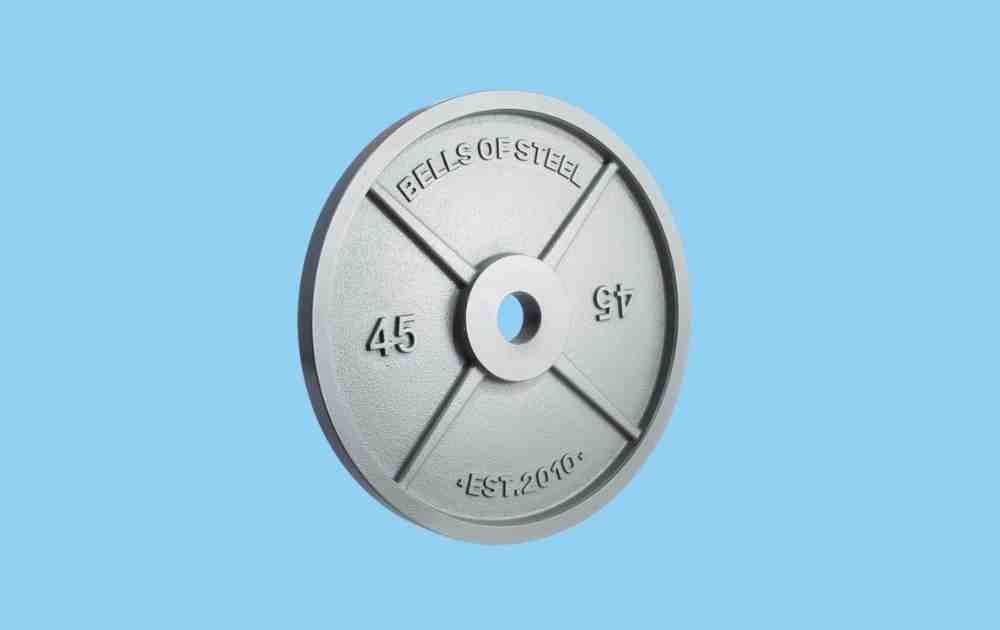 CAP Barbell Olympic Weight Plates
CAP Barbell has been absolutely crushing it since Covid swept the planet in the spring of 2020, sending everyone and their mother scrambling to buy home gym fitness equipment. CAP makes low-cost gear, including Olympic barbells for home gyms, rubber hex dumbbells, trap bars, and much more.
CAP Barbell's Olympic Weight Plates are your classic cast-iron plate, with a slight lip, two-inch diameter hole for Olympics bars, and an enamel shell that has been baked onto the surface of the plate to protect it from chipping and corroding.
These plates are available in a wide range of weight options, from 2.5lb all the way up to a bar-bending 100lb plate. CAP Barbell sells them individually or in pairs.
Amazon reviewers tend to love them, piling up a staggering 1,500 five-star reviews and counting, but the reviews were far from flawless. Some reviewers did note that the center hole wasn't machine cut properly and others note that weight variance far exceeded what is typical with weights like this.
Like a lot of different kinds of fitness equipment, it's hard to get your hands on a pair, with Amazon frequently out-of-stock (check Amazon for current stock and pricing).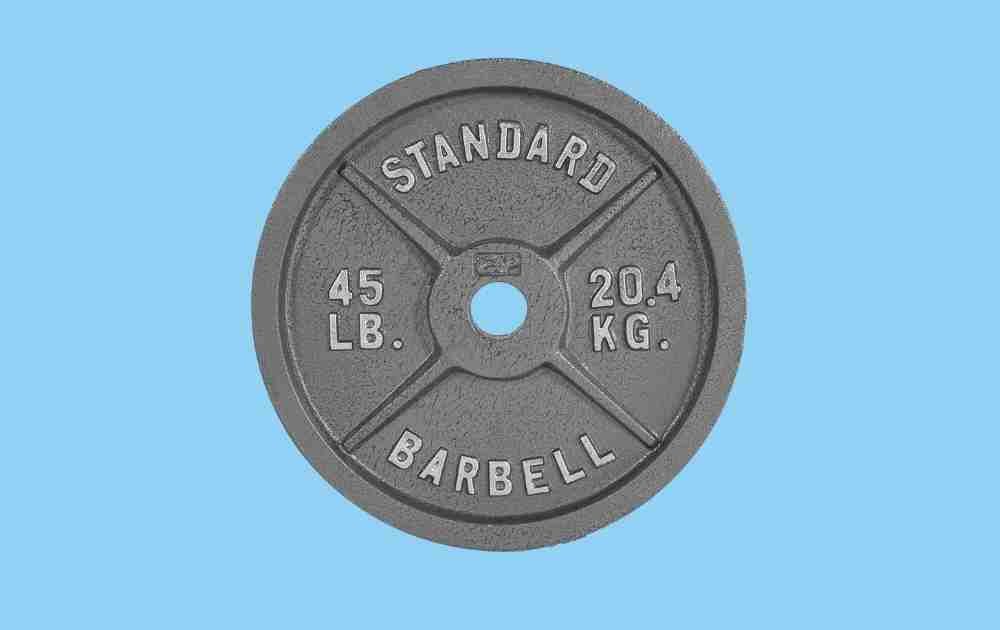 HulkFit Cast-Iron Weight Plates
HulkFit is another one of the budget fitness equipment companies that pumps out low-cost equipment for outfitting your home gym. I'm a big fan of their half squat rack and power rack with lat pulldown.
HulkFit makes cast-iron plates for both Olympic (2") and standard (1") bars. Like the CAP Barbell plates, these are made of solid cast-iron and coated with enamel to extend the life of the weight plates.
One feature that makes these stand out is the three handles on the plate that makes it significantly easier to load and unload the plates from your bars, store them, or even use the plates as a weight (i.e. doing Russian twists while gripping the handles).
HulkFit sells these individually, with a 45lb plate costing just under $90 (check Amazon for current pricing and availability).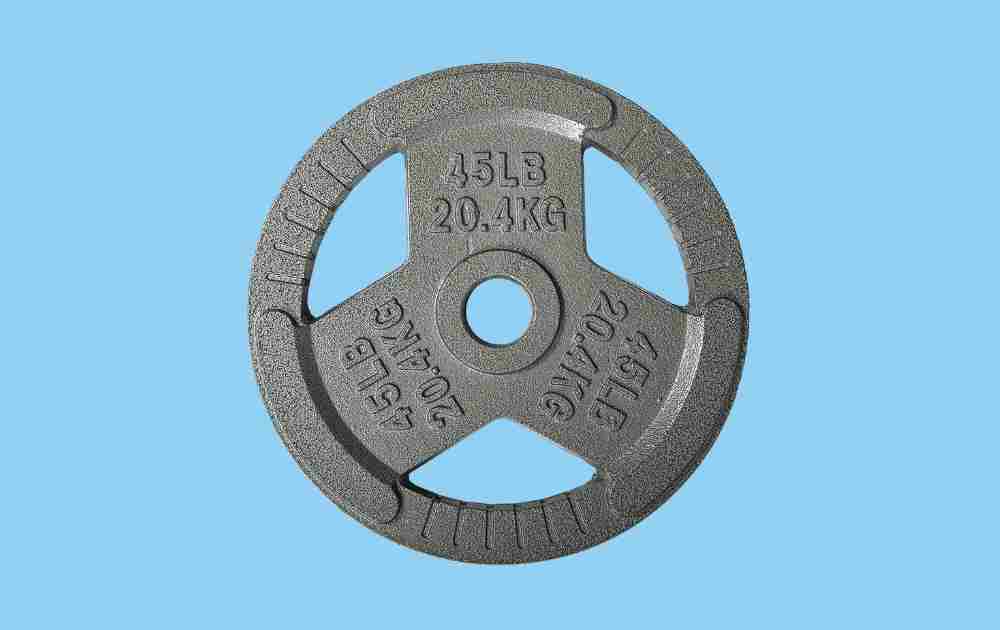 Synergee Olympic Steel Weight Plates
Synergee is a lesser known company that makes excellent stuff. The current barbell on my squat rack is a Synergee bar. I've consistently liked and raved about this little Canadian company's stuff.
Their Olympic steel plates have a 2" opening, have a sleek black matte finish (which looks sexy, let's be honest), and is plainly marked in lbs and kgs on the plate. Thickness of the plates are 1.4", which is thick enough that you can properly grip the discs when loading and storing them.
Synergee sells these bad boys in single, pairs, and a set (of 160lb). For a pair of 45lb plates, you are looking at $199, which is a little pricier than the other plates on this list (check Amazon for current pricing and shipping options).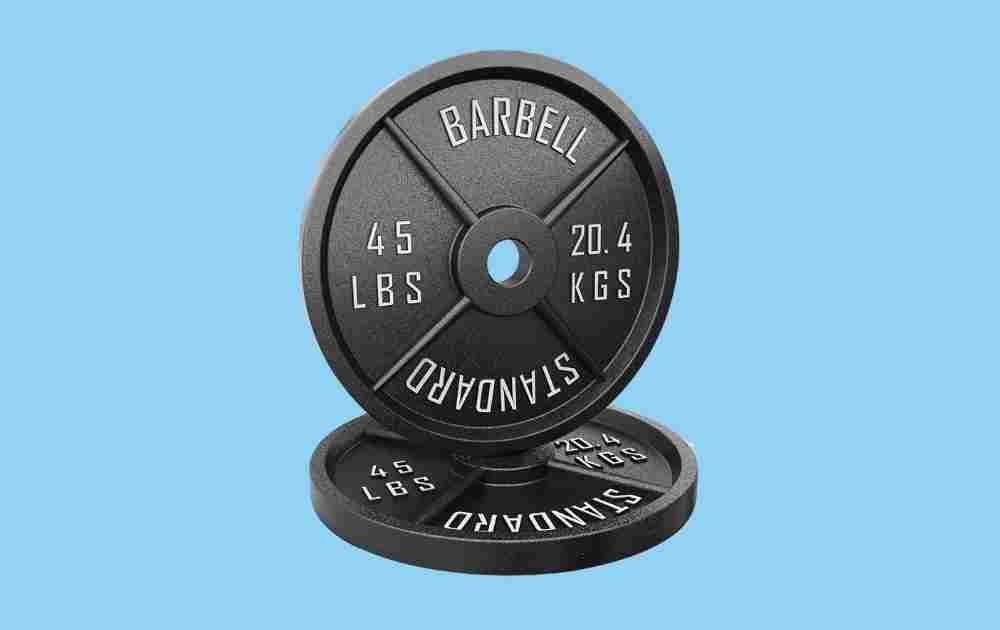 Daneli Olympic Weightlifting Iron Plates
Weight plates are simple tools. Put them on the bar. Make the bar heavier.
That's it.
The Daneli Olympic Weightlifting Iron Barbell Weights does this job. A machine drilled hole that is 2" wide slides easily onto an Olympic barbell. The disc is painted with an enamel finish for extra durability and to protect the weight plates, no matter how often you clang and bang in the gym.
Daneli sells these in a range of weights, from 2.5lbs up to 45lbs. Be wary when ordering about whether you are ordering a single plate or a pair—a handful of reviewers noted that they'd made this mistake when ordering.
Cost-wise, Daneli is very low-cost, with a 45lbs single plate costing just under $100 (check Amazon for current pricing and stock availability).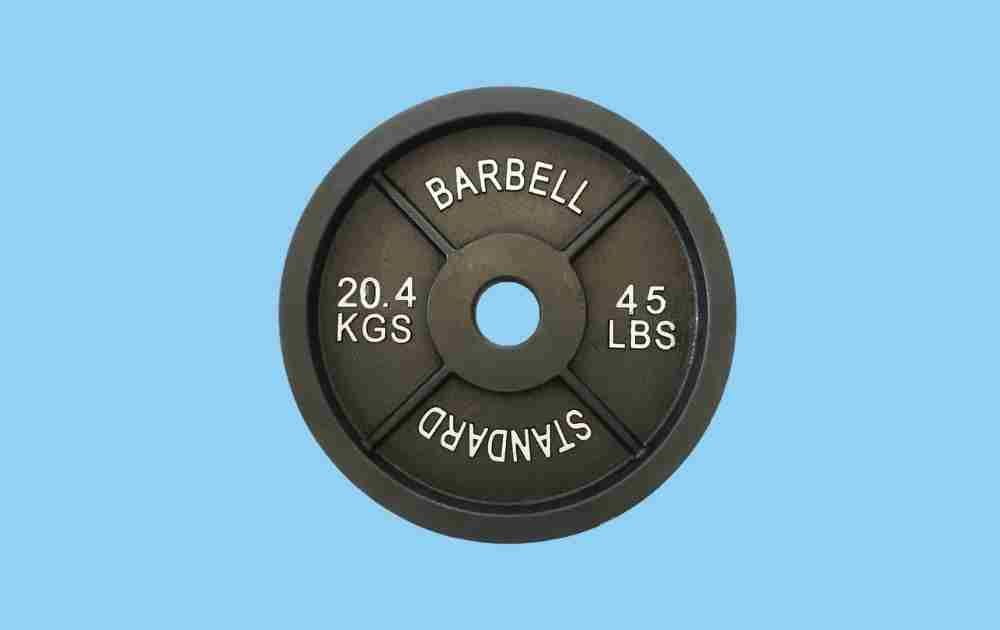 See also
5 Best Bumper Plates for Sale in Canada. For people who live in the Great White North, here is a look at the best bumper plates that are in stock for Canadians.