The right j-hooks protect your bar, protect your squat rack, and help you lift with more confidence. Here's a look at the best j-hooks for leveling up your squat rack and lifting.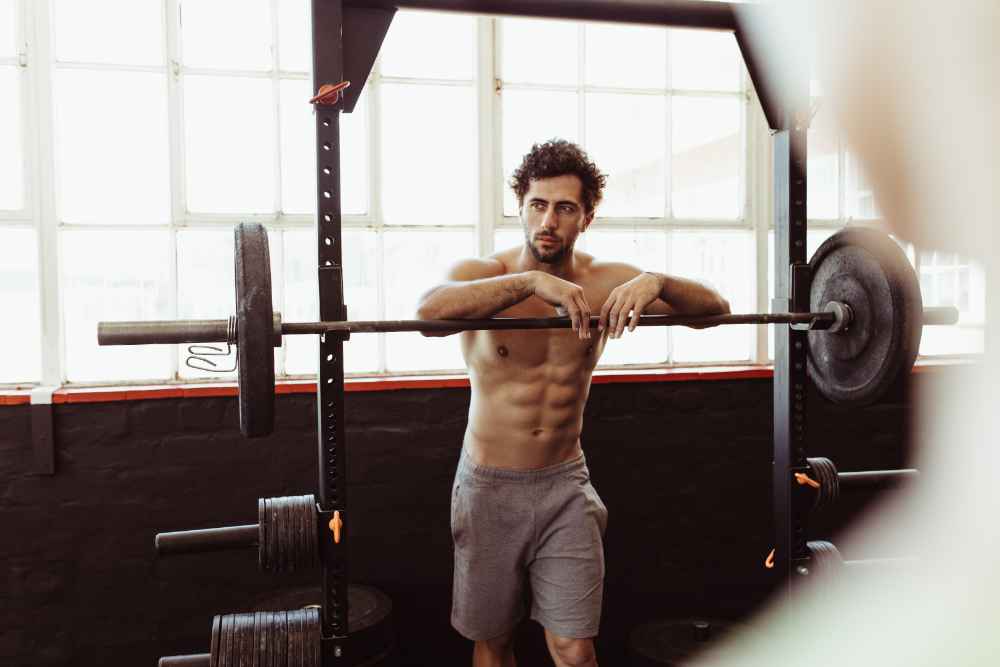 You've taken the plunge on purchasing a power rack for your home or garage.
Excitedly, you unpack the rack, bolt it together, and quickly realize that the hooks or pegs they've shipped with the rack are poorly built, too small, and frankly, you don't trust them with a barbell.
That's why it's so important to level up your j-hooks.
They hold your barbells in place, protect your expensive Olympic and powerlifting bars, and help you lift with more confidence.
Fortunately, there are plenty of excellent options for quality j-hooks.
In this guide, we are going to break down what you need to know before buying, which ones are the best j-hooks on the market (for both 2×2 and 3×3 racks), and more.
Let's get right into it.
How to buy the right j-hooks for your rack
Even though the function of the almighty j-hook is relatively straightforward, there are some key things you need to know before choosing the right set for you.
Size.
The most important thing to check before investing in a pair of j-hooks is knowing the size of the steel tube frame of your squat rack. Most of the low-cost racks are made with 2" by 2" steel uprights.
Premium racks, like the ones you might find at your local commercial gym or the racks sold by companies like Rogue and REP are made with 3" by 3" steel tubes.
Lockable.
Most j-hooks slide and lock into the holes on your tube. For added security, some hooks also have a tightening mechanism.
I've found that this kind of screw knob—you tighten the screw locking the hook into the tube—is frequently unnecessary, but some lifters might appreciate this added level of sturdiness.
Rubber or plastic padding.
Barbells are not cheap. If you've spent time reading my guides on the best powerlifting barbells or the top Olympic barbells you know that they can quickly get pricey.
But you can extend the life of your barbell with some basic care, including using a proper barbell holder for storage between workouts and using power rack accessories that are rubberized or coated with plastic to protect the bar's knurling during drops.
Quality j-hooks have a strip of protection on the hook to soften the impact of the barbell.
Yes4All J-Hooks Barbell Holder
⭐ Best 2×2 j-hooks for squat racks
Yes4All makes low-cost equipment for home and garage gyms. They are one of the more popular sellers on Amazon, offering quality adjustable dumbbells, weightlifting drop pads, tricep ropes, and more at affordable prices.
The Yes4All is a well-priced (around $30 on Amazon) way to level up the barbell holders on your power rack. Made of 11-gauge steel, and designed for racks with 2" by 2" steel tubes, these j-hooks are easy to attach to the rack and are rated to hold up to 1,000lbs.
An 8mm rubber pad protects your bar and the hook is long enough (2.5" of rackable space) that there is wiggle room to rack the bar after a big set.
When you combine the price, the construction, and rubber padding, the Yes4All is a killer choice for upgrading the hooks on your rack.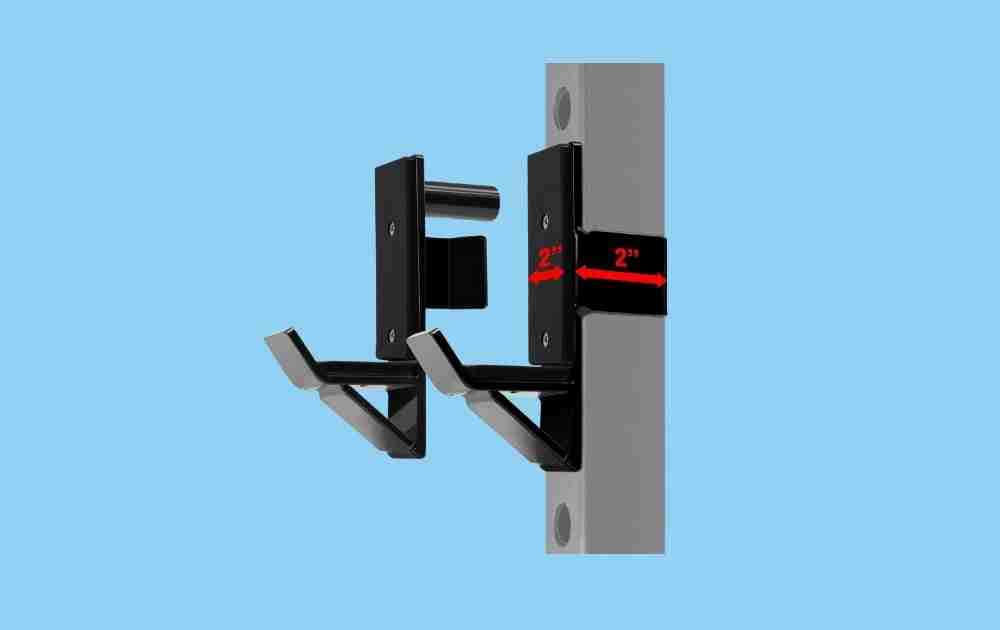 ---
Fitness Reality Steel J-Hooks
Another pair of j-hooks that are designed specifically for 2" by 2" frame power racks, the Fitness Reality Steel J-Hooks are rated for up to 800 pounds. Rubber padding on the hooks protects your bars and they are easy to twist and lock into place as needed.
There are two things they could improve with these J-hooks.
First, the loadable area isn't very big, which means you need to be extra attentive when racking your barbell, and the upright part of the hook isn't coated with rubber or plastic, which can lead your bar to get chipped and scratched if not racked carefully.
The Fitness Reality Steel J-Hooks are a low-cost option, retailing for around $30 on Amazon (check here for current pricing and availability).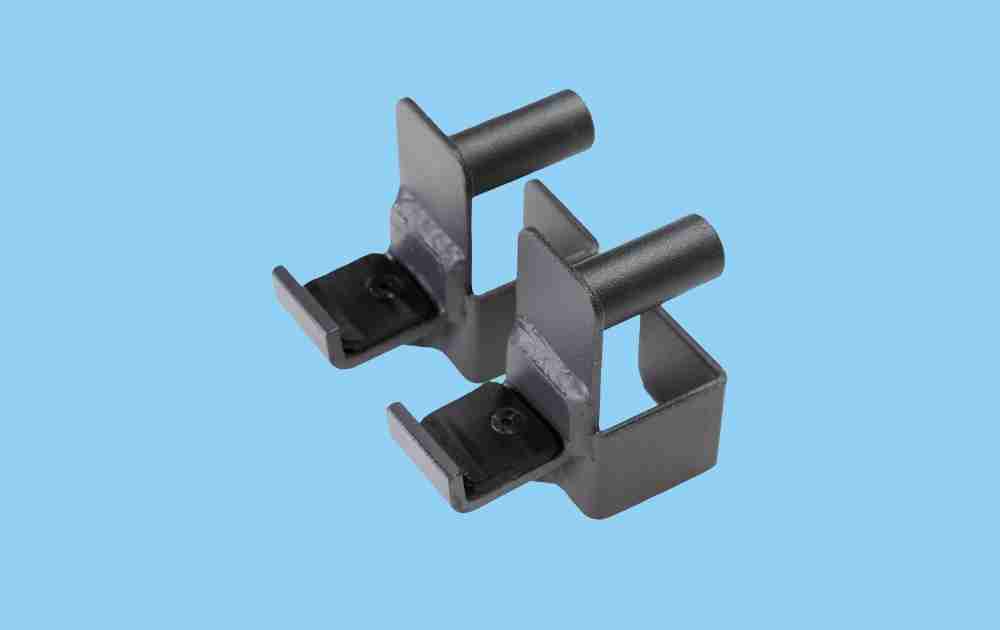 ---
Rigers J-Hooks
Want j-hooks that provide max protection for your bars? Look no further. The Rigers J-Hooks have padding along the entirety of the hook, including the lip, the base, and the upright.
This means no matter how tired you are at the end of the set and how sloppily the bar gets returned to the rack, it's going to land on rubber. Although the rackable area on the hooks isn't as large, the extra padding makes up for this.
The Rigers J-Hooks also have a screw and lock mechanism on the back to really lock the hooks into place on the rack. The hooks are offered for racks with 2×2, 2×3, and 3×3 steel tube construction.
But here's the catch. (Ain't that always the case…)
While the Rigers J-Hooks excels in almost every area, from price to customization, they are very frequently sold out and hard to come by (check Amazon for current availability).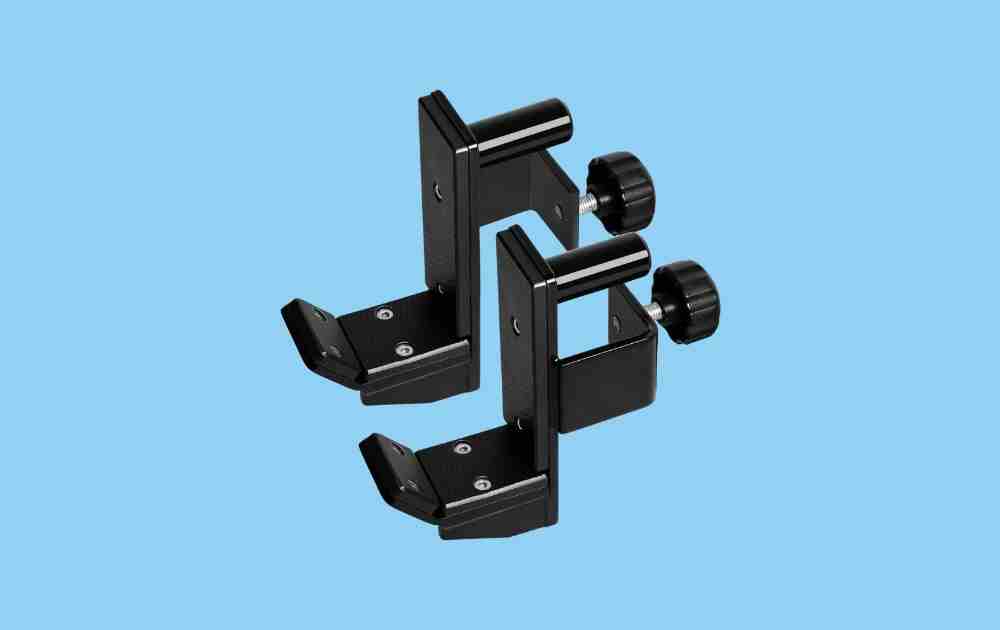 ---
Yes4All J-hooks for 3×3 Squat Racks
⭐ Best low-cost j-hooks for 3×3 squat racks
For the full-sized squat rack enthusiast, you want j-hooks that are tough and can handle the best you have to offer with your workouts. Yes4All's 3×3 J-Hooks bring it with a 6mm steel construction.
Built specifically for squat racks with 3" by 3" steel tubes (and 5/8" or 1" holes), these hooks have two rubber lining pads on the base and along the upright to keep your barbell in good shape.
Rated for up to 1,000lbs of weight, the Yes4All hooks also come with a removable tightening knob (not really necessary—I've gotten by fine without it setting 450+ pounds into the hooks).
They are priced significantly cheaper than the premium j-hooks on the market, with Amazon retailing them for around $55 (check Amazon for current pricing and availability).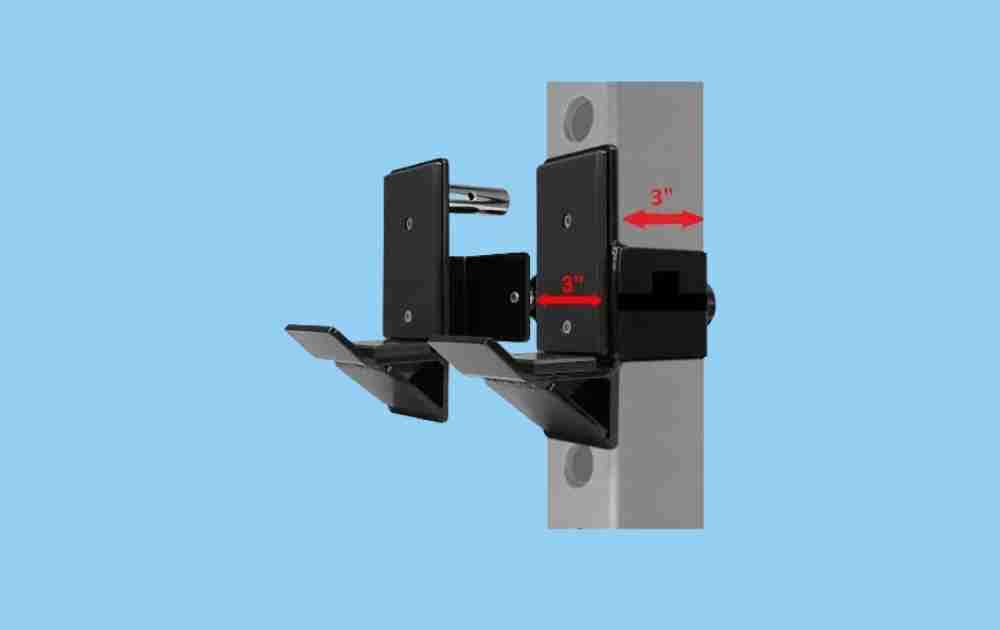 ---
XII:XI Fitness Barbell J Cups
There is a lot to like about these j-cups. Made in the United States, the XII:XI Fitness Barbell J Cups have a more forgiving front lip for racking the barbell. (This is known as a "sandwich style" hook.)
The hooks are fully lined with UHMW plastic, protecting your bar no matter how gracefully you return the barbell to the cups, and with a 1,000lb weight rating you know they won't give up on you.
Designed for 3" by 3" squat racks, XII:XI Fitness guarantees them for life. While a little pricier than the Yes4All hooks (just over $100 on Amazon—check here for current pricing and availability), you can rest easy that no matter what point of contact your bar is making with them, the barbell is protected.
XII:XI is one of my favorite small-brand strength training companies–they make excellent squat wedges, too–and for those who love this form of J-cup, you can't go wrong.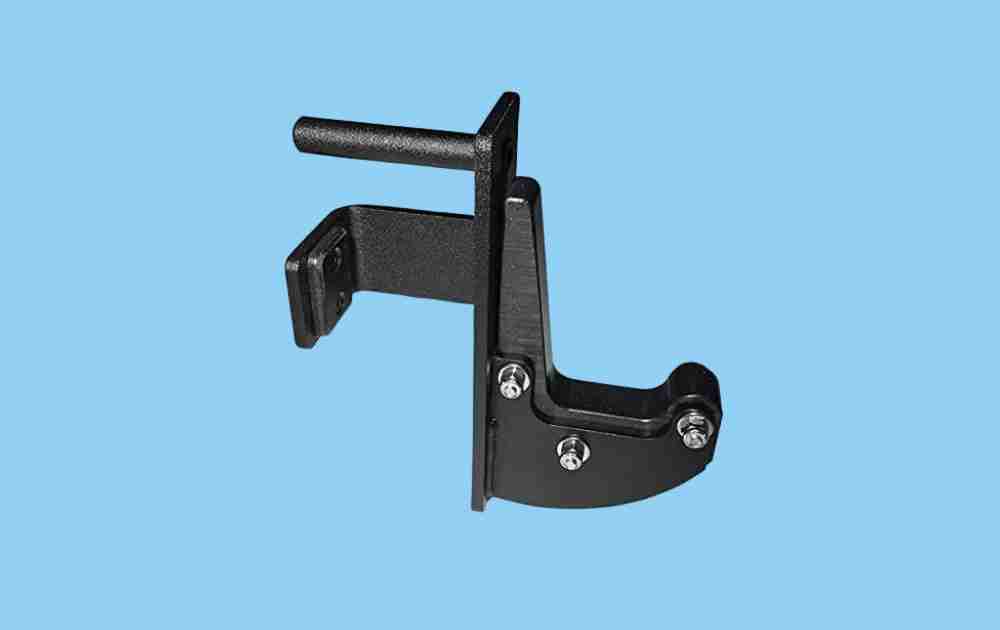 ---
Rogue Monster J-Cups
Rogue's squat racks are some of the best on the planet when you consider price, quality, and the fact that countless athletes inform their design and construction. Rogue heavy-duty gear for home and commercial gyms.
The Monster J-Cups, designed specifically for 3" by 3" squat racks, come in three different widths. The widest of the three, the Monster Standard J-Cups, have a rackable width of 3 inches, giving you plenty of room to set down the barbell between sets.
The Monster J-Cups are sold in pairs, are extremely tough, and the rubber and plastic along the cup will protect the knurling on your Rogue barbell while also making it easier to rack and unrack the weight.
These j-hooks are not cheap, with a pair of the Monster Standards costing around $260 (check Rogue's website for current pricing and availability), but once you've had a taste of Rogue's superior workmanship and build quality you will understand why people like me fanboy so hard about their gear.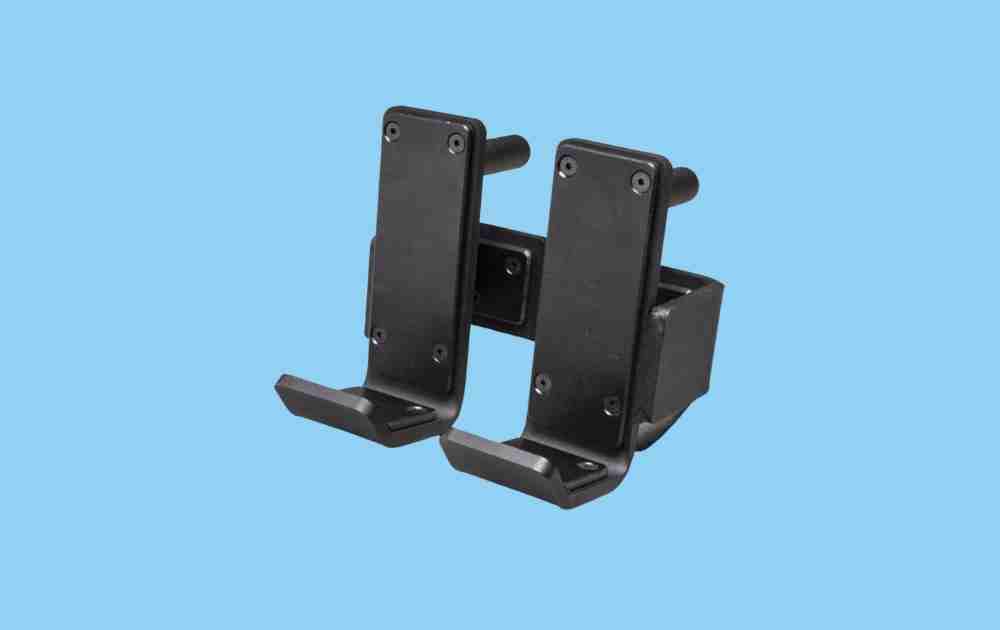 ---
More Accessories for Your Squat Rack and Home Gym
There are lots of ways to truly pimp out your squat rack and home gym. Below are reviews and buyer's guides of some of my favorites.
Best Landmine Attachments for Home Gyms. Read on for a breakdown of the different kinds of landmine attachments and find the best one for your home gym.