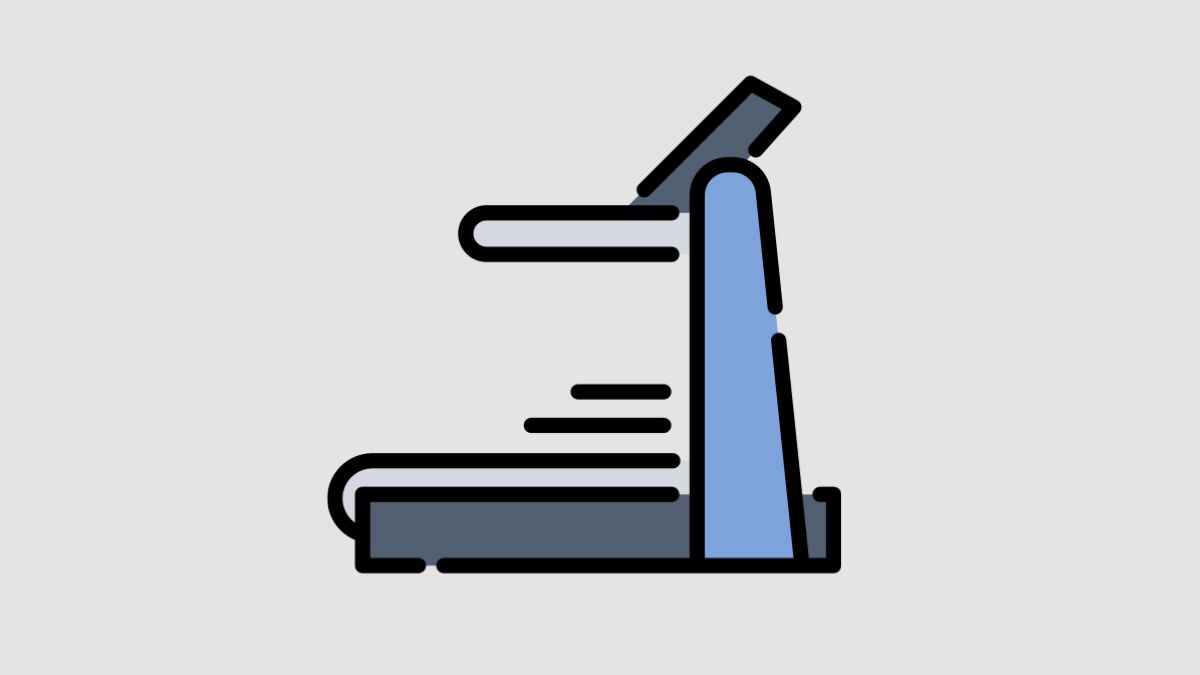 The treadmill is easily the most popular of all the cardio machines, both at regular gyms and for use in home gyms.
After all, what other machine can deliver such a functional workout that is so easily adapted to a wide variety of terrains and speed settings? Treadmills are also an absolute boss for torching calories and increasing cardiovascular health.
But if you don't have space in your home for another machine and you've got to make do with those already in your gym, then it's important to know which of the various cardio machines make a suitable alternative to the treadmill.
Below, we'll look at all the best treadmill machine alternatives, looking at the pros and cons of each and comparing how they stack up against what is arguably the "king of cardio machines."
By the time you finish reading this post, you'll have a much clearer idea of which machine is your top pick to replace your treadmill.
Let's jump in.
How to Choose a Treadmill Machine Alternative
It's pretty tough to argue that there are better machines to get in a kickass cardio workout than the treadmill.
On the treadmill, you can walk for an easy workout, jog or run to push the pace a bit, or even full-on sprint to max out calorie-burning and build explosive power. No matter how you use it, you're guaranteed to see results when training on the treadmill.
But if you don't have space in your home gym (or gym setup budget) for yet another machine, you'll want to know which machine is the right alternative.
Here are the crucial factors to keep in mind when considering other cardio machines:
⭐ Equal (or Better) Calorie-Burning
We all know that treadmills are easily among the best cardio machines for burning calories—and I mean serious calories!
Running is one of the best exercises for torching calories (and burning fat), and no other exercise can burn as many calories-per-second as a full-on sprint.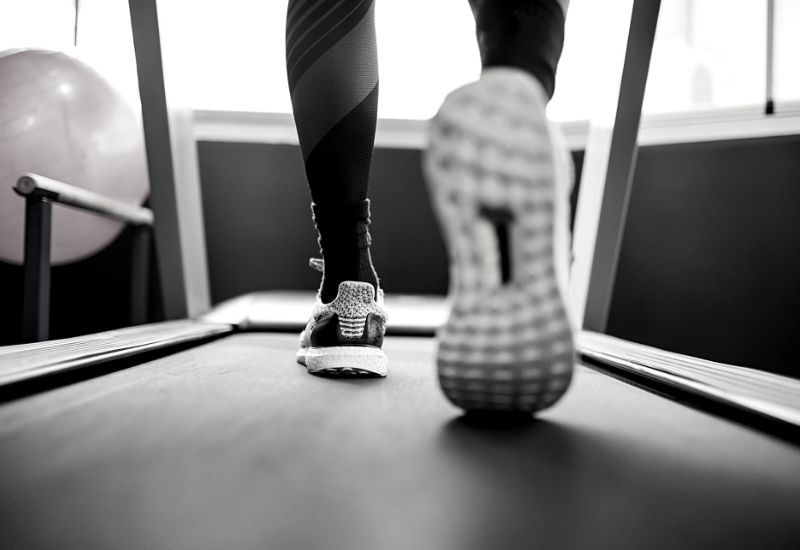 However, if you look at the data collected by Harvard Medical School, a few other types of cardio can come pretty close to the same number calories burned on the treadmill.
For example:
A 125-pound person can burn 240 calories in 30 minutes of running at 5 MPH
A 155-pound person can burn 288 calories in 30 minutes of running at 5 MPH
A 185-pound person can burn 336 calories in 30 minutes of running at 5 MPH
Speed it up to sprint training, and you see real results:
A 125-pound person can burn 453 calories in 30 minutes of running at 10 MPH
A 155-pound person can burn 562 calories in 30 minutes of running at 10 MPH
A 185-pound person can burn 671 calories in 30 minutes of running at 10 MPH
Time to stack that up against other machines:
A 125-pound person can burn 255 calories in 30 minutes of rowing at a vigorous pace
A 155-pound person can burn 324 calories in 30 minutes of training on the elliptical
A 185-pound person can burn 441 calories in 30 minutes of vigorous cycling on the stationary bike
As you can see, some of the other cardio machines come fairly close to burning around the same number of calories as a running workout. Those are the machines you want to use, then!
⭐ Functional Training
One of the greatest benefits of the treadmill is that it's incredibly functional. What that means is that training on the treadmill will translate into more efficient performance of your everyday activities.
The benefits of treadmill walking will extend to walking around town, on holiday, going for a hike, or strolling along the beach.
The time you spend jogging and running on the treadmill will help you to jog and run more efficiently around town.
And if you add sprint training, well, you'll find you can sprint for longer (and maybe even faster) when in real-life conditions.
The treadmill is the most functional of all the cardio machines, because walking and running are two activities you do literally every day of your life. It's for this reason (almost more than any other) that the treadmill is such a popular cardio machine.
However, a few other machines can give you a nearly-as-functional workout (as you'll see below) that will help you perform your activities of daily life more efficiently, too.
⭐ Versatility
No matter what types of treadmills you're using, you can expect quite a lot of versatility.
For example, on a motorized treadmill, you can just set your desired run speed and maintain that pace for the duration of your workout. Or, if you like to change things up, you can raise or lower the speed as desired.
To make the workout more challenging, add some incline on the treadmill so it feels like you're tackling hills. Without leaving your gym or home gym, you can train for trail running and hill sprints like a boss.
Manual powered treadmills add in a leg strength training component, too. Because you're providing the "power" to turn the belt, your quads, glutes, and hamstrings are engaged more efficiently with every step. It effectively simulates real-life outdoor conditions!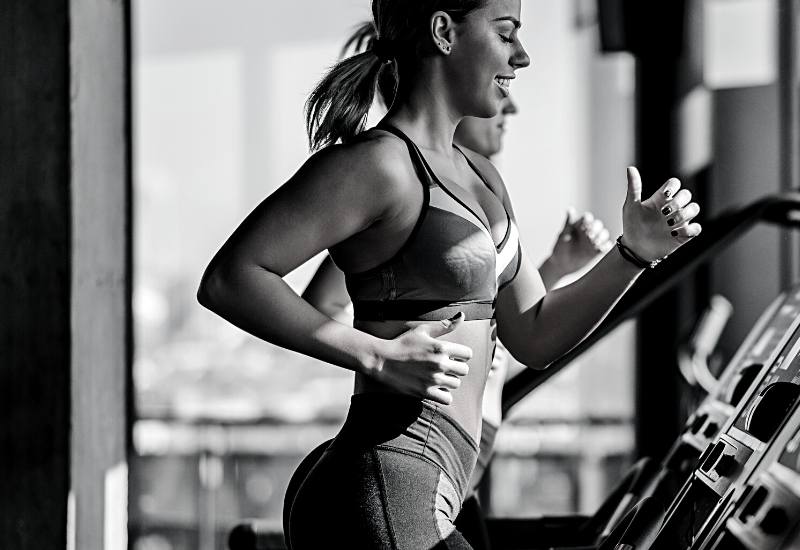 ⭐ User-Friendliness
How hard is it to walk? The answer: not hard at all! And when it comes time to jog, run, or sprint, you'll find it doesn't get a whole lot more challenging, either.
The treadmill is very likely the most user-friendly of all the cardio machines. There's no real learning curve; just hop on, switch it on, and get working.
See also: How Much Do Treadmill Machines Cost? (90 Models Compared)
Sure, it takes a bit of practice to run fast while maintaining your balance and staying in the center of the platform, but that's far easier than trying to perfect your rowing stroke or adapt to the unusual feel of the elliptical.
The treadmill is one of the most popular cardio machines for weight loss because everyone already knows how to walk and run. Any machine that's equally (or nearly) as easy to master will be a suitable treadmill alternative.
The Best Alternatives to the Treadmill Machine
Machine #1: Elliptical
The elliptical machine makes the best alternative to the treadmill for one simple reason: it involves movement that is most similar to the treadmill.
On the elliptical, you're "walking" on the pedals, which have a glide that can feel odd at first but quickly feels natural after a few minutes of stepping.
The addition of the handles actually shifts the workout from exclusively lower body-focused (which the treadmill is) to a full-body workout that engages your core and upper body.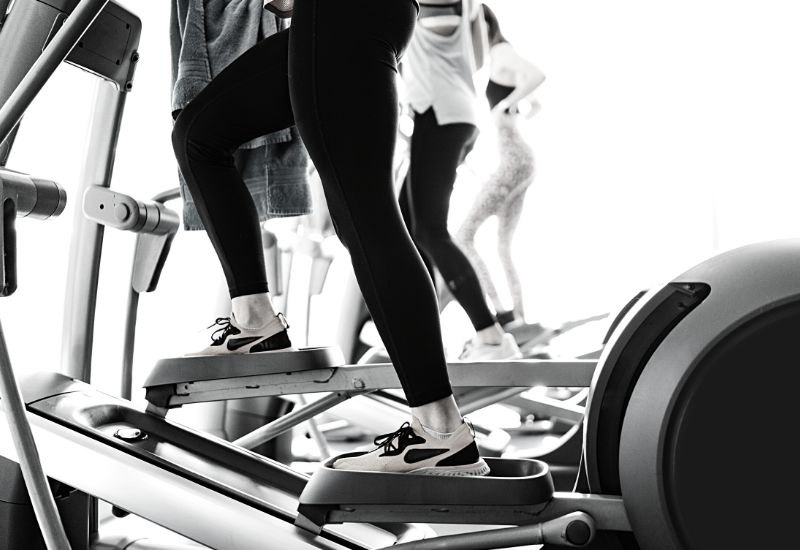 It's both functional and fairly easy for newbies to master, but it's also highly effective for pushing your body to the max with HIIT.
You won't be able to "sprint" like you can on the treadmill, but the faster-paced pedaling/pumping the handles will be as effective a workout as any HIIT sprint session.
Some elliptical machines are a "hybrid" alternative in the sense that the stride can be adjusted to simulate a running gait and even be used as a stepper machine (the Nordictrack FS14i is the best example of this type of 3-in-1 trainer).
Additionally, there are elliptical machines that have an adjustable stride length, giving you the sense of that longer gait that is common with running that you simply cannot replicate on other cardio machines.
| | |
| --- | --- |
| ✅ Pros | ❌ Cons |
| Full-body workout, not just focused on your legs | Movement feels a bit strange at first |
| Low-impact and very comfortable | You can't quite reach sprint speed |
| Highly functional training—translates into more efficient walking and running | |
| Burns a lot of calories (nearly on par with the treadmill) | |
Elliptical Trainer Reviews
Ellipticals are an excellent low-impact alternative to running on a treadmill.
There are also tons of options for home gyms, from your bare-bones, budget-friendly ellipticals that cost a few hundred bucks to studio-grade machines with online classes and workouts.
A few of our favorites include: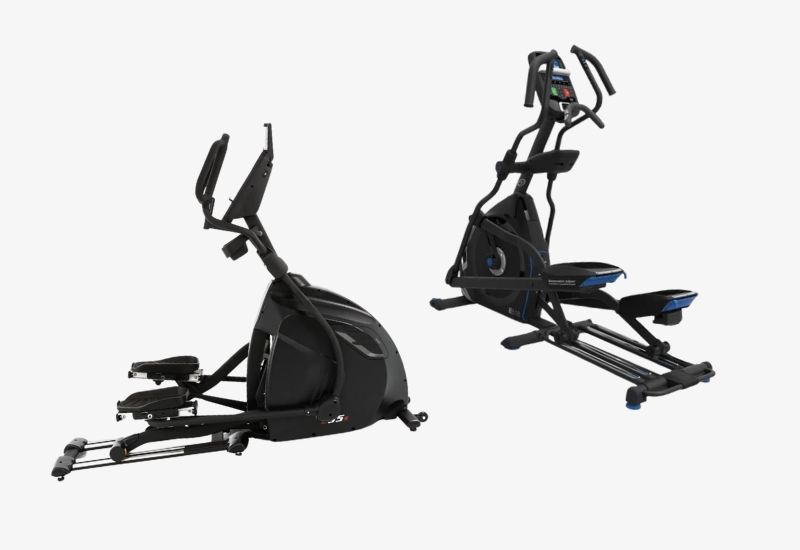 The Sole Fitness E95 Elliptical Trainer is an absolute monster in terms of stride smoothness, stability, and workout features, including incline, adjustable foot pedals, and available online workouts through Sole's STUDIO portal. [Shop at Sole Fitness]
The Nautilus E616 is a budget-friendly elliptical–under $800–that has a power incline (to crank up the calorie burn to compete with running on a treadmill), a longer stride length (22″), 25 resistance levels and a heavy-duty 22lb flywheel for a smooth stride. [Shop at Nautilus]
The Sole E95s is our favorite elliptical that has an adjustable stride length (up to 24″), perfect for taller users and those who want that long stride that more approximates running. [Shop @ Sole Fitness]
We've researched and tested a lot of ellipticals over the years, and you can read more about them in our round-ups:
---
Machine #2: Stationary Bike
The stationary bike is another cardio machine many people turn to as an alternative to the treadmill.
It's particularly functional for cyclists or anyone who spends a lot of time riding their bikes around town (mountain biking, commuting to work, etc.).
Also, like the treadmill, it's entirely focused on the lower body muscles. This makes it a suitable form of exercise to use as post-training cardio after a hardcore upper body resistance training session.
The main benefit of the stationary bike and where it actually performs better than the treadmill is in relation to your knees.
All of your weight is supported by the bike seat, which means your knees only work to push the pedals downward.
For people who have weak knees or knee problems/injuries, the stationary bike may be a more knee-friendly choice.
| | |
| --- | --- |
| ✅ Pros: | ❌ Cons: |
| Gentler on the knees | More likely to cause lower back injuries |
| Functional training for cyclists | Some risk of foot numbness as you pedal |
| Good calorie-burning | |
| Very low-impact | |
Stationary Bike Reviews
Stationary bikes come in a few different flavors, with varying types of exercise bikes, including the standard upright bike, spin bike, and recumbent bike.
When it comes to the best "standard" stationary bike, we love the NordicTrack VU 29.
To be sure, it's more of a premium stationary bike, but it has a ton of workout functionality, including a tank-like 19lb flywheel for a wobble-free biking experience and a massive 14″ HD touchscreen for doing online classes and workouts using iFit.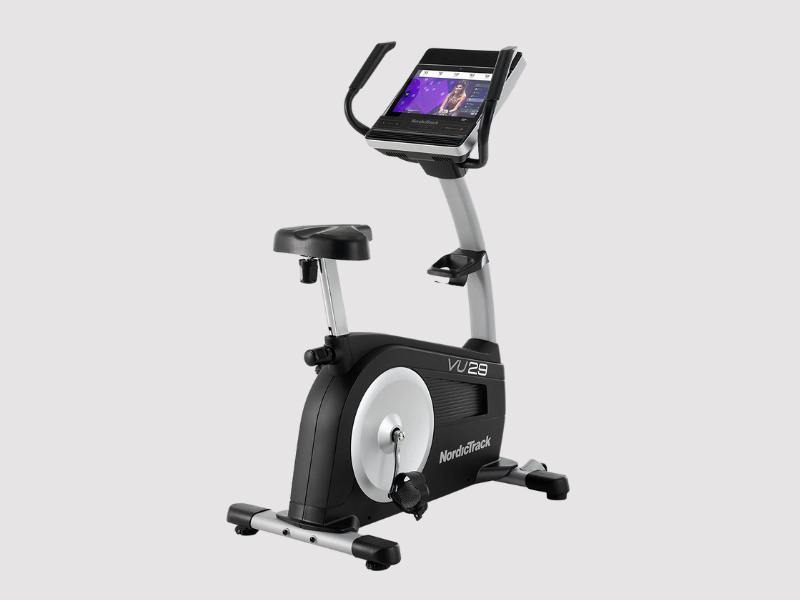 ---
Machine #3: Stair Climber
The stair climber is one of the few machines that could be considered as functional as the treadmill.
After all, just like you walk and run every day, you also end up climbing stairs every day—in your office building, at home, in the supermarket or shopping mall, pretty much anywhere you go.
While the treadmill does allow you to work at an incline to target your glutes and hamstrings, it's more like climbing a semi-steep hill.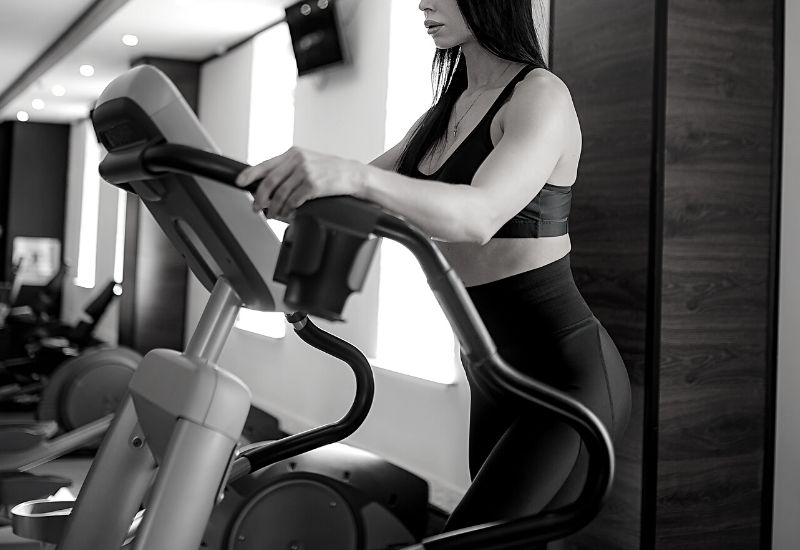 If you want to train specifically for very steep hills (like those you'd encounter when hiking) or climbing stairs more effectively without tiring (such as in case of an emergency where elevators don't work), the stair climber machine is your best bet.
There are a couple of downsides, though: the stair climber is harder on your knees than even the treadmill, and they tend to be very large, bulky machines that take up a lot of space.
| | |
| --- | --- |
| ✅ Pros | ❌ Cons |
| Excellent for training your body to climb stairs and steep hills | Bulky machines take up a lot of space in your home gym |
| Highly effective at targeting your glutes and hamstrings | May increase risk of knee strain/injury |
| HIIT-compatible | |
| Decent calorie burning | |
Stepper Reviews
Stepper machines tend to be a pain in the butt when it comes to home use as they take up a lot of horizontal and vertical space. The commercial stairclimbers you see at the gym are a great example of this; when standing on the top step you tower above a standard ceiling height in a home.
The best stepper machine I've ever used for home gyms–especially when you are looking for something treadmill-ish–is the NordicTrack FS14i.
The FS14i is a three-in-one cardio machine; stepper, elliptical, and "treadmill." The path of the stride responds to your leg motion, which means that you can change up between stepping and a full-stride running gait mid-workout. Best of both worlds, really.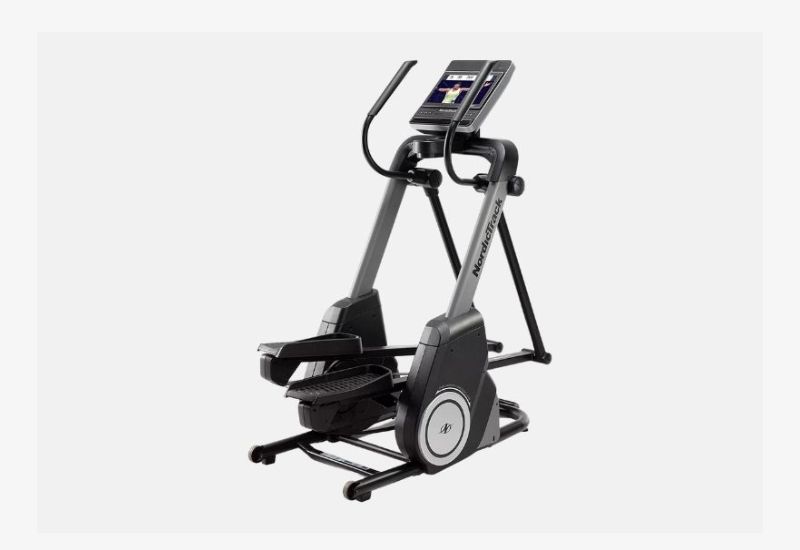 ---
Machine #4: Rowing Machine
With the rowing machine, we're back in the realm of "full body workout."
Your legs engage to slide your body forward and backward on the seat, your upper body does the work of rowing, and your core has to engage to maintain your balance and posture throughout the full range of motion.
The rowing machine, like the stationary bike, takes all the load off your knees.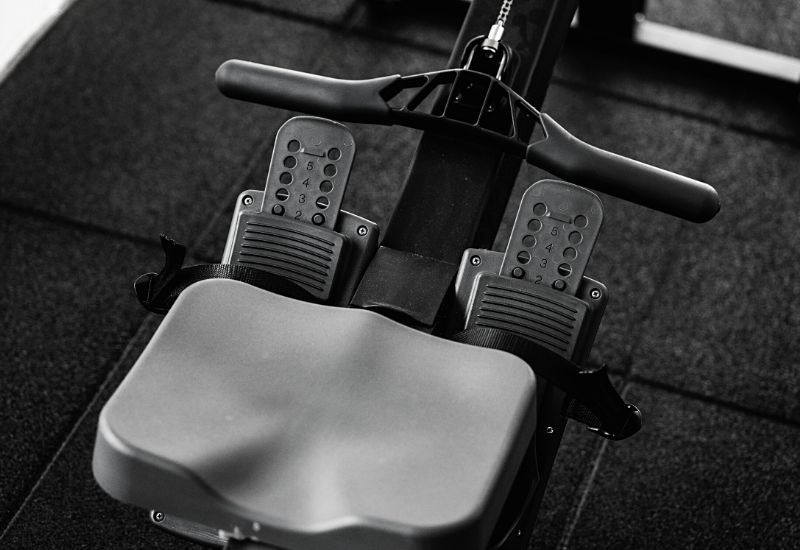 This makes it a much more knee-friendly cardio machine than the treadmill. It's also significantly lower-impact, so you can use it to rehab your knees following an injury you sustained running or sprinting.
See also: Is the Rowing Machine Good for Bad Knees?
You can use the rowing machine for HIIT the same way you would the treadmill: just speed up your pace so you're rowing (rather than running) at maximum exertion.
Best of all, the rowing machine delivers calorie-burning roughly on par with the treadmill, so it's just as effective for weight loss and fat-burning!
| | |
| --- | --- |
| ✅ Pros | ❌ Cons |
| Excellent calorie-burning on par with the treadmill | May increase your risk of lower back and wrist injury |
| HIIT compatible | Rowing stroke isn't easy to master |
| Compact—many are foldable and space-saving | |
| Low-impact workout very gentle on your joints | |
Rowing Machine Reviews
Rowing machines–and this goes for most cardio machines for home gyms–have come a long way in recent years in terms of technology. Huge strides have been made in terms of online training and programming, with brands like Peloton and iFit leading the way.
The NordicTrack RW900 is perfect for the person who enjoys doing online classes. Paired with iFit, an online library of almost 20,000 workouts (!), the RW900 has an almost preposterously large 22″ HD touchscreen, whisper-quiet flywheel, and tons of resistance levels to keep you working hard.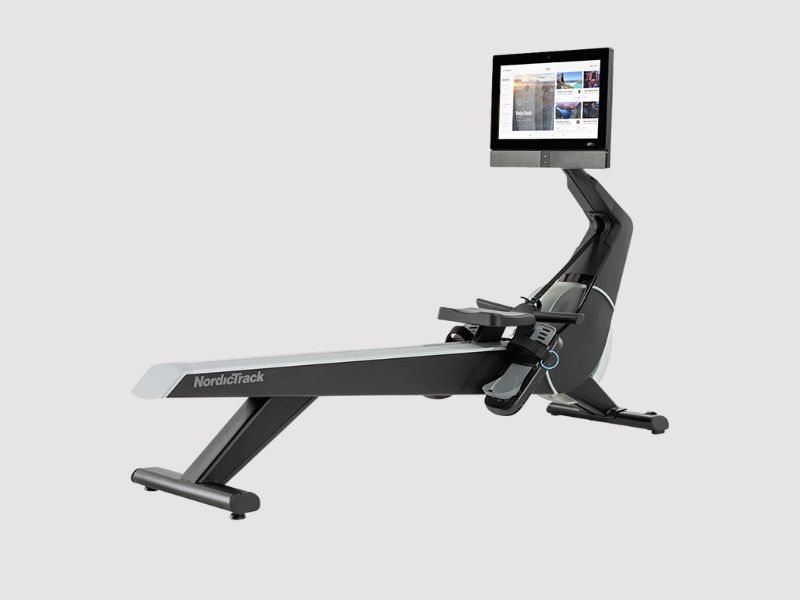 ---
Machine #5: Assault Bike
The assault bike is a truly challenging cardio machine and the Rogue Echo Bike–the hands-down best air bike on the market–was the first cardio machine I ever purchased for my own home gym.
Assault bikes (also known as air bikes or fan bikes) designed with a fan rather than a flywheel, and the variable resistance will grow more challenging as you pedal/work the handles faster.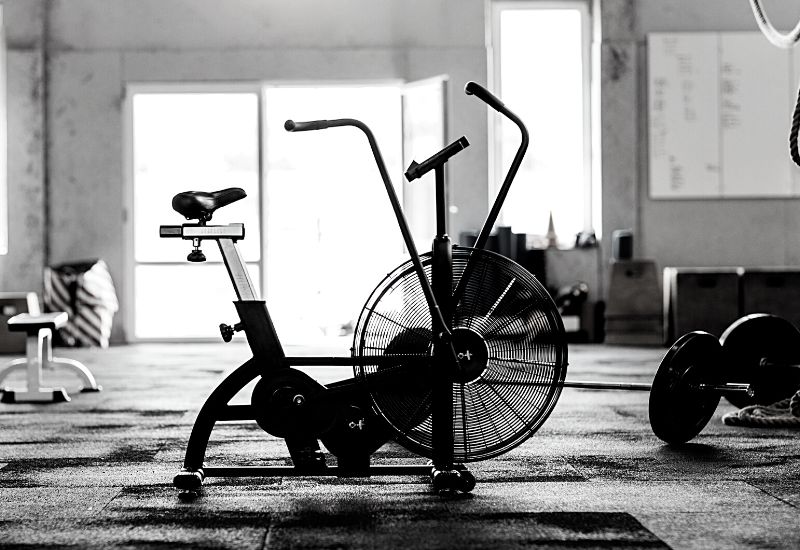 You'll find it's one of the best cardio machines for HIIT—better even than the treadmill, because you can raise or lower the intensity by speeding up or slowing down, with no need to press buttons.
It's also a full-body workout (like the rowing machine and elliptical) and will burn a lot of calories. The fact that there's no direct load on your knees makes it a low-impact, joint-friendly training solution, too.
Perhaps the main benefit of assault bikes, however, is just how hard of a workout it is. (It's called the "Devil's Tricycle" for a reason.)
| | |
| --- | --- |
| ✅ Pros | ❌ Cons |
| Excellent calorie burning on par with sprint training | Very difficult training at higher intensity/speed (not ideal for beginners) |
| Low-impact and no load on your knees | May increase risk of shoulder and lower back injuries |
| HIIT-compatible | |
| Works out your full body | |
| Super hard workout | |
Air Bike Reviews
Air bikes are excellent for burning maximum calories and mimicking the high-intensity effort of treadmill sprinting.
They are also mostly cheaper than treadmills, making them a solid budget-friendly cardio machine for home gyms.
The best air bike on the market is the Rogue Echo Bike, and the competition isn't even really all that close.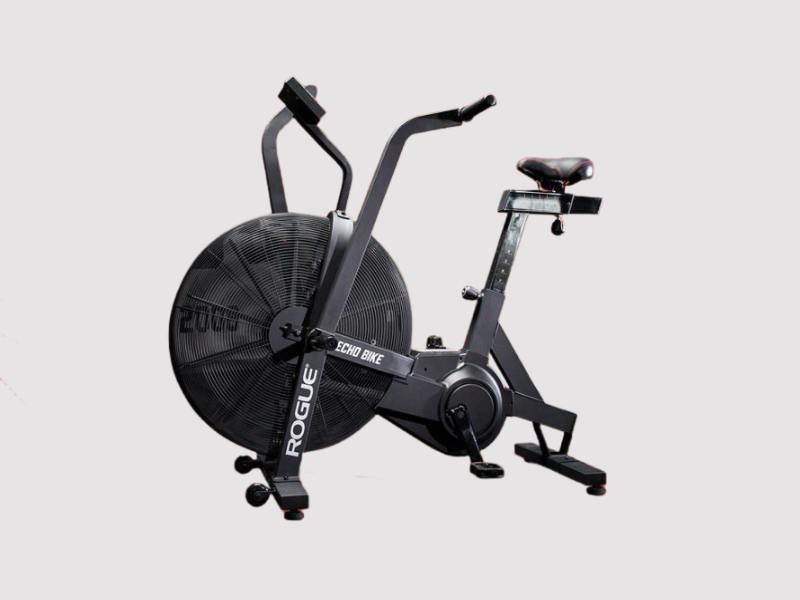 ---
Machine #6: Jacob's Ladder
The Jacob's Ladder is one of my favorite machines for training your lower body. It simulates climbing an endless ladder, which places the effort squarely on your glutes, hamstrings, quads, and calves.
However, your upper body and core also get a great workout because you're supporting yourself/pulling yourself up the ladder at the same time.
It's definitely one of the best cardio machines for burning a lot of calories in a short amount of time—easily on par with a fast running speed. However, it's more difficult to climb for longer periods; harder even than the stair climber.
Though not the most newbie-friendly machine, it's an excellent option if you want to switch up the way you train and push your fitness to the max.
| | |
| --- | --- |
| ✅ Pros | ❌ Cons |
| Highly effective workout for your entire body | Very expensive and bulky machine |
| Excellent for HIIT | Difficult to sustain exertion for long periods—average workout lasts 10 to 30 minutes |
| Hammers your glutes, hamstrings, and calves | More of a specialty machine; not a lot of gyms carry it |
| Burns a lot of calories | |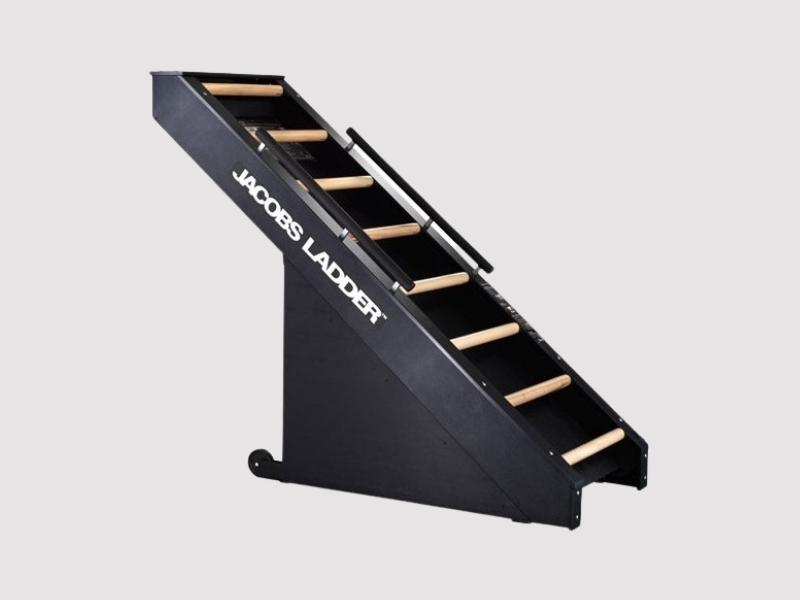 ---
The Bottom Line
Let's be honest: no machine can ever really replace the treadmill. The only thing that can do that is an outdoor run—it's the only alternative that pushes your fitness to the same limits as running on the treadmill.
However, as you can see by the options above, there are a few machines worth considering if you just don't have space for a treadmill or need a viable alternative that's within your budget.
For my money, I'm going to choose the elliptical machine, assault bike, or rowing machine every time.
However, the Jacob's Ladder and stair climber are both excellent for anyone who wants to pay greater attention to their glutes, to sculpt that booty to the max. And if you're looking for an easy, low-impact workout on par with a walk or jog, the stationary bike will be a great option.
Choose the right treadmill alternative for you and unleash the gains!
---
More Treadmill Guides and Articles
How to Build Your Glutes on the Treadmill (Plus Sample Workouts). The treadmill machine is a monster for building bigger and stronger glutes. Here's how to target your glutes on the treadmill and some butt-building workouts to get you started.
5 Best Treadmill Workouts for Weight Loss (Plus Tips for Turbocharged Weight Loss). Looking for some killer treadmill workouts for weight loss? Here are five weight loss workouts you can do on the treadmill, plus some tips for getting the most of your time on the treadmill.
8 Benefits of Turning Up the Incline on a Treadmill Machine. Treadmills are one of the most effective cardio machines in the gym. Here's how using the incline on the treadmill can make your workouts even better.