High-intensity interval training is the fastest way to get cardio and conditioning under your belt. Here's a look at the best HIIT machines to add to your home gym.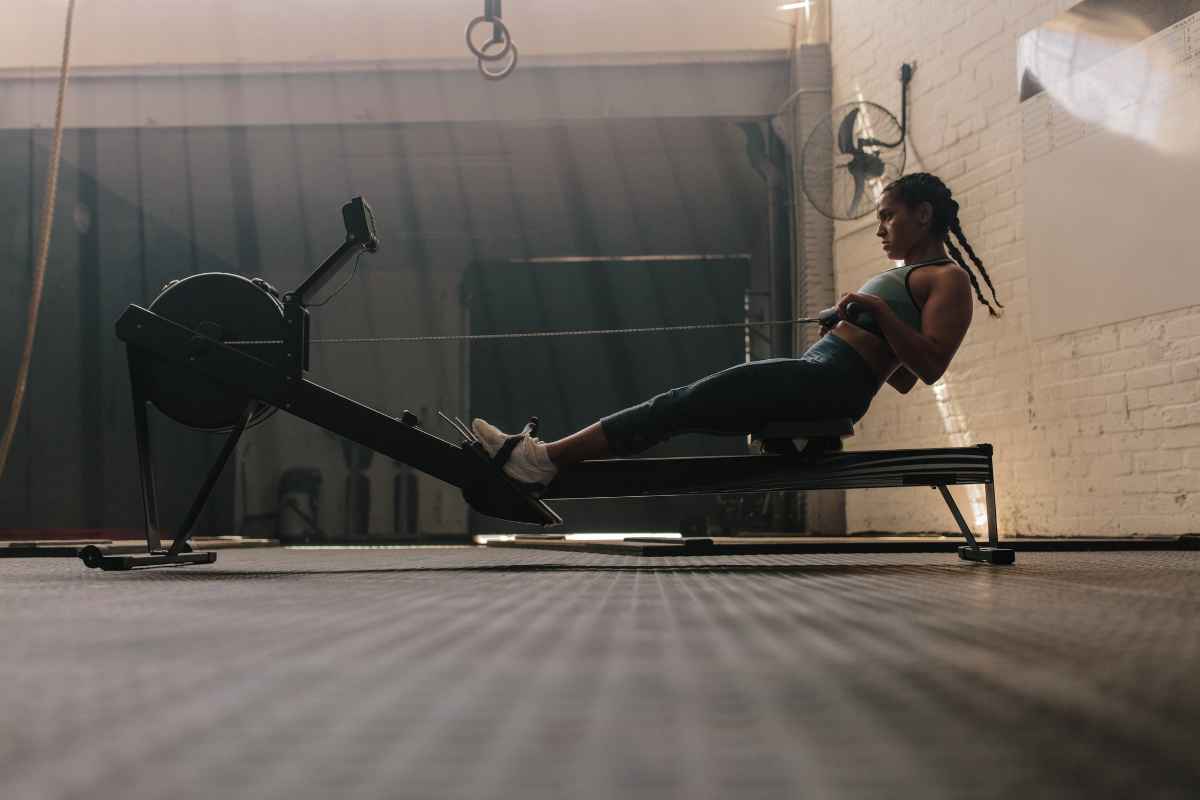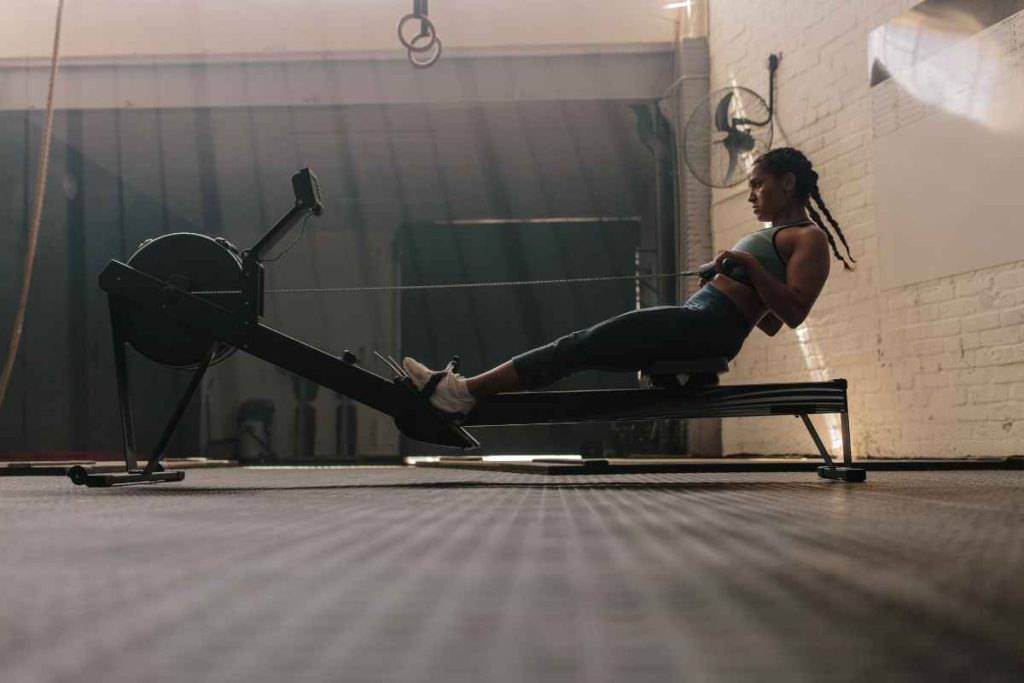 HIIT, or high-intensity interval training, is an excellent way to burn a metric ton of calories while also saving a lot of time.
No wasted time, no guessing around—just pure, free-range metabolic excellence.
But when it comes to choosing the best machine for doing HIIT workouts, things get a little more complicated.
In this guide, we will look at the best options for HIIT machines that you can bring into your home gym.
Let's get right to it.
What is HIIT Training?
High-intensity interval training, as the name would suggest, is a form of training that has you performing bouts of high-intensity exercise followed by rest.
HIIT workouts vary in length and repetition duration, with Tabata-style HIIT being as short as 4 minutes (:20 work, :10 rest), while more traditional HIIT workouts lasting as long as 30 minutes (:30 work, :60 rest).
The intervals are tracked and measured by either a simple timer (like the one on your smartphone), or by using a dedicated timing mechanism, like a workout clock mounted on the wall.
The primary benefit of HIIT is that it packs an absolute punch in terms of both time savings and increased health benefits.
Instead of working out at a moderate pace for an hour or so, you crank up the intensity and get the same benefits in significantly less time.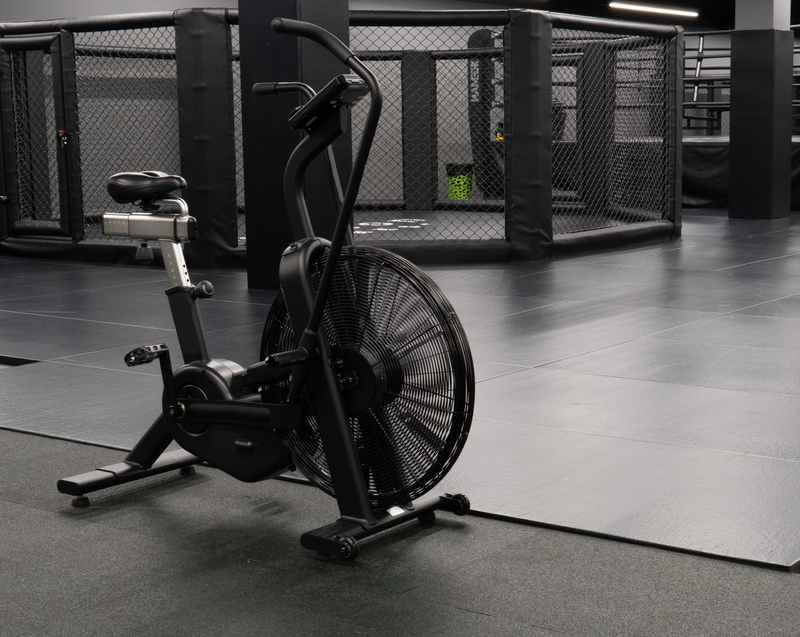 For example, a study1 took a group of college-aged men and had them do either:
a) 20 minutes HIIT on a bike (:60 on, :60 rest) or
b) 50 minutes of biking at 70% effort.
Oxygen consumption was exactly the same between the two groups over the following 24-hours, giving the nod to HIIT as a way to reduce exercise time commitment.
For people who are busy—which is just about everyone, it's safe to assume—HIIT is an excellent way to get all the benefits of exercise without spending hours and hours in the gym.
And when you combine the time savings with having the gym machines in the comfort of your own home, you are getting a double whammy of time savings with no commute to the gym.
The Best HIIT Machines for Home Gyms
Below is a breakdown of the best HIIT machines for cranking up your workouts in the comfort of your own home.
1. Rogue Echo Assault Bike
? Best overall machine for HIIT workouts
Assault bikes (also known as air bikes or fan bikes) have exploded in popularity in recent years, thanks to the full-body nature of the exercise and absolutely brutal (in a good way!) workout you can get from using them.
Unlike a stationary or spin bike, assault bikes use a fan-based front wheel that creates variable resistance. The harder you pedal, the harder it gets.
And unlike a spin bike, pedaling on an air bike is a full-body workout as your arms and upper back are engaged pushing and pulling the handles.
The best air bike on the market (still) is the Rogue Echo bike, with a heavy-duty frame, adjustable fore-and-aft seat, LCD display with countless programming options (including TONS of HIIT workouts), and Rogue's legendary commitment to craftsmanship.
If you are serious about HIIT, an air bike is an essential addition to your home gym.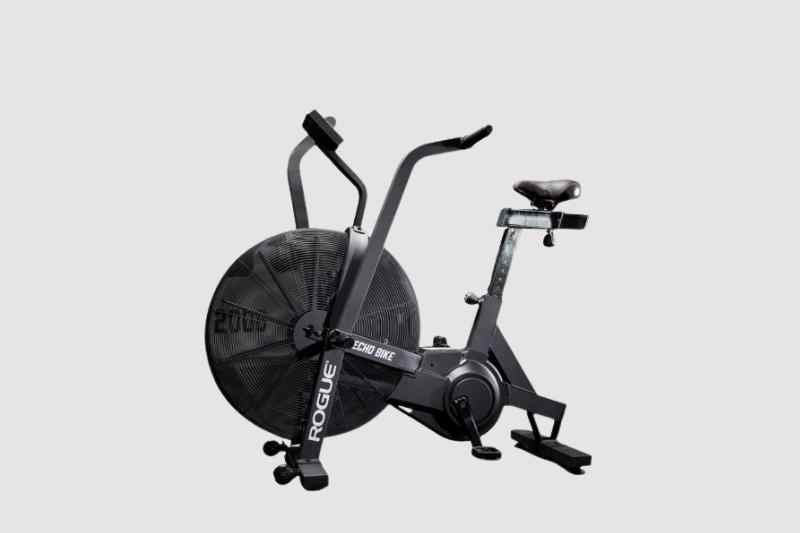 ---
2. Battle Ropes
There aren't many forms of strictly upper body cardio out there, with most gym machines focused on the lower body, but a battle rope is one of the best options for developing upper body cardio and strength.
Battle ropes are the simplest-looking piece of training equipment you can imagine: tough, nylon wrapped tightly and extended for more weight and difficulty.
The benefits of a battle rope are many, including working every muscle from your neck to your quads, unilateral training, and being utterly excellent for HIIT training.
There is also something extremely satisfying about smashing a big nylon rope into the ground.
See also: 5 Killer Battle Rope Exercises
When it comes to picking out a good battle rope, look for a rope that has triple-braided nylon (or polycron), a sheath that helps prevent the rope from catching snags and fraying, and handles that are heat-treated for a superior grip.
The REP Fitness V2 Battle Rope checks all of the boxes, and comes in a huge variety of lengths and thicknesses, making them the perfect battle rope for HIIT-enthusiasts of all levels.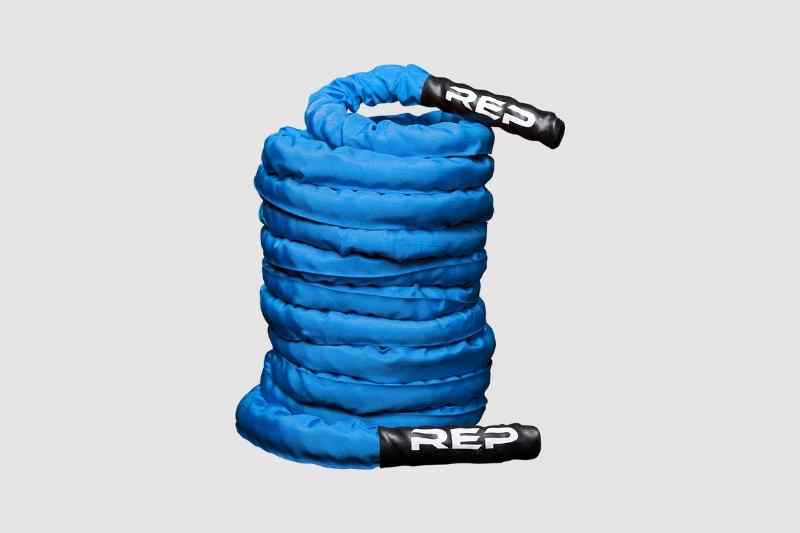 ---
3. Ergometer Machine
An ergometer machine—rowing machine or the more simple, erg—is an absolute monster for developing aerobic capacity and melting fat like crazy.
Because they operate on a fan belt (think of an erg as an assault bike for your upper body), the ramping up of resistance is almost instant, making it perfect for interval training.
Although the erg is mostly an upper body movement (or at least, it looks that way), the legs are strongly engaged as well, making the erg a full-body workout.
The erg is also excellent for HIIT workouts as it is low impact1, making it a great alternative to more impactful forms of exercise like running. The erg is also a proven fat-burner2.
The Concept 2 RowERG is the the industry leader when it comes to ergs, with adjustable foot rests, an aluminum and stainless steep rail for a smooth glide, and an LCD display that pumps out your work output and helps you stay on top of your intervals.
Rogue offers the Concept 2 in both a standard size (14" seat height) and a daddy long legs version (20" seat height) for us tall and gangly folk.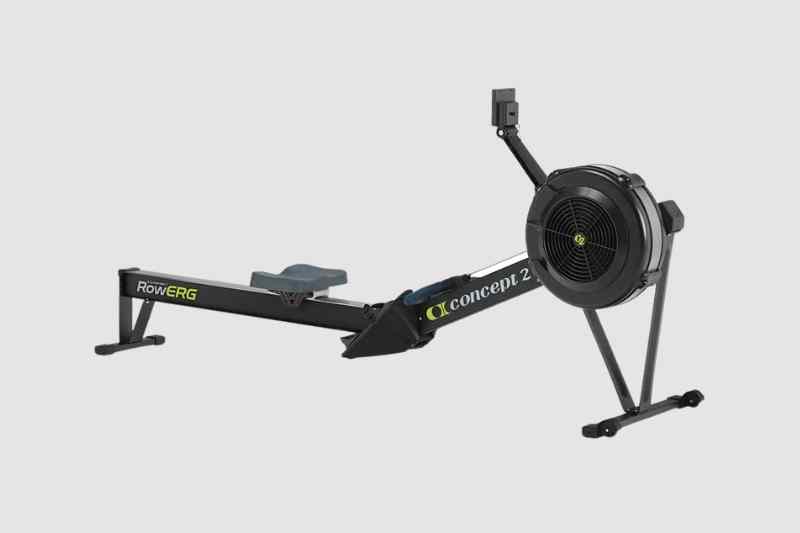 ---
4. Stationary Bike
When I go to one of my local gyms, and in my years as a national-level swimmer, my main HIIT weapon of choice was a simple stationary bike.
There were a couple of reasons for this:
First, a stationary bike is low impact with a controlled path of movement. This means less injuries over the long term. You can really hammer away on the high intensity reps without worrying about getting thrown off the back of the treadmill.
Second, high-intensity biking is a great way to build epic quad muscles.
All you have to do is see the wheels on cyclists in international competition to see just how big your quads can get from what is generally an aerobic form of exercise.
Stationary bikes often come packaged with programs including steady-state cardio and several different HIIT programs. I'd always use the manual up-and-down on the resistance levels to do :30 on, :30 off intervals.
While there are plenty of cheapo stationary bikes on Amazon and elsewhere, the best in class continues to be the Life Fitness Club Series Lifecycle Bike.
I've literally put more miles than I can count on these bikes and they've always taken my rather hefty frame and blistering HIIT workouts in stride.
Pricier than other options, but they will literally last forever.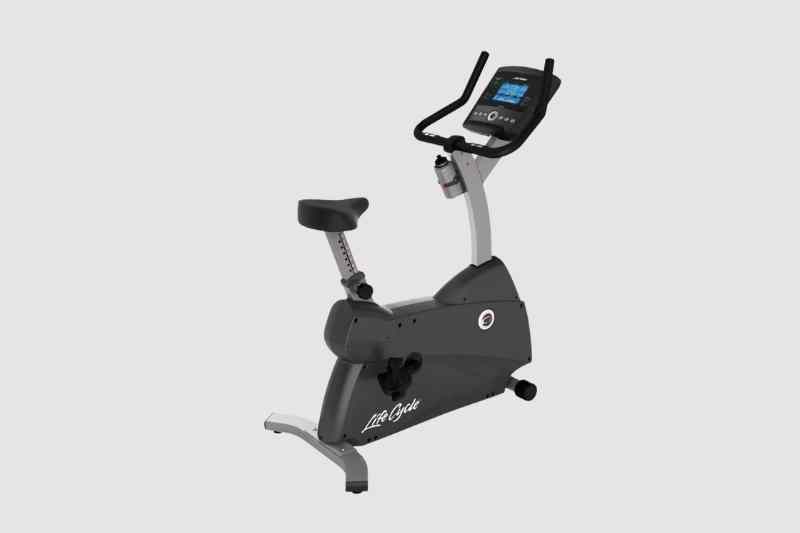 ---
5. Spin bike
While stationary bikes and spin bikes look generally the same, spin bikes have the advantage of using a knob to quickly crank or lower resistance.
This means that you can jump into your next round of HIIT reps instantly.
Also, spin bikes tend to have a more narrow seat (not a fan of this, but my wife and countless others find it more comfortable than the wide seats on stationary bikes) and are built for more aggressive use.
When it comes to spin bikes, the undisputed king is Peloton, which ships a heavy-duty bike (that they assemble at your house) and of course, comes with a TON of classes and programs, including every type of HIIT training you can think of.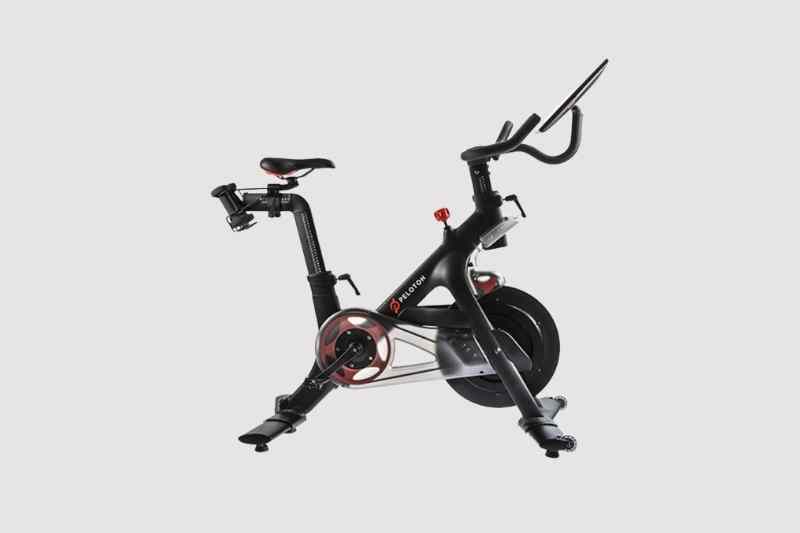 ---
6. Curved treadmills
The curved treadmill has begun popping up in more and more gyms across North America. It functions in the same way as other human-powered aerobic training tools, in that your feet are what move the belt, not a motor under the unit, which allows you to push the pace as it suits you.
The curved shape makes for a much more natural stride and actually induces less impact and stress with each foot strike. And because you are the motor, it doesn't use any electricity to power.
Curved treadmills have big safety handles on the side, making them ideal for doing bouts of high intensity work (after a thorough warm-up, naturally).
The AssaultRunner Pro (yes, this is the same company that makes the AssaultBike) is the best option on the market, with free shipping, LCD display that measures time, calories, watts, heart rate, and various training programs, including all of the standard HIIT protocols.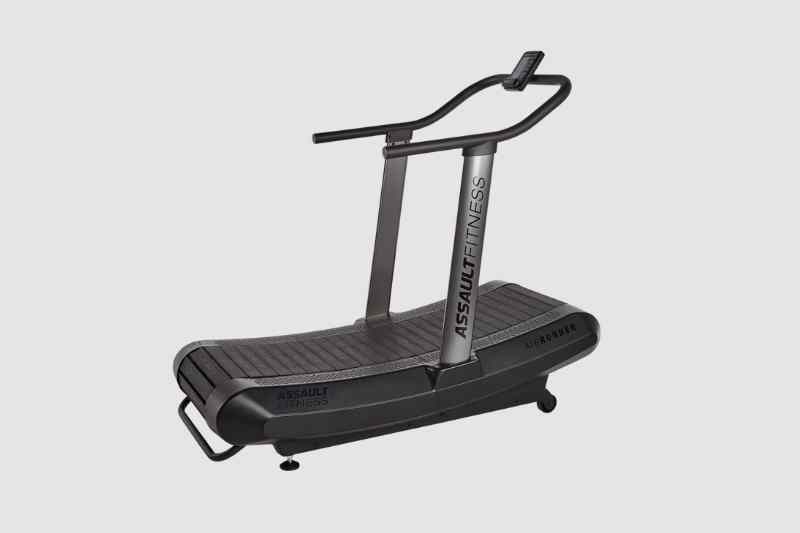 ---
HIIT Machines at Home – FAQs
How often should I use my HIIT machine at home?
The appeal of HIIT, especially at home, is bigly. There's the time savings of the workout, plus no commute to the gym or waiting in line for your favorite cardio machine.
So does that mean you should hammer out heavy-duty HIIT workouts daily to maximize progress?
Not necessarily. HIIT, when done properly, requires maximal effort, repeatedly, which requires the consemmuerate level of recovery.
Doing aggressive HIIT workouts 2-4x per week is more than adequate for both getting the most of your sessions doing HIIT, but also keeping the training fresh and avoiding getting bored or tired with the workout.
Mix in some light aerobic work or resistance training on the days where you aren't doing HIIT to keep things fresh and progress going upwards.
What should I know about choosing the right HIIT machine for my home gym?
Things to look for include:
? Workout variety.
Although I love HIIT training, doing the same type of workout day in and day out can get tedious.
A quality HIIT machine does more than just HIIT—steady state cardio, recovery programs, and so on.
While I love my interval sessions as much as the next fella, not every workout calls for blinding, all-out effort, so look for a machine that does HIIT and the other stuff, too.
? Upper body vs Lower body.
Cardio machines cover the spectrum in muscles worked.
Ergs and battle ropes are primarily upper body workouts.
Spin/stationary bikes and treadmills are lower body workouts, while the air bike has the distinct advantage of being either or both upper and lower body training.
Choose the machine that is in line with your training goals.
? Workout space.
Home gym equipment can take up a lot of room. Your HIIT weapon of choice will at least partly come down to how much floor space you have available.
Battle ropes take the most amount of room when in use, but can be packed away tightly between workouts.
All of the other machines listed in this guide require around 6" length by 4" width for use, but almost all of them have wheels at the front of the unit, making them portable and easy to store when you're done sweating all over the floor.
? HIIT programs.
With the exception of the battle ropes, all of the machines in this round up include LCD displays that incorporate training modalities, including interval training. Tabata, 10/20, 20/10, and custom programs are available with each machine.
With your battle ropes, you will have to pull out the timer on your trusty smartphone to track your workout.
The Bottom Line
HIIT is a proven way to get an absolutely monster workout without having to spend hours and hours at the gym.
And fortunately, there are plenty of options when it comes to the best HIIT machine for dropping HIIT workouts like bombs.
Choose the right HIIT machine for you and your goals, and turn your home gym into a fat-burning, metabolism-inducing paradise!
---
More Guides and Articles Like This
7 Best Leg Machines at the Gym (Plus Benefits, Muscles Worked, and More). Looking for a detailed breakdown of all of the leg machines at your local gym? Look no further. Here's a full look at all of the leg workout machines including muscles worked, benefits, and more.
6 Best Gym Machines for Back (Benefits, Muscles Worked, and More). There is no shortage of ways to train your back at the gym. Here's a detailed look at the most popular back machines, including muscles worked and benefits so that you can nail your next back workout at the gym.