Curious how much awesomeness the stationary bike has to offer? Here is a look at the benefits of stationary bikes, as well as a couple of disadvantages, so that you can choose the right cardio machine for you.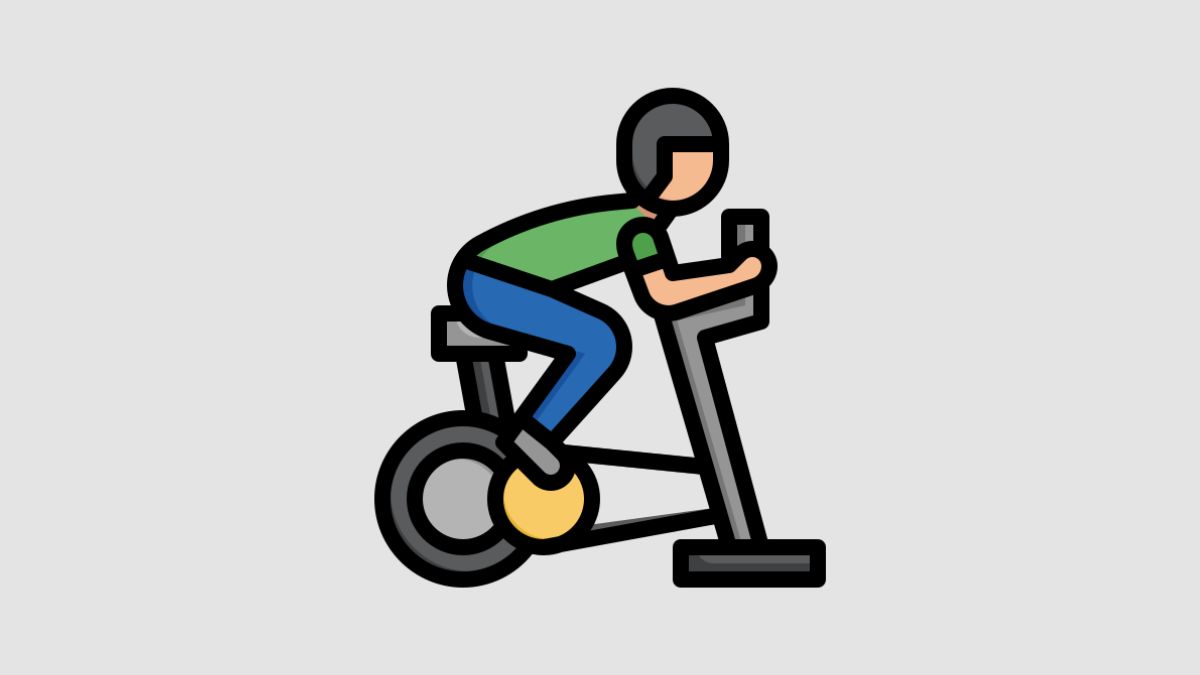 The stationary bike is one of the most popular—and most effective—cardio machines in the gym.
It's accessible, easy to learn for beginners, and you can crank up the calories and intensity as it suits your fitness goals.
In this article, we are going to take a full look at the benefits of the stationary bike, a couple of disadvantages, and answer commonly asked questions about one of the best cardio machines for weight loss In the gym.
Let's jump right in, shall we?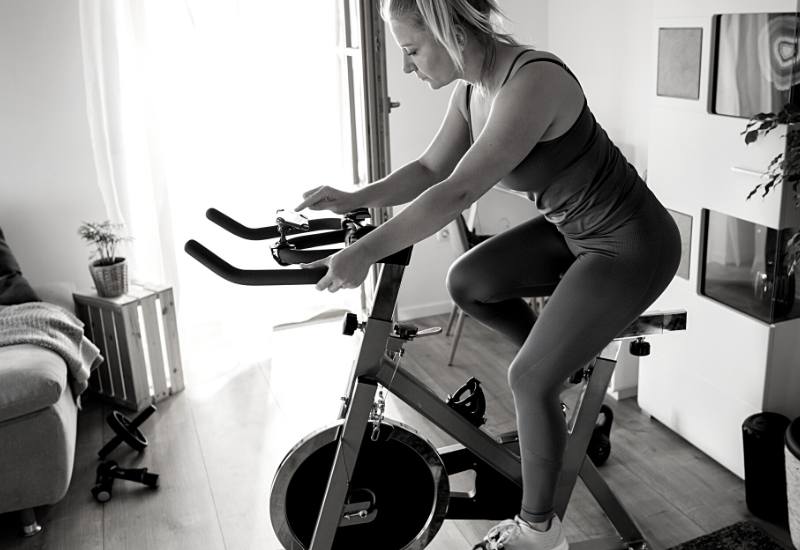 Pros of Stationary Bikes
1. Great Cardio and Calorie-Burning
I'll argue that the stationary bike is easily one of my favorite cardio machines for burning calories.
Mainly because you can park your butt on the seat and make the time go by easier with a show on your smartphone, watching one of the TVs in the cardio theater, or listening to your favorite pump-up playlist.
As a result, you can do some serious calorie burning on the stationary bike.
Harvard Medical School's research1 proves that the stationary bike is truly great when it comes to torching calories. According to their data:
A 125-pound person can burn 210 calories in 30 minutes of a "moderate" stationary bike workout
A 155-pound person can burn 252 calories in 30 minutes of a "moderate" stationary bike workout
A 185-pound person can burn 294 calories in 30 minutes of a "moderate" stationary bike workout
Speed up the pace a bit, though, and it gets even better!
A 125-pound person can burn 315 calories in 30 minutes of a "vigorous" stationary bike workout
A 155-pound person can burn 378 calories in 30 minutes of a "vigorous" stationary bike workout
A 185-pound person can burn 441 calories in 30 minutes of a "vigorous" stationary bike workout
That's pretty great results, compared to some of the other cardio machines in the gym, or even outdoor fitness activities.
For example:
A 185-pound person can burn 399 calories in 30 minutes of ski machine workout
A 155-pound person can burn 324 calories in 30 minutes of an elliptical machine workout
A 125-pound person can burn 180 calories in 30 minutes of walking or jogging
Sure, some workouts can burn more calories (HIIT, Tabata, treadmill sprint training, etc.), but the stationary bike is easily in the Top 3 gym cardio machines.
See also: How to Lose Weight with Stationary Bikes (Workouts and Tips)
The fact that it's a cardio workout means that it provides all the benefits that make cardio so good for your health—from reduced risk of heart attack and diabetes to improved brain function to better endocrine balance to enhanced mood.
2. Easily Track Performance
When I talk about "performance", I don't just mean the number of calories you burn. Sure, that's one metric that's easily tracked by the stationary bike, but there are so many more!
For example, did you know that on a stationary bike, you can track not only how far you've cycled (distance in KM or miles), but also how fast you pedaled (both average and peak speed), your heart rate (peak and average), cadence (RPMs), and power (measured in watts)?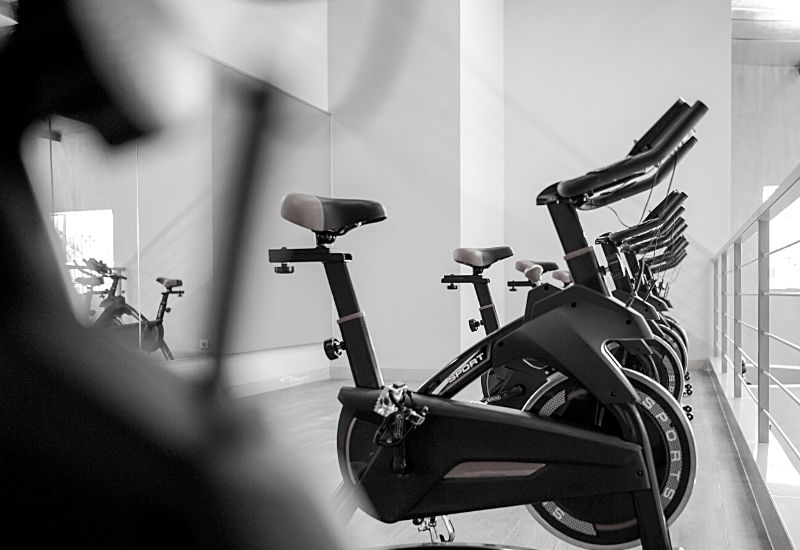 Stationary bikes come with integrated screens and heart rate monitors that track your performance during your workout, but often they can be paired with your smartphone so you can stream the performance data straight to whatever program you're using to track your workouts.
For advanced trainees who want to delve into every nitty gritty little detail of their training, it can be a very useful machine to work on!
3. No Bad Weather or Dangerous Terrain
If you've ever cycled in heavy rain, flying snow, or thick fog, you know just how utterly miserableyour workout can be when performed in the wrong outdoors conditions.
With the stationary bike, no bad weather will ever stop you (unless you can't get to the gym), and it'll never be too cold, wet, or windy to cycle.
But that's not all: with an indoor stationary bike, you're also significantly safer.
I've gotten into accidents while cycling where vehicles have struck me while crossing the street, or I've collided with someone who abruptly moves into my way. I've also crashed into potholes, slid on mud and ice, and gotten banged up because I was going too fast to stop myself from slamming into a wall (on my third time cycling!).
With the stationary bike, you're indoors in a fully controlled environment, and the bike doesn't actually go anywhere. That means there's no risk of slipping, sliding, skidding, or crashing. You're 100% safe while cycling!
4. Great for a Home Gym
One of the things I love about stationary bikes is that they're designed to fit into a home gym.
Unlike treadmills, stair climbers, or elliptical machines, most types of stationary bikes are on the compact side, small enough that they won't take up too much space in your living room, garage, or basement workout room.
In fact, stationary bikes are among the most popular cardio machines for home workouts because they're so compact.
The fact that you have a stationary bike at home means you can hop on and get a workout at any time, regardless of weather conditions or temperatures outdoors.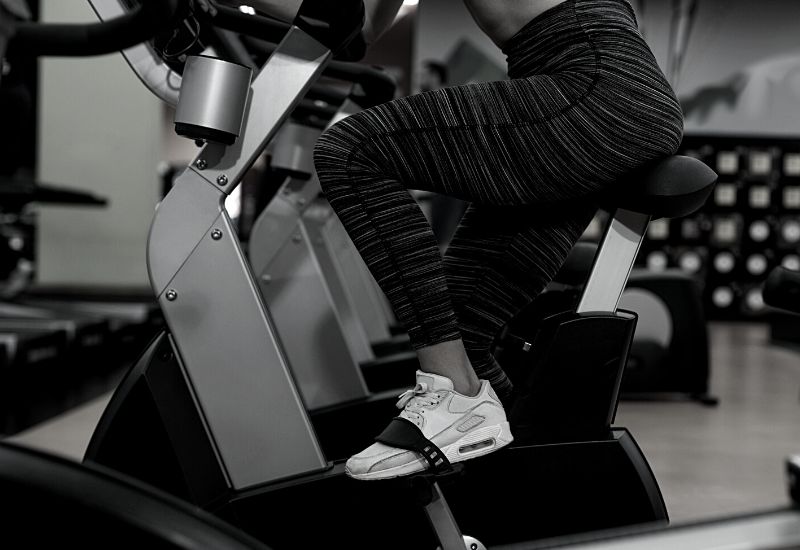 If you've got the bike in the right place, you can work out while watching TV, reading a book, or even having a conversation with your spouse or kids.
And, when you're done with the workout, just wheel the bike back into its place against the wall, tucked into a corner, or even in a closet. It's a versatile option well-suited to people who train at home!
To top it off, most stationary bikes are fairly affordable.
You'll find that the absolute highest-end bikes (like the Peloton) won't run you more than $2,000 to $3,000 (significantly lower than the $5,000+ top-end treadmills). By contrast, budget models can go as cheap as $200 or $300, with mid-tier models in the $700 to $1,000 price range.
Stationary bikes are probably the most affordable of all the cardio machines—perfect for your home gym on a budget.
5. Programmed Training
Most stationary bikes come with a number of pre-programmed training sessions that you can use to:
Target fat burning
Push your max and average heart rate
Strengthen your muscles
Improve your cycling speed
Maximize calorie expenditure
Attack a variety of terrains (inclines)
Because all of the workouts are pre-programmed into the stationary bike's LCD control panel, it's as easy as pressing a few buttons and you're ready to get working!
See also: 5 Stationary Bike HIIT Workouts (and Tips for Better Interval Training Workouts)
You'll find it much harder to get bored when you have so many different workout programs to choose from.
The Cons of Stationary Bikes
Not a "Real" Cycling Workout
I want to clarify this: you can get a real workout, in the sense that you can burn a lot of calories and strengthen your muscles.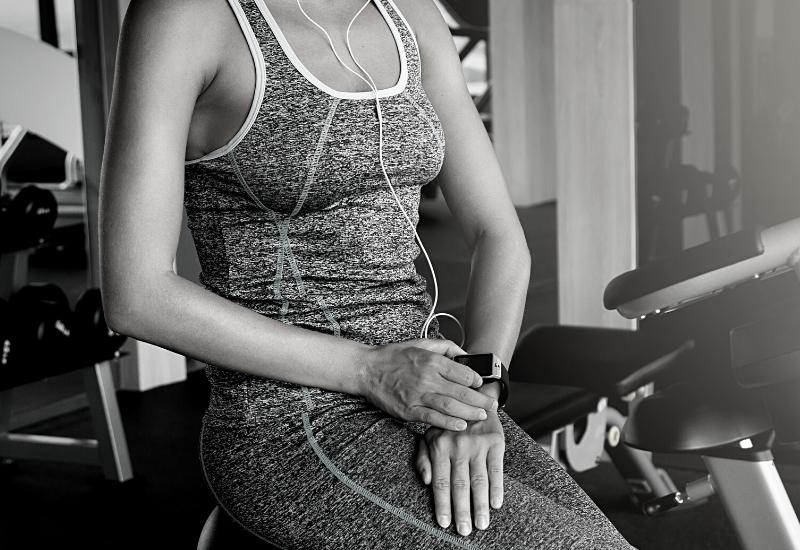 However, it's not "real" in the sense that indoor cycling can never truly simulate the conditions of cycling outdoors.
For example:
There's the wind blowing at your back that makes cycling easier, or blowing into your face that creates wind resistance and makes cycling more difficult.
There are inclines and declines in the terrain that can't ever be fully simulated by a stationary bike's magnetic flywheel.
You will never feel the warm sun shining down bright on you, the wind in your hair, and be surrounded by beautiful nature. But you'll also never feel your body struggling as the heat saps your strength and pushes you toward dehydration, fight wind resistance, or tackle a challenge to match a forest trail or off-road bike track.
So, while stationary cycling can definitely help you to develop muscular and cardiovascular endurance for cycling, it can't ever quite match a "real" cycling workout when it's you and your bike pitted against the terrain around you.
May Cause Discomfort
Of all the cardio machines, the stationary bike is probably the least comfortable—and it's all the fault of the dang bike seat (or saddle).
Saddle sores are a problem that long-distance cyclists or people who train for hours every day will experience. They're skin lesions that form on the body parts that come in contact with the seat, a result of heat, friction, and moisture (sweat) generated during the workout.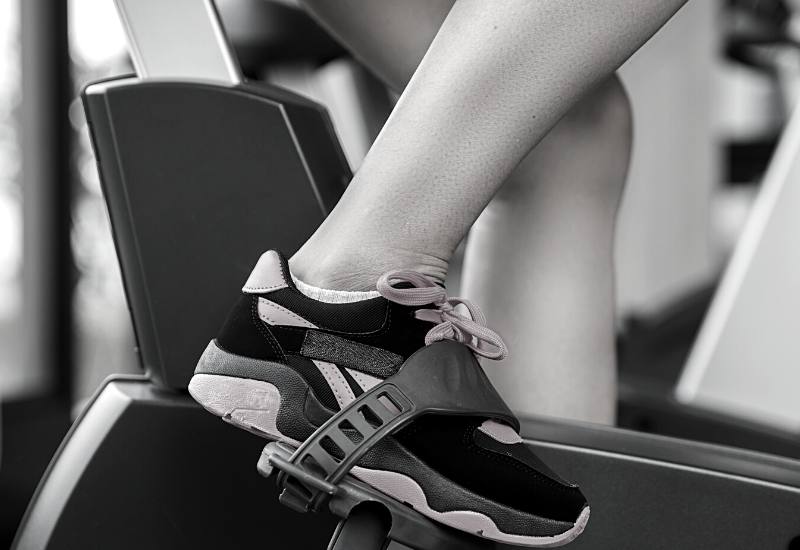 But long before saddle sores form, there's a certain amount of bruising and tenderness that results from a long workout.
You're sitting on some of the most sensitive of your body parts, with all of your weight resting on a VERY small point of contact.
I've walked away from far too many spin classes and stationary bike workouts with a sore bum and numbness in certain parts I'd rather not go numb.
Then, of course, there's the risk of knee pain. Knee injuries are the most common type of injuries among cyclists because when you pedal while seated, the muscles low in your quads are doing most of the work.
This exertion and repetitive motion can lead to inflammation and pain, and wear down the cartilage over time.
Exercise Bike Benefits – FAQs
Can you get in shape with just an exercise bike?
You can burn a lot of calories and build both cardiovascular and muscular endurance using just the exercise bike.
However, to be truly "fit" means you also need to develop muscular strength and joint mobility. For the former, resistance training is the best path to fitness. For the latter, it's all about the time you spend stretching and moving.
So while the exercise bike is a great cardio machine to add to your workout, a smart trainee will incorporate a wide variety of other machines and exercises into their weekly training plans as well.
What other cardio machines are good for losing weight?
Some of my favorite include the elliptical machine, rowing machine, Jacob's Ladder, and, of course, the treadmill.
The elliptical and rowing machines deliver a full-body workout, rather than the lower body focus of the stationary bike.
The Jacob's Ladder is also a full-body workout that burns A LOT of calories and pushes your cardiovascular system to its limits.
And the treadmill is just an overall functional machine that will help you walk, run, jog, and sprint better in your everyday life.
The Bottom Line
As you can see above, there's a lot to love about the stationary bike, but there are also a few drawbacks you need to know about. Those "cons" won't be dealbreakers—they're just potential problems that you'll need to be aware of and take active steps to solve and/or avoid.
However, by this point, one thing should be perfectly clear: the stationary bike is a machine that can deliver results, makes tracking performance easy, allows you to work out at home on a budget, and helps focused trainees to see real improvements in their fitness.
If you're looking for a machine to incorporate into your weekly training programs or add to your home gym, the stationary bike is definitely one worth considering!
---
More Articles and Guides Like This
Treadmill vs Stationary Bike: Which One is the Best Workout for You? Wondering whether the treadmill or the stationary bike is best for your workouts? In this detailed comparison, we will find out so that you can make the most of your time in the gym.