Assault bikes are an awesome way to level up your training, whether you are trying to lose weight, build muscle, or improve your conditioning levels. Here are seven benefits to tacking the assault bike at the gym today.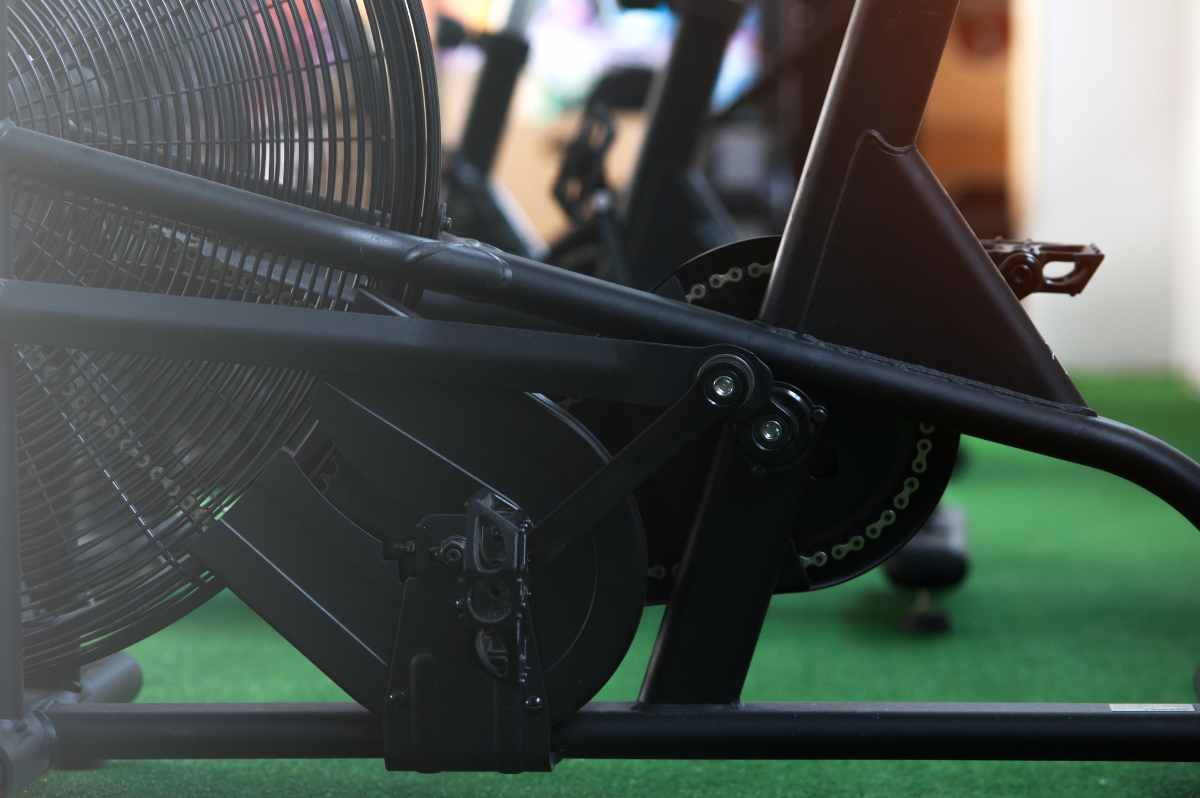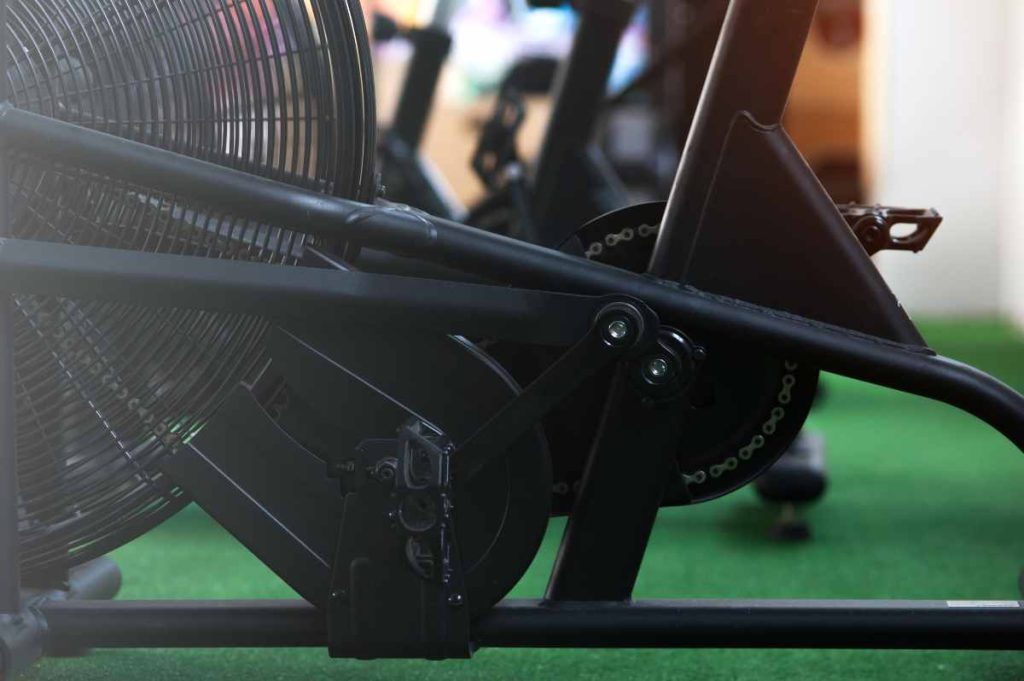 Looking for a new way to take your workouts to the next level? Sick and tired of doing the usual cardio training sessions the same way you have for years?
Time to kick it into high gear with an assault bike!
It's so much more than just a basic spinning/stationary bike workout—it's a new way to train that will hit every muscle in your lower body (along with your core and upper body, too!) and push your effort to the max.
Read on to find out what best air bike training benefits are, and how switching up to using this new tool may be the game-changing solution you've been looking for.
Let's saddle up!
What is an Assault Bike?
The assault bike, also called the air bike, is a training tool typically used by boxers, CrossFitters, and pro athletes for the purpose of high-intensity cardio training.
It may look like a stationary bike with a pair of handles attached, but once you get on it and start working, you'll see that it's so much more.
Fun Fact: Is it called an air bike, assault bike, Airdyne, or fan bike? Generally, they are all the same. Assault bike refers to a company and brand name (Assault Fitness, who helped popularize the AssaultBike in the 2000s), but the association has stuck.
The assault bike is operated by both the foot pedals and the handles, which means you can use both your upper and lower body to get the bike moving.
Stuck with Your Training in the Gym?
Join 12,000 lifters and athletes and sign up for FREE access to my 5-day email course on how to conquer the most common gym mistakes.
From goal setting to lifting technique, you will learn how to overcome the mistakes in the gym that are holding you back from getting bigger and stronger.
Unsubscribe anytime. No spam.
But here's the real trick: the faster you cycle, the more the air resistance increases.
A slow, steady pace will feel like you're on an ordinary stationary bike, but all you have to do to up the intensity to the max is to start pedaling faster.
This variable resistance makes it one of the most useful workout tools in your gym!
Benefits of Training with an Assault Bike
⭐ Benefit 1: Air bikes Offer Variable Resistance
I'm a huge fan of variable-resistance exercise equipment because it gives me total control over how intense my workout is.
When I want to take it easy and cool down after a tough weightlifting session, the slow pace keeps the resistance light.
But on those days when the machine (like the assault bike) is the "closer" to my workout, I can push the speed and increase both the intensity of the workout and the resistance provided by the machine.
Whether you're doing HIIT or any kind of interval training, the variable resistance of the assault bike is a definite "pro" that most other machines can't offer.
See also: 7 Assault Bike Workouts for Burning Fat, Athletes, Beginners, Cardio and More
Treadmills, standard stationary bikes, and elliptical machines offer adjustable resistance that remains the same until you manually raise/lower it using the controls, but all you have to do to make your assault bike workout harder is just pedal faster.
And trust me, it gets really dang hard!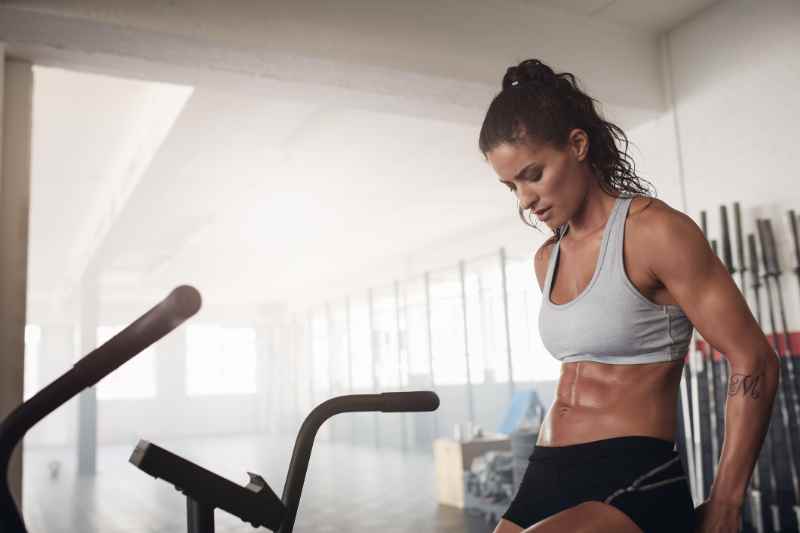 ⭐ Benefit 2: Full Body Training
A lot of cardio machines focus only on your lower body, giving your legs a great workout as you run, cycle, or climb stairs.
Some, like the elliptical, engage your core and upper bodies a little, but the focus is still on your lower body.
But with the assault bike, you can train your upper body muscles as effectively as you work your lower body.
Related: 7 Reasons to Love the Schwinn Airdyne AD7 [Review]
All you have to do is work the handles harder, really pushing and pulling to the max. If you do, you'll feel the burn in your shoulders, biceps, triceps, chest, and back.
The assault bike is a total-body workout all in one piece of equipment. How many other machines can say the same thing?
⭐ Benefit 3: Adapt and Compensate
One of my favorite things about the assault bike (vs. other cardio machines) is that it's easy to compensate for lower body injuries.
Let's say, for example, you sprain your ankle or wrench your knee. You may still want to get a good cardio workout, but pretty much every cardio machine—from the stairmaster to the rowing machine—requires your legs to do the majority of the work.
Basically, your injury makes it nearly impossible to get a full-intensity cardio session until your lower body heals.
Related: Assault Bike vs Echo Bike: Pros, Cons, Differences and Which One is Best
But that's not the case with the assault bike! Because it has the built-in handles that operate the flywheel just as efficiently as the pedals, you can get an amazing cardio training session using just your upper body muscles.
You can keep your feet on the pedals to help out if you want, or place them on the bike frame to keep them out of the way while your arms do all the work.
It's an amazingly adaptive tool that lets your upper body compensate for lower body injuries or deficiencies.
⭐ Benefit 4: Air Bikes are the Perfect HIIT Tool
High-intensity interval training is truly amazing for pushing your fitness to the max and burning a lot of calories.
Fun Fact: Did you know that you can burn more calories in a 15-minute HIIT session than in a 45-minute jog or cycling workout?
HIIT is also a great solution for fitting in an excellent workout in just a short amount of time. You may not have hours to spend at the gym, but in just 15-25 minutes, you can be dripping sweat and feel your muscles on fire. It's all thanks to the fast-paced workout with no rest between.
Assault bikes are one of the best cardio machines for your HIIT workouts.
Because you don't need to manually adjust the resistance (merely speed up to increase the variable resistance), it's easy to transition between your low intensity and high intensity intervals.
Best of all, you can do a full body HIIT workout all on the same piece of equipment. Game-changing, I promise!
⭐ Benefit 5: Unrivaled Muscle Development (for a cardio machine)
Because of the combination of handles and foot pedals, the assault bike will target all of your large muscle groups (from upper body to core to lower body) and build serious muscle.
The muscles worked during an assault bike training session include:
Chest, Triceps, and Shoulders during the "push" movement
Back, Shoulders, and Biceps during the "pull" movement
Abs, lower back, and obliques
Quads, hamstrings, calves, and glutes
That's right: that's all the important muscles you want to target for building strength and power.
The great thing about the assault bike is that you can target specific muscles by simply changing the way you use it.
Want to go more lower body-focused?
Go easy working the handles, and let your legs do the hard work. Want to make it more upper body-focused?
Work those handles hard, and give your legs a break.
You'll find it's one of the most versatile pieces of exercise equipment around!
⭐ Benefit 6: Assault bikes are excellent for developing cardio
At its core, an assault bike is a cardio machine.
What that means is that it focuses on conditioning your cardiovascular system by increasing your pulse/heart rate, increasing the amount of oxygen your lungs absorb by speeding up your breathing, and pumping more blood throughout your body.
As a result, your body will be better-able to oxygenate your muscles even while working hard, which leads to better cardiovascular endurance.
Trainer's Note: Most cardio machines are primarily used for low-intensity, steady state aerobic exercise, which is the best for building cardiovascular endurance. However, because of the variable resistance, the assault bike is great for both LISS and HIIT training!
Research with different types of cardio machines found that assault bikes were significantly more effective at raising peak heart rate compared to more standard cardio machines like stationary bikes1.
⭐ Benefit 7: Variety In Your Workout
This is one of the things that I find most appealing about the assault bike!
A lot of people (myself included) start to feel bored after repeating the same workouts day after day, week after week. That boredom can lead to demotivation, which in turn makes it harder to push your body to the max and really commit to your workouts. It may ultimately lead to burnout or end up with you quitting your gym routine altogether.
And that's just not what you want at all.
The ideal solution for this problem is to keep adding variety into your workouts. That way, you're always doing something new, challenging your body in some new way, and you never have a chance to get bored.
You can keep finding workouts and training programs that engage your mind and body both, thereby keeping your motivation high and avoiding the boredom that can lead to demotivation and burnout.
Best of all, because of its design and variable resistance, you can add variety into your assault bike workout every time you use it. Max out the intensity, slow down to work on your endurance, or switch between lower and upper body training to keep your body guessing.
At the end of the day, it's all about finding the training modalities that engage you and help you stay focused on what matters most: getting fit through regular workouts!
Trainer's Note: Worried about boredom or burnout? In addition to varying your gym workouts, try working out at home, going for a run or hike outdoors, or hitting the road on your bike. Exercise doesn't always have to take place at a gym—have fun in the sunshine and fresh air, and you'll enjoy your training sessions a lot more!
Assault Bike Benefits – FAQs
What muscles does an air bike work?
Air bikes are the closest you can get to a total body workout.
When you push on the handles, you're working the "push" muscles of your chest, triceps, and shoulders. When you pull on the handles, you're working the "pull" muscles of your back, biceps, forearms, and shoulders.
The pedaling part of the action pushes your glutes, hamstrings, quads, and calves. And because your upper body and lower body are moving in synchronicity, your core muscle (back, abs, and obliques) engage to keep you steady and stable.
Basically, the assault bike (air bike) is a full-body workout all wrapped up in one simple piece of equipment.
Is an air bike effective for weight loss?
It absolutely is! Studies have proven that high-intensity interval training (HIIT) is more effective for weight loss and fat-burning than low-intensity, steady-state exercise (like jogging or walking).
You'll not only burn more calories, but you'll activate the internal fat-burning mechanisms through your workout and keep them running for far longer, too.
As a result, you'll see significantly more fat loss—and, best of all, it's all in a fraction of the time thanks to the shorter, higher-intensity workouts!
The Bottom Line
The assault bike is an amazing tool that you'd do well to use to facilitate more intense, full-body workouts. It's all in a single piece of equipment, making it excellent for use at home as well as at the gym.
Because of its design and variable resistance, you've got a lot of options for taking your standard cardio workout to the next level—and see serious results in the process!
More Air Bike Guides and Resources
⭐ The Best Air Bikes for Home Gyms (Unleash Beast Mode). Ready to perform a laser-targeted attack on your weight loss goals? Here's a detailed look at the best Air Bikes for home gyms.
7 Reasons the Rogue Echo is the Best Air Bike on the Planet [Full Review]. The Rogue Echo is one of the most popular—if not the most popular—air bike on the planet. Here's why this well-built air bike is probably the best for you.