Ready to crank up the intensity with your workouts? Here is a look at the best ellipticals with incline for home gyms, complete with buying tips, in-depth reviews, and more.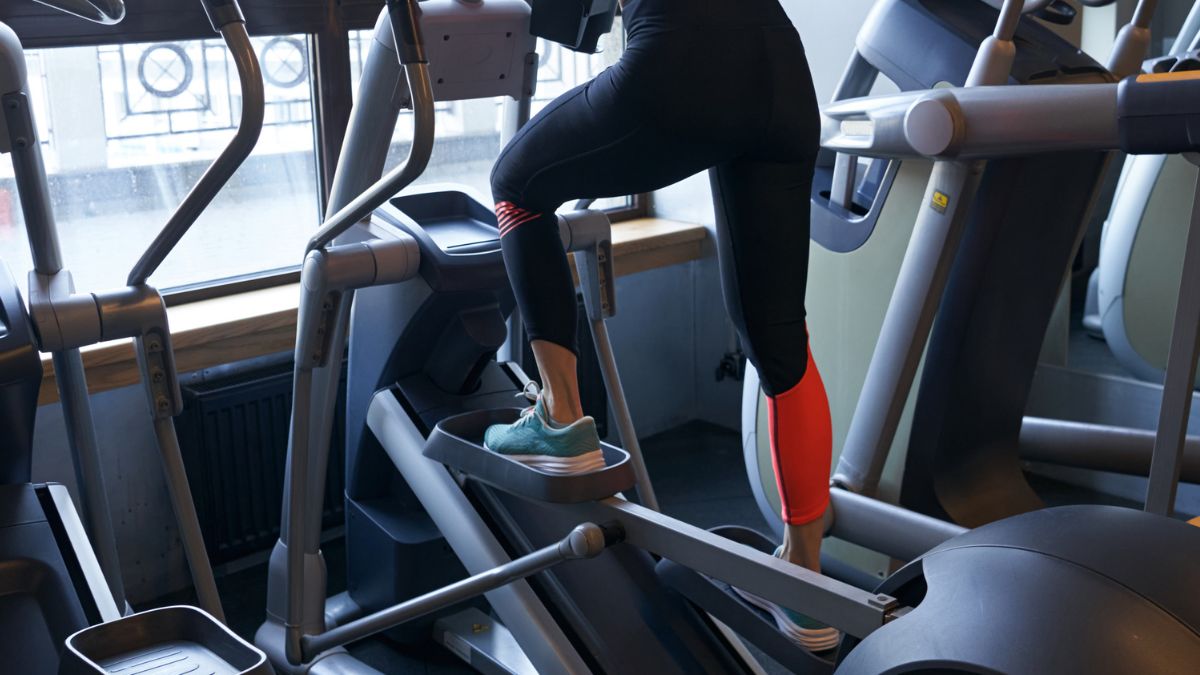 In this guide to the top elliptical machines with incline:
Elliptical machines are one of my favorite cardio machines in the gym. They are low-impact, highly versatile, and easy to crank up the challenge (and sweat!) by using the incline feature.
Fortunately, you can also take this extra sweaty elliptical workout home. There are tons of excellent ellipticals with incline at all levels of budget and functionality.
So many, in fact, that it can feel a little overwhelming.
In this guide, we look at the best ellipticals with incline, both power and manual, for home gyms. We'll list the benefits of using the incline setting on your elliptical, and even share our favorite elliptical that has incline and decline (yup, that's a thing!).
By the end, you will have a clear idea of exactly which elliptical with incline is going to send you hurtling towards achieving your workout goals.
Let's jump in and crank up the incline!
The Benefits of Using the Incline on an Elliptical Trainer
Alrighty, before we tackle our list of the best elliptical machines with incline, it's worth looking at the reasons that you should look for this feature when searching for an elliptical trainer.
They include:
✅ Using the incline lights calories on fire!
The first thing you will notice with incline is that it's simply harder! The intensity of the workout goes up, and so does the metabolic expenditure.
In other words, a harder workout = more calories get burned.
✅ More muscle activation.
Purely horizontal elliptical training is great and is a nearly full-body workout.
By cranking up the incline, you further activate the glutes and quads. (See also: What Muscles Do Elliptical Trainers Work?)
✅ Cranks up the cardio.
Cardiovascular training is crucial, not just for fat loss but for heart health and building aerobic capacity, which in turn helps you recover faster from hard workouts.
Using the incline on the elliptical is a more challenging cardiovascular workout—heart rate goes up as the incline goes up—and helps build endurance and conditioning.
✅ Still low-impact.
One of the main benefits of elliptical trainers is that it is a low-impact way to build fitness and lose weight.
The incline feature cranks up the difficulty of the workout without adding impact that comes from other cardio activities like running or jumping rope.
Next, we will look at the top ellipticals that have incline for home gyms…
Ellipticals with Manual Incline
Ellipticals that have manual incline are at the bottom of the price range, making them budget-friendly options.
A manual incline is best suited for people who plan on doing the whole workout with the incline.
Manual inclines are adjusted with knobs and tightening bolts on the column of the machine which requires dismounting the elliptical.
Our favorites include:
Schwinn 430 Elliptical Trainer
⭐ Best compact and budget-friendly elliptical with manual incline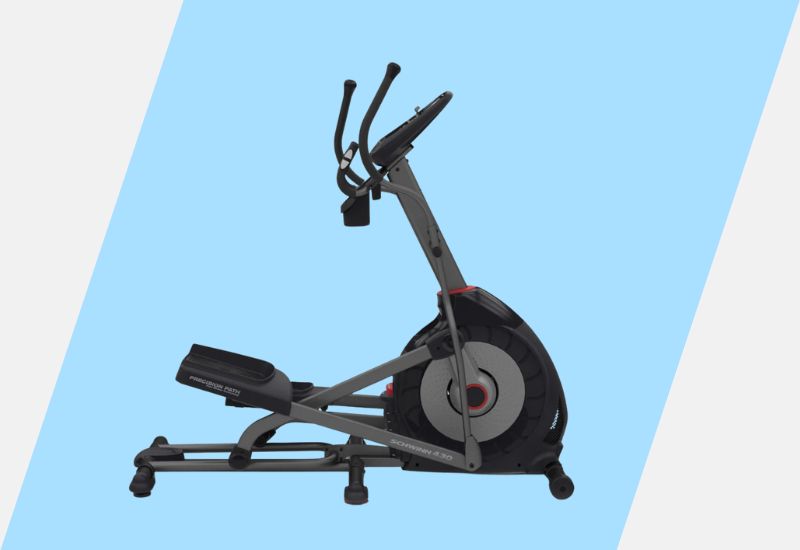 Key features:
The Schwinn 430 is an excellent budget-friendly elliptical for home gym enthusiasts looking to spice up their workouts with some incline.
The 430 has six different levels of incline which are set manually at the bottom of the housing unit of the elliptical. Changing between grades is easy and takes just a few seconds.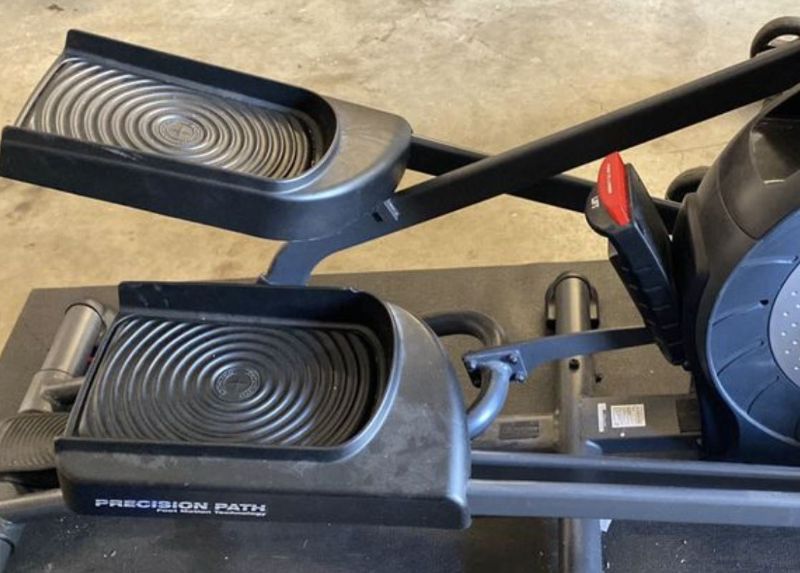 The 430 is a space-saver with a length of just 53" (most ellipticals have a length between 70" and 85"), making it an excellent choice for people looking for a compact elliptical trainer.
Even though it's inexpensive, the Schwinn 430 doesn't sacrifice on stride and ride quality.
It has a 20lb flywheel, which is excellent for ellipticals at this price point (which tend to be in the 14lb to 18lb range) and a max user weight of 300lbs.
| | |
| --- | --- |
| ✅ PROS | ❌ CONS |
| Best manual incline elliptical trainer | Only six levels of incline |
| 20lb flywheel for a heavy-duty ride | |
| 20″ stride length | |
| Compact design–just 53″ long | |
| Max user weight of 300lb | |
---
ProForm Carbon EL
⭐ Runner-up for best manual incline elliptical trainer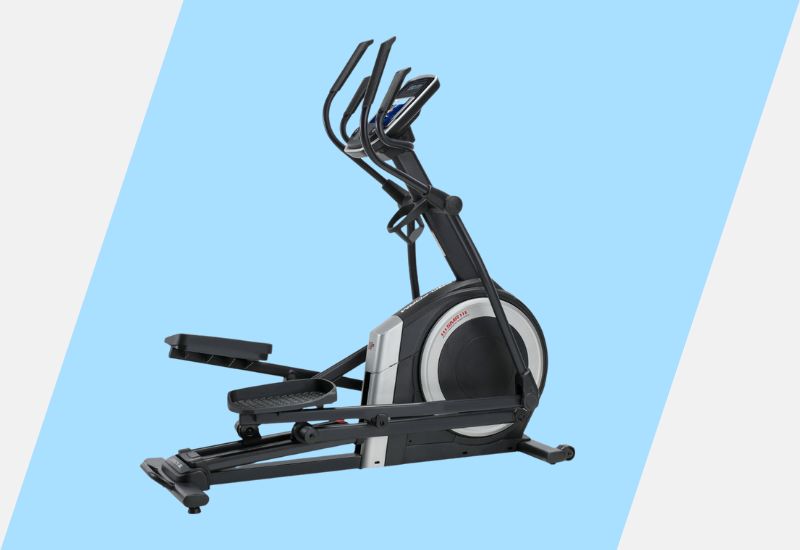 The ProForm Carbon EL, in form and function, is the little brother to the Schwinn 430 in almost every respect.
The Carbon EL has a manual incline that is adjusted via a button and latch on the center panel of the machine and can be cranked up to 20% incline.
Sweat = engage.
Besides that, it has a 14lb flywheel, which is teetering on being too light for heavier users, 18 resistance levels, and a 19" stride length, making it a more ideal choice for lighter users who don't need an overbuilt elliptical in their home.
| | |
| --- | --- |
| ✅ PROS | ❌ CONS |
| Manual incline of up to 20 degrees | Low max user weight (275lb) |
| 18 resistance levels | Longer than the 430 by over a foot |
| 14lb flywheel | |
| Oversized water bottle holder | |
| Ideal for lighter users | |
---
Ellipticals with Power Incline
Ellipticals with power incline are a step up in price and functionality compared to their manual counterparts.
A power incline means you can change difficulty mid-workout, which is perfect for those who like doing hills and intervals when exercising. There is also the convenience factor. Instead of having to manually change incline, it is done with the touch of a button.
Here is a list of my favorite elliptical trainers that have a power incline feature:
Nautilus E616 Elliptical Trainer
⭐ Best budget-friendly elliptical with power incline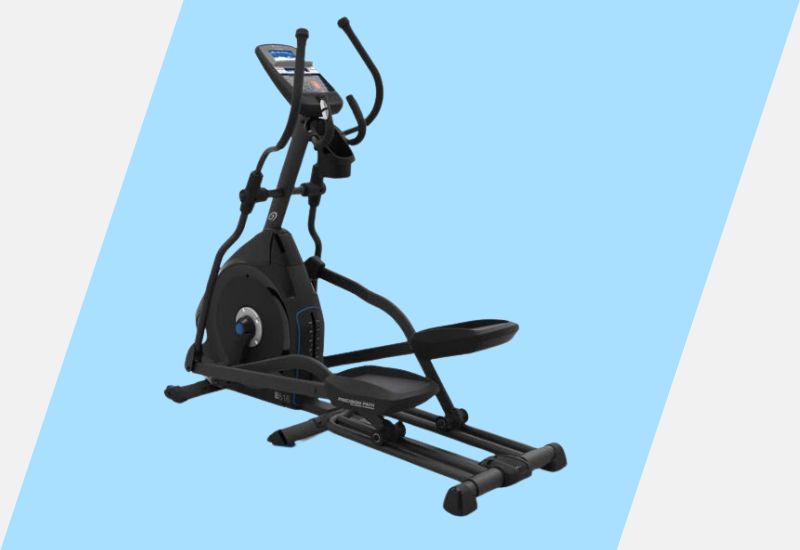 Key features:
The Nautilus E616 Elliptical Trainer has gotten a lot of attention on our website over the past couple of years. It took first place in our list of the best elliptical machines for under $800, and the competition wasn't even close.
For starters, it's the only elliptical on the market at that price point that has a power incline. The E616 also has a heavy-duty flywheel (22lb), long stride length (22"), and 29 workouts loaded into the console.
The E616 outperforms other ellipticals in its price range in terms of maximum weight capacity (350lbs) making it an excellent option for bigger people (like myself—I'm a salty 285lb and the E616 didn't flinch even when going HAM on it).
| | |
| --- | --- |
| ✅ PROS | ❌ CONS |
| Only elliptical under $800 with power incline | No handle for moving the elliptical |
| 6 levels of incline | |
| 22lb flywheel for a stable ride | |
| 29 workout programs | |
| 20 resistance levels | |
---
Sole E95 Elliptical Trainer
⭐ Best studio-grade elliptical with power incline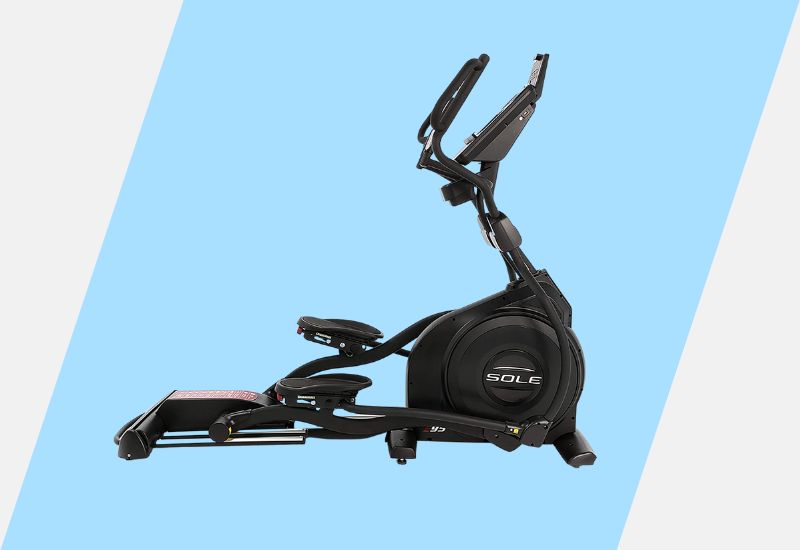 Key features:
The Sole Fitness E95 is my personal favorite when it comes to elliptical trainers for home gyms.
Although it doesn't have the big splashy screen of some other first-rate ellipticals, it simply rides… different.
Let's lead-off with foot comfort.
The E95 has the most ergonomic foot pedals of any elliptical on the market. Each pedal can be manually adjusted to ten different inclines to find that "perfect" foot angle, which almost completely eliminates toe and foot numbness when using the elliptical.
For people who want to crank up the difficulty, the E95 has 20 levels of incline which can be changed on-the-fly via controls on the left handle and from the console. Perfect for simulating doing hills and heart-pounding intervals.
Finally, the ride on the E95 is exceptionally smooth thanks to a 27lb flywheel which is far and away more than what a vast majority of users need.
I've done some fairly aggressive HIIT workouts on full incline on the E95, and never once did it wobble, teeter or shake.
The Sole E95 is meant for doing business, and with a price tag of $1,699, it gets my top pick for best studio-grade elliptical with incline for home gyms.
| | |
| --- | --- |
| ✅ PROS | ❌ CONS |
| Studio-grade elliptical (with residential pricing) | Has a LCD screen, and not a HD screen like competitors |
| 20 levels of incline (power) | |
| 27lb flywheel | |
| Adjustable foot pedals (10 different positions) | |
| Max user weight of 400lb | |
---
NordicTrack Commercial 14.9 Elliptical Trainer
⭐ Best elliptical with power incline for online training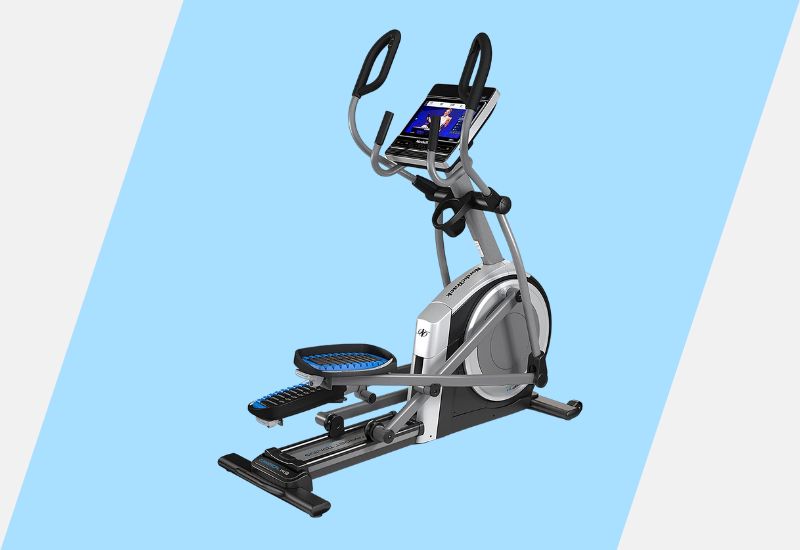 Key features:
The NordicTrack Commercial 14.9 is an absolute beast of an elliptical trainer, as you can probably guess by the term "commercial" in its name.
The flywheel on the 14.9 is—in the words of Buddy the Elf—ginormous at a whopping 32lbs, which is the heaviest we've ever seen in a residential elliptical trainer.
But the critical thing we love about this elliptical is the 14" HD touchscreen that is perfect for using iFit, an online portal that has thousands of classes, from trainer-led sessions to non-elliptical workouts like yoga and strength training.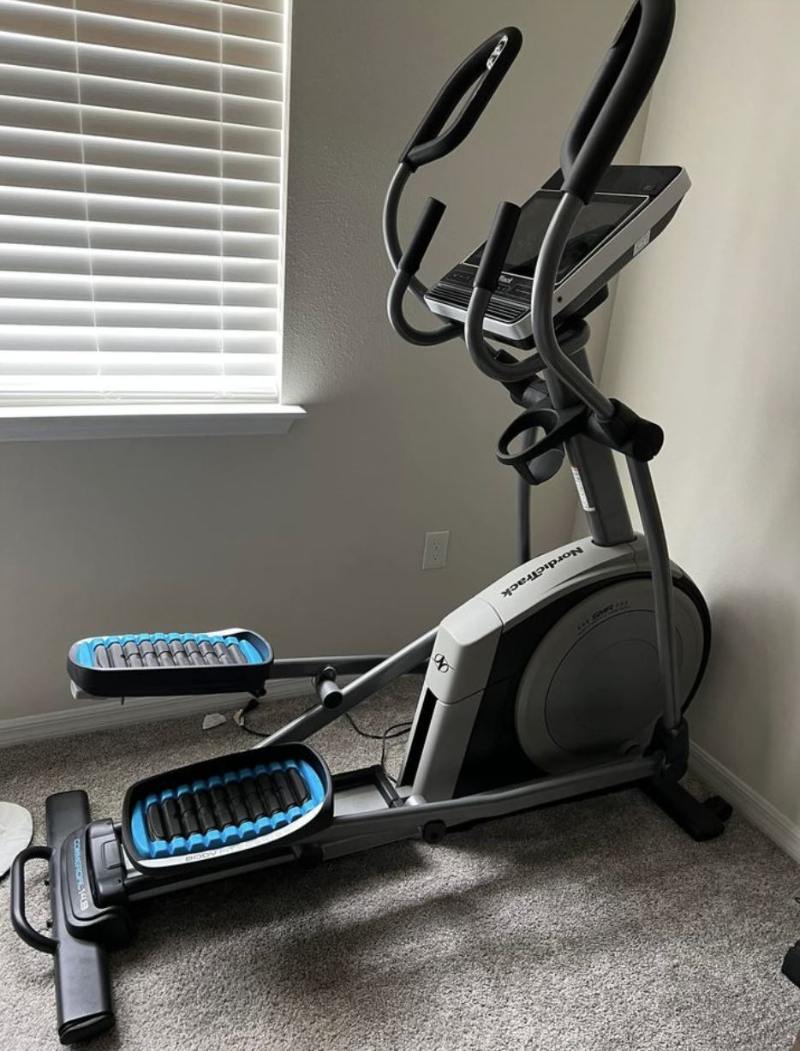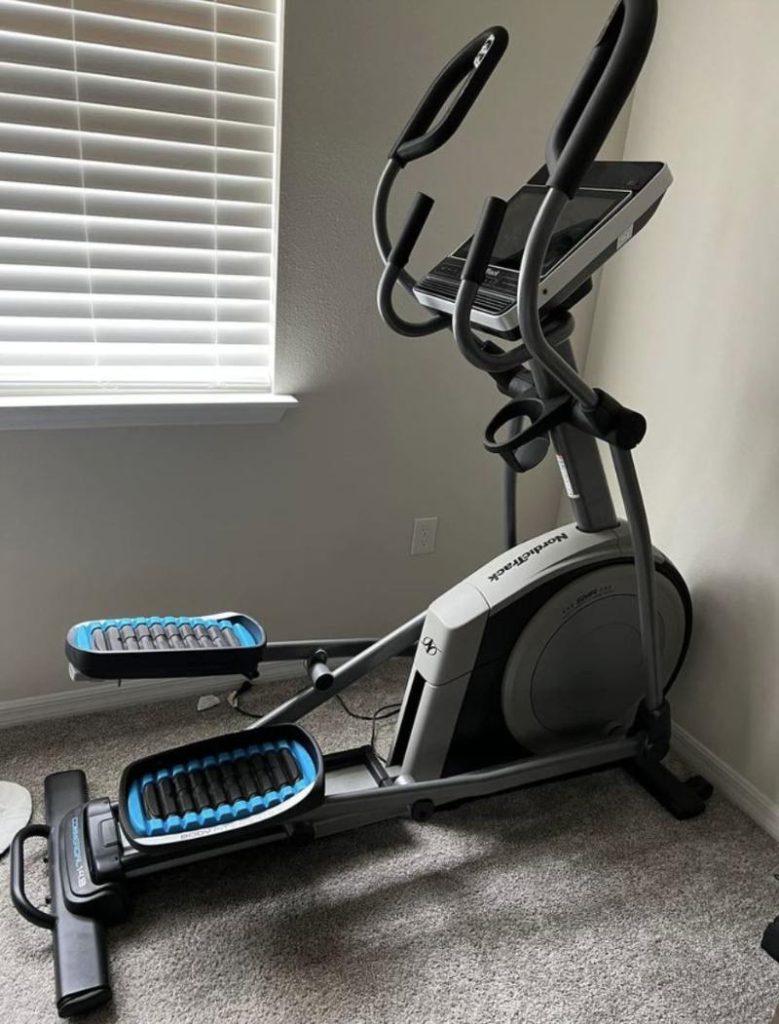 The incline on the 14.9—up to 20 degrees—can be adjusted from the handles or console of the machine as well as via iFit using Automatic Trainer Control. This is where the trainer in online classes automatically adjusts the incline to match the workout. (You can turn this off and adjust the incline yourself, as well.)
Besides that neat-o feature, there are lots of things to love about the 14.9, including the most comfy foot pedals in the business, 26 different levels of resistance, and a 350lb user capacity.
The only beef I have with the Commercial 14.9 is the relatively short stride length of 17.5" to 18.7", which is too short for taller people.
| | |
| --- | --- |
| ✅ PROS | ❌ CONS |
| Heavy-duty flywheel—32lbs! | Stride length too short for taller users |
| 14" HD touchscreen for online workouts | |
| Super comfortable foot pedals for extended use | |
| 0-20% power incline | |
---
Ellipticals with Incline and Decline
So far we have covered the top elliptical machines with incline, both powered and manually operated.
But there's one final elliptical, a solo machine with both a power incline and a power decline feature.
Why use a power decline?
For variety, for starters, and because it can simulate a downhill running gait. And using the decline engages more stabilizer muscles around the knees and ankles which can help build resilience against injury.
NordicTrack FS14i Elliptical Trainer
⭐ Best for people who want incline and decline settings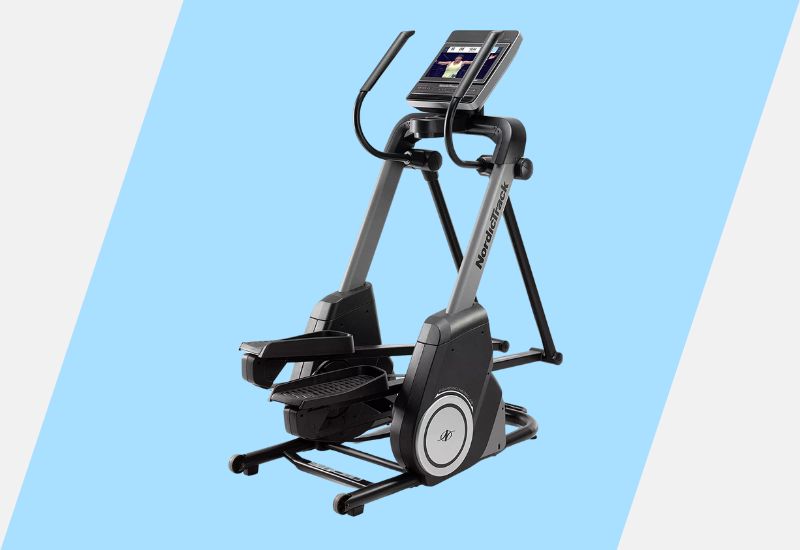 Key features:
The NordicTrack FS14i is a one-of-a-kind machine in a few very key respects…
For starters, it has a stride length that can be extended all the way out to 32". You read that right. This length effectively simulates running.
The FS14i is also a three-in-one trainer. You can shorten the stride to make it more of stepper, use a standard elliptical path, or extend out your stride. Switching between strides is easy and is done via your natural stride.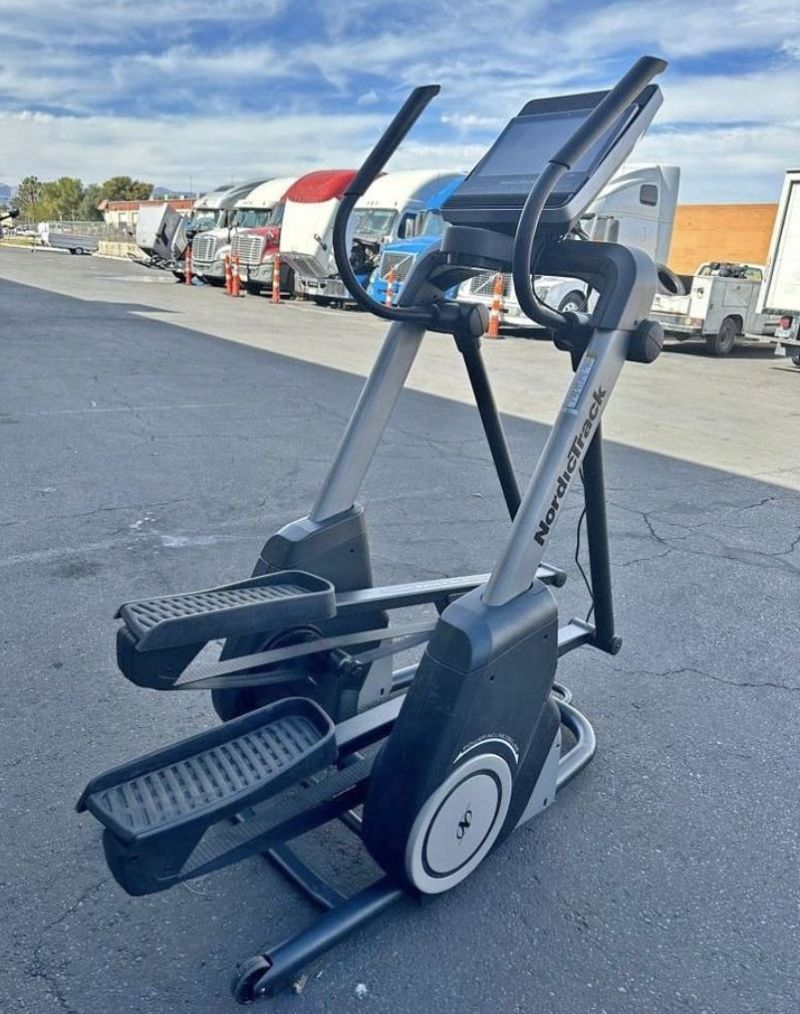 And for those who love to go uphill and downhill on the elliptical, you can change the incline and decline by 10% in either direction.
As mentioned earlier, the FS14i is the only elliptical on the market with this feature.
The NordicTrack FS14i also has a huge 14" HD touchscreen for classes and using iFit. Like the Commercial 14.9, the FS14i has a big and glorious HD touchscreen for interactive and immersive workouts via iFit (subscription required).
In sum, the FS14i is the ultimate elliptical in a lot ways, with tons of workout functionality, that big HD screen, and the unique ability to perform downhill striding.
| | |
| --- | --- |
| ✅ PROS | ❌ CONS |
| Only elliptical on the market with decline and incline settings (both power) | Subscription required for iFit after 30-day trial |
| 3-in-1 machine (stepper, elliptical and low-impact treadmill) | |
| 14" HD touchscreen for doing classes and workouts via iFit | |
| 375lb user capacity | |
| Custom stride length | |
---
How to Choose the Right Elliptical with Incline
We are pros when it comes to testing and reviewing elliptical machines for home gyms.
Having tested and written in-depth reviews on 47 ellipticals (and counting!), you could say we've been around the block.
Here are the key things we look for when ranking and grading ellipticals, particularly those with an incline feature:
Power vs. Manual incline.
Adjusting the angle of the pedals and machine instantly increases (or decreases) the difficulty.
Elliptical trainers either have a fully horizontal stride (with no incline whatsoever), a power incline, or a manual incline. Power incline is a better option for people who like to change up the difficulty mid-workout (like when doing a HIIT workout, for example).
Stride length.
The stride length—the distance between pedals—is how you "size" an elliptical for yourself.
18" to 20" is the general standard, but there are shorter stride machines for shorter people on the market and adjustable stride ellipticals for homes with multiple users.
See this guide on how to choose elliptical stride length.
Pedals.
Look for oversized pedals as they allow you to get into a more comfortable stance while on the elliptical machine.
Padded pedals are also a must-have for me as I like using the elliptical for extended, steady-state cardio workouts.
Handles and arms.
A quality elliptical will have two sets of handles—one set that move, targeting upper body muscles, and a stationary set for when you want to isolate the lower body.
Look for ellipticals that have resistance/incline controls on the arms, as well.
Console.
Consoles and displays have progressed intensely in recent years with the explosion in popularity of online classes and workouts (Peloton, iFit, JRNY, etc).
If trainer-led classes are your thing, look for an HD touchscreen or an elliptical that can be paired via Bluetooth to a tablet or smartphone.
Heart rate monitor.
Most cardio machines for weight loss have the ability to track and monitor heart rate through sensors on the handles.
Heart rate is a great way to measure intensity and energy output when working out.
The Bottom Line
Elliptical trainers are one of the most versatile and effective way to get in shape, both at the gym, and is becoming more the case, in the comfort of your own home gym.
And one of the quickest ways to get more from your workouts is by increasing the incline on the stride path. With this collection of the top elliptical machines with incline (and decline!), you've got some killer options for cranking up your workouts at home.
To recap:
The Schwinn 430 Elliptical is the best elliptical trainer with a manual incline. The compact footprint and heavyish flywheel are also big pluses in my book.
For people who want a studio-grade ride, the Sole Fitness E95 is an absolute monster of a machine, with a 27lb flywheel, 20-degrees power incline, adjustable foot pedals, and one of the sturdiest rides on the planet.
Those who love classes will love the huge 14″ screen, iFit workout library, and the comfortable and tank-like ride on the NordicTrack Commercial 14.9 Elliptical.
And finally, people who want incline and decline will get an absolute kick out of the NordicTrack FS14i, a three-in-one hybrid trainer with all of the bells and whistles of a premium elliptical.
Pick your elliptical of choice, crank up the incline, and turn up the results from your workouts!
---
More Elliptical Guides and Reviews Like This
How Much Do Ellipticals Cost? (44 Different Models Compared). Ellipticals can be a costly investment in your workout goals. Here is a look at how much each type of elliptical costs and how much to spend on one.
Elliptical Buying Guide – Everything You Need to Know to Buy with Confidence. Want to buy an elliptical but don't know where to start? Arm yourself with the knowledge to choose the perfect elliptical for you and your workout goals.
The Best Heavy-Duty Ellipticals for Heavy People (By Model and Weight Capacity). Looking for a heavy-duty elliptical machine that can handle larger users? Here is a look at the best ellipticals for heavy people, a full list of ellipticals by user capacity, and more.