Using the wrong cardio machine with bad knees can make a painful situation worse. Here's a look at the best cardio machines for people with bad knees and which ones to avoid.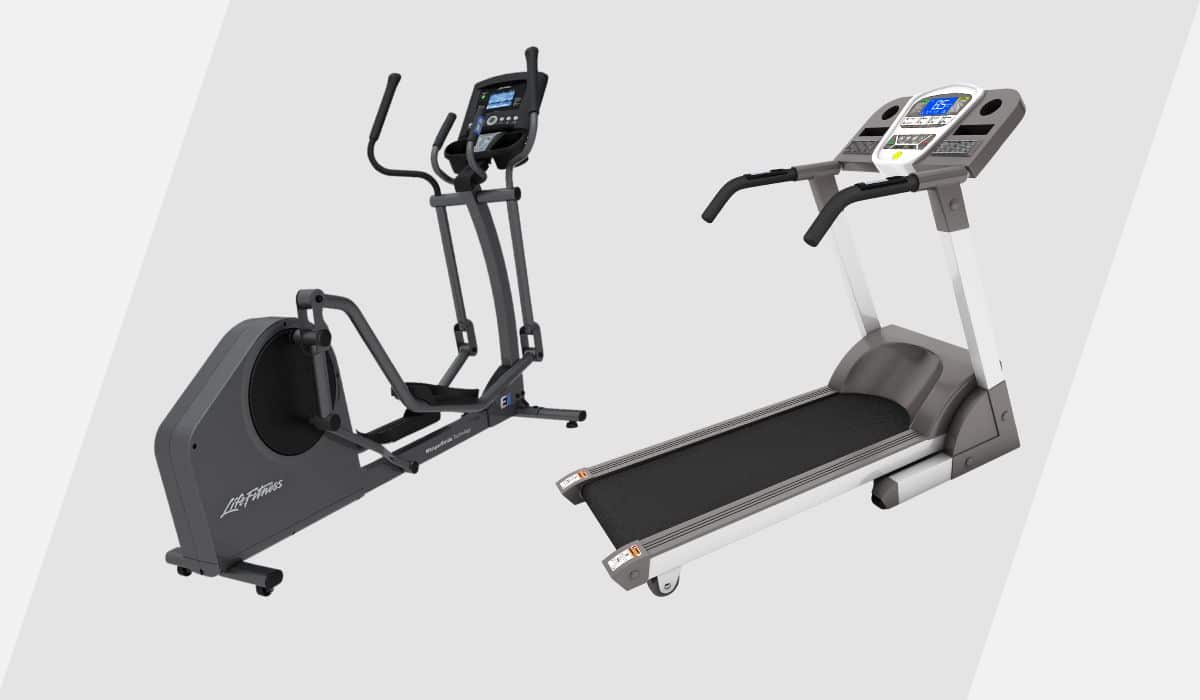 Bad knees can make working out not only challenging, but painful!
When it comes to cardio, your legs have to get involved. There are no machines that utilize only your upper body muscles, so your legs end up doing a lot, most, or even all of the work in your cardio training.
All of that strain can be quite hard on your knees—not a huge problem if you've got great knees, but definitely going to cause pain if you suffer from knee injuries or bad knees.
Thankfully, there are a few cardio machines for weight loss that allow you to get in a good workout without putting your knees at risk.
Below, we'll share with you a list of the best cardio machines for bad knees, but we'll also make sure you know which machines to avoid, too.
By the end of this article, you'll have a much clearer picture of which gym machines you should use and which you should steer clear of if you've got knee problems.
Best Cardio Machines for Bad Knees
Let's start off by listing all the good machines you should be using!
I'll even include a few pros and cons of each to give you a better idea of what makes them suitable/ideal/awesome for your training despite bad knees.
Rowing Machine
The rowing machine is definitely one of the best cardio machines you use if you have bad knees because of how easy it is to reduce the strain on your knees without reducing the effectiveness of your workout.
With the rowing machine, you'll typically feel the knee pain when you slide the seat very far forward and bend your knees as much as you can. To reduce this pain, simply don't slide quite as far.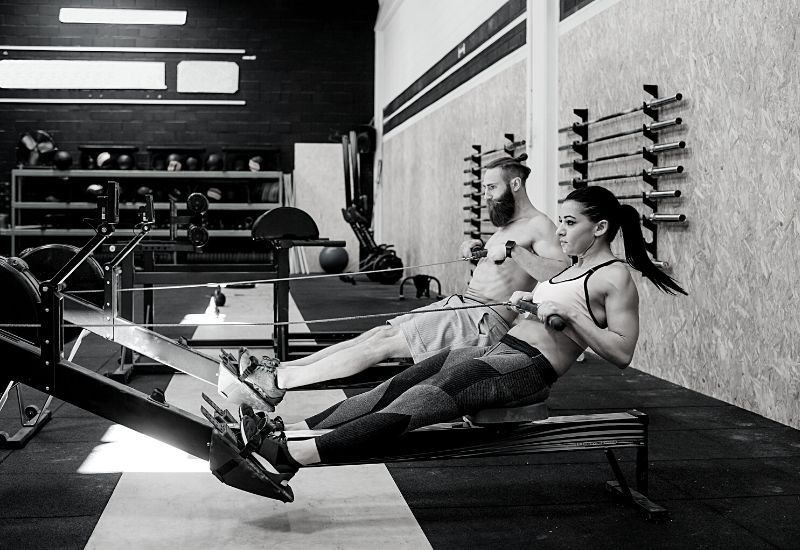 Stop before your knees are fully bent, sliding 75 to 90% of the way forward. This still allows your leg muscles to engage in driving you backward, but reduces the strain on your knees caused by extreme bending.
But just because you're not bending your knees quite as far, that doesn't mean the workout is any less effective.
Your arms and core still have to do all the hard work of pulling on the handles and going through the rowing motions, so you burn the exact same number of calories.
There's just less risk of stressing your knees and causing pain—that's what I'd definitely call a win-win.
| | |
| --- | --- |
| ✔️ Pros | ❌ Cons |
| Your upper body does most of the work, increasing cardio demands | May feel knee pain if you slide too far forward |
| Easy to adjust form | |
| Excellent fat-burning and muscle-building workout | |
| No weight on your knees | |
Elliptical Machine
There's no doubt that elliptical machines are good for bad knees, but there are some downsides to it.
Let's start off with the main benefit of elliptical trainers: little to no impact.
Because your feet never actually lift off the pedals when you stride, there is minimal impact on your feet (which travels up your ankles and legs to your knees) with every step.
Minimal impact means minimal risk of exacerbating knee injuries or causing knee pain.
The elliptical also encourages better balance (especially if you walk hands-free) and helps to strengthen the muscles in your legs, core, and upper body that keep you stable.
You can easily adapt the machine to a wide range of workouts, but these workouts are almost always gentle on your knees.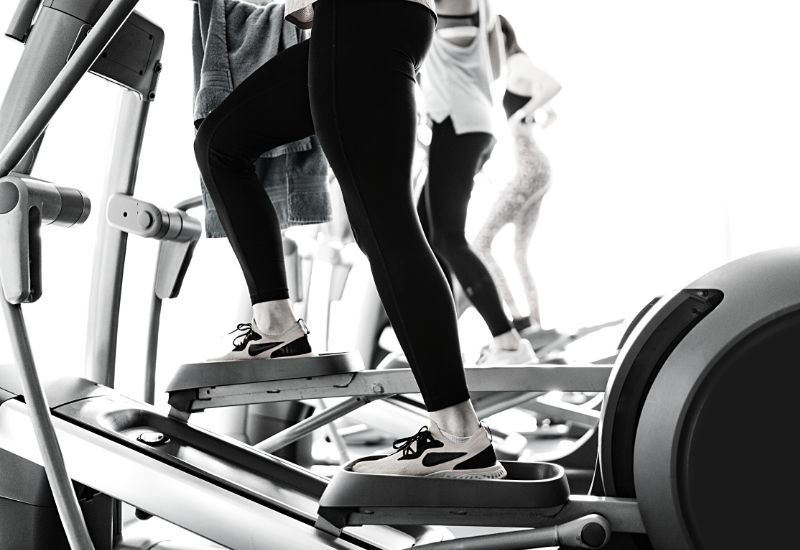 That being said, you need to understand that the elliptical is a weight-bearing workout. You're standing upright, so all of your weight is on your knees. There is a risk of exacerbating existing knee pains because of this.
If you set the incline too high, you'll experience the same "cons" and dangers to your knees that you experience with the stair climber (see below). However, setting the elliptical on a flat incline and keeping the resistance low shouldn't cause or worsen any knee injuries or pains.
| | |
| --- | --- |
| ✔️ Pros | ❌ Cons |
| Can be tailored to more upper-body focus | Weight-bearing exercise |
| Encourages natural gait/smooth movement | At high incline, may overload the knees |
| Versatile cardio training | |
| Excellent for balance | |
Spinning/Stationary Bike
Spinning bikes and stationary bikes are pretty much identical, at least when it comes to the way they load your knees.
They feature a seat that will support your weight, handlebars you can lean on, and pedals that work out your legs. The fancy features may vary from model to model, but the design remains the same.
The great thing about these exercise bikes is that they are not weight-bearing. You can sit down to let the seat bear up all your weight, and use your leg muscles alone to power the pedals. This can reduce the risk of knee strain and prevent knee pain.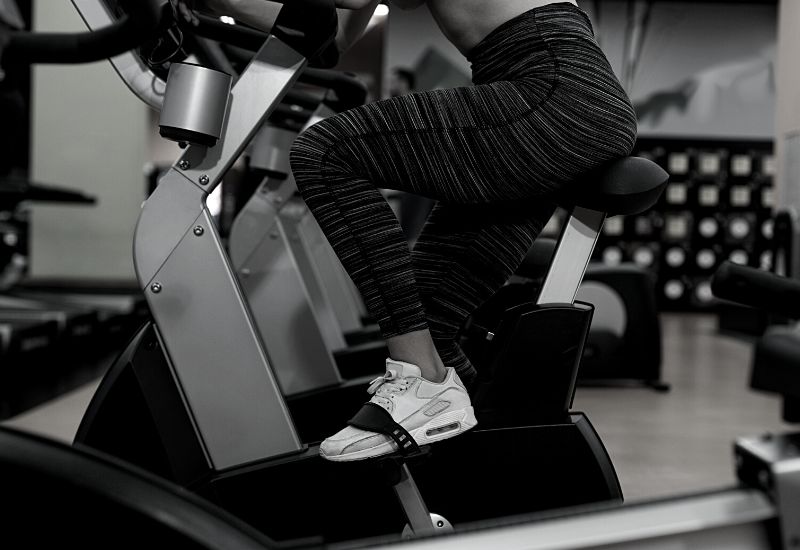 That being said, if you want to focus on training your knees, you can pedal standing up. This will do wonders to strengthen the leg muscles, and will shift them to a weight-bearing exercise. However, whenever you start to feel the pain in your knee, you can sit down again and give your knee a break.
Keeping the resistance low will ensure your leg muscles don't have to push too hard against the pedals, meaning there will be minimal muscle demand (which can increase knee pain) while still delivering a good cardio workout (when you pedal fast).
| | |
| --- | --- |
| ✔️ Pros | ❌ Cons |
| Good cardio without straining your knees | Not the best for strengthening leg muscles unless you pedal standing up |
| No weight is resting on your knees when you sit down | |
| Pedaling standing up can develop stronger leg muscles | |
| Easy to add/reduce resistance according to your knee pains | |
Recumbent Bike
The recumbent bike has all the same benefits of the stationary bike, but one-ups them by switching from a vertical plane of motion (pedaling up and down) to a horizontal one (pedaling forward and backward).
What this does is reduce the risk of lower back strain and provide you with a comfortable seated position to work from.
With the recumbent bike, there is no way to pedal standing up, so you will never get as good a muscle-training session as on the standard exercise bike.
However, because all of your weight is fully supported by the seat and you have support for your lower back, your whole skeletal system is able to move more easily and with less tension/risk of strain.
| | |
| --- | --- |
| ✔️ Pros | ❌ Cons |
| Great for lower back pain | Can't pedal standing up, so no muscle training |
| Easy cardio with minimal impact/risk of knee strain | May be "too easy" if you don't push hard |
| Comfortable | |
| Horizontal plane of motion is gentle on the joints | |
Assault Bike
I LOVE the assault bike! It's the perfect marriage between an upper body and lower body workout, one that gets more challenging the harder you push.
With the assault bike—also called the "air bike"—you've got pedals like a regular bike, but also handles similar to an elliptical machine.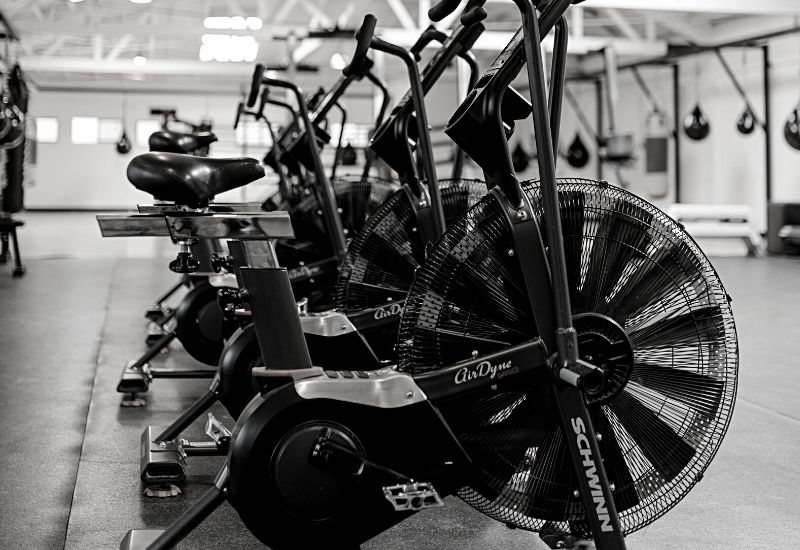 When you work the handles and pedals together, you get a highly effective full-body cardio workout that also does a great job of building muscle.
But what makes the assault bike so awesome for your knees is that if you're feeling the pain, you can reduce the effort in your legs and let your arms do more of the work.
Heck, you can actually just rest your feet on the pedals and not pump your legs at all, letting your arms do all the work.
You'll tire faster—your arms just can't handle the same amount of exertion as your legs—but it's an amazing break for your legs if you're feeling knee pain.
The assault bike can be as easy or challenging as you make it, so you can choose just how hard you want to pedal and train based on how much knee pain you're experiencing.
| | |
| --- | --- |
| ✔️ Pros | ❌ Cons |
| Easily shifts to total upper body focus | Resistance increases the faster you pedal |
| Can totally remove the leg muscles from the equation | |
| Pedal harder, work harder | |
| Highly effective full-body training | |
Cardio Machines People with Bad Knees Should Avoid
Above, we talked about the good cardio machines for anyone with bad knees, but I want to take a minute to focus on the cardio machines you should be avoiding if you've got knee problems.
Take a look at these machines below, and you'll quickly see why they're not the most knee-friendly:
Treadmill
The treadmill is a high-impact, weight-bearing workout. Every time you lift your feet off the ground and set it down again, there is an impact that travels up your ankles and legs to your knees, hips, and spine.
All of your weight is on your legs, and that weight comes down hard with every single step.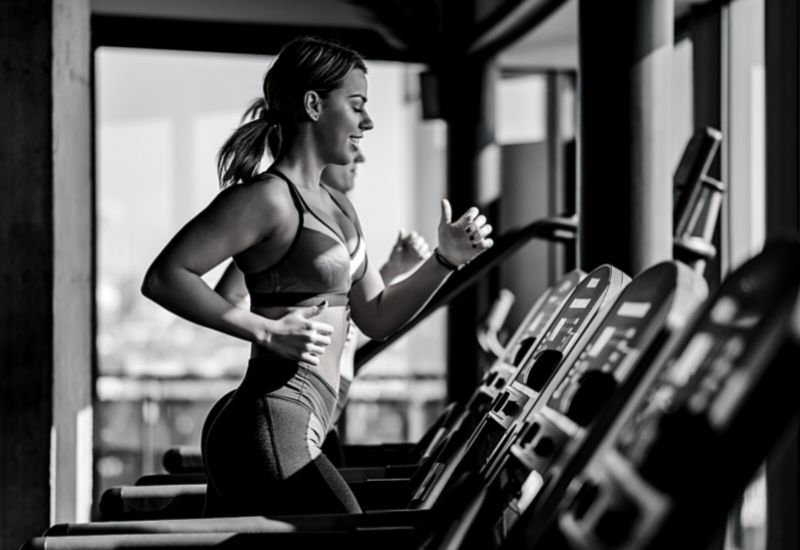 As you can imagine, all of that isn't great for your knees. If you've got existing knee pains, you'll likely find that spending a lot of time jogging, running, and hill-climbing on the treadmill can make the pains worse.
I do want to highlight the importance of spending time walking—outdoors or on the treadmill—to help strengthen your knees and reduce knee pain.
Walking backwards is also an amazing solution for strengthening the muscles that support your patella, which will go a long way toward bulletproofing your knees.
| | |
| --- | --- |
| ✔️ Pros | ❌ Cons |
| Great for strengthening your knees by walking | High-impact exercise |
| Walking backwards is amazing for your knees | Weight-bearing |
| Comfortable when setting a slow pace | |
Stair Climber
The stair climber—or "Stairmaster"—isn't going to be your best friend when it comes to knee pain.
Think about the way your body moves through the climbing motion. You bend your front leg at the knee, place the foot down, lean forward, and shift all your weight onto that front knee.
To push yourself upward, your leg muscles have to contract at that bent angle. This causes severe flexion of knee joint, increasing strain and pressure on the joint. Over time, it can lead to swelling and stiffness, as well as knee pain.
While the stair climber is a good cardio workout, you'll want to steer clear of it until you're no longer feeling pain and your knees are stronger and able to handle the strain.
| | |
| --- | --- |
| ✔️ Pros | ❌ Cons |
| Good cardio workout | Places all the weight on your front knee |
| Hits the glutes hard | Increases risk of knee strain |
| | Likely to cause swelling around the knee joint |
| | Load-bearing and high-impact exercise |
The Bottom Line
As you can see, each cardio machine has its pros and cons, and some (such as the elliptical and rowing machine) are definitely better than others when it comes to your overall fitness.
For your knees specifically, you'll want to work on a machine that places as little direct strain on the joint as possible, at least until the pain passes.
You can pay extra attention to the muscles around the knees once the swelling and discomfort is gone, and make sure to strengthen the lower quads so you don't experience knee pain in the future.
That, and using the right cardio machine, is the key to training without having to worry about knee pain!
More Guides Like This
The Best Cardio Machines for Bigger Glutes (and Which Ones to Avoid). Cardio machines are a killer way to strengthen your glutes–when you use the right ones in the right way. Here's a look at the best cardio machines for glutes, the ones to avoid, and some cardio workouts for max booty gains.
6 Best Machines for HIIT Workouts at Home. High-intensity interval training is the fastest way to get cardio and conditioning under your belt. Here's a look at the best HIIT machines to add to your home gym.