The treadmill machine is a monster for building bigger and stronger glutes. Here's how to target your glutes on the treadmill and some butt-building workouts to get you started.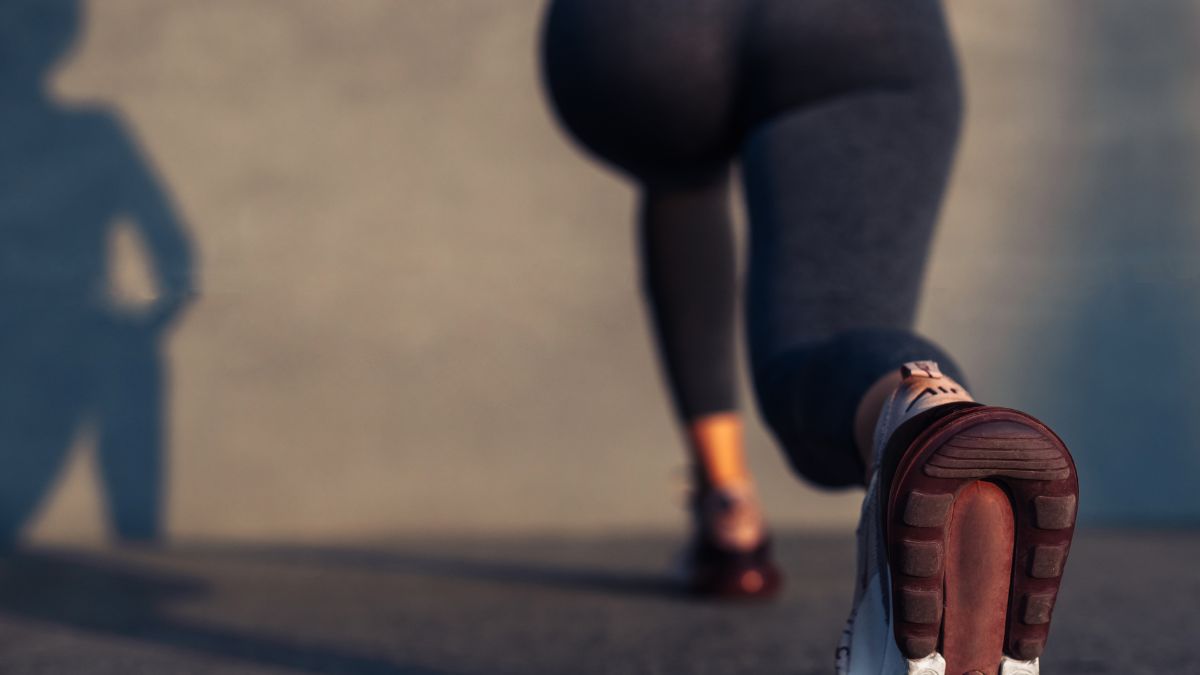 Most people think of the treadmill as being a more quad-focused machine.
After all, when you walk, run, jog, or sprint, the big muscle group at the front of your legs do end up doing the majority of the work.
But, with a few simple tweaks, you can turn it into a much more glute-focused workout.
In fact, the treadmill may be one of the best machines for building better, stronger, and bigger glutes.
That's what I want to focus on in this post…
Below, we'll look at why the treadmill is so butt-friendly, and how you can adapt the workout to specifically target your glutes. I'll even share a few of the best workouts you can do to shape and sculpt those glute muscles.
By the end of this post, you'll have everything you need to get a truly butt-kicking—and butt-working—training session!
Why the Treadmill Kicks Butt for a Bigger Butt 
While there are plenty of cardio machines for weight loss in the gym, the treadmill is uniquely positioned for targeting your glutes.
Here is why:
Easy to Add Incline
Most treadmill workouts for losing weight involve training for longer periods at a slower pace or easier setting (lower incline) in order to maintain the calorie burn for a full 30, 45, or even 60+ minutes.
But while burning calories on the treadmill is important, you can also use it to specifically target your glutes by adding a bit of incline.
When you work at an incline, your glutes and hamstrings both engage more to propel your body both forward and upward.
Fun Fact: Studies1 have shown a significant increase in glute activation in both incline running and incline walking compared to flat-ground running.
As a result, you can still get a very good leg-focused workout that burns a lot of calories, but the posterior chain muscles (glutes, hamstrings, and lower back) will see greater engagement—and, as a result, greater endurance of muscular strength and endurance.
Really, all you have to do is turn up the incline on the treadmill machine—anywhere from 5 to 15%–and you'll see the results!
Great for Walking Lunges
One of the benefits of the treadmill is that you can use it to walk endlessly, even if you're working out in just a tiny home gym in your basement, attic, garage, or a corner of your living room.
You don't need a lot of space to work out—just enough to fit in your machine, and that's it!
This is particularly useful if you want to do exercises like walking lunges, but don't have much space to work with.
Walking lunges are an amazing lower-body training exercise, one that maximizes glute engagement. You can actually set up the treadmill with your weights so you can do your walking lunges while carrying a loaded barbell or a pair of dumbbells or kettlebells.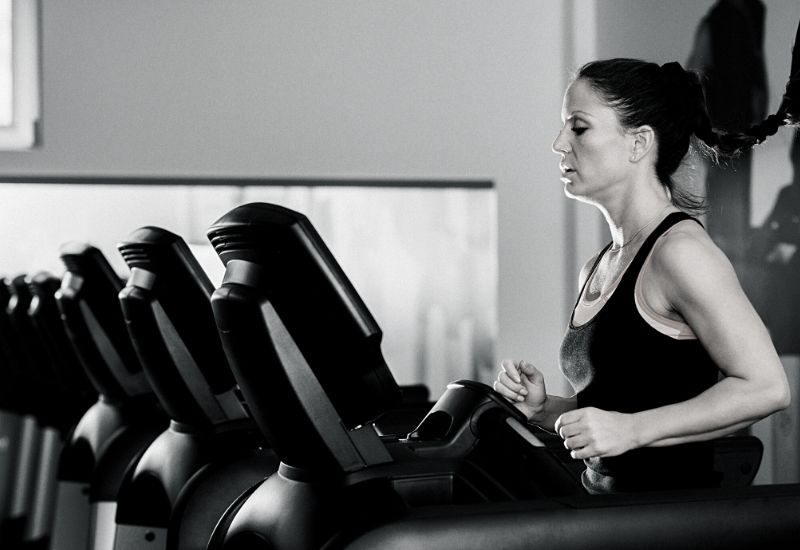 Or, if you prefer to use only bodyweight, you can add a few more reps into each set to push your quads, glutes, and hamstrings hard.
What makes the treadmill so effective for walking lunges is that you can set a specific pace (typically a slower walking speed) and lunge for time rather than repetitions. You'll very likely feel the burn more effectively trying to perform walking lunges for 60 seconds instead of targeting 10-15 reps.
And, thanks to the treadmill's handles, you have an easy way to support yourself and maintain your balance while performing the exercise.
Unleash Speed
One of the best ways to train your glutes is by speeding up your pace from a walk or jog to a full-on sprint and doing sprint workouts on the treadmill.
When you sprint, your glutes and hamstrings engage to propel your body forward at maximum speed, leading to development of explosive force from the muscle fibers (particularly the Type II fast-twitch muscle fibers) in your posterior chain muscles.
In fact, it could be argued that the explosive force demanded by sprinting can build muscular strength and endurance even more effectively than light resistance training.
All you have to do is set the treadmill to sprint speed and work in a few HIIT sets (periods of high-intensity sprinting with periods of low-intensity jogging or walking for recovery).
While there are cardio machines that more specifically target your glutes (such as the stair climber or the Jacob's Ladder), using the treadmill correctly can be game-changing to help you work your glutes more effectively every time you train.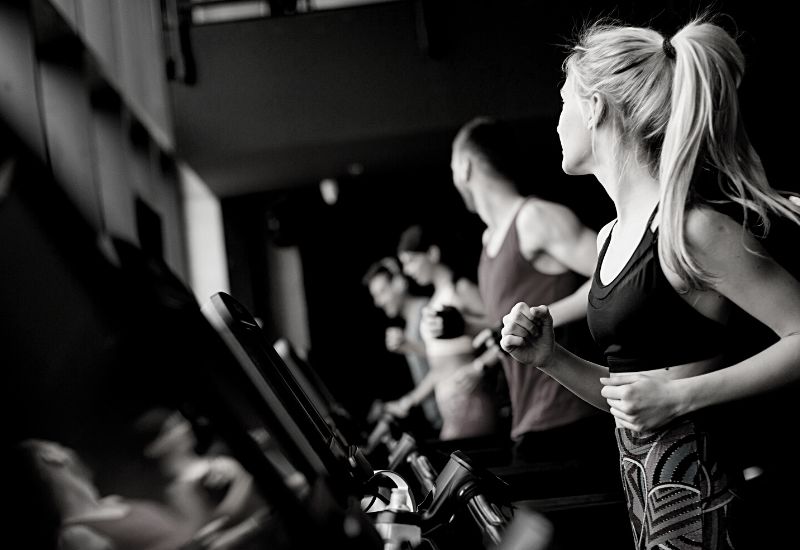 How to Work Glutes on the Treadmill Machine
Alrighty, let's get into some glute-building tactics for when you hit the treadmill machine.
My go-to's include:
Tip#1: Mix in Some Walking Lunges
If you're warming up before Leg Day—or you just want to add a bit of muscle-building to your walking workouts—try mixing some walking lunges into your cardio sessions.
You can walk at a standard pace (typically 3.5 to 4.0 MPH) for the majority of the workout, then slow it down (to between 2 and 3 MPH) for 60 seconds at a time.
For those 60 seconds, use the slower pace to perform walking lunges with proper form and technique:
Step forward into the lunge, and lower until your knee nearly touches the treadmill platform.
Push off your back foot so you step forward to bring your feet together.
Now repeat by stepping forward with the other foot, and keep switching feet for the full 60 seconds.
No matter what type of treadmills you use, or whether you do this exercise with just your bodyweight or adding a load (weights), you'll find this does an amazing job of hammering those glutes.
The more sets of walking lunges you can work in, the better!
Tip #2: Add Incline
Whether you're walking, jogging, or running, adding incline will be absolutely game-changing for your glutes.
But don't start at full incline just yet! You might not be used to it, and you risk straining your knees or hips if you go straight to max incline right off the bat.
Instead, start off at a "gentle" incline—usually around 5% incline will do. Walk, jog, or run at that gentle incline, feeling the engagement in your posterior chain muscles.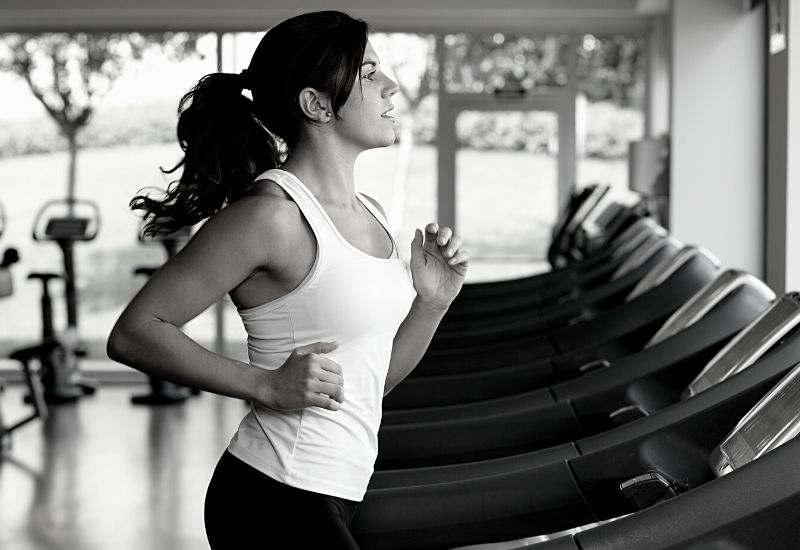 You can spend the entire workout at that mild incline, or switch between mild incline and flat road feel. However, with every workout you do, increase the incline slightly (working your way up toward 10%, then 15%) as well as the time you spend walking, jogging, or running at that incline.
If you really want to see results in the booty department, you'll want to spend your entire cardio session working at an incline.
Not only will tackling those "hills" (simulated by the incline) tighten up and build your glutes, but you'll burn more calories and eliminate more of the fat that clings to your butt and the backs of your legs.
Tip #3: Sprint
Sprinting is an amazing way to build stronger glutes and hamstrings capable of generating greater explosive power.
Now, be warned: no human is capable of sustaining maximal exertion for long periods of time. The human body, no matter how fit, will eventually stop functioning if it can't absorb oxygen and replenish depleted muscular energy.
That's why sprinting is typically sustained for a short period of time—either a couple hundred meters, or 30 to 60 seconds.
After that, you mix in periods of low-intensity exercise that allows your body to recover. Slowing down to a walk or jog will allow your body to send oxygenated and nutrient-rich blood to your muscles. Spending 60 to 120 seconds moving at a slower pace will restore you enough that you can sprint all over again.
That's why HIIT, sprint training, and Tabata are all such great options—not just for your booty, but for your fitness overall.
Sprinting at an incline will just double down on the effectiveness of the workout and help you build serious glute power.
Tip #4: Crab Walk
This is not an easy workout, but one that will do amazing things to help you develop powerful glutes.
The "crab walk" exercise is a fun one: you place a resistance band (use a fabric resistance band for even more resistance) around your thighs or calves (depending on what feels best for your knees), squat, then "walk" to the side. First you walk to the right, then to the left.
Because you're moving in a squat, your quads are contracting to hold your body in the squatting position. Your glutes, however, do the work of extending your legs to the side so you can actually walk, rather than just remain squatting.
Adding in the resistance bands makes the workout just that much harder—and therefore more effective for developing powerful glutes.
For this exercise, you'll want to slow the treadmill way down, somewhere between 2 and 3 MPH. A slower pace will be much safer for you, as you're going to be moving in very small, slower steps.
The focus isn't on speed, but on maintaining your squatting posture and training those glutes and quads through your crab walk.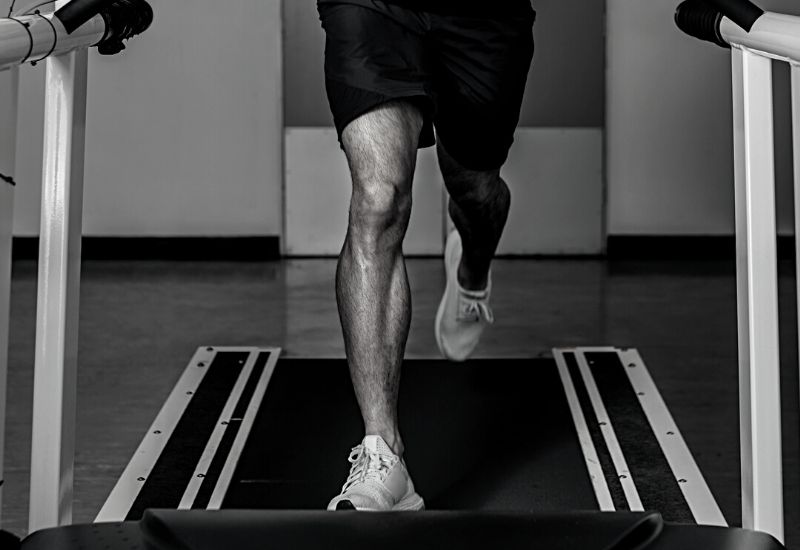 Treadmill Glute Workouts
Time to put all the advice above into practice with some real-life workouts you can start doing today, no matter your experience level.
Workout 1: Incline Power Walk
With this workout, you're going to stay at a walk the entire time. The only thing that will change during the workout is the amount of incline you work at.
Don't worry: you'll start off easy, and gradually work your way up to max incline. Then you'll do it all reverse to end your workout at a nice flat road feel once more!
The Workout:
Start off with a warm-up. Spend 5 minutes stretching out your lower body muscles (paying extra attention to your glutes and hamstrings), and 5 minutes walking at 0% incline at a slow speed.
Increase your walk speed to a fast walk or "power walk" pace—between 3.7 and 4.2 MPH, depending on what feels more comfortable to you. The faster you can walk, the better.
Raise the incline to 2% for two minutes.
Raise the incline to 4% for two minutes.
Raise the incline to 6% for two minutes.
Raise the incline to 8% for two minutes.
Raise the incline to 10% for five minutes.
Raise the incline to 12% for five minutes.
Raise the incline to 15% for five minutes.
Lower the incline to 13% for five minutes.
Lower the incline to 10% for five minutes.
Lower the incline to 8% for two minutes.
Lower the incline to 6% for two minutes.
Lower the incline to 4% for two minutes.
Lower the incline to 2% for two minutes.
Cool down with 10 minutes of slow-pace, flat road walking and some light stretching.
Workout 2: Lower Body Resistance Training
This workout combines three resistance training exercises into one kickass walking workout that will do wonders to target your glutes.
But, because there's plenty of walking between each exercise, you'll find the active recovery reduces post-workout soreness and burns a few more calories, too!
The Workout:
Start off with a warm-up. Spend 5 minutes stretching out your lower body muscles (paying extra attention to your glutes and hamstrings), and 5 minutes walking at 0% incline at a slow speed.
Walk at a gentle incline (1 to 5%) at a moderate walking speed (around 3.6 MPH) for one minute.
Slow the speed down to between 2 and 3 MPH (according to what feels comfortable) to perform 60 seconds of walking lunges. Use only your bodyweight initially, but feel free to add weight in future workouts.
Resume moderate walking speed for 60 seconds of rest.
Perform another set of walking lunges at a slower speed, followed by 60 seconds of moderate walking speed.
Repeat for 4 total sets of walking lunges, followed by two minutes of moderate walking speed for active recovery.
Continue with crab walks, interspersing 60 seconds of crab walking (on alternating sides) with 60 seconds of recovery at a normal walking pace. Repeat for 4 total sets.
Continue with squat walks (facing forward, holding on the treadmill handles for support if needed), again interspersing 60 seconds of work with 60 seconds of active recovery for 4 total sets.
Set the treadmill to a faster walking speed (around 4.0 MPH) and 10 to 15% incline for the last 5 minutes of your workout.
Cool down with 10 minutes of slow-pace, flat road walking and some light stretching.
Workout 3: HIIT Sprint Training
This workout is going to push your body hard, but the sprints will do wonders to increase both your calorie-burning and your glute explosive power.
The Workout:
Start off with a warm-up. Spend 5 minutes stretching out your lower body muscles (paying extra attention to your glutes and hamstrings), and 5 minutes walking at 0% incline at a slow speed.
Raise the speed to between 8 and 10 MPH, depending on what feels comfortable for your sprint. Sprint for 30 seconds.
Return to a moderate walking pace (3.5 to 4 MPH) or a jogging pace (4.5 to 5 MPH). Recover for 90 seconds.
Repeat the intervals of 30 seconds of sprinting and 90 seconds of recovery (walking or jogging as you can) for a total of 20 minutes.
Cool down with 10 minutes of slow-pace, flat road walking and some light stretching.
Glutes on the Treadmill Machine – FAQs
How much of an incline should I use on the treadmill for glutes?
The answer is really quite simple: the more incline you use, the better it will be for your glutes!
The greater the incline, the more your glutes engage to attack the "hill". For maximum booty work, set the incline to the full 15%. You can even increase the speed to a fast walk to make it even more challenging.
Is walking backwards good for building glutes?
Walking backwards does engage your glutes, as well as your hamstrings and calves. However, the real benefit of walking backward is the increased engagement of the lower quad muscles—a.k.a., the muscles that support your knees.
The Bottom Line
The treadmill may not be most people's go-to machine when trying to target glutes, but the truth is that it can offer some pretty significant glute-specific benefits.
As you saw above, there are a lot of workout options that can help you maximize posterior chain muscle engagement and hammer that booty to build strength, endurance, and even explosive power.
Set the treadmill to an incline, speed up to a sprint, and mix in leg exercises like walking lunges and crab walks, and you'll come away from your treadmill workouts noticing real change and improvement in the shape and strength of your glutes.
---
More Glute-Building Guides Like This
6 Best Glute Exercises for a Stronger and More Muscular Butt (Plus Sample Workout). Strong glutes not only look great, they are also highly functional. Here are the best glute exercises for a stronger booty. Buckle up for glute gains!
6 Best Gym Machines for Glutes (Plus Benefits of Each). Ready to take your glute training to the next level? Here's a detailed look at the best machines to use on Glute Day, including the benefits of each exercise. Next stop–Glutetown!
8 Best Barbell Pads for Hip Thrusts. Hip thrust pads are a quick way to protect your hips, stabilize the bar, and push more weight. Here is a breakdown of my favorite barbell pads for hip thrusts.