Wondering which type of treadmill is best for you? Here's a detailed look at the pros and cons of every kind of treadmill so that you can choose the right treadmill for you.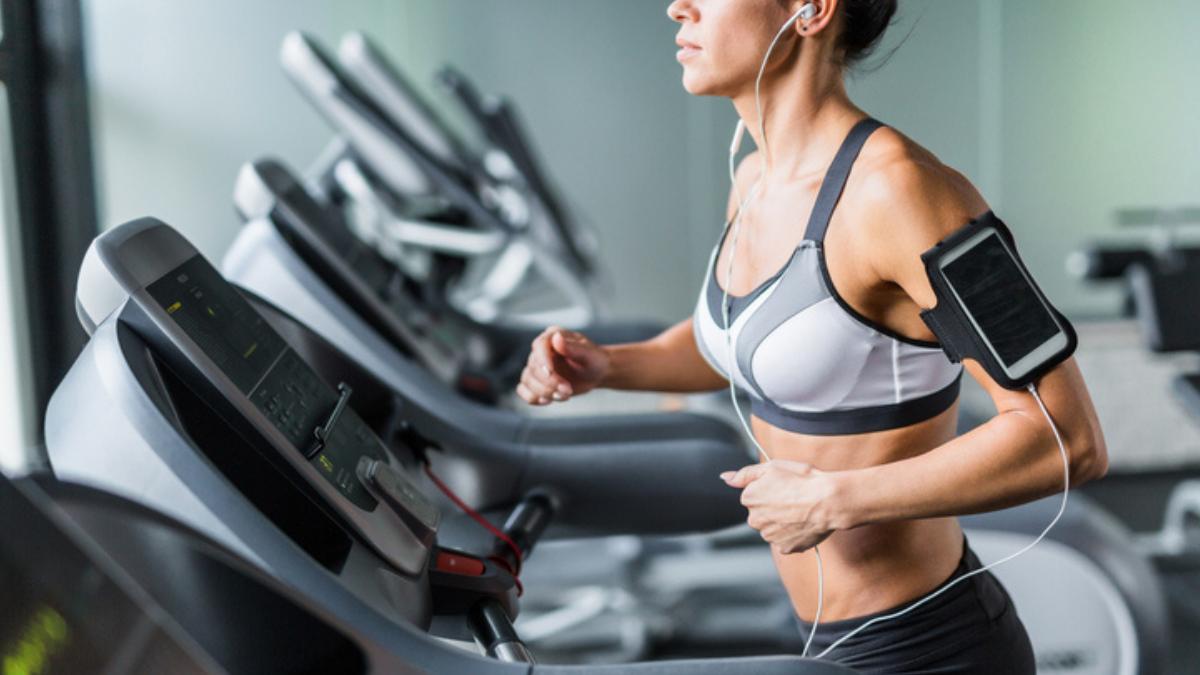 Treadmills are total monsters for getting in shape and losing weight.
Not only do they deliver a highly effective cardio workout, but treadmills are "functional" training that translates into more efficient performance of your activities of daily life.
Although the function of treadmills is straightforward—get on and run or walk—there are a few different types of treadmills. Each has its own set of pros and cons, with each treadmill best suited to specific individuals and goals.
So which is the best treadmill for you?
In this article, we will look at the most popular types of treadmills, highlight the strengths and weaknesses of each, and by the end, you will have a clear idea of which treadmill is right for you and your training and health goals.
Let's jump in.
The Different Kinds of Treadmills
We've talked at great length in other articles about the benefits of treadmills in the past, so we won't rehash that here.
For now, let's deep dive into each of the types of treadmills you'll encounter both at the gym and in your quest for the best treadmill for your home:
Motorized Treadmills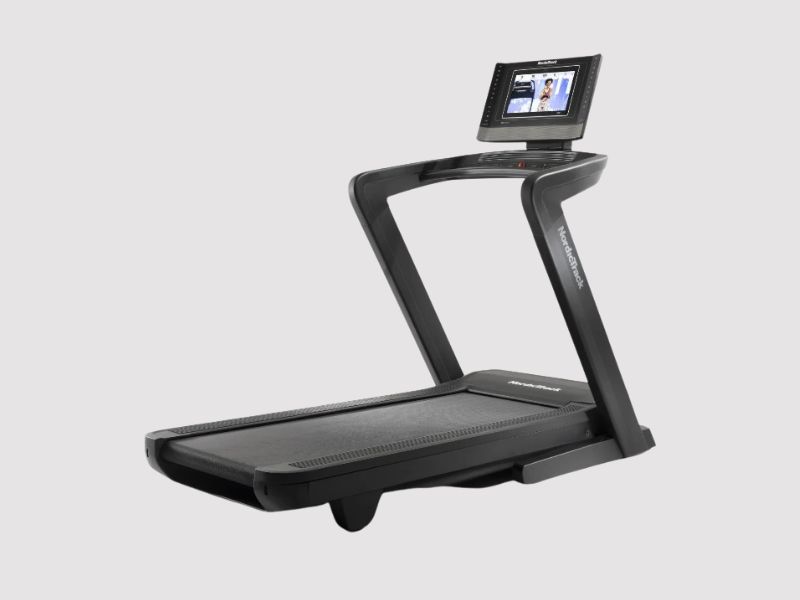 Number on our list is the most popular cardio machine for calorie burning at the gym, the motorized treadmill!
Motorized treadmills are exactly that: a treadmill with a motor integrated.
When you turn on the treadmill, a motor causes the belt to turn faster or slower according to the speed you set.
The motor provides the power to move the belt, and you can use it to raise the speed to run faster, lower the speed to run slower, or push the speed to the max to get in some sprint training.
Motorized treadmills also provide the greatest array of functions. Not only do they offer you the option to raise the incline or even set it at a decline, but the integrated motor also allows you to adjust the speed either manually or automatically using the workouts pre-programmed into the control panel.
Fun Fact: When raised to a 1-degree incline, motorized treadmills mimic the air resistance of running outdoors2.
All motorized treadmills include a screen, either LCD or LED, which lets you take control of the treadmill and set it to your desired speed and incline setting. You can choose from various workouts, including:
Fat burning
Cardio training
Marathon/distance running
HIIT
and the list goes on…
Premium treadmills with a screen have all sorts of immersive training programs, such as iFit, JRNY, STUDIO, and so on, which are perfect for people who love doing trainer-led classes or simply want to stream their favorite Netflix show. Screens start at 7″ and can get as large as a mid-size television, with the NordicTrack X32i, for example, sporting a whopping 32″ HD touchscreen!
Premium motorized treadmill machines also have Bluetooth connectivity to pair to headphones or fitness trackers, heart rate monitoring, workout tracking, and much more.
There are also plenty of cheap treadmills that have some of the workout features and functionality of the heavy-duty and feature-rich treadmills, typically costing around $500 with a 1.0 to 2.25 HP motor.
Motorized treadmills are the most popular of the bunch for a reason–they have the greatest versatility in terms of function, training options, entertainment, and incline.
✅ Pros:
High-tech, provide great entertainment, fitness tracking, and workout customization options
Great for a versatile, customizable workout—use the pre-sets or program your own as desired!
Raise the difficulty by adding incline or lower the difficulty by running on "flat" terrain
Run, jog, or walk at your desired speed
Incline treadmills are a great option for simulating running hills or simply burning more calories
❌ Cons:
Pricier compared to many of the other types of treadmills listed below
Bulky, take up a lot of space in your home gym
---
Manual Treadmills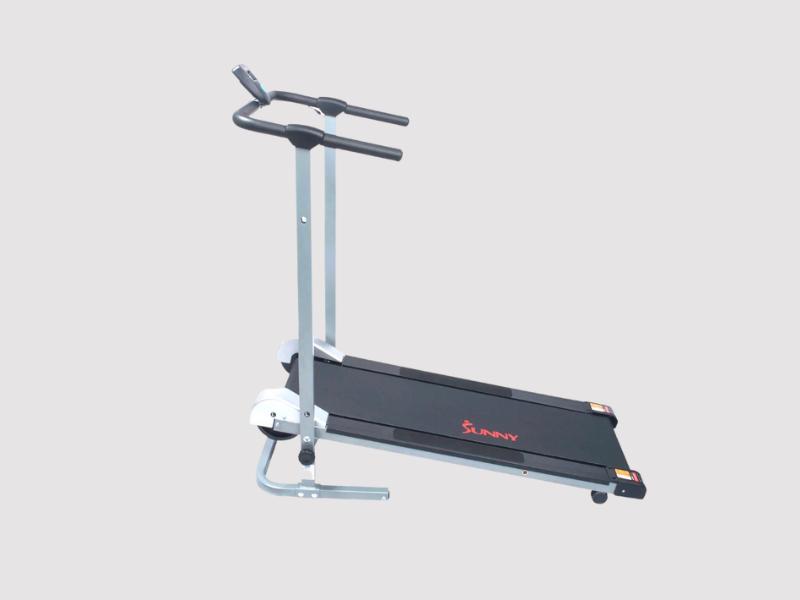 Manual treadmills are designed without a motor. With no motor to operate the belt, there is only one source of power available: you!
Your action of running and walking powers the treadmill and turns the belt. The faster you run or walk, the faster the belt spins. All you have to do to speed up or slow down is speed up or slow down; no need to touch any buttons or adjust any pre-sets.
Because the power comes from you, a manual treadmill delivers a more effective workout than a motorized treadmill. Your muscles have to generate enough energy to not only propel your body forward as you run but also push against the belt to spin it.
Manual treadmills require more effort to move the belt and machine and as a result, can be a great option for increased calorie burning.
The energy output on a manual treadmill is noticeably greater than on a motorized treadmill because of this antagonistic movement (pushing your body forward and pushing the belt backward) and because they are naturally set to an incline to keep the belt moving.
See also: Manual vs. Motorized Treadmills—Which is Best for Your Goals?
Finally, many manual treadmills don't include the built-in screen or control panel that motorized treadmills do.
This means that not only are there no pre-set workouts, but there are fewer high-tech functions: Bluetooth connectivity to your headphones, streaming workout data to your smartphone, built-in TV screen, etc.
Manual treadmills are the most affordable of the bunch thanks to its stripped-down tech and self-powered belt, making them an excellent choice for people who want the perks of a treadmill without breaking the bank.
✅ Pros:
More challenging and intense workout
Builds greater muscular endurance
Better cardio training (due to higher muscle engagement)
Compact, great for home gyms
Least expensive type of treadmill
❌ Cons:
Lower-tech, fewer advanced features
Smaller deck and low-weight capacity
Harder workout due to natural incline
---
Curved Treadmills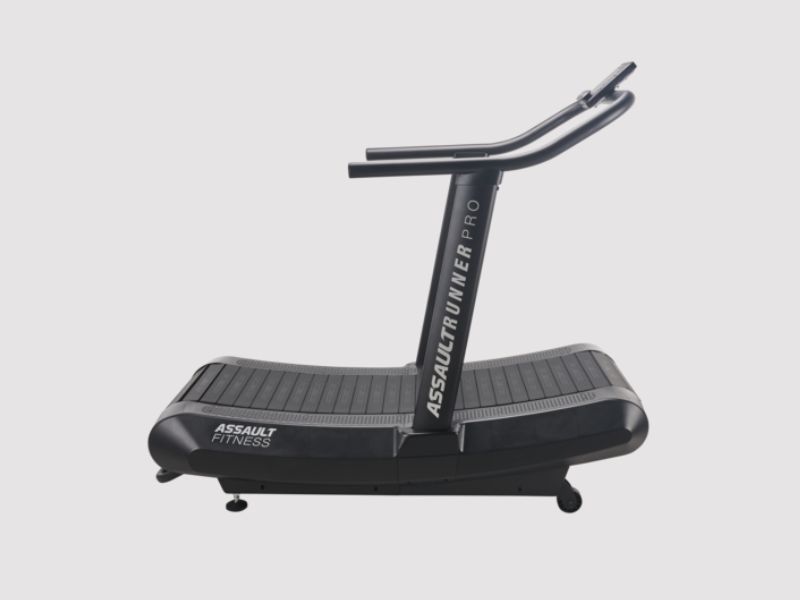 Curved treadmills are a new addition to the fitness game, and already they're making quite a splash!
Curved treadmills are a type of manual treadmill, which means they have no motor to power them. You provide the power to turn the belt as you run. They are also the best treadmills for sprinting and unleashing all-out speed in your workouts.
What's amazing about the curved treadmill is that it features a curved deck that just feels more natural as you walk, jog, or run. It feels more like running on real, solid ground despite the curved design.
The shape of the treadmill will also encourage you to run correctly, landing on the balls of your feet rather than the heels (a common problem among beginner runners). The ergonomics of the design will reduce the wear and tear on your joints, making it easier for you to run longer with a lower risk of injury.
Curved treadmills have been shown to increase cadence–more steps, at a faster rate–and burn more calories compared to regular treadmills1.
Gravity and your body weight combine to spin the belt a little faster than with the flat manual treadmill, which makes the workout fractionally easier. The curved design also makes it easier to pick up speed, so you can run faster with less effort expended.
According to research, there are some pretty cool benefits to curved treadmills (vs. the motorized treadmill), including:
Faster running cadence
Increased heart rate
Higher oxygen uptake
Lower risk of reported strain/a more comfortable running experience
Curved treadmills are among the most expensive option on our list, but for anyone who wants a next-level workout, it's a great option to consider instead of a manual treadmill.
One downside though is that, like the manual treadmill, it won't feature the built-in LCD screen or control panel. It tends to be a bit lower-tech than your standard motorized treadmill.
✅ Pros:
Ergonomic design promotes natural-feeling running
Easier on the joints compared to flat treadmills
Easier to hit faster speeds than on the manual treadmill
Burns more calories compared to motorized treadmills
Larger/longer deck and higher weight capacity
Perfect for HIIT and sprint workouts
❌ Cons:
Pricier than a manual treadmill
Fewer high-tech or "smart" features than a motorized treadmill
---
Under-the-Desk Treadmills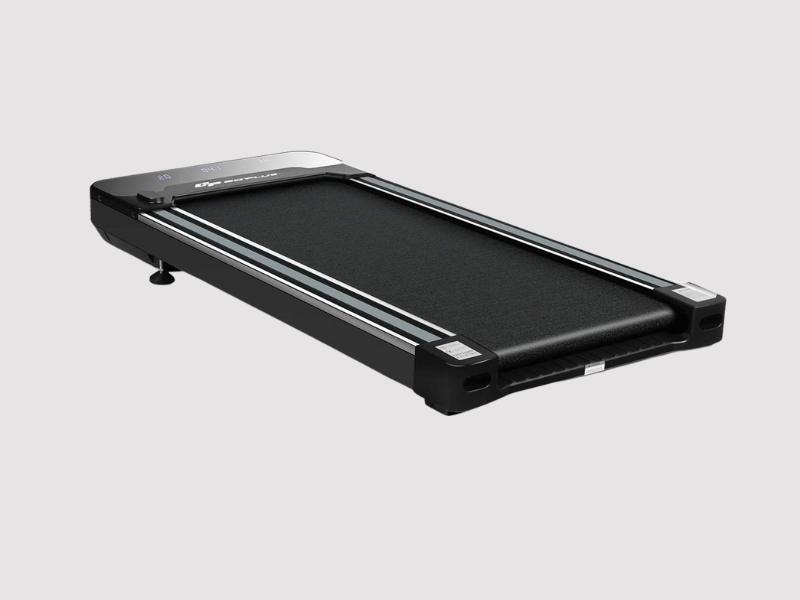 We all know that sitting for long hours with limited physical activity is bad for our health. An excessively sedentary lifestyle can lead to all sorts of health problems, from diabetes to heart attacks to strokes to obesity.
The problem is, we are stuck at the office (or our home office) for many hours every day, and we can't exactly take a break in the middle of the work day to pop over to the gym for an hour or go for a jog in our work outfit.
And that's where the under-the-desk treadmill comes in handy!
As its name suggests, this type of treadmill is designed to sit underneath your desk. It's compact enough that it will fit under nearly any desk or workstation, and you can stand on it and walk while you work.
See also: Under Desk Treadmills: Pros, Cons, and How to Use Them Properly
Granted, you'll very likely need a standing desk in order to raise your work surface high enough to work while standing up and walking. Given the prevalence of standing desks in the modern workplace, it's a great solution for anyone who wants to move more without interrupting their work day.
Unlike the other treadmills on this list, the under-the-desk treadmill is flat with no raised platform to house the console. The controls that operate the motor are set into the flat body of the treadmill so you can use it without interfering with your furniture/desk.
You may also find that the average weight capacity on this type of treadmill is a little bit lower, so very heavy runners may not be able to use it. The deck is also slightly shorter, possibly even narrower, so people with long legs may struggle with the shorter stride length.
There are two "other" types of under-the-desk treadmills to know about:
Desk treadmills, or "walkstations" feature built-in desks/platforms where you can place your computer and work while you walk.
2-in-1 desk treadmills, which feature a foldable bar that lets you turn the treadmill from an under-the-desk treadmill into your "standard" treadmill that can be used for running and jogging.
✅ Pros:
Compact, sized to fit under an office desk
Great for working out while at work
Not the most expensive options on our list
Motorized and easily controlled
❌ Cons:
Typically built only for walking
Smaller and more compact, means less suitable for taller and heavier trainees
Higher-end options tend to be on the costly side
---
Folding Treadmills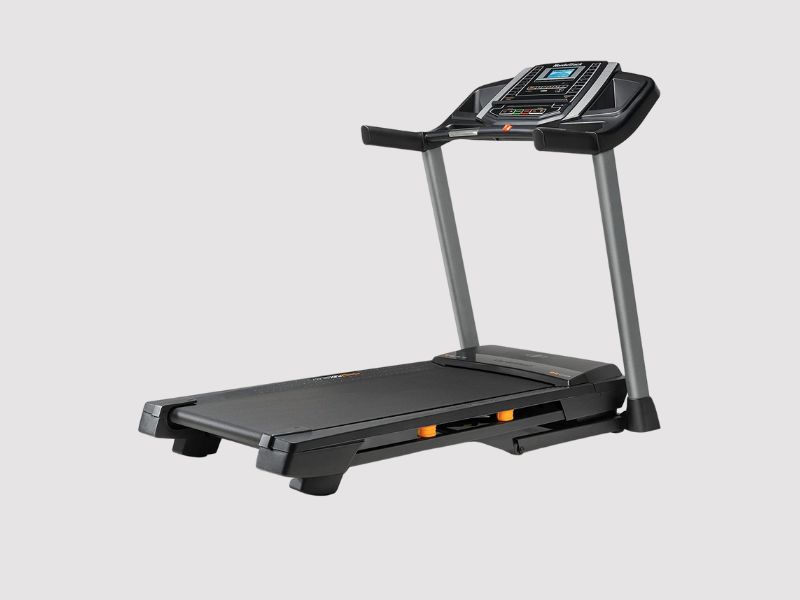 Last, but definitely not least, we have the folding treadmill.
Folding treadmills can be designed as either manual or motorized treadmills, either compact or full size. What makes them useful, though, is the fact that you can fold them up and tuck them away.
See also: How Much Do Treadmills Cost? (90 Models Compared)
Typically, the deck folds up to the console or handles, which makes it easy to wheel the folded treadmill out of the way to store it in a closet, off to the side of the room, or anywhere you have space to fit it.
You can find folding treadmill models that are built as big and tough and versatile as a commercial treadmill, or as compact and lightweight and portable as necessary for use in your home gym.
✅ Pros:
Easy to fold and move out of the way when not in use
Not much pricier than your "basic" motorized or manual treadmill
Comes with all the tech and "smart" features you want
Available in a wide ranges of sizes and weight capacities
❌ Cons:
Will never fully fold down flat, but the deck will lift up, occupying more vertical space than floor space
May be heavy to move alone
---
Types of Treadmills – FAQs
What is the best type of treadmill for losing weight?
The best type of treadmill for losing weight is the one you use daily and look forward to using.
Really, any machine that gives you a solid workout and encourages you to get on and train regularly is the choice for you. Whether that's a manual treadmill, motorized treadmill, or even under-the-desk treadmill that you can use at work, the design is not what matters–frequency of use is what matters.
However, I will say that it's typically easiest to use a motorized treadmill to increase your fitness (and thereby lose weight) because you're able to use the pre-set workouts programmed into the machine.
What is the best kind of treadmill for doing sprints/HIIT workouts?
If your goal isn't only calories burned on the treadmill¸ but you want to push your fitness to the next level with sprint training and HIIT, the motorized treadmill will be the best choice.
With the motorized treadmill, you can speed up to sprint at the touch of a button, and slow down to walk or jog easily. On the manual treadmill, it takes a lot more effort to maintain sprint speed. Which in turn makes it harder to maintain the fast-paced needed for a proper sprint or HIIT workout.
The Bottom Line
Treadmills are, in my opinion, the fastest way to lose weight with cardio machines. You get the benefits of long, steady-state training (maximum fat burning) and heightened metabolic burn through intervals and sprints.
So, here's how to choose the type of treadmill that suits your specific goals:
If you've got a home gym with plenty of space and plan on doing variable running—walking, running, and sprinting–a motorized treadmill is your best option.
If you want to keep under a tight budget, a manual treadmill may be your best choice. But if budget isn't a concern, the curved treadmill offers a much more ergonomic, potentially more effective, workout.
If you need a treadmill that you can use at work (either at an office or while working from home), the under desk treadmill is your best choice.
If you're concerned about space, the compact folding treadmill will be the treadmill for you.
But really, at the end of the day, what matters most is that you have a treadmill that makes it easy and exciting to get in your daily workout.
---
More Treadmill Guides and Articles
5 Best Treadmill Workouts for Weight Loss (Plus Tips for Turbocharged Weight Loss). Looking for some killer treadmill workouts for weight loss? Here are five weight loss workouts you can do on the treadmill, plus some tips for getting the most of your time on the treadmill.
How to Run on a Treadmill Like a Pro (Form, Technique and Tips). The treadmill is one of the best cardio machines in the gym for weight loss and overall fitness. Here's how to master proper form and technique on the treadmill machine.