Treadmills are one of the most effective cardio machines in the gym. Here's how using the incline on the treadmill can make your workouts even better.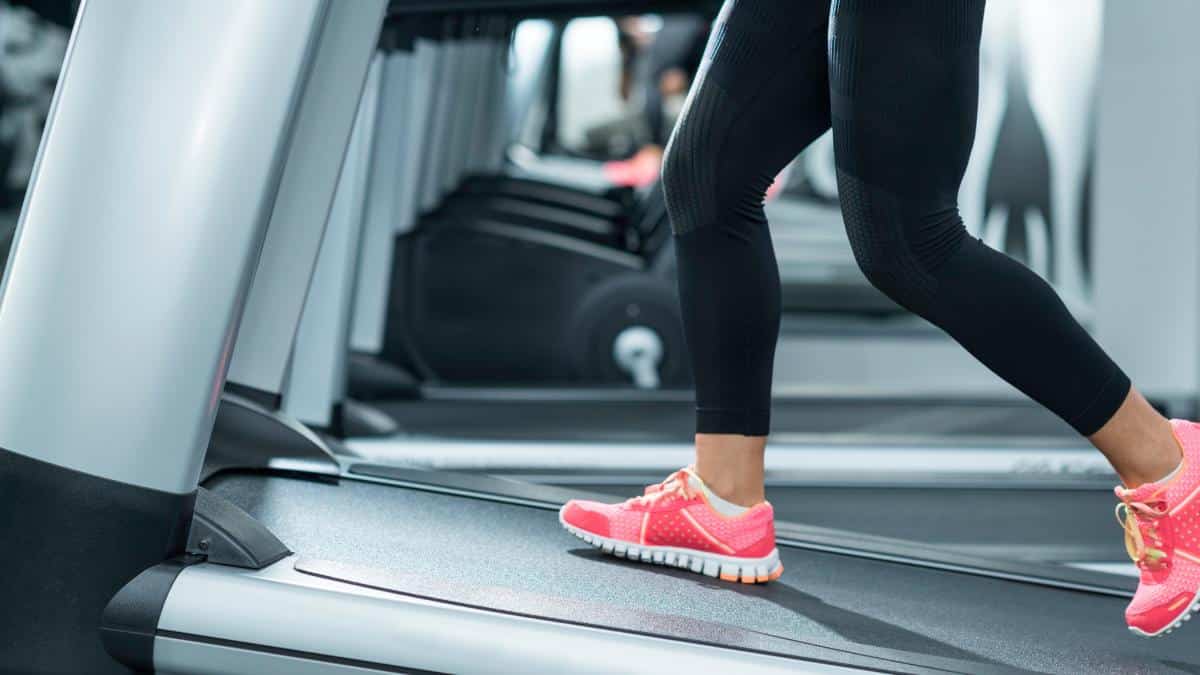 When you walk or run on the treadmill, it's common to settle into a groove and keep a light pace.
But going too "easy" can actually work against your fitness! In order to see real results, you've got to put in the effort—which could mean either speeding up or (and I recommend this highly) adding some incline to your walk or run.
In this article, I'm going to talk about how you can take your treadmill workouts for weight loss to the next level with one simple adjustment: raising the incline.
We'll look at the benefits of adding incline, the effects that it can have on your fitness, and why it deserves to be included in your daily treadmill workouts.
By the end of this post, you'll be looking forward to your next session on the treadmill to test out just how much better you feel after an incline workout.
Treadmill Incline Benefits
✅ Benefit #1: Burn More Calories
Did you know you can burn nearly as many calories walking at an incline as you can with a jog?
That's right, the number of calories burned on the treadmill when doing an incline walk is roughly on par with a slow-paced run/jog.
One study found that participants who walked at a 5% incline burned 17% more calories than a flat-level walk, while those who walked at a 10% incline burned 32% more calories.
You may not burn as many calories as you would doing a fast-paced run or a full-on HIIT sprint training, but you will burn more than walking on flat ground at a slow pace (3.5 mph).
When you walk and incline, more muscular energy is required with every step. You're not just propelling your body straight forward, but also upward.
The result is that using an incline treadmill generates greater calorie burn with every step. You'll see a significant difference in energy expenditure by the end of your 30, 45, or 60-minute walk workout!
And that's just walking. If you run at an incline, you'll burn a lot more calories than running at flat-level settings.
Fun Fact: Another study found that cranking up the incline on a treadmill burned up to 60% more calories compared to walking on flat ground2.
✅ Benefit #2: Improve Knee Strength
No matter what type of treadmill you use, walking and running will always be an excellent workout for your needs.
Walking and running trains your body to move smoothly through that forward motion, and all of your weight is supported by your lower body (including your knee joints). The more you walk and run, the more efficiently you are able to walk/run, and for longer.
But training at an incline takes things a step farther…
When you training at an incline, your lower quad muscles engage more in order to propel you forward and upward. These lower quad muscles also play a significant role in the support and function of your knee joint.
By strengthening them, you make your knees more resilient overall. You'll be less likely to suffer injuries to your knees when participating in high-impact and high-intensity exercise.
Downhill walking or running, on the other hand, can be harmful for your knees. Though the activity engages your leg muscles more efficiently than flat-level walking/running, studies have shown that downhill walking and running can impair proprioception, which in turn can raise your risk of injury.
✅ Benefit #3: Focus on Your Posterior Chain Muscles
One of the great things about incline walking and running is that it focuses on the posterior-chain muscles: hamstrings, glutes, and lower back.
There is still plenty of engagement from your quads, but because your body has to propel you forward and upward on the incline, the muscles in the backs of your legs (and lower spinal muscles) end up doing more of the work.
This is absolutely critical for long-term mobility and resilience!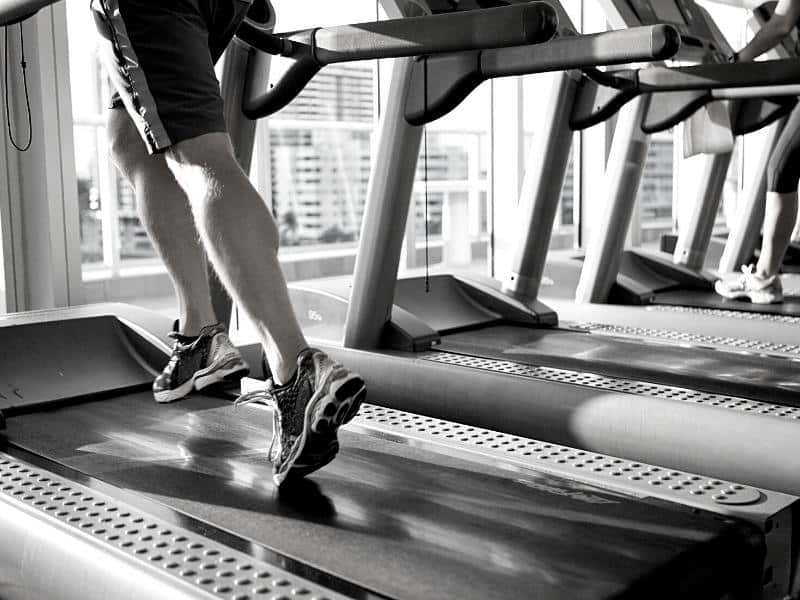 Let me explain…
We all spend a lot of time sitting down every day. Many of us can spend 6+ hours in a chair, with only the occasional break to move around for a few minutes.
Over time, sitting down for so long actually weakens the posterior-chain muscles. Our glutes and hamstrings weaken and the actual muscle fibers shorten so they can't contract as efficiently.
This leads to reduced mobility and strength in these muscles, as well as the lower back muscles to which they are connected.
This may not seem like such a problem when you are sitting down. However, when you try to lift heavy weights and load up those muscles, that's when this weakening and muscle fiber shortening becomes an issue.
Essentially, you won't be able to lift as much weight or support as heavy a load because of the time you spend sitting down. Plus, you will be more prone to injury.
But not if you walk or run at an incline.
Incline training targets the muscles that are weakened by the time you spend sitting down, making them stronger and better-able to support heavy loads. It also increases their flexibility and enables them to move more efficiently with every step.
Ultimately, incline walking and running can help to mitigate the negative effects of sitting down for long hours every day. For that reason alone, I strongly recommend it!
✅ Benefit #4: Better Cardiovascular Health
As we all know, some of the best treadmill benefits (and the benefits of all cardio machines, really) is that working out will help to improve cardiovascular health.
Your blood pressure will lower. Your blood vessels will accumulate less cholesterol and triglycerides, which in turn reduces your risk of heart attacks and strokes. You are less likely to develop type II diabetes or metabolic disease.
And it's all because you are spending more time training!
As you saw above, walking and running at an incline will burn more calories per minute (or per workout) then regular flat-level training. That means it will burn through more stored fats, more blood sugar, and more fatty acids in your bloodstream.
The end result: a healthier cardiovascular system better able to keep up with your activities of daily life and less likelihood of heart disease, diabetes, and other cardiovascular disorders.
✅ Benefit #5: Improved Cardiovascular Conditioning
Cardiovascular conditioning goes a step farther than just cardiovascular health.
The "conditioning" part refers to increasing the ability of your heart, lungs and blood vessels to perform during periods of high-intensity exercise.
Your heart beats faster in order to deliver more oxygenated blood to the muscles that are working. Your lungs absorb more oxygen with every breath. Your blood vessels dilate to accommodate increased blood flow.
Put this all together, and you have a body that works more efficiently when you train.
The only way to improve your cardiovascular conditioning is to push it using higher-intensity exercise. Any exercise that pushes it above the "standard" heart rate zones will lead to improvements.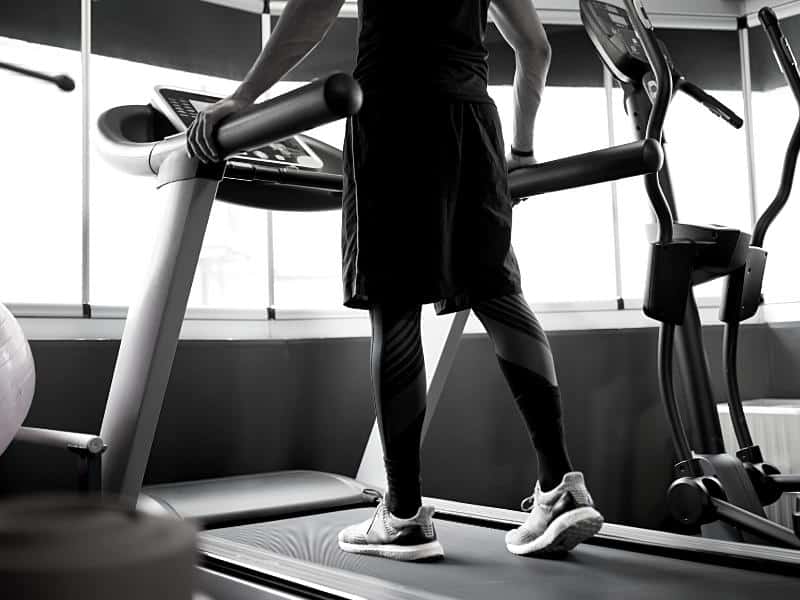 No surprise, flat-level walking isn't going to make a huge difference for your cardiovascular conditioning. Flat-level walking maintains a fairly steady heart rate, never really pushing it into a zone where it "struggles".
However, because incline walking requires more muscular energy, it will push your heart rate into a struggle zone. Your heart will beat faster, your lungs will work harder, and your blood vessels will dilate. The increased metabolic strain will lead to improved cardiovascular conditioning on par with a slow run/jog.
And if you jog/run at an incline, it will improve your conditioning even more. It will feel similar to sprint training, but without running at full speed. You'll increase your maximal oxygen update (VO2 max) and train your body to sustain a higher heart rate for longer.
✅ Benefit #6: More "Real" Training Environment
When you are training in the great outdoors, it's not easy to find perfectly flat terrain to walk or run. Most of the time, you'll find yourself tackling shallow hills, climbing stairs, or moving across incline and decline terrains.
Even your favorite parks, hikes, and forest trails will have varying terrain. When it comes time to hit those uphills, you'll find yourself sweating and struggling if your body isn't properly trained.
One of the best reasons to turn up the incline on the treadmill machine is to simulate "real to life" environments. You can raise the incline for a few minutes before returning to flat-level feel, leave it at the incline setting for the entire workout, and mix-and-match however you like.
Fun Fact: Adding a 1% incline on the treadmill has shown to mimic the air resistance you experience when running or walking outdoors1.
At the end of the training, what matters is that you have simulated the sort of outdoor environment where you are walking or running up hills. That way, when you actually get outside, you will be conditioned for the terrain you'll face.
You'll find every hike, run, and jog is a whole lot easier because you spent time training with your treadmill and incline.
✅ Benefit #7: Better Core Strength
Walking and running is great for your core. Your abs, lower back, and oblique muscles all have to contract in order to keep your upper body stable and balanced as you move.
Adding the incline just takes the core workout to the next level!
When you are walking or running at incline, you have to lean forward into the angle of the hill in order to walk efficiently. Your abs muscles engage to lift your legs high enough to tackle the incline with each step.
Your lower back muscles engage to keep you from toppling forward. Your oblique muscles provide support to both your abs and lower back to maintain stability and balance.
The result: a stronger, more resilient core!
✅ Benefit #8: Suitable for All Fitness Levels
What I love about walking at an incline is that anyone can do it!
With jogging or running, you have to have at least a baseline fitness level capable of sustaining that level of exertion.
Many newbies struggle to jog or run for more than 10 or 15 minutes because they just aren't fit enough to keep up with it. They have to put in the time and consistent effort in order to develop the muscular and cardiovascular endurance necessary to run for longer periods.
But with treadmill walking at an incline, anyone is able to hop on and get moving. You will still feel the burn, and it will still be a challenging workout, but there is less impact and a lower perceived rate of exertion.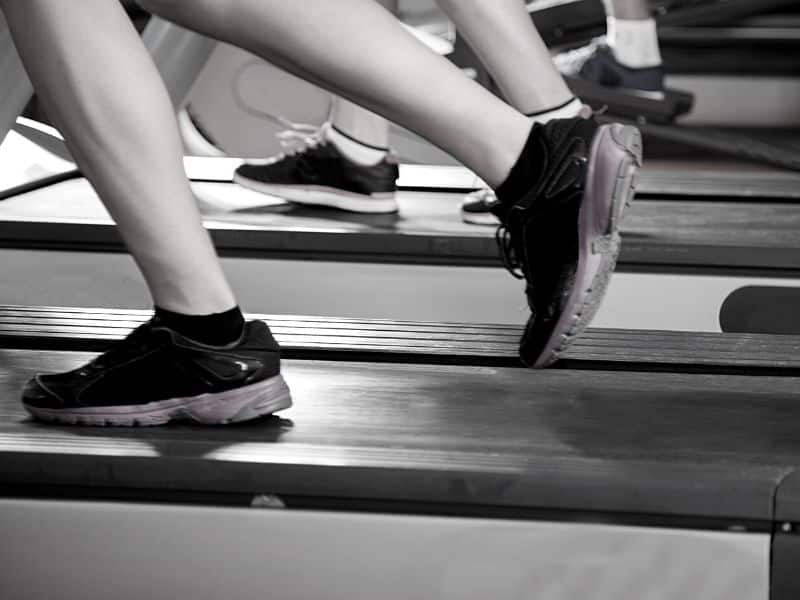 The slower pace will actually feel easier than a jog, so it will be easier to maintain that pace without feeling as tired.
At the end of the workout, however, you will have burn (nearly) as many calories as you would with a jog for slow run. Essentially, it's nearly equal results for noticeably less perceived effort.
For newbies who are just getting into cardio training, this lower perceived rate of exertion can make all the difference. It's much easier to sustain an incline walking workout for 30 to 45 minutes then it is to maintain a jog for 20 to 30 minutes.
But as your cardiovascular and muscular conditioning improves, you'll find that you cannot only walk at an incline, but also jog and run at an incline. You'll go from newbie to intermediate-level trainee much faster because you're training at an incline.
Treadmill Incline – FAQs
Is using the incline on a treadmill better for weight loss?
Using the treadmill at an incline is much better for weight loss then walking or running on a treadmill set to flat level. The angle of incline will engage your muscles more effectively and demand higher energy expenditure than training on flat terrain.
More calories burned by your incline training means more fat activated and eliminated. Over time, you'll see much better weight loss as a result of training with the treadmill on incline versus flat-level training.
What treadmill incline is best for burning fat?
As I mentioned above, setting the incline to 5% will burn 17% more calories than flat-level terrain, and setting the incline to 10% will burn 32% more calories. The higher the incline, the more fat and calories you will burn!
The Bottom Line
I hope I made it clear enough to you why you should be setting your treadmill to an incline every time you train!
Not only will you burn more calories, it will be better for your joints, it will strengthen the critical posterior-chain muscles that maintain lower back and leg strength, it will improve your cardiovascular health and conditioning, it'll simulate real to life training environments, and it will improve your core strength overall.
The fact that anyone can do it, regardless of fitness level, makes it an absolute game changer for your treadmill workouts.
---
More Treadmill Guides and Articles Like This
Curved Treadmills: Pros, Cons, and Who Should Use One. Wondering if the curved treadmill is the right treadmill for your goals? Here's a detailed look at the benefits (and disadvantages) of this popular treadmill so you can see if it's right for you.
Manual vs. Motorized Treadmills: Which is Best for Your Goals? Wondering whether a manual or motorized treadmill is best for you? Below, we highlight the differences between the two so that you can choose the right treadmill for your running goals.
The Best Decline Treadmill Machines for Home Gyms. Decline treadmills are a great way to improve knee health, add some spice to your workouts, and simulate trail running. Here's a look at the best decline treadmill machines for home.