Elliptical trainers come with a variety of drives: front, rear, and center. Does it make a difference which one you choose for your elliptical? Yes—here's what you need to know.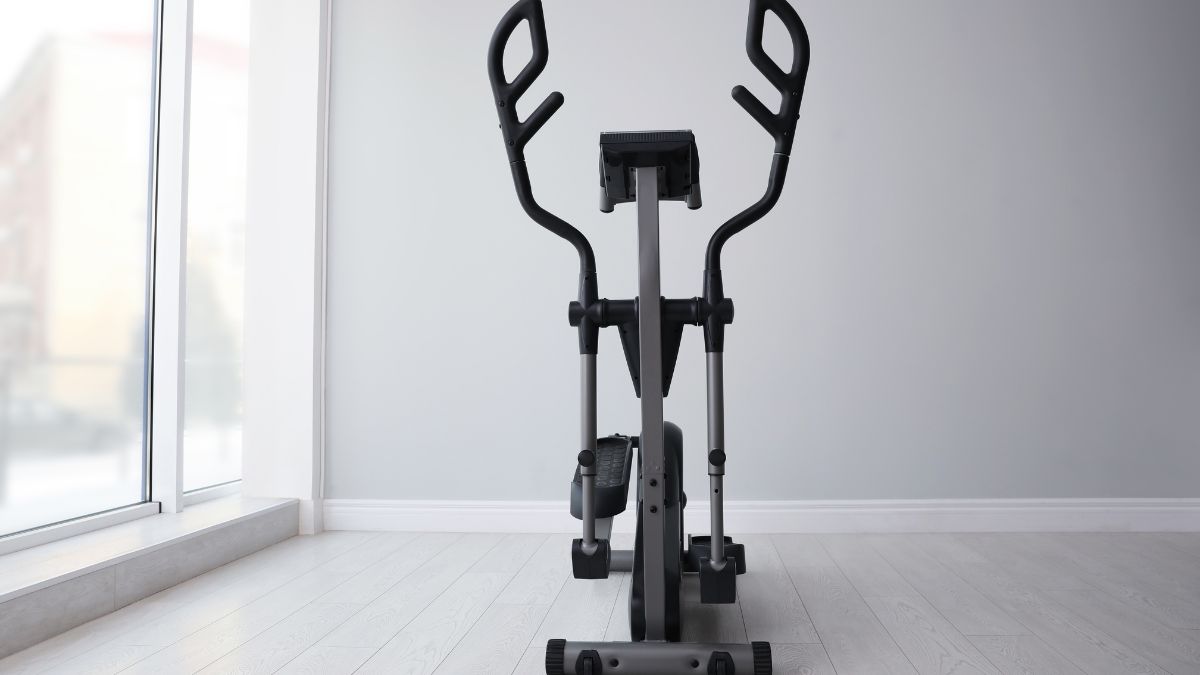 Elliptical machines come in many shapes and sizes—and I do mean that literally!
You probably don't give it much thought when you're at the gym. Most of us just pick a machine, hop on, and get pedaling.
But if you're shopping for an elliptical to use at home, there are a lot of factors you've got to take into account—everything from size to weight to functionality to stride length to flywheel weight.
The first thing to consider, though, is always going to be the design. Specifically, whether a front drive, rear drive, or center drive elliptical is the best choice for the workouts you intend to do.
Don't worry if you've got no idea what the difference is; that's why we're here to help.
Below, I'll take you on a deep dive into these three elliptical designs, looking at what makes each of them worth considering, what the drawbacks of each is, and which serves your needs best for specific types of workouts.
By the end of this post, you'll have a much clearer idea which of these amazing HIIT machines is the right one for your home gym.
Let's get started!
Elliptical Trainers — A Quick Note on "Drive"
We've talked a lot about the benefits of elliptical trainers, which are the muscles worked on the elliptical machine, and how to get a kickass elliptical trainer HIIT workout in many other articles, so in this one, we're just cutting straight to the heart of the matter and discussing technical specs that make a certain type of elliptical better than another.
Stuck with Your Training in the Gym?
Join 12,000 lifters and athletes and sign up for FREE access to my 5-day email course on how to conquer the most common gym mistakes.
From goal setting to lifting technique, you will learn how to overcome the mistakes in the gym that are holding you back from getting bigger and stronger.
Unsubscribe anytime. No spam.
Below, you'll see the word "drive" mentioned a lot. Really, it's referring to the motor and flywheel that is used to create resistance.
I won't get into a full technical explanation, but instead keep it simple: when you raise the resistance, the motor inside the "drive" pushes magnet brackets closer to the flywheel.
The closer the magnets are, the greater the magnetic force they exert on the metal wheel, which makes it harder for you to spin the wheel by pedaling/working the handles.
This is how you feel increased resistance on an elliptical machine.
Now that we've got that cleared up, let's dive right into these types of ellipticals and see how the placement of this "drive" (motor, magnets, and flywheel) affects the functionality of the machine.
Front Drive Elliptical Machines
As its name suggests, front drive elliptical machines have the flywheel placed in front of the user. Typically, it will be directly beneath or even in front of the center mount that contains the console and electronics.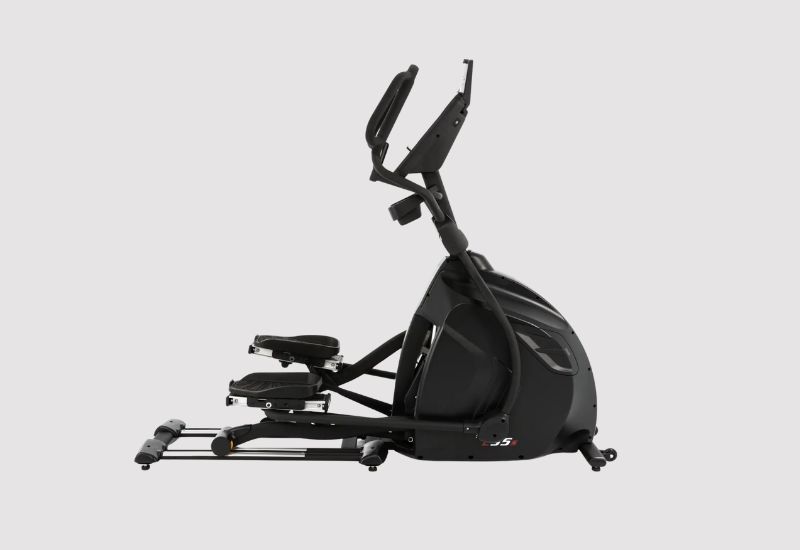 Front drive ellipticals tend to feel more like you're walking uphill rather than on level ground. Though the stride is perfectly smooth, there is a bit more incline, and you'll find the pedals actually cause your body to tilt forward (slightly) as you work.
For those who want a flat-ground workout, front drive ellipticals may not be the best choice. However, anyone using the elliptical specifically to train their glutes will love front drive ellipticals.
The drive placement in front allows you to adjust/raise the incline far more efficiently than rear drive ellipticals, which means you get a workout almost on pair with a stair climber. Front drive ellipticals are truly great cardio machines for glutes.
One major benefit of front-drive machines is that they tend to be more compact than rear drive ellipticals.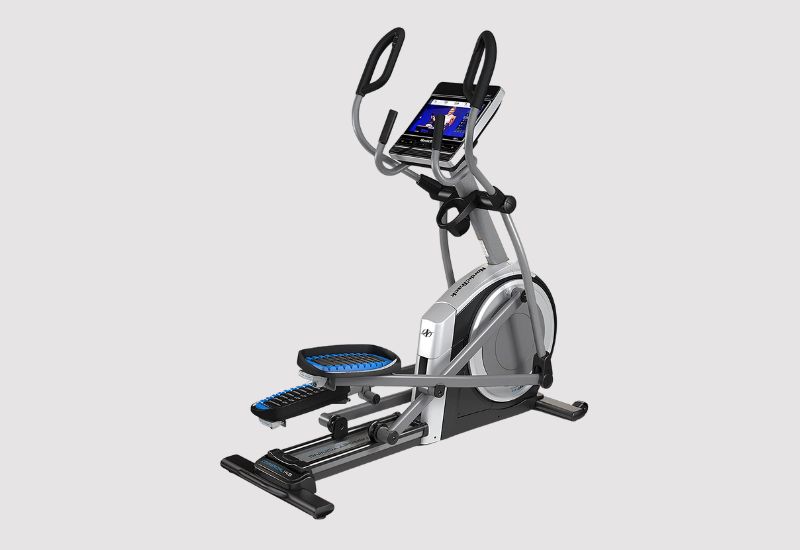 They're also typically cheaper, lighter, and easier to move around. However, be aware that they've got many moving parts, so they're more prone to breaking and require more maintenance than rear-drive machines.
A few of the most popular models of front-drive ellipticals I've reviewed include:
A number of brands only produce front-drive ellipticals, including Matrix, Schwinn, Sole, and Xterra.
| | |
| --- | --- |
| ✔️ PROS | ❌ CONS |
| Better incline workout | Not quite "level"; won't simulate flat ground as effectively |
| More compact for use in your home gym | More prone to breakage; require more maintenance |
| Force your body to adapt to forward lean (building balance muscles) | May be noisier |
| More affordable | |
Rear Drive Ellipticals
Rear drive ellipticals have the drive placed at the rear of the machine—that is to say, behind the user. This placement not only changes up the look of the machine, but also makes it a bit bulkier so it takes up more space in your gym. They're definitely not the ideal choice for a workout room with limited space.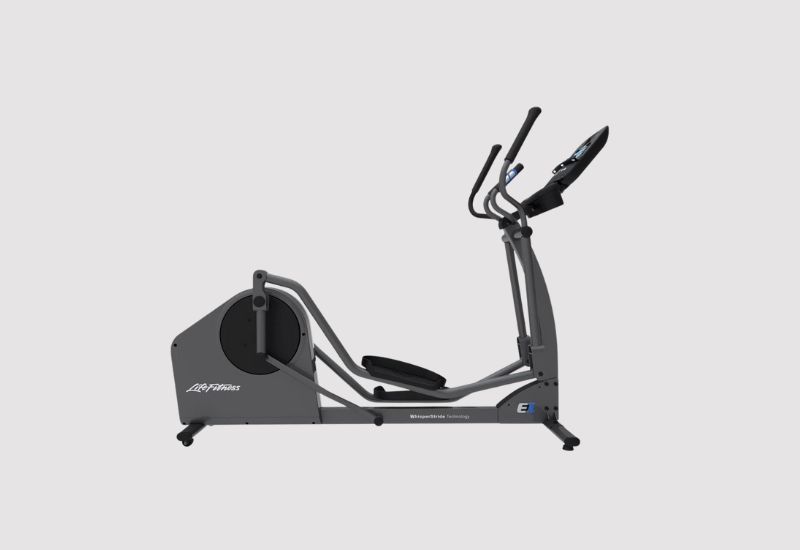 However, they definitely offer quite a few pros that front drive ellipticals can't. Chief among those is the fact that the pedals move smoothly and simulate "flat" or "level" ground very effectively—far more so than front drive ellipticals.
If you're looking for a machine that will help you train to walk, jog, or run on level terrain, rear drive is the way to go.
Most rear drive ellipticals do offer some measure of incline, but the design of the machine makes it far less effective for steep climbing than the front drive elliptical.
For those who like going backward on elliptical, rear drive machines are the smart choice. The smooth gait feels more natural and there is less forward lean when you're pedaling, so you have an easier time keeping your balance.
Rear-drive machines are often better suited to taller, heavier users. Not only do these machines tend to have a greater stride length than front-drive machines, but they can often accommodate a higher user weight capacity, too.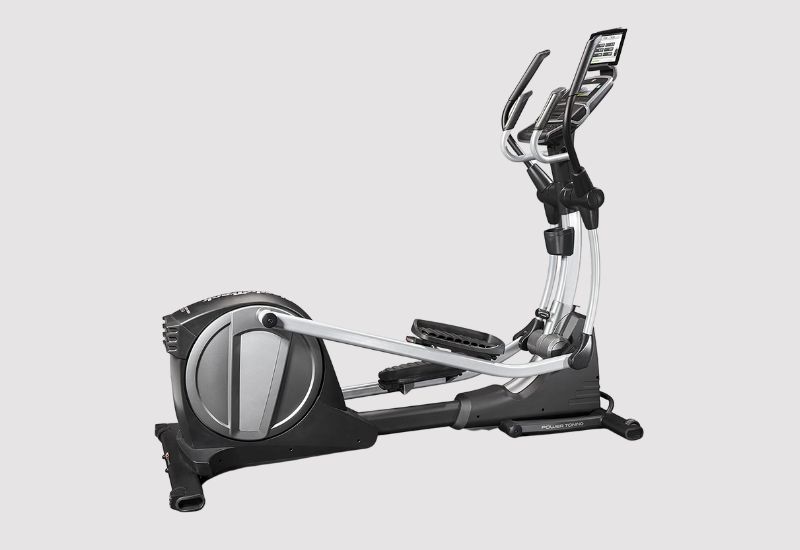 As a final bonus, there are fewer moving parts in a rear drive machine, so there are less components that could break down or require maintenance. However, consider that rear drive ellipticals tend to be more expensive than front-drive ellipticals.
A number of brands manufacture rear drive ellipticals, ProForm Ellipticals, Nordic Track, and FreeMotion. LifeFitness and Precor exclusively make rear drive ellipticals.
A couple of rear drive models that I've tested and reviewed include:
| | |
| --- | --- |
| ✔️ PROS | ❌ CONS |
| More natural gait, feels smoother with every stride | Take up more space in your gym |
| Fewer moving parts, less maintenance required | Pricier than front drive ellipticals |
| Better simulation of flat/level ground | Not as good for incline pedaling/walking |
| Easier to keep your balance; improves your posture | |
Center Drive Ellipticals
Center drive ellipticals, as their name suggests, has the drive placed in the center of the machine—that is to say, directly below you, the user.
However, typically instead of one motor/flywheel, center drive ellipticals will have two, one placed on either side of the pedals.
This design makes for a far more compact machine than either front or rear drive ellipticals, great for use in a home gym with limited space. The drives may even be lighter, and the footprint of the machine overall is smaller, a square rather than a rectangle like rear and front drive ellipticals.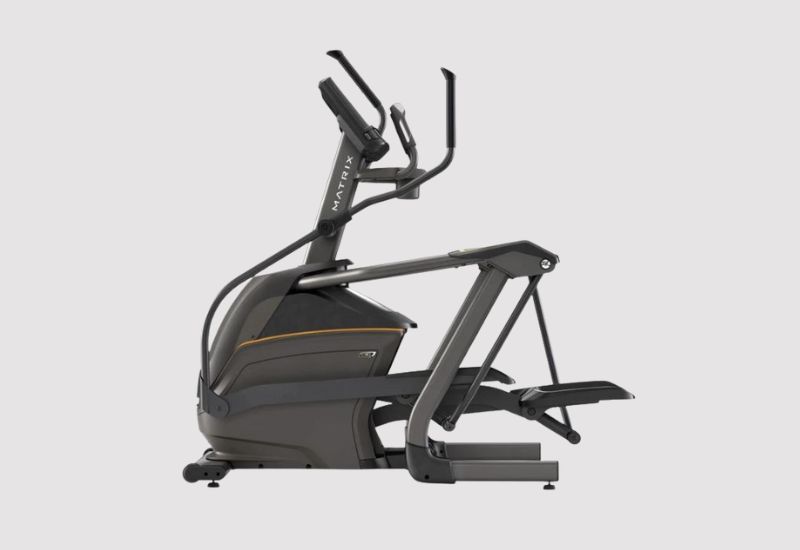 A lot of users really like the feel of center drive ellipticals, because of the close pedal placement. This may create better ergonomics (for some people) and encourage a more natural stride, with less strain on your hips and knees.
While front and rear drive ellipticals do offer narrower pedal spacing, it's a standard with the center drive design.
Center drive ellipticals also encourage better body position. Because the drives are on either side of the pedals, you're pedaling in an upright posture, with the feel of "flat" ground that front drive machines can't quite simulate—much more like a rear-drive elliptical.
However, the incline offered by center drive machines is nearly on par with front drive machines, so you can get a great glute-focused workout.
One major drawback of center drive ellipticals is that they tend to be significantly pricier than front or rear drive machines.
You can expect to pay easily double what you'd spend on a front-drive elliptical, and anywhere from 50 to 100% more than what you'd pay for a rear-drive elliptical. These machines are the newest design, and so feature all the latest-and-greatest fitness tech.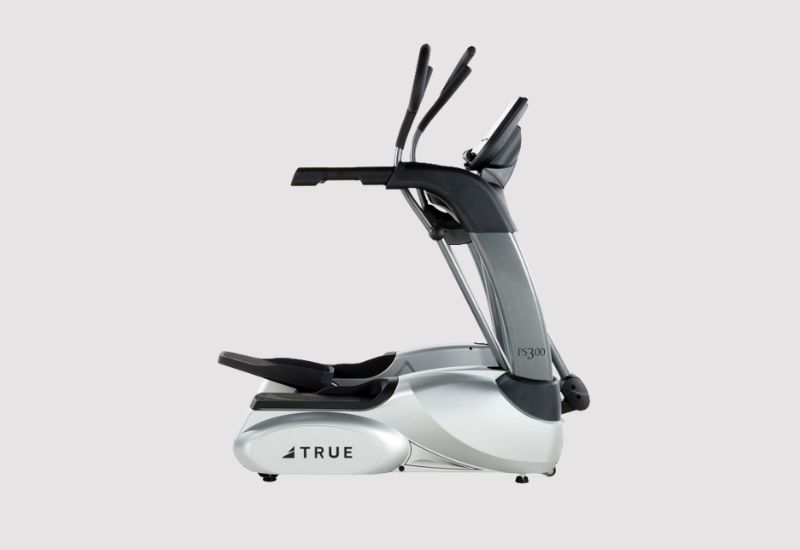 Also, center drive ellipticals are not as common, and home gym users can find them to be prohibitively expensive.
Some of the center-drive ellipticals we have tested and liked include:
Overall, though, if you're willing to pay a higher price, center drive ellipticals are quieter, smoother, offer excellent balance and posture, and give you a truly effective workout.
They're all around a great option for losing weight with an elliptical!
| | |
| --- | --- |
| ✔️ PROS | ❌ CONS |
| Smaller footprint; better for home gyms with limited space | Expensive |
| Better balance and posture, more natural gait | Limited availability; only produced by a few brands |
| Great ergonomics; encourage more natural foot placement and leg movement | |
| Quieter and smoother | |
The Bottom Line
As you can see, all three of these ellipticals offer a variety of benefits, as well as a few drawbacks. In order to know what's best for you, you've got to take all those factors into account.
⭐ Front drive ellipticals are a great choice for anyone who wants a more incline-focused workout, wants to stick within a lower budget, and doesn't mind the slight postural problems. They're more affordable and definitely a fairly space-conscious choice.
⭐ Rear drive ellipticals are the ideal option for anyone who prefers a natural gait and posture, wants to train on level ground, and is willing to pay a bit more for a high-quality machine. They'll also take up more space in your gym, so be ready to move other machines and equipment aside for these bulkier ellipticals.
⭐ Center drive ellipticals are ideal for anyone who wants top-of-the-line equipment and is willing to pay top dollar for premium quality. They're smaller, quieter, and offer the best of both front and rear drive ellipticals.
Consider carefully the factors above, and let them help guide your choice of elliptical. Whatever you ultimately decide, you'll find that any elliptical machine can offer a truly spectacular cardio or HIIT workout, making a great addition to your home gym that you can use daily to lose weight and get fit!
More Elliptical Guides and Articles
Elliptical Buying Guide – Everything You Need to Know to Buy with Confidence. Want to buy an elliptical but don't know where to start? Arm yourself with the knowledge to choose the perfect elliptical for you and your workout goals.
How Much Do Ellipticals Cost? (44 Different Models Compared). Ellipticals can be a costly investment in your workout goals. Here is a look at how much each type of elliptical costs and how much to spend on one.