Cardio machines are a killer way to strengthen your glutes–when you use the right ones in the right way. Here's a look at the best cardio machines for glutes, the ones to avoid, and some cardio workouts for max booty gains.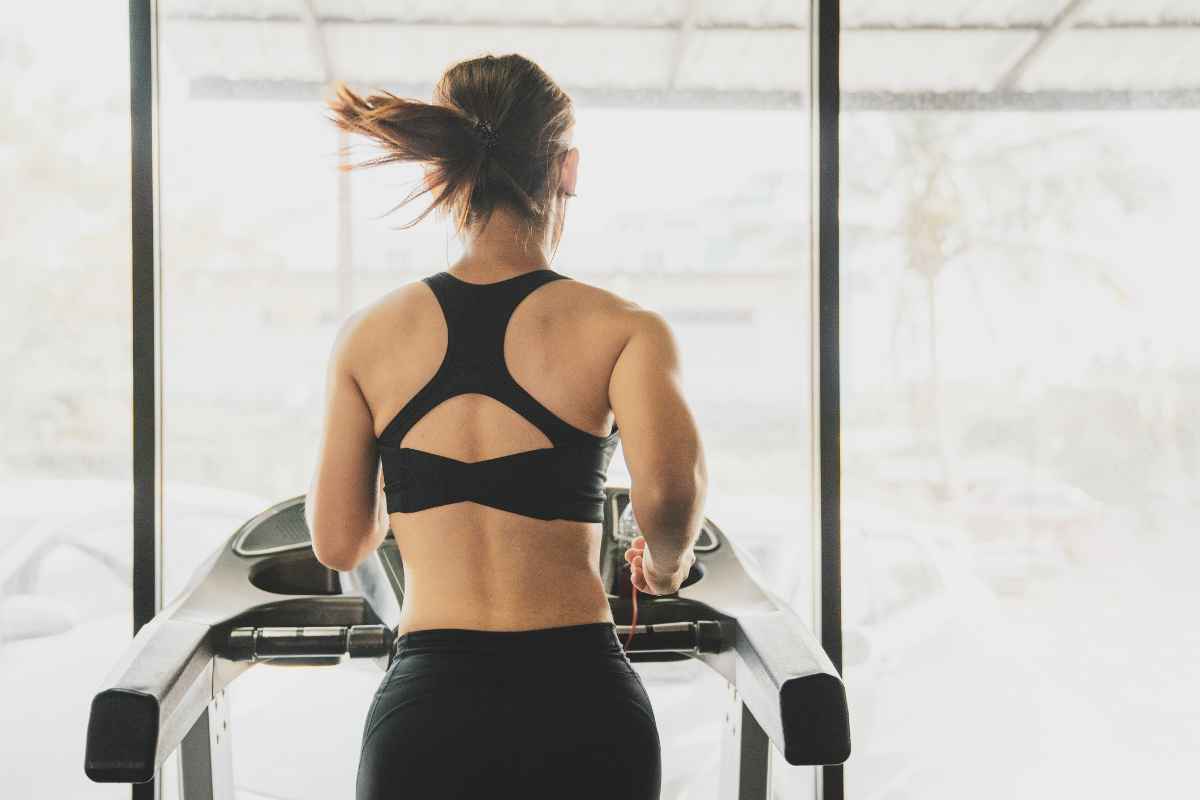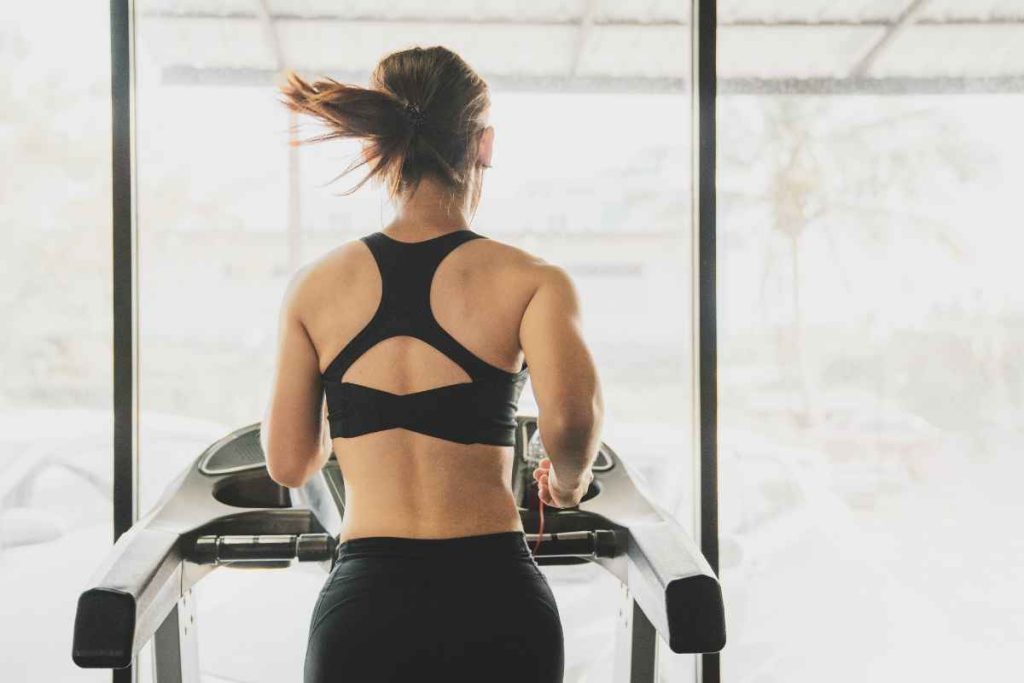 Cardio machines are a powerhouse for improved physical health and performance.
Whether we are talking about burning fat, doing HIIT workouts, or even building muscle, cardio machines are a low-impact and convenient way to chase your goals in the gym.
Especially when it comes to strengthening and conditioning your glutes.
For those who want to build that "thicc" booty, there are a few cardio machines that will help you to sculpt your glutes nearly as effectively as some of our favorite strength training machines for building strong glutes.
Below, we'll highlight those machines and how to use them for maximum glute benefit. We will also look at which cardio machines you are going to want to avoid if booty-gainz is your goal in the gym.
And finally, we'll show you some evidence-based workouts (HIIT, steady-state, etc) to help you make the most of your time sweating and pushing yourself in the cardio room.
Next stop, Glutetown!
Best Cardio Machines for Glutes
1. Jacob's Ladder
The Jacob's Ladder isn't one of the most popular cardio machines, and it's not available at every gym. But if your gym has one, your glutes are going to be in business!
The Jacob's Ladder is basically an endless ladder that you climb. To increase the difficulty, all you have to do is climb faster and the machine will speed up to match your pace.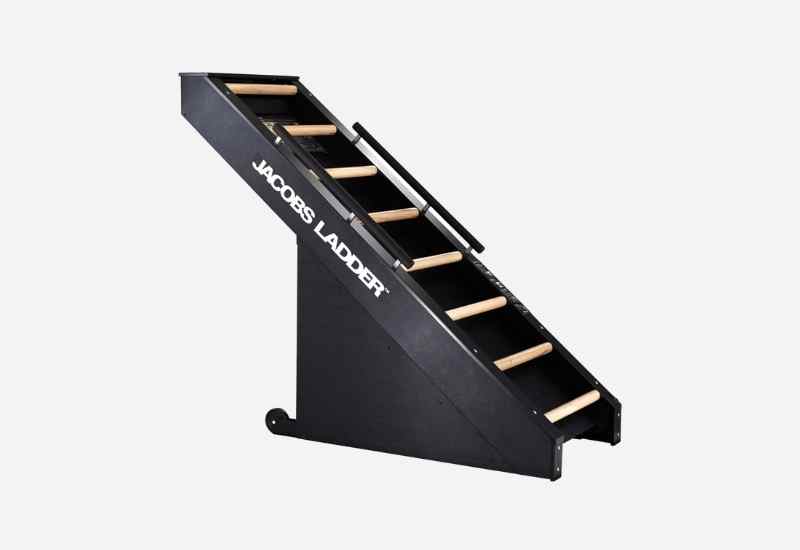 You'll find few machines can push you to the limits of your cardiovascular endurance like the Jacob's Ladder. You'll be sweating buckets and breathing hard in no time.
Trainer's Tip: To pay extra attention to your glutes, try skipping a rung. Stepping up two rungs will force your glutes to engage to propel you upward. It will shift the focus off your calves and place it more on your quads and glutes. This one simple adaptation to your workout and you'll feel the burn HARD.
2. Treadmill (Used Correctly)
The treadmill can be one of the best machines to use for your glute exercises and glute training, provided you use it right.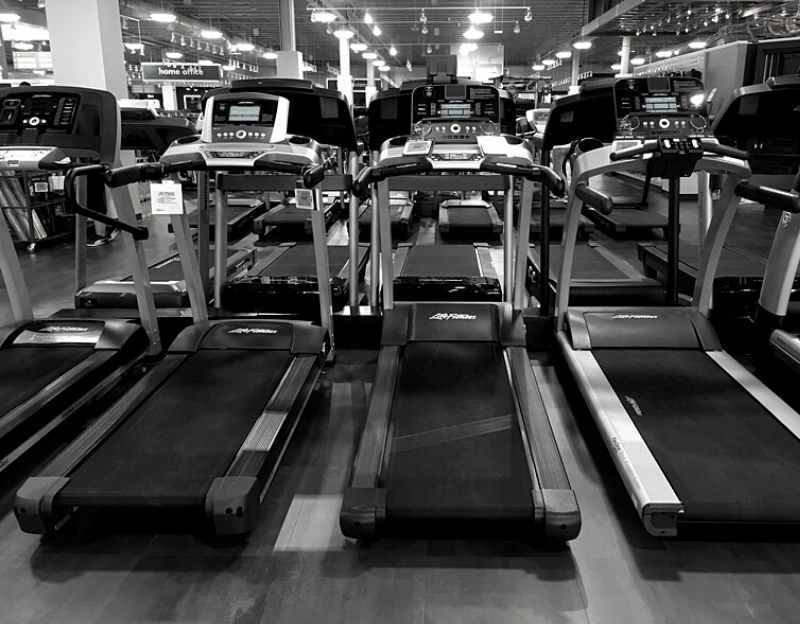 If you just jog or walk at a slow pace and no incline, there will be virtually no glute engagement.
To really hammer those glutes on the treadmill machine, you've got to:
Speed up the pace. Sprint training is amazing for both your glutes and hamstrings (as well as your cardio, of course). Your glutes and hamstrings fire at max capacity to propel you forward, and they'll both burn fat and build muscles, leading to sculpted glutes capable of serious levels of endurance at max intensity.
Raise the incline. Increasing the incline to the max will work just like climbing a hill, which, as you well know, is amazing for your glutes. The steeper the incline, the more glute-focused your workout will be.
3. Stairmaster
The Stairmaster (or stair climber) is another excellent machine to hammer your glutes. Every time you climb a step, your quads, glutes, and hamstrings engage to raise your body to the next step.
The faster you climb, the greater the demand on your cardiovascular system, but also the greater the focus on your glutes.
Trainer's Tip: To really take the glute training to the next level, skip a step. Set the machine to move a bit faster than your average pace, and climb two steps at a time. Your legs and glutes will be on fire before you hit the 10-minute mark!
4. Elliptical
The elliptical machine is another great option for training your glutes.
On low intensity setting, it'll be as easy as walking. But to target your glutes, all you have to do is increase the incline and resistance level. That way, you'll actually have to push backward against the pedals with every step, and there will be more glute engagement with the steeper incline.
You can also reverse directions at the midway point in your workout and pedal backward. This reversal will help to engage your glutes even further.
Another great option: pedal in a half-squat, with your knees bent and your legs slightly crouched. Your quads and glutes will fire HARD to maintain this position while you pedal, and you'll give yourself a heck of a core workout in the process.
5. Rowing Machine
The rowing machine isn't the "best" exercise for your glutes, but you can adapt your rowing form to maximize glute focus. Really, it's more like "correct your rowing form" and your glutes will be thoroughly engaged.
A lot of people row primarily with their arms and upper body, which feels more natural at first. But that's a rookie mistake, one you should correct immediately.
The correct form is to drive backward with your legs before pulling with your arms. That drive is the crucial first step in proper rowing motion, and if done correctly, will lead to serious lower body engagement.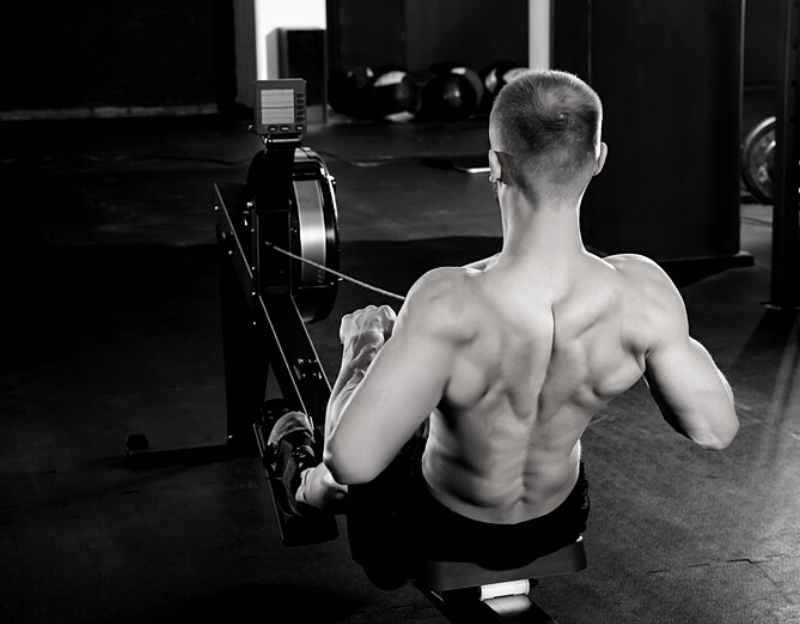 When you drive backward with your legs and lean backward at the end of the row, your glutes will engage (along with your core and quads). The more you let your legs do the work, the better the glute focus.
With one small change in your form, you can turn the best cardio machine for weight loss into one of the best training solutions for stronger glutes!
6. Spin Bike
The spinning bike is a great tool for training your glutes because, by its very design, it's easy to increase glute focus. All you have to do is stand up to pedal, and I guarantee you'll feel the burn in your quads, hamstrings, and glutes in no time.
These muscles all have to work together to propel your body upward and push the pedals downward, and as a result, will help you to develop some serious booty power.
A simple way to maximize glute focus: increase the difficulty.
The greater the resistance, the harder it becomes to pedal, so the faster your muscles tire out. If you pedal slowly while standing (or in a half-squat), it will shred your glutes and legs like a boss.
Cardio Machines to Avoid (if You Want Bigger Glutes)
1. Assault Bike
Don't get me wrong: the assault bike (also known as an air bike or fan bike) is an amazing piece of workout equipment that can give you one heck of a cardio workout!
Sadly, it's more focused on other muscles, with less glute engagement.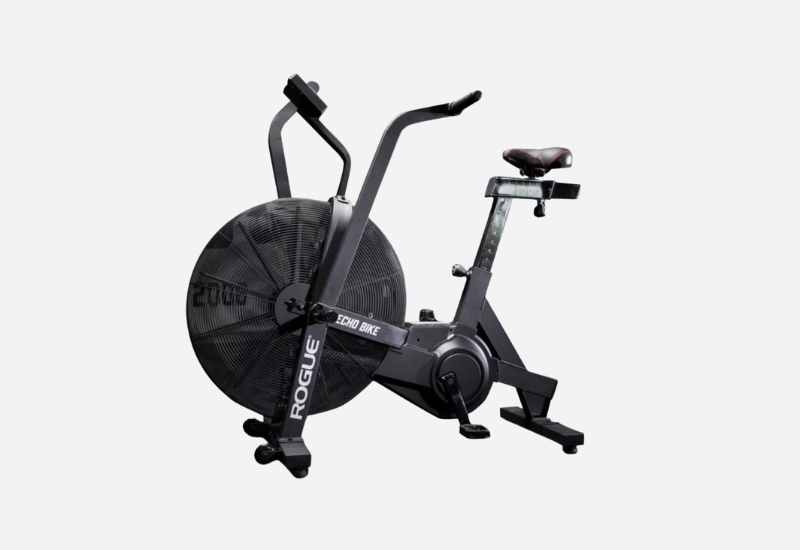 Because of its design—the two handles you pump as you pedal—there's no way to support yourself as you pedal standing up.
See also: The Best Air Bikes for Home Gyms (and Max Conditioning)
This makes it difficult to adapt your pedaling style to focus on your glutes. You're better off keeping the assault bike for full-body training sessions and stick to the exercise/spin bike for your glute training.
2. Recumbent Bike
The recumbent bike is excellent for anyone who is suffering from lower back or knee injuries, and who want to reduce the strain on their joints.
However, because of the angle of leg engagement (pedaling forward instead of downward), the exercise is far more quad-focused with minimal glute engagement.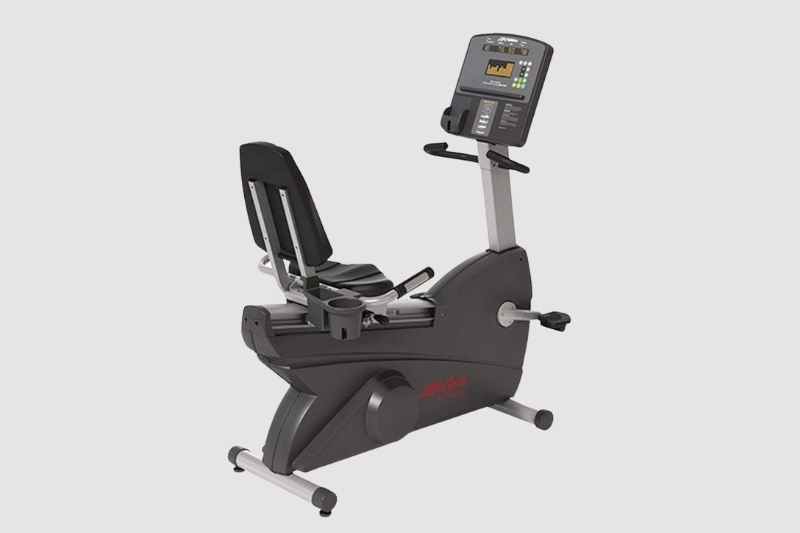 Keep the recumbent bike for those days when your lower back is achy and in need of a break, but you still want to get in a good cardio session.
3. Treadmill (Used Incorrectly)
By "used incorrectly", I mean A) a slow pace, and B) no incline.
Walking on a treadmill is just as good for your glutes as walking on flat ground—that is to say, not very good at all.
It's really only when you shift to running/sprinting or walking/jogging/running at an incline that your glutes get any real workout.
While walking on flat incline is great for steady-state fat burning, it's not going to do much for your glutes.
Cardio Machine Workouts for Bigger Glutes
If your goal is to hammer your glutes and really build muscle/strength, you should always start your workouts with resistance training.
Not only will this help to maximize fat-burning (resistance training burns through sugar-based energy first, leaving largely fat-based energy available during cardio sessions), but you'll build muscular strength and size in the way only weightlifting can.
Once you're done with your glute-training weightlifting session, you can hit the cardio machines as a "finisher".
Typically, if you've done a proper resistance training workout—with 10-12 sets specifically targeting your glutes with heavy loads—you really won't need too much cardio to finish off.
Try dropping one of the following cardio "sets" into the end of your next training session at the gym:
? 15-20 minutes of sprint training. The high-intensity interval training (30-60 seconds of sprinting, 90-120 seconds of walking/jogging) will do wonders to increase your cardiovascular endurance, boost your metabolism, and hammer your glutes.
? 10 minutes on Jacob's Ladder. Speed up the pace and you'll walk away from this short session with your legs quiver and your glutes on fire.
? 10-15 minutes on the Stairmaster/stair climber. Set the pace to slightly faster than you usually would, and take the steps two at a time. It will take a real badass to get to the 15-minute mark on this glute-heavy cardio session after a glute-focused weightlifting workout.
? 20 minutes of rowing. Focus on maintaining your form and engaging your legs to the max, squeezing your glutes at full extension as you lean back. It will be easier on your glutes but be a great cardio-heavy "finisher".
? 20 minutes of hill climbing. Set the pace to a moderate-to-fast walk, and crank the incline up to the max. 20 minutes at max incline will definitely have your glutes on fire and your legs burning!
? 20-30 minutes on the elliptical. Crank the incline up as high as you can, and set the resistance to at least the 50% mark. You can go at a slower pace if you prefer, but focus on really driving through your heels with every step.
? 10 minutes of stand-up pedaling. Your already-tired glutes will be DONE after just 10 minutes of stand-up pedaling. However, if it's too easy (and if so, good for you!), try alternating between pedaling standing up and in a half-squat. Or, crank up the resistance so you're pedaling more slowly but feeling the burn in your glutes.
And, as always, remember to take some time to hit some glute stretches and the foam roller to help facilitate recovery so that you can be ready to rock and roll at the gym sooner than later.
The Bottom Line
While cardio machines aren't typically used for muscle-building, you can adapt them to be highly effective at training your glutes.
Raising the intensity, incline, and resistance will be enough to help you hit that booty hard, and you'll walk away feeling like a million bucks.
However, make sure to use them only at the end of your workout.
The priority for building glutes is using resistance training equipment: barbells (for deadlifts), cable machines (for cable glute kickbacks), the GHD machine (for glute-ham raises), the hip thruster machine (for hip thrusters), and your own bodyweight (for exercises like kickbacks and leg raises).
Combining both resistance and cardio training will be the key to developing truly sculpted, strong glutes.
---
More Stuff Like This
6 Best Machines for HIIT Workouts at Home. High-intensity interval training is the fastest way to get cardio and conditioning under your belt. Here's a look at the best HIIT machines to add to your home gym.
6 Best Glute Band Exercises for a Stronger Booty (Plus Benefits, 20-Minute Workout, and More). Looking for some awesome banded glute exercises for developing a stronger and more muscular booty? Here are the best band movements to help you get to Glutetown.