Ready to crank up the fat-burning and cardio on your workouts? Here are three HIIT workouts you can do on an elliptical, for beginners, intermediates, and experienced trainees.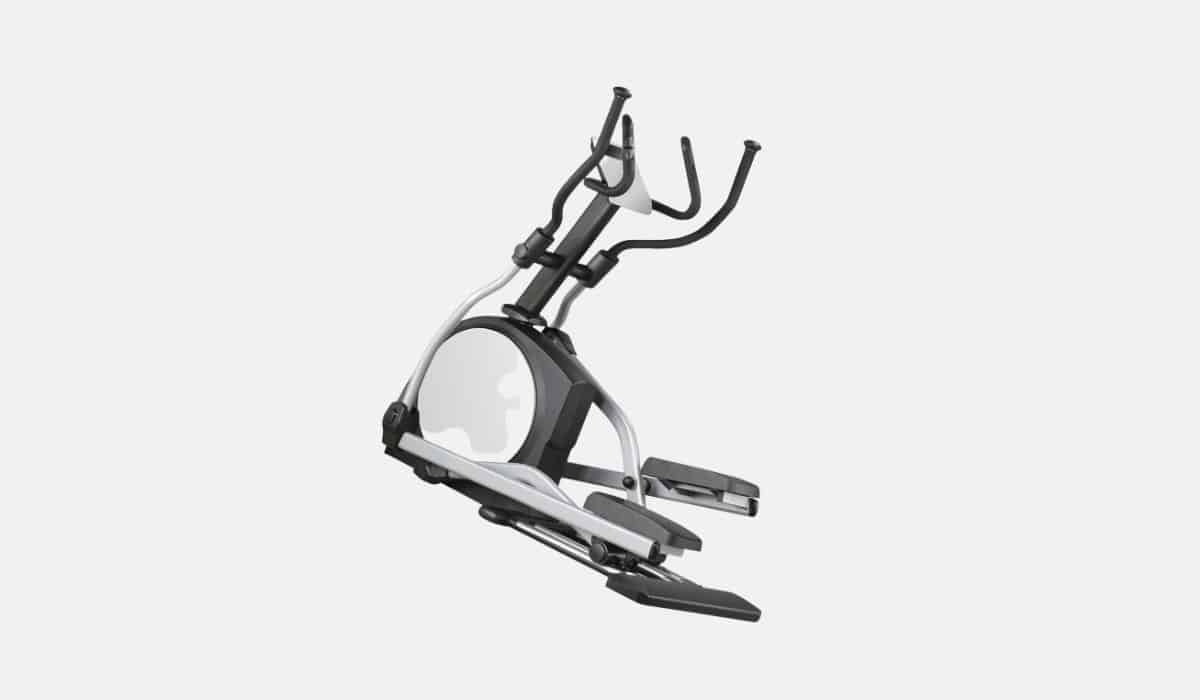 Elliptical trainers are, without a doubt, one of the top cardio machines for weight loss!
Not only do elliptical trainers activate stored fats through low-intensity, steady-state aerobic exercise, but they can be utilized to build muscle or torch serious calories through more advanced training.
High-intensity interval training, or HIIT, is one of the best options to help you step up your efforts and see better results from the time you spend training on the elliptical machine.
Below, we'll walk you through why you should do HIIT training, what workouts you can do on an elliptical machine, and how to make the most of your HIIT sessions on the elliptical.
By the end of this post, you'll be ready to take your fitness to the next level using HIIT training and your favorite cardio machine.
Let's get right to it!
Why You Should Do HIIT Workouts on an Elliptical
Before we dive into the actual workouts, I want to take a moment to highlight some of the things and benefits that make using your elliptical trainer specifically for HIIT workouts such a good idea.
There's a lot about both this particular machine and HIIT as a training methodology that makes it truly spectacular for kicking your fitness up a notch.
Here are the benefits of using the elliptical trainer for high-intensity interval training:
Stuck with Your Training in the Gym?
Join 12,000 lifters and athletes and sign up for FREE access to my 5-day email course on how to conquer the most common gym mistakes.
From goal setting to lifting technique, you will learn how to overcome the mistakes in the gym that are holding you back from getting bigger and stronger.
Unsubscribe anytime. No spam.
✅ Low-Impact, High-Intensity Training
One of the greatest benefits of elliptical trainers is that they are virtually zero impact. You never lift your feet off the pedals, which means there is no impact when you plant your foot on the next step.
There is a bit of repetitive motion with your arms, which can risk repetitive motion strain or injury in your shoulders, but for your lower body, it's even safer than walking because of the near-nonexistent impact on your joints.
But don't think that low-impact means low-intensity. Quite the contrary, in fact!
You can speed up your pace, raise the incline, or increase the resistance to the point where it becomes an incredibly difficult high intensity workout, one that will have you gasping, sweating, and burning serious calories in a matter of minutes.
(For more information on just how many calories you can burn on the elliptical, reference this article.)
✅ Full Body Workouts
One of the things I love best about this machine is that it works your entire body, not just your legs.
If you look at any list of muscles worked on the elliptical, you'll see it includes all the major muscle groups in your upper and lower body, along with your arms, shoulders, and even your core.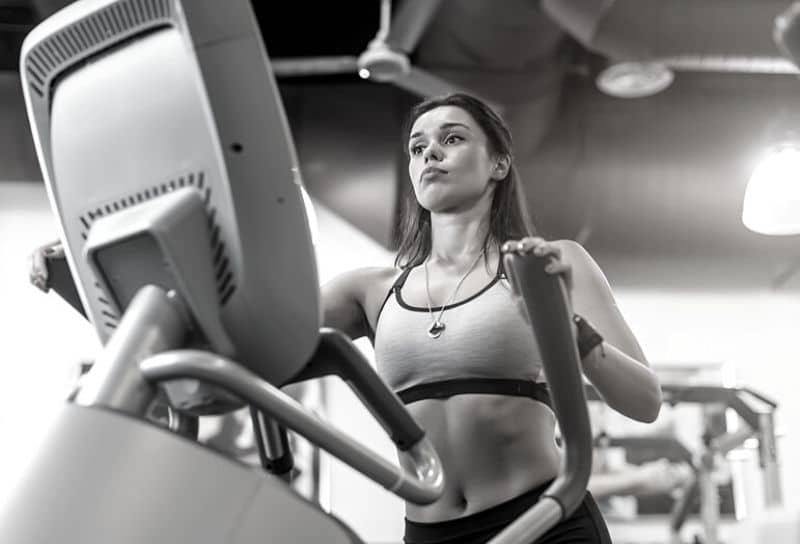 It's a full-body workout every time—and to make it even harder on your core or upper body, you really only need to push/pull harder on the handles and reduce leg engagement.
Compare this to a treadmill, stair climber, exercise bike, and even a rowing machine, and you'll find the elliptical stands head and shoulders above the pack because it engages all of your muscles for a more effective full-body workout.
✅ Easy to Speed Up
With a treadmill, you have to manually increase the platform's speed in order to push from a standard run/jog speed to sprint speed.
But with the elliptical machine, all you really have to do is start pedaling faster. Sure, you can increase the incline and intensity, but at the end of the day, the best thing to max out the intensity is just to pedal at full speed.
This makes the elliptical one of the best HIIT machine choices in your gym!
✅ Torch Fat and Build Muscle
This is where HIIT workouts really shine!
During the high intensity intervals, you are pushing your body to its absolute limits, sprinting or pedaling as fast and furiously as you can.
The fact that it's only a short interval (30 to 60 seconds) is what keeps you from collapsing, and you have the low-intensity interval (typically 60 to 120 seconds) to recover enough to go full steam all over again.
This trade-off between high and low-intensity periods burns serious calories—easily upwards of 200% more than you'd burn during a purely low-intensity workout.
It also pushes your muscles hard and creates those microscopic tears in your muscle fibers that force your body to make repairs, thereby increasing muscular energy storage (a.k.a., strength).
Add to that the increased metabolic activity because of the higher-than-average energy demand, and you burn a lot more calories (both glucose and fat) over the course of your workout and the hours to follow.
All in all, HIIT is among the most effective training options to build muscle, burn serious fat, and take your fitness to the next level!
3 Elliptical HIIT Workouts for Maximum Fat Burning
If you want to incorporate HIIT training into your elliptical workouts, good for you! It's guaranteed to deliver results across the board—better muscle-building, more fat-burning, even better cardiovascular endurance.
Below, I've compiled a few of my all-time favorite HIIT workouts you can do on your elliptical machine.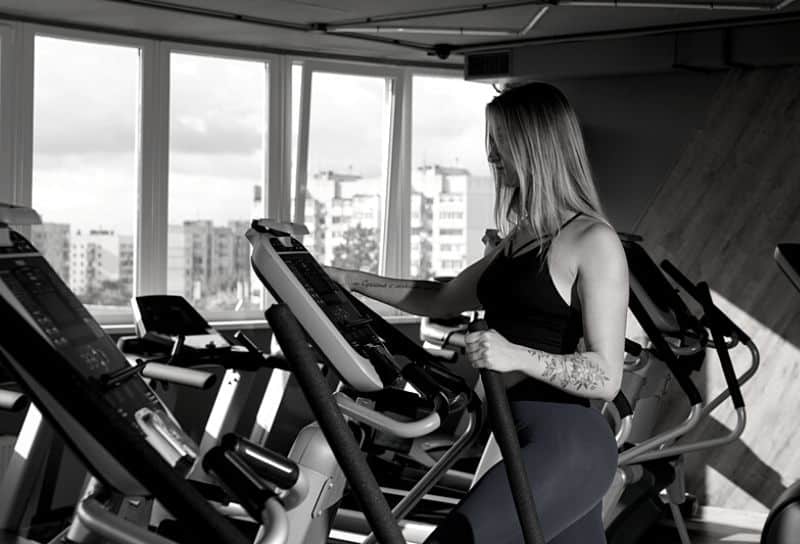 I've included one for each level of experience, so no matter where you are on your fitness journey—from first-time user to hardcore expert—you've got a workout to help you push yourself to the max.
Beginner Elliptical HIIT Workout
For the beginner-level workout, we're going to take it (relatively) easy on you.
There's no need to fiddle with the incline or resistance buttons; all you have to do is speed up the pace of your pedaling and drive your arms and legs with all your strength during the periods of high intensity.
Do this for the full workout, and you'll see serious improvement!
The Workout:
Minute 1-5: Warm-Up
Start off with 5 minutes of warm-up, with the elliptical set to low resistance and the standard "0"/flat incline.
Push your pace just enough that you start to feel yourself getting warmer, your breathing accelerated slightly, and a bit of sweat starting to form.
When you hit the 5-minute mark, it's time to speed things up!
Minute 6-15: 30/90 intervals
For the first 10 minutes of your HIIT portion, switch off between 30-second intervals of pedaling as fast and hard as you can, and 90-second intervals of lower-intensity pedaling.
This will give your body time to recover between intervals and get you accustomed to the "sprinting" on the elliptical.
Minute 16-25: 30/60 intervals
For the second 10 minutes of the HIIT portion, shorten the "rest" periods between high-intensity intervals.
Giving your body only 60 seconds to recover will force your cardiovascular system and metabolism to work extra-hard to keep up with the higher-intensity periods.
You'll only do 6 intervals during this time, but by the last one, you'll be ready for the end!
Minute 26-30: Cool-Down – Finish off the training session with a 5-minute pedal at low intensity.
Intermediate Elliptical HIIT Workout
For intermediate-level trainees, it's time to switch things up and make it interesting.
You'll have to stay on top of the buttons to manually adjust the resistance and incline, and you may not be able to pedal at full speed due to the increased difficulty level.
However, if you can get through this workout, you'll feel some serious burn in your glutes, hamstrings, and quads, and your core will be on fire!
The Workout:
Min 0-2: Resistance 3, Incline 3
Min 2-3: Resistance 10, Incline 3
Min 3-5: Resistance 4, Incline 6
Min 5-6: Resistance 10, Incline 5
Min 6-8: Resistance 6, Incline 8
Min 8-9: Resistance 11, Incline 8
Min 9-11: Resistance 7, Incline 8
Min 11-12: Resistance 11, Incline 9
Min 12-14: Resistance 8, Incline 12
Min 14-15: Resistance 13, Incline 12
Min 15-17: Resistance 10, Incline 8
Min 17-18: Resistance 13, Incline 9
Min 18-20: Resistance 6, Incline 10
Finish this workout with 3-5 minutes of low-resistance, low-incline pedaling, and you'll walk away drenched in sweat and elated that you did a truly game-changing workout.
Expert Elliptical HIIT Workout
For those who are seriously advanced in their elliptical and resistance training, it's time to get sprinting!
You'll be extending the duration of your high-intensity intervals and shortening the lower-intensity intervals, adding a squat walk into the mix that will push your legs to their max.
The Workout:
Minute 1-5: Warm-Up – Start off with a warm-up at low intensity, minimal resistance, and no incline. Give your muscles time to warm up and really start to feel that blood flow.
Minute 6: Squat Walk – Drop into a squat, gripping the lower handles, and walk in a squatting position for a full minute. Focus on keeping your knees as close to a 90-degree angle as possible, moving your butt up and down as little as possible. You'll feel the burn around the 30-second mark (at best), but try to push through to the full minute.
Minute 7: Low-Intensity – Give yourself 60 seconds to recover, letting your leg muscles cool down.
Minute 8-15: 60/60 – Switch off between 60 seconds of high-intensity sprinting and low-intensity recovery. To make it even more difficult, you can both increase the speed of your pedaling and raise the incline and resistance.
Minute 16: Squat Walk – After the recovery-period of your last interval, drop into a squat for another 60 seconds of squat walking.
Minute 17: Low-Intensity – Give yourself 60 seconds to recover, letting your leg muscles cool down.
Minute 18-25: 60/60 – Do another set of 60 seconds of high-intensity sprinting and low-intensity recovery. Raise the incline and resistance even more to max out the difficulty.
Minute 26: Squat Walk – One last 60-second set of squat walking will have your leg muscles on fire!
Minute 27-30: Cool-Down – Finish off with 4 minutes of low-intensity, low-resistance pedaling.
Tips for Getting the Most of Your Elliptical HIIT Sessions
If you're using your elliptical machine for HIIT training, here are a few tips to help you make the most out of the time you invest:
Use your upper body more.
Don't just rely on your leg muscles for pedaling power, but lean into the push and pull on the handles.
This will increase engagement in your chest, back, shoulders, and arms, which will burn more energy, thereby increasing the strain on your cardiovascular system (increasing cardiovascular endurance), burning more calories (and fat), and helping to strengthen your muscles.
Pay attention to your core.
As you push and pull on the handles and step into each stride, pay attention to the tension in your lower back, obliques, and abs.
Really focus on squeezing those muscles and engaging them to the max. It's a great way to both build better core strength and increase fat-burning.
Keep your posture upright.
Resist the urge to lean on the console, slouch, or hunch.
Focus on maintaining an upright posture, with a straight back and as much weight as possible supported by your legs.
Over the course of a 20 to 30-minute HIIT workout, even small problems with your posture can become exaggerated as you tire out.
Adjust your grip and hand position.
Changing the way you grip the handles to adjust the focus on your muscles as you push and pull.
Remove your hands to encourage better balance/posture training, or grip the lower handles to give yourself more support for squat walking or higher intensity pedaling.
Pay attention to your body.
If you start to feel dizzy, light-headed, overly fatigued, or nauseated, take a quick break.
Drink enough water to stay hydrated without over-drinking (the water will slosh around in your stomach). Be aware of any aches or pains as you pedal.
Warm up and cool down.
Don't get into HIIT cold, but give your body time to warm up and loosen your muscles before training.
That will reduce your risk of injury and help to activate your metabolism enough to burn serious calories during the high-intensity intervals.
After the workout, take a few minutes to cool down in order to reduce post-workout soreness and stiffness.
Keep these tips in mind on your next elliptical HIIT workout—or any elliptical workout, for that matter—and you'll train far more effectively and see much better results.
The Bottom Line
HIIT training can be an absolute game-changing for your fitness! Not only does it burn more calories, but it activates your metabolism, increases muscle engagement, enhances strength and endurance, boosts your cardiovascular conditioning, and torches fat.
All of this combines to make HIIT training one truly spectacular workout.
Thanks to the low-impact nature of the elliptical machine, you can get a next-level HIIT workout without increasing the strain on your joints and bones.
More Stuff Like This
6 Best Machines for HIIT Workouts at Home. High-intensity interval training is the fastest way to get cardio and conditioning under your belt. Here's a look at the best HIIT machines to add to your home gym.