Wondering which ProForm elliptical is right for you and your home gym? We compare the full range of ProForm ellipticals so that you can buy with confidence.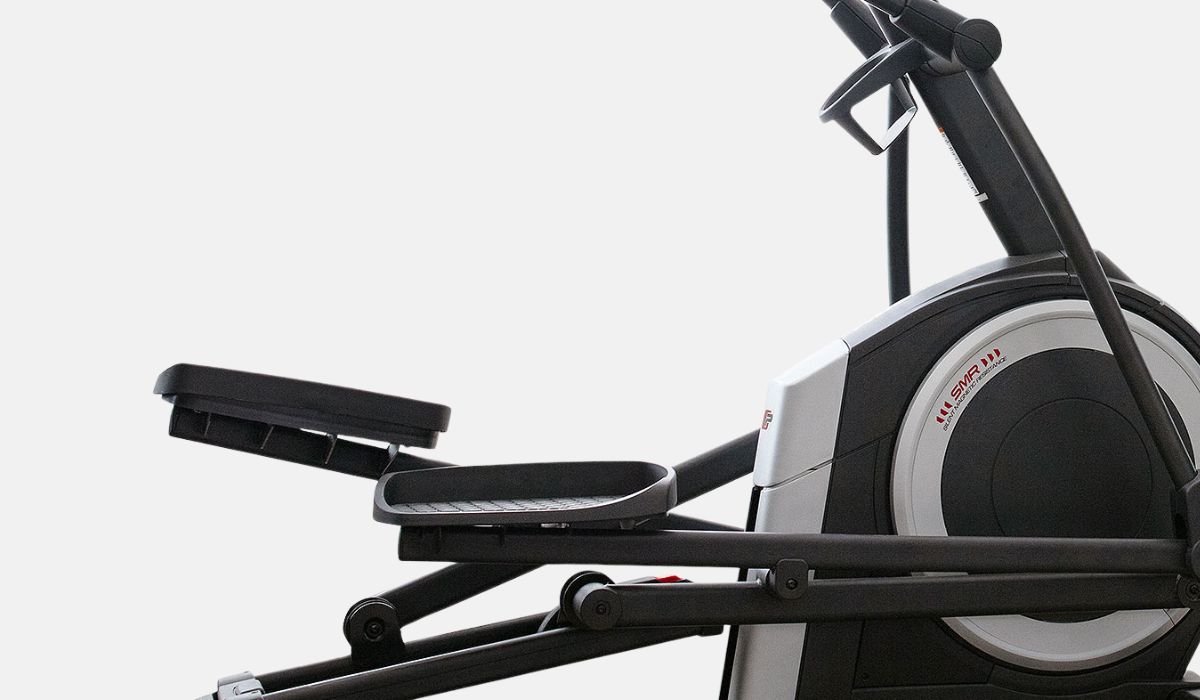 ProForm is one of the leading companies when it comes to making cardio machines for home gyms.
They also make some of the best elliptical machines on the market, designed to serve a wide range of users and needs.
But which ProForm elliptical is best for you?
In this guide, we compare the full line of ProForm ellipticals so that you can figure out which trainer is best suited for your specific training goals.
Let's jump right in!
ProForm Ellipticals – Comparison By Model
ProForm Pro HIIT H14
⭐ Best for: Experienced users who love HIIT workouts and want a full, immersive class experience
Price: $1,599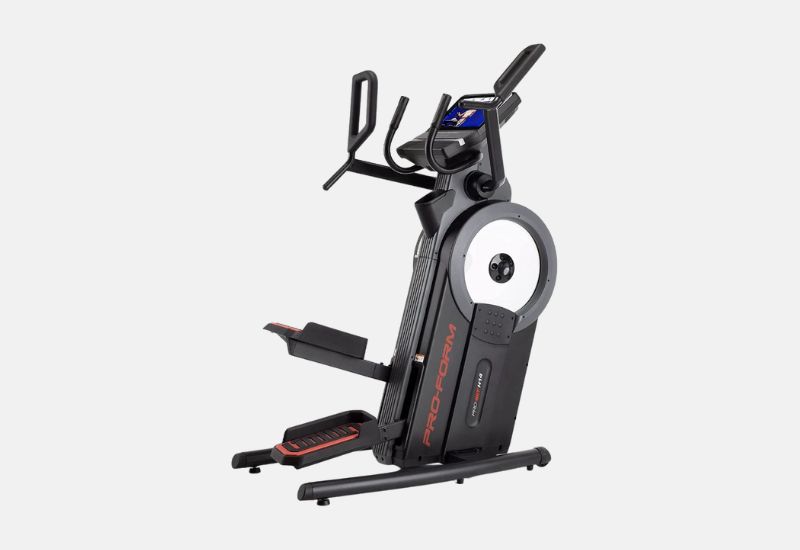 The ProForm Pro HIIT H14 is a stepper + elliptical combo that takes the best of both machines to create a killer workout that is ideal for HIIT sessions.
You get the natural stride pattern of an elliptical machine with the vertical path of a stepper for a 1-2 punch on your fat burning and weight loss goals.
(Plus, stepper + combo machines save a ton of space vs standard elliptical machines.)
It has a ten-inch vertical stride with five inches of horizontal movement, a bombproof 30lb flywheel for maximum smoothness, and a crisp, HD 14" touchscreen that either tracks your console-based workout and program, of iFIT's huge library of trainer-led classes.
For the user who loves to hammer out HIIT sessions like they are owed money, they won't do better than the Pro HIIT H14 as it's packed with features, a smooth ride, and it's cheaper than comparable types of ellipticals.
As an example, the best elliptical + stepper combo machine on the market, the Bowflex M9 Trainer, retails for $400 more.
My main complaint is that ProForm doesn't include a lengthier iFIT membership with the Pro HIIT H14.
You get a 30-day trial, but after that, if you want to use the trainer-led classes, elliptical and strength-training classes requires a $39/month subscription.
| | |
| --- | --- |
| ✅ PROS | ❌ CONS |
| Heavy-duty flywheel for smooth stride | Only get a 30-day trial of iFIT |
| Perfect for HIIT workouts | |
| Beautiful 14" HD touchscreen | |
| 26 levels of resistance | |
| 325lb weight capacity | |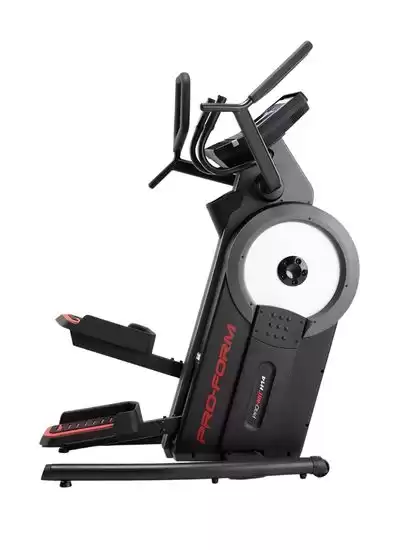 ---
ProForm Carbon HIIT H10
⭐ Best for: HIIT enthusiasts who love online classes and workouts
Price: $1,403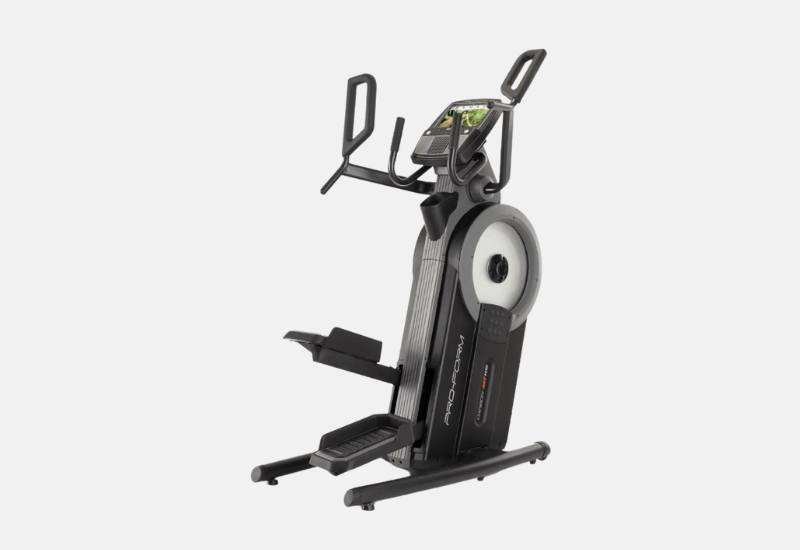 The ProForm Carbon HIIT H10 takes the same elliptical/stepper hybrid approach as its big brother, the Pro H14, and tones it down a little bit.
But not much…
The HD screen is four inches smaller (10" vs 14") and there are two fewer resistance levels (24 vs 26). And the price differs by around $200.
Outside of that, the Carbon HIIT H10 is actually the smarter bet compared to its bigger sibling.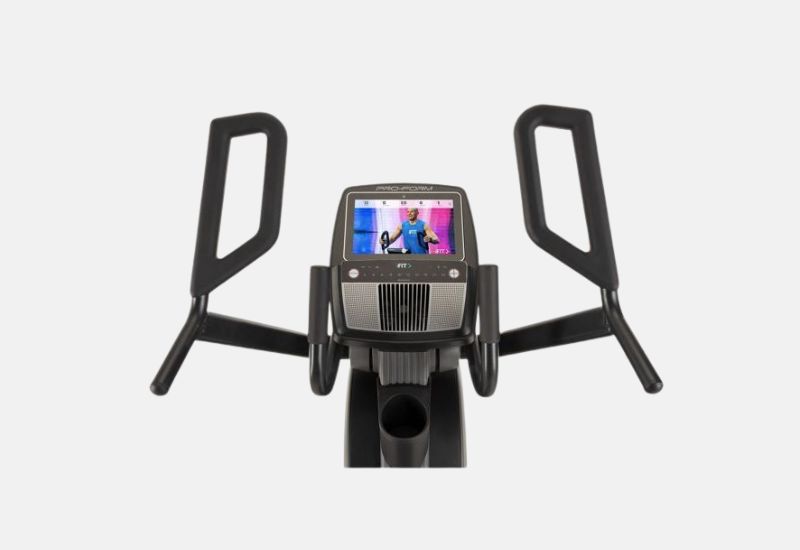 One of the mysteries of this machine is that ProForm includes a three-year membership to iFIT with the HIIT H10 (which works out to be like a $1,200 value), but doesn't include it with the Pro HIIT H14.
Which actually makes the Carbon HIIT H10 a significantly better option when it comes to cost.
| | |
| --- | --- |
| ✅ PROS | ❌ CONS |
| 3 years iFIT membership ($1200 value) included | Hard to move around |
| 24 resistance levels | |
| 30lb flywheel | |
| Space-saving design | |
| 10" HD touchscreen | |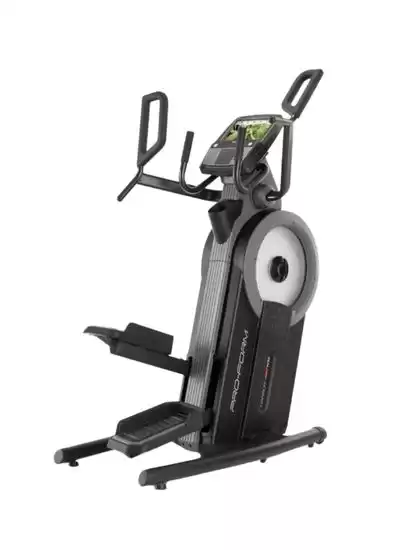 ---
ProForm Carbon EL Elliptical Trainer
⭐ Best for: People who want a budget-friendly elliptical trainer
Price: $799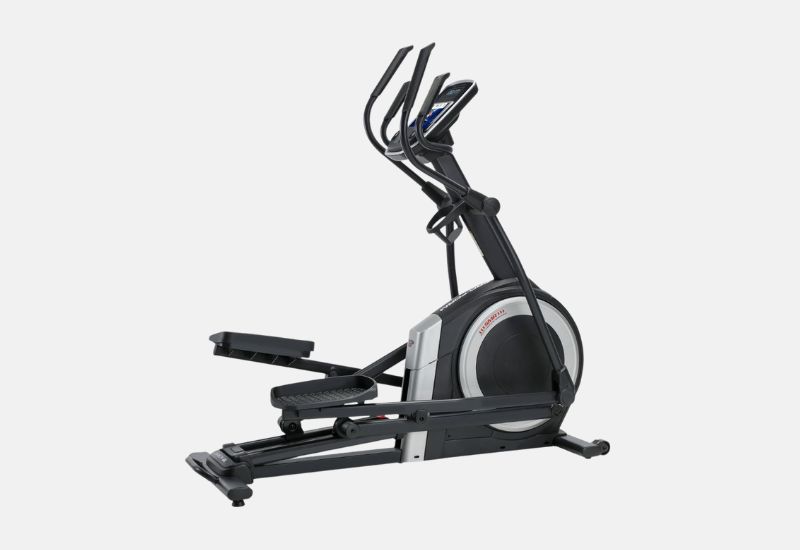 The ProForm Carbon EL Elliptical is ProForm's no-frills, entry-level elliptical machine.
At just under $800, it's also very budget friendly, ideal for those who are just getting started with elliptical training at home and don't want to spend a metric brick of money to get started.
The EL has 18 different levels of resistance and a smooth, whisper-quiet stride that comes from the 14lb flywheel.
(This is about right for this price point, although there are some similarly priced ellipticals, like the Nautilus E616, that has a heavier flywheel at the same price.)
The incline can be adjusted manually for added difficulty (5 different levels), and the unit can be tilted and moved around fairly easily so that it can be tucked out of the way when not in use.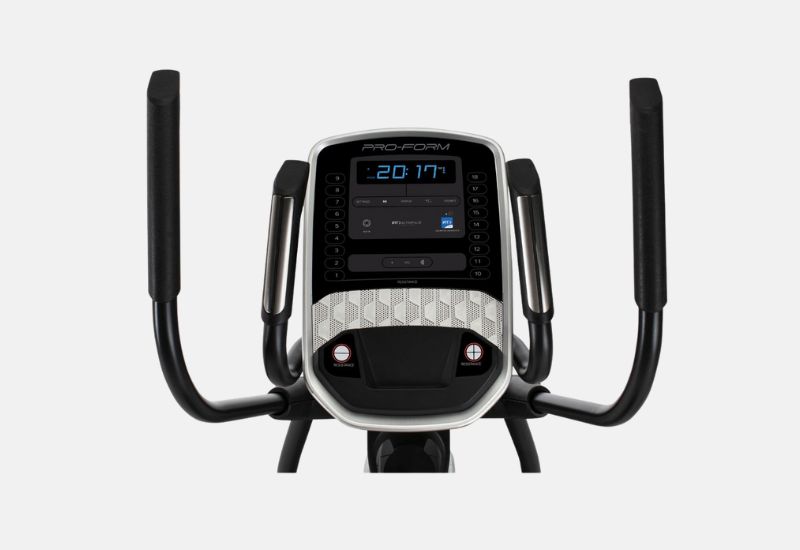 The stride length on the Carbon EL is large at 19", accommodating users of nearly every height. (See also: What's the Best Elliptical Stride Length?)
While the LCD screen is quite basic, especially compared to the upper-tier ProForm ellipticals like the Carbon E10, you can get the touchscreen, trainer-led experience of the iFIT library with your smartphone or tablet and pairing it to the elliptical.
Note: ProForm also makes another elliptical, the Carbon E7, that is discontinued on the ProForm USA website. The machine is still available second-hand and at some online retailers like BestBuy and Target.
Another thing to note is that the maximum user rating for the Carbon EL is relatively low at just 275lbs.
For trainees just getting started with elliptical training, or big-boned folks (no judgment—I'm a salty 290lbs!), the Carbon EL may not be sturdy enough.
| | |
| --- | --- |
| ✅ PROS | ❌ CONS |
| Budget-friendly pricing | Basic console |
| 19" stride length | Lighter flywheel |
| Easy to learn; great for beginners | Low max user rating |
| 18 resistance levels | |
| Manual incline | |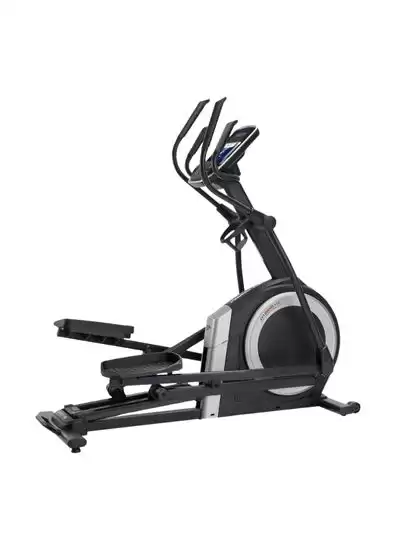 ---
ProForm Carbon E10
⭐ Best for: Experienced elliptical users who want a more difficult workout
Price: $1,403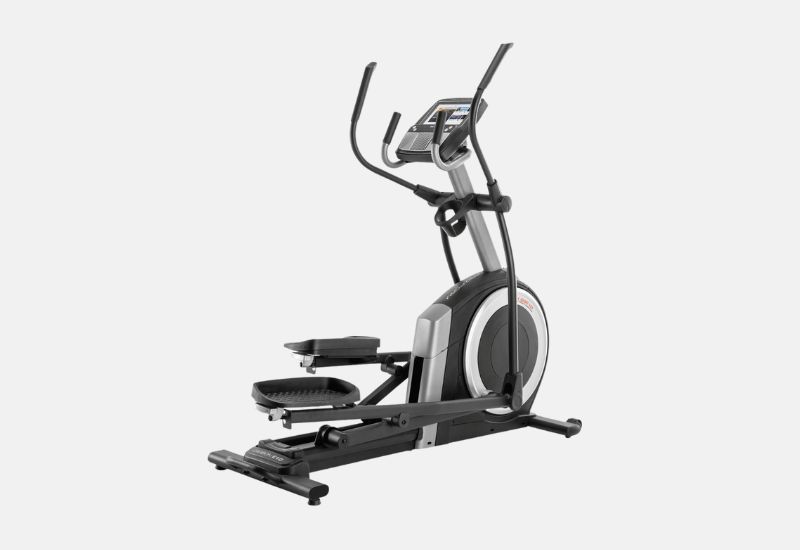 The ProForm Carbon E10 takes the base features of the Carbon EL and builds upon it with a larger touchscreen, significantly heavier flywheel, and perhaps most importantly, cranks up the difficulty with a power incline.
Standard ellipticals have a horizontal stride path, but with the incline option on the E10, the path raises up to a 20-degree incline, significantly increasing the difficulty of your workout.
With the Carbon E10 you also get increased workout options, with 24 resistance levels using ProForm's SMR resistance flywheel.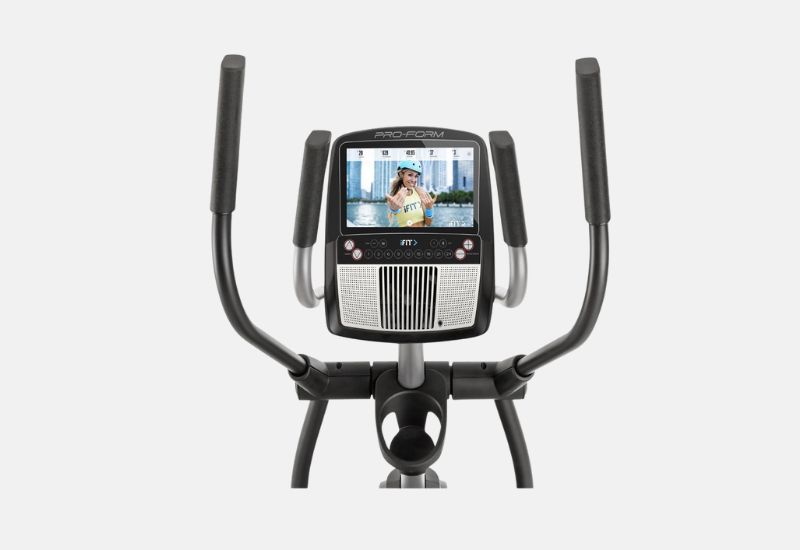 The Carbon E10 is also the superior choice for households where multiple people will be using the machine as it features a stride length that is adjustable up to 19" (and adjustable foot pedals), giving each user a comfortable striding experience.
The warranty is nearly identical as the Carbon EL, but you get an extra year of protection when it comes to parts and labor.
Like the Carbon EL, the E10 has a maximum user weight rating of just 275lb, making it a less than ideal option for heavier users just getting started on their weight loss journey.
| | |
| --- | --- |
| ✅ PROS | ❌ CONS |
| More incline options for added difficulty | Low max user weight (275lb) |
| Huge and bright touchscreen | |
| Adjustable stride length | |
| 3-year iFIT membership included | |
| Heavy flywheel for smooth ride | |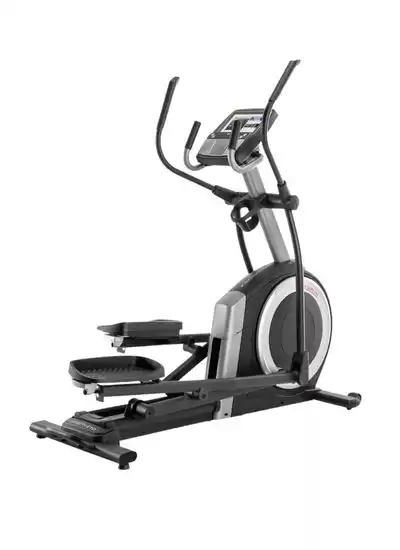 ---
ProForm Hybrid Trainer XT
⭐ Best for: people who want a recumbent bike and an elliptical
Price: $699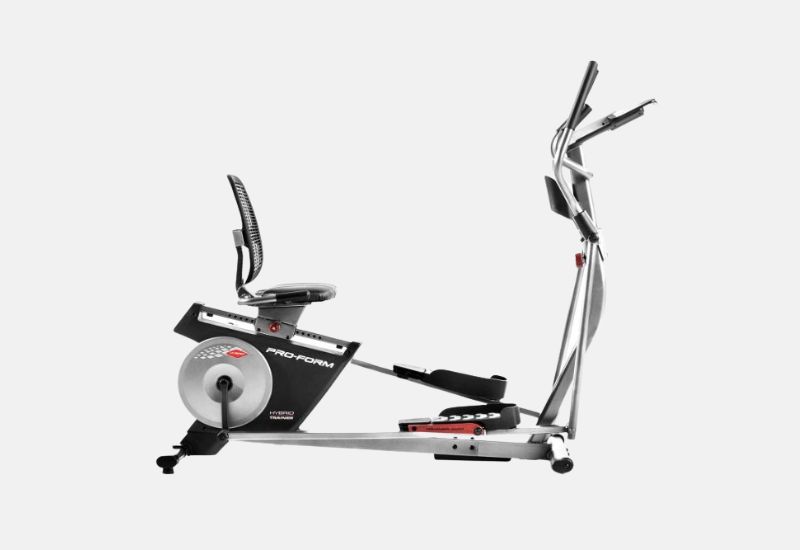 One of the main benefits of elliptical trainers is the low-impact aspect of the exercise. The only cardio machine that is even less impactful on joints is the recumbent machine.
Which is what you get with the ProForm Hybrid Elliptical and Bike Trainer, a fully functional elliptical trainer that can be changed into a recumbent bike.
The functionality of the ProForm Hybrid Trainer XT is pretty cool, and switching between the two modes is simple.
Loosen the knobs on the center column and the two pedals, tilt them backwards, and tighten the knobs. Same goes with the carriage knob to slide the seat front or back. Takes literally moments.
In terms of training functionality, the Hybrid Trainer XT has a 5" LCD screen and a media tray (training apps can be connected to the console via Bluetooth). 16 digital resistance levels ensure variety in your workout, and there are preprogrammed workouts in the console.
The combo machine, like ProForm's other ellipticals, can be integrated with iFIT (through a smartphone or tablet that can be paired with the console), and ProForm offers the first month of access to iFIT for free.
The Hybrid Trainer XT has a shorter stride length (15"), so it won't be ideal for taller users or people will long legs and the machine isn't really built for heavy-duty use as it weighs just 117lbs.
| | |
| --- | --- |
| ✅ PROS | ❌ CONS |
| Perfect for beginner trainees or seniors | Limited frame warranty (just 5 years) |
| Easy to adjust between bike and elliptical | Shorter stride length |
| Combo bike and elliptical machine | Not as stable |
| Large foot pedals for natural stride/bike path | |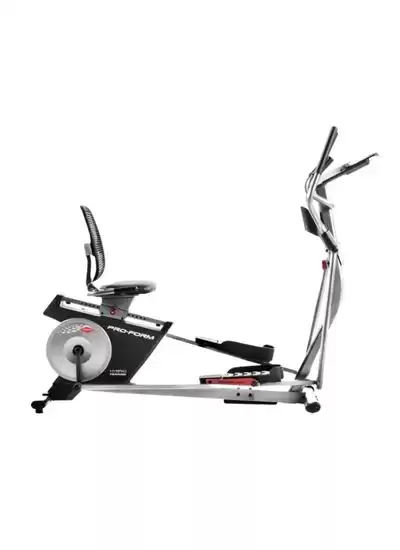 ---
ProForm Ellipticals – Comparison by Features
Now that we've had a chance to take a look at each machine and see where they fit in terms of user needs, here is a more detailed breakdown of the ProForm ellipticals and their respective features.
| | | | | | |
| --- | --- | --- | --- | --- | --- |
| | Pro HIIT H14 | Carbon HIIT H10 | Carbon El | Carbon E10 | Hybrid Trainer XT |
| Elliptical Type | Stepper + elliptical | Stepper + elliptical | Standard Elliptical | Standard Elliptical | Elliptical + bike |
| Price | $1,599 | $1,403 | $799 | $1,403 | $699 |
| Flywheel | 30lbs | 30lbs | 15lbs | 25lb | 13lb |
| Display | 14" HD touchscreen | 10" HD touchscreen | 5" LCD | 10" HD touchscreen | 5" LCD |
| Stride Length | 10" vertical and 5" horizontal | 10" vertical, 5" horizontal | 19" | 19" power adjustable stride | 15" |
| Incline | — | — | Yes (manual) | Yes (power) | — |
| Resistance Levels | 26 | 24 | 18 | 24 | 15 |
| Adjustable pedals | No | No | Yes (manual) | Yes (manual) | No |
| Dimensions | 52" L, 29" W, 66" H | 52" L, 29" W, 66" H | 68" L, 25" W, 67" H | 68" L, 25" W, 67" H | 70" D, 24" W, 60" H |
| Machine Weight | 224lb | 224lbs | 188lbs | 224lbs | 117lbs |
| User Max Weight | 325lb | 325lbs | 275lb | 275lb | 250lb |
| iFIT Integration | 30-day free trial | 30-day free trial | 30-day free trial | 3-years included | 30-day free trial |
| Warranty (frame) | 10 years | 10 years | 10 years | 10 years | 5 years |
| Warranty (parts) | 2 years | 2 years | 1 year | 2 years | 1 year |
| Warranty (labor) | 1 year | 1 year | 1 year | 1 year | 1 year |
| In-home assembly | $199 | $199 | $199 | $199 | $199 |
ProForm Ellipticals Comparison – FAQs
Which ProForm elliptical is the best?
There is a different ProForm elliptical for every type of trainee.
People looking for the added challenge of a stepper-elliptical hybrid and doing trainer-led classes with kill it with either the Pro HIIT H14 or the HIIT H10.
Trainees after the "classic" elliptical experience can do it at a budget-friendly price with the Carbon EL, while people who want a digitally immersive experience should spring for the Carbon E10.
And finally, the Hybrid Trainer XT is an excellent choice for low intensity and low impact exercise.
Is a ProForm elliptical good?
ProForm is a reputable brand that has been around the fitness industry for a long time. Even friends of mine who are not in the cardio machine or fitness industry know the brand.
That said, when it comes to whether ProForm's elliptical are good or not, it's important to remember that these machines are not commercial-grade. They are designed specifically for home use.
The Bottom Line
If there is a recurring theme with ProForm's ellipticals, it's that they are extremely budget-friendly.
Elliptical machines can cost a lot of money, and ProForm strikes a balance between over-building the machines and providing value.
Whether you are looking for the challenge of an elliptical-stepper combo, a classic elliptical trainer, or want the 1-2 low-impact punch of an elliptical-recumbent combo, there is a ProForm elliptical with your name on it.
---
More Elliptical Guides and Articles
Elliptical Buying Guide – Everything You Need to Know to Buy with Confidence. Want to buy an elliptical but don't know where to start? Arm yourself with the knowledge to choose the perfect elliptical for you and your workout goals.
How Much Do Ellipticals Cost? (44 Different Models Compared). Ellipticals can be a costly investment in your workout goals. Here is a look at how much each type of elliptical costs and how much to spend on one.