Ellipticals are an excellent tool for building cardio and building those glutes. Here's how to use the elliptical for a bigger, stronger booty, including some sample glute workouts to try at the gym.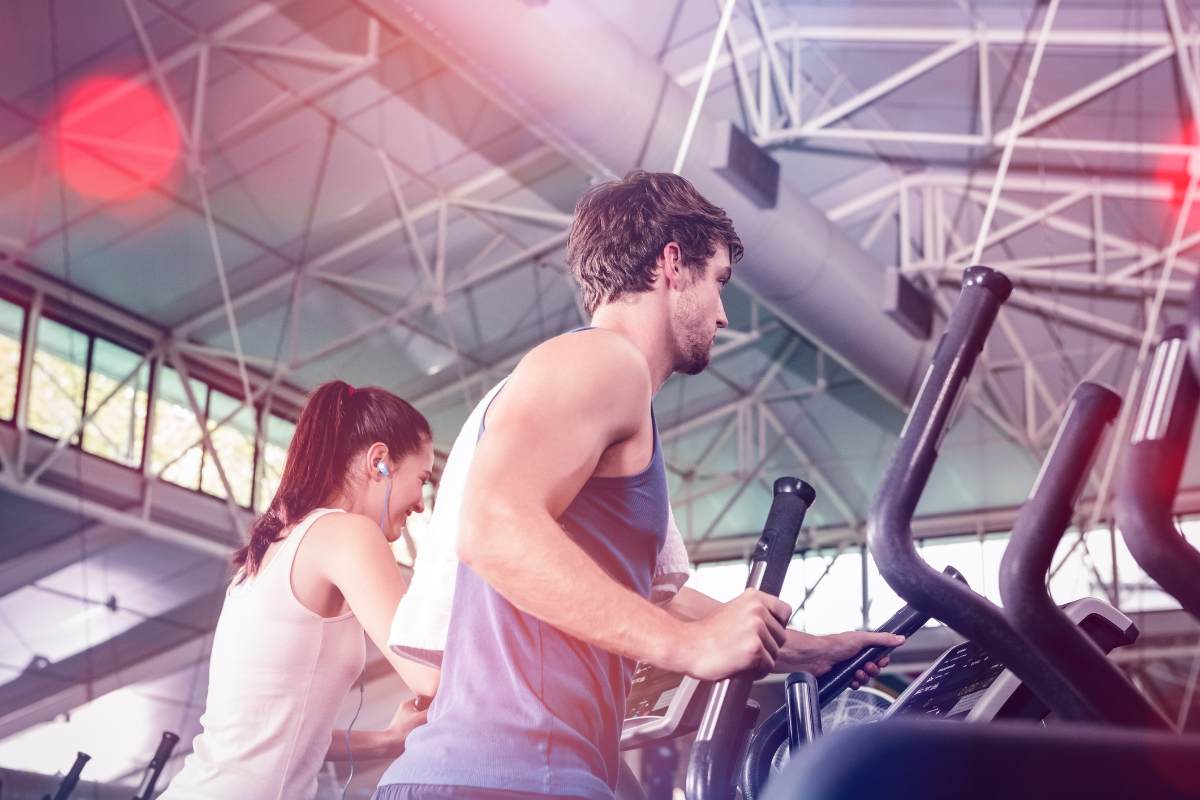 The elliptical trainer offers a full body workout as no other gym machines can.
And I mean that literally!
Thanks to its design, the elliptical machine works your legs for the pedaling/stepping, your upper body for working the handles, and your core to keep the two halves working together.
But you'll find that adapting it slightly can actually make the elliptical machine one of the best cardio machines for glutes specifically.
For those who want that boo-tay to pop, you've come to the right place. In this post, we'll talk about how to use the elliptical machine to target and strengthen your glutes, offer some workout tips and strategies that will help you hit those glutes hard, and answer a few of the most commonly asked questions about training your glutes with the elliptical machine.
By the end of this post, you'll know exactly how to maximize the effectiveness of your glute-focused workout using the elliptical.
Let's jump in.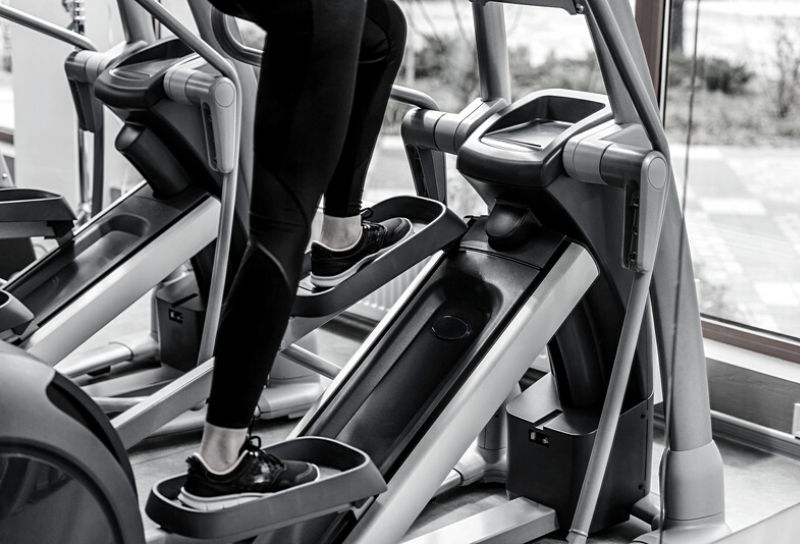 Elliptical Trainer – Overview
The elliptical trainer is a machine designed with two main components:
Handles that move forward and backward in sync with your steps
Pedals that allow you to "walk"
Your hands grip the handles to push and pull, helping your feet to move the pedals forward the backward.
The machine is designed for low-impact exercise (your feet never lift off the pedals), but because it engages all the muscles in your body, it's highly effective.
Take a look at all the muscles worked on the elliptical machine and you'll see why it's such a popular machine.
On the elliptical, you will work:
Chest
Upper back
Shoulders
Triceps
Biceps
Forearms
Abs
Lower back
Obliques
Glutes
Hamstrings
Quads
Calves
That's pretty much all of the muscles in your body!
One of the best benefits of the elliptical trainer is that it burns more calories than pretty much any other cardio machine. That's because you're engaging all those muscles listed above, which requires more energy.
The fact that there are more calories burned on the elliptical machine than most other machines in the gym makes it highly effective for fat-burning as well as strengthening.
And, of course, it's also one of the best HIIT machines, because it's easy to adapt the machine to faster-paced interval-style training.
As you'll see from my article on the best elliptical trainer HIIT workout options, there are so many ways you can use the elliptical to take your fitness to the next level using HIIT.
How to Use the Elliptical for Bigger Glutes
Now, as the title of this post made clear, we're here to talk about how you can make the most of using the elliptical machine to target specifically your glutes.
The glute muscles are posterior muscles located between your lower back and your hamstrings.
They provide support and stability for both your core and lower body, and they work together with your quads and hamstrings to facilitate movements like lunges and squats.
Strengthening your glutes is crucial for building better lower body strength. Glutes play a role in virtually every leg exercise, and building glute power will translate into better leg presses, squats, lunges, and deadlifts.
Plus, you'll strengthen the muscles that support your lower back, thereby reducing your risk of lower back injury.
In its "standard" configuration—an incline and intensity of "0"—the elliptical machine is much more quad-focused.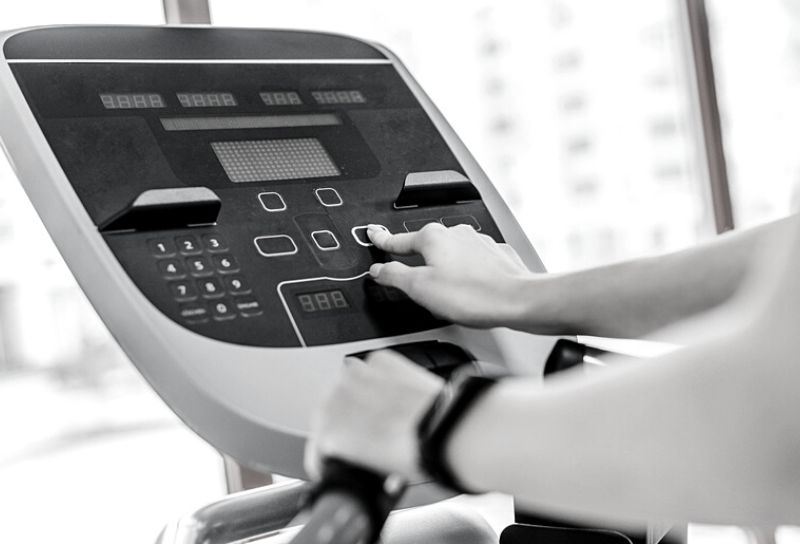 There is some minor engagement of your hamstrings and glutes because they are antagonist to your quads, but the focus is largely on the bigger muscles in your thighs.
The key to hammering your glutes is actually quite simple: increase the incline.
When the incline is set to "0", you're basically walking on flat ground. But as you raise the incline, the machine simulates walking up a hill. The steeper the hill, the more your glutes have to engage to propel you upward. Your quads and hamstrings still get an amazing workout, but there's more effort demanded from your glutes because of the angle of incline.
If you raise the incline to the max level, it almost feels like you're climbing stairs. This is when your glutes really get to shine.
You never lift your feet off the pedals like you do with the Stairmaster or climbing actual stairs, but your leg lifts high enough that you have to push your entire body upward off your front leg the same way you do when climbing.
This is excellent for activating your glutes, as your glutes engage to propel you upward initially. Your quads do some of the work at the low-point in the upward push, but it's only once you're about 1/3 or halfway up that they really engage. During that lowest 1/3 to 50%, it's all about those glutes, baby!
However, you'll be glad to know there are a few other ways you can hammer your glutes on the elliptical machine:
1. Increase the resistance.
If you're raising the incline, that's already a good start for training your glutes. But you can make the workout even more effective by upping the resistance level, too.
The higher the resistance, the more you'll have to actually your legs to pedal with every step. This will lead to a better workout for all of your leg muscles—your quads, hamstrings, and, of course, your glutes.
Add higher resistance at a higher incline setting, and you've got yourself a workout on par with a Stairmaster training session!
2. Move laterally.
Most ellipticals are designed for a simple, natural forward and backward stride. However, there are certain specialized machines called "lateral ellipticals" that instead of moving you forward and backward, you're basically walking from side to side.
They're used to train ice skaters and skiers, as they simulate that unilateral movement and pushing off from one foot to the other. On the lateral elliptical, there is still plenty of quad engagement, but there's more focus on the hips and outer glutes.
3. Squat walk.
If you really want to step up the difficulty, try squat-walking on the elliptical machine. Basically, bend your knees until you're in a squat position (knees as close to a 90-degree angle as possible, back straight, and head up), and try walking/pedaling in that position for as long as you can.
You'll likely have to release your grip on the moving handles and instead hold onto the stationary handles for support.
But by switching up the way you stand on the elliptical machine and walking in a low squat, you hammer your quads and glutes far more effectively.
Try these variations on the standard elliptical workout, and you'll give yourself one heck of a booty-focused training session!
Elliptical Workouts for Building Glutes
Time to put into practice what you've learned!
Below, I've created two simple but highly effective elliptical training sessions that will help you to strengthen your legs and pay extra attention to your booty.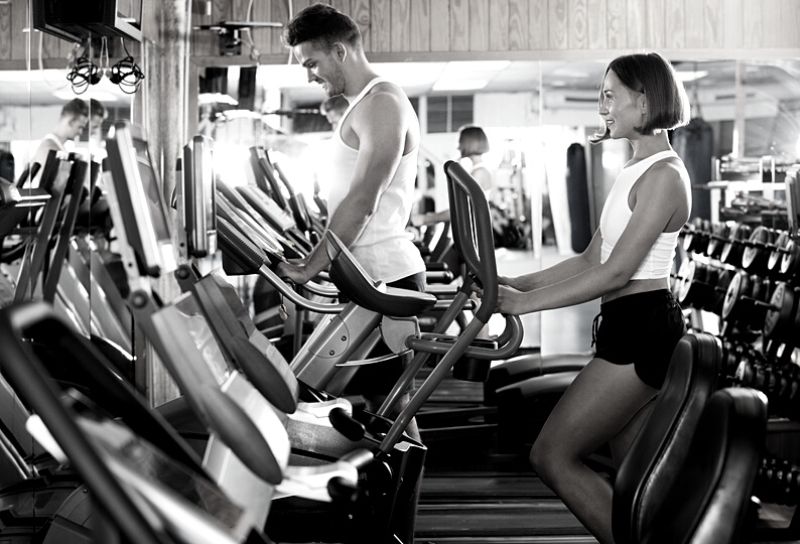 Give them a try and you'll see excellent results in terms of glute growth and strength.
Workout #1: Squat Walk
For this workout, you'll switch between a standard walk and a squat walk in intervals of 60 seconds. I guarantee that by the end of the 20-minute session, your legs will be on fire!
Warm-Up: Spend 3-5 minutes beforehand warming up. Pay extra attention to your legs during the warm-up, as they'll be doing most of the work.
Minute 0-1: Walk in squat position, with your knees bent, back straight, head up, and hands gripping the stationary handles for support.
Minute 1-2: Walk upright, slowing your pace and letting your legs stretch and recover in preparation for your next squat walk.
Repeat: For the remaining 18 minutes, switch off between 60 seconds of squat walking, and 60 seconds of walking upright.
Cool Down: Spend 5 minutes afterward walking at a slow pace with no incline or intensity. Give your legs a chance to recover and cool down before stepping off, otherwise you might feel stiff or very sore the next day.
Workout #2: Full Incline, High Resistance
This workout is all about maxing out on both the incline and going as hard on the resistance as you can.
The former will engage your glutes, while the latter will push your legs to their limits. Mixing it up with periods of low intensity and low resistance will give you a break and help you push hard for the full 30-minute session.
Don't worry: we start off easy and work your way up to full incline and high resistance by the end!
Note: This workout is based on an elliptical machine with a max incline of 15 and max resistance of 10.
Warm-Up: Spend 5 minutes warming up. Set a slow pace, with incline and resistance both set to "0". This is all about getting the blood flowing and preparing your legs for what's to come.
Minute 1-2: Incline 3, Resistance 2
Minute 3: Incline 5, Resistance 2
Minute 4: Incline 5, Resistance 3
Minute 5: Incline 6, Resistance 3
Minute 6-7: Incline 3, Resistance 2
Minute 8: Incline 6, Resistance 3
Minute 9: Incline 7, Resistance 3
Minute 10: Incline 7, Resistance 4
Minute 11-12: Incline 3, Resistance 2
Minute 13: Incline 8, Resistance 4
Minute 14: Incline 8, Resistance 5
Minute 15: Incline 9, Resistance 5
Minute 16-17: Incline 4, Resistance 3
Minute 18: Incline 9, Resistance 6
Minute 19: Incline 10, Resistance 6
Minute 20: Incline 10, Resistance 7
Minute 21-22: Incline 4, Resistance 3
Minute 23: Incline 11, Resistance 7
Minute 24: Incline 12, Resistance 8
Minute 25: Incline 13, Resistance 8
Minute 26-27: Incline 5, Resistance 4
Minute 28: Incline 14, Resistance 9
Minute 29: Incline 15, Resistance 9
Minute 30: Incline 15, Resistance 10
Cool Down: Spend 5 minutes cooling down to let your glutes and leg muscles recover actively before you step off the elliptical machine.
And just like that, you've pushed your glutes to their max!
Glutes on the Elliptical Machine – FAQs
What incline is best for glutes on the elliptical?
Maximum! The steeper the incline, the more your glutes have to engage to push your body upward with every step forward.
While most ellipticals at the gym have a stride that is purely horizontal, there are ellipticals that have incline settings, whether power or manual (the Sole Fitness E95 is an example of an elliptical that has significant incline settings).
Other machines, like the Bowflex Max Trainer M9, is a combo elliptical/stepper that generates a ton of incline, hammering those glutes and generating a more glute-centric workout.
Is running or the elliptical better for glutes?
Running is a great exercise to strengthen your glutes. Because of the nature of the movement, there is more engagement of your glutes on the treadmill than with the elliptical, which is why most people consider that in the battle of the elliptical vs treadmill, the treadmill wins every time.
But, with the elliptical, you can increase the incline of your stride so that it's virtually identical to stair-climbing, which is a much more glute-focused exercise. In that regard, the elliptical is a better machine to target your glutes than running (even at an incline).
The Bottom Line
The elliptical machine is designed to strengthen all of the muscles in your body, but as you've seen above, it can be easily adapted to focus more on certain muscles—including your glutes.
You'll have to get very specific with your workouts—raising the incline, adjusting the resistance, switching to a lateral elliptical, and squat-walking—but doing so will help you to pay extra attention to your glutes, rather than just hitting your lower body overall.
The good news is that training your glutes will help you develop stronger legs and a more stable core, which will translate into better athletic performance and agility across the board. It's so worth paying more attention to your glutes if you're trying to improve your functional fitness.
---
More Stuff Like This
Elliptical Machine vs Stairmaster: Which One is a Better Workout? The battle between the elliptical vs Stairmaster ends here. In this guide, we look at the pros and cons of each and how they perform for weight loss, HIIT workouts, functional fitness, calories burned, and much more.
4 Killer 30-Minute Elliptical Workouts (HIIT, Building Glutes, and More). The elliptical machine is a killer tool for getting in shape. And the good news is that you don't have to spend hours on it to see results. Here are four 30-minute elliptical workouts, including HIIT, glute-focused, steady-state, and more.