Deadlift platforms are a way to protect your floor, lift safely, protect your lifting equipment, and chase new PRs with confidence. Read on for the best deadlift platforms for every kind of budget.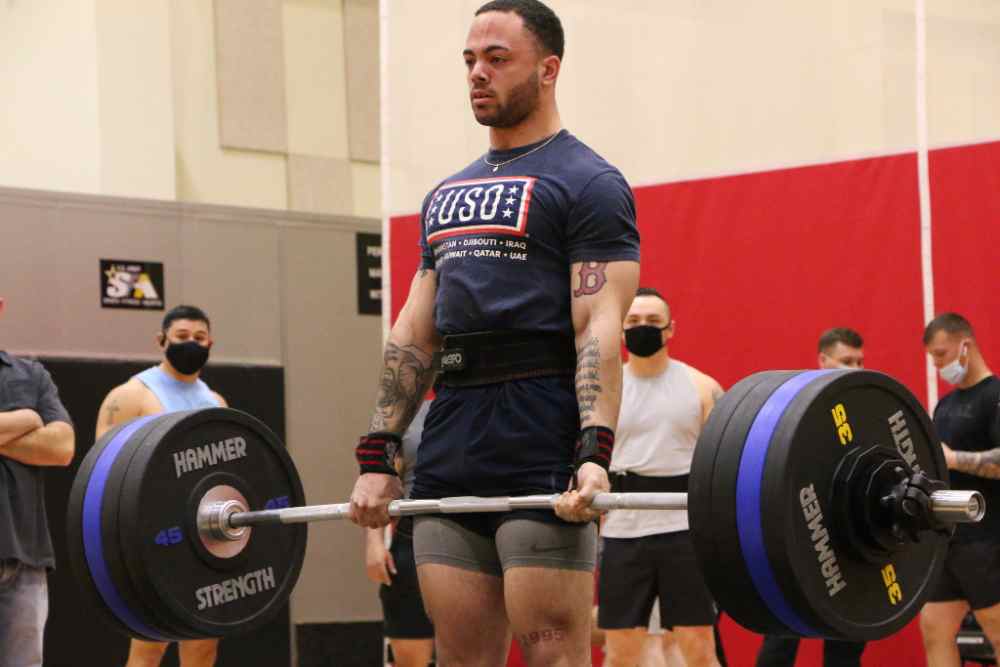 Are deadlift platforms worth the investment?
For many lifters, the answer is a resounding yes.
The right deadlift platform:
Protects expensive equipment.
Even though things like your Olympic barbell, trap/hex bar, bumper plates and so on don't have a lot of moving parts, they aren't immune to wear and tear. Especially when you are dropping them onto hard surfaces with a ton of weight strapped to them.
Olympic barbells in particular, which are not on the cheap side with their needle bearing or bushing rotation systems, need to be protected when dropped.
My #1 Pick for Best Deadlift Platform: Even though a little pricier than comparable models, the Rogue Deadlift Platform is my go-to for durability and function. Shop now at Rogue's website.
Deadens sound and vibration.
For a summer I lived with my fiancée in a basement suite underneath a competitive powerlifter who regularly deadlifted 800lbs in his garage. The vibration was off the charts.
While you may not be lifting that much, your house (and tenants) will appreciate the deadening effects of the rubber mats on a deadlift platform.
Helps you lift safely.
There are times where you've tapped out your effort and strength and need to put the bar down and put it down quick.
When you don't have to worry about chipping the concrete floor or damaging the plates on the bar, you can drop the weights instead of trying to T-Rex it down to the floor with bad technique and risk hurting yourself.
Protects your floor and foundation.
And of course, the main reason the home or garage gym enthusiast would purchase a deadlift platform, to cushion the impact of fully loaded barbells from smashing into the ground, whether that means the concrete floor in your garage or the carpeted basement of your house.
So, yeah. Deadlift platforms are quite handy!
While there aren't as many on the market as, say, powerlifting barbells or cast-iron weight plates, there are a handful of them made by very reputable fitness brands.
Let's take a look at them and see which deadlift platform is right for you.
---
The Best Deadlifting Platforms for Home Gyms
Rogue Deadlift Platform
⭐ Best overall deadlift platform
Rogue makes some of the best fitness gear on the planet. Whether you are a high-level athlete, weekend warrior or powerlifting nerd, Rogue does the job and does it well. (I've also reviewed Rogue's line of barbells here.)
The Rogue Deadlift Platform is one of the most expensive on this list. It starts at $395 (plus the mats). That said, Rogue makes basically bomb-proof gear, so you know this thing is going to keep doing its thing no matter how many times you drop loaded barbells onto it.
With an 8' by 4' footprint, and 2" by 2" 11-gauge steel frame, the mats can be substituted with pieces of plywood (again, sold separately). Thick enough to protect your barbells and weight plates, and relatively affordable (especially compared to Olympic platforms), this thing looks good and does the job exceptionally.
[I've also written a more detailed review of the Rogue Deadlift Platform that you can read here.]
My favorite feature of the Rogue Deadlift Platform has to be the extra-long pegs that line the 2″ by 2″ steel frame. The pegs are perfect for wrapping your Rogue Monster Bands (banded deadlifts are a great way to develop speed and power and increase time under tension in your deadlift).
Rogue's platform is easy to assemble and has four clips that you can use to secure the platform to the floor.
Size: 8' by 4'
Price: $395 (mats sold separately)
Mat thickness: 1.5" (plus optional plywood base)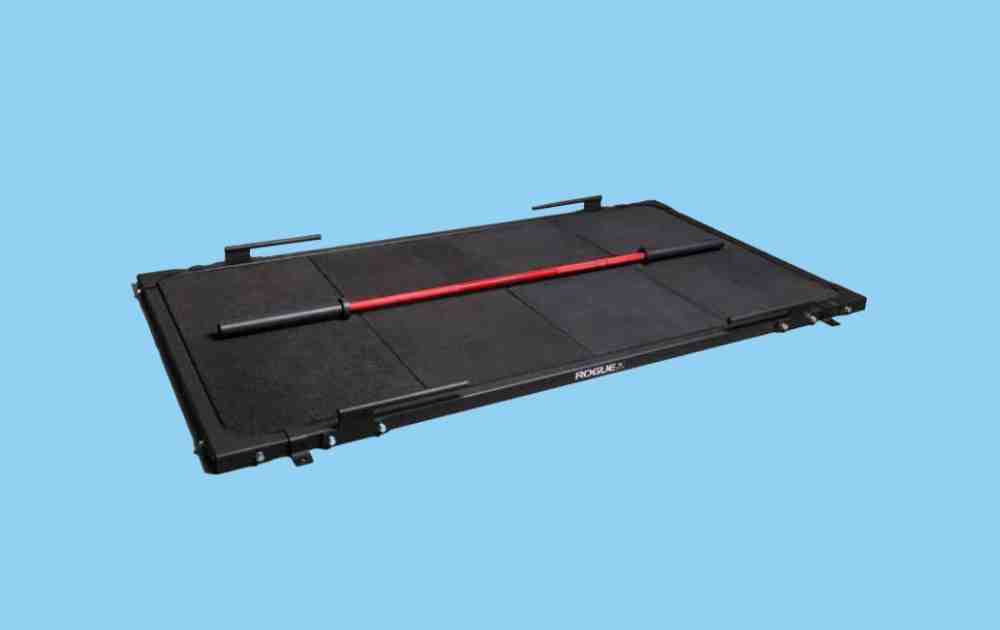 ---
Titan Fitness Full Deadlift Platform
⭐ Best budget-friendly deadlifting platform
Titan Fitness is another big name in the gym gear industry. They're known for making high-quality stuff at a price that is more affordable than premium names like Eleiko and even Rogue. I'm a big fan of their safety squat bars and rackable EZ curl barbells.
Titan's deadlifting platform is nearly a carbon copy of the Rogue platform. The rubber tiles are 1.6" thick (compared to just over 1.5" for Rogue's), the steel frame is powder-coated black to prevent corrosion and rusting, and extra long pegs are ready and waiting for your favorite heavy-duty resistance bands.
Titan Fitness even adds some light knurling onto the pegs to help keep the bands from sliding and slipping when lifting. (Which might inadvertently cause bands to degrade from the rubbing.)
But what sets it apart is the price point—Titan retails this bad boy for $499, which when you consider that this includes 8 rubber tiles, ends up costing less than Rogue's.
Size: 8' by 4'
Price: $499 (includes rubber tiles)
Mat thickness: 1.6"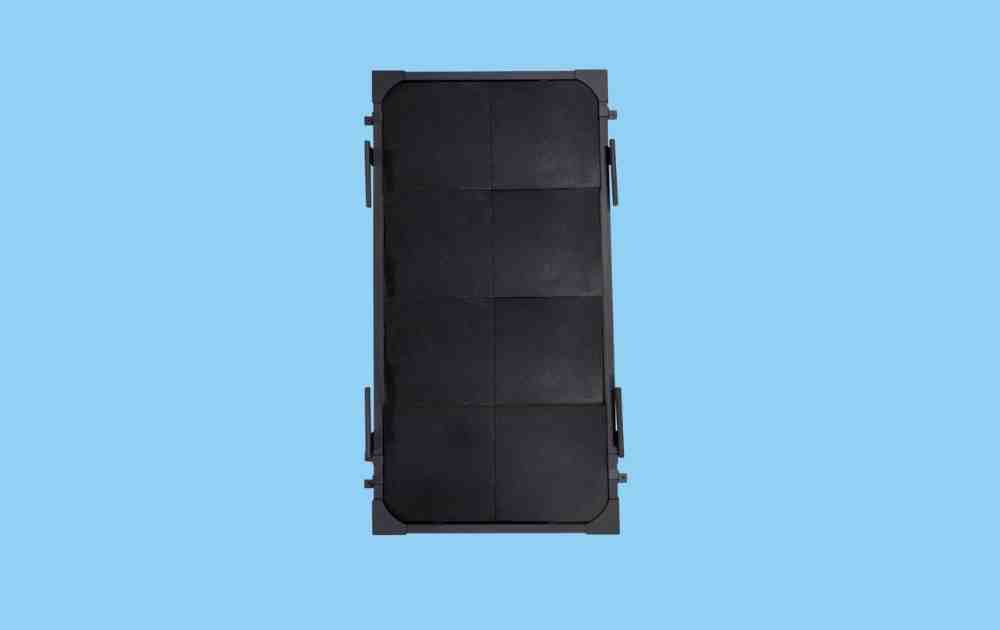 ---
Valor Fitness Platform
⭐ Best deadlifting platform on Amazon
While technically an Olympic lifting platform, the Valor Fitness platform makes our list of the best deadlift platforms as it is one of the very few available on Amazon (when it's stock, of course—check here to see current pricing and availability).
Bamboo boards (sturdier than oak wood) line the center of the platform, and eight 1.25" thick rubber mats are ready to absorb your 1MR deadlifts. A steel transition ramp is included, which you can use to wheel your deadlift jack or bumper plate storage rack up onto the platform easily.
The main drawback is the price, with the Valor Platform coming close to a thousand dollars. If you have a big workout space and want something you can use for deadlifting and Olympic lifts, the Valor Fitness Platform is an option worth checking out.
Size: 81.5" by 101"
Price: $949
Mat thickness: 1.25"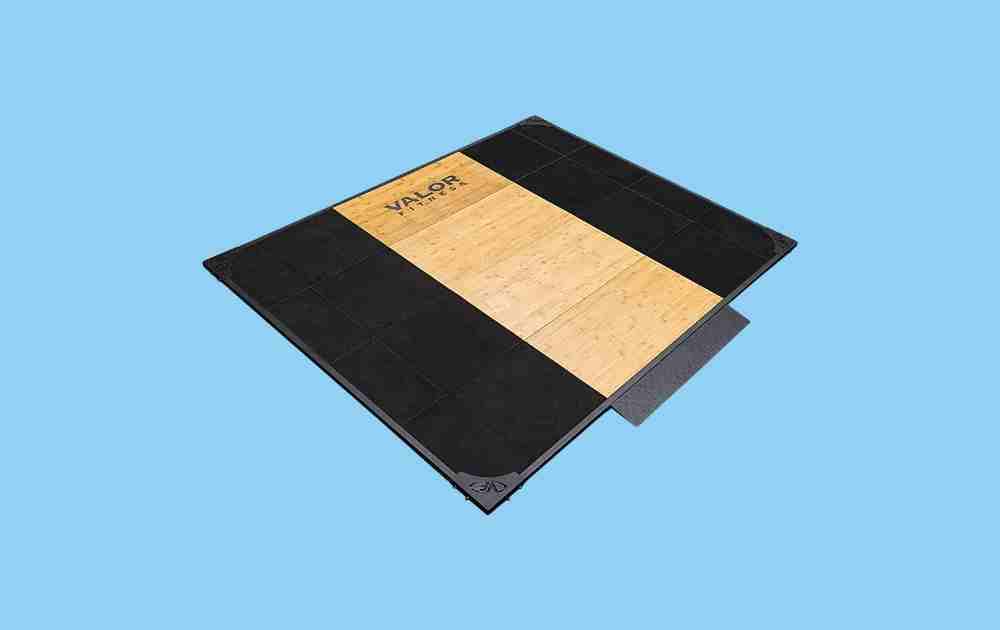 ---
Best Deadlifting Platforms – FAQs
Should you deadlift from a platform?
Yes! Deadlift platforms are designed to protect your floor, protect your lifting equipment, reduce sound/vibration (especially handy at home!), and the rubber crumb of the stall mats make for excellent grip for your feet.
Deadlifting platforms (and lifting platforms in general) can also be used as a means to bolt down your squat rack and weigh it down.
What's the difference between a deadlift platform and an OLY platform?
The main difference between deadlift platforms and Olympic platforms comes down to shape.
Deadlift platforms are rectangular, typically two squares long x 4 squares wide.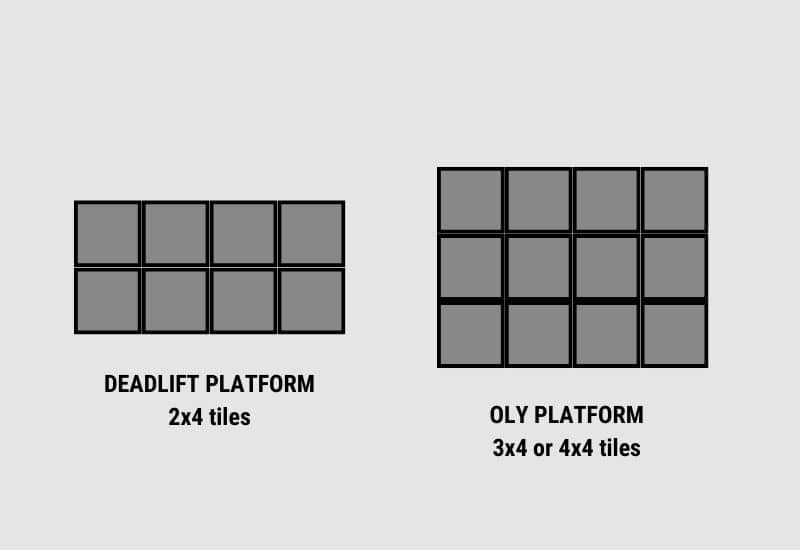 OLY platforms are a little longer (with the same width) or are totally square in shape.
The Rogue Oly 8×8 Platform, for example, has 16 total mats, whereas the Rogue Deadlift Platform has "only" eight mats.
The added surface area is ideal for Olympic lifts so that you can drop loaded barbells from overhead without worrying that it's going to bounce off the platform and into your rack, spotter, the wall, et cetera.
What are some alternatives to deadlift platforms?
There are plenty of excellent options for getting most of the benefits of a deadlifting platform without the large installation and added cost.
Deadlift pads are an extremely budget-friendly option, costing about half the price. The only downside (for lifters who want full range of motion when deadlifting) is that deadlifting pads are quite thick, starting at 5", with most options 6" thick.
You can also use bumper plates (on their side), a pair of thick rubber gym mats (generally known as stall mats), or even deadlifting wedges.
That said, none of these options give you the true stability and peace-of-mind that comes with a deadlifting platform.
---
More Guides Like This
6 Best Home Gym Floors and Mats. Protect your home, protect your gym equipment, and protect your neck with the right gym flooring and mats. Read on for a breakdown of the best home gym floors and mats.
5 Best Deadlifting Shoes (and Why You Should Wear Them). The right shoes help you deadlift more by improving technique, creating more power, and supporting your ankles. Here is a breakdown of the best deadlift shoes and why you should wear them.
The Best Deadlifting Slippers and the Benefits of Wearing Them. Deadlifting slippers protect your shins, give you a good grip on the platform, and help keep your gym germ-free. Here's a quick look at our favorite deadlift slippers.