The right weight rack frees up room in your home gym, protects expensive gym equipment, and helps keep things organized. Read on for the best weight plate storage racks for home gyms.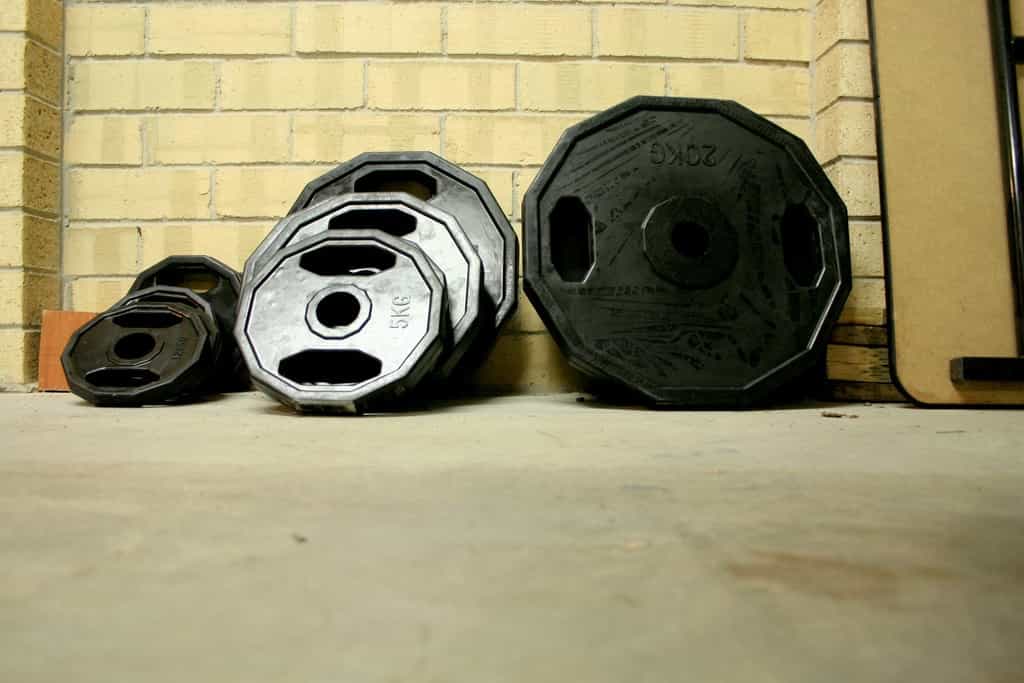 Going from commercial gym user to home gym owner is a lot of fun. Everything gets set to your specific requirements, no line-ups for the water fountain, and you can play music as loud as you want (usually).
Although we tend to get lost in the excitement of choosing the best power rack or the best flat weight bench, another essential piece of equipment for your home gym is the humble plate storage rack.
Even though they don't get the same amount of attention, weight plate storage racks are just as critical.
They protect the valuable investment that is your bumper, steel, and/or cast-iron weight plates, free up more room for more equipment, and keep tight spaces organized and ready for use.
Protect your gym equipment and keep things organized with a breakdown of the best weight plate storage racks for home gyms.
Read on and let's get into it.
Crown Sport Olympic Weight and Barbell Rack
⭐ Best weight plate rack for bar storage
Are you the kind of lifter that has every bar under the sun? And also happens to have a metric butt-ton of weight plates that need to get stored?
If so, the Crown Sport Olympic Weight is the best weight rack out there. In fact, it's not even close.
Rated for a maximum capacity of 800-lbs of Olympic plates or bumper plates, it is the heaviest duty rack on this list. The rack can also hold up to six Olympic barbells, acting as a combination barbell holder and plate rack, clearing up the floor of your gym and your assorted racks and stands.
The unrivaled functionality, simple and space-saving design (making it particularly well suited for lifters operating with limited room at home or in the gym), and heavy-duty construction makes this the best weight plate rack for serious lifters.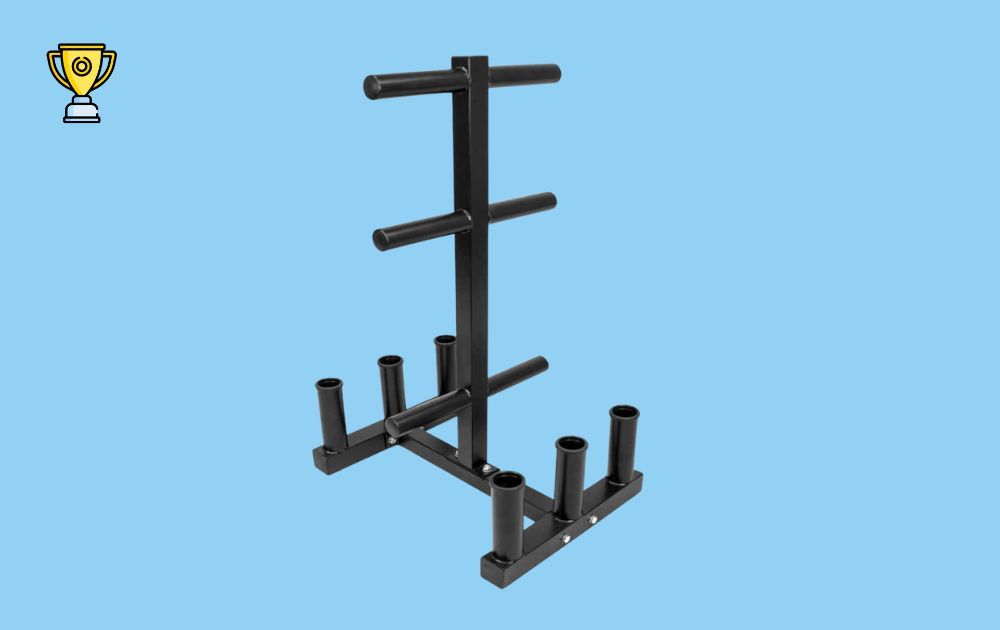 CAP Barbell Olympic Weight Plate Rack
CAP Barbell makes a ton of excellent and affordable home gym equipment. From trap bars, to barbell clamps to lat pulldown bars, CAP makes high quality gear for the home-based athlete.
Made with a black powder-coated finish, and designed to hold up to 500lbs of Olympic plates (2 inch center holes), the CAP Barbell Olympic Weight Plate Rack does the basics exceptionally well.
The H-frame base is only 19" by 22", freeing up your gym floor from weight plates so that you can maximize the space you are working out with.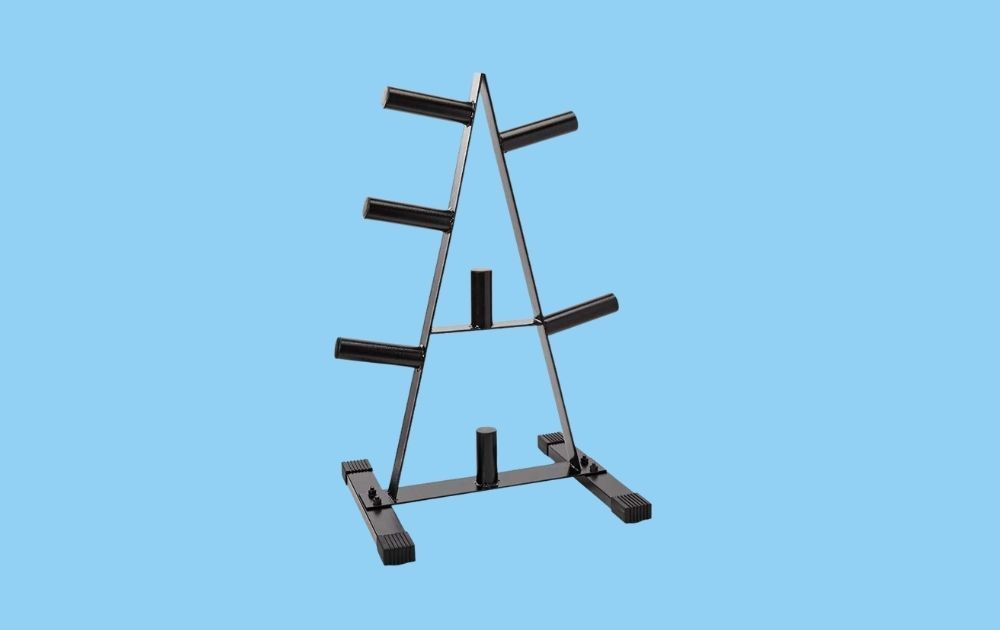 Marcy Combo Weight Plate + Weights Rack
⭐ Best weight rack for storing dumbbells
Looking for a weight storage rack that can take both weight plates and other free weights, including kettlebells and dumbbells? If so, the heavy-duty, steel fabricated Marcy Combo Weight Plate + Weights Rack has you covered.
Intelligently designed, the rack can handle up to 1,000lbs of weight. A long H-base frame with rubber-tipped feet keeps the rack firmly in place when you are shoveling weight on and off.
This rack is also very affordable, giving you 1,000 pounds of weight storage for under $100.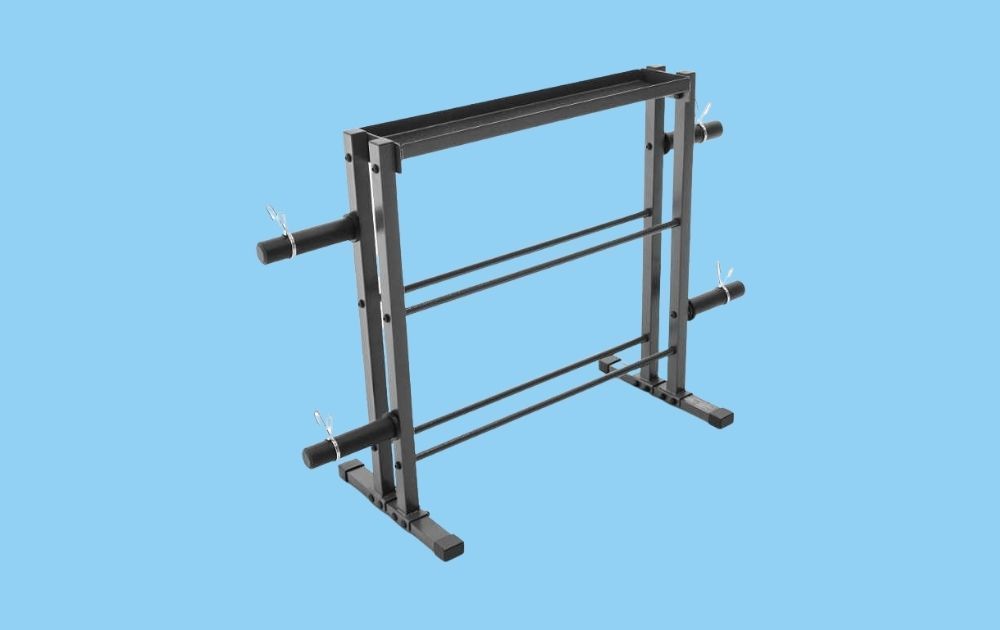 Marcy Weight Plate Tree
Marcy makes a line of weight plate trees that can accommodate plates from 1 to 2-inches in diameter and with four to six horns for plate storage. But these kind of racks fall short for me in a couple of areas.
I really like the look of plate trees, but when it comes to smaller gym spaces, the functionality falls a little short. The tree shape requires access to all three sides of the rack, which makes putting it flush against a wall impossible.
Marcy's Plate Tree looks great, and works well in open gym spaces, but for the typical garage gym, the tree takes up a lot of space. Additionally, the weight capacity of the rack is just 300-pounds.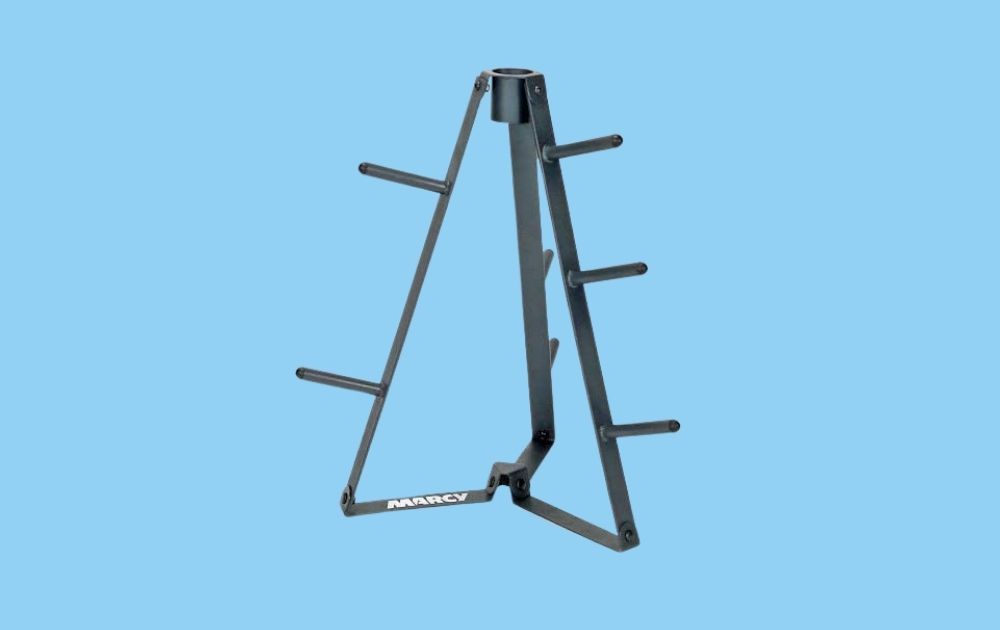 CAP Barbell Olympic Plate Tree Rack
Although I just railed on the limitations of tree racks, the CAP Barbell Tree Rack gets it right. Made of heavy-duty, industrial steel, the tree rack is designed in a compact and space-saving manner that makes it ideal for small space gyms.
With five horns (line up the larger plates on the right side, smaller on the left), the rack is perfect for Olympic plates. Designed to hold up to 500-pounds of weight, the rack also has a vertical bar holder than can store your E-Z curl bar, barbell, or triceps bar between uses.
In sum, I love this rack. It looks great, doesn't take up a lot of room, and the Cap Barbell Olympic Plate Tree Rack makes storing your weight plates a breeze.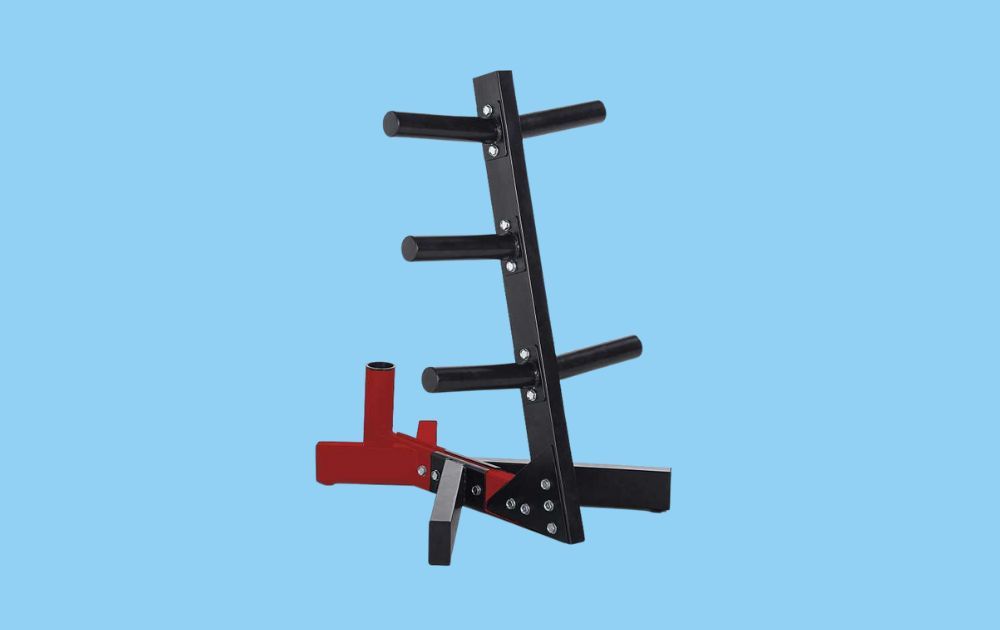 Rogue Horizontal Plate Rack 2.0
⭐ Best horizontal weight plate rack
Rogue makes world-class fitness equipment right in the USA. From adjustable weight benches to plyo boxes, Rogue makes killer stuff for CrossFitters, athletes, and home-based lifters who want durable and border-line bombproof gear.
The Rogue Horizontal Plate Rack 2.0 is an upgraded version of the original. Updates include a rubber-coated handle for easy tilt and wheeling, a wider base for added stability, and rubber-coated feet that keep the rack planted between uses and when being loaded and unloaded with plates.
Altogether, the space-saving design and updated base and grip help the rack hold just over 300 pounds of plates. The best feature of this rack is different sized slots, with a pair of larger slots for bumper plates and larger plates and a smaller slot that stores 10lb plates.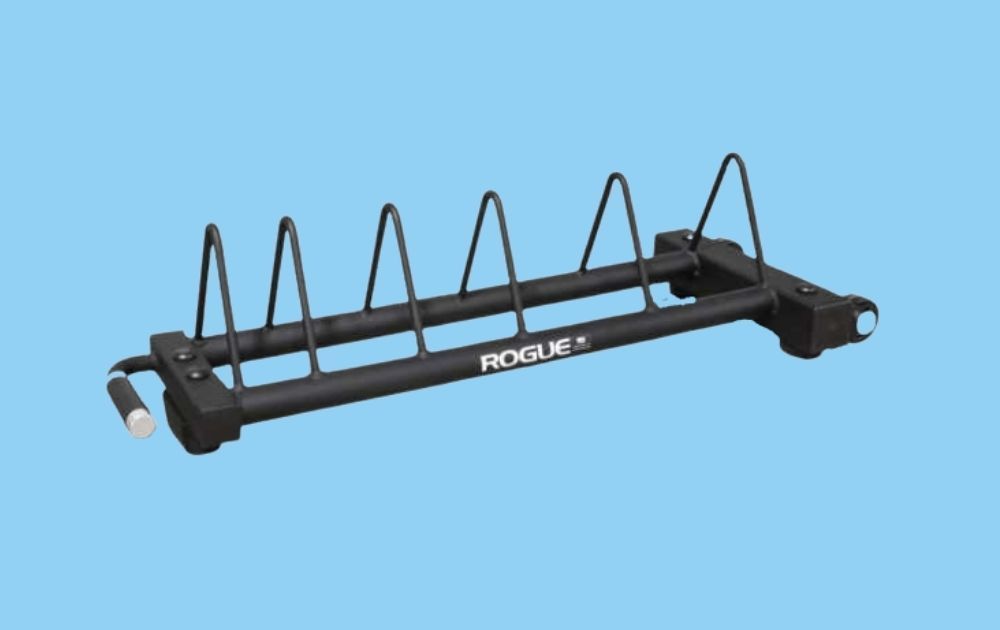 Steelbody Horizontal Olympic Plate Rack
Bumper plates are an essential piece of lifting equipment for the home-based power athlete. Storing them is kind of a pain in the butt as they take up a TON of room on traditional rack horns.
Enter the horizontal plate holder.
Exceptionally light, the Steelbody Horizontal Olympic Plate Rack helps you shelve your bumper plates (and/or Olympic plates) like you are shelving books. You can also vertically store two barbells.
The coolest thing about this bumper plate rack? It has two wheels and a handle—tilt the rack and you can zip it around your home gym.