Deadlifting slippers are a tool for safer, stronger lifts. Here is a breakdown of the best slippers for deadlifting, and why you should add them to your training.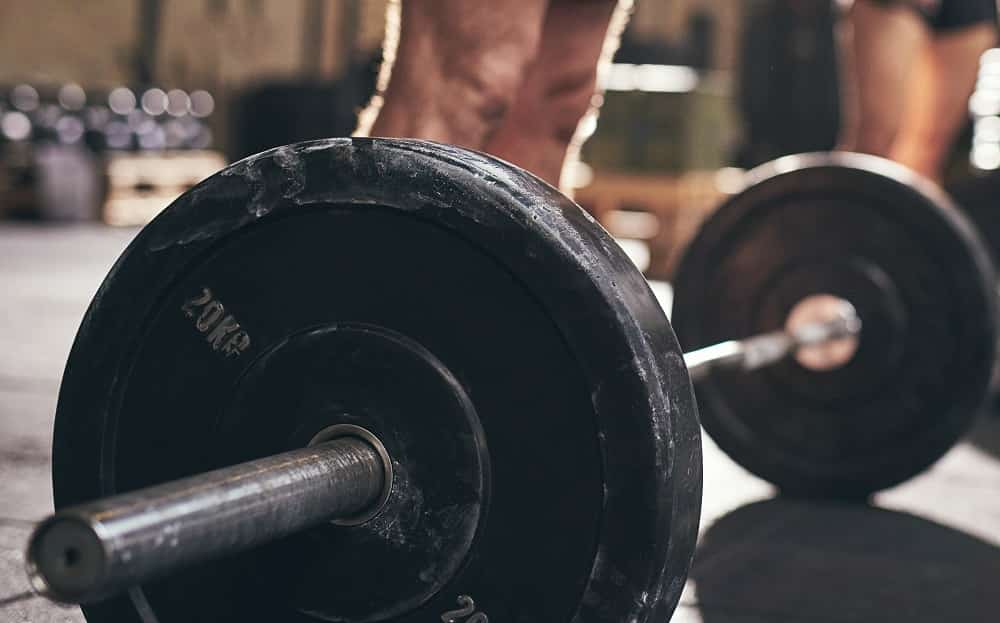 When it comes to deadlifting, there are plenty options (aka discussions) to choose from.
Barbell or trap bar?
Wear deadlifting socks or no?
What grip is best?
And on and on and on…
There is even a whole circle of discussion around the best kind of footwear to use.
But what most strength coaches, personal trainers and lifters can agree on is that deadlifting footwear should be minimalist.
That's where deadlift slippers step in and step up.
? Want to cut right to the chase? The LiftingLarge Ground Lock Deadlift Slipper is hands-down my top pick for the best deadlifting slipper. Click here to see today's price on Amazon.
Are deadlift slippers worth it?
Deadlift slippers help you achieve a few key things. Combined, they promote a safer, stronger lift, while also not having to break the bank.
The benefits of wearing deadlift slippers include:
✔️Reduce the space between floor and foot. While wearing a thick sole might make you feel taller in the gym, it's more distance you have to cover to get the bar off of the ground. Slippers cut the distance, making it as good as being barefoot. (But, as we will see, better!)
✔️Keeps the training area hygienic. Most gyms don't allow barefoot lifting. Slippers keep things clean(ish).
✔️Powerlifting comps don't allow barefoot lifting. If you compete, or plan on competing, you will need to have something on your feet. The rules are the rules.
✔️Deadlift slippers keep your foot planted. Deadlifting slippers and shoes are minimalist, but they almost all feature anti-slip rubber soles to keep your feet from sliding or moving.
✔️Keep your center of gravity where it should be. One of the drawbacks to deadlifting with weightlifting shoes is the heel tilts your body forward, shifting your center of gravity forward.
✔️Dirt cheap. Exercise-specific shoes are pricey as balls. Weightlifting shoes now run up to $300 (?!) and deadlift shoes are starting to creep up there. Deadlifting slippers are super affordable, especially when you consider you will likely only use them for one lift.
So yes, deadlift slippers are most definitely worth using! ?
Alrighty, now that you are sitting there, understanding how deadlift slippers can help you and your deadlift, let's take a look at the best ones on the market.
LiftingLarge Ground Lock Deadlift Slipper
⭐Best deadlift slipper for powerlifters
Our undefeated champion is the LiftingLarge Ground Lock Deadlift Slipper.
Comfortable as hell, durable, and sanctioned for competitive suse, the LiftingLarge slippers are one of the original and most beloved deadlifting slippers.
Made with a rubber sole for a steady grip on the floor, two Velcro straps wrap over the upper to fully "lock in" your feet when deadlifting. The slippers have a covered toe, and a removable insert that results your foot in being just 4mm from the floor.
The LiftingLarge Ground Lock slips are legal for powerlifting competition (both IPF/USAPL—but if you plan on using these for competition, double-check they are still in compliance).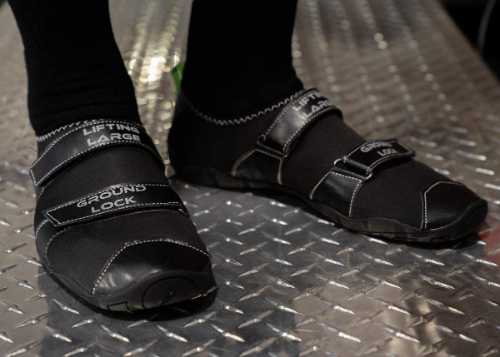 LiftingLarge Deadlifting Slippers
⭐ Best no-frills deadlift slippers
The second entry from LiftingLarge is a dialed down of the Ground Lock slippers. As you can tell, there is no straps on the top, and the toe cover is gone.
That said, these slippers carry their weight (harhar, lifting pun!) for comfort and foot security.
The bottom of the slippers are treaded with rubber for a good grip to the floor, and the terry cloth upper is quite breathable, which is great news for you heavy sweaters out there (author quietly raises his hand).
The lifting slippers are comfortable, easy to pull on and off, barely take up any room in your gym duffel, and for a specialized piece of footwear, very reasonably priced.
Even though LiftingLarge is widely recognized as one of the premier brands for deadlifting footwear, these slippers are cheap, just $12 the last time I checked. (Click here to see what today's price is on Amazon.)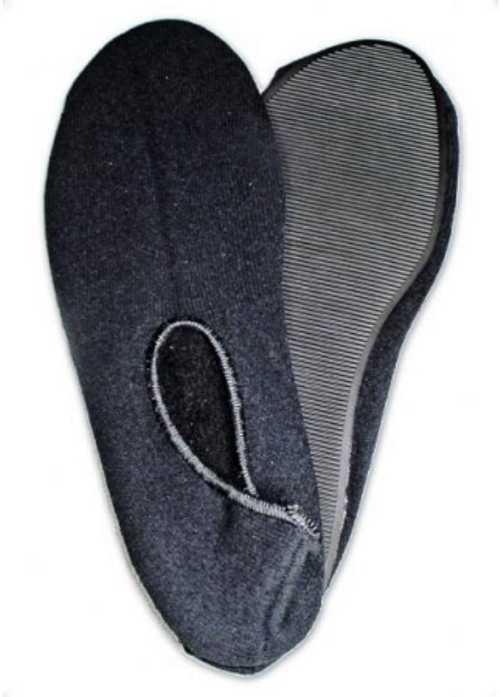 FitKicks Deadlift Slippers
⭐Best budget deadlift slippers
While not made specifically for deadlifting, the FitKicks slippers do many of the basic functions needed for a string lift.
A treaded rubber sole gives you plenty of foot grip on the bottom of your foot, and a flex form upper sits snugly around your feet. The shoes are waterproof, making them super easy to use after working out. Pull tabs on the heel assist in yanking them on and off.
While FitKicks aren't made with the powerlifter or deadlifter in mind, they are an excellent budget-friendly deadlift slipper that comes in nearly a dozen different color combinations.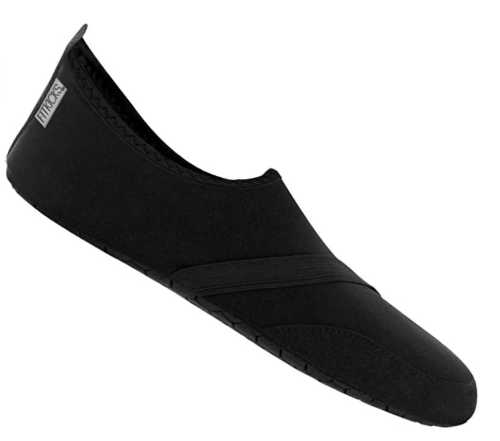 More Gear for Deadlifting Awesomeness
6 Best Figure 8 Lifting Straps for Dominating Your Deadlift. Figure 8 lifting straps are a tool for pulling more weight than ever. Here's a review of the best figure 8 lifting straps for deadlifting like a champion.
6 Best Deadlift Jacks and Wedges. Looking for an awesome deadlift jack to power up your lifting? Here's a detailed look at the best ones on the market right now.