Looking for the best set of deadlift pads for your home gym? Our expert guide lists the top options on the market so that you can protect your floor and focus on lifting heavy.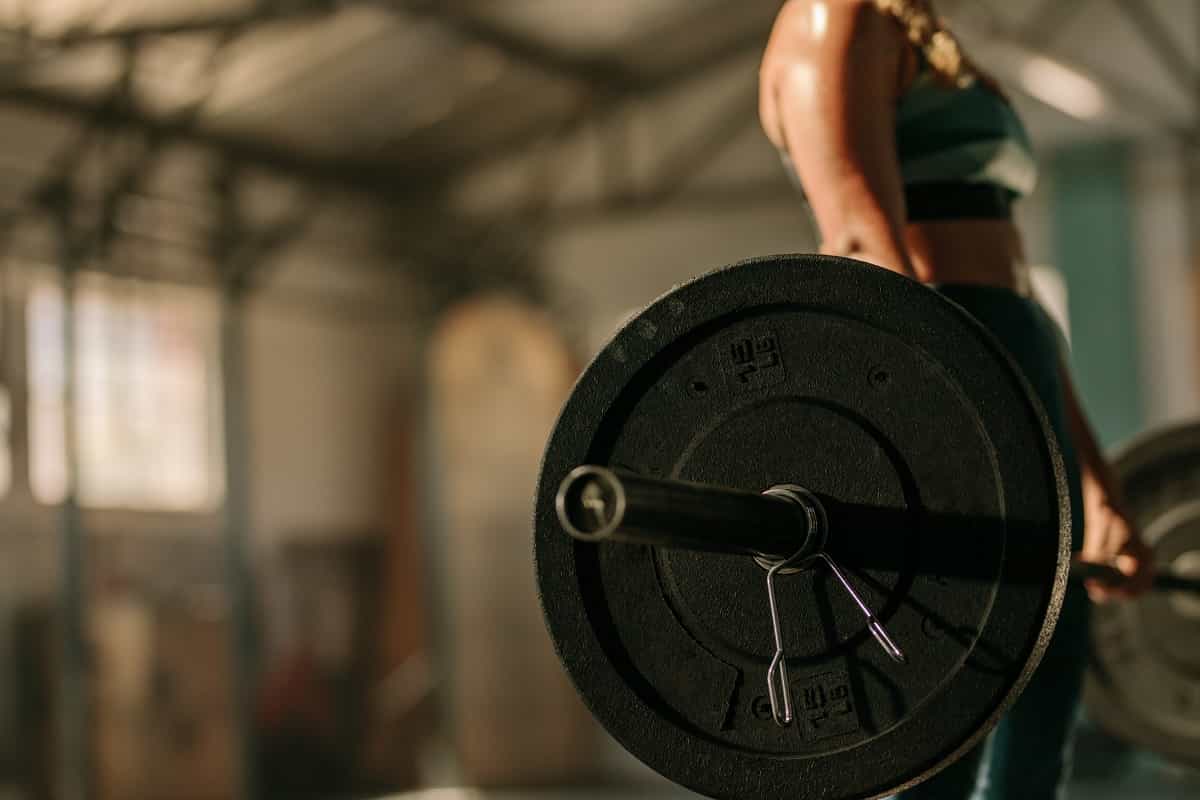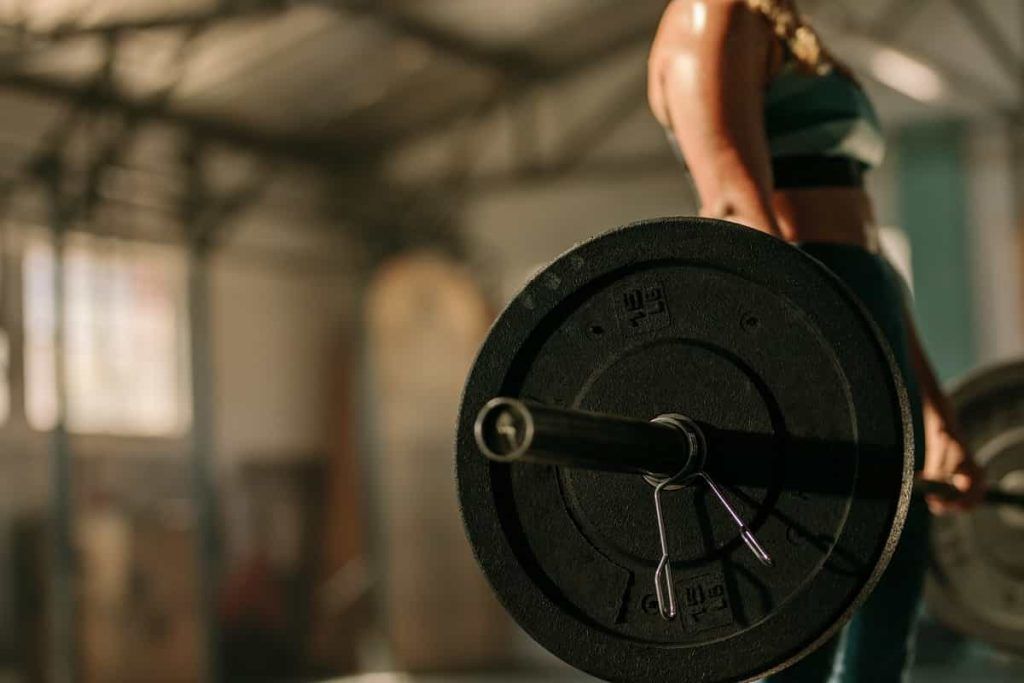 Weightlifting silencer drop pads are simple pieces of gear that have a surprising amount of function.
These bad boys:
✅ Absorb the noise from dropping barbells loaded with iron weight plates/bumper plates.
✅ Reduce vibration from lifting heavy weights
✅ Protect the floor and foundation from cracking.
✅ Increase the longevity of your weight plates and barbells
✅ Can be used as a plyometric box for introductory plyo/step training
✅ Use it to prop a barbell higher off the floor for doing barbell hip thrusts
Not bad for a pair of little foam boxes!
Lifting pads are usually made with a tough nylon exterior and stuffed with high-density foam that maintains proper shape even under heavy loads.
In terms of protecting your floor and foundation, weightlifting drop pads aren't a complete cure-all, but combined with bumper plates, proper gym flooring, and setting weights down softly they can do wonders.
Below are the best pads for reducing noise, protecting your floor and gym gear, and keeping noise complaints to a minimum.
Let's dive right in.
Bells of Steel Deadlift Pads
⭐⭐⭐ Best overall drop pads for weightlifting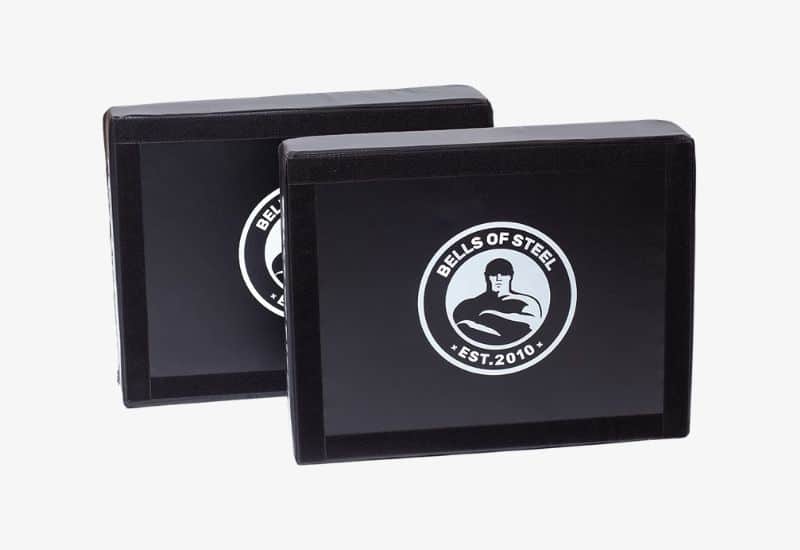 While drop pads are generally used for quieting heavy deadlifts, they can be used for a ton of other stuff, including snatches, floor presses, hip thrusts, and more.
The Bells of Steel Deadlift Pads are my go-to pads for lifting in my garage gym.
(You can view my full review of the Bells of Steel Lifting pads here.)
The shell is made of heavy-duty polyester, the guts are filled with foam that bounces back to shape quickly, and Velcro on the sides makes them stackable for use for hang cleans, box jumps, and jerks.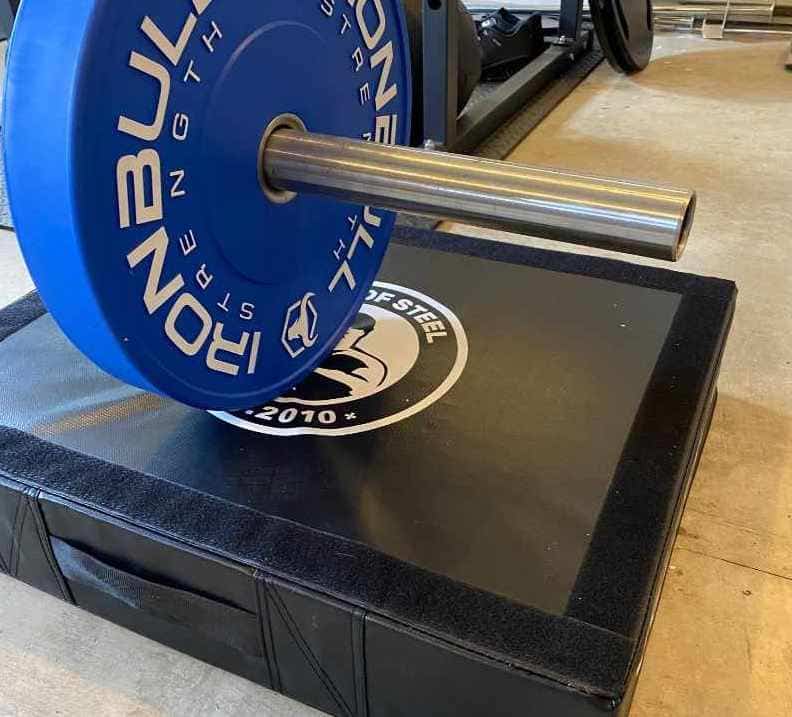 Storage is made painless with handles. Bells of Steel Deadlift Pads are 30" by 24" by 6" and retail for around $200 (check Bells of Steel's website for current pricing and shipping options) and they offer bulk discounts for commercial gyms.
In other words, all of the wins!
Lift heavy and quietly with these weightlifting pads.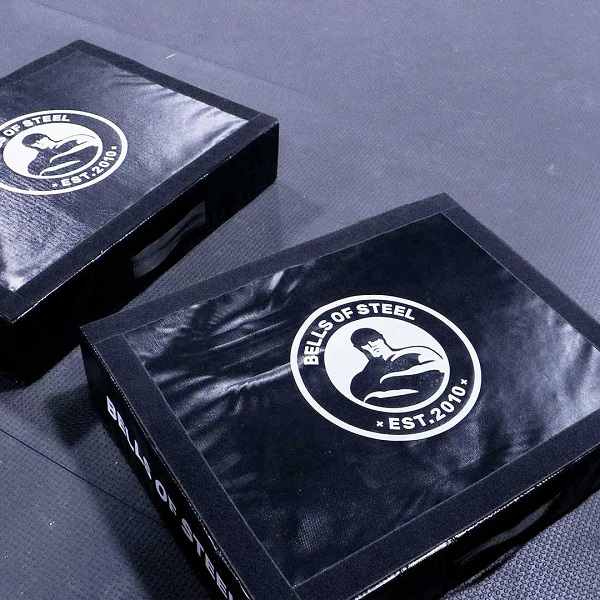 Rogue Crash Pads
⭐⭐ Best crash pads for Crossfitters and Oly lifts
I've long been a huge fan of Rogue equipment. They make excellent stuff for both commercial and home gyms, from flat weight benches to leg press machines to—yup—crash pads!
Rogue's pads come in the usual 30" by 24" by 6" size with the Rogue branding splashed across the top. The exterior of the pads is made with heavy-duty vinyl that prevents rips and tears and is easy to wipe down after training.
Sold in pairs, Rogue's pads have webbing for easy carry and storage, and the foam stuffing bounces back quickly after use, making them great for heavy lifts and even intro step and plyo training.
Rogue's gear trends towards the more expensive, with a pair of the Rogue Crash Cushions ringing the cash register for about $250 (check Rogue's website for current pricing).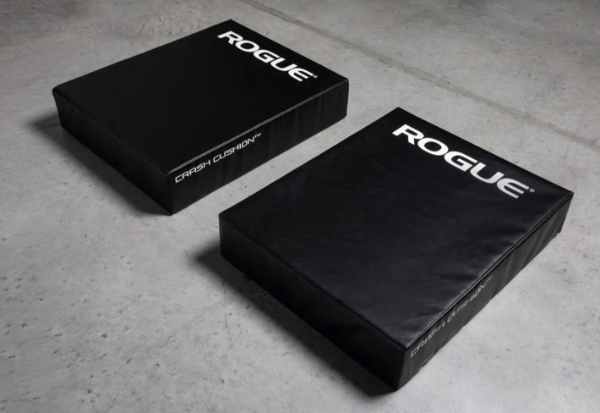 Yes4All Weightlifting Drop Pads
⭐ Best budget-friendly deadlift pads
Yes4All is a low-cost gym equipment manufacturer that makes awesome stuff for the home and garage gym enthusiast.
I've had a chance to try out their deadlift jacks and tricep rope and consistently been impressed with the quality of their products.
Their drop pads, made with high-density foam and covered in durable PVC nylon, are excellent for long-term use and heavy lifting. The pads are six inches thick, which gives them enough height to provide a solid amount of silencing when you put your weights down.
The Yes4All SIlencer pads are easily the least expensive crash pads on the market, retailing for just $125 (which is about half the price of some of the competition).
Yes4All sells them in three different colors, including black, red, and and blue.
With most home gym equipment, their weight lifting pads are frequently sold out (check Amazon for current stock and pricing), so get your hands on them while they are available.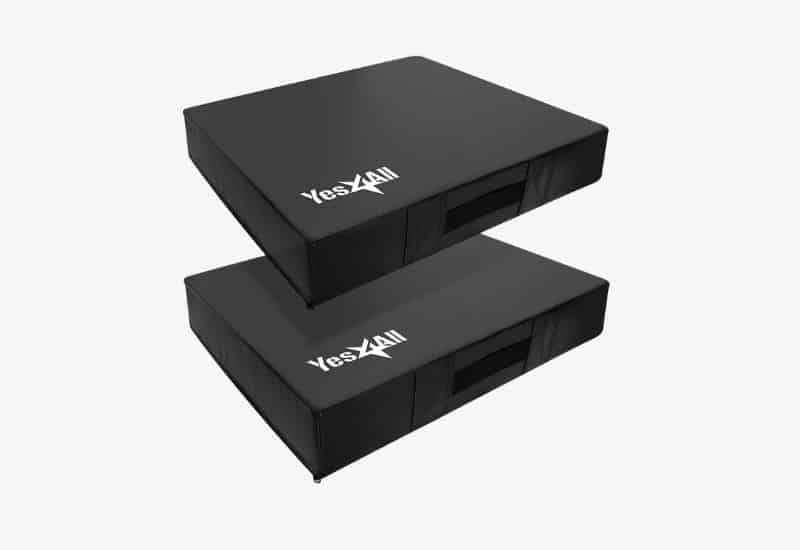 REP Fitness Crash Pads
⭐ Best deadlift pads for shorter users and small workout spaces
Crash pads are almost universally 6" in height (there are a couple of exceptions that come in 9" or 10" which we will look at shortly). Six inches might be too high for shorter lifters or for those who want to get every last bit of range of motion from their weightlifting.
The REP Fitness Crash Pads shave an inch off the customary height, landing (ha!) at an overall height of 5".
The footprint is also a little smaller (29.5" L x 22.5" W), making it an ideal for tighter workout spaces.
Like the others on this list, the REP Fitness Crash Pads have handles on the side for quick-and-easy storage and come in pairs. They are available exclusively at REP Fitness's official website.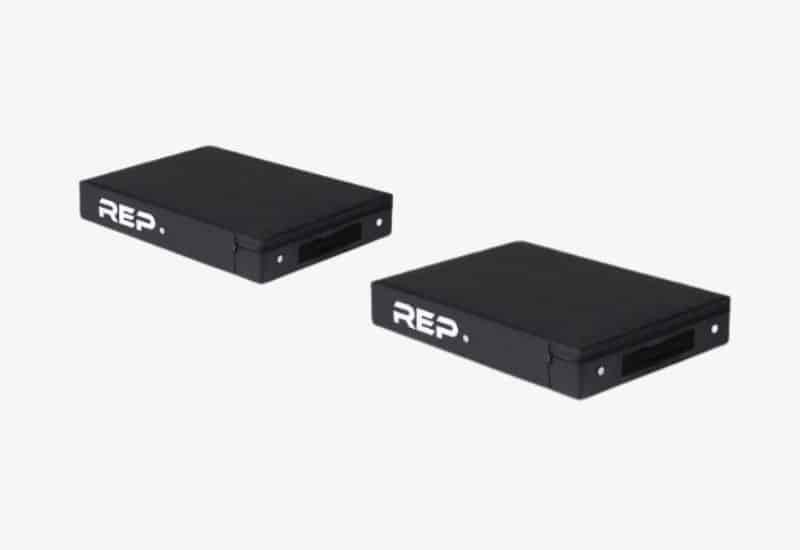 HappyBuy Barbell Crash Weightlifting Pads
⭐ Best crash pads for really tall people
While most crash pads come in a height of 6″, the pads from HappyBuy gives you some additional height options.
Designed specifically for silencing heavy weights, HappyBuy sells their pads in 6″, 9″ and 10″ height sizes, making them an interesting hybrid of weightlifting pad and plyometric box (the high-density foam and nylon exterior is the same as foam plyo boxes).
The HappyBuy pads are the lightest on this list, weighing under 5 pounds per pad (compared to the Rogue pads, which are 20+ pounds per pad) and are rated for a maximum of 880lbs total weight.
They come in a variety of different colors, including red, blue and black, and the side of the pads have handles for easy storage and handling. Amazon sells them for around $180 (check here for current pricing and stock options).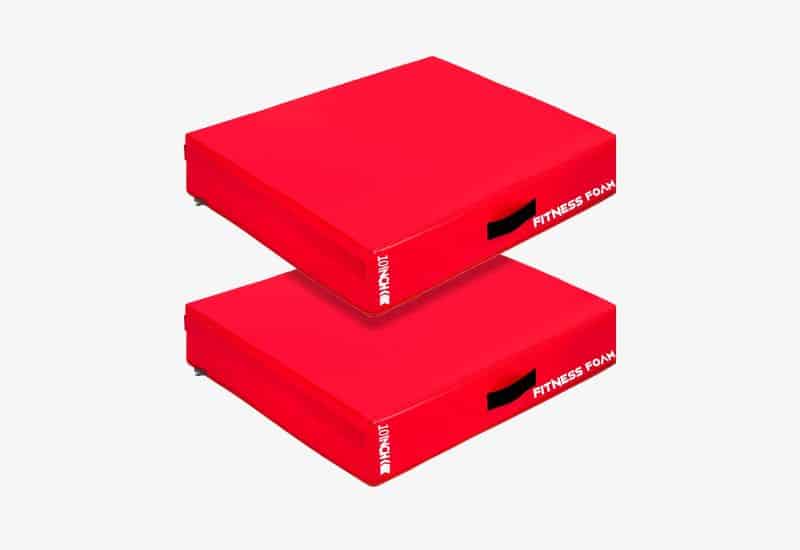 Titan Fitness Silencer Drop Pad Set
Titan Fitness is another big player in the home and commercial gym space, and their stuff consistently gets rave reviews from gym owners and users. I've had a chance to give their push-up stands and gymnastic rings a go and have been repeatedly impressed with the quality of their equipment.
Titan Fitness's drop pads have all the usual bells and whistles that you expect from a quality crash pad. The insides are filled with high-density foam designed specifically to reduce noise and absorb vibration.
The shell is a durable PVC that retains form and is tear-resistant. Dimensions are in the "usual" drop pad size-30″ by 24″ by 6″.
Check Titan Fitness for current pricing and availability.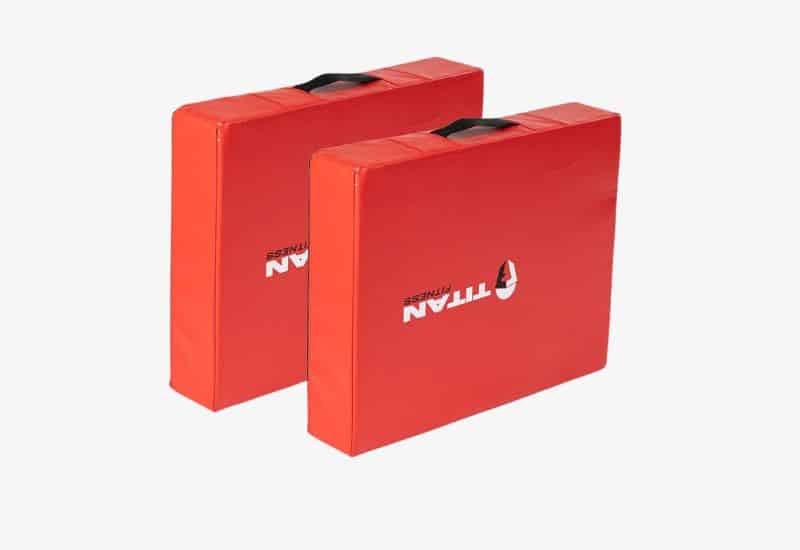 Deadlift and Crash Pads — FAQs
What is the height of a deadlift pad?
Deadlift pads are almost universally 6" in height, with few exceptions.
Here is the height of the most popular weightlifting crash pads:
Can you deadlift with drop pads?
Absolutely—in fact, for taller users, it's almost a must-have. Tall folk have more distance to travel with the bar when deadlifting, which can increase the likelihood of injury.
If you are worried about not getting enough range of motion, put a couple of bumper plates where your feet go to raise the starting height.
What's the difference between weightlifting pads and deadlift platforms?
Both deadlift pads and deadlift platforms are designed to reduce noise/vibration and protect your lifting equipment, but there are some key differences.
Deadlift platforms are a semi-permanent install; once set-up, they aren't moved or stored between workouts. Pads can be quickly moved around and tucked away between lifting sessions.
Deadlift pads are considerably thicker, making them a more effective tool for really reducing vibration and noise when lifting weight.
Deadlift platforms are significantly more expensive compared to deadlift pads. The Rogue Deadlifting Platform, for example, starts at $395 and that doesn't include the rubber mats that go inside it.
Do deadlift pads reduce noise?
Absolutely. They take the impact of the force of your loaded barbell and disperse it through the foam inside the pad.
To further reduce the audio footprint when lifting weights, use barbell clamps to keep the plates from bouncing around on the bushing, clanging into one another. This will also help protect your plates and the bushing on your barbells.
Related Articles and Guides
5 Best Bumper Plates for Sale in Canada. For people who live in the Great White North, here is a look at the best bumper plates that are in stock for Canadians.
6 Best Deadlift Jacks and Wedges. Deadlift jacks and wedges are another tool for protecting your floor and lifting equipment when going heavy. Here's a look at the best ones on the market.