Rogue Monster Bands are my favorite resistance bands. Here's why you should add them to your training and recovery work (and where to buy them).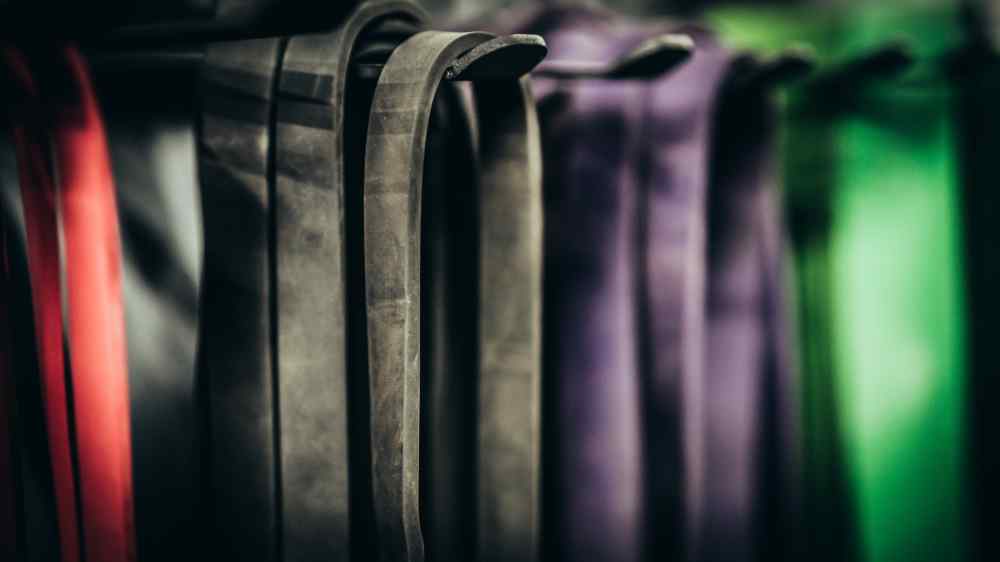 Resistance bands are a versatile piece of gear that belongs in every athlete and gymgoer's tool kit.
The ways you can use them are almost endless:
⭐ For mobility and recovery work. Whether it's distracting a hip joint, stretching out your lats, or loosening up your shoulders, resistance bands are an excellent tool for increased mobility and recovering faster after a tough workout.
⭐ As a pull-up assist. Pull-ups are one of my favorite all-time exercises and resistance bands can be used as pull-up assist bands as part of your progression to doing full bodyweight pull-ups.
⭐ Bust through plateaus. Bands provide a different form of resistance when added to your standard lifts. Most power racks have pegs to attach bands to help you add time under tension.
The way you use these tools is ultimately up to you and your unique goals.
There are plenty of resistance bands on the market.
Here's why the Rogue Monster Bands should be at the top of your list when you go hunting for a band.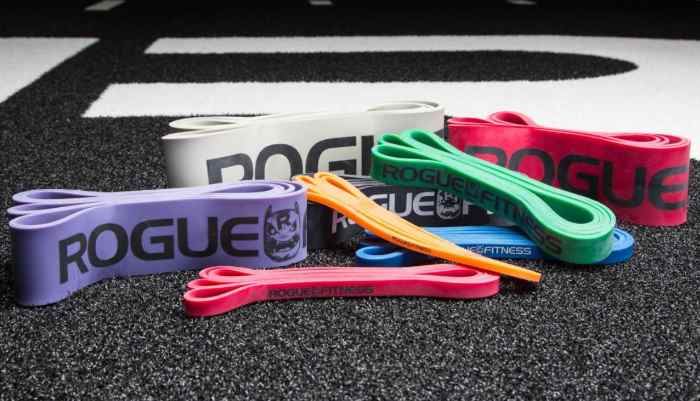 Rogue Monster Bands – Worth it?
If you've been to this website or taken a peek inside my garage gym, you know that I'm a fanboy of Rogue Fitness.
Even though they are known for their tight affiliation to the world of CrossFit, you don't need to know what a WOD is or have been to a CrossFit box to appreciate their gear.
Rogue simply makes some of the best equipment on the equipment.
The Rogue R-3 Rack is my favorite "everyman" squat rack for home gyms, their adjustable weight bench is all-time, and their Olympic barbells stand alone on the podium.
Rogue's commitment to excellence—and their hands-on experience of having countless athletes use their gear on a daily basis—extends to the Rogue Monster Bands.
Although they are a little pricier than comparably built and sized resistance bands, in this case you get what you pay for (and you can end up paying less when you buy multiple Monster Bands, so there's that as well).
✅ Imported. While a great deal of Rogue's gear–from cast-iron weight plates to their bumper plates–are made domestically at their plant in Ohio, the Monster bands are imported. Ultimately, this doesn't really mean much as most rubber production plants are overseas.
✅ Made of natural latex rubber. This is the best kind of material for your resistance bands. It's soft enough that you can wrap it around your skin without chafing while also providing a high degree of strength. Other bands have a mix of synthetic and natural rubber which isn't as durable. They are on par with durability as fabric resistance bands.
✅ Available in a Shorty version. Like their collection of squat and power racks, Rogue makes a "shorty" version of the Monster Bands. Instead of the standard length of 41" the Rogue Monster Shorty is a 12" band that is perfect for banded exercises (deads, crab walks, glute bridges, etc).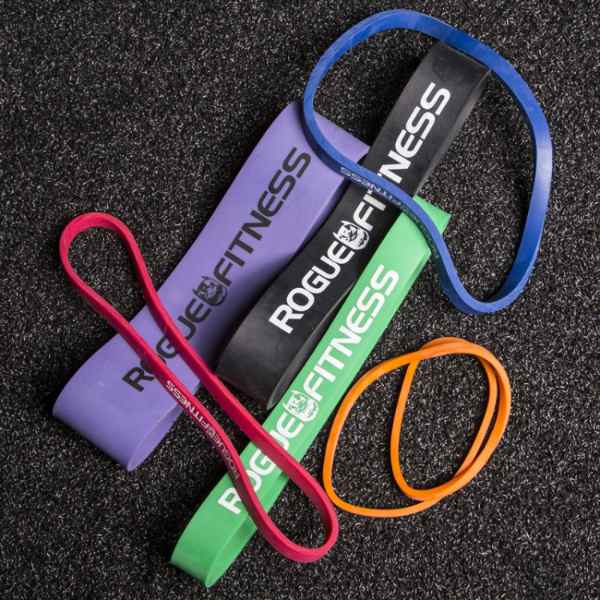 ✅ Eight resistance levels. The bands are a universal length (41") with the thickness of the band going up to 4" for the heavy-duty silver bands. Resistance starts at 15lb for the orange bands all the way up to 200lb of resistance with the silver band. The silver band is also the best powerlifting band in my opinion, perfect for improving your lockout and simulating the higher loads typically seen in ballistic training1.
✅ Available in singles, doubles, and sets. The Rogue Monster Bands come in a dizzying variety of sets. They have a "pull up assist" package of three bands. Generally, the way to save money on shipping costs with Rogue bands is to order several of them. When you factor in shipping savings, Rogue bands often end up cheaper than the competition.
✅ Rogue branding. These bands are branded with Rogue's logo, in bright, bold letters. No one is going to have to guess what brand you are repping with these bands.
✅ Smooth, flat rubber construction. One of the frustrating parts of training with bands are when they bunch up during use. Rogue's Monster Bands are wide and flat, which means the band stays in place. No rolling and scrunching with these bad boys.
---
Rogue Monster Bands – Where to buy
Ultimately, which Monster bands you get comes down to your goals in the gym.
Pull-up packages (three bands) cost around $70, giving you the best value. The lightest bands (orange) come in a pair for just $16 while the strongest bands that Rogue makes—the silver ones—cost around $100 for a pair.
Rogue's Monster Bands are available exclusively through Rogue's website here.

---
More Stuff Like This
6 Best Glute Band Exercises for a Stronger Booty (Plus Benefits, 20-Minute Workout, and More). Looking for some awesome banded glute exercises for developing a stronger and more muscular booty? Here are the best band movements to help you get to Glutetown.