Protect your home, protect your gym equipment, and protect your neck with the right gym flooring and mats. Read on for a breakdown of the best home gym floors and mats.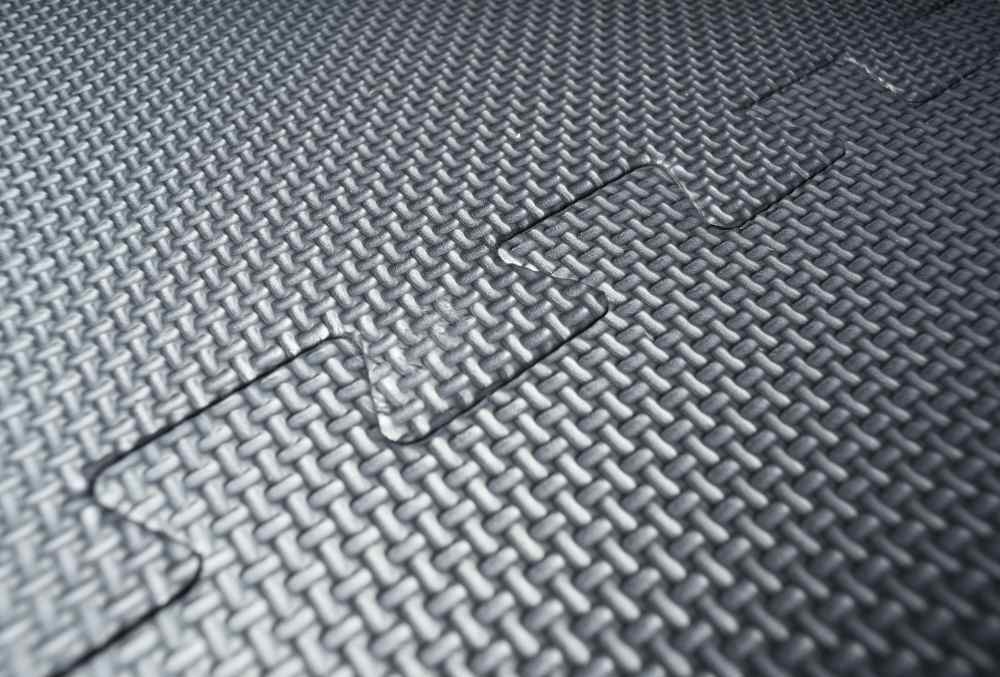 One of the essentials of your home or garage gym is the flooring you use.
After all, the right flooring:
Cushions your feet during plyometric exercises.
Gives you proper traction.
Protects expensive workout equipment, whether it's your adjustable dumbbells or your home gym.
Protects the flooring from chips, cracks, scruffs.
Much like weightlifting drop pads, they reduce vibration and noise when exercising
Keeps your gym equipment from wobbling or sliding.
And makes it "feel" like a regular gym (which, optimistically, will encourage you to workout more!).
Fortunately, you don't have to pay gym prices to get gym flooring at home.
In this guide to the best flooring for home gyms, we are going to cover the essentials, including:
✅ The different types of flooring for your home gym.
✅ Different options for each kind.
✅ Key features to look for.
Buckle up for the ultimate guide to picking the best flooring for your home or garage gym!
CAP Barbell Puzzle Gym Mat
This is the exact foam mat that I currently have under my power rack.
I am a big fan of CAP Barbell stuff: I'm keen on their barbell clamps, flat weight bench, and have given their E-Z curl bars favorable reviews.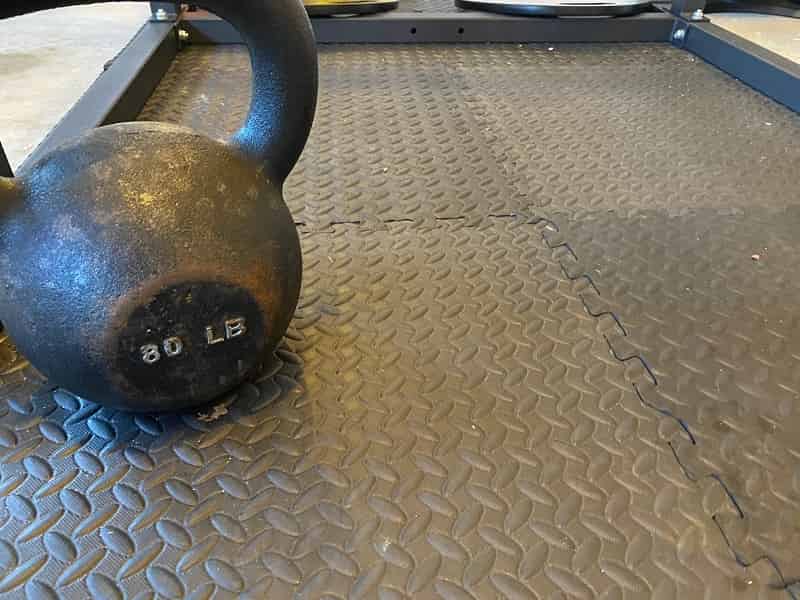 This 6-piece puzzle mat took about two minutes to put together. Made of highly durable EVA foam, the mats are designed to be water and sweat-proof (they are coated with anti-microbial to help ward off mildew and other yuck smells).
The CAP Barbell Puzzle Foam Mat comes with six 24×24-inch pieces, with "end" pieces that can be added to the edges for smaller mat configurations.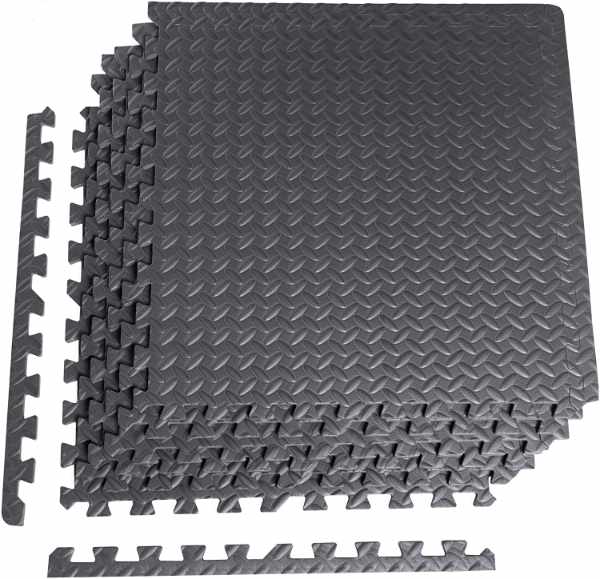 GXMMAT Extra Large Mat for Home Gyms
Best suited for larger rooms, especially carpeted rooms, the GXMMAT is ten feet long and six feet wide. The reason I like this for carpeted rooms is because both sides are textured, reducing slipping and sliding.
Additionally, because the mat is so long, having several pieces of workout equipment on it will help anchor the mat to the floor.
See also: 6 Best Fans for Home Gyms. Beat the heat and work out in comfort with the right home gym fan. Read on for our favorite fans for working out.
Made of 7mm thick foam, the mats are soft, durable, and provide all of the support you want and need for your workouts, whether it's sparring, jumping rope, lifting weights, doing yoga, or whatever.
Included are Velcro straps that make rolling up and storing or moving the mat easy.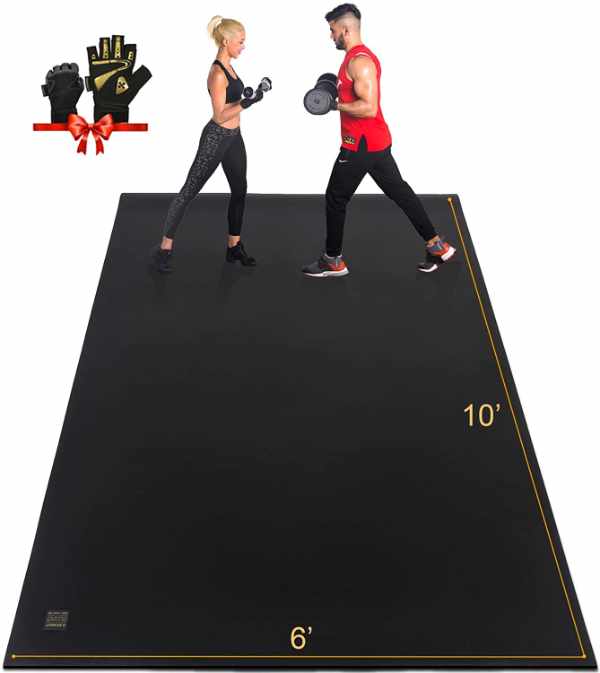 Dinoflex Rubber King Home Gym Flooring
Want that professional home gym look? And maybe you want to do a larger space than just a rack and a bench? And jsut maybe you do a lot of movement-based training (side to side lunges, for example) at home?
Then go with rubber mats. They are the same type of heavy-duty gym flooring you see in commercial gyms.
The Dinoflex Rubber King tiles are aweome. With a reasonable price tag, the rubber tiles are a more durable and less slippery option for home gym flooring.
Backed with a five-year warranty, and manufactured with a low amount of smelliness (many rubber mats, when new, have a distinct chemical smell), the rubber tiles can be arranged and edged with a knife to fit any home gym space.
Slip-free, heavy-duty enough for all of your weight lifting and bodyweight workouts, Dinoflex's rubber tiles give you a commercial gym flooring with reasonable and warranty-backed pricing. They are also in a variety of thicknesses, from 7mm to 3mm.
All the wins.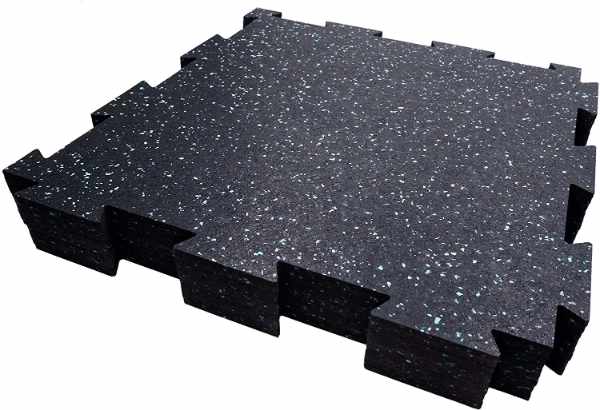 SUPERJARE Exercise Mats for Home Gyms
The SUPERJARE gym tiles are a hybrid of what we have seen so far—an EVA foam mat that has a rubberized outer layer. In other words, you get the durability of a rubber mat with the softness of foam.
Included are six tiles, with enough end pieces that you can mix and match the configuration of the workout mat. Easy to clean—just wipe off your sweat at the end of the gym sesh with a damp cloth—and the mat is good as new again.
Gym mats like these are awesome because they are easy to put together—click in the teeth of each piece and off you go—and disassemble, ideal for the home-based athlete who is unsure about how indefinite they want to leave the flooring in.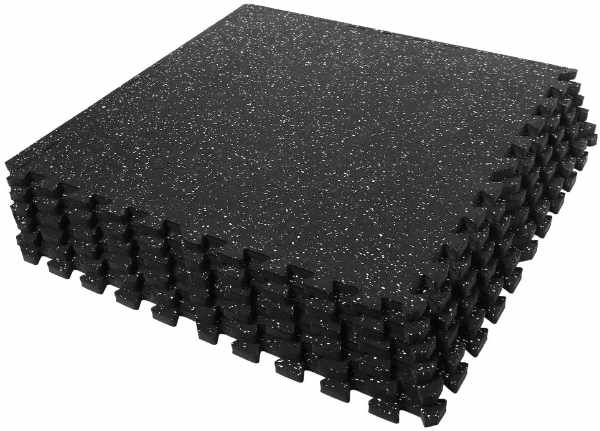 Rubber-Cal Shark Tooth Heavy Duty Gym Mat
The Rubber-Cal Shark Tooth mat is oddly titled. While it is certainly heavy-duty and ready for battle, there are no "teeth" on the mat to connect it to other pieces. Rather, it's a one-piece gym mat that is designed for home use.
Made of bomb-proof tire crumb, the mat is perfect for plyometrics, kettlebell swings, Turkish get-ups, and parking a flat weight bench on, I don't love that you can add more pieces to the mat, like you can with most foam and rubber gym tile sets.
Additionally, this home gym flooring option is about twice as expensive as the foam mats we have reviewed so far.
That said, if you have a compact home gym, and you don't need more flooring outside of the 4-foot by 6-foot space that the Rubber-Cal mat provides, then this hilariously durable mat has got you covered.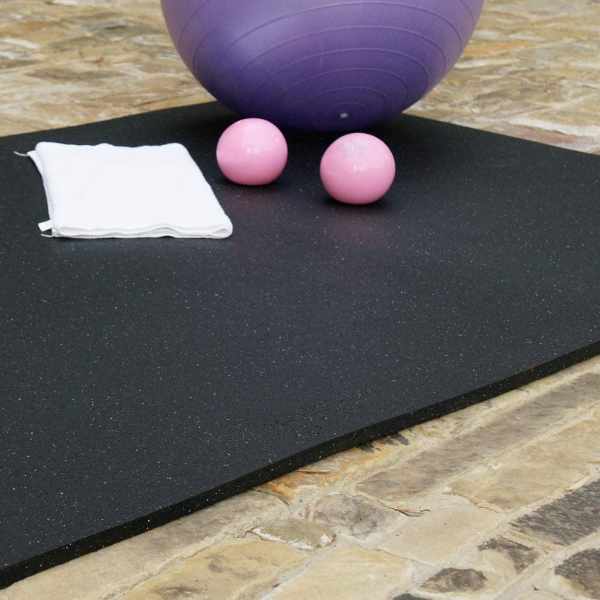 WMG Artificial Turf for Home Gyms
One of the things that I miss the most about my neighborhood gym is the strips of artificial turf that is perfect for sled pulls, pushes, sprints, and other assorted speed and power exercises.
While turf doesn't provide the same "bounce" that comes with rubber and foam mats (and you definitely shouldn't bounce fully loaded barbells on turf), it's a breeze to maintain. Setting up it indoors provides a nice "outdoorsy" and athletic feel to your home gym.
WMG's Artificial Grass comes in a variety of sizes and lengths (up 13ft x 82ft). With a blade length of 0.4" the sled will glide along the surface as you push and pull.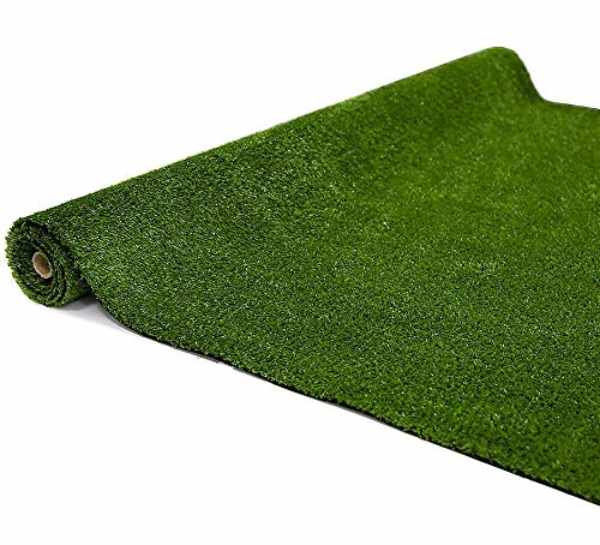 Gym Flooring — FAQs
What other ways I can protect the floor in my home gym?
A solid gym flooring is a great start, but there are some other tools in the home gym enthusiast's toolbox for reducing noise and vibration, protecting gym gear, and also shielding the floor from barbell and dumbbell drops.
The two big ones include deadlift pads (foam boxes that are about 6″ thick) and a barbell jack (lifts loaded barbells off the floor, reducing scuffing and scratching when removing plates for a barbell).
Pads are an excellent option for people who do Oly lifts at home (dropping a loaded barbell from overhead, for example), and barbell jacks (also known as deadlift jacks) are a must-have for those who like doing heavy deadlifts on the regular.
More ambitious lifters will want to consider investing in a deadlifting platform or an Olympic lifting platform as they provide a more secure and slip-free lifting experience, vital for those pushing/pulling a ton of weight in their home gym.
The cost of weightlifting platforms is no joke, the Rogue Deadlift Platform, for example, starts at $395, but those looking for a semi-permanent and highly functional gym flooring option should consider investing in one.
Related Guides and Articles
6 Best Fans for Garage Gyms. Beat the heat and work out in comfort with the right home gym fan. Read on for our favorite fans for working out.
6 Best Gym Timers and Clocks for Intervals, CrossFit and More. Keep yourself accountable and stay on time during your workouts with my top picks for the best gym timers and clocks.