Safety squat bars are a great way to lift with better posture, avoid injury, and strengthen your main lifts. Here's a breakdown of the best safety squat bars on the market.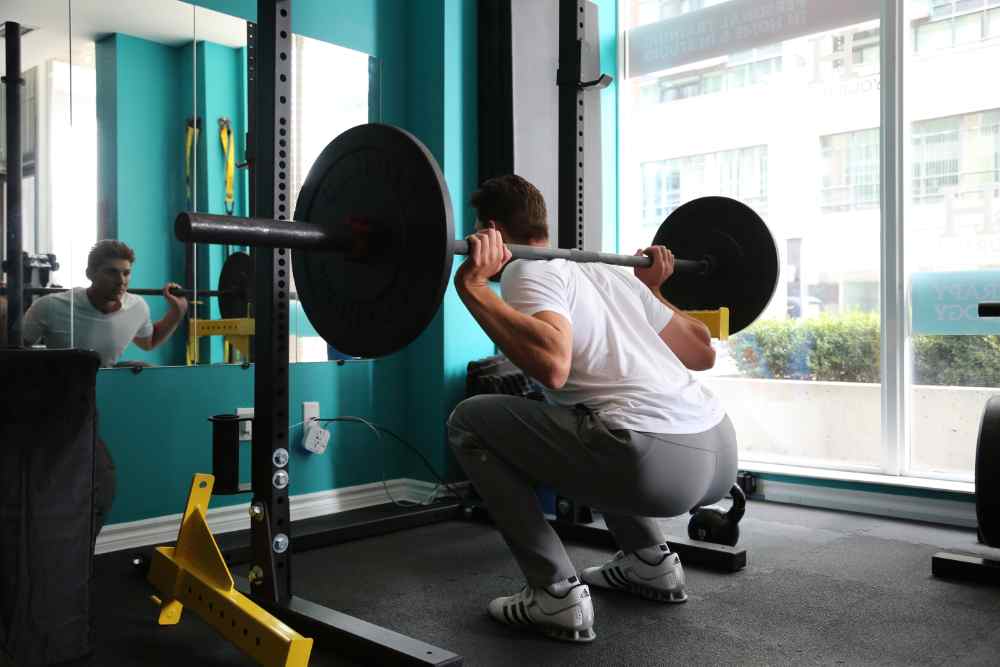 The safety squat bar is one of the best—and least appreciated—specialty bars that you can add to your home or garage gym.
There are some cool things that happen when you introduce them to the mix:
? Safety squat bars are perfect for lifters with shoulder mobility issues and injuries.
Doing back barbell squats requires being able to hold onto the barbell. (Duh, right?)
Not everyone has the shoulder mobility to do this, leading to a hunched-over posture when squatting, which is dangerous for about a dozen reasons.
? Jump to my #1 Pick: Rogue SB-1 Safety Squat Bar. Best in class, durable, and made with Rogue's legendary attention to detail. Grab your SB-1 Safety Bar at Rogue's website.
Safety squat bars give people with poor shoulder mobility (or athletes who are injured) an easier way to stabilize the bar while squatting.
? Better posture when squatting.
Safety bars sit higher than your regular barbell. Why does this matter? Weeelll with the camber dropping down (the camber is the part of the barbell that takes a right turn towards the ground), you end up forcing your torso to be more upright.
With your torso straighter, there is less pressure on your lower back to complete the lift. There's more engagement in your core, resulting in better posture. You'll notice that you tend to "stay tall" when using a safety squat bar.
A lot of wins, right there.
? Transfers to regular squats.
Doing barbell back squats over and over again can get tedious, especially when you aren't seeing progress or things are regressing. Sometimes we need a way to shake things up without straying to far from our goals (squatting lots of weight).
Safety bar squats translate spectacularly to regular squats as it reminds you what correct form should feel like while also strengthening your core and posterior chain.
Variety isn't just to keep us interested; it can also serve our main goals.
Choosing the Best Safety Squat Bar for You
While the functions of the safety squat bar are similar, there is a healthy amount of variety when it comes to choosing.
Below I've compiled my favorite safety squat bars and ordered them by best-in-class, key features, budget, and more.
Read on, pick the best safety squat bar for you and your goals, and get on track towards a stronger squat and posterior chain.
SB-1 Rogue Safety Squat Bar
Rogue flat-out makes some of the best bars in the gym.
Whether you are looking for an Olympic barbell for explosive lifts, a heavy-duty powerlifting barbell for the heavy three lifts, or you just want an all-purpose bar, Rogue's barbells are the best on the planet for affordability and durability.
The Rogue SB-1 Safety Squat Bar lives up to the Rogue name. Specifically weighted so that weight lines up between where it would be on a front squat and high-bar back squat, you get a new way to challenge your squat.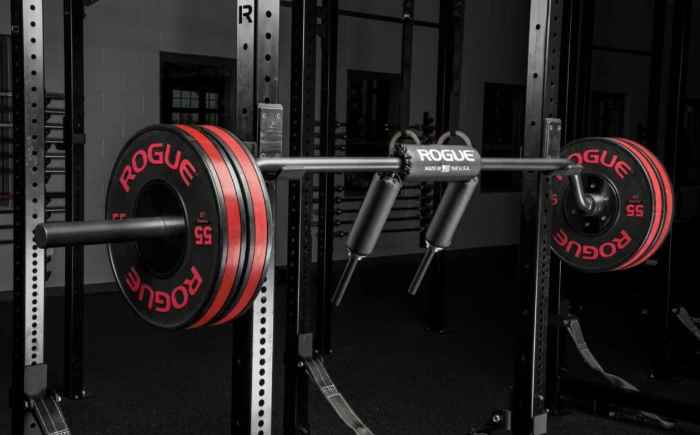 The bar is long, 89", fitting easily into your squat stand or power rack of choice, with a black Cerakote finish to prevent corrosion and rusting of the bar. The pads are made with high-density foam and wrapped in vinyl for easy cleaning after those sweaty sessions in the gym.
Available exclusively through Rogue's website for $415 (check here to see current pricing and shipping options), the SB-1 is an excellent choice for the lifter who wants a safer bar when doing maximum output squats.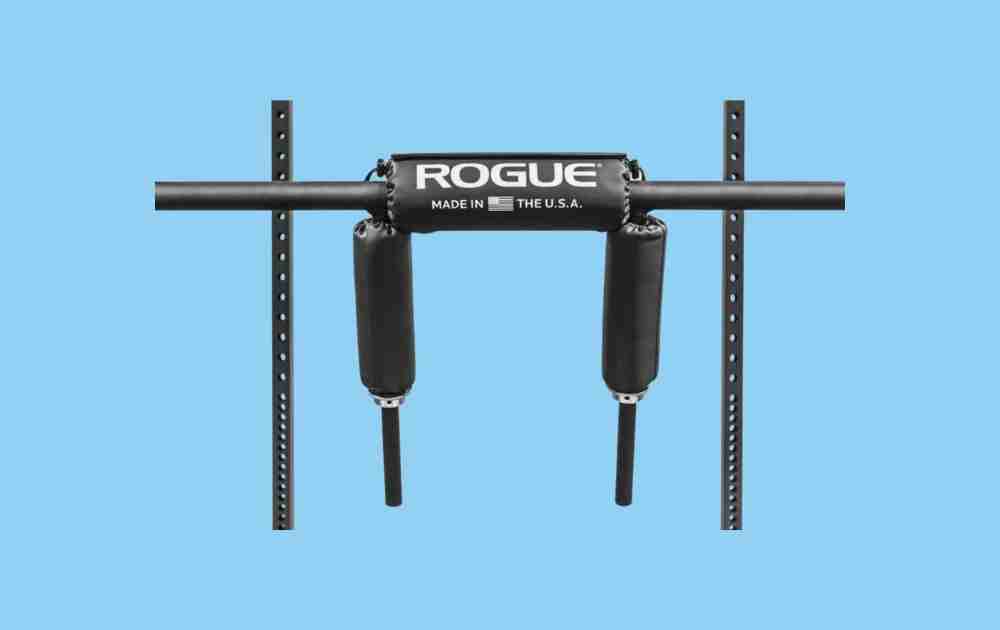 Titan Fitness Safety Squat Olympic Bar V2
Titan Fitness is another reliable and quality name in the lifting gear market, and a brand that I trust to consistently bring it. Whether it's their glute ham developer, lat pulldown machine, or power racks with lat pulldown, Titan makes excellent gear that is reasonably priced (often half the price of the more premium names in the biz).
The Titan Fitness Safety Squat Olympic Bar V2 is perfect for lifters who are looking for a new way to challenge themselves on squat while also protecting their shoulders. As you get stronger, the barbell inevitably gets heavier, which can lead to pain and ouchie-ouchie's on your shoulders.
Instead of your shoulders and back crunching under the weight, Titan's Safety Squat Bar better positions the load so that your quads and hips are doing the majority of the work.
Available for just under $300, the bar is rated for up to 1,500lb of weight, has a camber drop of 5 inches, and 16 inches of loadable sleeve weight for stacking all of your bumper plates and/or cast iron weight plates.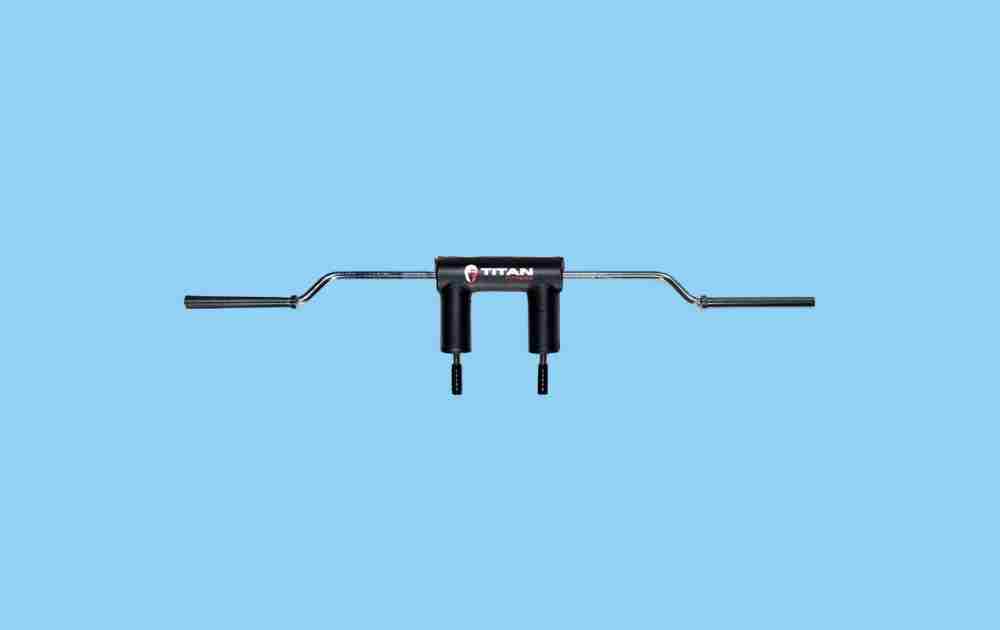 Bells of Steel SS3 Safety Squat Bar
Best safety squat bar for multiple grips
Bells of Steel is one of my favorite makers of equipment for home gym enthusiasts and powerlifters.
Founded by a competitive powerlifter and strongman, Bells of Steel consistently makes excellent gear. Right now I have their adjustable weight bench, weightlifting drop pads, medicine wall ball, and more in the starting line up in my garage gym.
The SS3 gives you the most options when it comes to grip and hand placement. The bar comes with three different grip bars. Hand placement can be nearly a foot out in front of you, closer to your chin, or somewhere between. This is great news for users who have issues with their wrists and/or shoulders but still want to get their heavy squats in.
Retailing for $399 (in Canadian dollars—they also ship within the United States), the cambered set-up encourages more engagement of the posterior chain while keeping your back straight and shoulders protected.
Tons of padding, reasonable price, and built by people who have a deep appreciation for powerlifting and squatting. Giddyup.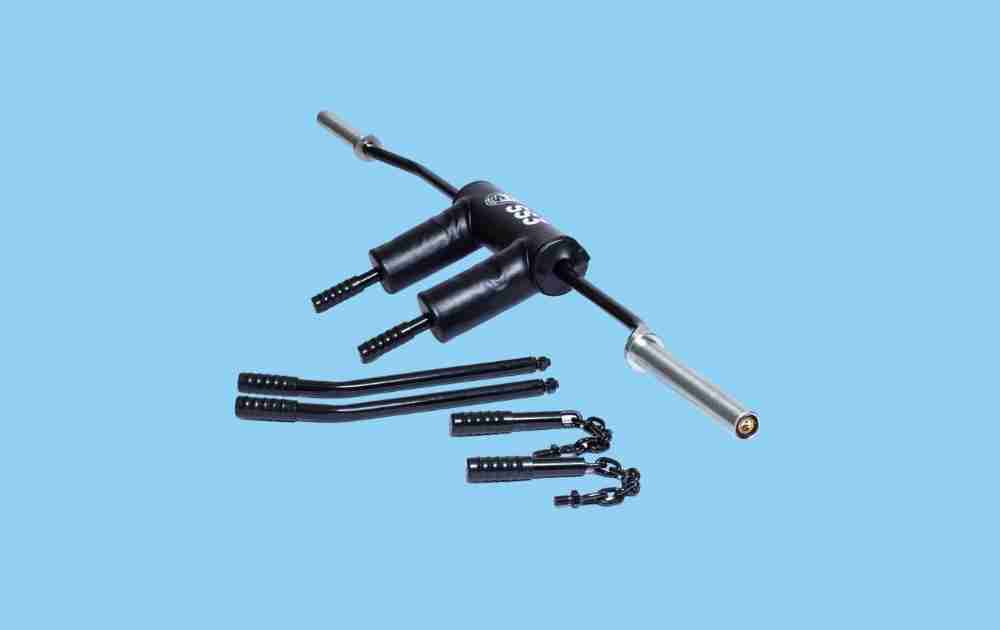 HappyBuy Olympic Safety Squat Bar
While not as robust and as strong as the Rogue and Titan Fitness, this no-frills Safety Squat Bar from HappyBuy will serve the needs of beginner and intermediate lifters who want to take advantage of the safer load placement of these kinds of bars.
Rated for up to 700lbs of use, the thick PVC padding rests comfortably on your neck and shoulders cushioning the weight from your neck and shoulders while also giving you a more neutral weight distribution.
Made with steel and coated with chrome, the HappyBuy Olympic Safety Squat Bar is a low-cost bar for people who don't want to invest big bucks in a heavy-duty bar.