Looking for an Olympic platform that is big on space and thick on padding? Look no further–here's why the Rogue 8′ x 8′ Oly Platform is a must-have.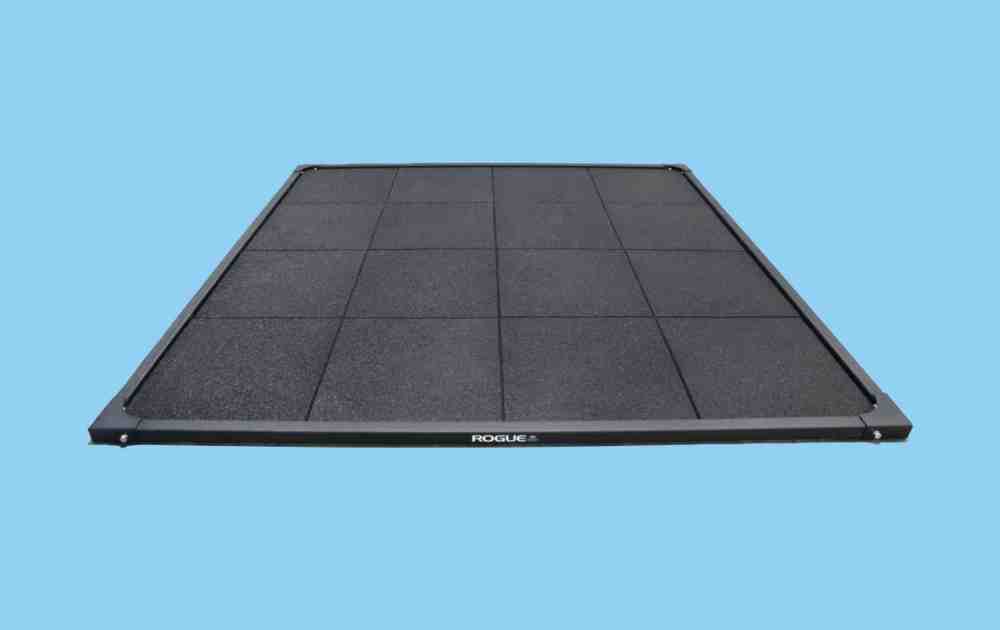 Lifting serious weight at home means taking care of your floors, reducing sound/vibration, and also protecting your expensive lifting equipment.
The Rogue 8×8 Oly Platform does all of this in spades.
The Rogue 8×8 Olympic Platform offers the most space of any lifting platform on the market for all of your ballistic lifts, protects the floor with thick, high-quality crumb rubber, and the 11-gauge steel frame will take anything you can throw at it.
On top of that, the platform is super easy to assemble and is an excellent value pick compared to other platforms for home gyms.
In this review, we will highlight all the reasons why I think the Rogue 8×8 Oly Platform is the best option for home gyms, some things to be aware of before ordering, and how to make the most of it in your home gym.
Let's jump in.
Olympic platforms vs. Deadlift platforms
First off, it's worth quickly noting the difference between the two most popular types of lifting platforms.
Your standard deadlifting platform is 8' by 4', with thick rubber mats lining the side where the plates are dropped back to earth. The middle line of panels can be either plywood, bamboo, or rubber mats.
Olympic platforms are larger, double the depth, a big square of 8' by 8' rubber mats and wood panels. The added space gives you added space for dynamic lifts.
If you are looking for a deadlift platform, and don't necessarily need all the extra space that an Oly platform provides and still want the Rogue name, check out our review of the Rogue Deadlift Platform.
The Rogue Oly 8' by 8' Platform – The Best Oly Platform for Home Gyms
Rogue makes some of my favorite gear on the planet. It's not much of a secret that I am wildly obsessed with their gear, and this is from someone who has never done a WOD (workout of the day) in their life.
I love Rogue's attention to detail, how their products have been relentlessly tested by athletes of all stripes, and how they are one of the very few fitness equipment companies that actually make their stuff in the USA.
The Rogue Oly 8' x 8' Platform continues the love affair with a simple, clean design that is a trademark of the Rogue brand.
Here are some of the key things I especially like about this platform.
✅ Lots of space to drop your weights.
Olympic lifts require lots of space to execute (and safely fail) jerks and snatches. The two extra rows of mats at the front and the back mean you can safely let go of the barbell without worrying about the weights crashing into the concrete or floor.
Rogue's 8' by 8' Oly Platform provides a generous amount of room to hit and miss your lifts without worrying that the bar will roll off.
✅ Available with different choices of rubber.
Rubber mats aren't built equally, and while they aren't included with the platform (the Rogue Oly Platform starts at $285 without mats), Rogue offers two different types of add-on rubber mats, either crumb (like crumb bumper plates) or a smooth rubber finish.
✅ Heavy-duty.
Platforms are built to take punishment. Those barbells come flying down fully loaded with hundreds of pounds of weight, after all.
The frame of the platform is made with 2" by 2" 11-gauge American steel, the exact same high-quality steel that is found in Rogue's line of squat and power racks. The platform weighs a total of 110lbs—it's not going anywhere.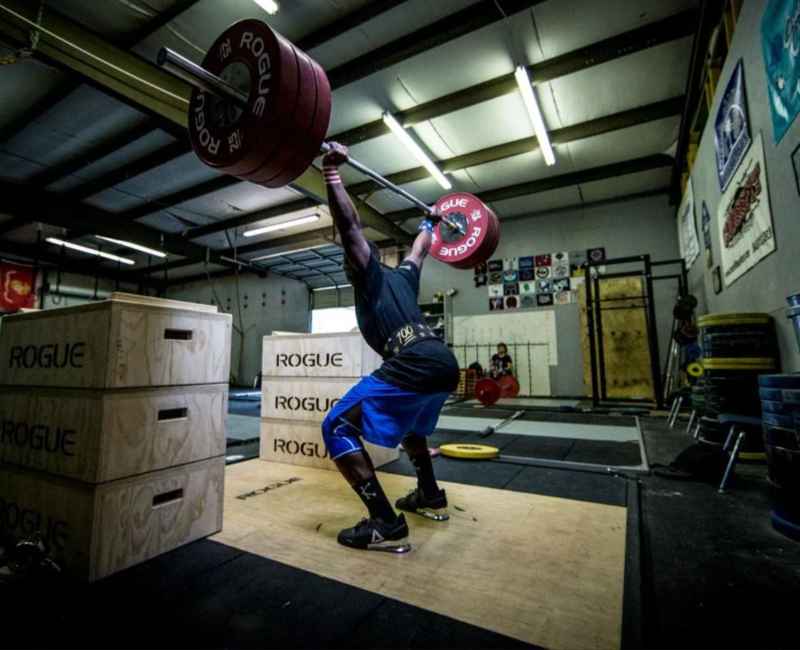 ✅ Affordable for an Olympic platform.
While platforms are generally not cheap—regardless of whether we are talking about deadlift platforms or Oly platforms—with the ones you see in pro sport team facilities running well over $1,000, the Rogue Oly Platform (and a 16-pack of rubber mats) cost about $785.
That price tag might seem a little shocking for those new to the idea of an Oly platform, but this is at the low end of the price spectrum.
✅ Excellent vibration and sound dampening.
One of the big perks of using an Olympic platform is the decreased sound and vibration.
This isn't the biggest deal if you work out in a gym with headphones on, but training at home, when you have kids in the next room and you don't want to send a hurricane-force vibration through the foundation of your house, means softening the clanging and banging.
The rubber mats paired with the platform are extremely thick, at 1.5" (which is a lot thicker than most gym flooring and mats and rivals the sound dampening of thicker weightlifting silencer pads), going a long way in protecting your floor and soundproofing your home gym.
✅ Can be paired with your favorite squat rack.
The squat rack is a foundational part of your home gym. So why not secure it to your Olympic platform so that you can get more stability out of both?
For squat racks with a shorter depth—like the Rogue R-3 Power Rack, my favorite power rack for most people—you can get some extra stability and rack security by bolting the rack into the platform without sacrificing too much of the platform for your Olympic lifts.
Rogue 8×8 Oly Platform — FAQs
Can it be used for deadlifts?
Hell yes it can be used for deadlifts! Although the platform is designed for the big dynamic Oly lifts like cleans, jerks, and other movements where the barbell is being dropped from overhead, the platform has plenty of space for deadlifts, too.
Even if you are planning on bolting a power rack into the platform, the 8-feet of depth leaves plenty of room for deadlifting outside the front of the rack.
What is the Rogue Oly 8×8 platform made of?
Rogue uses made-in-the-USA 11-gauge steel for the platform frame, bolted together with gussets. From there, you can choose between a smooth rubber finish or crumb rubber for the mats within the frame. There is also the option of using plywood for the middle strip of 8 squares.
What is the lead time for ordering one?
It took six business days for me to get my Rogue Oly Platform from when I ordered it to when it was left outside my garage door.
What are the reviews like of the Rogue Oly 8×8 platform?
The reviews on the Rogue website are almost universally positive. Reviews of the platform highlight the ease of assembly, quality of the frame, noise elimination when dropping loaded barbells, and how heavy the rubber mats are.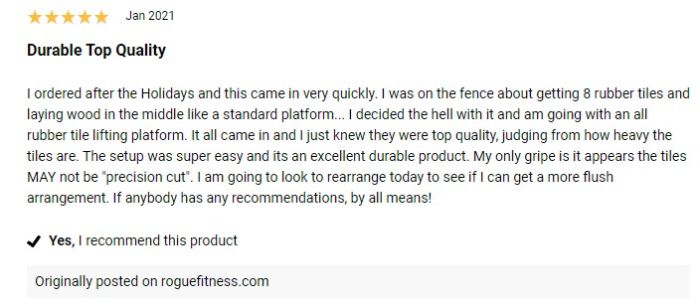 The only complaint/issue noted from a couple of reviews is that the mats don't appear to be perfectly cut for the frame, resulting in gaps between the mats.
One reviewer solved this neatly by jamming two mats into the top two corners of the frame, completing the back row with two more in the middle, and then working his way around the frame, resulting in zero gaps between the mats.
Rogue 8' by 8' Olympic Platform – Where to buy
Protecting your floor and giving yourself enough space to properly hit your Olympic lifts is crucial.
Rogue's 8' by 8' Oly Platform is an affordable and high-quality platform that won't break the bank (or your floors when pile-driving a loaded barbell from overhead).
Sold exclusively through Rogue's website and starting at $295. Give it a rip and take your lifting to the next level.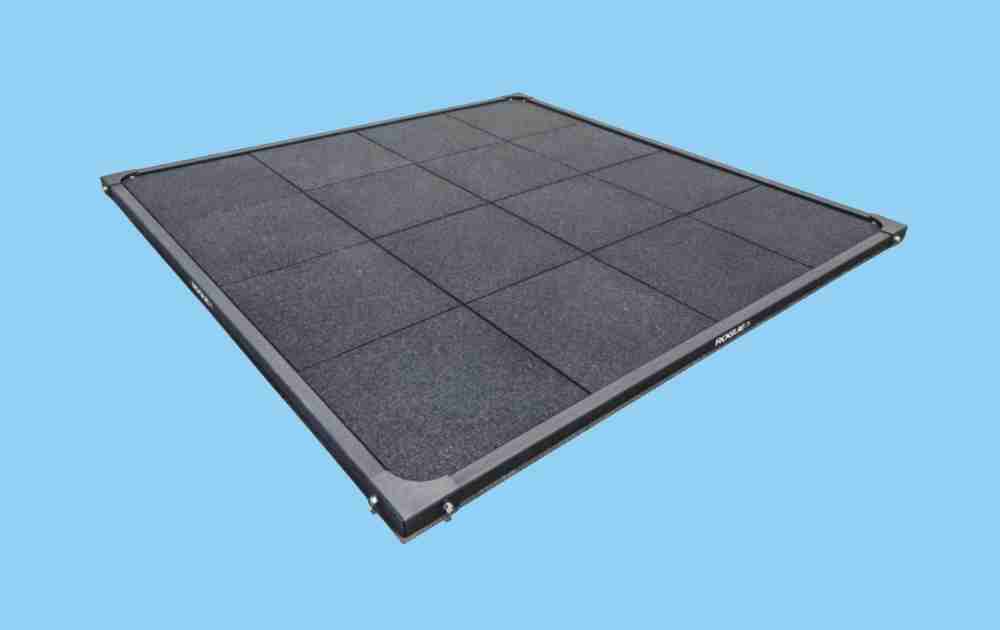 ---
More Guides Like This
Bells of Steel Lifting Pads Review: Reduce Noise and Protect Your Gear. Lifting pads are a budget-friendly way to protect your floors. They are also easy to stow between workouts. Here is a look at my current favorites, the Bells of Steel Silencer Pads.