Lifting platforms protect your equipment and help you lift more safely. Here are seven reasons that Rogue's Deadlift Platform is one of the best on the market.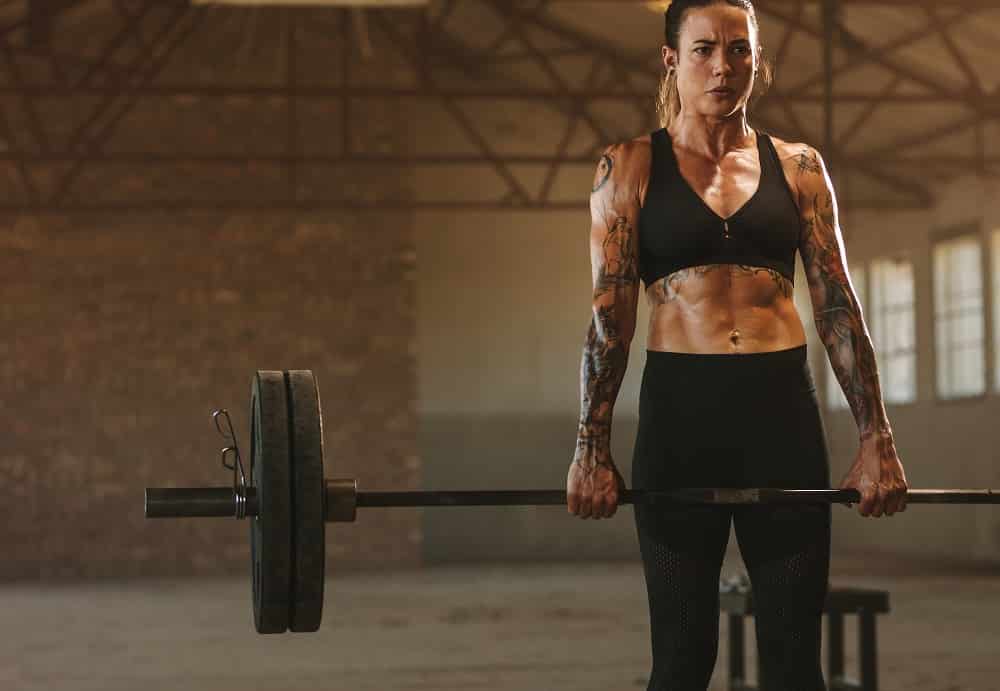 Lifting platforms are about as simple a piece of gym equipment as it gets.
They are made of a combination of rubber, steel, wood, and a can-do attitude and provide a thick and protective buffer between your loaded barbells and the floor.
Lifting platforms come in two flavors, each with its own purpose.
Deadlift platforms tend to be wide with half the depth (8" by 4", for example) and shaped like a rectangle. As you can guess, they are built primarily for belting out ridiculously good-looking deadlifts.
Olympic platforms are designed for high drops and dynamic Olympic lifts. Because of the bouncing barbells, Olympic platforms have more depth and take on more of a square shape. (For example, the Rogue 8×8 Oly Platform has 2x the depth of the Rogue Deadlift Platform.)
Platforms, in general, can get quite pricey, and Rogue's Deadlift Platform isn't the cheapest on the market. But there are some excellent reasons to pick one up.
(Or, you can always go the DIY route and save yourself a bunch of money.)
Why Rogue's Deadlift Platform Kicks Butt
Here are some ways that the Rogue Deadlift Platform sticks out against similar products on the market and why I consider it to be the best deadlift platform out there:
✅ Extend the life of your lifting equipment.
Rogue's Deadlift Platform will extend the life of your barbells and weight plates. Olympic and powerlifting barbells, despite their very simple-looking appearance, have a bushing or needle-bearing systems that can degrade over the years from wear and tear. Hard drops speed this process up considerably.
The mats on Rogue's platform are much thicker than most forms of gym flooring, with a 1.5" rubber mat combined with an optional additional piece of specially-cut plywood that is 0.375" (to be used under the platform). Altogether, you are getting a lot of protection for your equipment.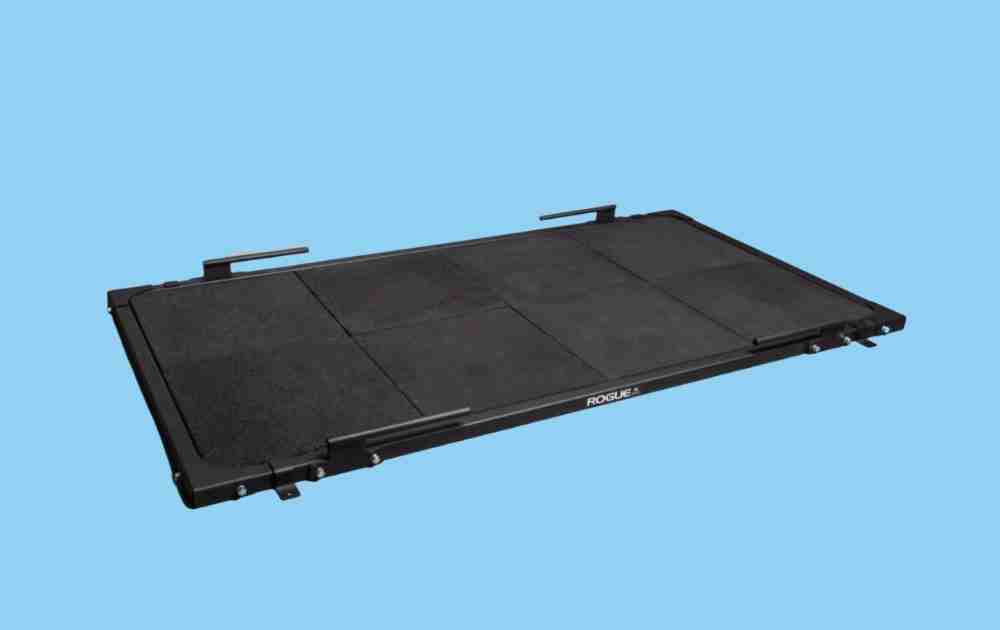 ✅ Built for power resistance bands.
Incorporating resistance bands, whether you go with Rogue's Monster Bands or a different brand of heavy resistance bands, is a great way to increase time under tension and improve the end ranges of your lifts.
The Rogue Deadlift Platform has four long pegs that work with your regular powerlifting or Olympic barbell or longer specialty bars. The band pegs don't have to be bolted to the floor, unlike Rogue's Oly Platform, for which they highly recommend you do.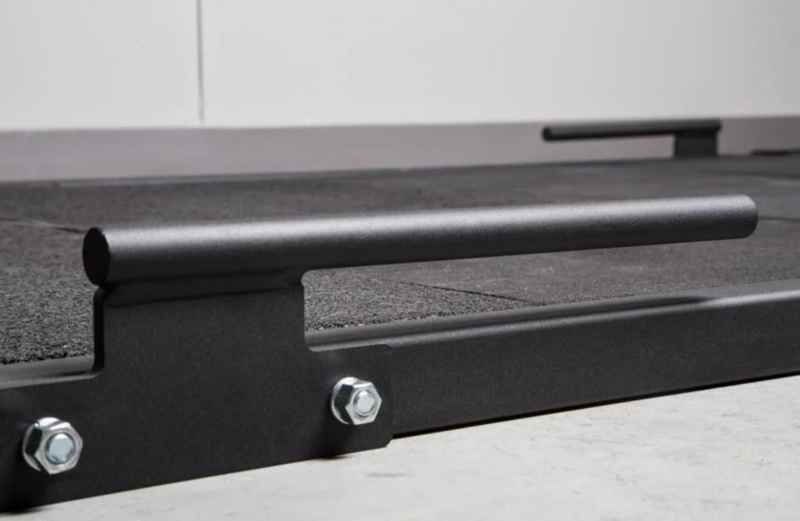 ✅ Legendary Rogue durability.
Rogue makes battle-tested fitness equipment that lasts the test of time. Whether we are talking about Rogue's line of power and squat racks or this absolute beast of a leg press machine, Rogue over-builds their gear for extended use.
The frame of the platform is 2" by 2" 11-gauge steel. Clips are included to nail the platform down to the floor but are not necessary.
✅ Easy to assemble.
The platform takes literally minutes to assemble. Bolt together the frame (less than ten bolts altogether), add the rubber tiles and/or plywood (sold separately), and you are in business.
✅ Leveled properly.
The optional plywood insert set helps to create a more level lifting surface when lifting weights. We've all worked out in gyms and on platforms where the surface wasn't level. All you need to do was watch your barbell slowly roll away to know you were working out on a decline.
The insert set helps counteract some of the grade of your workout area (plus, the plywood insert doesn't cost much, it's an additional $55 for the three-piece set).
✅ Wood and rubber tile options.
Want to plant your feet on plywood instead of the rubber mat? The rubber mats can be interchanged with plywood easily. While some athletes and lifters will want to lift off of wood, others will want to plant their feet on the rubber. With the Rogue Deadlifting Platform, you have options.
❌ Pricey compared to other platforms on the market.
Rogue isn't known for being the cheapest fitness equipment brand on the planet. The Rogue Deadlift Platform starts at $395, not including the crumb finish rubber mats (another $265).
When you tally in shipping and the wood insert set, this platform quickly gets expensive.
But there's no denying that Rogue's gear is built to last, so if you are a serious lifter looking to invest in their home gym, it's worth checking out.
Rogue Deadlifting Platform – The Final Rep
For serious deadlifters and athletes, the Rogue Deadlift Platform is an easy win.
Although it isn't cheap, it provides a wide variety of set-up options, a thick rubber mat for sound deadening and protecting your equipment, and it's backed by Rogue's legendary commitment to manufacturing excellence.
When it comes to choosing the best deadlift platform for conquering the deadlift, the Rogue Deadlifting Platform is a must-have.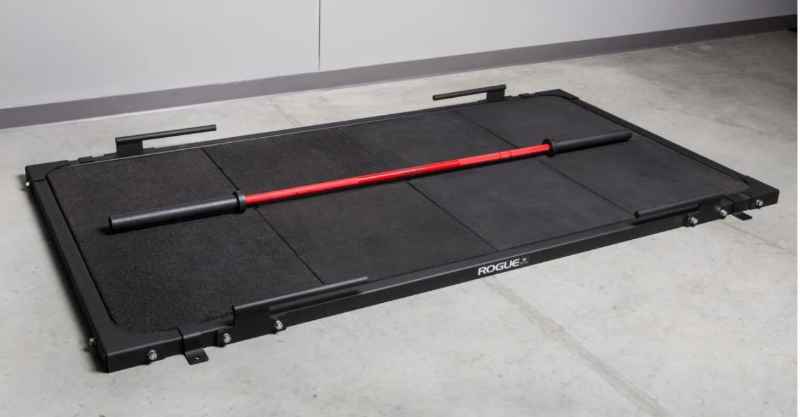 FAQs
Should you pair a Rogue deadlifting platform with a jack?
Absolutely! Anyone who has tried to peel off plates when a loaded barbell is rested on crumb rubber knows how frustrating this can be. It's like trying to wrestle out of a wet-shirt… except harder.
A deadlift jack is no-brainer for the deadlifting aficiando, getting the barbell into the air between sets/workouts easily and efficiently. Rogue also makes a full-size, premium jack as well as a mini jack that is portable and easy to move.
What's the difference between the Rogue Deadlift Platform and Oly platforms?
Size. The Rogue Deadlift Platform is relatively short in depth and wide, while Oly platforms are long and wide.
Oly platforms have more space so that they can fully protect floors from overhead drops. Oly platforms are also better suited to attaching to a power rack.
The Rogue Deadlift Platform is designed specifically for doing heavy deads without the worry of cracking the floor and using band attachments.
Rogue Deadlift Platform: 4'4" x 8'4"
Rogue Oly Platform: 6'4" x 8'4"
Rogue 8×8 Platform: 8'4" x 8'4"
Is the Rogue Deadlift Platform worth it?
Lifting platforms are not cheap, there is no debating that. And given the fact that there are some excellent plans online for making a DIY lifting platform for a lot less than the sticker price of just the frame of the Rogue Deadlift Platform, for many, it might not be worth it.
But for the serious lifter who wants a seriously heavy-duty 11-gauge steel frame, and doesn't want to go the Bob-the-Builder approach in setting up a deadlifting platform, it's a no-brainer.
Also, consider that among the "pro" deadlift platforms, the Rogue deck is still significantly cheaper than competitors, including the Eleiko SVR Deadlift Platform, which retails for a whopping $4,625.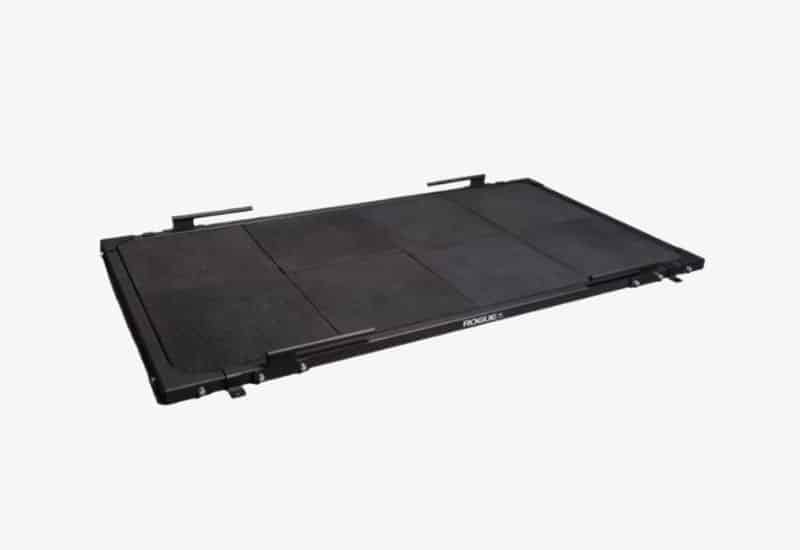 More Deadlifting Gear Reviews
Best Socks for Deadlifting. Protect your shins and execute your deadlifts like a champ with this breakdown of the best deadlifting socks on the market.