Working with low clearance in your home gym? Here are the best short squat racks that are low in height but tall in features.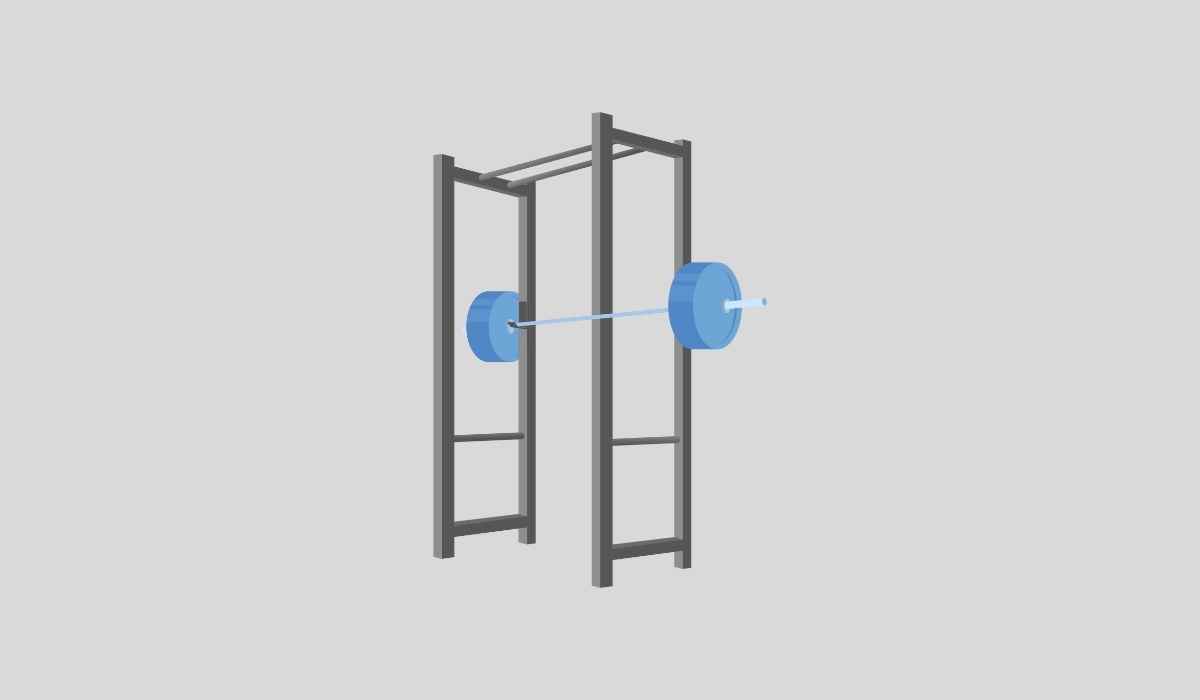 Nothing quite beats building out a proper workout area in your home. No commute, no competing with people for equipment—just the equipment you want and love.
But unlike commercial gyms, space is at a premium in our homes. For some, that means choosing equipment that can fit in a basement or a bedroom with low overhead clearance.
Fortunately, gym equipment companies have recognized this need in recent years and offer a seriously good line of short squat racks that can fit in low and tight spaces.
In this guide, we'll cover the best short squat racks on the market right now.
Let's jump right in.
---
How We Chose our Favorite Short Squat Racks
Before we get into a detailed breakdown of each short squat rack, here's an overview of the things that helped determine which short squat racks made the cut.
Height. Obvious, right? We looked for squat racks that were less than 90". The standard height of squat racks is in the 85" to 90" range, so we stuck to the racks that were shorter than this.
Hole spacing. Racks typically have 2" spacing between holes. More and more racks are coming out with Westside hole spacing as standard, but unfortunately, there was only one rack on our final list that had Westside.
Safety attachments. As the saying goes, safety never takes a holiday. A quality squat rack should include safety attachments like safety pins or safety straps and J-hooks. Not all of the racks in this list included them, as some offered them as separate purchases.
Steel gauge. The true strength of a squat rack is not necessarily in the weight capacity but the thickness of the steel in the frame. We excluded racks that had gauge thinner than 12-gauge.
Brand reputation. This was more subjective, as we collected feedback from our community, friends who work in gyms, and garage gym enthusiasts. We also relied on our own feedback as we have dealt with all of the companies and tested their equipment repeatedly over the years.
Alrighty, with all that behind us, let's take a look at the top choices for short squat racks for low ceiling home gyms!
---
Best Short Power Racks for Home Gyms
Rogue R-3 Shorty Power Rack (#1 Pick)
Key Features:                Price: $825                     Rack height:  84"
The Rogue R-3 Power Rack is my most recommended squat rack for a variety of reasons, including affordability, Rogue's legendary construction, and the versatility that comes with such a small footprint squat rack.
The R-3 comes in two different heights (90" is the standard height, 84" is the shorty version) and it also has a thinner depth profile compared to regular squat racks, making it perfect for small workout areas with low clearance.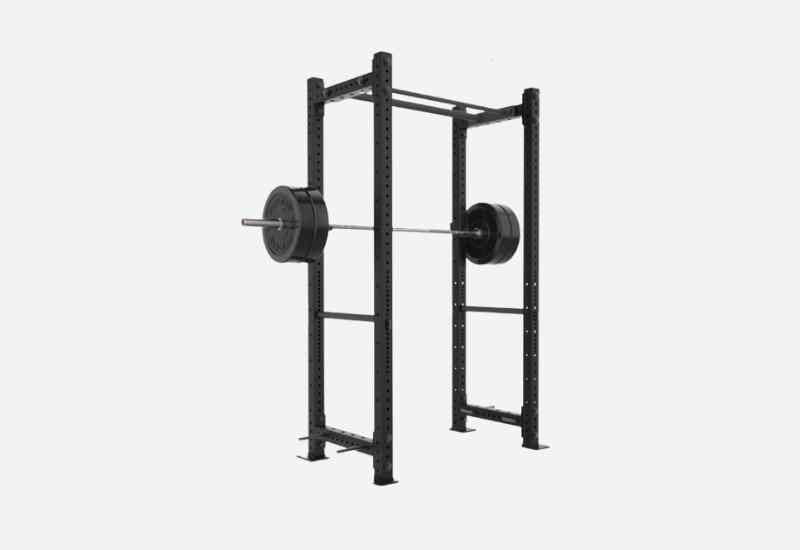 The Rogue R-3 Rack is constructed with American 11-gauge steel with 2" x 3" and comes with a metric butt-ton of attachment options.
Each R-3 ships with a set of J-cups (that are plastic lined to protect your barbells), safety pins, and even band pegs.
See also: 6 Best Folding Squat Racks for Saving Space and Big Lifts
The only downside of this rack is that because of its narrow profile, it needs to be bolted down. And oddly, Rogue does not include the anchor kit with the rack (sold separately for $19).
In other words, with the Rogue R-3 you get almost everything you need to drop some big workouts in small workout spaces.
Pros:
Height: 84.375" Tall
Comes with Rogue Monster J-cups, safety pins, band pegs
Nearly 60 different attachment options (sold separately, obviously)
Made with American steel in the good old USA
Cons:
Has to be bolted down with add-on anchor kit
---
REP Fitness PR-1050 Short Power Rack
Key Features:                Price: $350                     Rack height:  72"
REP Fitness is one of the leading makers of squat racks for home gym enthusiasts, and the PR-1050 is a bargain-priced rack that is designed for workout areas with low ceilings.
At just 6-feet in height, the PR-1050 features a 2" x 2" steel frame and a maximum load capacity of about 700lbs.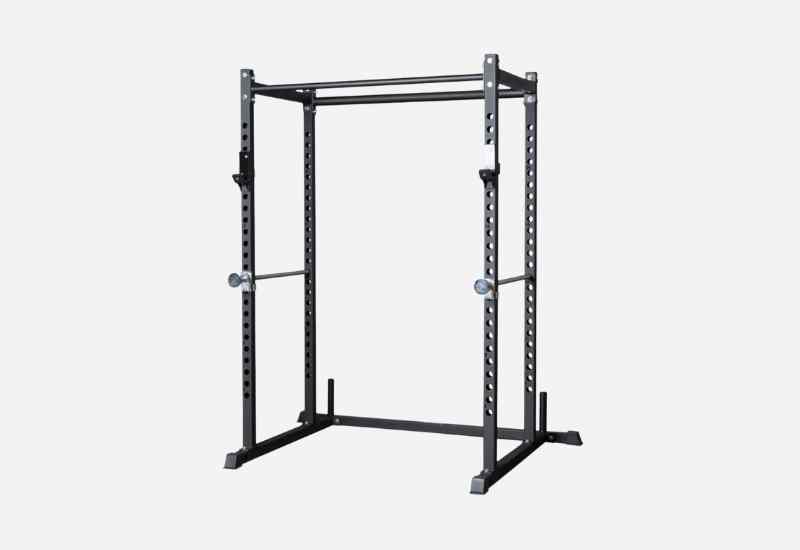 The rack also comes with chrome-covered safety pins, J-hooks to hold your barbell, and the columns are numbered for consistently even barbell placement.
And finally, the back of the rack has twin weight pegs where you can store your weight plates (which can also double as a way to weigh down your rack for added stability).
Pros:
Height: 72"
Only $359
Skinny and fatty pull-up bars
Wide back cross-bar for added stability
Cons:
Lightweight frame—not ideal for heavy-duty users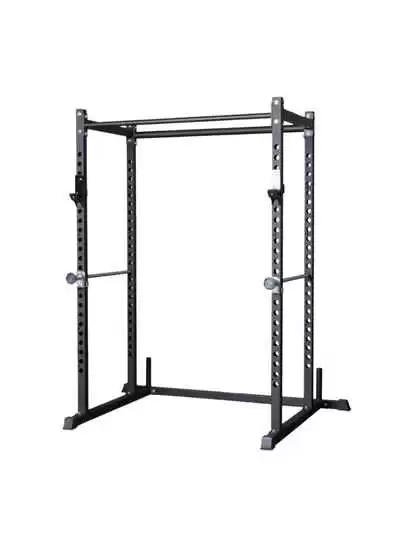 ---
T-2 Series Power Rack
Key Features:                Price: $350                     Rack height:  71" or 83″
The Titan Fitness T-2 Series Power Rack is one of the shortest squat racks you can find… Actually, scratch that—they make have two height options that are significantly shorter than standard.
On top of that, Titan Fitness makes excellent gear—I'm a huge fan of their belt squat machine and the Titan Fitness Fan Bike—at a wildly affordable price.
The T-2 Series Power Rack is their most popular squat rack, and for good reason—it's extremely budget friendly at less than $400, is a breeze to bolt together, and most importantly for people with low ceilings, comes in 71" or 83" height options.
The rack comes with all of the essentials to get you started, including J-hooks, pegs for weight plate storage, safety pins, and straight pull-up bar.
Plates, barbell and a can-do attitude sold separately.
Pros:
Extremely budget-friendly
Available in either 71" or 83" height options
Rated for over 2,000lbs of weight
2" x 2" steel frame (12-gauge steel)
Cons:
Frame not as thick as the Rogue R-3 or BoS racks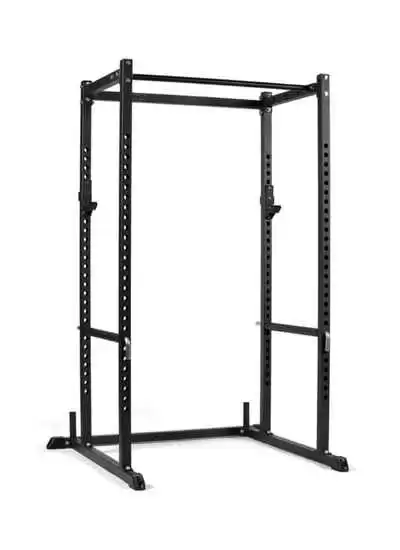 ---
Force USA Modular MyRack
Key Features:                Price: $499                     Rack height:  87″
Force USA has come on the scene in a big way over the last couple of years. Their line of racks and strength training machines are built in the USA, customizable, and are wildly good.
(For example, they have a free-standing squat rack that folds in on itself. Fairly epic, if I say so myself.)
The MyRack squeezes under the "standard" height of squat racks with an 87" tall frame, but it's worth including as you can choose from three different matte colors (black, blue, or red), and it has a heap of optional add-ons.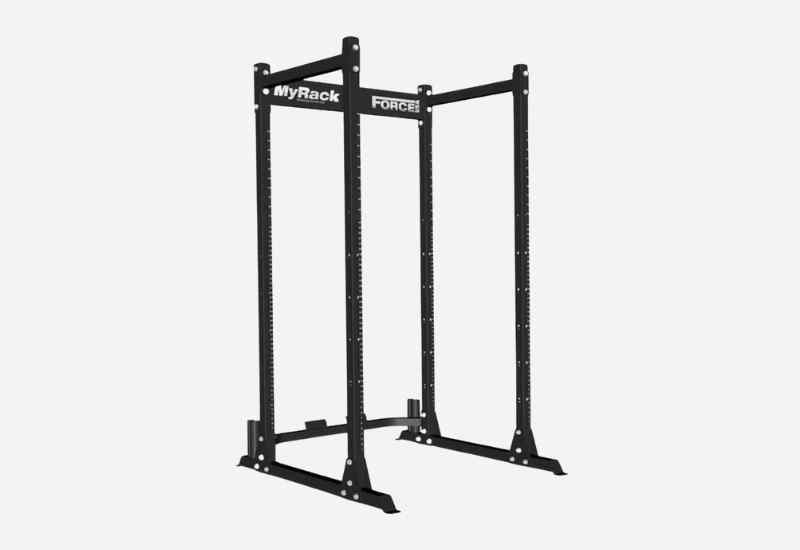 The MyRack is also the only budget-friendly short squat rack that has Westside hole spacing.
(Westside hole spacing is 1" spacing between holes in the push-pull area on the squat rack compared to the regular 2" spacing. Westside hole spacing gives you more options for where to set your barbell.)
That said, the Force USA MyRack is designed to be a truly individualized squat rack, which means you need to separately purchase the safety attachments like pins, J-hooks, and even the chin-up bar.
Pros:
Three different color options
More than 20 optional attachments
Free-standing design
Westside hole spacing
Cons:
J-cups, safety pins and pull-up bar not included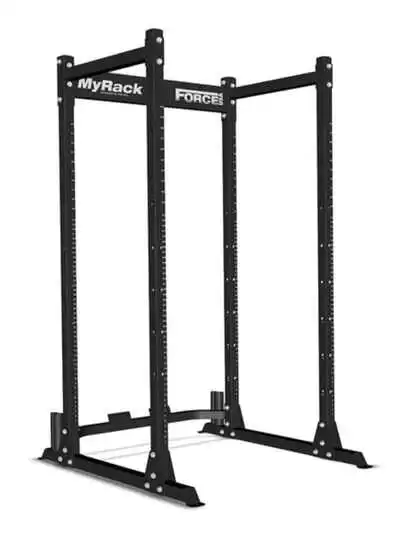 ---
Bells of Steel Residential Power Rack 4.1 (Short Version)
Key Features:                Price: $440                     Rack height:  72″
Bells of Steel is a Canadian-based company that was founded by powerlifters with the mission of bringing commercial-grade equipment to the masses. The Residential 4.1 Power Rack nails this, retailing for just $440 while coming with a TON of bells and whistles.
The standard height of the rack is 84.5", but they offer a short version at no additional charge (72"). The only downside with the shorter version is that some of the optional attachments like the lat pulldown or cable attachment won't work with it.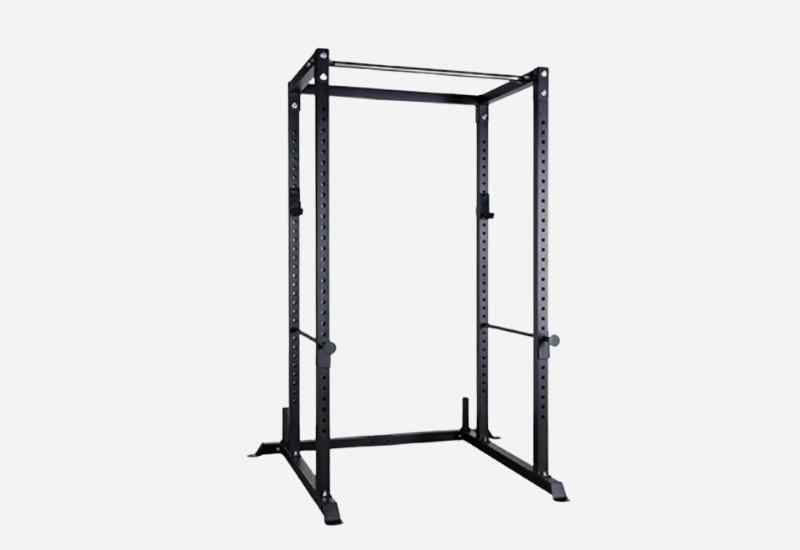 Included with each rack are padded J-hooks for racking your barbells, safety pipes to lift with confidence, and a pull-up bar (1.25"). The flat-footed design means the rack doesn't have to be anchored, but BoS ships each rack with an anchor kit in the event you want the added stability of bolting the rack down.
Like it's big brother, the Bells of Steel Commercial-Grade 5.1 Power Rack, this rack has 2.3" steel uprights, which is thicker than most racks (which have 2" uprights), but the odd sizing means that you can only use BoS additional add-ons.
Pros:
Very affordable at just $440
Includes all the essential safety accessories (pins, j-cups)
Powder-coated for rust-proofing
height options of 72" or 84"
Cons:
2.3" frame means you can only use BoS attachments to accessorize the rack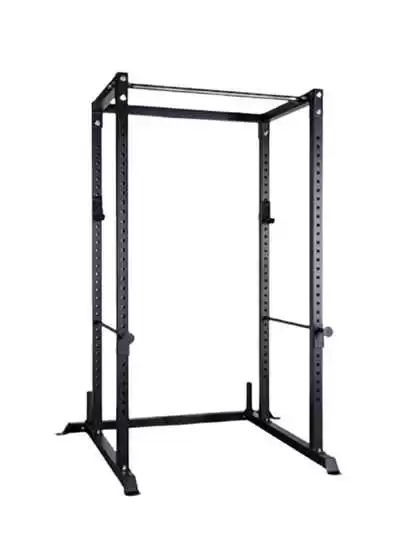 ---
Short Squat Racks — FAQs
What is the standard height of a squat rack?
While there is not a "standard" size for squat racks, most of the full-size ones land in the neighborhood of 90" tall.
There are racks on the market—for example the Rogue RML—which has extra tall options, as tall as 108"!
But for most regular squat racks, the typical height is approximately 90-inches.
What other options are there for short power racks?
If these racks are still too tall for your workout area, consider investing in a squat stand. These are significantly shorter, are portable, and are typically less than six-feet in height.
With squat stands you lose some of the safety benefits of a cage, but if you are confident in your squatting form, and you've got super low ceilings, a squat stand is the way to go.
The Bottom Line
Just because you have limited space and height at home doesn't mean you have to sacrifice performance when it comes to your squat rack.
As demonstrated by the short squat racks above, you can still get all the stability, safety and exercise versatility of a regular rack with a short squat rack.
Pick the rack that matches your workout goals and workout space, and get to crackin' on those PRs!
---
More Squat Rack Guides and Resources
10 Best Squat Racks for Home and Garage Gyms. A squat rack is the best purchase you can make for your workout goals. Here's a detailed buyer's guide and the best squat racks on the market right now for home gyms.
Power Racks vs Squat Racks: Pros, Cons and Differences. Wondering what the differences are between a squat rack and power rack? Read on for a detailed look at the pros and cons of each.