Flat foot power racks are perfect for people who want a rack that doesn't require bolting into the floor. Here's more on flat foot racks, the pros and cons, and more.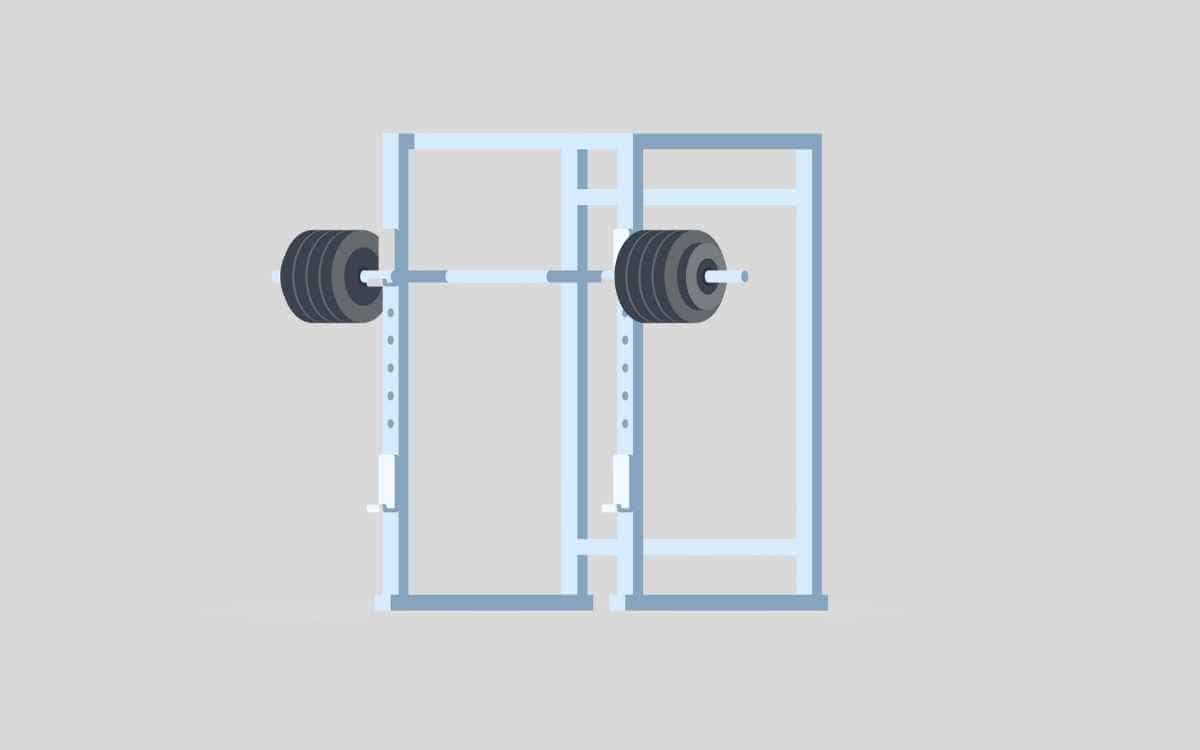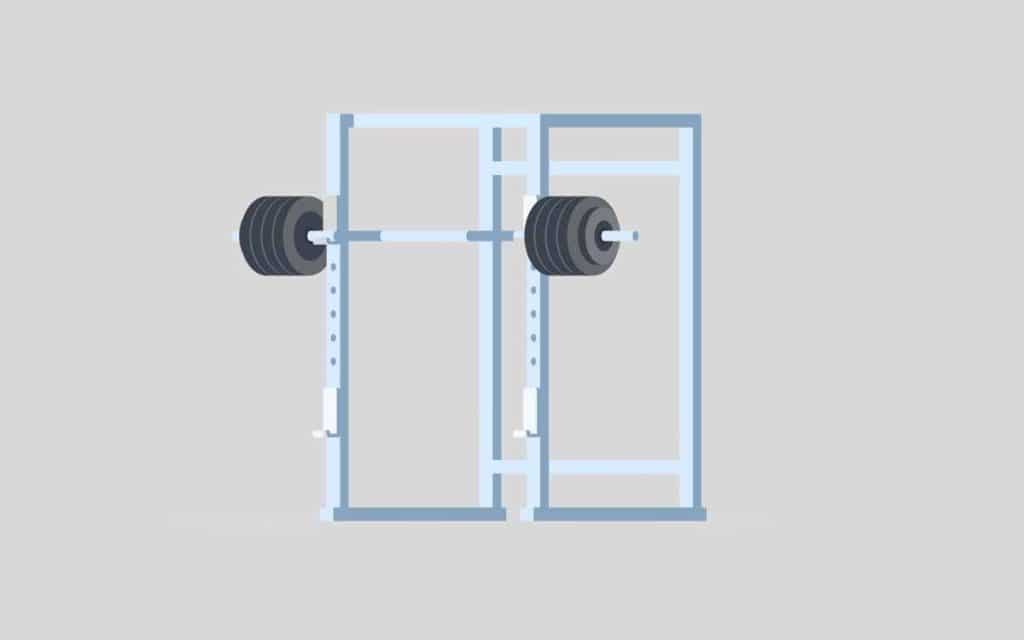 A flat foot power rack features a deeper footprint that provides added stability for weightlifting. They have feet that extend beyond the cage to prevent teetering and wobbling while exercising.
The primary advantage of a flat-foot base is that the rack doesn't need to be bolted down into the floor or lifting platform.
The key things that separate flat foot racks from the other power racks on the market include:
3" by 3" frames made with 11- or 12-gauge steel.
Gussets in the corners
For lifters who want a stable and teeter-free power rack, but don't want to use concrete anchors into their garage floor, or don't want to drill into their lifting platform, a flat-foot rack is an excellent alternative.
The Benefits of Flat Foot Racks
There's a lot that goes into finding the right power rack for your home or garage gym.
From figuring out how much space you need for a power rack to what kind of flooring you want under the rack, there are some important things to think about.
And there's the whole "bolt to the floor" or not thing.
Flat foot racks provide an alternative to options that are made to be secured to the floor or wall.
This means you don't need to screw holes into the concrete in your garage or bolt it to your lifting platform of choice. The rack can be put together and you can get to lifting straight away.
These racks are also very strong, with the Titan Fitness X-3 Flat Foot Rack, for example, having a full rack capacity of 6,170-pounds.
Flat foot racks are easier to move and are ideal for lifters who don't want to go through the extra steps of fully securing the rack to the ground.
The benefits of a flat foot rack:
Don't require bolting to the floor, damaging concrete and flooring
Very strong and stable when using inside the cage
Require heavy-duty construction to stay balanced and stable, so they are more durable
Don't need to be attached to the wall
Can be stabilized and secured in other ways (with weight plates, for example)
What are the cons of a flat foot power rack?
There are some excellent reasons to bolt down your power rack.
For starters, it gives you that added level of confidence that no matter how much weight you drop inside the cage, or how poorly formed your pull-ups are, the rack won't budge.
But, this isn't always necessary or possible, which is why flat foot racks are so popular.
That said, there are some downsides to flat foot racks.
The two biggies include:
Flat foot racks are not designed for banded lifts.
Lifters who like to do a lot of banded work (banded deads, bench, squats, etc) should not use this kind of rack.
Banded lifts create upwards pressure that can cause a power rack to literally come off the ground.
Many rack manufacturers explicitly outline that you should not use band pegs with this kind of squat rack.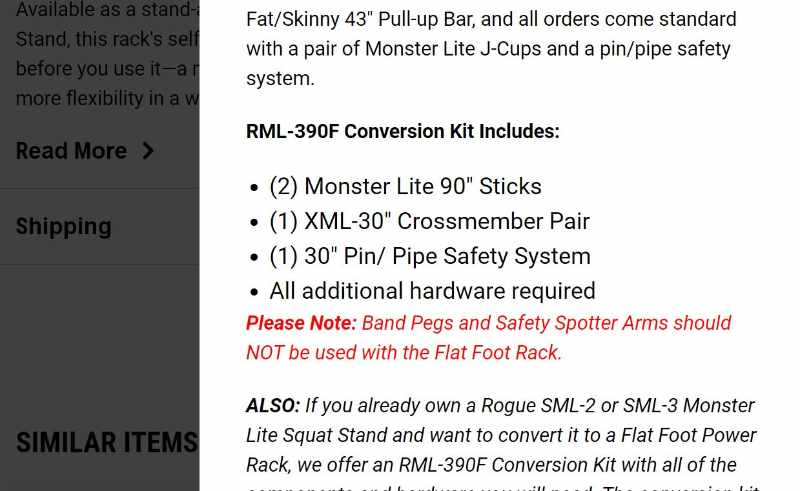 Using attachments on the outside of the rack is risky.
While the inside of the rack is very stable and sturdy, especially when you weigh it down with plates (more on that in a bit), attachments on the outside of the rack are often a no-go unless the rack is bolted down.
This includes using safety spotter arms.
They should not be used on the outside of the rack.
Using spotter bars outside of the rack significantly increases the tipping risk when you rack a loaded barbell onto them.
What can I do to stabilize my flat foot power rack?
One of the main advantages of a flat foot power rack is that you get that extra stability without worrying about teetering or toppling your fancy new home gym.
But while you may want to steer clear of lateral movements on the rack or doing banded lifts, there are some ways to more properly secure the rack for added peace of mind.
Add weight plates to the back of the rack.
If you have a bunch of weight plates on hand, you've already got an excellent way to "sink" the rack into the earth.
And that's by adding a couple of weight plate storage pegs to the lower half of the rack.
This is a big double-whammy: you give the rack some added stability and you also get your cast iron and bumper plates off the ground, keeping your workout area nice and tidy.
Plus, plates are simply faster and easier to pull off a peg than peel off the ground. All the wins!
Use spotter straps instead of spotter arms.
While weight is weight, spotter straps have to be configured inside the cage which will keep lifters from getting ballsy and trying to set up spotter arms on the outside of the rack and potentially dropping a fully loaded barbell on them.
The BoS 5.1 rack includes safety straps specifically for this purpose, giving you a safer option for spotting those PR-shattering lifts.
Who makes flat foot power racks?
There are several excellent racks on the market for both home and light commercial users.
Here are three of my favorites.
Bells of Steel Light Commercial Power Rack 5.1
One of my favorite racks on the market, this offering by BoS, a Canadian-based company founded by a competitive powerlifter, has a flat-foot base and a heap of bells and whistles, including spotter straps and a multi-grip pullup bar.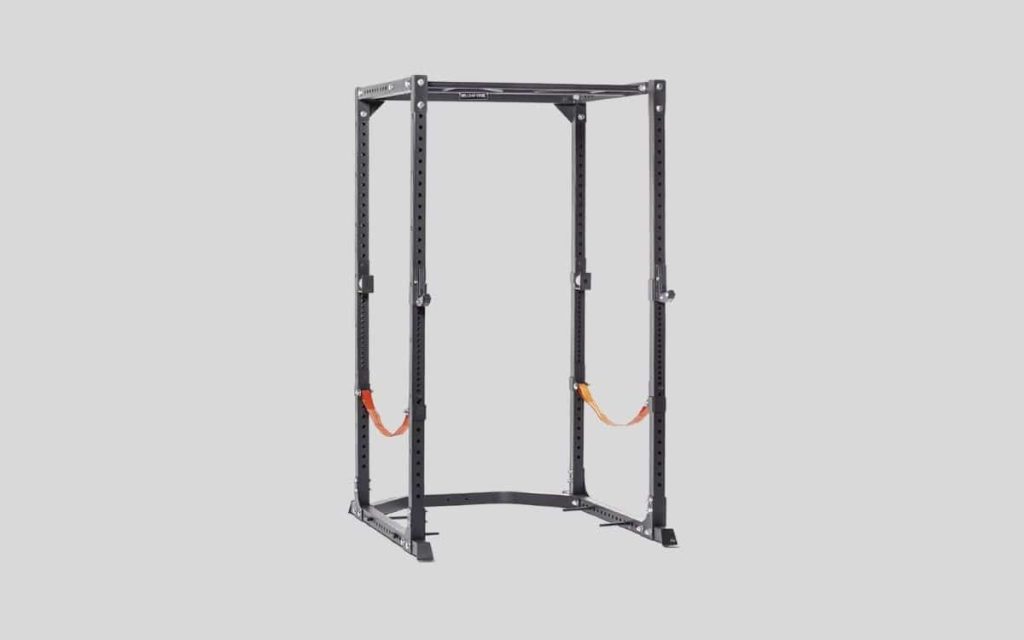 The Bells of Steel Light Commercial Power Rack has a base that is designed specifically so that it doesn't need to be bolted down, with a flat foot design and an upside down U-shaped cross bar that generates even more stability.
Titan Fitness X-3 Series
Titan Fitness is a big name in the garage gym equipment space, making high quality stuff that is reasonably priced.
The X-3 Series Flat Foot Power Rack is one of their most versatile racks. It comes in a choice of two heights (82 or 91-inches), is built like a tank with a 3" by 3" 11-gauge steel.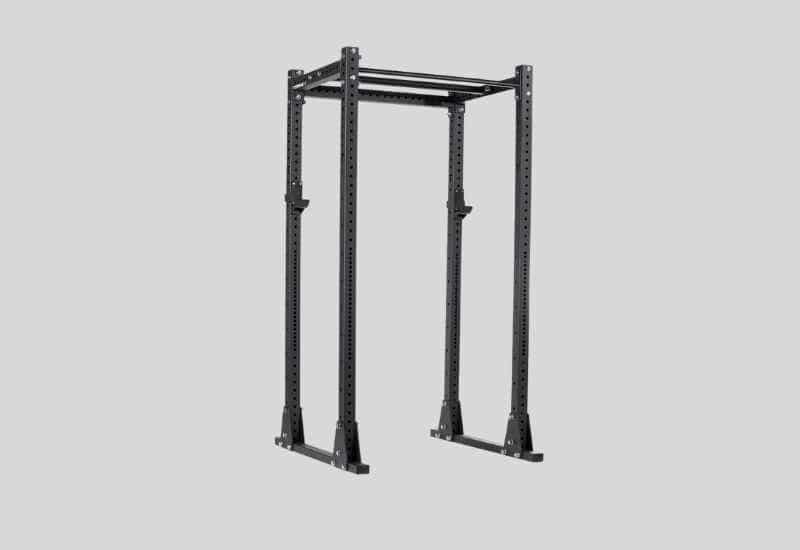 It also has one of the coolest add-ons on the market: flat foot extension kits!
You can take the 4-column X-3 rack and convert it into a 6-column rack. Titan has a 10 or 24-inch extension kit that can easily be bolted onto the existing rack structure.
Rogue RML-390F Flat Foot Monster Lite Rack
One of the best-known names in the workout gear market, Rogue's squat racks are some of the strongest in the world.
Made with American steel and built in the USA, Rogue's line of squat racks are tested and used by countless athletes, including CrossFitters, NCAA teams, and pro athletes.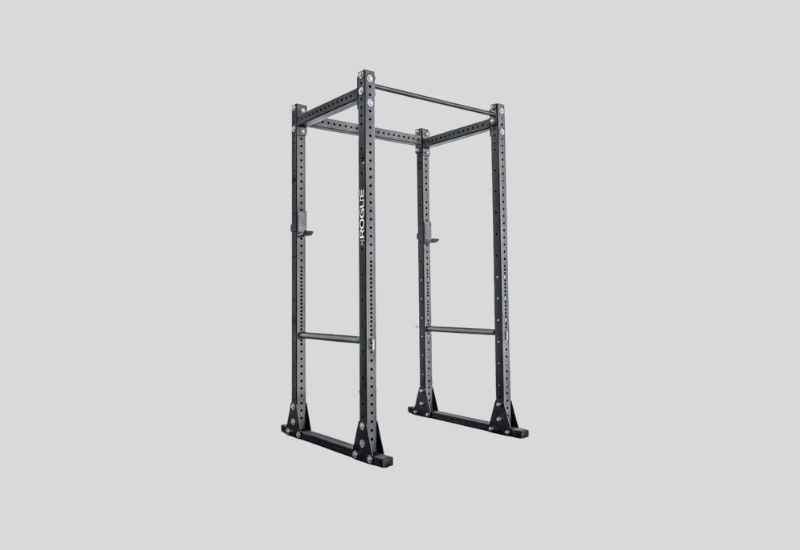 While Rogue recommends bolting most of their racks and rigs, there are a couple of flat-foot racks in their line-up.
The Rogue RML-390F is a modified Monster Lite rack that has Westside Hole Spacing, pin pipe safeties, straight pull-up bar, and the tough, 11-gauge steel frames that Rogue's racks are known for.
The Bottom Line
The main takeaway for garage gym enthusiasts is that there are some excellent racks out there that don't have to be bolted down to the floor.
You can get almost all of the features and benefits of a thoroughly secured rack with a flat foot power rack.
More Guides Like This
The Ultimate Buyer's Guide to Power Racks. We've created this power rack buyer's guide so you can learn everything you ever wanted to know about buying a power rack. If you are looking for the information to choose the perfect power rack, you've come to the right place.
6 Best Power Racks for Your Home Gym. This list of the best power racks offers the best value and will take your home workouts to the next level. Let's do this.