Rogue Fitness makes some of the best squat racks on the planet. Here's a detailed look at the top Rogue racks for every kind of budget and lifter.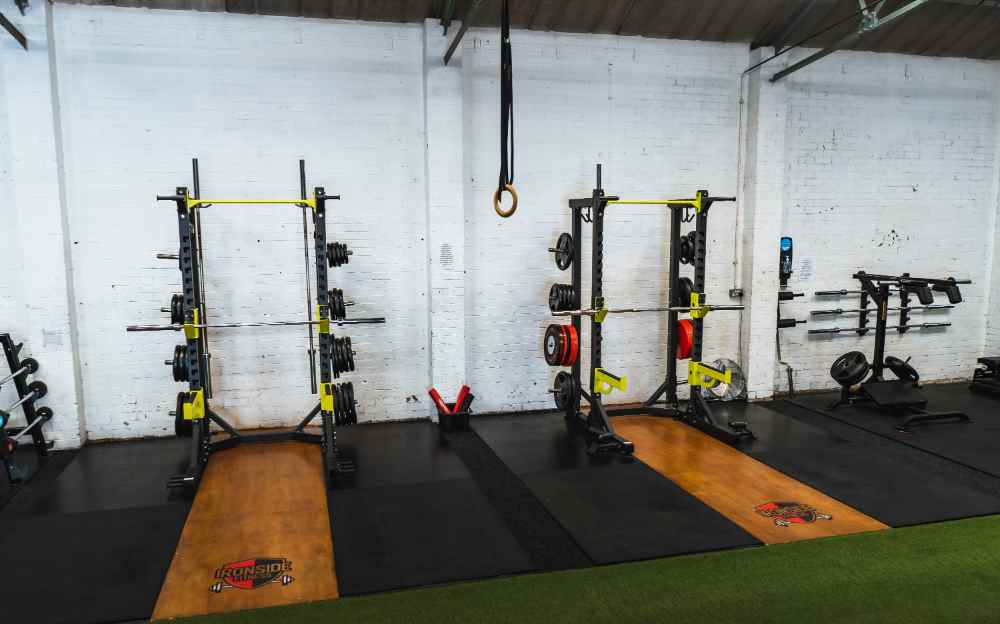 Rogue is one of the champs when it comes to making squat racks, not only for commercial gyms but also for the home and garage gym aficionado.
They make space-saving racks, wall-mounted racks, squat stands, tank-sized racks, and everything else in between.
No matter what your budget or ambitions in the gym, there is a Rogue rack with your name on it.
Rogue racks kick all of the butts because:
? Heavy-duty frames made with North American steel. Rogue racks are made bolt to frame in the United States. They are one of the very few fitness companies that produce their gear domestically. Superior construction and steel are part of what makes Rogue racks so legendary.
? Endlessly customizable. Rogue racks come with a long list of add-ons and customizations. Choose your color, customize the backplate on the rack, and select from a wide range of add-ons including concrete add-ons to pull-up bars. Rogue makes it easy to pick and choose accessories on their website so that you know what you are buying will work with your rack of choice.
? Tested and used by countless athletes across the world. Rogue's equipment gets put through their paces. It's one of the reasons that commercial gyms, CrossFit boxes, and legendary powerlifting gyms use Rogue stuff. Rogue tests their racks on the strongest athletes on the planet, so you know it's gonna work well for the rest of us.
? Affordable. Compared to the crapola you are going to find on Amazon, Rogue's stuff tends to run on the more expensive side of things. Rogue's racks are a little pricier, but still affordable. The R-3, for example, my favorite everyman squat rack, is less than $1,000. Rogue manages to balance premium construction with reasonable pricing.
Whether you are a pro athlete or casual gymgoer, and no matter your goals, budget, and floor space, there is a Rogue squat rack for you.
Let's get right to it.
Rogue R-3 Squat Rack
⭐ Best Rogue squat rack for most people
This squat rack is my favorite of all the Rogue racks because it works for most people. It's a simple, affordable, and sturdy rack that nails the basics and does so at a price point that is approachable.
Let's start with the key features of the R-3.
One of the big issues that home gym owners run into is space. While we would all love to convert a three-car garage into an expansive home gym, that's not always the case. We need to be a little more strategic with our equipment, and the R-3 gives you a variety of size options, from a full-size version that has a height of 90" and a "Shorty" version that is six inches shorter.
The depth of the rack is also shorter than usual, with just 24" separating the front and rear uprights. Two pull-up bars line the top, pegs for resistance bands line the bottom, and the holes in the uprights are set up Westside-style.
See also: The Ultimate Buyer's Guide to Power Racks
It's not built as thick as the other squat racks on this list, with a 2" by 3" steel frame. 2" by 3" is still thicker than similarly priced racks you will find elsewhere, especially on Amazon, and will work more than fine for a majority of users.
You can spend a lot of money really quickly when it comes to investing in a squat rack. Fortunately, the R-3 is reasonably priced, at around $750 (check Rogue's website for current pricing and availability).
Not a bad price for an industry-leading and space-saving rack that is backed for life by the folks at Rogue.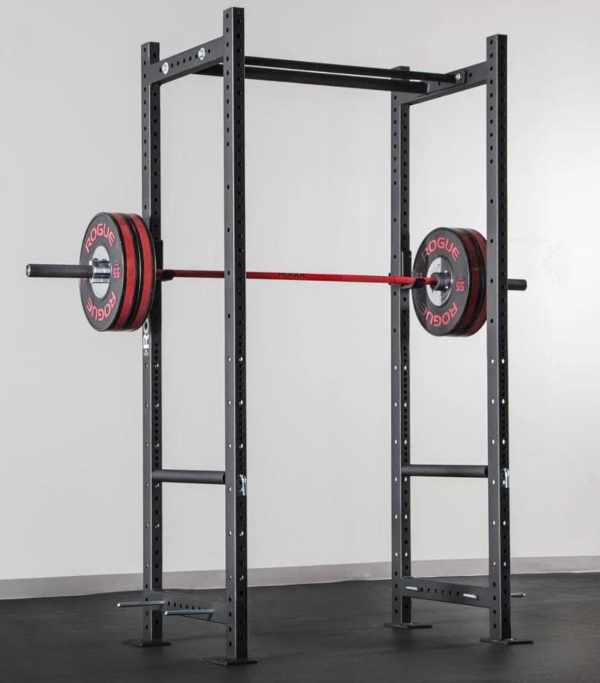 Rogue RML-3WC Monster Lite Fold Back Squat Rack
⭐ Best Rogue folding squat rack
For home and garage gym enthusiasts working with a very tight space, but still want the full functionality of a squat rack, a wall-mounted and folding squat rack is essential. Being able to retract your home gym when you workout, and then tuck it away when done torturing, err, training yourself, is simply awesome and frees up your garage or room for other uses.
The RML-3WC is my favorite folding squat rack for a few different reasons. First, you can choose between three depths (9", 21.5" or 41.5"). Secondly, you can choose between 11 different colors. And the rack is built with a bomb-proof 3" by 3" steel frame that is ready and waiting for your best effort.
Westside hole spacing lines the uprights, the steel is all powder-coated to prevent corrosion and rust, and each rack is shipped with a pair of J-hooks and a straight pull-up bar.
The RML-3WC Monster Lite is also very affordable, with a price tag of just $625 (check Rogue's website for current pricing and color options).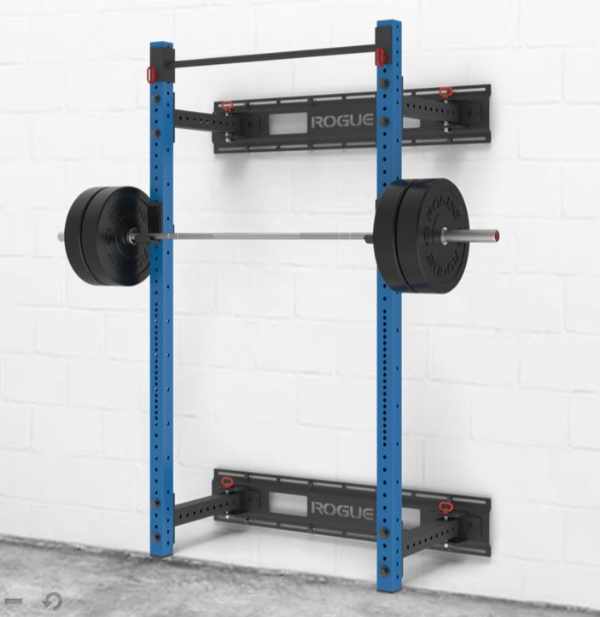 Rogue HR-2 Half Rack
Power racks are generally huge. There's no getting around that. For more experienced lifters, a solution for a smaller workout space includes squat stands or half racks. Half racks basically jettison the back half of the cage and rely on extended feet to provide stability.
The Rogue HR-2 Half Rack takes a lot of the perks of its big brothers, including safety pipes, a pull-up bar, and tank-level 3" by 3" steel frame construction, and drops the footprint and price significantly.
With a 48" by 49" base, the HR-2 is fully customizable, including options of different heights (90" or 108" at the front of the half rack). A conversion kit (about $245) adds crossmembers and Monster Lite sticks to beef up the rack.
For garage and home gym users, the biggest benefit of the HR-2 is that you don't have to bolt the rack to the floor for stability. For lifters who are comfortable squatting and lifting outside of the rack, the HR-2 provides an economical way to get after those gains.
Rogue sells the HR-2, and all of the available add-ons, exclusively at their website for around $700 (check Rogue's website for current pricing and shipping estimates).

Rogue Monster Lite SML-2C Squat Stand
Squat stands are an excellent option for both saving on money (the Monster Lite SML-2C is just over $500) and floor space. The Rogue SML-2C is a well-built, fully customizable, and heavy-duty squat stand that can take your biggest workouts.
The weight load on this bad boy is 1,000lbs, which is more than many of the cheapo power racks you will find on Amazon. Spacing is done Westside style, with 1" holes in the bench and clean zone and two-inch spacing up top and below.
The uprights are thick, at the full 3" by 3" steel construction you will find in the bigger racks. While the stand looks like it might be flimsy (and some stands definitely are a little wobbly), the SML-2C is surprisingly stiff, with a 157lb weight and a 48" long base for stability. Optional add-ons include a wheelset for moving the stand between workouts, spotter arms and/or floor mounting feet.
Made in the USA with American steel, the SML-2C is a killer squat stand for lifters who want to go heavy with their lifts but small with their racks.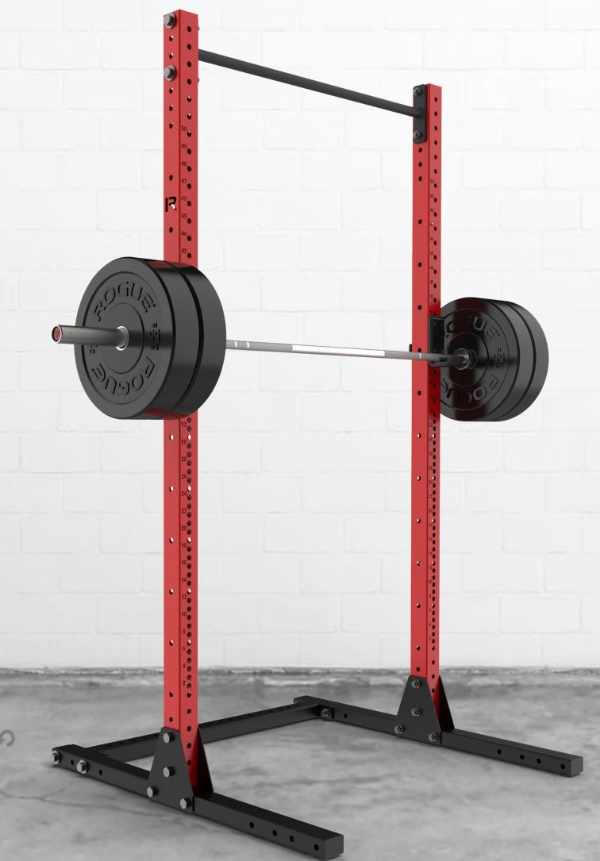 Rogue RM-6 Monster Power Rack
⭐ Best Rogue rack for serious lifters
The RM-6 sounds like the name of a tank, and in the case of this power rack, it may as well be. Built with sturdy 3" by 3" steel, the rack has everything the serious lifter needs to get started with a killer home gym.
The back of the rack has a series of pegs for storing all of your cast iron weight plates and bumper plates. A large 80" by 53" footprint gives you the stability to lift heavy with confidence.
One of the things I love most about the RM-6 is the numbered holes on the uprights. No guessing is required when setting up safety pins or J-hooks. A second big perk—and more and more power racks are offering this feature as standard—are the pegs for resistance bands along the bottom columns of the rack.
Customization options are pretty endless here. Lots of colors and finishes, including a Cerakote finish (popular with a lot of Olympic barbells and powerlifting bars right now, too), three different height options (90", 100" and 108") and your choice in J-hooks, rear cross member safeties, and pull-up bar.
The RM-6 is a heavy-duty rack that could belong in a commercial gym, and yet it's still reasonably priced. Yes, that $1,995 price tag is a bit of an upfront investment, but let's be honest, this thing will last forever, it can handle anything you can throw at it, and looks frigging awesome.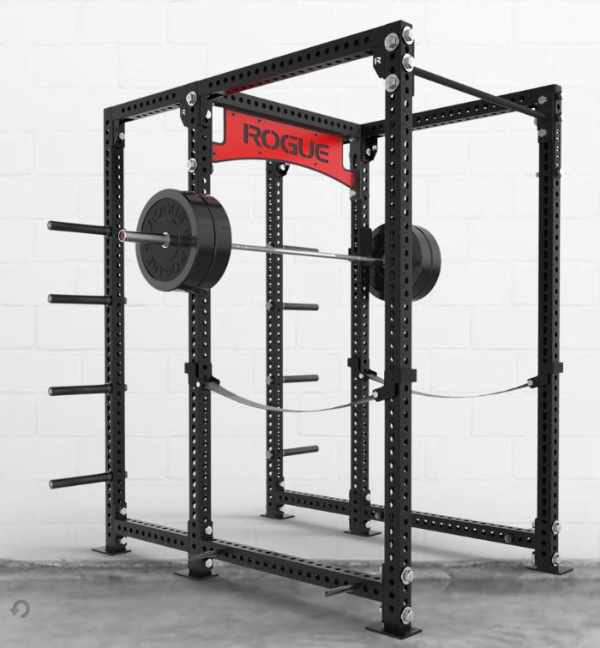 Rogue Squat Racks and Cages – FAQs
Got more questions about Rogue cages and squat racks?
Here is some more information on their racks and stands to make choosing the right one a little easier.
Are Rogue power racks worth the money?
Rogue power racks can claim something that few strength training equipment companies can say—their racks and cages are made completely in the United States at their factory in Ohio.
Made with American (and Canadian steel) in Columbus, Ohio, Rogue racks are precision made and have a higher degree of quality control than you might find in other foreign-made racks.
There are plenty of excellent squat racks on the market that are made overseas. But if you want something that you know is going to stand the test of time, a Rogue rack is hard to beat.
Between the sturdy welds, the powder-coated finish, and excellent resale value (if there's ever an indication of quality, resale value is a pretty good barometer), Rogue simply makes better racks than anyone else.
Rogue backs the frame and structural welds for life.
As long as you treat the rack with some respect—don't leave it out in hurricanes, don't drop it out the back of an airplane, etc—your Rogue rack will last you a lifetime, and then some.
Can Rogue squat racks be left outside?
If you read to the end of the last question, you might be thinking—but I wanna leave my Rogue squat rack outside… does that mean it will fall apart out there?
Rogue racks are powder-coated, which is a polyester-based coating that is significantly more resilient compared to paint. Powder coating also looks good when applied to steel as it gives them a sleek look.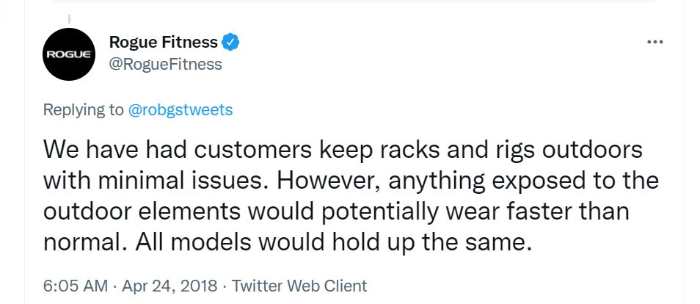 Powder coating creates a high degree of protection against peeling, chipping, and most importantly, rust. The one exception to this protection would be relentless exposure to air that has a lot of saltwater in it, which speeds up the corrosion of the powder-coat.
The steel, however, will hold up just fine.
"With this issue though, it is merely an aesthetics one as we use 11-gauge steel, which is one of the most durable that can be made," said a Rogue rep when I reached out for more information on this topic.
What kinds of squat racks does Rogue make?
Squat racks and cages are endlessly versatile. Larger racks can be used for bench press, pull ups, to hang a TRX strap, and on and on.
In a sense, squat racks are also great for storage, with pegs that can hold your bumper plates and weight plates.
Within the broad category of squat racks, there are power racks, which are basically a full box. They are built on four columns and are the strongest of the bunch.
There are also half racks, which generate a lot of stability while cutting down on space. Half racks are a great balance between the strength of a cage and the smaller footprint of a stand.
And then there are squat stands, which are portable and easy to move, can be used for bench, rows, etc, but are not as sturdy and secure as cages and are best suited for lifters who are confident in their form and ability to move weight.
How much weight can a Rogue rack hold?
This is a common question for people looking to get their first squat rack. They want to make sure that no matter how much weight they lift, or how much they are squatting, that their rack will be there for them.
Rogue squat racks are at the top of the mountain when it comes to sturdiness.
They are made with 11-gauge steel, which is borderline bomb-proof.
Rogue's racks can handle a ton of weight, and with very rare exceptions (i.e. Superman), they will be able to handle 1,000 to 2,000 pounds.
Even the squat stands can handle a stunning amount of weight, with the Rogue S-1 Squat Stand 2.0 being rated for up to 1,000lbs.
How big are Rogue squat racks?
Power racks and cages take up a lot of room. When you are setting out on your journey to building the ultimate home gym it's key to be realistic about how much space you are working with.
A folding squat rack is ideal for particularly small spaces, the full-size Rogue power rack is best for larger spaces, and so on.
When measuring out the space available for your rack, don't forget to add extra space above and to the sides of the rack so that you can load plates and assemble the rack properly.
At the end of the day, choosing the right Rogue squat rack requires being honest with yourself about how much space you have, the height of the ceiling, future equipment purchases, and so on.
Where is the best place to buy Rogue squat racks?
In the years that I have been purchasing Rogue equipment, including their hip thrust pad, weightlifting belt, and from Rogue's extensive line of barbells, I've never been disappointed in their customer service or product durability.
While you can find some decent second-hand racks on Facebook marketplace from time to time, still the best place to buy Rogue stuff is through their website, which you can access right here.