This list of the best power racks offers the best value and will take your home workouts to the next level. Let's do this.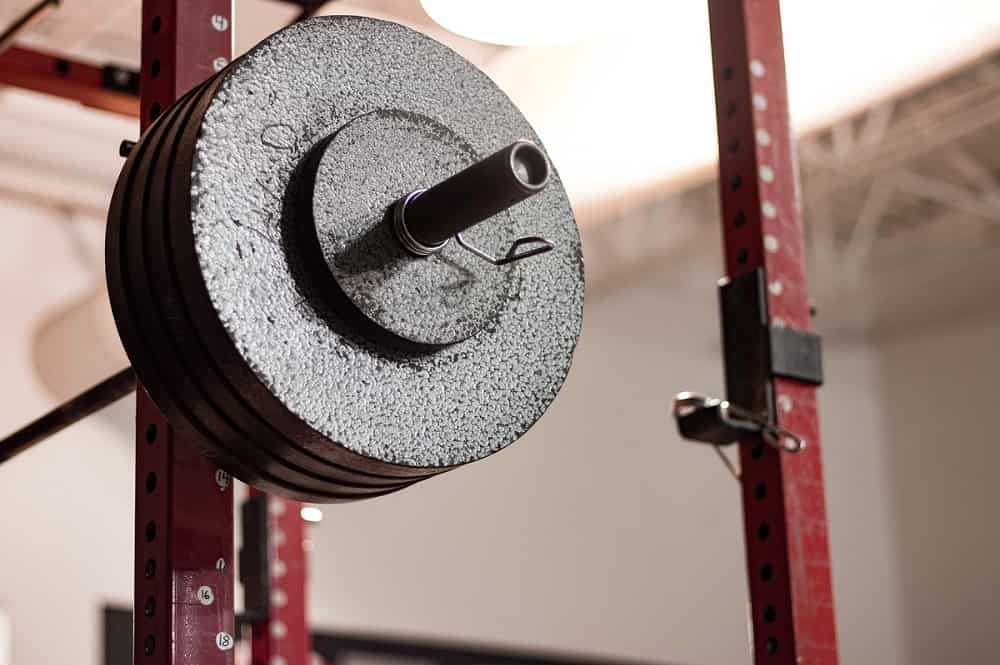 I've dreamed about having a complete home gym since the day I started lifting weights as a teenager.
Finally, as an adult, it's a reality.
The commute to the gym consists of a short walk to the garage. There is never a line-up for machines. And no scheduled hours or limitations on when I can train.
But the thing holding back most gymgoers and athletes from working out at home is the equipment. Gyms have the best of everything, from treadmills to pull-up bars to squat racks.
This isn't the case anymore.
Power racks, the centerpiece of the home-based lifter's exercise equipment, have become highly affordable over the past several years. No more line-ups, no more waiting for the gym to open, and no having to shell out a small fortune to get a gym-quality workout in the comfort of your own home.
Power racks (often referred to as power cages or squat cages) come in a wide variety of price and function. You can get a no-frills version cage with a couple of J-hooks for the squat rack and a straight pull-up bar all the way up to a deluxe, bells-and-whistles-included version that has a dip station, pull up bar, U-hooks for bodyweight straps, and more. (It might even do your dishes if you ask nicely.)
Think about the features that you want from your power rack, and then when you are ready to start searching for the right power rack for you and your workout goals, peep my list of the best home power racks.
Rogue R-3 Power Rack
⭐⭐⭐⭐⭐ Best overall power rack for home and garage gyms
Rogue makes the best fitness equipment on the planet that both commerical and home gyms can use. I don't really know how else to put it. There are a lot of reasons for this, but the main ones are that athletes truly put Rogue equipment through their paces, Rogue's gear looks great, and in terms of cost, Rogue's stuff isn't out of the reach of casual gym enthusiasts.
The Rogue R-3 is the most affordable of their range of power racks, with the no-frills version costing around $750, putting in the same price range as many of the cheap knock-off power racks that proliferate Amazon.
There are a ton of features that make this power rack the best on the market, but here are the ones that stand out the most for home and garage gym users:
🔑 Available in two different heights. The standard version of the Rogue R-3 is 7'6″ when fully assembled. If that's too tall for you (aka you have a low ceiling workout space like a basement), they offer a 7′ version that is appropriately called the "Shorty."
🔑 Compact size. The footprint of the rack is surprisingly small, which is GREAT for home-based lifters who are short on space in their workout area. The footprint is 53″ across and 34″ deep. The inside of the cage is just two feet deep inside the columns.
🔑 Tools and accessories. At the top of the cage is both a fat and skinny bar for pull-ups (you can upgrade to a multi-grip bar during the ordering process–costs an additional $150, tho). Two J-hooks are included for easy barbell racking. Two safety pipes are there to keep the barbell and weights from hitting the floor. And pegs for resistance bands are at the base of the rack.
🔑 The price is killer. Some people have tons of money to burn on home gym equipment. The rest of us don't. With the $750 price tag (check Rogue's website for most recent pricing and availability), you get the best of both worlds. A world-class piece of equipment that could just as easily be found in an NCAA Division I weight room as your garage. Rogue also has a wide range of attachments you can add separately, including a dip station, vertical bar hanger, and much more.
There is only one drawback to this power rack–Rogue is very adamant that you secure them to the floor with bolts (Rogue offers a concrete anchor kit for $14 during the customization of the rack–why not just include it to begin with?).
If you can handle that, you've got the best power rack for the money and durability with Rogue's R-3.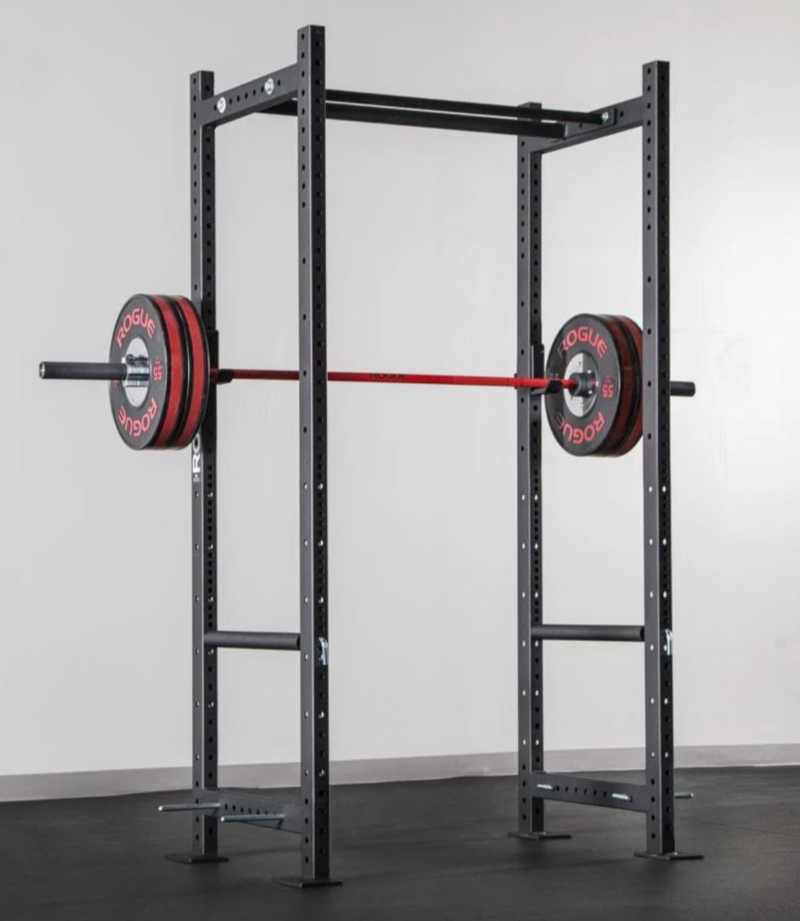 Rogue R-6 Power Rack
⭐ Best space-is-no-option power rack for home gyms
This thing is an absolute unit. I'm not even sure I would call it a power rack with all of the bells and whistles that come with it.
The main feature that separates the R-6 from other Rogue racks is the added space for weight storage. The extra thirty inches or so on the rack acts as a place to store all of your cast-iron weight plates and bumper plates. Additionally, the back of the rack has six pegs with which you can hang resistance bands and/or weightlifting chains.
The width of the cage is the same as the R-3, but is over twice as long, with a total length of 80". Multi-grip bar, plus both fat and skinny bars at the top of the cage.
Concrete anchors sold separately for $14 (you can pick them up during the ordering process).
Cost-wise, this rack, which is better than most racks I've seen in commercial gyms, is surprisingly affordable and the no-frills version costing just $1,595 (this doesn't include shipping—check Rogue's website for current pricing and availability).
For lifters who have a lot of storage requirements, want the usual Rogue heavy-duty durability and quality from their power rack, and have a space for the longer length, the R-6 is a killer.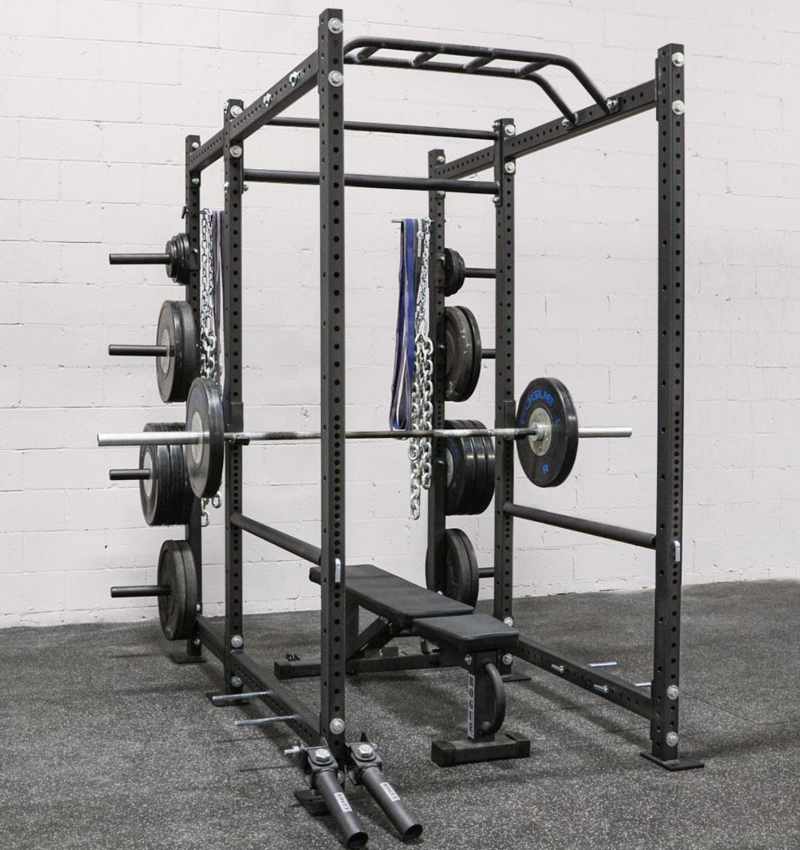 Sunny Health Power Rack
The Sunny Health Power Cage offers all of the features you would expect from a full-featured rack you would see in the gym with the affordability we all want from our home gym equipment.
Let's kick off with the basics—the sturdy J-hooks, thick safety bar for worry-free spotting (which can be easily adjusted for more or less height), and a max capacity of 1000-pounds.
The pull-up bar is exactly the kind I look for with an excellent power rack, accommodating every grip variety you can think of, from narrow grip chins, wide-grip pulls, hammer chins, and so on.
An assortment of bars and pegs surround the rack. Three pegs on each side of the base can be used for lashing up resistance bands (for banded squats), and two weight plate holders at the back of the rack can be used for storage and work equally as well to "weigh down" the rack for extra stability.
The Sunny Health Power Rack also comes down with a variety of extra add-ons which can be purchased separately, including an adjustable weight bench and lat pull-down attachment.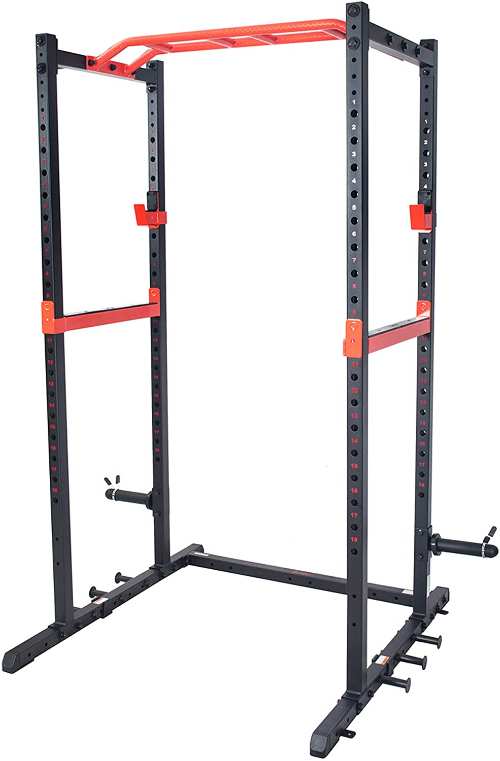 Fitness Reality 810XT Super Max Power Cage
The Fitness Reality 810XT Super Max Power Cage is one of the cheapest ways to get the full cage experience in your home gym. Exceptionally well-reviewed on Amazon, with thousands of five-star reviews (read them here), the power cage gives you the foundation for building an awesome garage or home gym.
The cage, like most, has a pull-up bar attachment at the top for chins, pulls, and hammer grip pull-ups. Two safety bars, easily adjusted for height, make sure that you can lift safely within the cage. And two chrome lock-on hooks keep the bar secure between rounds and workouts.
Fitness Reality rates this cage as having an 800-pound capacity. Although there are no weight plate holders (the cage can be ordered with add-ons including a bench and/or lat pull down, but no weight plate pegs, unfortunately), two steel bars along the back of the cage provide additional stability while you are lifting.
Footprint of the cage is 50.5 by 46.5", and fully assembled the unit is 83.5", making it perfect for most garages or covered outdoor spaces.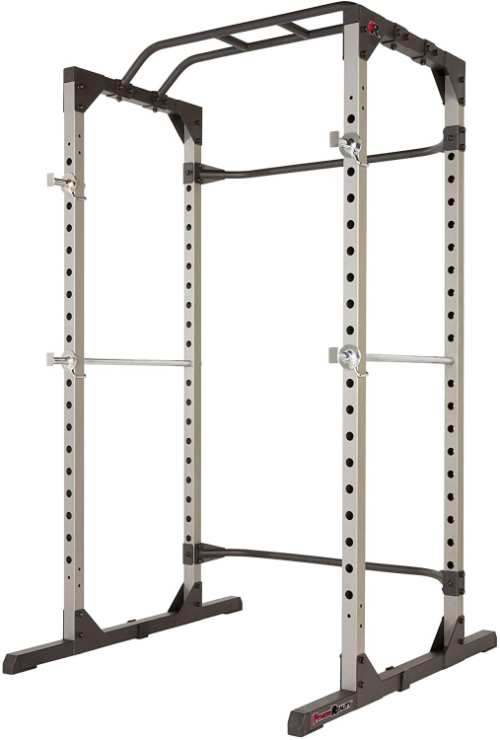 AMGYM Power Cage
The AMGYM is a good-looking power cage that nails the essentials of what I consider for an excellent power rack. The cage is surprisingly easy to assemble (I was able to put together a similar model by myself, even after having a couple of beers) and is made of super durable 2×2-inch tubular steel tubes.
Two steel safety bars slide in to provide a spot in the cage, a two pairs of J-hooks (the second one basically looks like shortened safety arms) give you plenty of options for setting down your barbell or hanging fitness equipment like your jump rope or resistance bands.
I'm a big fan of doing pull-ups, and the AMGYM Power Cage has a pull-up bar that gives you the option of every grip imaginable for pull-ups. The 1200-lb limit on the cage means I can also load up my dip belt with a couple weight plates and do weighted pull-ups.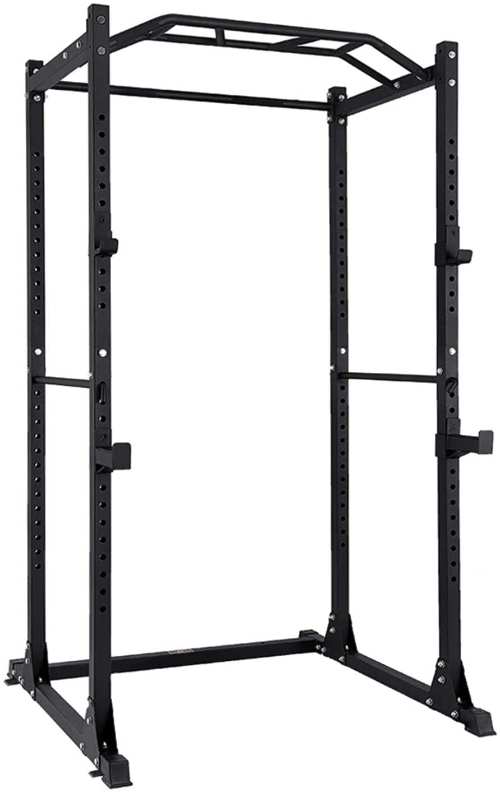 Fitness Reality X-Class Olympic Power Cage
The Fitness Reality X-Class Power Care is basically a commercial power rack repackaged and sold for home-based workouts. Fitness Reality designates it as "light commercial", so you know this think is going to do work in the garage.
Let's start off with the big feature of this sturdier build: a weight capacity of up to 1500-pounds, making it the highest load-bearing cage in my round-up. A massive U-bracket at the back of the cage provides extra stability, and the extra long footprint means no rocking, sliding or skidding under heavy weight.
Two thick safety bars give you a worry-free spot while squatting. A pair of J-hooks and safety bars keep the barbells in place. The main safety bars have a dip station attachment, and there is a lat pull-down attachment available.
I was a little disappointed with the pull-up bar. As you have probably noticed by now, I like me my pull-ups (especially hammer grip), and the X-Class (no relation to the superheroes… as far as I know) has a bar suitable only for pulls and chins. But if that's not a concern, no worries. (Their free-standing pull up bar, however, is pretty awesome.)
You would think that all of the features that come with this power cage would result in a hefty price tag, but the X-Class is priced in the same ballpark as the AMGYM and other no-frills cages.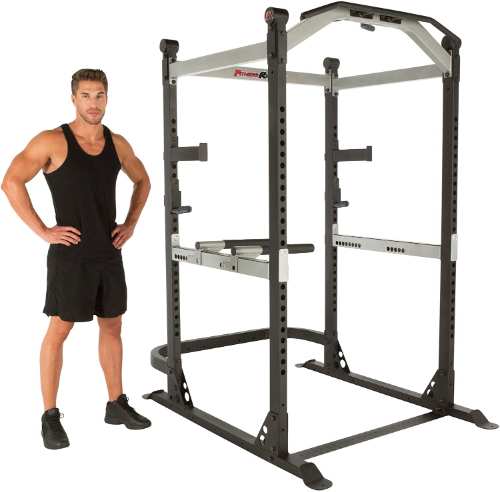 Didn't Find the Perfect Squat Rack for Your Home Gym?
We've reviewed countless squats racks and stands. Here are more of them.
Best Half Squat Racks. Half racks are a great way to get almost all of the benefits of a power cage with a smaller price tag and footprint.
Best Squat Stands. For the minimalist and experienced lifter, squat stands provide the bare essentials—a stand specifically for holding the barbell and nothing else.