One of the best features of a new squat rack is Westside hole spacing. Here's a detailed dive into what Westside hole spacing is, where it started, the benefits, and which squat racks have it.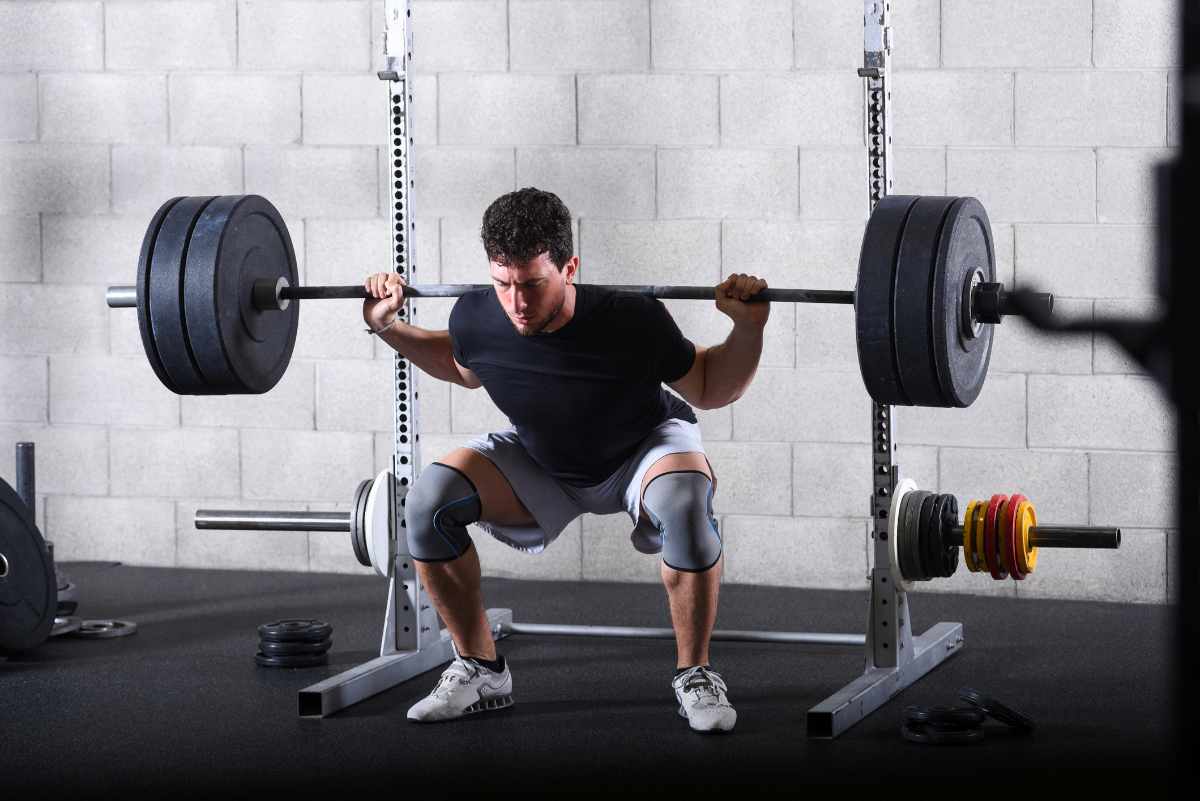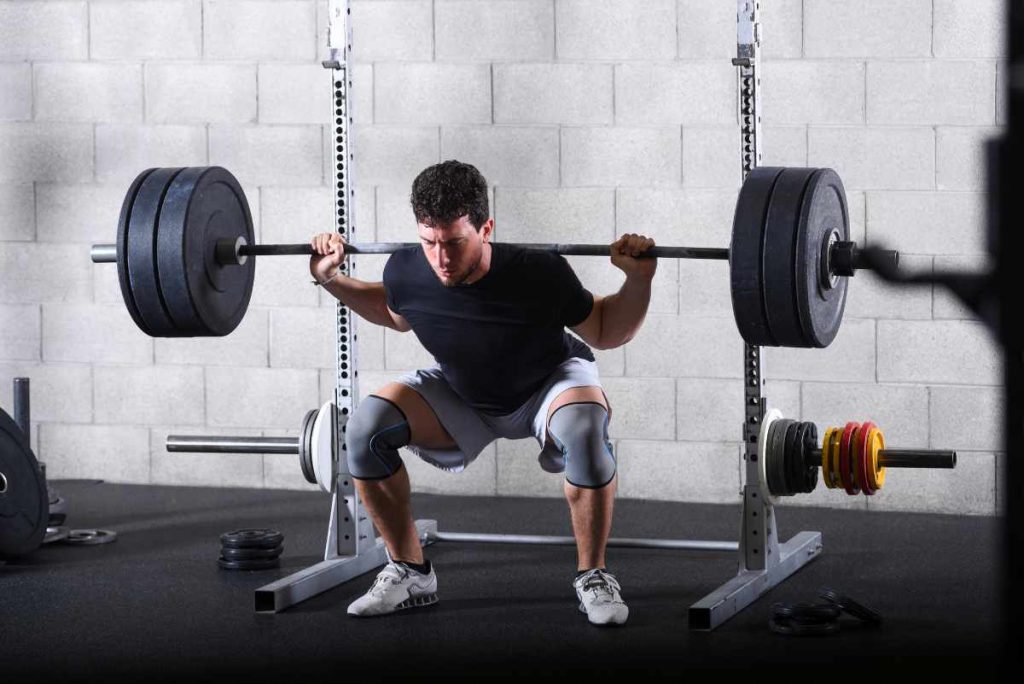 If you've never heard of Westside hole spacing, you're not alone.
Most people who walk into the gym are just glad to use the equipment provided without paying too much attention to the minor details or differences.
But if you're stocking up your own home gym (or assembling a commercial gym), it's small facts and features like this that can help you to get the most out of the equipment you're buying.
Below, we're going to take a deep dive into what Westside spacing is, what types of power and squat rack models you'll find it on, and what the benefits of this specific hole spacing type are.
By the end of this post, you'll know everything there is to know about this crucial design element that can be game-changing for your training sessions.
Let's jump right in.
Westside Hole Spacing – What Is It?
When we're talking about "hole spacing" in relation to gym equipment—and, specifically, mentioning Westside spacing—you need to know that it refers to power racks and squat racks.
Few bench presses will feature Westside spacing, but it's largely restricted to power and squat racks.
After all, it's on these racks that the hole spacing will make the most difference.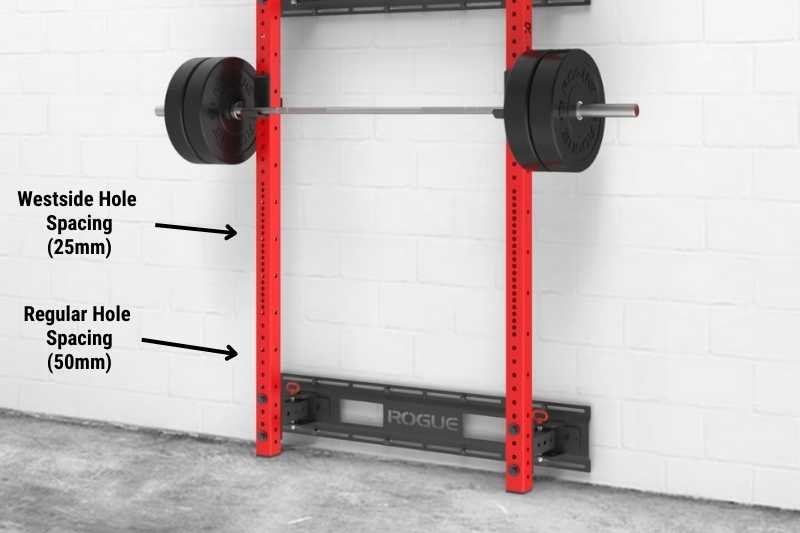 "Standard" hole spacing on your average power rack is roughly 2 inches (or 50 mm) apart. The holes placed so far apart so you have multiple levels to connect the power rack attachments at varying heights—from above your head down to ankle or shin level.
However, Westside spacing (which is really only found on a handful of the best power racks by certain brands, as you'll see below) features holes that are spaced 1 inch (or 25 mm) apart.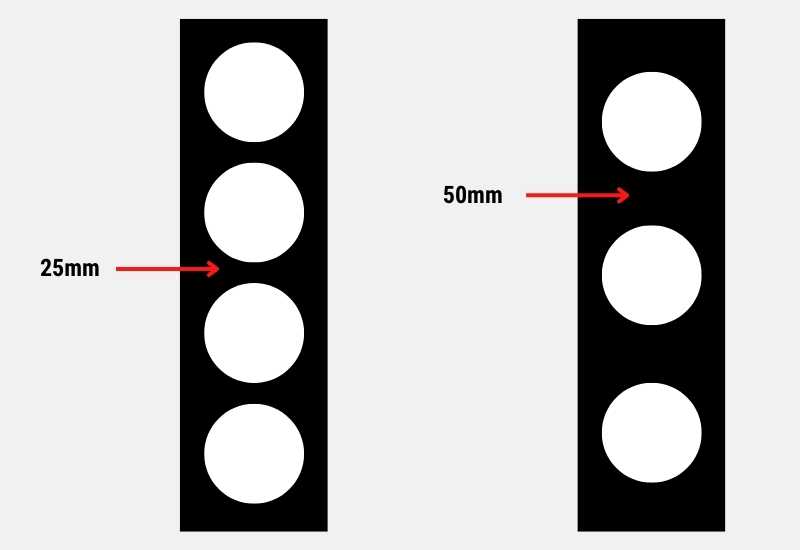 It may not sound like a big deal, but as you'll see in the next section where we talk about the benefits of Westside hole spacing, it can actually make a surprising difference in your performance.
But first, it's worth giving credit to the place where Westside hole spacing was invented: Westside Barbell Gym in Columbus, Ohio.
Run by world-renowned weightlifter and coach Louie Simmons, Westside Barbell Gym is known to produce a lot of leading athletes—who, among them have collected more than 140 world records.
It was in Westside Barbell Gym that the Westside hole spacing was first introduced. The power racks were custom-made on Coach Simmons' order, featuring the new holes spaced 1 inch apart rather than 2 inches.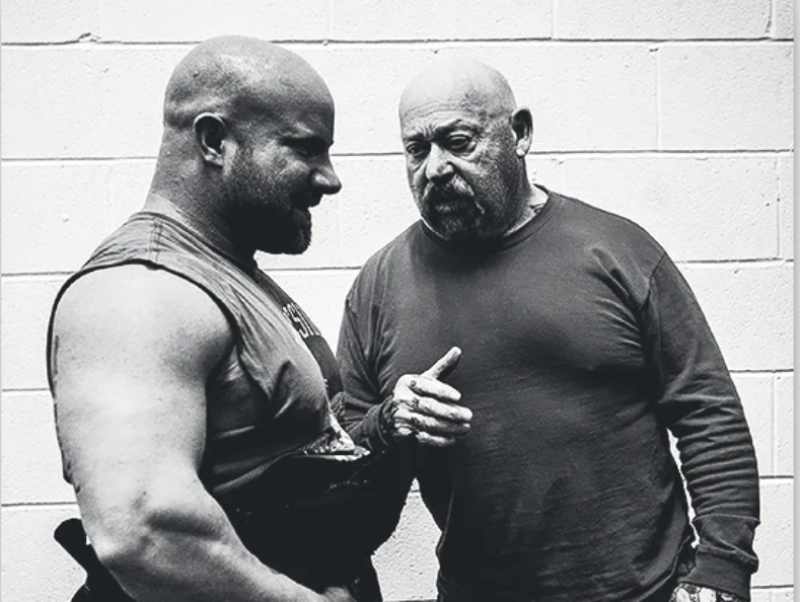 It's safe to say that the benefits of Westside spacing has led to the significant performance increases that gave the trainees of Westside Barbell Gym such an edge in their training—and, ultimately, their attempts to set (and hold) world records.
What are the Benefits of Westside Hole Spacing?
Time to talk the nitty-gritty details!
Why does Westside spacing matter? Why would having holes spaced 1 inch apart rather than 2 inches lead to any kind of improvement in your weightlifting?
? More precise safety bar placement
There are a lot of accessories you can place on your power rack or squat rack to cradle your weight when it's not in use: safeties, spotter arms, J-hooks, and so many more.
You've also got other power rack accessories—from dip bars to lever arms to landmine attachments—that let you customize your power rack and make it more versatile.
With Westside spacing, you have more holes to choose from, which gives you more precise placing for the J-cups, safety straps or safety bars. You'll have greater control over your starting and end point, where you rack/lift the weight.
For those who are training for peak performance, even minute changes can make significant differences.
? Greater control over your lifts
To illustrate how Westside spacing can improve your lifts by offering you more control and precise placement, let's look at a classic: bench presses.
When you're working with the standard 2-inch holes, you literally have to push an extra two inches to get the barbell high enough at the end of the set to rack the weight.
No problem if you're lifting light, but when you start lifting heavy and training to failure, those last two inches can feel like two miles if your muscles are utterly depleted.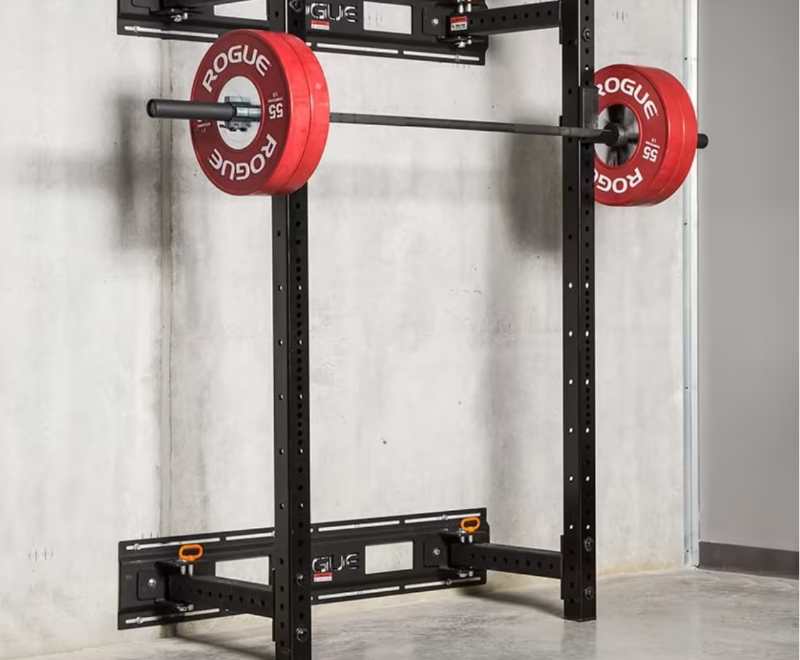 But with the Westside hole spacing, you only have to lift an extra 1 inch to get the barbell back up to racking height. That's half the distance, which means half the time spent struggling against the bar and half the risk of injury.
Because you have more control over the exact placement of the rack, you will find it's easier to rack the weight once you're at the end of your set.
The same is true not just for bench presses, but deadlifts, squats, lunges, and literally every other exercise you do with the squat rack or power rack.
Placing the safety just below the highest point in your movement can make it that little bit easier to re-rack the weight at the end of your last set when you're hitting muscle failure.
? Facilitates incremental growth  
It's usually pretty easy to see significant gains early on in your weightlifting journey. After all, untrained muscles can quickly amass strength, power, and endurance, and you may see your weightlifting capacity increase hugely in the first two or three years of training.
But as you become a more experienced or expert-level lifter, you start to hit plateaus more often, and your gains may start to slow down as you approach the "peak" of your physical performance.
When this happens, you see smaller amounts of growth, and even the tiniest tweak to your training can be the difference between stagnation and improvement.
With the Westside hole spacing, you've got that tiny tweak that can make a huge difference. Because you have the option of the precision placement, you can push yourself to a greater 1-Rep Max or even strive for a new PR confident that you've got the safety rack at the ready if you start to struggle.
It's all the more important if you're trying for real gains without a spotter to train with you.
? Maintain proper form
You know how easy it is to compromise your form on those last few reps when you're approaching muscle failure and running out of steam.
Maybe you'll engage the shoulders a bit more on your bench press, or allow your back to round slightly when squatting to try and help your legs.
That can be a BIG mistake! Incorrect form will not only compromise your training, but also lead to injury risk.
With the Westside hole spacing, you can lower the rack just enough that you don't need to compromise your form to re-rack the weight. It's 1 inch lower than your usual starting point, so if you're struggling, you can rack it without having to return to full extension.
It's much safer for those training alone and can help you to avoid compromising your form for the sake of finishing that one last rep that feels so impossible.
It's important to note that Westside hole spacing does have its downsides, too.
These include:
Fewer attachment options.
Because of the hole placement (so close together), there are fewer attachments compatible with racks that feature Westside hole spacing. Typically, the attachments will feature a thinner saber or pin-and-pipe system.
These are no less durable than the standard safety rack attachments, but are simply harder to find (and may cost more due to their specialized nature).
Harder for quick adjustments.
If you want to quickly switch the safety bar between holes to adjust the level, it can be a lot more difficult because you have twice the number of holes to count.
See also: Squat Rack Spotter Pins vs. Safety Straps: Pros, Cons, and Which One is Best
You can solve this by marking your power rack—either using a sharpie or stickers—so you can see which hole is which at a glance.  
What Squat Racks Have Westside Hole Spacing?
There are a few brands that offer a variety of racks (power racks, squat cages, even a folding squat rack or two) featuring Westside hole spacing:
Rogue Fitness Power Racks
Rogue is affiliated with Westside Barbell Gym, so it's no surprise that they're the brand best-known for offering racks featuring Westside hole spacing.
They also offer a wide range of attachments compatible with Westside holes, so you can expand your squat rack or power rack to be a full gym solution.
Rogue Racks that have Westside hole spacing include:
REP Fitness
REP Fitness' PR-4000 power rack is one of their best-known racks that feature Westside hole spacing.
One cool feature about this rack is that you can custom-build it to make it exactly the way you want it, choosing the height, depth, adding a pull-up bar or not, and even selecting the J-cups you use for your weight training.
Iron Bull Strength
Iron Bull is a Canadian-based strength equipment company that produces a huge range of squat racks that feature Westside hole spacing, including squat stands and full-size cages.
Bells of Steel
Bells of Steel is another strength training company that has its origins in Canada (yes, they ship in the US, too!) that produces affordable squat racks that have Westside hole spacing.
Bells of Steel Light Commercial Power Rack 5.1
Bells of Steel Hydra Series Folding Power Rack
The Bottom Line
If you're looking for a top-of-the-line squat rack or power rack that will help you to make significant strides of improvement in your training sessions, I strongly recommend that you consider one with Westside hole spacing.
This more precise hole spacing lets you choose exactly how high to set the safety bar or J-cups, lets you have more control over your lifts, encourages better form, and, ultimately, will help you to see real growth even as you advance through your weightlifting career.
The added versatility can make a huge difference when you're struggling to complete that one last rep and hit muscle fatigue.
You're less likely to be injured when you've got more control over the precise placement of the rack, so you can train harder and more safely even without a spotter.
---
More Squat Rack Guides and Articles
How Much Space Do You Need for a Power Rack? Wondering how much space you should set aside for a power rack? Here are the key things to focus on to get it right the first time.
How Much is a Squat Rack? (Cost of Every Kind of Rack). Squat racks are one of the best investments you can make for your lifting goals. Here's a look at the cost of each type of squat rack, some of the hidden costs of buying a rack, and why they can be so expensive.
7 Types of Squat Racks for Your Home Gym. Getting ready to build your own ultimate home gym? Welp, that starts with choosing the right squat rack for your workout goals. Here is a breakdown of seven types of squat racks.
Do You Have to Bolt Down a Squat Rack? (Plus How to Do It and Alternatives for Anchoring Your Rack). Bolting down a squat rack is a guaranteed way to make lifting safer. Here's why you should do it, how to do it, and some alternatives for anchoring your rack if you don't want to bolt it down