A home gym can be one of the best investments you make for your training goals. Here is a detailed look at the benefits and the cons of building out a home gym.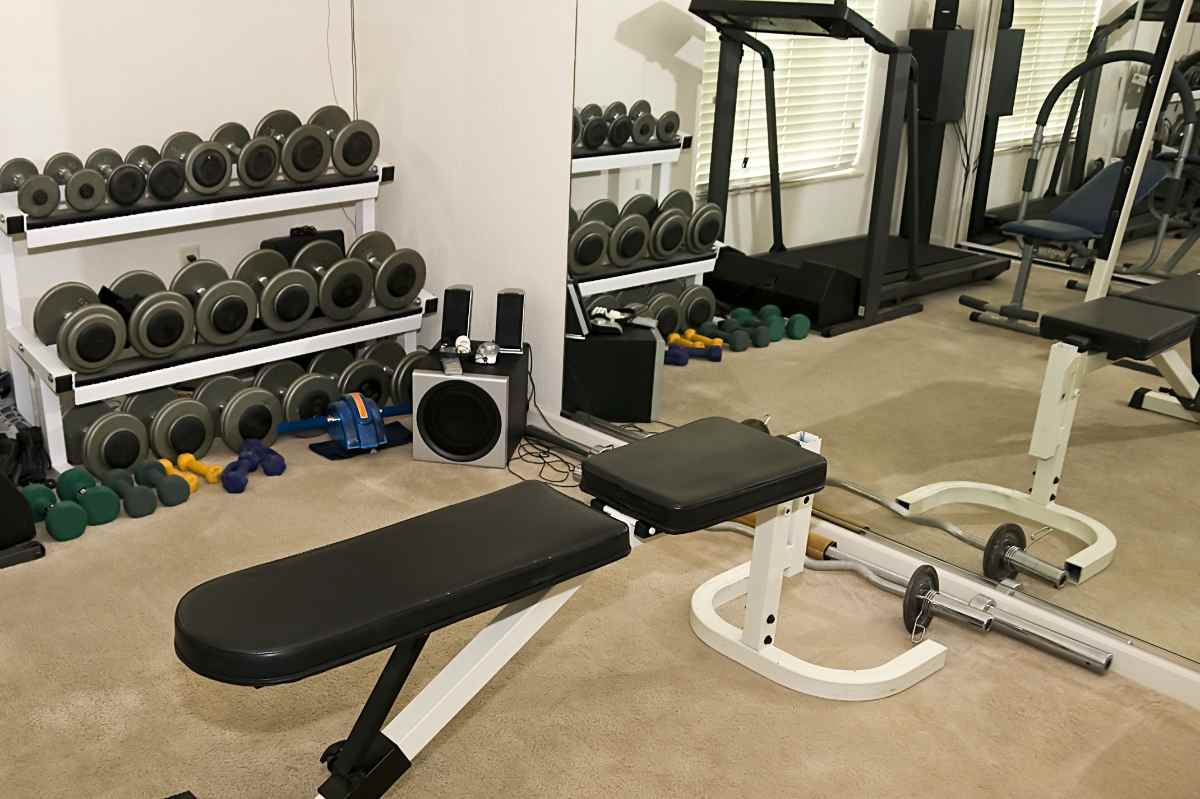 At some point, we have all fantasized about building an epic home gym.
Maybe it's because we are fed up with competing with Gym Bro's for a power rack. Maybe it's because we are tired after a long day of work and don't want to drive to the gym. Or we simply want control of the TV at the gym so we can watch the game of our choosing.
Enter the home gym.
Working out at home became a whole lot more popular in 2020 by necessity when the pandemic shut down gyms (many of them permanently), pushing countless lifters and gymgoers to scour the internet for strength training equipment.
Fortunately, with the big increase in demand (eventually) came a massive influx of supply, with manufacturers making all kinds of equipment, from squat racks to adjustable dumbbells for nearly every type of lifter and every kind of budget.
While home gym equipment used to be almost prohibitively expensive, nowadays you can outfit a total home gym for relatively cheap.
But should you build a home gym?
In this article we will look at the obvious benefits of doing so, while also touching on the disadvantages that come with cancelling your gym membership and lifting purely at home.
Let's get to it.
Stuck with Your Training in the Gym?
Join 12,000 lifters and athletes and sign up for FREE access to my 5-day email course on how to conquer the most common gym mistakes.
From goal setting to lifting technique, you will learn how to overcome the mistakes in the gym that are holding you back from getting bigger and stronger.
Unsubscribe anytime. No spam.
The Benefits of Having a Home Gym
While the list of reasons that building a home gym seem obvious, there are some super sneaky reasons you should jump on the home gym bandwagon that might not be so obvious.
? A home gym helps you save a ton of time.
Having your home gym down the hallway or on the other side of the living room means no time wasted driving to the gym.
If you have a 90min workout planned for the day, it's going to be a 90min workout plus the handful of seconds it takes to put your shorts on and pour a double-scoop serving of pre-workout.
Driving to the gym, getting through traffic, finding a parking spot (plus paying for parking at times), and then driving home afterwards sucks up a lot of time.
Combine that with the random convos you might find yourself getting dragged into at the gym with other lifters, and exercising at home is a much more efficient way to exercise.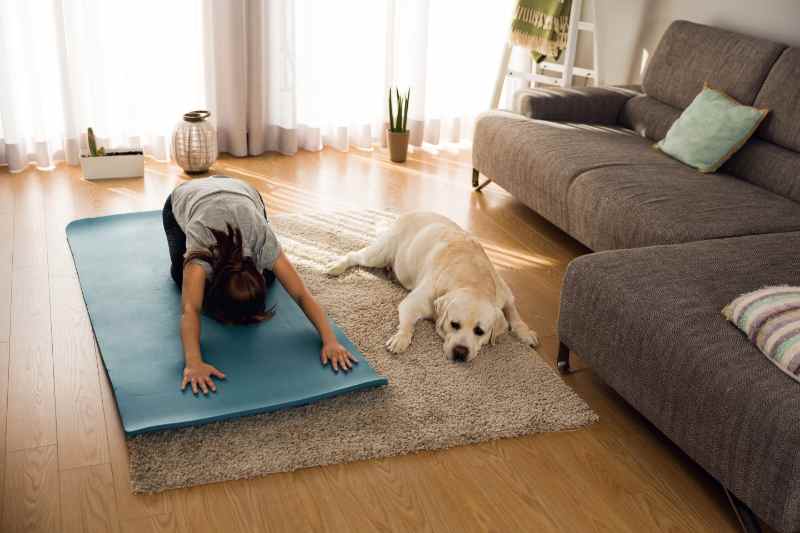 ? Home gyms are 24/7
Taking the commute time out of going to the gym is an obvious benefit, but so is the 24/7 access to your home gym.
Late night workouts, super early morning workouts, lifting on holidays—all possible with a home gym.
One of the things I appreciate most about having gym equipment at home is being able to do an impromptu workout at a time where my commercial gym would be closed.
The YMCA I used to workout at was always closed on holidays and closed early on the weekends.
As a night owl this kind of cramped my workout schedule.
Having a rack in the garage meant that I could do a workout at 10:16pm on a Sunday night or on New Years Day.
? Choose the equipment you want.
Although cost is an ever-present reality of buying strength training equipment, it's a benefit in the sense that it helps you really focus on getting the things you absolutely want.
If you only have a set amount of money to spend, you are going to stick to the equipment that you truly want and will use.
And because the ways you can customize the equipment is almost endless—a squat rack, for example, can be outfitted with a lat pulldown machine, pull-up bar, dip station, landmine attachment, and so on—you can build out a home gym that matches your specific training goals and equipment preferences.
The local gym might not have the equipment you want, or might simply be taken most of the time, so having a home gym gives you the opportunity to dial in on your dream training gear.
The Disadvantages of a Home Gym
All sunshine and rainbows so far.
But there are some not-so-awesome realities about having a home gym.
Most home gym equipment is prohibitively expensive
Gym equipment is expensive. May as well come right out and say it.
Whether you are picking out a pair of urethane dumbbells, an adjustable weight bench, bumper plates, or a Smith machine, the equipment ain't cheap.
While there are some more affordable options out there, for the most part, you are looking at investing some serious dough, especially if you want something that resembles a commercial-grade gym at home.
Space constraints.
As there is a budget ceiling for most of us when it comes to building out a home gym, there is also the footage issue to contend with.
Even people who are lucky enough to have generous space in their garage or a spare bedroom understand that footage is at a premium.
While there are some clever options for maximizing the real estate in your home–folding squat racks and compact home gyms are perfect examples–gym equipment takes up a lot of room.
As badass as it would be to have a workout space the size of an NCAA strength training facility, that's simply not the reality.
(That said, as mentioned before, this disadvantage can be twisted in your favor as space limitations force you to really focus on the things you want most.)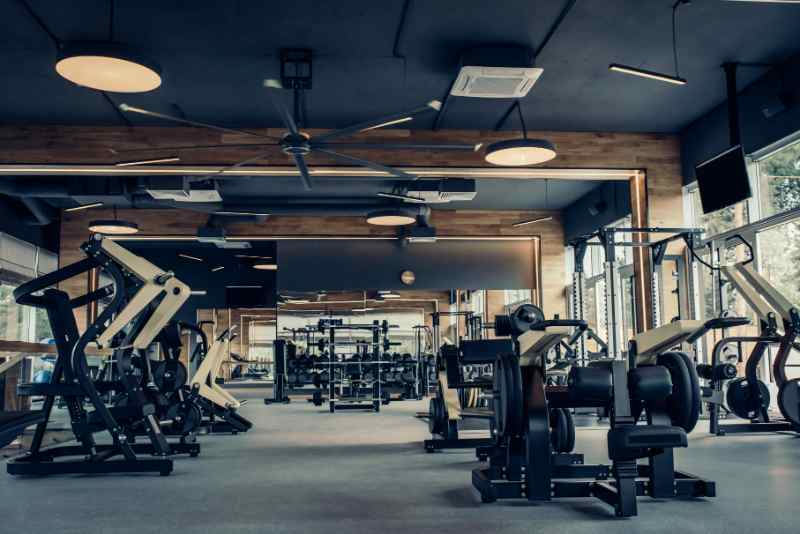 Distractions galore.
Working out at home means that home is right there.
And so are all the tasks and things that need to be done, whether it's taking out the cans to the recycling depot or getting the laundry going.
Being in close proximity to the household to-do list can be a serious distraction and cause the otherwise well-meaning lifter to justify abandoning a workout to do house maintenance stuff.
This was something I didn't expect having to struggle with, but it's worth mentioning that when there are countless distractions around—things that you can and should be doing—you'll need to double down on staying focused and seeing the workout through.
Benefits of Going to a Commercial Gym
Although commercial gyms have had a rough go of it in recent years, there is a reason people flocked back when they started reopening after mandates started lifting.
Here are some reasons to either keep that gym membership or consider firing it back up again:
? Increased focus.
Going to the gym means working out. Although I've built out a full home gym, and have had some epic workouts in my garage, nothing beats the focus that you get at the gym.
The peer pressure of not idling on a machine for hours can be an added motivator and helps keep you focused when lifting.
? Increased commitment.
Going to the gym is a commitment in itself—the commute, getting changed in the locker room, and walking out into the floor of the facility—helping push us to get a workout in.
We are there, after all. It would almost be rude not to workout!
For many, simply getting their butts to the gym is the hard part. Committing to the workout feels easier after we've walked through the doors of the gym.
? Social interaction.
The pandemic really reminded me how much we all need to be around other humans.
Isolation is unhealthy, and simply being around others who are chasing physical excellence can be not only motivating but also provides a measure of social interaction.
Something many of us could use more of in our increasingly isolated lives.
? More equipment.
Except for those of you have invested a serious amount of money into a home gym, the equipment you get at your local Big Box gym is going to be superior and greater in choice.
While I would probably never invest in a stairclimber for my own home gym, there are phases where I like to train with it for weeks at a time.
Same goes for other machines and equipment that wouldn't be a financial or functional choice for my home gym.
Few of us are going to invest in a hack squat machine or a leg press machine, but a commercial gym allows us to use them without having to plunk down $1,000s of buckeroos.
Plus, you don't have to worry as much about damaging the floor or equipment as their stuff is specifically chosen for high-volume and heavy-duty use.
Home Gym vs Commercial Gym: Why Not Both?
The reality is that for many lifters who built out a home gym during the pandemic, there is no letting go of that convenience.
Especially after the battle that was finding strength training equipment during the frenzied rush of 2020 and 2021.
But there is a case to be made for both, and ultimately, comes down to what you need to get motivated and have a killer workout.
If working out at home does it for you, get after it!
If working out at your local gym helps you get the most out of your workouts, double down.
And if you are able to find a way to use both to achieve your fitness and training goals, by all means.
At the end of the day, it's about being reasonable with what it takes for YOU to wake up, workout like a champion, and make progress towards your goals.
More Stuff Like This
6 Reasons You Should Get a Squat Rack for Your Home Gym. Thinking about investing in a squat rack? Here are six reasons you should strongly consider getting a squat rack for your home gym.
5 Best Home and Bodyweight Workout Books. Ready to take your bodyweight and home workouts to the next level? Here is a breakdown of the best home and bodyweight workouts for crushing your fitness goals.