Looking for the best adjustable dumbbells for taking your home workouts to the next level? Read on, because you've come to the right place.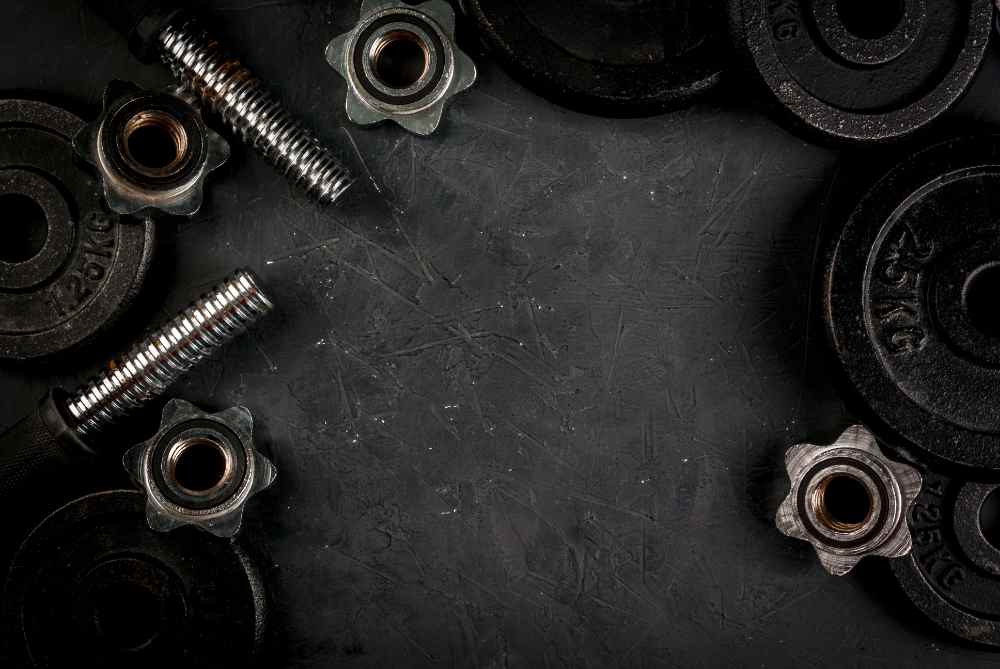 There are a ton of reasons to love working out at home.
You get to choose the music. The commute is short. And there's (almost) never a line-up for equipment.
But for most of us, there are some trade-offs, the two biggies of which are a shortage of space and not bankrupting ourselves building out the best home gym we can.
Adjustable dumbbells tackle both of these issues.
👍 Adjustable dumbbells save space. I'm a big fan of my rubber hex dumbbells, but a full set of them up a lot of floor and rack space. Adjustable dumbbells can include up to 15 different weights, clearing a ton of room for other fitness equipment.
👍 Cash savings. While regular dumbbells are smaller than a fully loaded adjustable DB, buying them in different weights takes a toll financially. While there is a bigger upfront investment, adjustable dumbbells save you cash in the long run.
👍 Versatile. Additionally, adjustable dumbbells are great because you can change weights quickly between sets and exercises, making them awesome for drop sets and circuit training.
There are a ton of different adjustable dumbbells on the market.
Whether you are a novice lifter, a hardcore lifter, or you have a specific budget in mind, there are a pair of adjustable dumbbells for you.
Read on, find the dumbbells that match your goals and budget, and take your home workouts to the next level.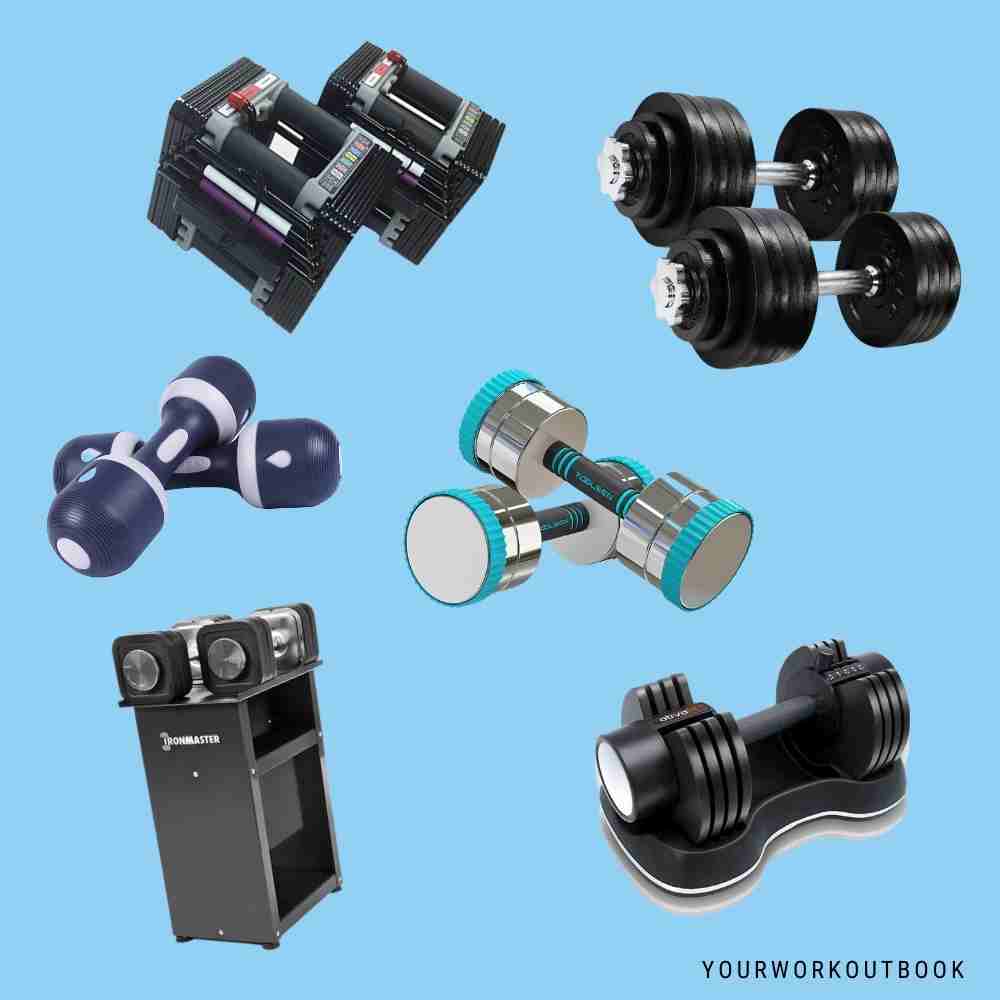 Powerblock Elite Series Adjustable Dumbbells
⭐ Best overall choice for adjustable dumbbells
Powerblocks take the old school, circular dumbbells and squares them up. Even though they look a little unwieldy at first, you get used to them fast.
Extremely durable, I've had my set for six years with zero issues or concern that they were going to not last (that said, I am relatively careful with them—i.e. no dropping them unnecessarily). Powerblocks have been in business for nearly three decades, and their made-in-USA construction has evolved, improving decade after decade.
While some lifters will be turned off by the odd look of these dumbbells, there really isn't anything out there that is as budget-friendly, durable, and versatile as the Powerblocks.
The Powerblock Elite also gets bonus points for adaptability. If you've progressed beyond using 50lbs per hand, there are Stage 2 and Stage 3 expansion kits that you can use to increase the weight of the DB's to 90 pounds.
Like most types of home fitness gear during the Covid era, Powerblocks are frequently sold out and go like hot cakes when they come back in stock (check Amazon for up-to-date availability and pricing).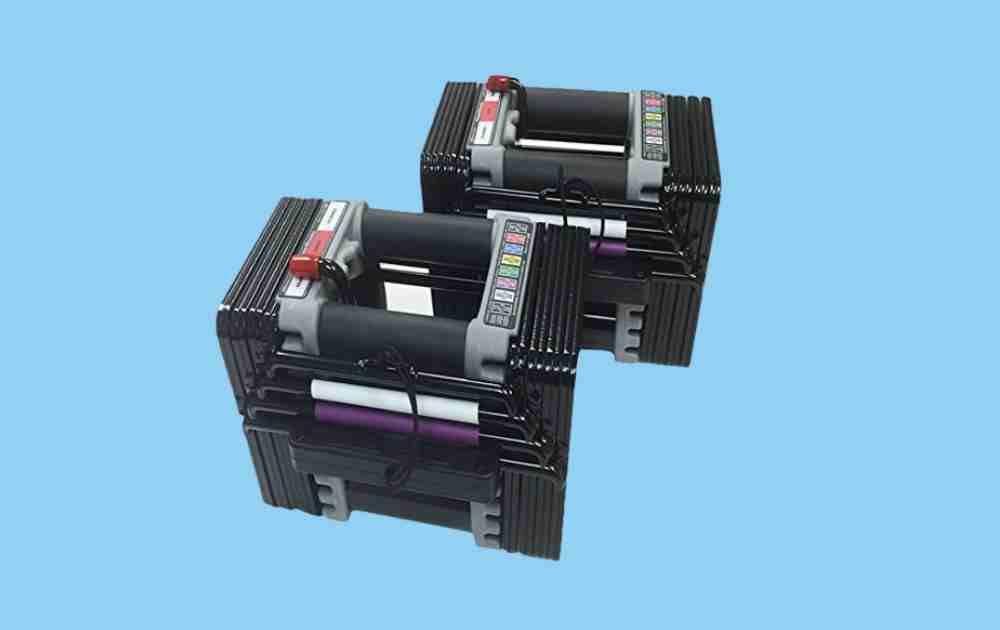 ATIVAFIT Adjustable Dumbbells
One of the big things I look for with dumbbells is a secure and comfortable grip. With a slick-looking design, the ATIVAFIT Adjustable Dumbbells have thick and comfortable handles that provide an excellent grip when working out.
The dumbbells can be adjusted in five pound increments, from as low as 5lbs up to 27.5 or 44lbs. Weight can he changed quickly while working out, making these weights not only awesome for saving space (and money) in building your gym, but you can rapidly change weights, making them perfect for drop sets and jumping between exercises.
Sold in singles, ATIVAFIT's dumbbells are available in either 27.5 or 44 pounds and vary in price, from $100-160 (check Amazon for current pricing and stock).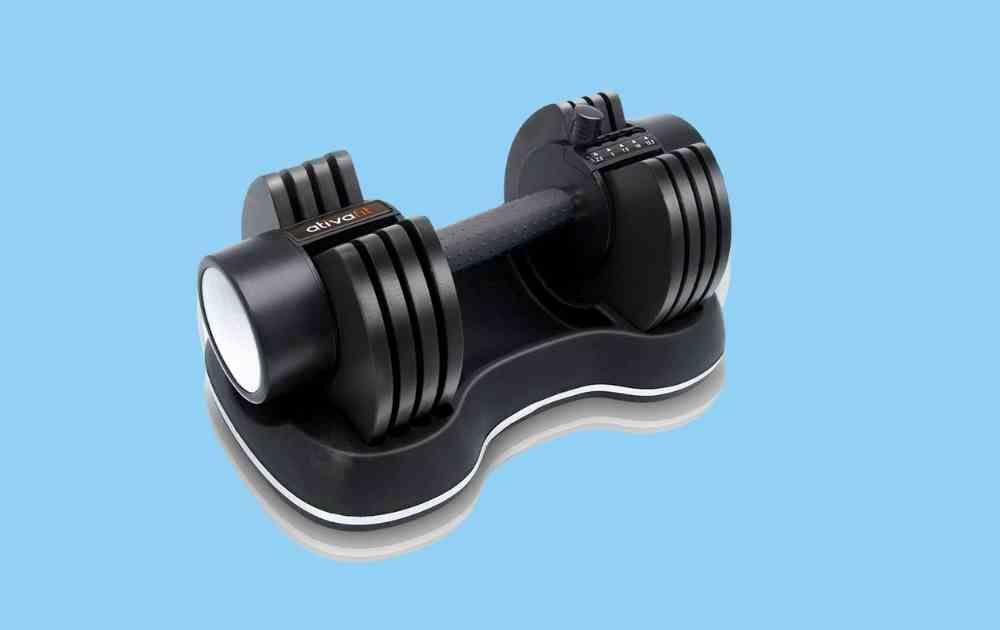 Nice C Adjustable Dumbbell Weights
Nice C isn't a name I see too often when it comes to home and garage equipment, so I was a little surprised to see how much I liked the simple design of their adjustable dumbbell weights.
Unlike your chrome, steel, or plastic dumbbells, these are constructed with a neoprene shell for a comfortable and slip-free grip. To change the weight of each dumbbell, screw off the end and add or remove the small weight bars.
The Nice C Adjustable Dumbbell weights give you some choices with weights (4.5 or 11lbs per dumbbell) and colors (with four different color combinations) and cost between $35 and $70 depending on the weight and color you choose (check Amazon for up-to-date pricing and stock availability).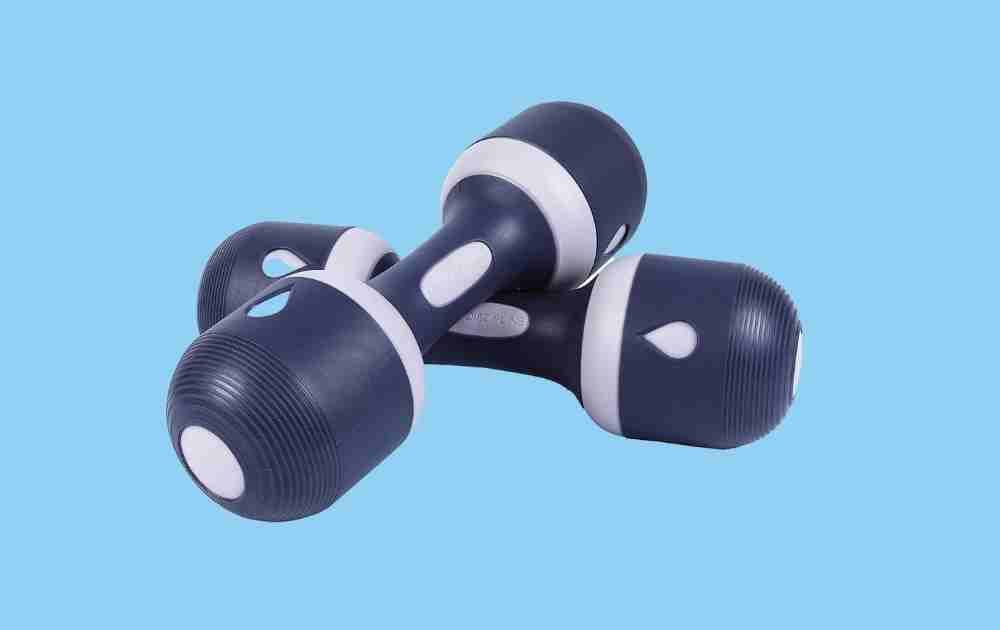 Koolsen Adjustable Dumbbells Weight Set
⭐ Best small adjustable dumbbells
My wife recently bought a Peloton and was looking at buying a set of dumbbells heavier than the 3lb dumbbells that Peloton ship it with. She ended up picking these up and has been utterly pumped about them.
She loves the soft handle which doesn't slip and slide out of her hand when she is on the bike (or doing curls next to the bike), and the heavy-duty steel construction is tough as hell. The little weight plates are easy to load and unload, with the outermost plate acting as the screw to keep the plates in place.
Weight options go from 6.8 pounds all the way up to 22 pounds, and at around $150 for the pair (check Amazon for current pricing and availability) you can't really go wrong with these dumbbells.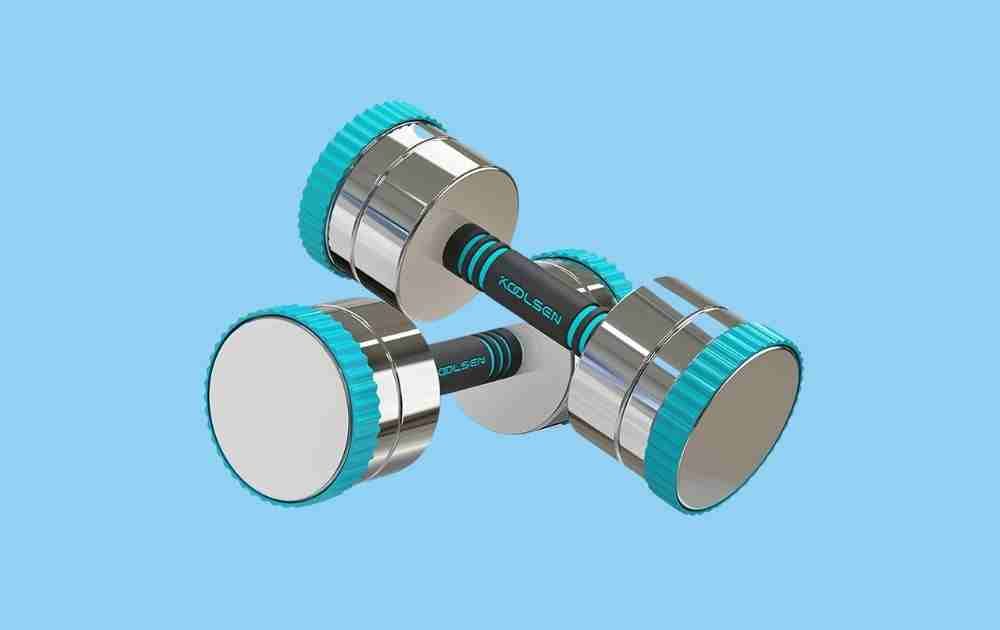 Yes4All Adjustable Dumbbells
⭐ Best "old school" loadable and adjustable dumbbells
Yes4All makes excellent low-cost home gym equipment.
I've tested and reviewed a bunch of their stuff, including their deadlift jack, weightlifting drop pads, and tricep ropes, and have consistently come away impressed with the durability of their gear (especially when you consider their stuff is generally significantly less expensive than the Big Names in the fitness gear space).
The Yes4All adjustable dumbbells are a no-frills and old-school set of cast-iron dumbbells. Each set comes with a chrome connector, weight plates, and a screw collar to tighten the plates on the bar. The handle is knurled for a superior grip, and Yes4All has a long list of weight plate sets, from 2x20lbs all the way up to 2x100lbs.
The only downside of this particular kind of dumbbell is that you manually have to load and unload the plates. A small nuisance, for sure, but something to keep in mind if you are doing lots of drop sets and are skipping from exercise to exercise and require differing levels of resistance.
Price-wise, Yes4All is one of the best low-cost options out there, with a 50lb set (2x25lbs) costing around $60 (check Amazon here for current pricing and stock).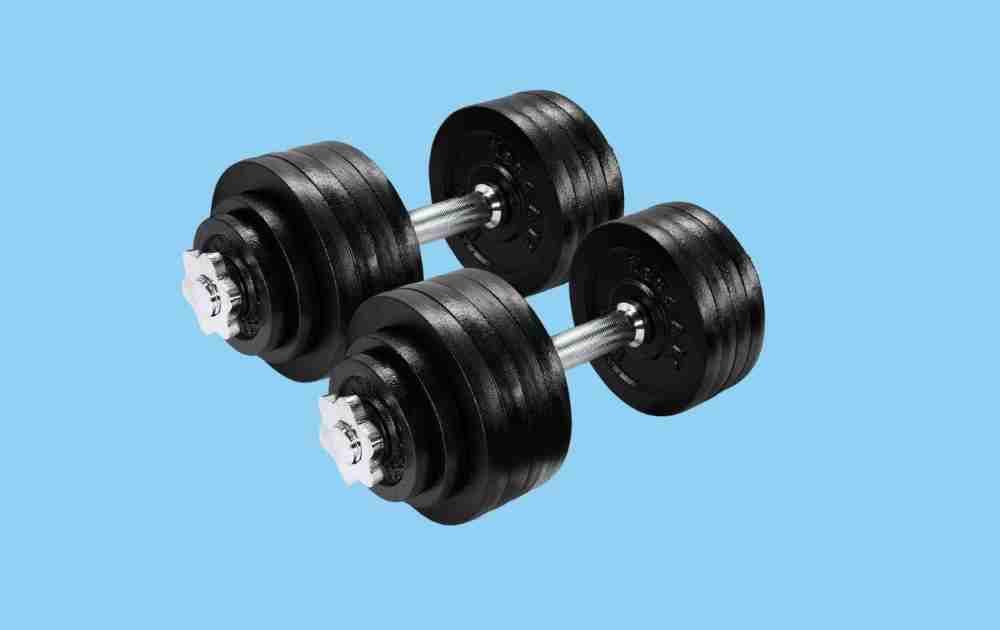 Ironmaster Quick-Lock Dumbbell Set
⭐ Best adjustable dumbbells for serious lifters
Most of the dumbbell sets we've looked at so far are great for novice and intermediate lifters.
Now we're going to get into the best of the best adjustable dumbbells, the set that are at the top of the list of every eager-beaver lifter—the Ironmaster Quick-Lock Dumbbells.
These things are steel monsters. Not too sure how else to put it. Once you look the plates onto the bar, there is no rattling, sliding, or moving of the weight. They sit tightly and in a way that makes them feel like they are a one-piece dumbbell.
Ironmaster sells add-on kits to crank up the weight to either 120lbs or 165lbs per dumbbell, easily the highest of any adjustable dumbbell on the market.
Thanks to the skyrocketing demand of quality home workout gear in recent years, Ironmaster is frequently sold out of these bad boys, with new batches coming in every 4-6 weeks. The only way you can get yourself a set is to register for a lottery on their website (seriously) and hope that you get chosen.
Once you get a set of these things though, you will never need another set of dumbbells.
Compact enough that they don't impede range of motion (like some of the thicker adjustable DB's on the market), Ironmaster dumbbells are practically bombproof and can be dropped without worrying that you are going to break a cheap plastic component.
The 75 pound set costs about $750 and includes weight plates for up to 75 pounds per dumbbell and a shelf to store the plates and add-on kits.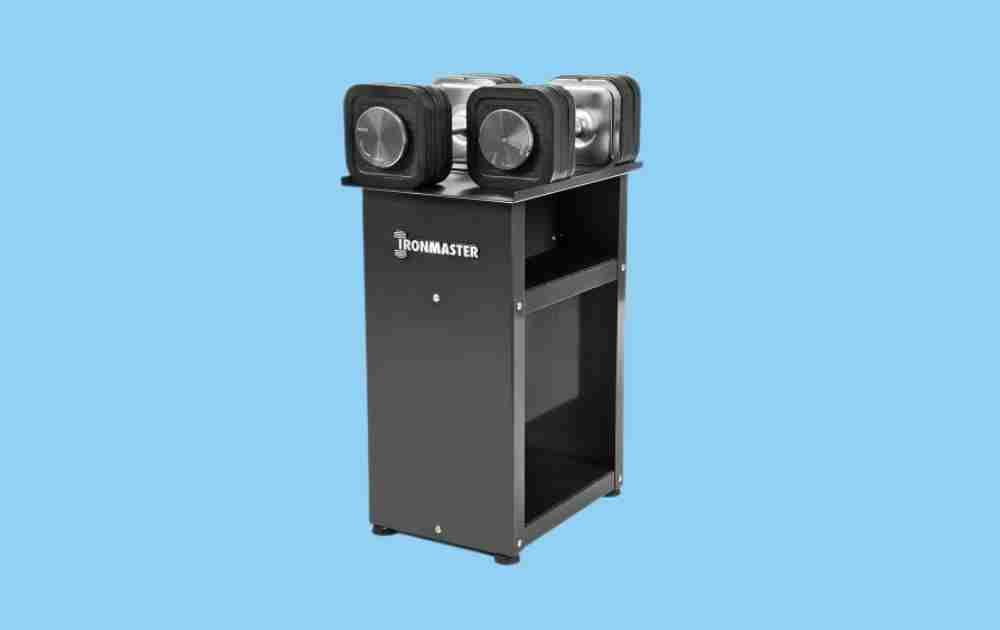 More Home Gym Reviews and Guides
Best Compact Home Gyms for Small Spaces. Buying a portable home gym has never been more cost-friendly. Here's a breakdown of the best compact home gyms on the market.