Ready to take leg day to the next level? Here's a look at the best hack squat machines for home and commercial gyms.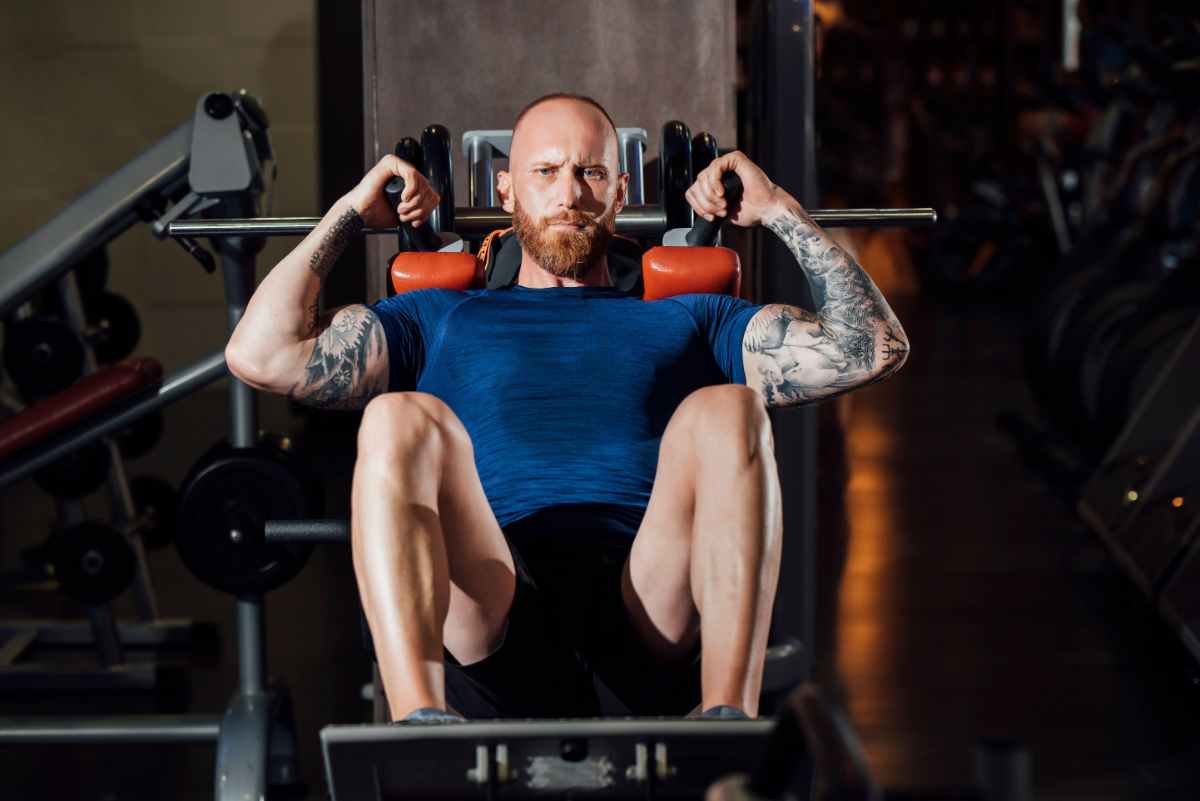 Looking to add a hack squat machine to your leg day arsenal?
Hack squats are a killer way to develop quad strength and push more weight than you would be able to do with barbell back squats.
In this guide, we are going to look at the top hack squat machines on the market right now.
Whether you are looking for a commercially rated hack squat machine or a combo leg press and hack squat machine, there is one on this list for you.
We'll look at key features of each, disadvantages, price points, where to buy, and much more.
Let's jump right in.
Rogue Fitness Reflex Hack Squat Machine
⭐ Best commercial grade hack squat machine
Most people know the name Rogue Fitness.
Originally huge with CrossFit (and still are), Rogue has become synonymous with making top tier strength training equipment–whether it's squat racks, powerlifting barbells, or flat weight benches–for both home and commercial users. Pro athletes love them, and garage gym nerds love them.
Stuck with Your Training in the Gym?
Join 12,000 lifters and athletes and sign up for FREE access to my 5-day email course on how to conquer the most common gym mistakes.
From goal setting to lifting technique, you will learn how to overcome the mistakes in the gym that are holding you back from getting bigger and stronger.
Unsubscribe anytime. No spam.
The Rogue Fitness Reflex Hack Squat Machine keeps the love story going.
The machine is loaded with features, including a HUGE foot deck for tons of options on foot placement.
Seven different safety spot positions.
A 45-degree mainframe and lots of positions where the stops can be added to account for taller athletes and lifters.
See also: 7 Benefits of Hack Squats (Plus Muscles Worked, Form, and More)
The machine is wide, and when you consider that it has six 15" weight sleeves, you realize it's not just a hack squat machine but a storage device for all of your weight plates, too.
The main drawbacks of this product are that it will take forever to get it (last time I checked, it shipped in 24-32 weeks) and it's on the pricier side of things, retailing for just under $5,000.
That said, if you are looking for a hack squat machine that would fit in at the training facility of your favorite pro sports team, this is it.
? Key features:
Top commercial-grade hack squat machine
Like all Rogue products, this hack squat machine is made in the USA
Very sturdy—weighs 600lbs without any plates
Footprint of 103" x 82" x 61"
Tons of weight plate storage
2" and 3" high-density foam pads
Extra wide foot plate for lots of foot placement options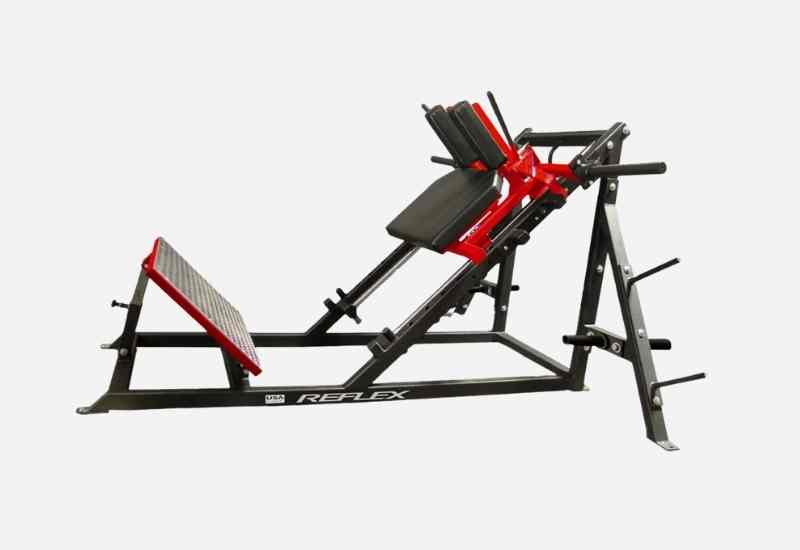 Force USA 45-Degree Hack Squat + Leg Press Machine Combo
⭐ Best hack squat machine for home gyms
Force USA has come on in a big way in the strength training equipment marketplace in recent years, buoyed by reasonable prices and commercial-grade construction.
Their Hack Squat and Leg Press Machine Combo is a perfect example of this.
It gives you the same functionality and toughness of pricier machines that you see in your local gym at a decent price ($2,999).
[The Force USA Hack Squat and Leg Press Machine Combo also featured in our guide to the best leg press machines on the market, which you can read here.]
The machine can be configured to do leg presses, forward thrusts, calf raises, and of course, hack squats.
Changing the machine over from leg press to hack squat is as simple as rotating the leg press foot placement downwards, moving the back pad, and you are in business.
Literally takes moments.
Things I really like about this machine include the simplicity of design (you get way more features packed into a smaller footprint compared to other machines on the market), band pegs for banded training, lots of plate storage, and five lockout positions to accommodate lifters of all heights.
This machine is perfect for those looking for a gym club hack squat machine at a home gym price.
? Key features:
Works with standard or Olympic weight plates
Easy to change from leg press to hack squat
Intelligent design that takes up less space than comparable machines on the market
Reasonably priced at $2,999
Pegs for banded resistance
Lots of plate storage
2" by 4" steel frame
22" by 26" foot plate
Footprint of 94" x 59" x 77"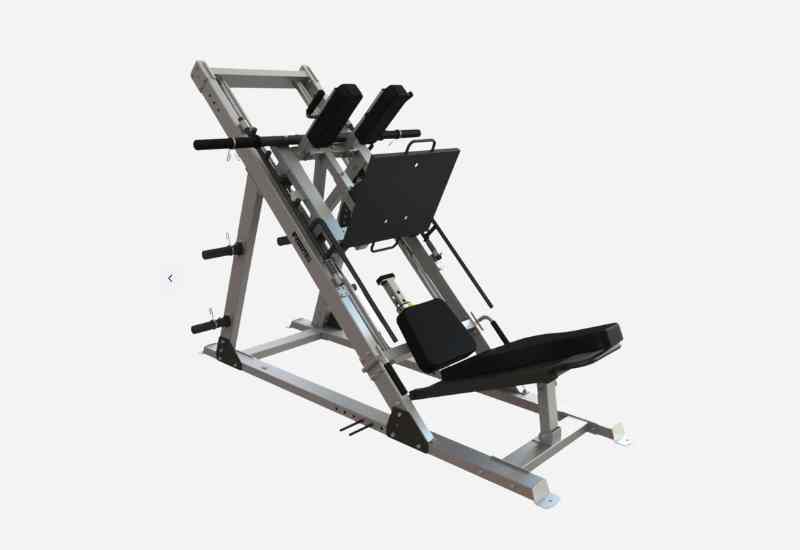 Body-Solid Hack Squat Machine with Leg Press
Body-Solid is one of my favorite makers of commercial-rated gym equipment that is also affordable enough for home gym users.
Their two-in-one hack squat machine with leg press is an excellent choice for home gyms. It has a thin profile, with weight plate storage cleverly placed under the sled, making it ideal for smaller workout spaces.
Switching between leg press and hack squat is simple—rotate the footplate down with a power arm, move the back pad, and you are in business.
Although it has a smaller profile, it can still carry its weight and more, with a maximum weight load capacity of 1,000lbs.
The only drawback is that the machine is frequently out of stock.
? Key features:
Most affordable hack squat machine on the market ($1,900)
Footprint of 83" x 34" x 56"
Load capacity of 1,000lbs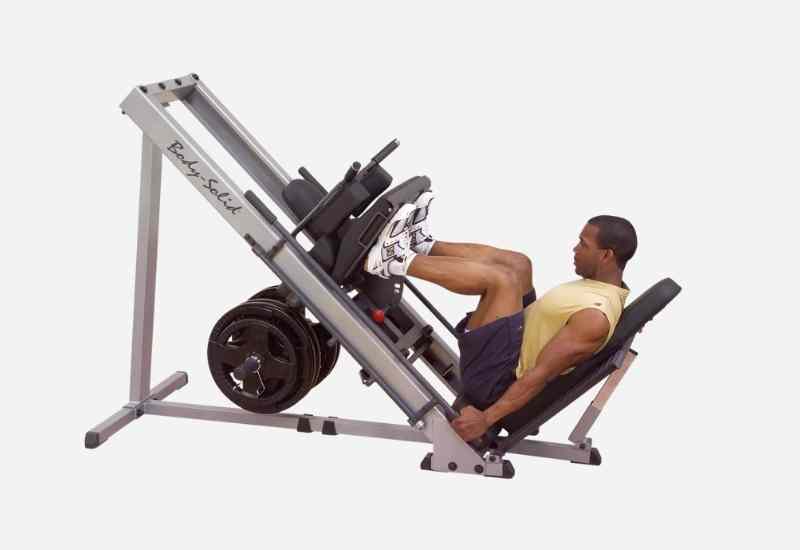 Hammer Strength Plate Loaded V-Squat Machine
If you've walked into a Big Box Gym (Planet Fitness, Fitness World, Gold's, etc etc) at any point in your lifetime, you've likely used a Hammer Strength machine.
They are built for high-volume use and are marketed to fitness clubs.
But in recent years, with home gym equipment exploding in popularity, they've pivoted toward selling to the home and garage gym enthusiast as well.
The Hammer Strength Plate-Loaded V-Squat Machine is a beast—it weighs over 500lbs without a single plate on it.
And while it's technically not a hack squat machine, it's profoundly close, using nearly the exact same movement path.
The main difference is that there is a bit more of a forward lean with V-squats versus hack squats. This arc is designed to be easier on the knees and back.
It has weight plate pegs for storage, starting resistance of 54lbs, and you can cram up to 12 plates on the machine when lifting.
While usually retailing for over $5,000, at the time of writing, this machine is currently on the "outlet" page on Hammer Strength's official website for $4,012.
Key features
Footprint of 98" x 50" x 72"
Sturdy design and weight of 530lb (without plates)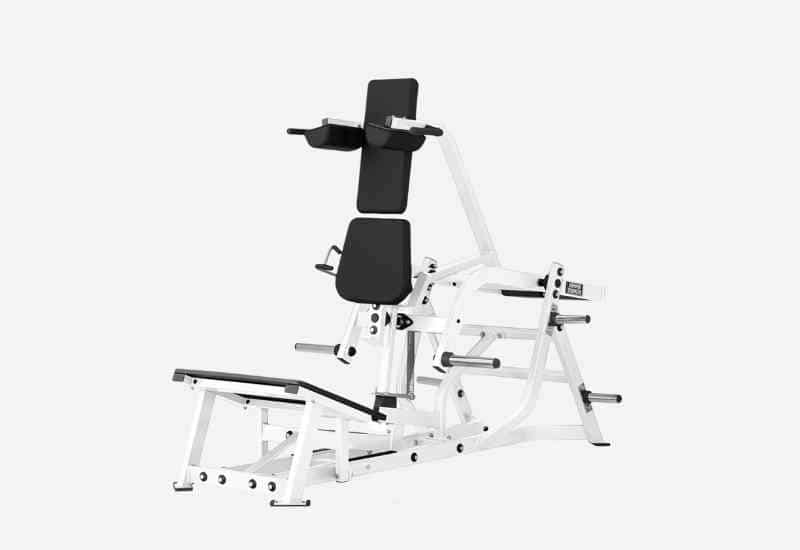 Hack Squat Machines — FAQ
How much does a hack squat machine cost?
Hack squats are not cheap, starting at $1,800 and quickly going up from there. Commercial-grade hack squat machines cost between $4,000 and $5,000.
Because they are such a specialty machine, and there are few strength training equipment manufacturers making them, they are significantly more costly compared to other equipment like squat racks or power towers.
That said, specialized leg machines like leg press machines, leg extension machines, and so on, are all in this price range.
You can drive the cost down by investing in a combo hack squat and leg press machine, which can maximize the investment and functionality.
What are the benefits of a hack squat machine?
Hack squats are an excellent exercise for focusing load on the quadriceps and are one of my favorite alternatives to regular squats.
The closed nature of the movement means you can push more weight, as energy that would be going to stabilization (as with free weights) can be focused exclusively on the major muscles executing the lift.
Because the machine has stoppers on the bearings to give you a spot, you can be a little more aggressive with load knowing that even if you fail a rep, you aren't going to get crushed.
I really like back squats as they also reduce loading on the spine, making them an excellent alternative to traditional barbell back squats for reduced compression on the spine.
Additionally, you can really play around with foot positioning on the plate to further target the quads or posterior chain (glutes and hamstrings).
More Guides Like This
Leg Press vs Hack Squat: Pros, Cons and Differences for Monster Leg Muscles. The leg press and hack squat are both excellent exercises for developing strong leg muscles. But which one is for you? Read on to see the pros and cons of each.
6 Best Leg Press Alternatives for Monster Leg Muscles. Looking to mix up your leg training? Here are the six best leg press alternatives for conquering leg day.