Building an epic gym is more affordable than ever. Read through our list of the best adjustable weight benches for home gyms and get to lifting.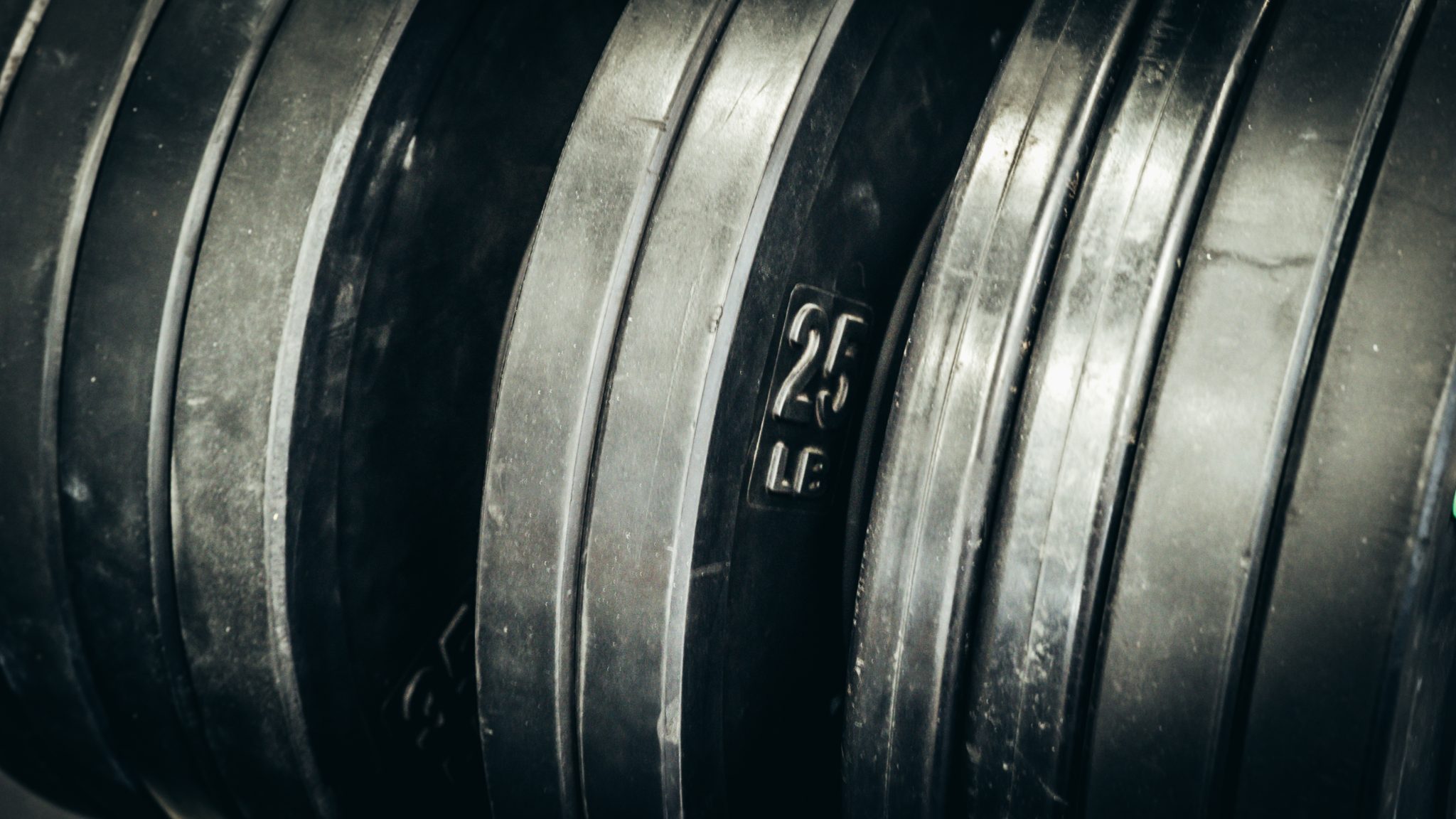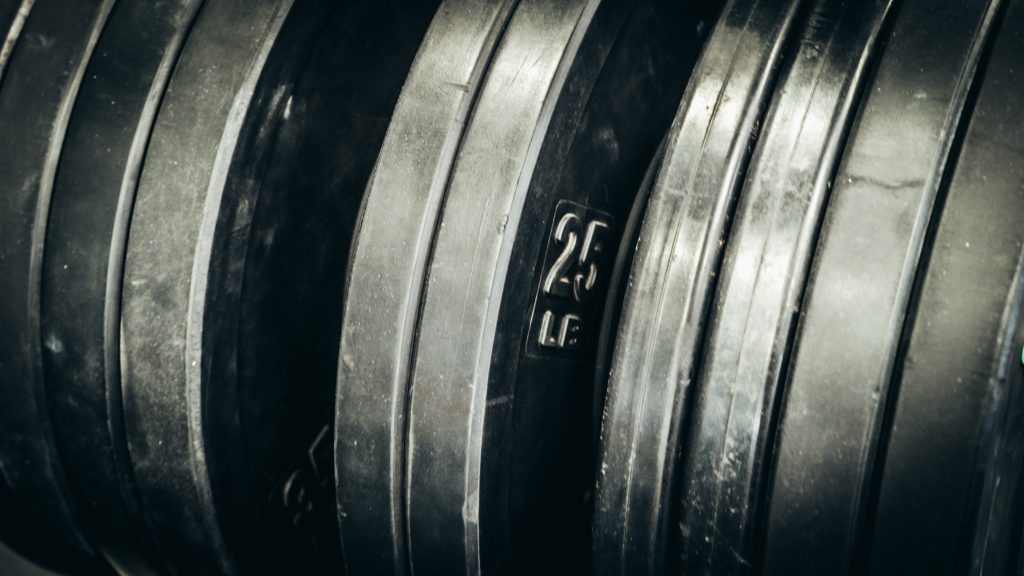 Building a home gym has never been more affordable or made more sense since COVID-19 swept the globe and shuttered neighborhood gyms.
Once you have picked up some of the more affordable home gym essentials (kettlebell, jump rope, etc) you can start moving on up to power racks, and yup, a sturdy and adjustable weight bench.
Weight benches are one of the key parts of a legit home gym, and adjustable weight benches especially so.
You can perform incline presses, use the bench for cardio (step-ups, for example), use it as a dipping station, do flys, curls, and every other staple of your workout routine.
In this guide to the best adjustable weight benches, we are going to look specifically at the adjustable variety (if you prefer a flat weight bench, check out my hand-picked collection of the best flat weight benches here).
With so many options out there, we've narrowed the list to our favorites for home gyms.
Read through our list of the best adjustable weight benches and get to crushing your workout goals.
Rogue Adjustable Bench 2.0
⭐⭐⭐ Best overall and heavy-duty adjustable weight bench for home gyms
Welp, might as well start with the best.
My current #1 weight bench is the Rogue Fitness Adjustable Bench 2.0.
Yes, it is more expensive than the other benches on this list, but if you plan on spending a ton of time in your home gym this year and want something that can take the punishment, this is the bench for you.
You get basically all of the features of a commercial-grade bench in your garage.
The bench has two little wheels at the back. Grab the handle at the front and tilt it up and quickly move the bench. The bench itself can be tilted up to 85-degrees; ideal for shoulder presses and other seated exercises. Sturdy rubber feet keep the adjustable bench stable while lifting.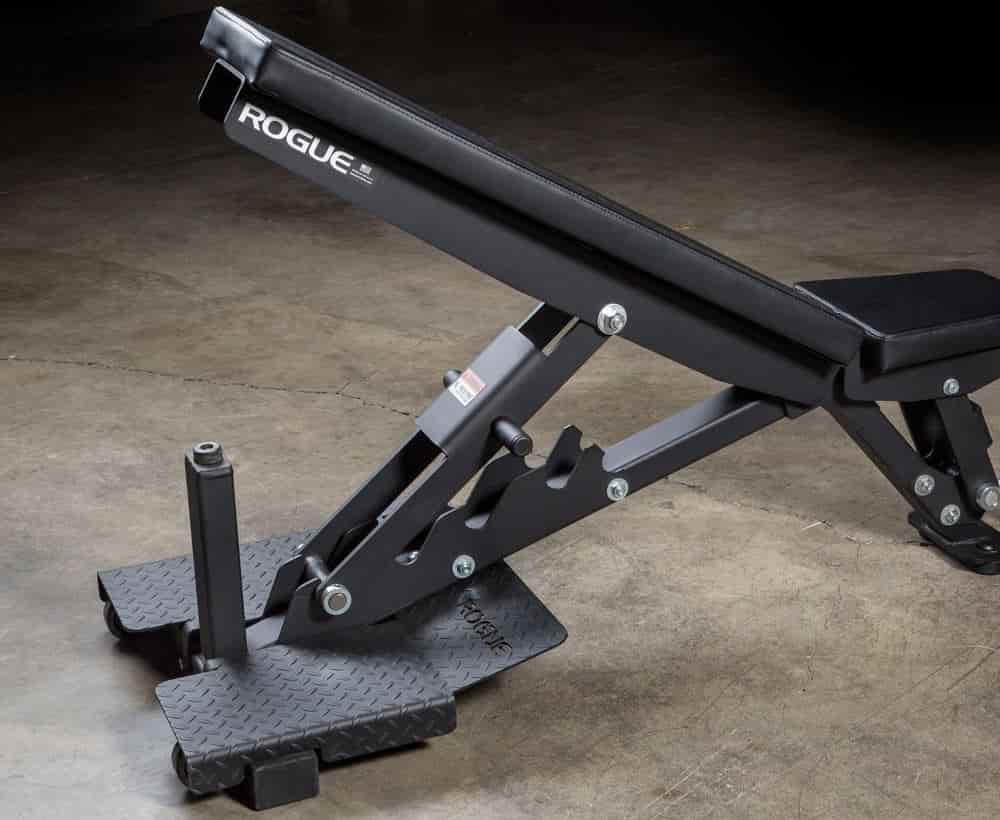 One of the most infuriating parts of adjustable weight benches is the gaps between the seat and back pads. There is almost no perceptible break between them on the Rogue bench, and the seat has two height settings so that you can angle the seat pad "up" to keep your bottom properly planted in the seat.
There are a handful of add-ons for the bench, including a spotter deck (shown in the picture above) and a vertical storage bracket that allows you to take the bench and store it vertically when not in use.
Like most Rogue Fitness equipment, the price tag on these benches is higher (Rogue USA sells them for around $550–check here for current pricing and availability).
But in this specific case, you truly get what you pay for.
A heavy-duty bench that is adjustable, comfortable, and designed to kick ass in the gym.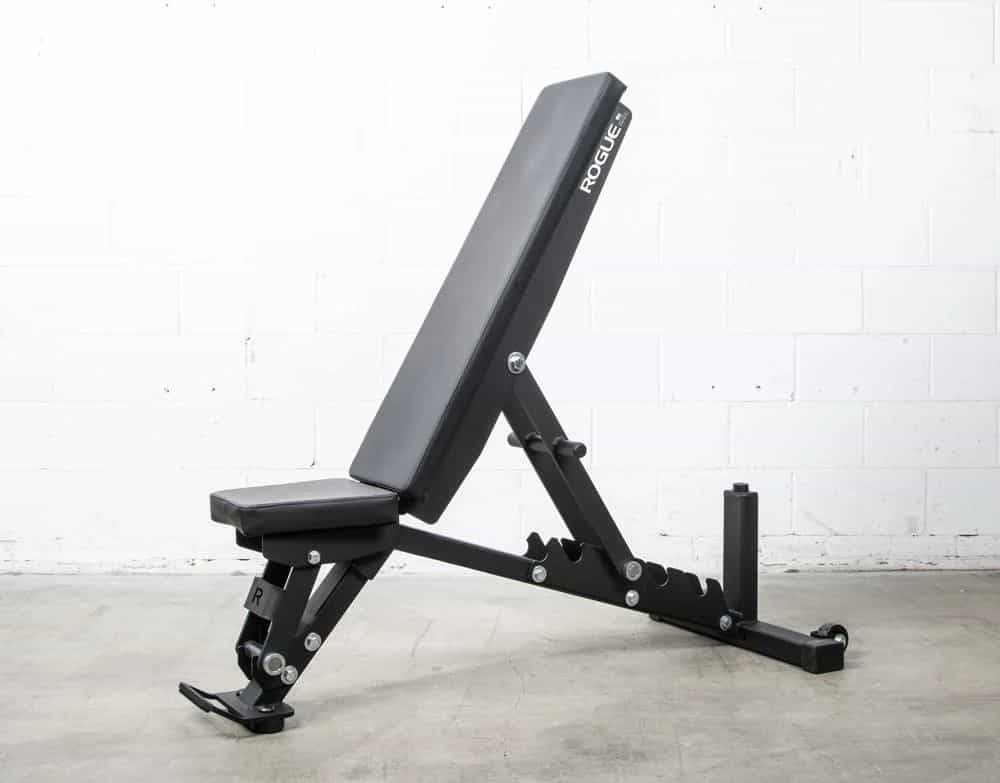 GoPlus Adjustable Weight Bench
The look of this adjustable weight bench is excellent.
The back of the bench can be quickly adjusted up to nearly 90-degrees. Shoulder presses and dumbbell presses are no problem. The padded faux leather is very comfortable, and users will find that they don't slip very much when training on the bench.
The bench can be declined for core training (a foam roller keeps your legs in place). Reviewers note that changing the degree of incline can be a little tricky.
The major downside of this bench is that it is only rated up to 265-pounds, which is an instant deal-breaker for heavier guys like myself (without any weights in my hands I would exceed the capacity of this bench ☹ ).
That said, for newbie or beginner lifters, the GoPlus Adjustable Weight Bench is a great starter bench that will look slick in your home gym.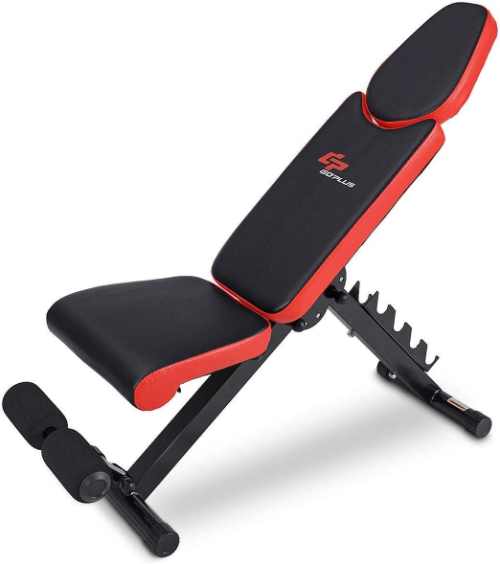 Gymenist Adjustable Exercise Bench
Gymenist—hard to spell but easy to use!
Working out at home is made comfortable with this bench that provides all the angles we expect from an adjustable bench. Put it into decline to do anti-gravity core exercises.
The bench can be set flat and up to around 45-degrees (not quite straight for overhead pressing and supported curls), and has a headrest for superior comfort. The Gymenist Adjustable Exercise Bench is also foldable—when compact it can be slid into spaces a foot high.
The coolest thing about this adjustable bench?
It comes fully assembled!
No messing around with instructions or trying to find missing pieces. Break down the box and peel off the wrapping and get to working out in moments.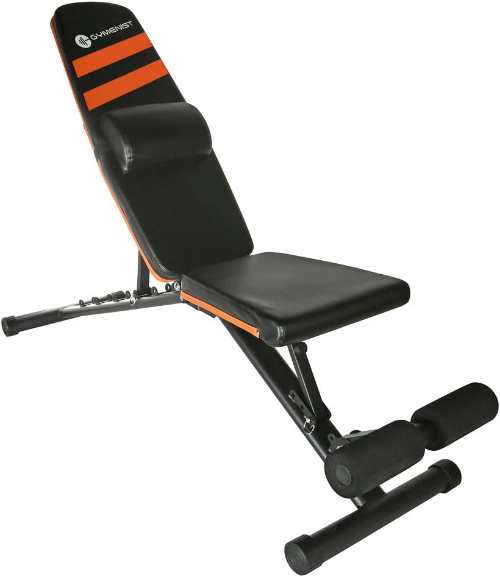 Power Systems Deck and Adjustable Weight Bench
⭐ Best adjustable bench for doing step-ups
I will be honest, I am not a huge fan of this bench for presses. While the rubberized surface is comfortable enough, once you start putting up serious weight you will find that you start to slip and slide a little.
Also, the bottom third of the platform doesn't incline, which I prefer as it "catches" my body and provides more stability when lifting heavy weights.
That being said, I included the Power Systems Deck (and it's slightly more expensive counterpart, the Reebok Power Deck) because it is very well suited to performing step-ups, and the legs are wide enough that the bench is extremely stable when doing hip thrusts and bridges.
Added perk: The bench can be raised up to 14" or lowered to 8", something that none of the other benches on this list can claim.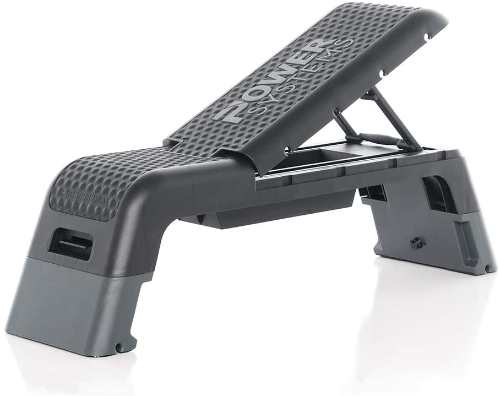 Magic Fit Foldable and Adjustable Weight Bench
⭐ Best weight bench for under $200
For those of you balling on a budget, the Magic Fit bench provides a loft of the essential features you want from an adjustable bench for your gym.
Stuff like: Seven positions for the back pad, three for the seat pad, soft and comfortable foam padding, and both incline and decline settings for core workouts and presses.
And the biggie feature of this bench?
You don't have to sacrifice weight-bearing for the price point. The steel fabricated bench is rated at 550-pounds capacity.
The Magic Fit Adjustable Bench can be folded up between workouts, making it perfect for those home gym enthusiasts working with tight spaces.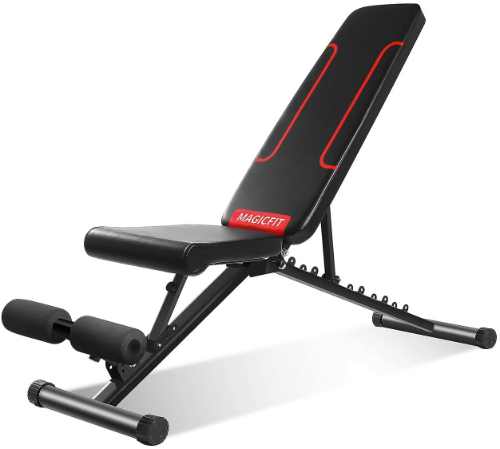 PASYOU Adjustable Weight Bench
⭐ A budget-friendly adjustable weight bench with limited assembly
If putting together your weight bench is something you are allergic to (no judgment here), the PASYOU Adjustable Weight Bench gives you all the bells and whistles of budget-friendly benches with limited set-up and installation.
Other key features that we dig:
Faux leather pads are a cinch to clean and wipe down. The bench folds up for easy storage. And it is rated for up to 500-lbs.
The only thing I didn't like was the foam rollers at the front of the seat pad. I can see how they would be helpful while doing incline sit-ups and core work, but when doing bench press, seated curls, or basically any other exercise, they are simply in the way. (That being said, this is a minor complaint—the rollers can be removed.)
The PASYOU bench is a well-reviewed bench that delivers on the essentials while also still being an adjustable weight bench under $200. Giddyup.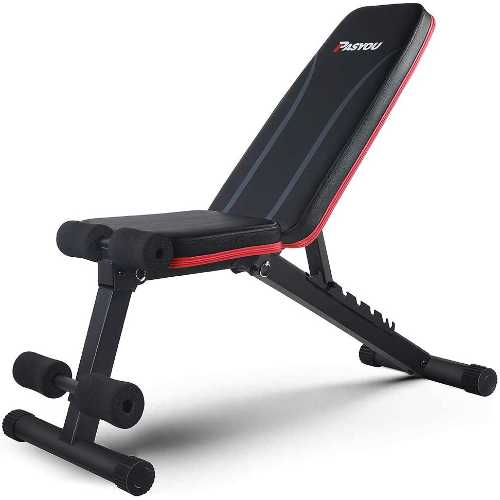 More Home Gym Resources
5 Best Compact Home Gyms for Small Spaces and Big Workouts. Owning a home gym has never been more affordable. Read on for a breakdown of the best compact home gyms for crushing your workout goals.