Ready to take your bodyweight and home workouts to the next level? Here is a breakdown of the best home and bodyweight workouts for crushing your fitness goals.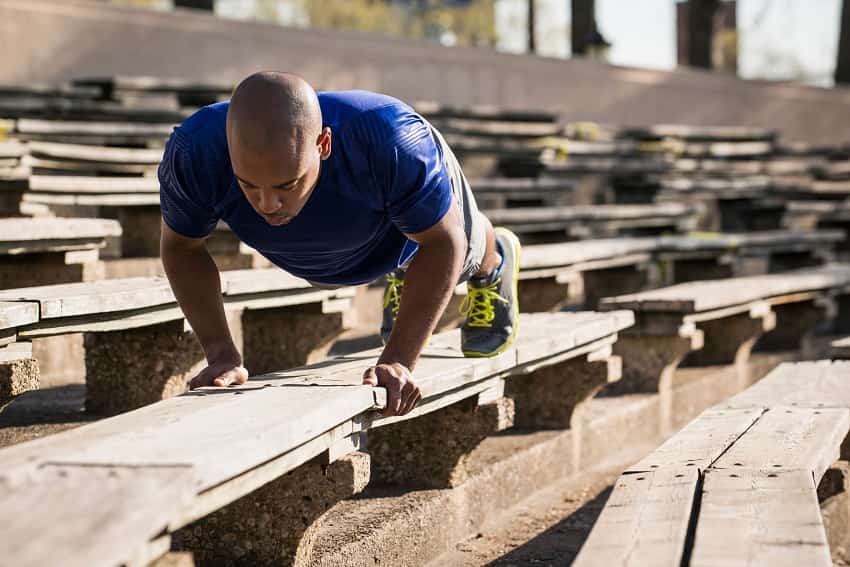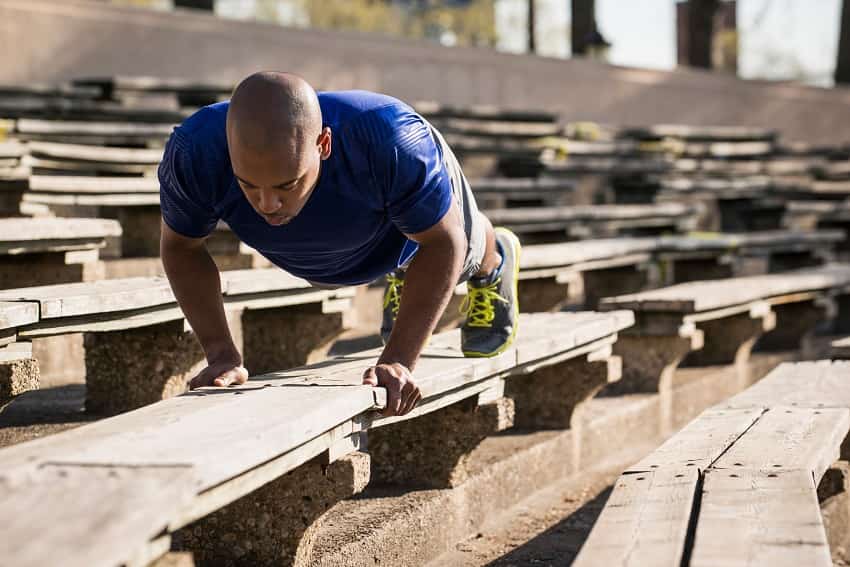 Even though it's great to have all the toys to workout with at home—as laid it in our guide to the top home gym equipment for beginners—these things aren't essential for getting a killer workout at home or on the road.
Look: I get it.
Going to the gym can be a pain in the butt or straight-up impossible.
And building out an epic home gym can quickly get prohibitively expensive.
? Want to jump straight to my favorite bodyweight training book? It's "Strength Training Anatomy" by Bret Contreras, which includes workouts, training programs, and fully illustrated exercises. Amazon sells it for around $15–check here for the current price and available formats.
Whether it's because of the dummies pea-cocking in front of the mirrors looking for that perfect Insta-gym-selfie, or because of high fees, or because of a worldwide pandemic, there's never been more interest in maximizing your home workouts.
But where to start?
Do an endless number of push-ups?
Jumping jacks?
Burpees?
Sure, but there are some excellent home and bodyweight workout books that will help you build a program that keeps you motivated to workout, keeps you engaged, and will get/keep you in shape.
Whether you are working out at home because going to the gym and hanging out with the selfie crowd stresses you out, want a quick and simple workout routine to take with you on the road, or you want to do your workouts in the comfort of your backyard during summer months, this collection of the best books for home workouts has you covered.
Read on and find the best bodyweight training book for you.
---
Bodyweight Strength Training Anatomy by Bret Contreras.
⭐ Winner-winner, chicken dinner for best bodyweight training book
Better known as the "glute guy," Bret Contreras' comprehensive and authoritative guide to crushing it with your bodyweight is best in class when it comes to home workout books.
Even though the cover is kind of budget, the book contains full-color instructions of each movement (all 156 of them) that can be dropped-like-its-hot anywhere, anytime.
There are plenty of additional perks to this book that I love, including exercise combos that help stave off boredom and plateaus.
Accessible enough for the beginner who isn't entirely sure about going to the gym (or who doesn't want to pay for them dues) and the experienced lifter looking for some programming advice and ways to mix up the at-home-exercisin', Bodyweight Strength Training Academy is the gold standard.
The book is available in both Kindle and softcover formats. I picked up my copy for just $15 (check Amazon for current pricing and format options).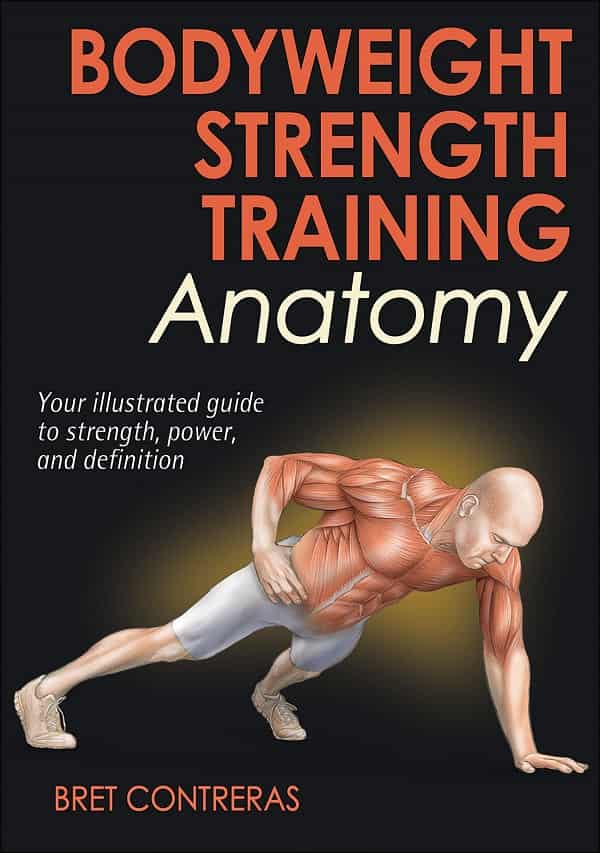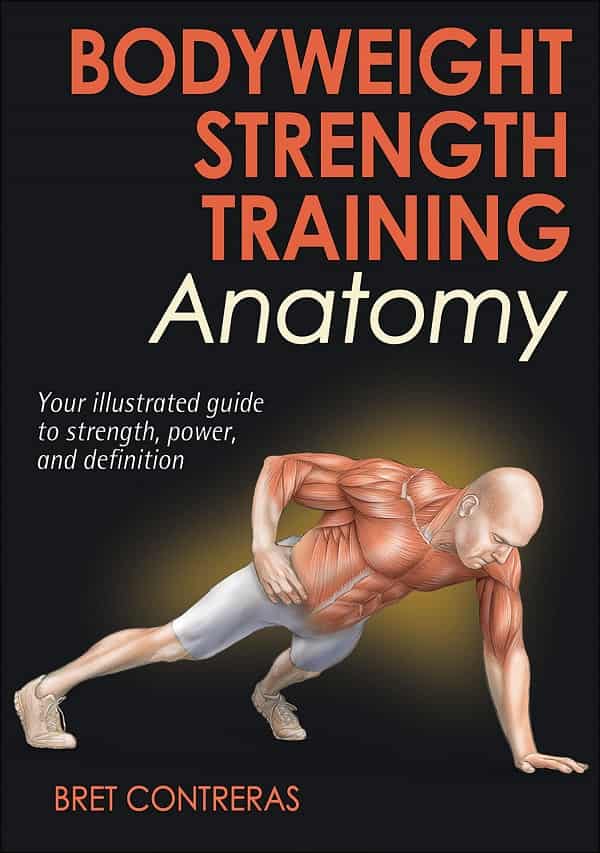 Your Body is Your Barbell by BJ Gaddour, CSCS
⭐ Runner-Up: Best bodyweight book for home workouts
When Men's Health decided they wanted to put together a guide for working out a home without weights, they asked BJ Gaddour, CSCS, to put together a killer at-home bodyweight workout plan.
Your Body is Your Barbell requires no equipment, combining proven nutritional advice, with a scalable workout plan.
The descriptions with each exercise pairing is clear and thought-out, leaving no room for confusion. The workout plan is designed around eight different exercises with five levels of progression, which is the main reason for it being the second-best book in my little list.
Detailed, clear, and well-thought out, Your Body is Your Barbell is an exceptional blueprint for anyone looking to workout at home, on the road, or in the parking lot behind your local rec center which is still closed!
"Your Body Is Your Barbell" is a more complete bodyweight training book if you are looking for something that also includes nutritional advice.
The book is available in both paperback and Kindle, with the hard copy costing around $16 (check Amazon for today's price and availability).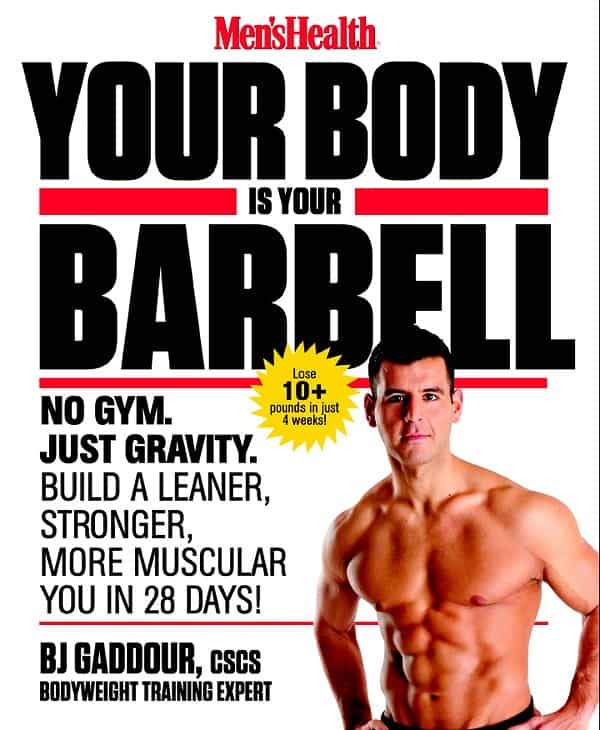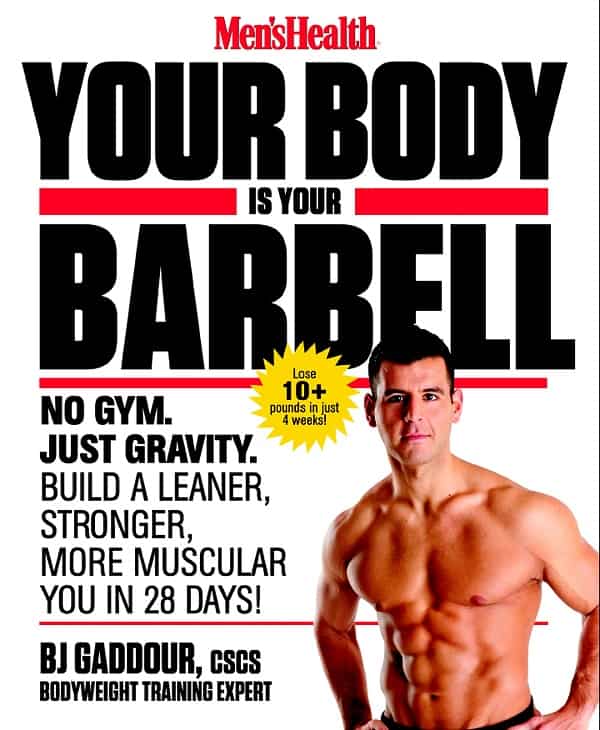 ---
You Are Your Own Gym: The Bible of Bodyweight Exercises by Mark Lauren
Personal trainer Mark Lauren has worked with some of the toughest athletes on the planet—Special Operations soldiers—in developing a workout plan that can be done at home with a single piece of fitness equipment.
With plans for varying abilities, from Basic to Chief Class, Lauren's workout routines are effective and simple.
He breaks down the exercises over the course of about 80 pages of detailed instruction, and teh program, which can be easily adjusted to your current ability and goals, can be started today.
One of the things I really liked about this book is that it is available in a spiral-bound format, so you can open the book to the page you want and reference it while training.
"You Are Your Own Gym" comes in digital format as an eBook, paperback, and spiral-bound.
If you choose this book for your training, go with the spiral-bound, it's a little pricier than the softcover version (at $27–check Amazon for current pricing) but easier to work off of.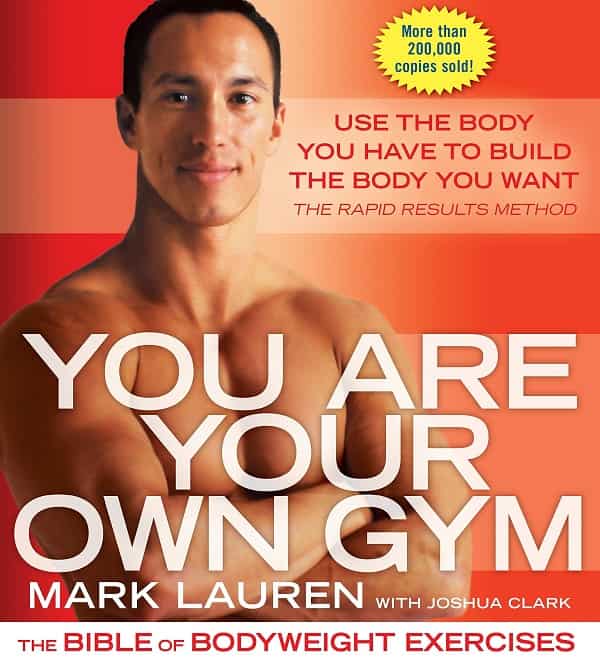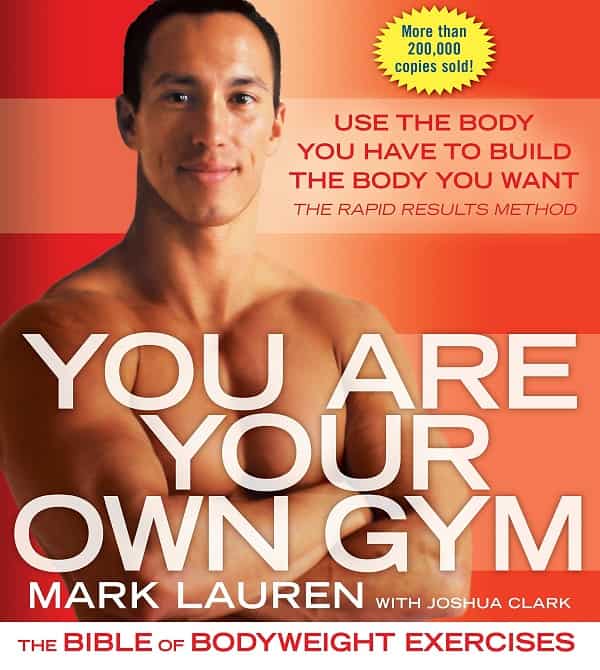 ---
100 No-Equipment Workouts by Neila Rey
Stocked with lots of variety of exercises, this collection of no-equipment home workouts will keep you engaged and fired up for months on end. The workouts are laid out visually, guiding you from the first exercise of each workout to the last.
If you get bored with the 100 workouts included, there are subsequent volumes available as well. Also, there is no "required" order with the workouts—repeatedly hit the ones you like and skip the ones you don't.
There are three levels of difficulty/progression with each workout to accommodate the beginner lifter as well as the experienced fitness-goer.
Available in both Kindle and paperback (the physical copy cost me $17–check Amazon for current pricing here), "100 No-Equipment Workouts" will help get you in shape without a gym membership or gym equipment.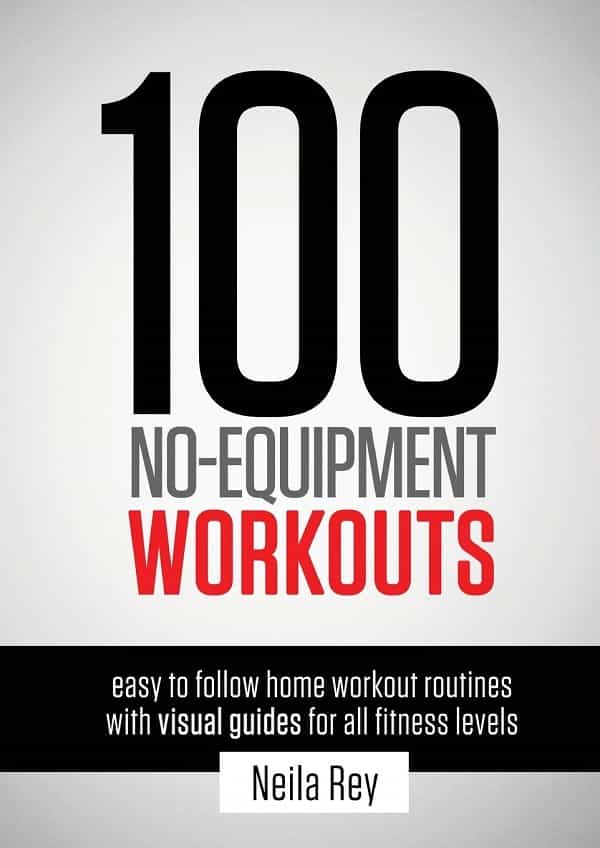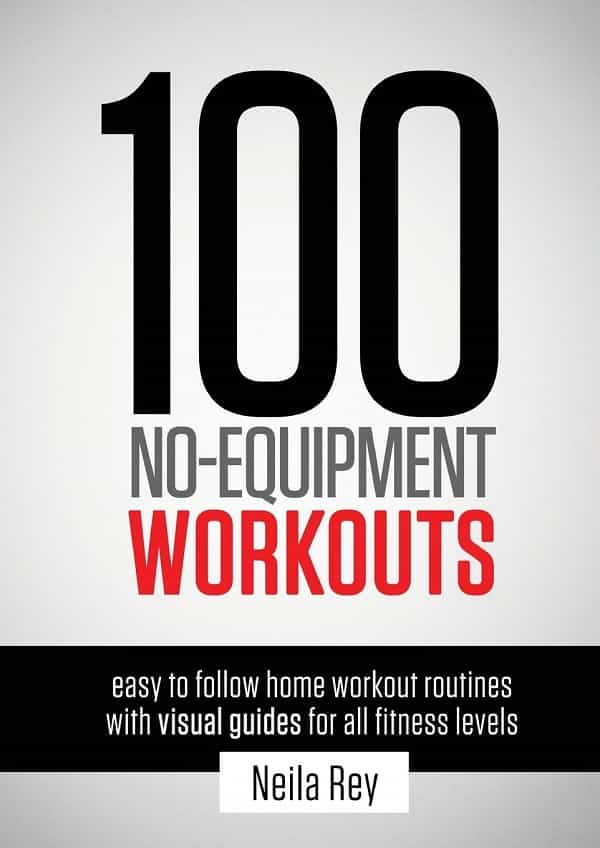 ---
Bodyweight Strength Training: 12 Weeks to Build Muscle and Burn Fat by Jay Cardiello
If you are looking for a simple, basic plan that is short on extraneous information, Jay Cardiello's 12-week bodyweight strength training plan is a solid bet.
His book outlines 40 different exercises that are fully illustrated and outlined with step-by-step instructions.
The three-month plan can be increased or decreased in intensity based on where you are at right now. While not the best home workout book out there, it is definitely not the worst.
The book is sold in both digital and softcover formats, with the paperback version costing $13 (check Amazon for today's price).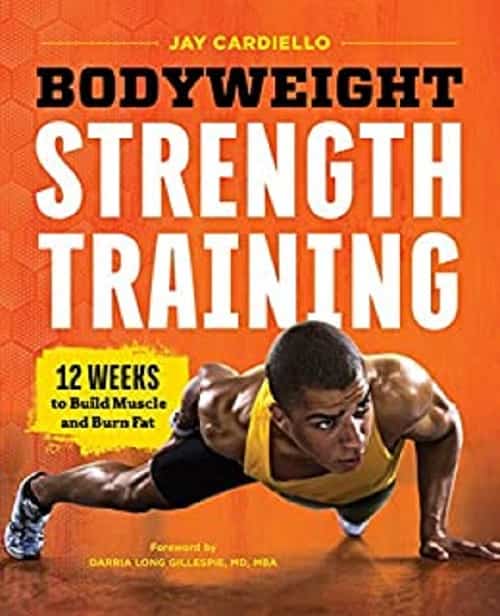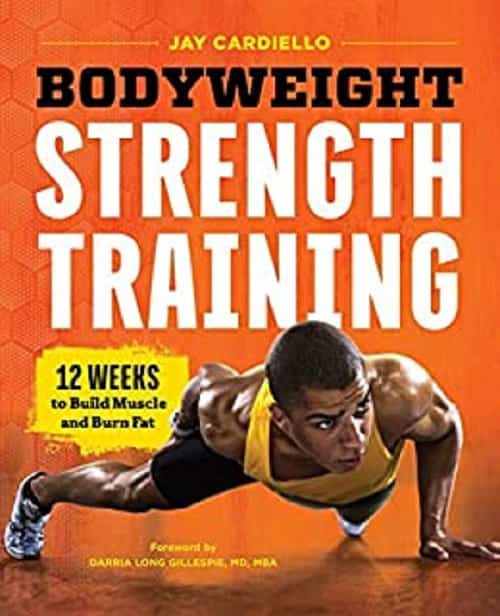 ---
More Book Collections Like This:
7 Best Home Gym Essentials for Beginners. Looking to get started with working out at home? Here are the best home gym essentials to get you started.
Best Fitness Books for Women: Books for Getting in the Best Shape of Your Life. Ready to level up your game in the gym and in the kitchen? The following selections for best workout books for women were chosen specifically for the female lifter in mind.