Skip the lineups at the gym (and the commute!) with a detailed look at the best Smith Machines for home gyms, including key features, a buyer's guide, and more.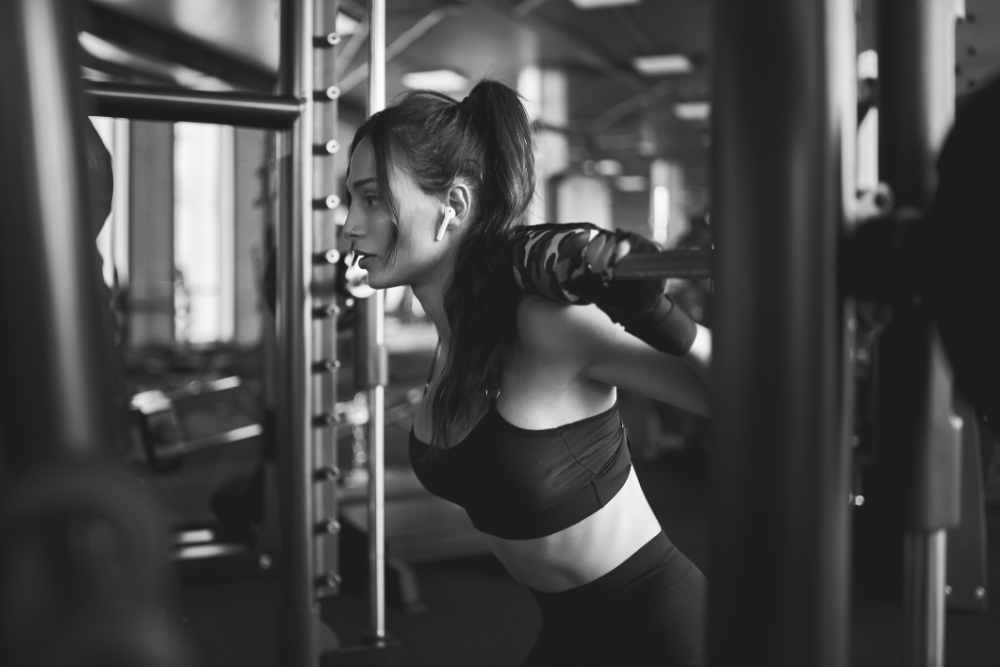 In this guide, you will learn EVERYTHING you need to know about choosing the best Smith Machine for your home gym.
Using my 30+ years of training in the gym, training clients, and building out my own home gym, we will cover:
The best Smith Machines on the market right now. Including key features, dimensions, optional accessories, pros, cons, and more.
Smith Machine buyer's guide. The key things you have to know when choosing the right Smith machine for you. Smith machines look similar but vary widely in function.
Smith Machine FAQs. We will look at safety considerations and effectiveness compared to squat racks, and answer your Smith machine questions.
Read on, find the right Smith Machine for you and your training goals, and get your workout on.
Let's jump right in.
---
FORCE USA G3 All-in-One Trainer (with Smith Machine)
The Force USA G3 is a complete home gym, that includes a 772-lb capacity Smith bar, at a highly reasonable price.
The Force USA G3 isn't a Smith Machine, but rather, a complete home gym that includes a power rack, spotter bars, vertical bar holder, pulley system, landmine attachment… and yes… a Smith machine.
The G3 is a beast, with a list of features that frankly is too long to cover here.
The main thing you should know about the G3 is that the machine can be used with Olympic weight plates (the whole thing is plate-loaded for resistance—no weight stacks), has a total footprint of 80"(w) x 55"(d) x 87"(h), and has a killer Smith machine.
The Smith machine on the G3 is no slouch, packing a 772lb weight capacity with industrial-grade rollers and a track system that allow the bar to roll smoothly up and down.
The track has fifteen lockout positions, and you can add an optional vertical leg press attachment.
The G3 looks like it would cost a fortune—all the features that it has would reinforce that assumption—but it starts at just $2,000, which is cheaper than many stand-alone Smith machines on the market.
In other words, if you want a complete home gym that features a Smith machine, the Force USA G3 is a no-brainer.
Pros:
Commercial-grade Smith machine – 772lb capacity (on the Smith bar)
Optional vertical leg press attachment for the Smith bar
15 lockout positions
It's a total home gym designed for smaller workout areas
Vertical track
Inexpensive when you consider all of the features and cheaper than many stand-alone Smith machines
Cons:
Overkill if you are only in the market for a Smith machine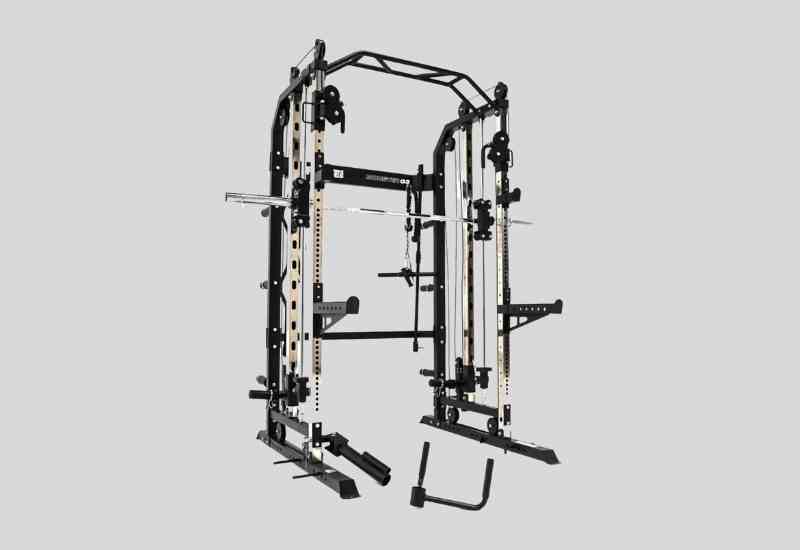 ---
Life Fitness Signature Series Smith Machine
The Life Fitness Signature Series Smith Machine is a commercial-grade machine that will handle every weight plate you can throw at it.
If you've ever stepped into a commercial gym, you know the name Life Fitness.
They make gym equipment that are designed for big box gyms, with industrial-grade stationary bikes, ergs, and strength training equipment (including Hammer Strength, one of their brands).
Their Signature Series Smith Machine is the same one found at my local aquatic center and gym and is available to the home gym owner.
It's an absolute monster of a unit, with 14 lockout positions, completely enclosed bearings for a smooth bar path, and an angled track that allows you to better mimic the arc of pressing exercises.
The Signature Series Smith Machine can store a ton of weight plates with eight plate pins. It also built like a tank, weighing 580lbs before adding any weights.
The main drawback?
If you haven't guessed by now, this thing isn't cheap, retailing at just under $6,000 (Life Fitness does provide some financing options as well).
That said, if you are looking for a Smith machine that is tough as hell, will last you a lifetime or nine, and you have some cashola to spend, the Life Fitness Signature Series Smith Machine is your best choice.
Pros:
Will last you probably five lifetimes
Available in a range of color options
Footprint of 87"(w) x 49"(d) x 93"(h)
7-degree angle for a more natural bar path
Enclosed counterweights
Heavy footprint—no wobbling or teetering
Tons of weight plate storage
20lb bar
Cons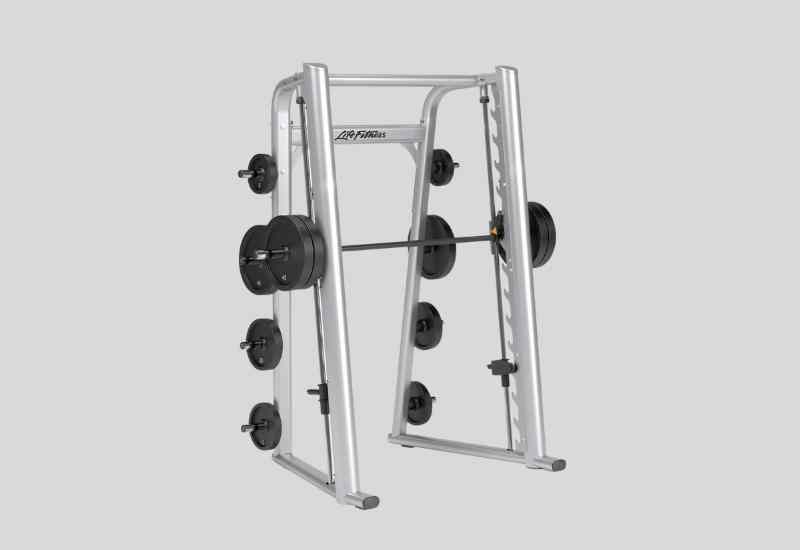 ---
Hammer Strength Smith Machine
Hammer Strength is another name that is familiar to people who have gone to their local neighborhood big box gym. I've logged more sets and workouts on Hammer Strength equipment than I can count.
The Hammer Strength Smith Machine is a more compact version of the Life Fitness Signature Series (Hammer Strength is a brand that falls under the Life Fitness umbrella) at a more elevated price (go figure).
The compact size is perfect for smaller workout spaces, and the 7-degree pitch on the bar path is awesome for getting a more natural arc in your lifts.
This machine can store a TON of weight, both on the unit itself, with eight plate storage pegs (7" each, capable of holding 3-4 cast iron weight plates per peg), and on the bar, with a max load rating of 650lbs on the barbell.
Additionally, with 14 lockout positions, you've got lots of flexibility in bar placement.
If you've got the room in your home gym budget for it—the Hammer Strength Smith Machine retails for over $6,200 (!!!)—and want a hardy machine that won't take up a ton of room in your home gym, this thing has your name on it.
Life Fitness sells it through its official website and offers payment plans.
Pros:
As durable as it gets for fitness equipment—designed for high volume use
Won't wobble or teeter—the machine weighs nearly 600lbs without plates
7-degree pitch for a more natural bar movement
Built with 11-gauge steel and powder-coated to prevent rusting
14 lockout positions
Tons of weight plate storage
Rated for 650lbs of plates on the bar
Cons: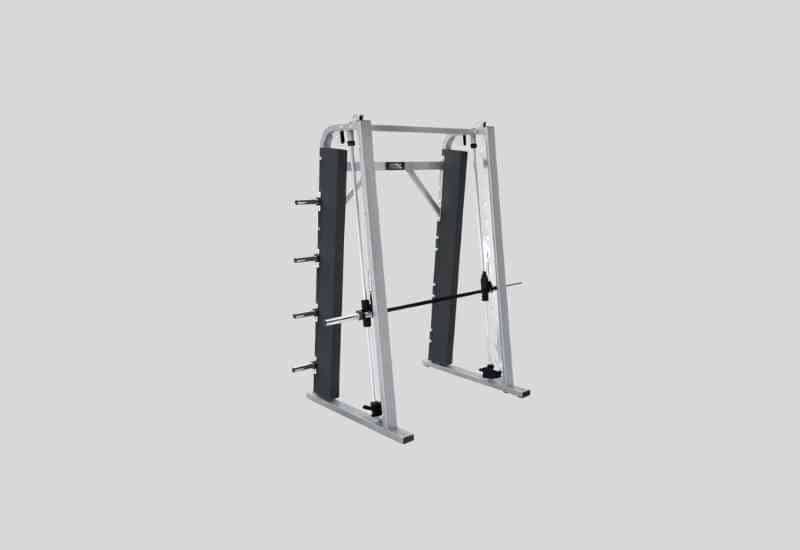 ---
MiM USA Compact Smith Machine
Over the past few years, starting at the beginning of the Covid pandemic when everyone and their mother went online looking to purchase home gym equipment, there has been an explosion of companies making strength training equipment.
With so many new names on the market, it can be a little hard to separate the good ones from the bad, particularly those who operate as third-party sellers on Amazon.
For this reason, the MiM USA Compact Smith Machine is an example of a product that I would order with hesitation.
The design of it is simple and clean, and would be perfect for small workout areas if it were more sturdy.
The footprint of the Smith machine is smaller than the others on this list, at 70x73x70, also making it ideal for low-ceiling areas like basements.
Cost-wise, it's the cheapest Smith machine on the market, but judging by many of the reviews, which frequently note a distinct lack of sturdiness, this machine is best for absolute beginners to weightlifting.
More experienced lifters will want something stronger that won't wobble when using larger amounts of weight.
The MiM USA Compact Smith Machine also has a "Complete Set" option, which tacks on an adjustable workout bench, leg extension rollers, and preacher pads for curls for an extra cost.
Pros
Smallest footprint of the Smith machines on this list.
Relatively inexpensive, starting at $800 for the bare-bones Smith Machine
Cons
Reviews are a very mixed bag, with less than 50% of buyers giving it a 5-star review on Amazon
Flimsy design—would require loading with weight plates for stability or bolting to the floor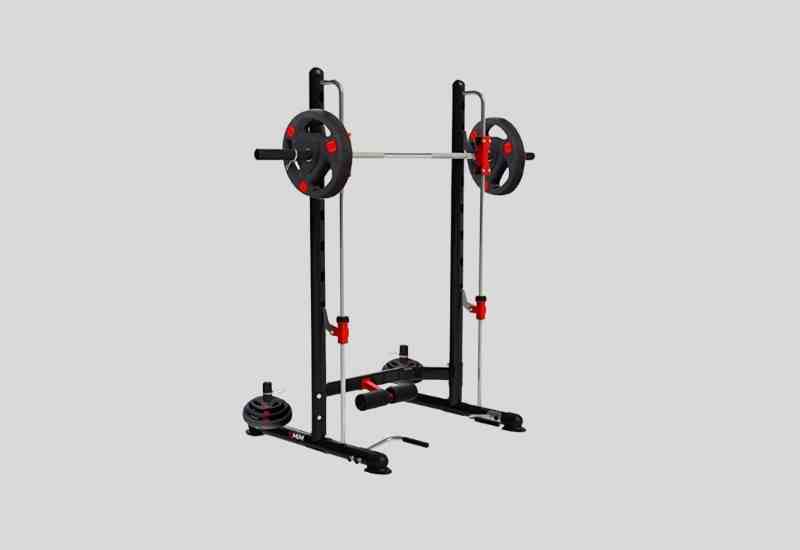 ---
Body-Solid Pro ClubLine Counter Balanced Smith Machine
An inexpensive alternative to the other commercial Smith Machines on this list, this machine has a lot of the same features at a reduced cost.
If you want a commercial-grade Smith Machine for your home gym, but don't want to shell out commercial-grade amounts of money, the Body-Solid Pro ClubLine Smith Machine provides an excellent alternative.
Taking the "Pro" part of its name seriously, it has many fo the same bells and whistles as pricier options, including a sturdy base (the machine weighs 500+ pounds), six weight plate pegs, and a 1,000lb weight capacity on the bar.
The bar is counterbalanced so that it weighs a feathery 6lbs, and the carriage system moves vertically in a smooth and controlled manner.
The Body-Solid Pro Clubline has the most lockout positions of any Smith Machine on the market, with 16 different bar positions on a slight pitch for a more efficient bar path.
The Clubline is a gym-quality and commercial-rated Smith Machine at a reasonable price (Fitness Factory retails it for just over $3,000).
Pros:
Commercial-grade Smith Machine for a more reasonable price than comparable alternatives
The strongest machine on this list with a bar capacity of up to 1,000lbs
Plenty of weight plate storage
Cons:
Probably too bulky for small workout spaces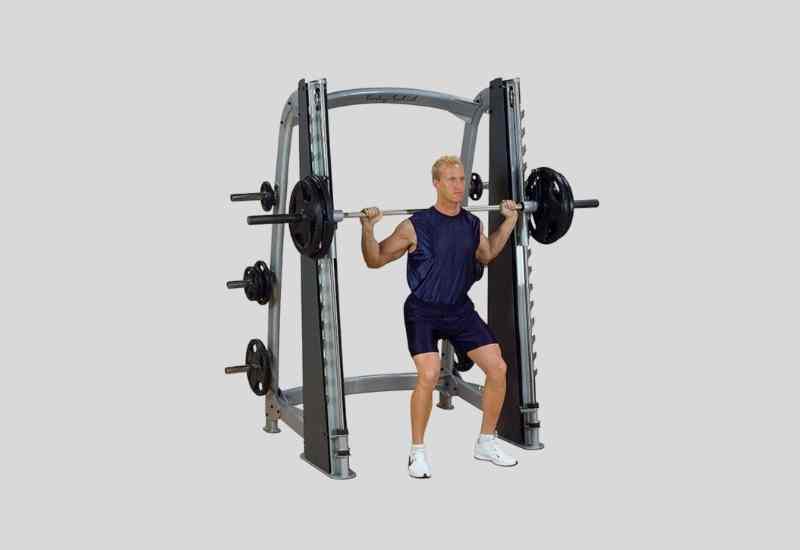 ---
Body-Solid Series 7 Smith Machine
Built for commercial gyms, the Series 7 gives you the best of both worlds, a Smith machine and a 14-lockout rack for free weights.
The Body-Solid Series 7 Smith Machine is a lot more than just a Smith machine—it's also a squat rack and potentially a lat pulldown machine and pull-up station (both are offered as optional add-ons).
The Series 7 is a commercial-grade Smith machine that works strictly with Olympic weight plates, has a tank-like 11- and 12-gauge, 2" x 3" steel frame construction, and a wide base for ultimate stability.
Other perks of this particular machine include a 15-degree rotating bar, which makes it a cinch to rerack the bar, removing the need from a spotter.
A 14-lockout position gunrack for doing squats and presses with a free barbell. And a vertical bar holder to store your barbells for when you want to access the Smith machine.
In other words, the Series 7 is an excellent option for home gym enthusiasts that want a little more flexibility of use with their Smith machine.
Pros:
Track is on a 7-degree reverse angle for angled bar movement
Optional add-ons including pull up bar and lat attachment
Commercial-grade machine at a decent price ($1,993)
20 lockout positions on the Smith machine
Six pegs for weight plate storage
14-lockout point rack for free barbells
Cons:
It's a bit long—not ideal for smaller workout spaces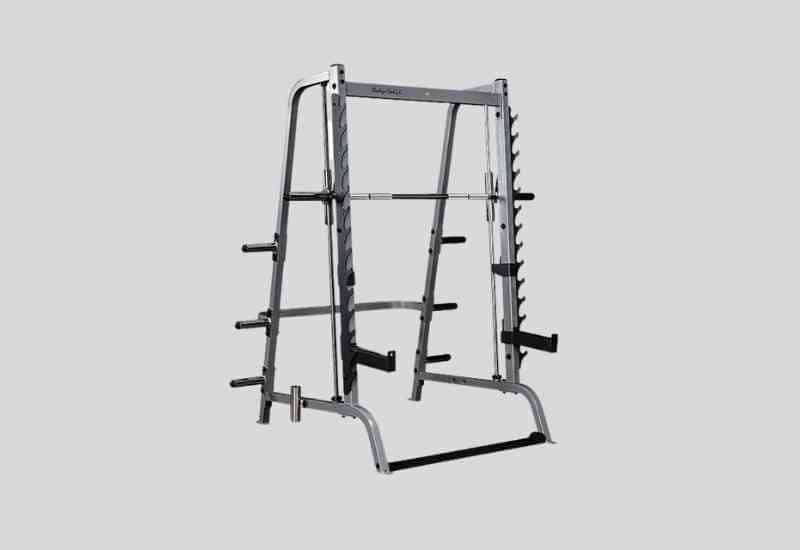 ---
Powerline Smith Machine
Looking for a pure Smith Machine that won't break the bank? This offering by Powerline is as good as it gets—when it's in stock.
The Powerline Smith Machine is the best machine of its kind of home gyms.
Made with 12-gauge steel, on 2" x 2" uprights, and using Powerline's patented Super-Glide system for smooth bar travel, it's built to last. To the point that it has a ten-year warranty.
The Powerline Smith Machine is designed specifically for home gyms, with a bar that fits standard weight plates (weight plates with a 1" opening).
There is an optional adapter for users with Olympic weight plates (plates with a 2" diameter opening). Other additional add-ons include lat and pec deck attachments.
At less than $700, it's the closest you can get to having a Smith Machine at home without nuking your bank account.
The catch?
(There's always a catch…)
It's simple design and low price point means that it is frequently out of stock.
Pros:
Best value-pick for Smith machines for home gyms
Retails for less than $700
Small footprint, making it ideal for small workout areas
14 lockout positions
Vertical bar track
Built to last with 12-gauge steel
Cons:
Frequently sold out (check for availability at Amazon or Fitness Factory).
Uses standard weight plates (Powerline offers adapters for Olympic weight plates)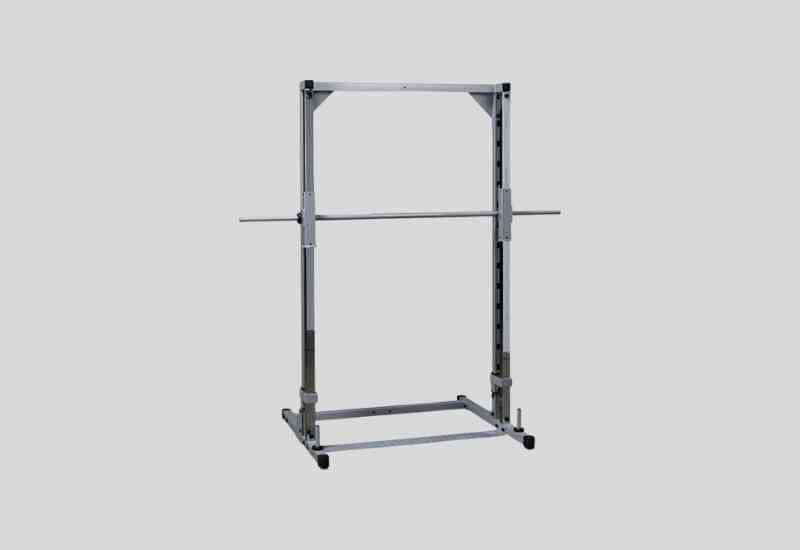 ---
Smith Machines – Buyer's Guide
Although Smith Machines are simple pieces of equipment in terms of function—move weight up, move weight down—they vary widely in how they help you accomplish this goal.
Things like lockout points, bar angle, price, footprint, and much more separate Smith machines from one another.
Here's a detailed look at the key things to be on the lookout for when choosing the right Smith machine for you:
⭐ Load capacity
One of the main differences between residential and commercial Smith machines is how much weight they can handle.
Residential smith machines generally have a total load capacity of 300 to 500 pounds, while commercial machines are designed to handle 1,000lbs and up.
⭐ Number of lockout points on the track
One of the main benefits of a Smith machine is enhanced safety. The fixed bar path and the high number of lockout points on the track mean you can slightly rotate the bar and the weight is "locked" onto the track.
The number of lockout points varies by brand and model. The more lockout points on the track, the more flexibility you have for where you start the lift and for where you end the set or rep.
Lockouts also give you that added sense of confidence and safety to encourage you to chase larger weight totals than you would without a spotter.
Most Smith machines on the market have between 14 and 20 lockout positions.
⭐ Footprint and Dimensions
Smith machines require a fair amount of space. They basically take up the same amount of floor space as a power rack or cage.
When measuring out the space for your machine, don't forget to add extra space around the machine to allow for plate loading on the bar.
Fortunately, there are some pretty comprehensive all-in-one gyms on the market that incorporate Smith machines, reducing the overall footprint for your strength training equipment.
⭐ Counterbalance
Smith machines often use a counterbalance system. This typically includes counterweights that are hooked up to the carriage by wires and pulleys on the sides of the machine.
A counterbalance system reduces the weight of the bar, which is why there is a lot of variability in how much a Smith Machine bar weighs.
A Smith machine barbell usually weighs around 25-45lbs, but a counterbalance will reduce the weight of the bar and the carriage.
Counterbalance systems drive the price up and generally found in Smith machines that are designed for commercial spaces.
⭐ Angle of the bar path
Smith machines either have a totally vertical bar path or they are slightly angled (5 to 7-degrees).
The difference can be swept under the rug pretty easily by the uninitiated, and while the angle can seem so slight that it's irrelevant, the angle can make a big difference in terms of safety and effectiveness.
An angled Smith machine is designed to mimic the bar path of using a free weight.
Bench press is an excellent example.
From the time the barbell leaves your sternum to the point that your elbows lock out, the bar has moved in a slight arc.
Angled smith machines replicate this arc to imitate the path bars taken when using free weights.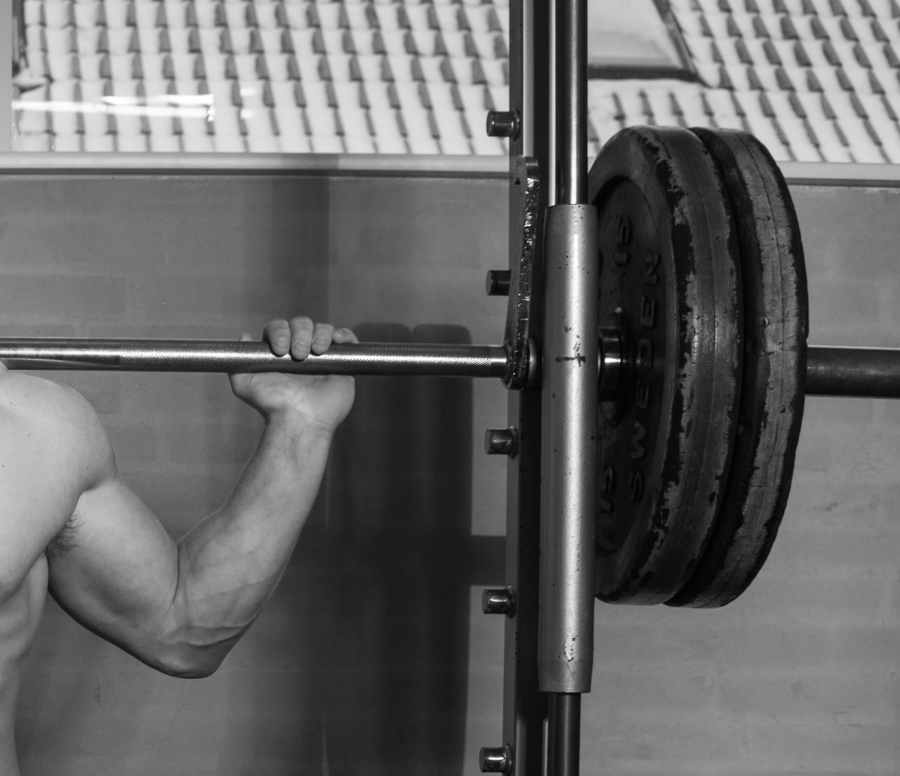 ⭐ Starting bar weight
The starting bar weight on Smith machines vary widely. Machines with a counterweight balance can reduce the bar weight to nearly zero, giving you the impression that the bar is "floating."
For the most part, and this goes for some of the commercial-grade Smith machines as well as those designed for residential spaces, the Smith Machine bar weight ranges from 20 to 45lbs.
Knowing this is obviously key as you want to know precisely how much you are lifting each time you start a workout.
⭐ Plate Size (Olympic vs Standard)
Most Smith machines are designed to be loaded with Olympic weight plates, which have a two-inch diameter in the center of the plate. Olympic weight plates are the plates you see in your local gyms and are the most commonly used in home gyms as well.
Standard weight plates have a one-inch diameter in the center of the plate. While less commonly seen (and almost never found in commercial gyms), they are often marketed to people looking to build a home gym, particularly beginners.
If you've already got a collection of weight plates at home, you will want to pay attention to the diameter of the bars and weight pegs on the Smith Machines you are looking at.
Last thing you want to do is invest a couple of thousand dollars in a machine that doesn't work with the weight plates you have on hand.
⭐ Price
Smith machines are not cheap. Compared to alternatives like squat racks, half racks, and squat stands, Smith machines are expensive.
They start at around $1,000 for the most bare-bones options on the market and quickly go up from there. Commercial-grade smith machines can cost as much as $5,000 or more.
Additionally, you need to consider the maintenance of the machine. Because it has more moving parts than a standard squat or power rack, it will require some maintenance over the years, particularly the carriage and bushings.
That said, Smith Machines are designed to last a lifetime, and most manufacturers have lengthy warranties in place for the equipment.
Best Smith Machines – FAQs
Should I get a squat rack or a Smith machine?
The two main differences between a squat rack vs Smith machine are the fixed path that a bar takes on a Smith machine and the enhanced spotting capabilities that come along with it.
The sliding track has lockout positions that make reracking the bar extremely simple and reduce the need for a spotter when working out.
Choosing between a squat rack or a Smith Machine ultimately comes down to what you are more comfortable with. Squat racks use free weights, which are perhaps better suited to more experienced lifters.
At the end of the day, you can build muscle with both a squat rack and a Smith machine and both can play a role in your training goals.
Are Smith machines bad for you?
The debate over whether a Smith machine is an effective piece of strength training equipment is likely not to die out anytime soon.
Which is too bad.
Smith Machines, like literally every other type of exercise equipment, is only as effective as the person that uses it.
The fixed bar path reduces the stability-building benefits of free weights, but they are also awesome for isolating muscles, providing an added sense of confidence and safety, and as part of a holistic strength training program, can be exceptionally good for you and your strength training goals.
Who invented the Smith machine?
The Smith Machine was originally conceived by legendary fitness personality and trainer Jack LaLanne.
He was looking for a way to be able to push more weight on the squat without requiring a spotter. According to legend, he went for dinner with friend Rudy Smith, who asked if he could design a prototype.
From there, the machine quickly gained popularity. Even though it gets a lot of hate with some gymgoers, others, including action star and bodybuilding legend Arnold Schwarzenegger, continue using it.
To this day, the "Austrian Oak" and 7-time Mr. Olympia uses a Smith Machine for presses as it's "safer on my shoulders because it's on a track."[1]
---
More Smith Machine Guides
How to Do Smith Machine Squats (Benefits, Muscles Worked, and Common Mistakes). The Smith Machine squat is both loved and loathed in the gym. In this guide, we will cover the range of benefits of Smith Machine squats, disadvantages, how to do them properly, and much more.
Smith Machine vs. Free Weights: Which One is Best for You? Is it better to train with a Smith Machine or free weights? Here's a look at the pros and cons of both, and how to figure out which (or both!) is best for your training goals.