Here is a breakdown of the best lat pulldown machines for home and garage gyms.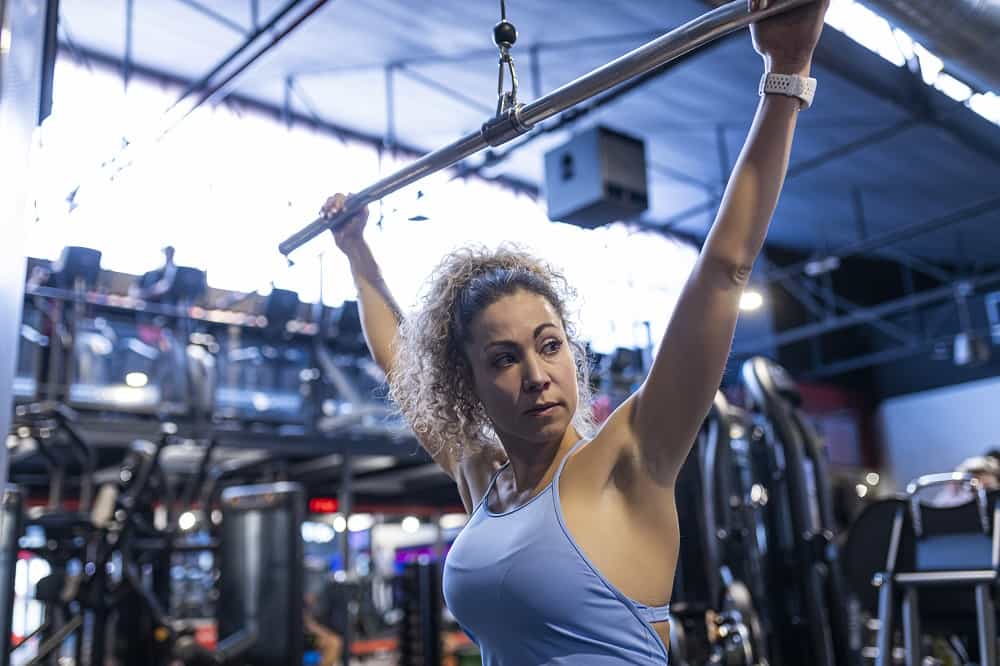 Looking to add a lat pulldown machine to your home or garage gym?
There is plenty to choose from.
In this round-up of the best lat pulldown machines, we cover strictly the standalone versions (if you are looking for power racks with a lat pulldown attachment, check out this detailed guide to the best ones on the market).
Let's dive right in.
Key things to look for
Even though the exercises that are performed on a lat pulldown machine are straightforward, there is a wide range of machines and pulleys to choose from.
Here are the main things to look for when choosing the best lat pulldown machine for you and your workout goals:
? Weight plate vs Weight stack.
Commercial gyms have the weight stacks, while many personal gym lat machines have a weight plate set-up where you load your iron/steel/bumper plates onto the pullet system.
Lat pulldown machines with weight stacks are generally more expensive, but only because with a weight plate pulley system the weights are sold separately.
? Adjustable rollers and seat height.
Humans come in all size and shapes, so variability with the rollers and seat height is a must when it comes to lat pulldowns.
Also, some of the cheaper, truly awful lat machines have seats that are planted a foot in front of where the bar dangles from (I chose not to add these machines to this list).
? Top and Bottom pulley system.
Many lat pulldown machines can be adjusted to be a row machine as well.
If you are looking for a machine that is specifically a lat pulldown, that's cool, but a few of them have a pulley system that allows you to set-up the machine for rows and curls.
Alrighty, now that we have a decent lay of the land, read on for a full breakdown of the best of the best.
Rogue Monster Lat Pulldown Machine
⭐ Best price-is-no-option lat pulldown machine
Rogue makes my favorite gym equipment on the planet. Last night I literally dreamed about waking up in my own garage gym that was wall to wall Rogue stuff.
From their adjustable weight bench to their built-like-a-tank leg press machine, Rogue makes killer stuff for both personal and commercial gyms.
The Rogue Monster Lat Pulldown Machine keeps this trend rolling.
Made of American steel in the good old U.S. of A., this monster (ha!) of a lat machine is the ultimate pulldown set-up for people who are serious about building a killer home gym.
[Note: If you already own a Rogue Monster Power Rack, there is a lat pulldown attachment version of this machine that can be clipped onto your rack. Click here and scroll down for more on that.]
The weight stack is a total of 300 pounds (broken up into 10lb plates), and a 40" base gives you a ton stability. Rogue's racks and cages are the best on the industry, and you see this superior construction in the Lat Pulldown Machine, with a 3" by 3" steel frame. A diamond-knurled footplate is ready to lock your feet into place when doing rows.
The thigh roller pad is adjustable to six different positions, Rogue ships it with a stainless steel lat pulldown bar (not one of the cheap knock-off chrome bars that litter the market)
If you want the best, you are looking at it. Rogue sells this for just under $3,000 (check Rogue's website for current pricing and shipping windows).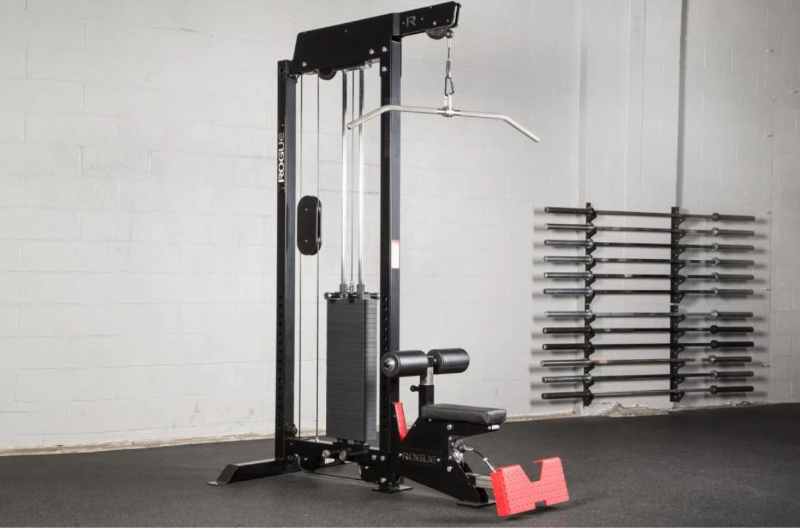 Body-Solid Pro Lat Machine
Body-Solid makes some decent stuff for home gym users at an affordable price. At under 70 pounds, Body-Solid's lat machine carries a small footprint yet can handle a fair amount of weight.
With their Pro Lat Machine, which relies on weight plates (sold separately) for resistance, you get a heavy-duty steel frame with both lat pulldown and seated row bars.
The lat pulldown bar is attached with a carabiner, so you can easily take it off and replace it with a tricep rope for tricep extensions or face pulls.
Foam rollers keep your legs in place when pulling, and with a weight rating of up to 250lbs you will be able to hammer away at those back muscles in the comfort of your own home (check Amazon for up-to-date pricing and stock).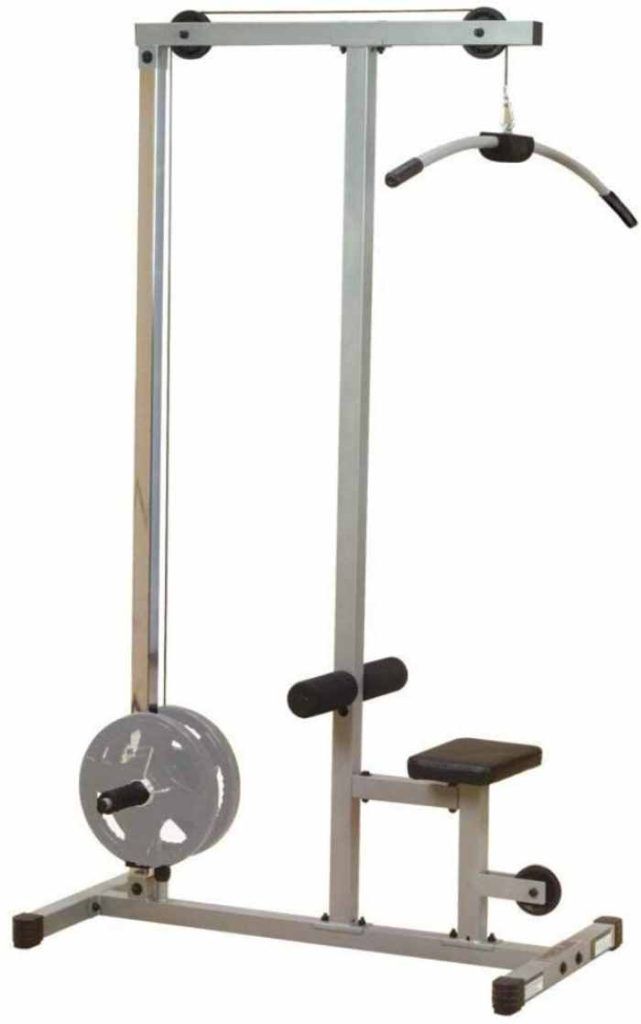 Titan Fitness Lat Tower
⭐ Best priced weight stack lat pulldown machine
Titan Fitness doesn't mess around when it comes to making badass equipment that is affordable for the everyday gym enthusiast. Whether it's their glute ham developer machine or wall-mounted pull-up bar, Titan Fitness brings the noise.
This Lat Tower is close to what you will see down the road at your local gym—a wide-based, 300lb weight stacked and fully adjustable lat pulldown machine.
The foam rollers slide up and down for a custom leg fit, a sturdy and adjustable foot plate is under the seat for rows, and the base of the weight stack has a couple pegs for looping resistance bands for extra resistance.
While not as expensive as the Rogue towers, the Titan Fitness tower is still pricier than the weight plate lat pulldown systems on the market, ringing up the register at around $1,500 (check Titan Fitness's website for up-to-date pricing and stock).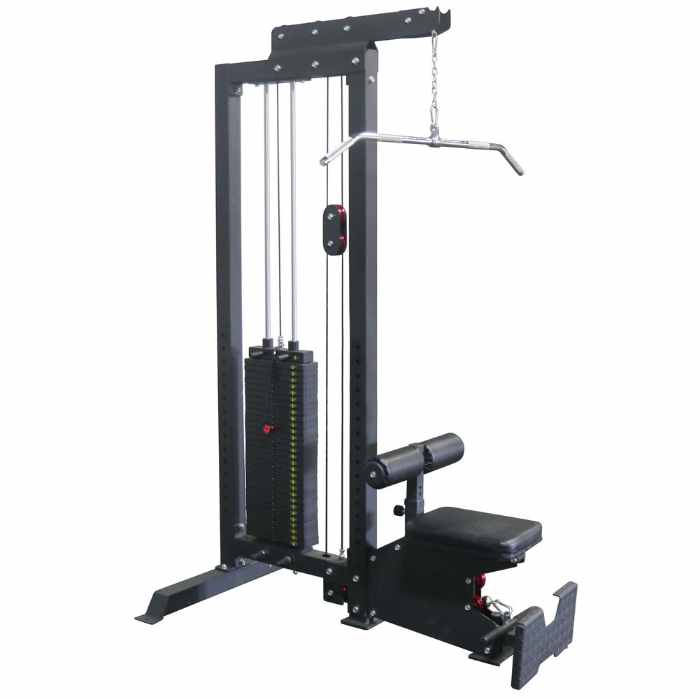 XMark Lat Pull Down and Low Row
XMark is a Louisiana-based gym and fitness equipment manufacturer.
Strictly from an aesthetics perspective, I am not a huge fan of their stuff. The dull gray reminds me of an aged box gym. But that's me just nitpicking over something that doesn't really matter all that much.
Ultimately, the XMark Lat Pulldown Machine—for a weight plate pulley system—works and works exceptionally well.
It's priced mid-range for a lat machine but on the higher end for a weight plate pulley machine, at around $700 (check Amazon for current pricing and availability).
You can rack up to 400lbs of weight plates on the machine, the steel foot plates for row are set up great, and the thigh pads are fully adjustable.
Made with high-grade steel and powder coated for maximum durability, the XMark Lat Pulldown Machine is a great choice for the home gym enthusiast who already has weight plates and wants to level up their pull and row game.