Owning a home gym has never been more affordable. Read on for a breakdown of the best compact home gyms for crushing your workout goals.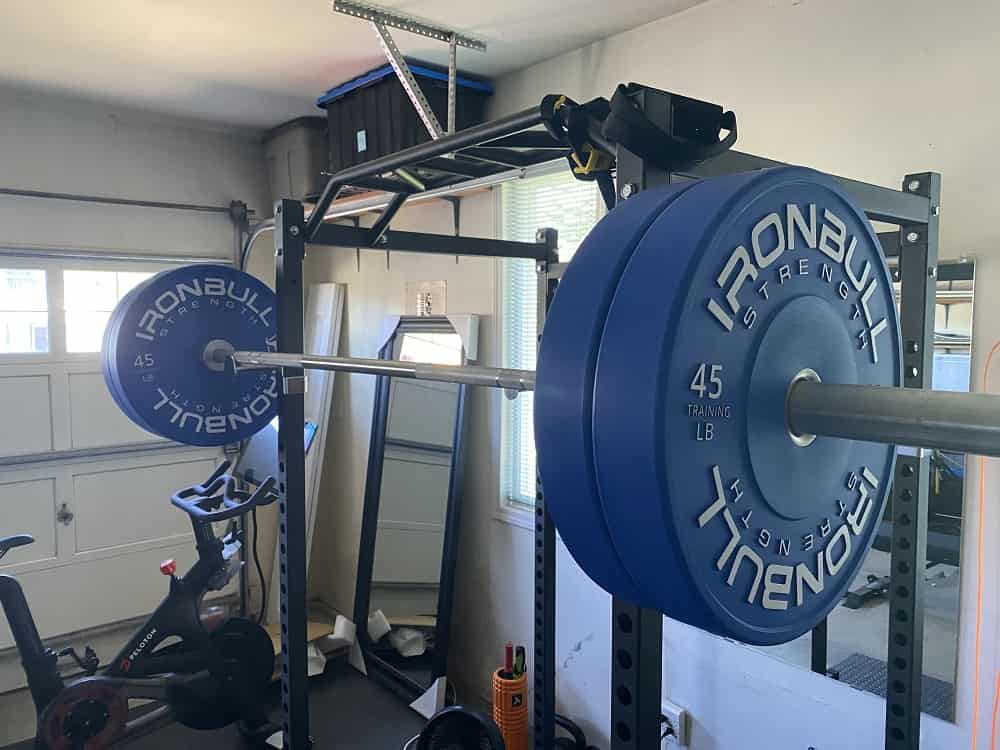 It's not that long ago that building out a home gym was considered somewhat of a luxury.
That all changed when Covid took a big old cough-cough across the planet, shuttering countless gyms and fitness centers, leaving us to get serious about exercising at home.
No matter how much space you have, or what kind of budget you are on, there are some awesome home gyms on the market these days. With the increased competition spurred on by the pandemic, we've never had more choices for building a home gym that meets our goals.
Below is a breakdown of the best compact home gyms.
We included a big of everything, including a compact home gym that is truly portable, a starter squat rack that is super compact, a universal gym that takes up a small footprint, and much more.
No matter what your goals and current fitness levels are, there is a compact home gym in this list for you.
Let's dive right in.
BodyBoss 2.0 Gym
⭐ Best compact home gym (that is also portable)
Looking for a home gym that is compact but also portable?
The BodyBoss 2.0 is your best pick.
The "gym" is quite ingeniously designed, with a slip-free and foldable base, a padded straight bar, several resistance bands for simulating weights, and then straps, handles and a door anchor for horizontal exercises like flies, extensions, and kickbacks.
Resistance is achieved by shortening the length of the bands. The total weight of the product is around 17-18 pounds, which makes it a cinch to pack up and throw in the back of your car/on your back/under your arm and head down to the local field or parking lot for an outdoor workout.
The versatility of this thing is super impressive. You can do all of the major lifts (squats, deadlifts, presses) in the comfort of your own home and then slide it under your bed when you are done with your workout for the day. Reviewers rave about the versatility and how they can achieve a comprehensive and total workout with limited square footage.
The BodyBoss 2.0 costs around $165 (check Amazon for current pricing and shipping options) and comes with a link to training videos on how to best use this little compact home gym.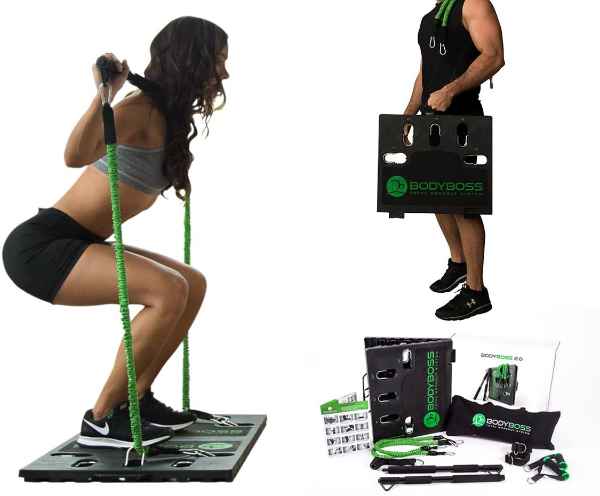 Weider Ultimate Bodyworks Compact Home Gym
⭐ Best compact home gym and slider machine
Weider's Bodyworks is an excellent all-around option for anyone looking to get a low impact and full-body workout at home.
The machine has a small footprint, can be stowed away between workouts, and is significantly cheaper than other similar glide machines.
The resistance on the Weider Ultimate Bodyworks Home Gym comes in the form of a pulley system and gravity. Increase the angle of the bench as you get stronger for increased challenge. The adjustable bands can go up to the equivalent of 50lbs of resistance.
The number of exercises you can perform with this machine is only limited by your imagination and your YouTube'ing skills. While Weider doesn't ship the bench with workouts or training plans, there are an endless number of routines and exercises on the web.
The Weider Ultimate Bodyworks is a true compact (and slightly portable) home gym. When you are done with your workout, fold it up and tuck it away and carry on with your day.
As mentioned, it is priced much more affordably compared to other glide machines (the Total Gym, for example, is twice as much), and usually retails for around $160-180 on Amazon (check for current pricing and availability), making it a compact home gym that is also super affordable.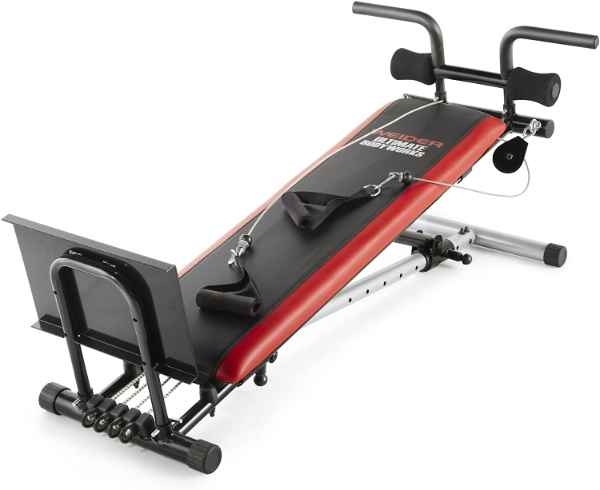 Bowflex PR3000 Compact Home Gym
⭐ Best compact home gym with a pulley system
Bowflex is synonymous with home gym equipment. While perhaps better known for hokey late-night infomercials, Bowflex has become a major player in the fitness industry, especially with the rush to build a home gym once Covid shuttered countless gyms in the spring of 2020.
Bowflex produces a wide range of compact home gyms, and the best balance for cost and functionality is the PR3000. The PR3000, which sounds like it's the Terminator's cousin twice removed, brings a heaping spoonful of versatility, with a machine that has 50 different exercises on it.
The base model of the PR3000 comes with up to 210lbs of resistance, which is suitable for most people, while more experienced lifters can upgrade and get another 100lbs of resistance tacked on.
The Bowflex is basically a premium home gym pulley system, which is awesome as you can change weight resistance levels quickly, costing you nothing in time as you transition between sets and exercises.
Cost-wise, the PR3000 checks in at about $1,000 (the pared-down PR1000 is about $600 with less than half the exercises).
And just how compact is this home gym?
The dimensions of it are 86" wide, 76" long, and 82" in height. The height is a little misleading, as you will want an additional height to fold up the unit, making it not an ideal home gym for areas that have lower ceilings.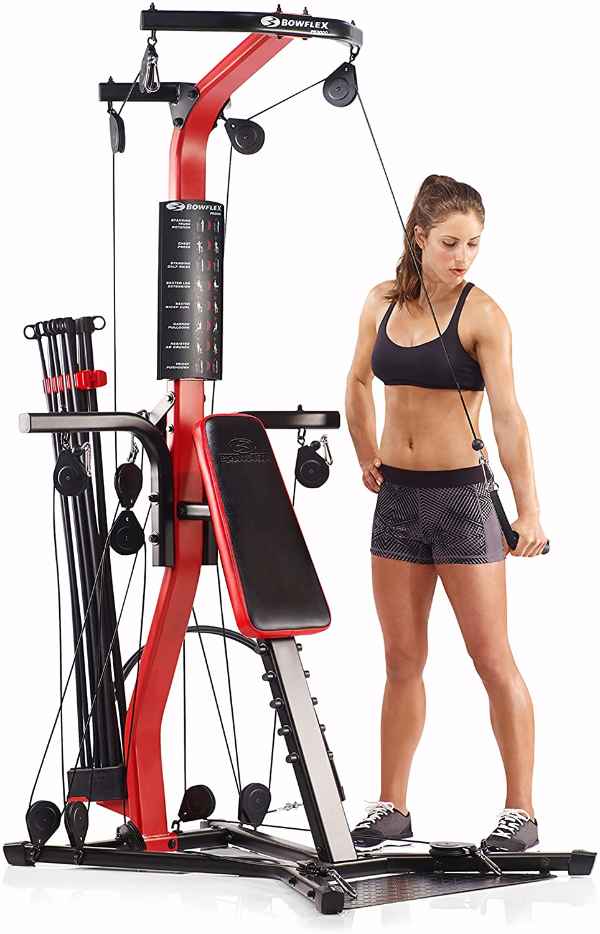 Marcy Diamond Multifunctional Home Gym
⭐ Best compact home universal gym
Marcy Fitness makes some of my favorite home gym gear, including their flat weight bench, back extension bench, and up, a compact home gym that delivers a steaming pile of versatility with a small footprint.
The frame and base of the home gym are made of steel, a weight stack provides up to 150lbs of resistance (not messing around loading and unloading weight plates), and the stack includes a safety pin.
The number of exercises you can do with this thing is almost never-ending. There's a pec deck with handles for reverse flys and presses. Leg rollers for leg extensions and standing leg curls. A lat pulldown bar for blasting away at your back. A preacher curl pad. And an ankle strap for cable kickbacks.
You get all of this versatility and training with a small footprint. The Marcy Diamond Multifunctional Home Gym has a length of 68", is 79" tall, and just 42" wide.
Reviewers love this thing on Amazon, with this compact home gym racking up nearly a thousand five-star reviews. Like most types of fitness equipment, this home gym is frequently sold out on Amazon (check here for current stock and pricing at Amazon).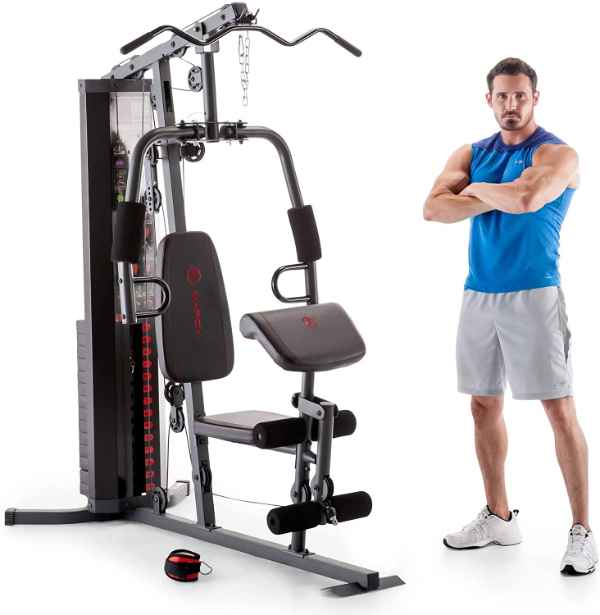 Rogue RML-3W Fold Back Wall Mounted Squat Rack
⭐ Best compact squat rack for small spaces
Like doing the big lifts and want something that can be tucked away when not in use? A wall mounted and foldable squat rack is your meal ticket. While not an all-in-one gym, it's a starting point for a killer home gym that is compact.
Installed on the studs and beams of your home, this badass squat rack can be rotated flush against the wall between workouts.
While there are a few fitness equipment manufacturers that make these types of squat racks, Rogue is easily the best.
The Rogue RML-3W Fold Back Squat Rack is made with American steel, has a heavy-duty 3" by 3" frame and plastic feet to protect your floor.
Flush against the wall, it protrudes just 5 inches. When you swing it out, the rack is held in place with a locking pin to keep it from moving or swinging around when lifting. The rack also includes a straight pull up bar that can be quickly attached when working out.
Price-wise, Rogue trends towards being a little more expensive when it comes to home gym equipment, but with Rogue, you are getting what you pay for. Their gear is extensively tested and put through its paces by top commercial gyms and athletes.
While premium power racks can get expensive quickly, this rack is very reasonable at just over $500, with a couple options for rack depth (21.5" or 41.5").
Key features:
Pair a foldable squat rack with an adjustable weight bench that can be stored between workouts and you have a full body workout set-up with a small footprint.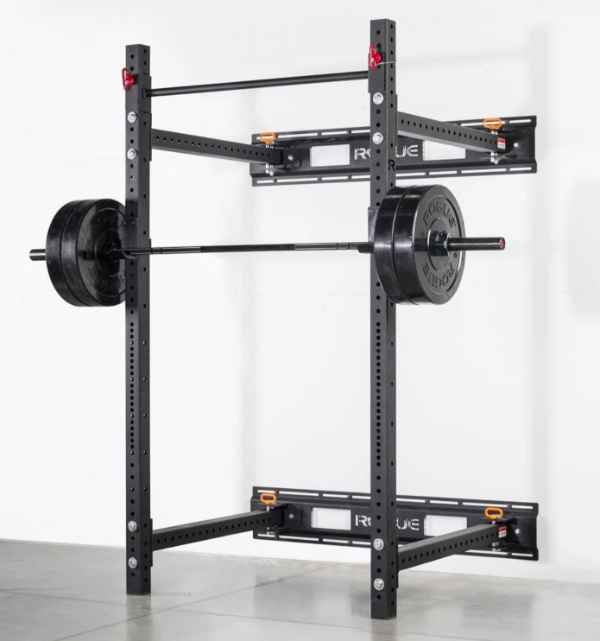 Choosing the Right Compact Home Gym
There is just about nothing that can beat working out in the privacy and comfort of your own home.
Especially when you can get most of the same exercises from a compact home gym that you would get in the expansive big box Globogym down the road.
Ultimately, the best compact home gym for you is the one that aligns the best with your exercise goals and budget.
Here are some quick things to keep in mind when on the hunt for your perfect home gym.
✔️ Square footage you have to work with.
This seems like a "duh" thing to think about, but you'd be surprised how often people order something online without giving full consideration to whether it will fit in their home or workout space.
Grab a tape measure and figure out how much room you have to work out with at home. Compare to the footprints that are listed with each available home gym.
And make sure to add a few inches on each side as well to give yourself a buffer while exercising and setting up your compact home gym.
✔️ Portable and/or stowable.
There are lots of options when it comes to compact home gyms that can take up a tiny footprint… but that are more permanent.
A folding squat rack is a perfect example of a home workout set up that can take up a minimal footprint. The same goes with foldable workout benches.
But some of my favorite compact home gyms are not only easy to stow, but they can be folded up and taken with you.
Whether you are going traveling for the weekend, going on vacation, or simply want to take your workout to the field down the road, there are compact home gyms that are also portable, giving you ultimate flexibility and choice for where you want to get your sweat on.
While not all compact home gyms can be easily thrown into the trunk of your car, there are a couple of excellent options that can be packed up into the size of a suitcase.
✔️ Budget.
This is usually the biggest barrier to people investing in fitness equipment. Often, the price tag for fitness gear can be so exorbitantly high that it discourages people from investing in themselves and their health.
Fortunately, most compact home gyms are relatively affordable, with some brands even offering monthly payment plans that work out to less than what you would pay for a gym membership.
How much you are comfortable paying is obviously up to you, but you don't need to break the back to get your hands on a compact home gym that has tons of functionality and versatility.
The Final Rep
There you have it. A complete look at the top compact home gyms on the market.
At the end of the day, whichever gym you choose should last you a long time and line up with your fitness goals and budget.
(But really… can you put a price on better health, stronger muscles, and improved mood?)
When it comes to an all-in-one compact home gym that is also portable, there is nothin on the market that beats the BodyBoss 2.0 Gym. Smartly priced, versatile, and easy to pack up and hit the road with, it's a clear win-win.
For people who want something a little more like the gym, but without all of the gym equipment, the Weider Ultimate Bodyworks Home Gym is an awesome all-around option that is affordable and gives you tons of choices when it comes to exercises.
Choose the right compact home gym for you, create a little workout oasis at home, and reap the convenience and the gains from being able to exercise at home.