The leg press is an excellent exercise for developing leg muscles. Here's a breakdown of the top leg press machines for your home gym.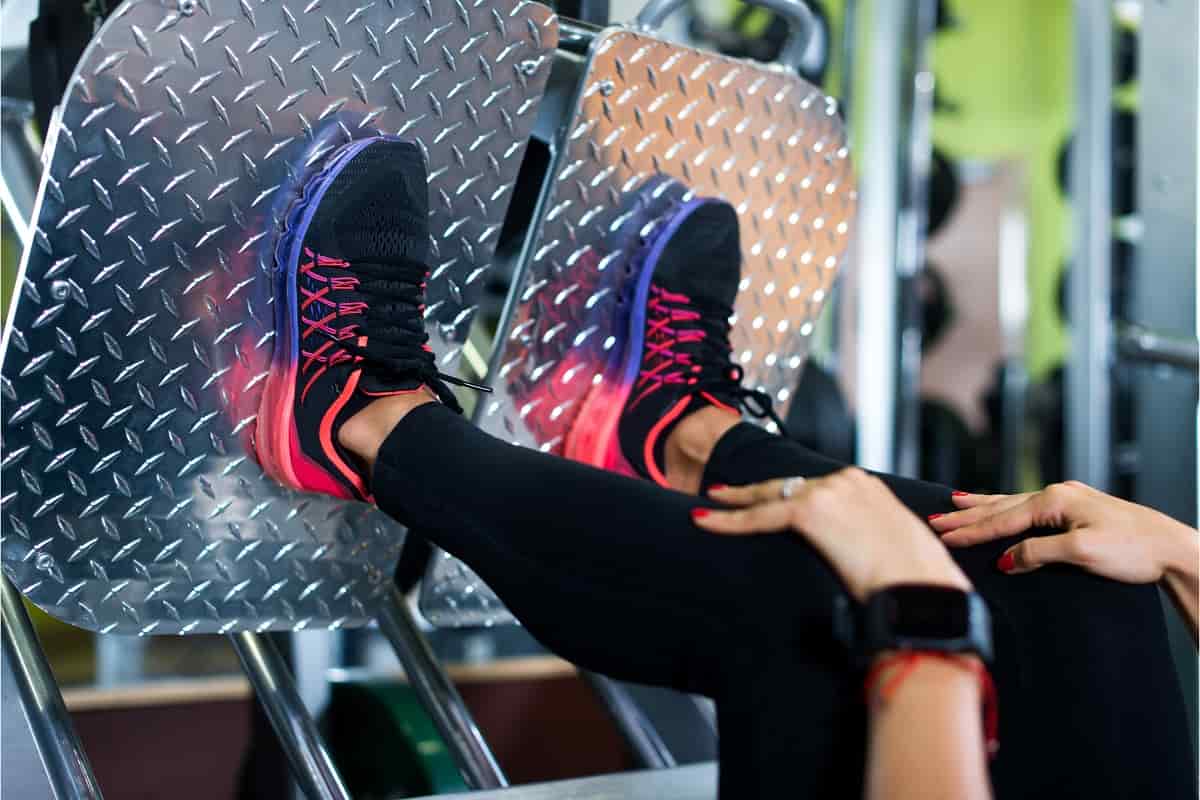 The leg press machine is a popular way to build lower body muscle and improve strength.
Load it up with some weight and push it up or horizontally.
While the leg press isn't as super-duper as the barbell squat for athletic performance [1], the machine does a GREAT job at building leg muscle.
The cool thing about the leg press is that simply varying where your feet are on the footplate you can emphasize the quads, glutes, inner or outer thighs [2].
The leg press is also an excellent alternative for gymgoers and athletes returning from injury and want a fixed-position exercise.
When it comes to picking out the best leg press machine for your home gym, there are a few things to keep in mind:
✔️ Leg press vs Combo machine. Some leg press machines can be MacGyvered to perform hack squats and calf extensions. Others are pure leg press machines.
✔️ Direction of press. Unlike your basic squat, which is done straight up and straight down, leg presses offer different angles. Press up, press on an angle, or press horizontal.
✔️ Weight capacity. Gymgoers and athletes can load up a LOT of weight on leg press machines. Keep an eye out for weight rating if you are someone who bangs big weight.
✔️ Price. Compared to a basic squat stand or even some power racks for home gyms, leg press machines are on the pricier end of the spectrum. That said, there are some quality, nearly commercial-grade options that won't decimate your bank account.
Okie dokie.
Now that we've covered some of the benefits of leg press and put down a foundation of what to look for, let's get to the best leg press machines for your home gym.
Read on and let's get to building some monster legs.
Force USA Monster Leg Press + Hack Squat Combo
⭐Best combo leg press machine for home gyms
The Force USA Monster Leg Press machine is a versatile, heavy-duty leg press for home gyms. And honestly, it would fare well in most commercial gyms, too, simply because it is so much more than just a leg press.
You can do hack squats, calf raises, leg press, and with five racking positions and five safety lock positions, the machine can accommodate lifters of varying heights (up to 7 feet tall).
The machine can handle up to 1,000lbs of weight. Has pegs for banded resistance. Four sleeves for weight plate storage between workouts and reps. Framed with powder-coated, heavy-duty steel, the Force USA Monster lives up to its name.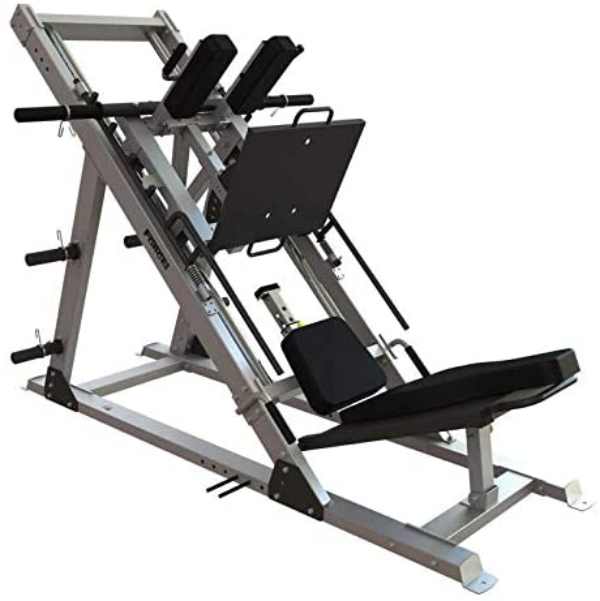 Powertec Fitness Leg Press
⭐ Best pure leg press machine for home gyms
The Powertec Fitness Leg Press machine is a pure leg press, and in my experience, the best option for those looking for a leg press machine for a home or garage gym.
Load the four weight pegs with up to 1,000lbs and do work.
The back pad is easily adjustable, a handle on top of the footplate makes climbing in and out of the machine a piece of cake, and the footplate is large to accommodate a variety of foot stances. Double-stitched vinyl pads keep you comfortable and are a breeze to wipe down after working out.
The usual leg press refinements are all here: safety levers, handles next to the seat for when you are white-knuckling through a hard set, and the sled rolls smoothly through the roller system.
In total, the Powertec Fitness Leg Press packs a ton of punch at a price that comes in at around half of comparable stations and combo units.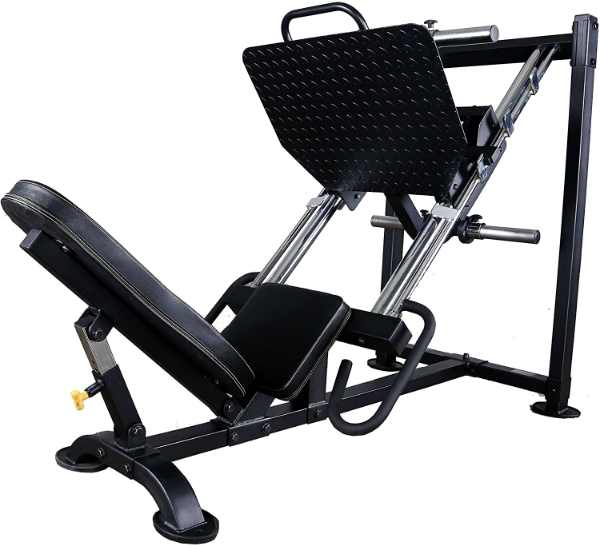 Rogue Iso Leg Press
⭐ Best "price is no problem" leg press machine
Rogue makes industrial-strength fitness equipment. Whether you are after a flat weight bench, trap bar, or an Olympic barbell, Rogue makes gear that is insanely durable, looks good, and is designed for work.
The Rogue Iso Leg Press is a next-level leg press that is better than the ones you will find in most commercial gyms. Seriously.
Two footplates offer athletes the opportunity to train with single or both legs. The foot decks are treaded with diamond-patterned steel for a secure and stable foot grip. The lumbar pad is adjustable, four weight pegs carry the weight plates when leg pressing and the Rogue Iso Leg Press has an extra four pegs for storage.
Total weight capacity on the sled is just under 2,500-pounds, making it by far the most heavy-duty and weight-bearing option on this list of the top leg press machines.
The cost of this absurdly awesome list of features? Welp, if you have around $4,700 to invest in your home gym, this absolute tank of a leg press machine is yours. On the plus side, that nearly $5k investment means you get shipped a fully assembled leg press machine.
In summary, the Rogue Iso Leg Press is better than the leg presses machines you will find in your neighborhood gym. If you are serious about leg pressin' and have the space (98" by 64") and the budget for it, the Rogue Iso Leg Press is quite possibly the best leg press machine available.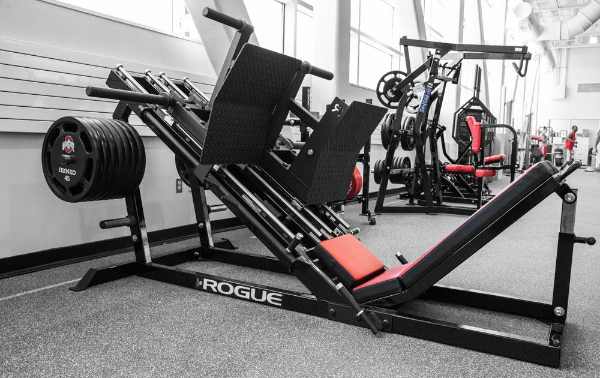 Valor Fitness Vertical Leg Press
⭐ Best vertical leg press
The vertical leg press isn't for everyone. It can be a little disconcerting pushing lots of weight straight up into the air.
I get that.
But there are some benefits to this kind of set-up.
For starters, the machine itself is smaller, making it suitable for home gyms that have a limited amount of space (in other words, almost all of them). They are also cheaper compared to the nearly commercial-grade leg press machines.
The Valor Fitness Vertical Leg Press Machine is built of solid steel and has a wide base for added stability. The machine is rated for up to 400lbs of weight.
Vinyl-wrapped pads are easy to wipe down and are durable. The weight sleeves can stack both Olympic and non-Olympic plates.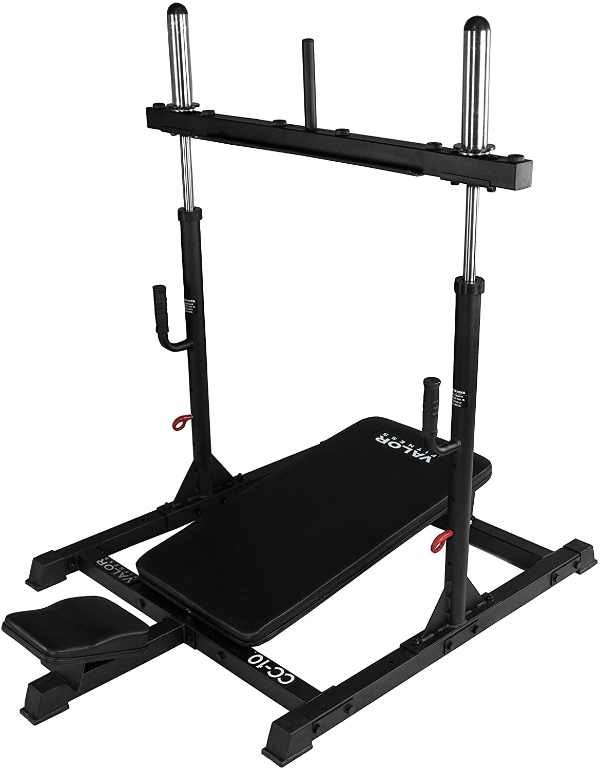 Body-Solid LVLP Horizontal Leg Press
For lifters and home gym owners who prefer a horizontal press, the Body-Solid is a heavy-duty option that is backed by a lifetime warranty ("Forever. Period.")
Constructed with 11-gauge steel and covered in a silver-powder coating, the press has a pivoting footplate that keeps your legs and feet in proper position throughout the press.
While it is built with the commercial gym in mind, if you have space, this leg press, with its double-stitched upholstery and fully adjustable back pad is an absolute beast.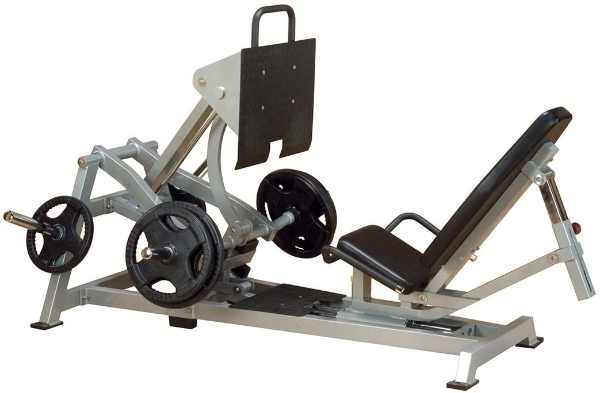 TDS 4-Way Hip Sled and Leg Press
The TDS 4-Way Leg Press machine is another combination station that can be used for leg press, hack squats, calf raises.
Rated for a total weight capacity of 1000-lbs, it provides a taste of a commercial gym station in the comfort of your own home. Thick shoulder pads make hack squats comfortable, heavy steel tube construction keeps the station from wobbling or sliding, and a variety of lockout heights are provided.
One negative with this machine is the foot base is not very wide. If you are looking to do wider stance hack squats (or you are simply a wider than average human), this might not be the machine for you.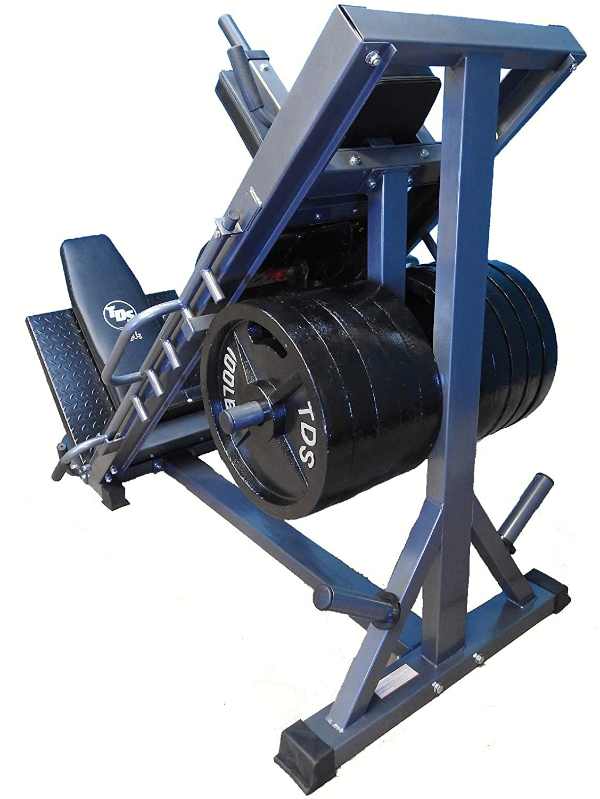 Choosing the Right Leg Press Machine
While on the hunt for a leg press machine, there are some things you should keep top-of-mind so that you find the perfect leg press machine that suits your needs and budget.
Let's take a quick look at them (as well as the different types of leg press machines out there).
💪 Footprint.
Leg press machines are not small. They take up a lot of space. There's not much getting around this if you want a proper leg press machine.
While there are vertical leg presses out there that are cheaper and take up a slightly smaller footprint, for the most part you are going to be carving out a healthy chunk of your workout space for this bad boy.
Note the footprint of the leg press machine and make sure to add space around it for loading weights and mounting/dismounting the seat.
💪 Weight rating
This is a big factor to look for. How much weight can the machine handle?
Leg press as an exercise is one that lifters can quickly ramp up with in terms of weight, especially compared to exercises like squats and deadlifts. I can regularly press a couple of hundred pounds more of weight plates on a leg press machine than barbell back squats.
At the least, your leg press machine should be able to comfortably handle 500lbs or more, with the better ones on the market able to take 1,000lbs or more.
💪 Seat comfort and lumbar support
When you consider that your back and butt are battling gravity and the weight load on the machine, you know that seat comfort and lumbar support are critical.
Quality leg press machines have thick padding in the seat, adjustable seats, and back cushions that are ergonomically designed to provide back support while you hammer out heavy leg presses.
💪 Large foot plates
Although leg press machines aren't as versatile as a squat rack or weight bench for the number of exercises you can perform, there are variations in foot stance that can better target your glutes or quads.
This is why I always recommend to look for a leg press machine that has a decent size foot plate.
Changing up the stance on your leg press is a great way to maximize muscle stimulation and fiber recruitment, so make sure that you choose a leg press machine that has a foot plate with decent yardage.
💪 Budget
And of course, budget!
Gym equipment is generally not very cheap, especially when it comes to commercial-grade equipment. Leg press machines are definitely more of a luxury piece of strength training gear, with most decent leg press machines costing over a thousand dollars.
While vertical leg presses are fairly low-cost (a couple of hundred dollars, weight plates not included), a solid leg press machine that can load 1,000lbs or more starts to get a little pricey, with some of the higher-quality machines costing $4,000 and up.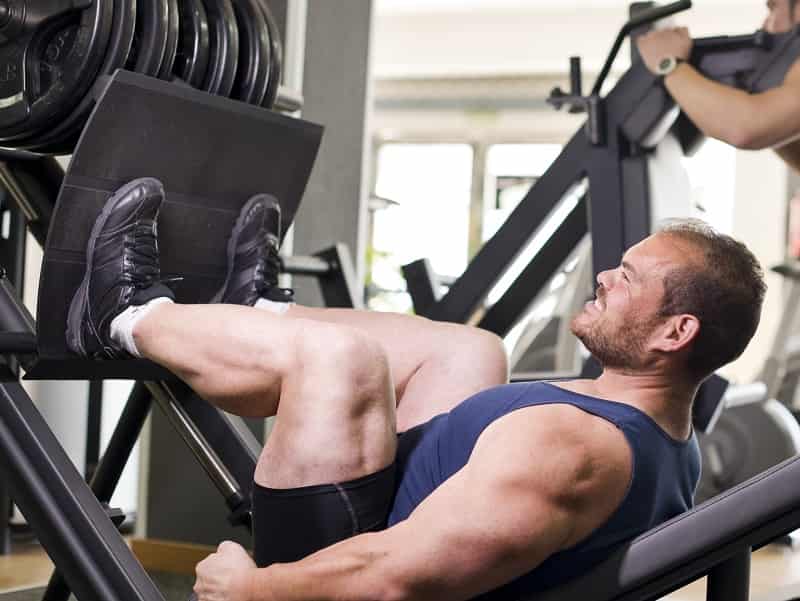 The Different Types of Leg Press Machines
Even though the exercise itself is relatively simple—load up a bunch of weight and press it away from you with your legs—there are a variety of angles, footplates, and types of resistance to help you develop more muscular legs.
Here are the most popular types of leg press machines.
✔️ 45-degree leg press machines.
Probably the most common format of leg press are the 45-degree machines. These are the ones we see most often at our local home gyms and do one thing and one thing only—blast your legs.
Loaded with weight plates, whether cast-iron or from your set of bumper plates, weight is pushed up steel rods.
✔️ Leg press and hack squat combo machines.
For maximum versatility on leg day, look for leg press machines that incorporate the ability to do hack squats (like the Force USA Monster Leg Press, for example).
Leg press machines take up a lot of real estate in your home gym, so being able to double up on exercises that you can perform on the machine is a nice perk.
✔️ Cable machine leg press.
Instead of pushing weight up or at a 45-degree angle, cable machine leg presses direct weight horizontally. This option is more beginner-friendly and relies on a weight stack and cable pulley system to generate resistance.
Because the weight stacks are shipped with the machine, these types of leg press machines can get quite pricey.
Distance from the footplate to the seat is usually adjustable. The maximum weight on these machines is limited to a couple of hundred pounds.
✔️ Vertical leg press.
Vertical leg presses are a less popular form of this kind of exercise, most likely because the idea of pushing the weight straight up with our legs can feel a little daunting for many beginners and even experienced lifters. (Myself included.)
Vertical leg press machines are often cheaper and don't require a ton of floor space—at least compared to the bigger leg press rigs.
If you are comfortable with this kind of exercise and machine it may be worth looking into.
The Final Rep
For most people, purchasing a leg press machine is something they invest in once they've set themselves up with a power cage or squat rack and want to diversify their lower body workouts at home.
But when it comes to building leg muscle, especially in a manner that is generally safe (no worrying about failing a rep with a fully loaded barbell on your back, for example), adding a leg press machine to your home gym is hard to beat.
To recap:
⭐ Lifters who want a leg press machine that approaches commercial-grade quality will like the PowerTec Fitness Leg Press, which is about as affordable as it gets for a gym-quality press machine. Retails for around $800.
⭐ More serious lifters who want a tank of a leg press machine and don't mind shelling out a few more books will love the Rogue ISO Leg Press Machine. Built with Rogue's legendary commitment to excellence, it has the most bells and whistles and durability of any leg press currently on the market.
Recommended Resources
The Best Calf Raise Machines for Home. Build stronger, more muscular calf muscles with these affordable and durable calf raise machines for your home gym.