Thinking about investing in a squat rack? Here are six reasons you should strongly consider getting a squat rack for your home gym.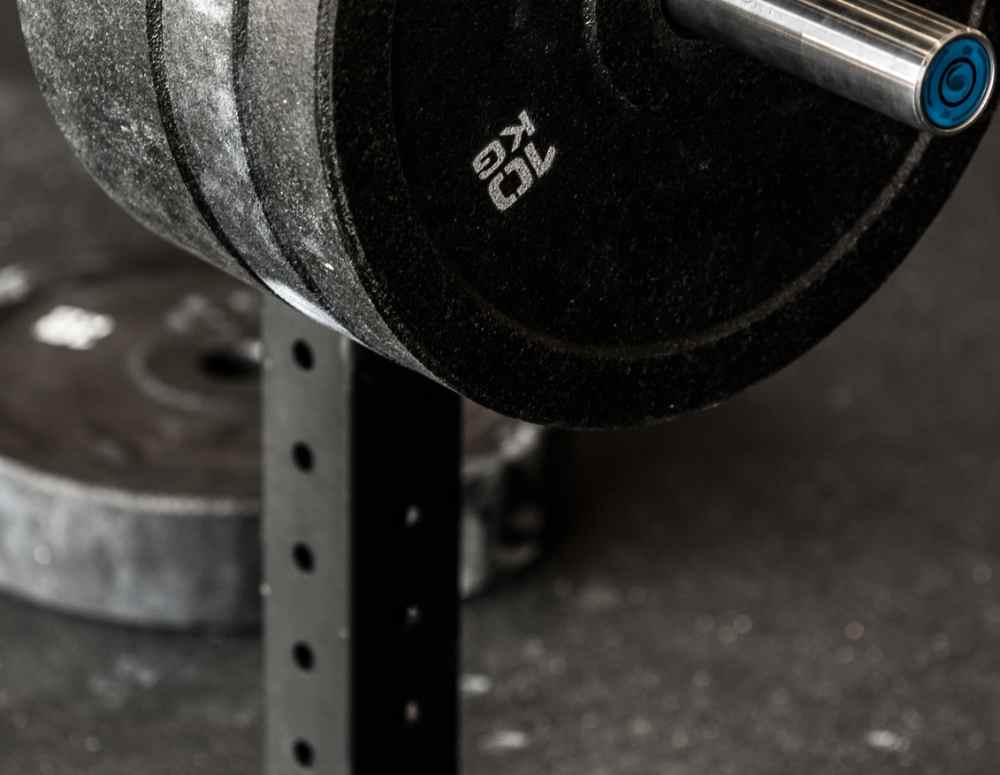 The squat rack is one of the best investments you can make in your health.
Whether you are talking about leveling up your lifting, getting started on the journey of building out your first home gym, or you want a safer way to lift heavy, a squat rack is essential.
While squat racks vary in size, function, price, and steel thickness, investing in a squat rack is… well… an excellent idea.
Although it's not always the first thing people think about when it comes to exercising at home, a solid rack is a great start.
In this article, we are going to breakdown the many benefits of investing in a squat rack and how this simple-looking piece of strength training equipment has more benefits than you might originally think.
Let's jump right in.
1. Squat racks allow you to lift more safely.
Squat racks were originally designed to help provide support and spotting during barbell exercises, including squats and presses.
The uprights of the racks have an extensive range of holes that allow you to adjust the height of the hooks and barbell to your preference.
See also: Squat Racks vs Power Racks: What Are the Differences?
Because of this, you can lift more safely, not worrying about dropping a loaded barbell onto the floor or hurting yourself trying to ditch the weight on a failed rep.
For maximum spotting, choose a power rack (they have four or six columns) as you can step "inside" them and use safety bars, or my new favorites, spotting straps, to catch the barbell on a failed lift.
2. Squat racks are for more than squats.
Although named after the best lower body exercise in the gym, your local neighborhood squat rack can be used for a HUGE assortment of exercises.
Even with just a bare-bones rack, you can do a full set of exercises including back squats, front squats, bench press, shoulder press, military press, skull crushers, bent over rows, and so on.
Things get pretty interesting as you start to add attachments and accessories.
Whether we are talking about a bench, pull-up bar, pulley system, and so on, the sky is truly the limit in terms of the number of exercises that can be performed with a squat rack.
3. Store your lifting gear.
As you build out your home gym, there are a ton of different accessories and other pieces of lifting gear that you can add to the rack (more on that next!).
Racks are also perfect for storing your lifting stuff. From dangling resistance bands on unused j-hooks, placing barbells in vertical bar holders, and stacking weight plates on pegs.
Storing weight plates—whether it's your set of bumper plates or iron plates—on the rack also help weigh down the rack, ideal for people who don't want to bolt down the rack to the floor.
4. Accessorize your squat rack and make it a true home gym.
Even though it's a squat rack, it's really the foundation of your own home gym. There is an almost endless number of ways to accessorize your squat rack.
Some of the big-name brands have a huge inventory of compatible attachments and accessories that you can add to your squat rack to customize it.
As an example, the Rogue Monster line of squat racks has over 60 different accessories that you can add to the rack. Things like a landmine attachment, dip station, lat machine pulldown, storage pegs, and on and on.
TIP: When choosing a squat rack, it's important to note the hole spacing and column thickness. Squat racks have varying levels of column thicknesses, including 2×2", 2.3×2.3", 2×3", and 3×3".
---
5. Squat racks are more convenient.
When the Covid pandemic swept the globe in 2020 and gyms shut down, lifters scrambled to outfit their own home gym. Barbells, dumbbells, and yup, squat racks, all became hard to get as demand exploded.
As the pandemic receded, and gyms began to reopen, a lot of lifters (myself included) found that the convenience of being able to workout at home far exceeded the previous routine of driving to a gym and getting in line for a squat rack.
Investing in a squat rack means you don't have to drive to the gym (saving time and money in the long run), no competition for a rack (especially no one doing curls in the squat rack), and the convenience of being able to lift as close as down the hall.
6. Squat racks can save you some money
Finally, a squat rack can save you a ton of money in the long run.
While the upfront cost of a squat rack varies, with some inexpensive racks costing as little as $200-300, having a sweet rack at home means you can cancel your gym membership.
As an example, if you are paying $50 for a gym membership, you can pay off a $600 squat rack in just twelve months.
When you consider that most squat racks are borderline indestructible, and are designed to last a lifetime, the investment can pay for itself relatively quickly.
The Bottom Line
As you can see, there is a TON of value to be found in investing in a squat rack.
The benefits are almost endless, including saving you money, peak convenience, lots of exercise versatility, and more.
Given that there is a multitude of squat racks on the market, including folding squat racks, half racks, and commercial-grade power racks, there is a rack out there for every workout space and every budget.
More Squat Rack Guides
? 10 Best Squat Racks for Home and Garage Gyms. Looking for a detailed look at the best squat racks on the market? This comprehensive guide compares the best racks for every budget and workout space.