Urethane dumbbells are the best of the best when it comes to dumbbells. Here's a detailed look at the top urethane dumbbells and a comprehensive buyer's guide.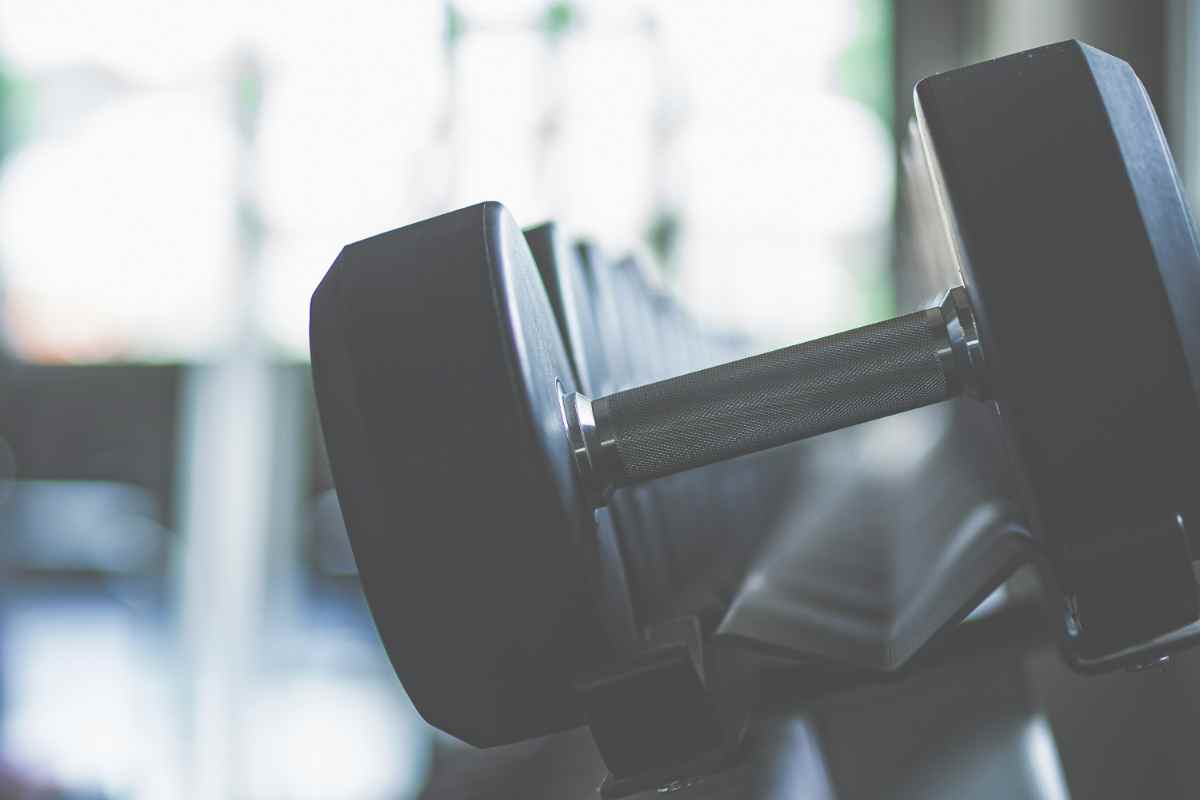 Dumbbells are the ultimate Swiss Army knife for your workouts.
They are portable, don't require a vast workout area, and can be used for an endless number of exercises.
But when it comes to choosing the best dumbbells for YOU, there is a TON of options on the market.
Rubber hex dumbbells. Cast iron dumbbells. And the popular new kid on the block… adjustable dumbbells.
Urethane dumbbells, the premium type of dumbbell that commercial gyms rely on, tend to get lost in the mix.
Which is too bad!
In this guide to the best urethane dumbbells on the market, we will look at the top DB's, what makes urethane dumbbells unique, and much more.
Let's jump right in.
Rogue Urethane Dumbbells
⭐ Best urethane dumbbells for home gyms
Rogue makes some of the best strength training equipment on the planet. They are also one of the few companies that make urethane dumbbells for home gym enthusiasts.
The Rogue Urethane Dumbbells are precision-machined for maximum weight accuracy (Rogue says that the DB's are within 3% of stated weight) and durability. With just one weld, the dumbbells won't crack and fall apart over time.
Available in a huge variety of weight options, from as small as 5lb per DB all the way up to 150lb, these dumbbells will work even harder than you, with a black matte finish that can withstand countless drops and keep smiling at you.
Rogue's one of the best to do it, and the combination of their Made-in-the-USA production, rigorous quality standards, and reasonable price points makes their urethane dumbbells the best on the market for most lifters.
? Key features:
Huge range of weight options (5lb -> 150lb)
Medium knurl on the handle
Six-inch long handle
Available in pairs or in sets
25lb pair — $190
Available in sets (5-50lb, 5-75lb, 5-100, 55-100lb, 105-150lb)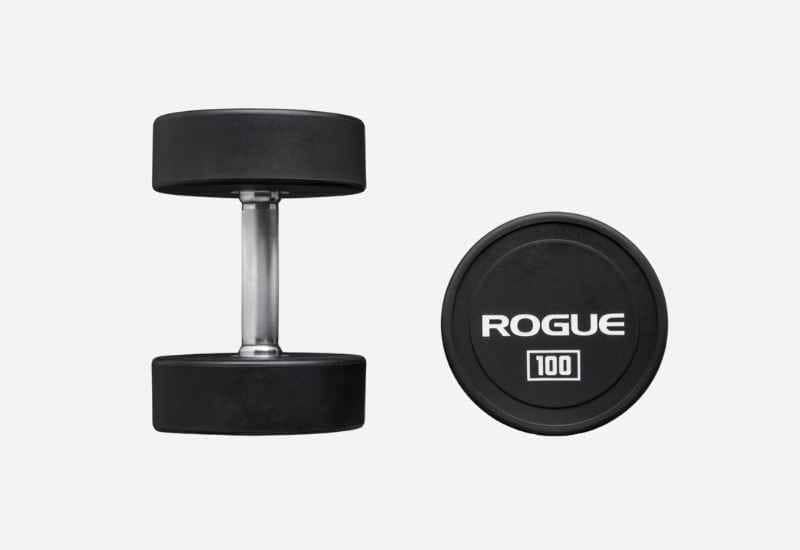 Hammer Strength Round Urethane Dumbbells
Hammer Strength should be a familiar name to anyone that has gone to a Big Box fitness gym. Their machines litter the most popular gym chains across the country.
The Hammer Strength Round Urethane Dumbbells are made with high-grade urethane from Germany and are NOT cheap. Hammer Strength primarily markets to commercial gyms, and the price is reflected in this fact, with a single 25lb dumbbell retailing for $229.
That said, these dumbbells are built for high volume use, and so, will last forever with even a bare minimum standard of care.
Like Rogue, they are also made in the United States.
? Key features:
Commercial-grade dumbbells
25lb pair — $458
Made with premium German urethane
Vitos Urethane Dumbbells
⭐ Best budget urethane dumbbells
Want the experience and durability of urethane without donkey-kicking your bank account into oblivion?
The Vitos TPU Dumbbells, made with high-quality polyurethane, and also available on Amazon, is your best choice.
Available in a similar range of weight options as Rogue, from 5lb to 150lb, these dumbbells are built with thermoplastic polyurethane (TPU). This material is hilariously durable, resistant to water (sweat), and the color won't fade over time.
Price points vary, with Amazon selling them through a network of third-party sellers. The dumbbells are also sold through Vitos' official website (usually for cheaper).
In sum: You get the same overall quality, weight variance and smell-free experience of Rogue's urethane dumbbells at a slightly reduced cost.
? Key features:
25lb pair — $159
Weight variance of 3% or less
32mm handle (up to 50lb), 34mm (55lb+)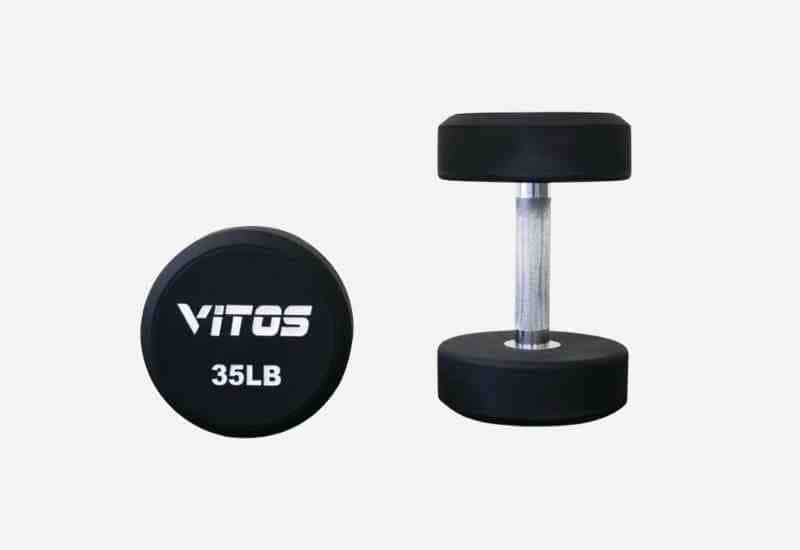 American Barbell Series 1
⭐ Best urethane dumbbells sets with custom branding
Looking to REALLY splurge on a set of urethane dumbbells? Want to get your favorite team's logo or your personal training business logo on the heads of the dumbbells?
The American Barbell Series 1 is built with premium German urethane, has a solid steel core for unparalleled durability and is built for excessive, high-volume use.
The one thing that makes the Series 1 stand apart from the competition is a patented locking and spline technology that reinforces the bond between the core and the weight heads when it's dropped.
The Series 1 is available in a huge range of weight options, from 5lb all the way up to Strongmanish 200lb per dumbbell.
The only pain-in-the-butt feature of these dumbbells is that you have to fill out a form on their website to order them. (They sell primarily to gyms.)
? Key features
Custom branding available
Patented spline design that solidifies bond between handle and weight heads the more you drop them
Medium knurling
Handle thickness: 32mm (up to 100lb) and 35mm (105-200lb)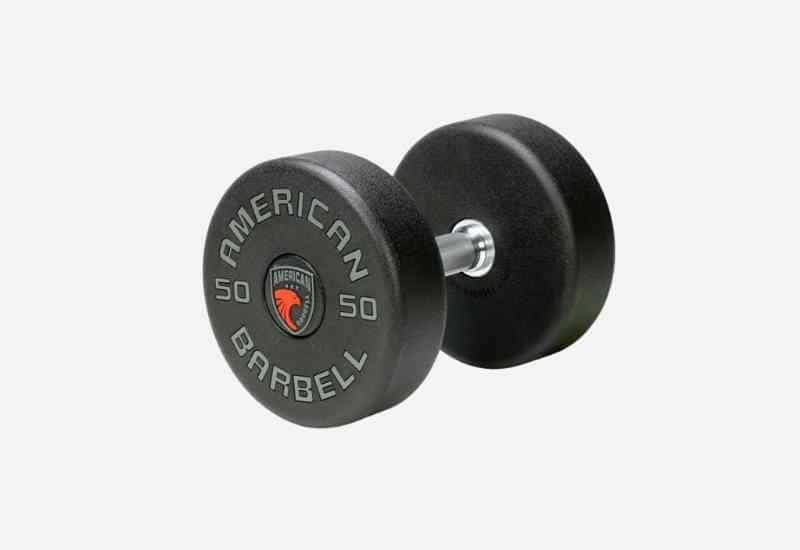 Hammer Strength 12-Sided Urethane Dumbbells
There are some advantages of hex dumbbells, which have flat sides on the weight sides. This prevents them from rolling away and you can also stack them (not very high, albeit, but a little!).
Urethane dumbbells, for the most part, don't feature flat sides on the weight heads.
Hammer Strength's 12-sided urethane dumbbells are an exception to this, giving you the odor-free and durable benefits of urethane combined with flat-sided dumbbell heads that keep them from rolling away between sets.
They are available in 5lb increments (up to 100lb per dumbbell), machined with steel, and with medium knurling on the handles for a steady and slip-free grip.
Hammer Strength's gear is primarily made for commercial-grade gyms, so the manufacturing might be a little overkill for the casual home-based lifter, but if you want dumbbells that will last you a lifetime or three, Hammer Strength is an excellent choice.
? Key features:
Manufactured in the USA
25lb pair — $430
Medium knurling
Handle thickness: 31.75mm (up to 27.5lb) and 35mm (30lb to 100lb)
Sold individually (NOT as pairs or sets)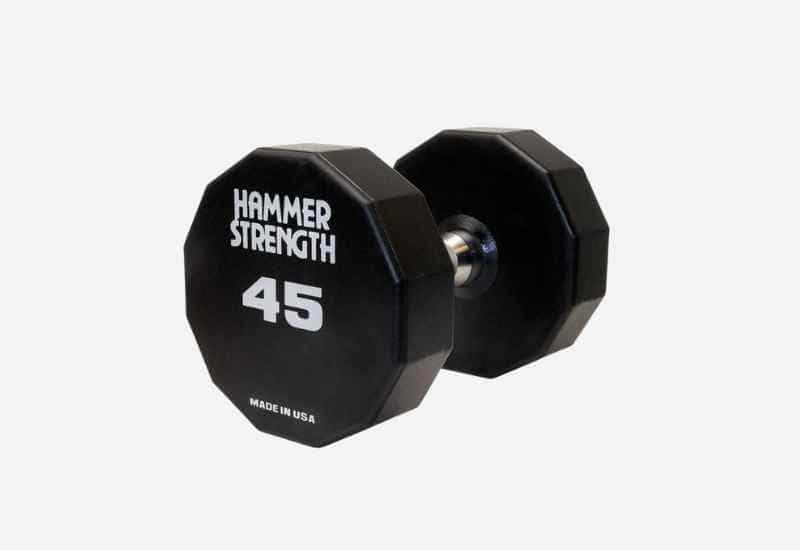 Urethane Dumbbells – Buyer's Guide
Here are the key things to look for when sorting through the urethane dumbbells on the market.
? Weight shape.
Urethane dumbbells are almost exclusively round in shape. This is mainly because they are designed to be sold in sets and racked.
One of the benefits of flat-headed dumbbells is that they won't roll away when you put them. There are some 12-sided urethane dumbbells on the market, including those made by Hammer Strength.
That said, the main reason that dumbbells are built into a round shape is to make them easier to roll into position when lifters want to begin working out.
? Handles thickness and knurling.
Dumbbells spend a lot of time in your hands, so you want a set that are going to be comfortable, won't slip, and are thick enough to rest comfortably in your hand.
Handle thickness is typically around 30-32mm for lighter dumbbells (5 to 30lbs), and 35mm, providing a thicker shaft to connect the weight heads.
Knurling—the diamond-shaped pattern etched on the handle, also seen on barbells—helps you keep your grip on the dumbbell, no matter how tired or how sweaty you get.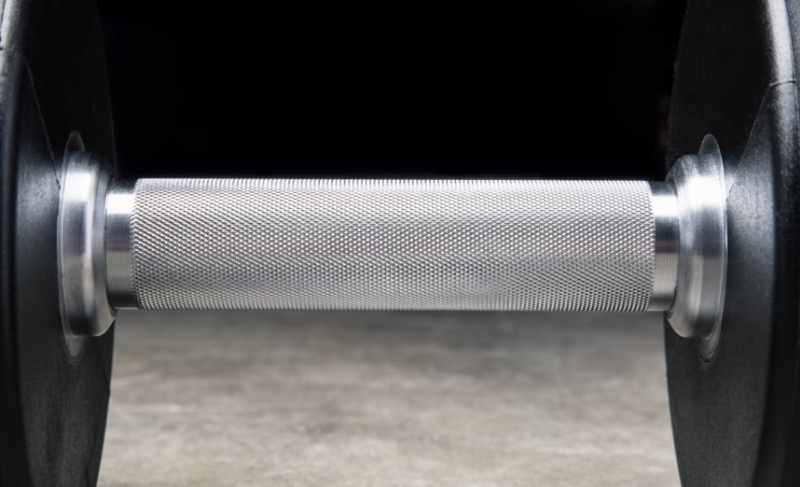 All of the dumbbells on this list have medium knurling. More aggressive knurling is only found on elite powerlifting barbells and is designed specifically for max weight efforts (1-3 reps).
Steer clear of dumbbells that have zero knurling on the bar. They will slip and slide in your hands the moment you start to build up a sweat.
? Weight variance.
Within the family of dumbbells, urethane dumbbells are the most accurate when it comes to actual weight.
This might come as a shock to some, but weights, and we are including plates in this discussion as well, are very rarely EXACTLY the stated weight. I've measured plates at my local gym and found 45lb plates that were actually 43 and 49lbs!
Urethane dumbbells are more accurate in terms of weight compared to rubber hex and especially cast-iron dumbbells.
The Rogue Urethane Dumbbells, for example, have a tolerance of 3% of stated weight, but in reality, most urethane dumbbells have a weight variance of 2% or less.
? Branding
One of the major advantages of urethane dumbbells is that you can custom brand them!
Obviously, this doesn't come cheap (on top of an already expensive set of dumbbells), but it's an option that is available exclusively to urethane dumbbells.
Whether you want to rep your favorite sports team, your personal training business, or a logo or slogan of your choice, urethane dumbbells provide the unique opportunity of personalizing your dumbbells.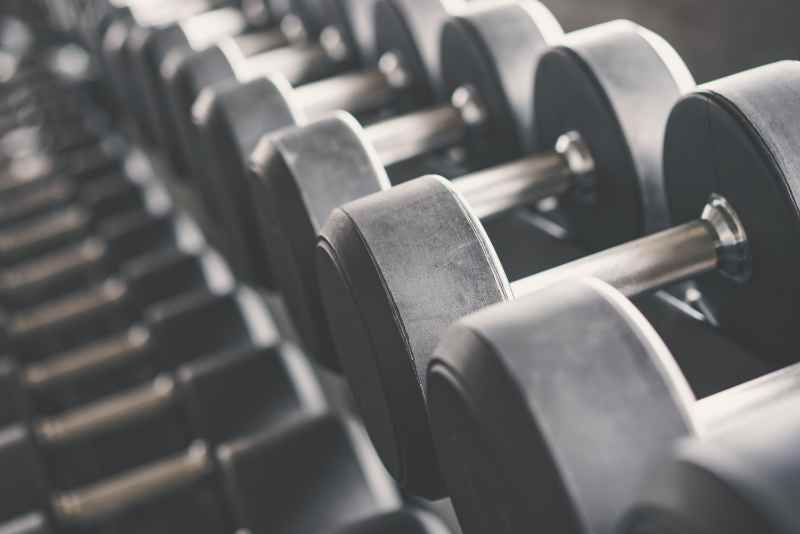 ? Budget
Finally, we have the old cash register.
Urethane dumbbells are the priciest option when it comes to dumbbells (we will cover why shortly).
Rubber hex dumbbells and cast-iron dumbbells, for example, average $1 to $2 per pound.
Urethane dumbbells, at the bottom end of the price range, cost $2.50 per pound, with premium brands costing as much as $8 per pound.
The cost can be averaged downward by purchasing a set (you'd also save nominally on shipping by purchasing a bunch of them at once).
Urethane Dumbbells – FAQs
Why are urethane dumbbells so expensive?
Urethane dumbbells kick all of the butts in terms of performance, but when it comes to the price tag… well… ouchie.
There are a few reasons that urethane dumbbells are more expensive than other dumbbells, but ultimately, it comes down to higher manufacturing standards and better materials.
? Rounded edge dumbbells are more expensive to produce. Hard edges make it easier for manufacturers to calculate weight, with rounded heads requiring more complex machining to hit the proper weight. Urethane dumbbells are the most accurate DBs on the market in terms of weight accuracy, and machine casting the proper weight over and over at scale is not as easy as you'd think.
See also: How Much Dumbbells Cost (Examples Plus Why They Are So Expensive)
? Most urethane dumbbells are made in the USA. There's something to be said for purchasing American-made equipment. Usually made with American steel and German urethane, they are built to a higher standard compared to cheapo overseas dumbbells.
? Better bonding. Urethane uses advanced bonding that takes longer compared to rubber. This process reduces splitting and also doesn't leave scuff marks on clothing or gym floors.Another benefit to better bonding is that urethane dumbbells are easier to wipe and clean.
? Stainless steel construction. Urethane dumbbells are made with stainless steel. This high-grade material doesn't rust, doesn't collect air pockets in it during machining (unlike cast iron,making them more accurate in weight), and provides maximum strength and durability.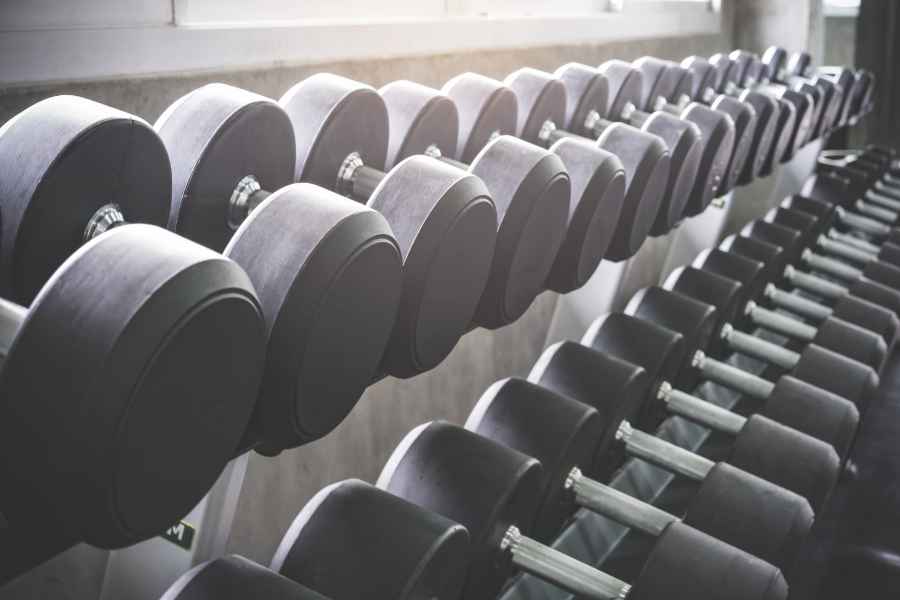 What are the differences between urethane and rubber dumbbells?
The main differences between urethane and rubber dumbbells include durability, odor, and weight variance.
? Durability. Urethane dumbbells are designed to last with a thicker coat over the steel weight heads, they are precision-machined to reduce wear and tear on welds, and the coating is water-proof, meaning they won't rot or fade over time.
They are designed to absorb a lot of impact, and for this reason, are the preferred dumbbell of choice for high-volume commercial gyms.
? Odor. Another noticeable difference between urethane dumbbells and rubber dumbbells is the smell.
This may seem like an odd point, but rubber DBs are often very smelly and can be suffocating out of the box when used in small, enclosed spaces.
Urethane is odorless and won't stink up your workout space with the odor of used car tires.
? Weight variance. Finally, urethane dumbbells, because they are more carefully manufactured, have smaller weight variances compared to cheaply produced rubber and cast-iron dumbbells.
It's not uncommon to see weight variances with cheaper dumbbells of 10% or more of the stated weight. Urethane dumbbells almost universally have a stated weight variance of 3% or less.
The increased durability, reduced smell, and minimal weight variance is why commercial gyms and serious home gym enthusiasts rely on them for daily use.
The Bottom Line
Ultimately, the dumbbells you choose for your home gym should reflect your budget, how much you plan on using them, and your training goals.
Urethane dumbbells are an awesome choice for anyone who is serious about lifting weights and wants a dumbbell that is going to work as hard as they will.
Choose the best urethane dumbbell set for you, level up your home gym, and level up your workouts.
More Dumbbell Guides
7 Best Dumbbells for Home Gyms. Looking for the best dumbbells for your home workouts? Get stronger and fitter with the best dumbbells for every budget and type of lifter.
6 Best Adjustable Dumbbells for Working Out at Home. Adjustable dumbbells are the ultimate solution for people looking to use a variety of levels of resistance with a small footprint. Here's a look at the best adjustable dumbbells on the market.