Wondering if a squat rack is necessary for getting stronger and building muscle? The answer is almost definitely yes. Here's a detailed look at why you need a rack of your own, including benefits and alternatives.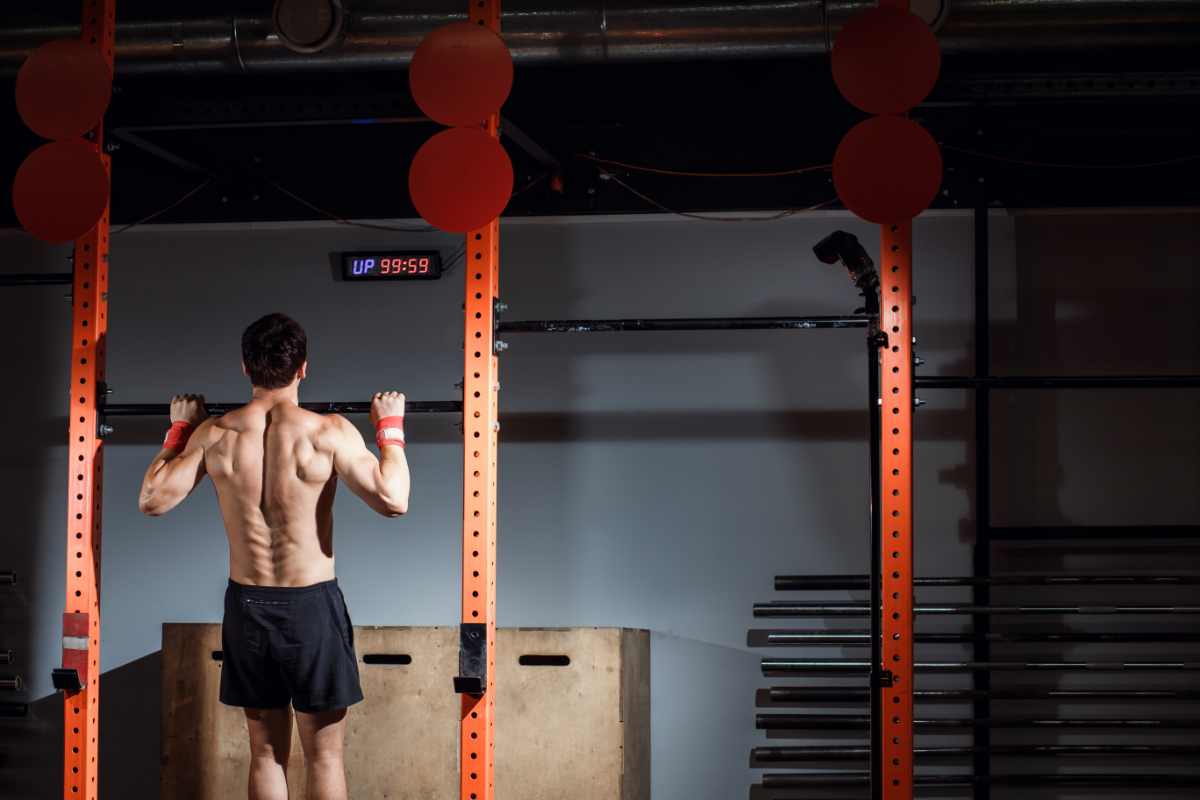 Equipping a home gym is neither cheap nor easy.
Not only does every machine and rack come with a fairly high price tag, but you're also often working within limited space, and it can feel like there are too many amazing options to choose from. How could you possibly narrow down your options to just a few?
That's what we'll help you do in this article!
Specifically, we'll look at what is possibly the single most important piece of gym equipment you'll ever buy: the squat rack.
Below, we'll explain what a squat rack is, why it's critical for a proper home gym setup, and why they're worth every penny you spend on them.
But, just for the sake of fairness, we'll also give you some ideas on how you can use other gym equipment like a squat rack, so you can still get a truly kickass lower body workout even if you don't have space for another rack.  
Let's get to it!
Squat Racks – An Overview
Let's start off by looking at what squat racks are. By understanding what they do, you'll find it much easier to understand how they benefit you.
A squat rack is a rack formed of two vertical posts that support an Olympic barbell. The vertical posts typically feature holes or slots to which you can connect the rack, safety pins, or cradles at varying heights.
That way, you can use it to perform squats, lunges, and other exercises no matter how tall or short you are. All you have to do is adjust the height and you're ready to get lifting!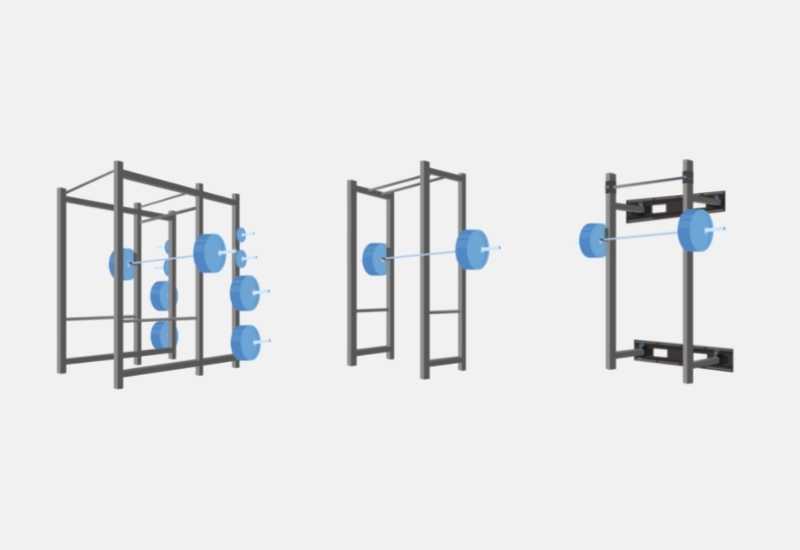 There are a number of types of squat racks, but the only one really important enough to talk about here is the power rack, also known as a squat cage.
While squat racks feature only two vertical posts, power racks/squat cages feature four vertical posts, creating a "cage" that is not only sturdier and more stable, but can handle more weight and is more adaptable to a wide range of exercises.
(Plus, there are more power rack attachment options to choose from!)
Benefits of Squat Racks
What makes a squat rack (or power rack) such a crucial piece of gym equipment?
There are a surprising number of benefits of training using a squat rack, but we'll stick to listing just the main ones here:
? Benefit #1: Greater Safety
This is the #1 reason that most people train using squat racks, especially in home gyms! When working out at home, alone, with no one to spot you, safety is the most important factor to keep in mind.
Squat racks maximize your safety by providing you with a support for your weights, as well as a "spotter" should you find yourself in trouble.
It's easy to install spotter arms or spotter straps on a power rack or squat rack, so if you can't complete your squat, lunge, deadlift, or bench press, you can safely drop the weight without risking injury.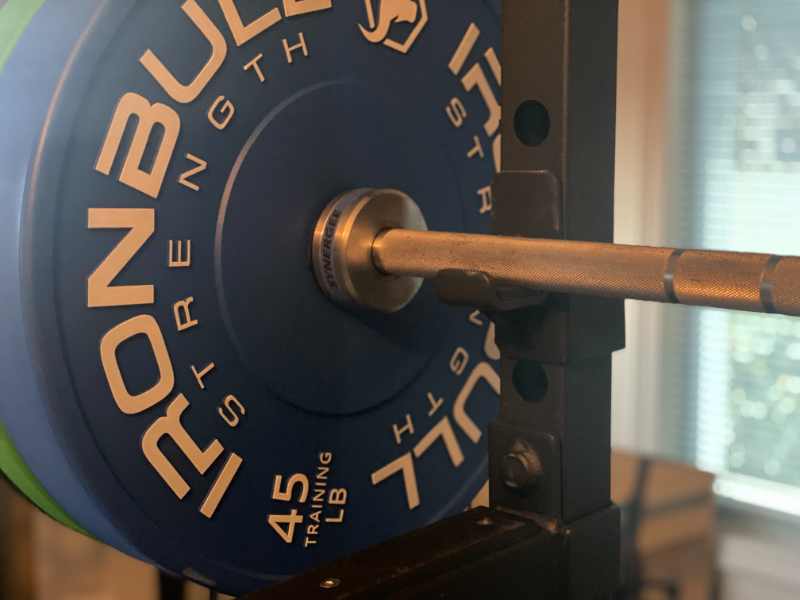 A squat rack also gives you a safe way to store free weights off the ground.
This comes in handy for hundreds of exercises—to name a few, military presses, squats, deadlifts, bicep curls, and lunges—and allows you to incorporate more variety into your workout.
? Benefit #2: No Energy Wasted
When working with the squat rack, you set the pins/cradle to your desired height, rack the barbell, and load it up with as much weight as you need.
As you set up for the lift, all you have to do is step under the barbell and unrack it. Now you're ready to squat or lunge.
Imagine trying to do the same exercise without a squat rack. You have to load the barbell on the floor, then struggle to lift it off the ground, over your head, and settle it onto your shoulders.
In many cases, that's an impossibility, because most weight trainees squat more weight than they are physically capable of lifting over their heads.
Even if you could somehow manage to lift that much weight, you're putting your joints at risk, not to mention wasting a lot of energy that should be dedicated to the actual lift you're doing.
A squat rack lets you get set up with no energy wasted, so all of your energy goes into the squat, lunge, deadlift, or bench press. It's the smart way to maximize the efficiency of every rep and set.
? Benefit #3: Versatility
What most people love about squat racks (and power racks) is how versatile they are.
Some racks come with just the basics—the vertical posts and cradles/pins—but you can easily start adding more and more accessories.
For example, connect a bar across the top of the rack for pull-ups or as an anchor for resistance bands. Attach spotter arms to facilitate heavy lifts, or install a dip station for bodyweight or weighted dips.
With so many parts of a squat rack you can add on as desired, squat racks are, without a doubt, one of the most versatile pieces of gym equipment you can own.
? Benefit #4: Minimal Space Required
Power racks/squat cages can be on the bigger, bulkier size, and can take up a lot of space in your home gym.
They're also on the taller side (sometimes 7' or taller) so they're not really compatible with a basement or garage that has a low ceiling.
See also: The Best Short Squat Racks for Small Spaces and Big Workouts
Squat racks, on the other hand, tend to be smaller.
They're essentially two vertical posts placed around 4' apart, with two sturdy feet that provide stability and keep the rack from tipping.
Squat stands and folding squat racks take up a lot less space in your home and can make it much easier to equip a basement, garage, or outdoor gym than a bulkier, larger power rack.
Are Squat Racks Worth It?
The answer to this question is and will always be an enthusiastic "Yes!" for reasons that, by now, are probably becoming very clear.
Squat racks offer safety, support, versatility, and efficiency, all without taking up too much space in your gym. There's a reason that every gym around the world has a squat rack in it!
Squats are one of the "Big Three" lifts, and they're one of the best for training your lower body (not just quads, but glutes and hamstrings, too).
You'll build real power and ensure smoother, more functional movement because squatting is one of the most natural lower body movements. You do it repeatedly throughout the day (every time you lift something heavy), after all!
Read any article or watch any video on how to use a squat rack, and they'll all agree: squat racks are easily one of the TOP TWO pieces of gym equipment you can own.
Really, with a weight bench and squat rack, you can work out literally every muscle in your body very effectively.
Squat Rack Alternatives
You've seen the many benefits of using a squat rack, but what do you do if you don't have space in your home for one?
Maybe you've already installed a lot of other machines and there's no room for another rack. How do you get a proper lower body training session without a squat rack?
Or, maybe you're at the gym and hitting Leg Day hard, but you find that all the squat racks and power racks are taken (a very common occurrence).
The good news is that there are a few alternatives to squat racks that will help you get a kickass lower body workout in much the same way a squat rack would:
Smith Machine
The Smith machine is essentially a barbell secured to a vertical rail, ensuring that it can only slide up and down (no forward/backward/lateral movement). You can easily use it like a squat rack—just set it up like you would your squat rack, and you're good to go!
However, because the barbell is secured to the rail, there is less flexibility in your movement than with free weights, leading to greater isolation of the leg muscles.
Hack Squat Machine
The hack squat machine lets you perform a type of squat (the hack squat) while emphasizing the quads while reducing engagement of the glutes and hamstrings.
Like all machines, it's far more limited in its movements than free weights, but it's a great option for hammering your quads while also decreasing lower back engagement.
Belt Squat Machine
Belt squats are a game-changer for people who (like me) suffer from lower back injuries.
The belt squat machine lets you connect the weights to a belt worn around the waist, so all of the load is resting on your hips and legs, below your spinal muscles.
When you squat, you're entirely removing your upper body from the equation and letting your legs (glutes, hamstrings, and quads) do all the work. It's a great solution for training heavy while recovering from or attempting to prevent lower back injuries.
Leg Press Machine
The leg press machine is similar in nature to squats, only you're pressing weights away from your (unmoving) body rather than pressing your body (and load) away from the (unmoving) floor.
Because you're lying on your back, there's less engagement of your spinal muscles, making it great for anyone with lower back injuries.
However, it can be easily adapted to increase engagement of the glutes and hamstrings or to focus entirely on the quads.
A leg press machine is an excellent tool for lifting very heavy and hammering your leg muscles.
Dumbbells/Kettlebells
If you want to squat but don't have a rack, try squatting with just dumbbells or kettlebells in your hands.
That way, there are no worries about lifting a weight onto your shoulders; you simply have to grip the weights in your hand when performing whatever squat or lunge variation you want—including goblet squats, split squats, walking lunges, skater lunges, and the list goes on.
See also: How to Do Squats Without a Squat Rack
All of these variations will allow you to get a truly excellent leg workout even if there are no squat racks available, or you don't have the space in your home gym for a squat rack or power rack.
The Bottom Line
By now, I hope it's become incredibly clear that you, you really do, need a squat rack!
Squat racks are the smart addition that will help you take your Leg Day workouts to the next level, ensuring you can maximize the efficiency of every exercise.
But they're also a good safety choice—thanks to the cradle, spotter arms, and other attachments, you can drastically reduce your risk of injury even while lifting heavy.
Sure, you can get a killer Leg Day workout without a squat rack, and there are a few machines you can use in place of the rack.
But at the end of the day, if you want the machine/equipment that gives you the best bang for your buck, you just can't beat the squat rack!
---
More Squat Rack Guides
How Much is a Squat Rack? (Cost of Every Kind of Rack). Squat racks are one of the best investments you can make for your lifting goals. Here's a look at the cost of each type of squat rack, some of the hidden costs of buying a rack, and why they can be so expensive.
How to Use a Squat Rack (Ultimate Beginner's Guide). Ready to add the squat rack to your training routine? Here's what you need to know about using this piece of equipment like a champ.
10 Best Squat Racks for Home and Garage Gym. Ready to start looking at the different racks on the market? Here's a detailed breakdown of the best squat racks for every kind of workout space, lifter and budget.