Squat racks are an excellent tool for safer and more confident weightlifting. Here's a guide to the different parts of a squat rack.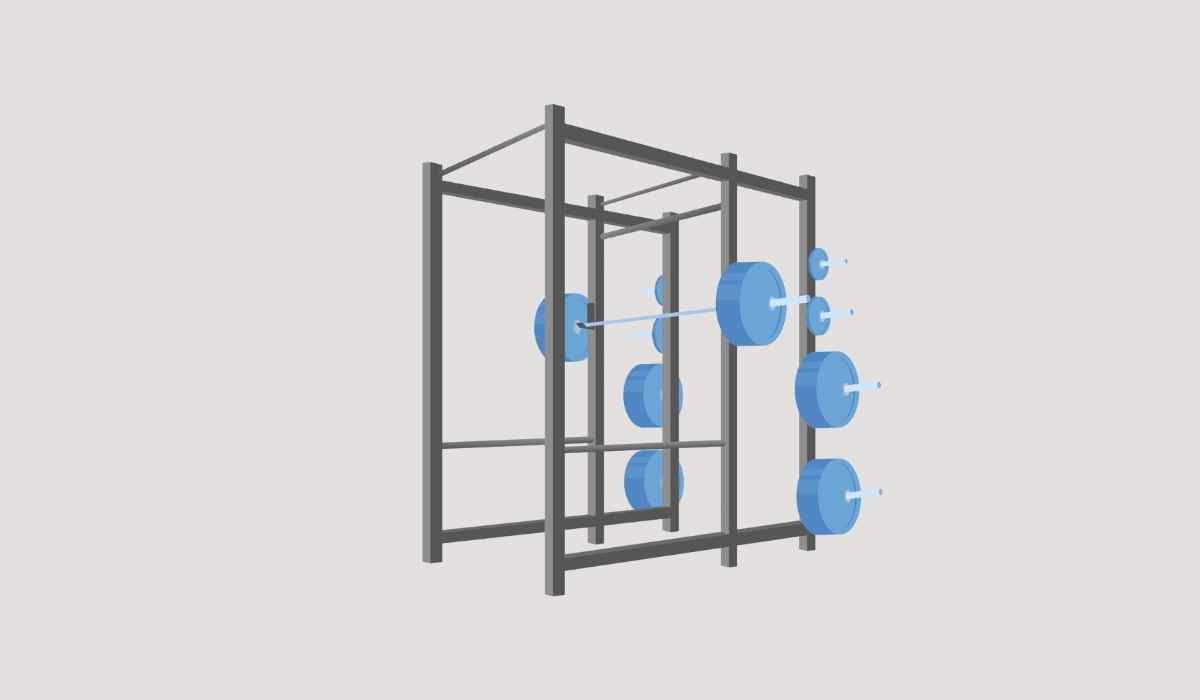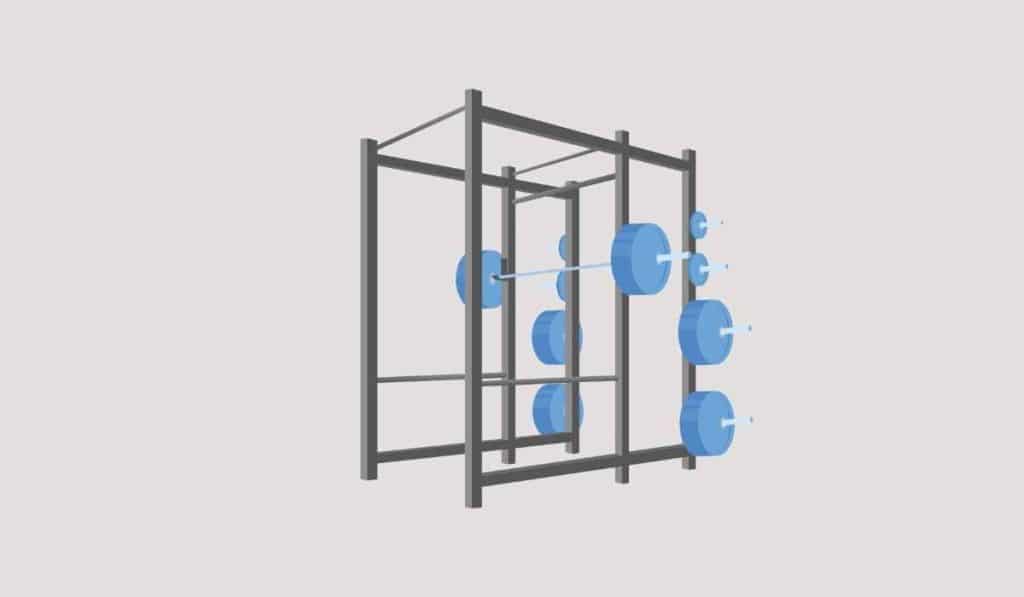 The squat rack is one of the essential pieces of a serious home gym.
But for those who are a little unconfident around a full-size squat rack (also known as a power rack), it can be overwhelming trying to make the most of it.
Especially when you are at your local gym and there is a line-up for the few racks on hand.
In this guide, we are going to look at the different parts of a squat rack. We will examine what each part does, and how you can use each for better and safer lifts.
By the end, you will be a seasoned squat rack pro with the confidence and knowledge to hit the squat rack like it owes you money.
Let's jump right in.
What is a Power Rack?
A power rack is a type of squat rack (hence why the two terms are used so interchangeably—more on the differences between squat racks and power racks here).
What makes a power rack unique is that it has 4 or 6 columns, allowing lifters to do resistance training inside the rack.
The umbrella term "squat racks" also includes half racks, squat stands, and folding squat racks.
---
Why Train with a Squat Rack?
Before we get into the basics of squat rack anatomy, let's quickly touch on the two main reasons that using a squat rack will help you improve your workouts:
? Power racks allow you to lift more safely.
By stepping inside the cage of a squat rack, and setting up safety pins, pipes or straps, you have a spotter on hand to catch the weight should you have to ditch the weight.
See also: The Beginner's Guide to Squat Racks (and How to Use Them Like a Pro)
The safety factor allows you to chase higher weights than you would without the spotting capabilities of a rack.
? Racks make it more convenient to lift.
Racks allow you to choose a height from which you want to start lifting weight.
Because the barbell is suspended, it's also much easier to change the weight on the bar. Loading and unloading weight plates is a breeze.
See also: 7 Best Exercises You Can Do with a Squat Rack
In sum, power racks help you lift more safely, lift with confidence, and make lifting more convenient.
Next, we'll look at the key parts of a power rack so that you can make the most of your time working out with a squat rack.
---
The 7 Parts of a Squat Rack
1. Uprights.
The vertical columns are where we do most of our business with a squat rack. It's where the barbell is rested and loaded, where J-hooks hold the barbell, and where weight plate storage happens.
The uprights of the squat rack do most of the heavy lifting (ha! Lifting pun!) when it comes to securing the weight being inflicted on it. Uprights are dotted with holes in which we can insert various power rack attachments.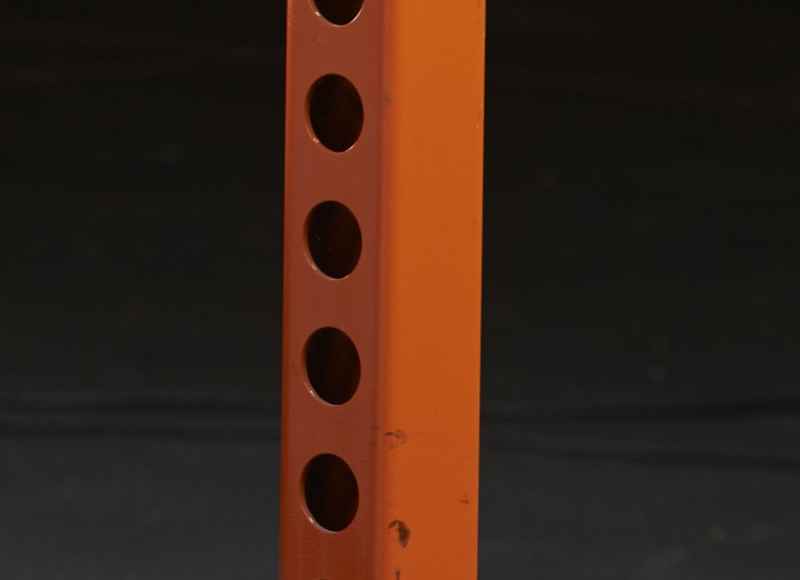 The size of the hole and the distance between holes varies. Westside hole spacing—where holes are 25mm apart instead of the standard 50mm—has become more popular in recent years, giving lifters even more flexibility in where they set hooks and the barbell.
How thick are the uprights on a squat rack? The racks you find at your local gym have a 3" x 3" column thickness. Squat racks for home use range from 2" x 2" up to 3" x 3" depending on the brand and model.
2. Base.
Squat racks have a wide base to give them stability. Squat racks come in either a flat foot design (which doesn't need to be bolted down) or an open design that requires bolting into the floor and/or lifting platform.
A solid base on your squat rack is understandably important. A lot of weight is being placed on the rack, and you want a secure base to keep the rack from wobbling—or worse, tipping over—when in use.
3. Safety Pins (or safety straps).
The primary advantage of a power rack versus other types of squat racks like half racks and squat stands is that you can lift inside the rack, using safety pins as a spotter.
Safety pins are either:
a) passed through the holes on the uprights and twisted and locked into place or
b) secured by metal pins that fasten them to the rack.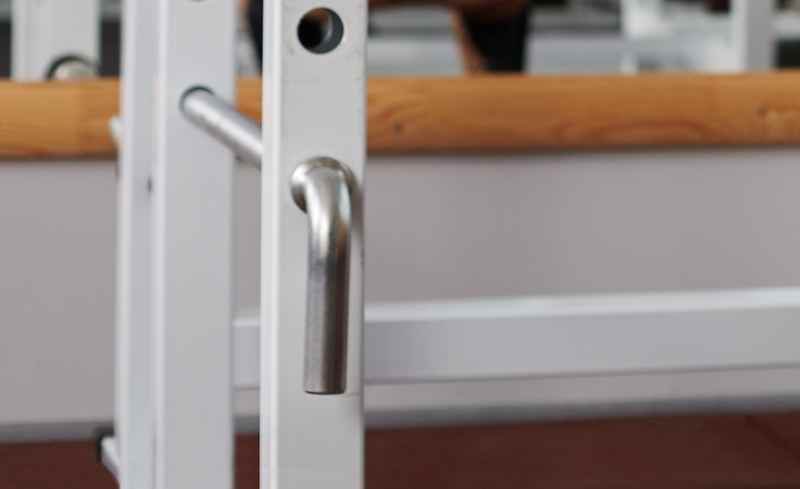 Safety straps have become really popular in recent years too and provide an excellent alternative to safety pins as they better absorb the impact of weight, are quieter, and won't damage your barbell when dropped.
See also: Squat Rack Spotter Pins vs. Safety Straps: Pros, Cons, and Which One is Best for Your Rack
4. J-cups.
J-cups (also known as J-hooks) are one of the essential power rack attachments as they hold your barbell aloft between sets.
Because the barbell is up off of the ground, it's much easier to load and unload bumper or cast iron plates onto the barbell.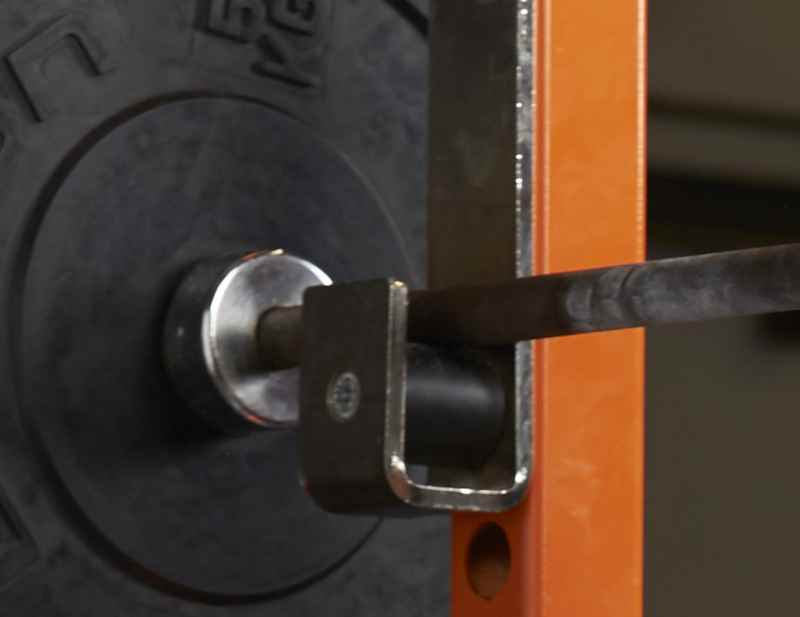 And by setting the hooks to your height of choice, you can start your next set at the height you want. After all, if you are doing heavy squats, the last thing you want to do is have to pick a loaded barbell off the ground and somehow get it behind your neck.
5. Safety Arms.
Safety arms—as the name would suggest—are another tool for spotting and overall safety.
They tend to be used on the outside of a squat rack (versus safety pins, which are used inside a rack) and should be only used externally on a rack that is properly bolted down to the floor (or weighed down with lots of weight plates at the back of the rack).
6. Pull-up bar.
The pull-up serves two functions.
For starters, it's, well… a pull-up bar for doing pull-ups.
Whether you are working with a straight bar or a multi-grip bar (great for using different grips and emphasizing your biceps or simply using a neutral grip that is easier on the wrists), pull-ups are an excellent exercise to incorporate into your workouts.
Secondly, the pull-up is also a cross-member bar, giving the rack structural integrity.
Squat racks have three cross-members. One at the front and top (the pull-up bar), and then top and bottom of the back of the rack, with nothing at the bottom front so that we can step inside, slide a bench in, and so on.
When it comes to folding squat racks, the pull-up bar is actually used to help stabilize the uprights when it is pulled away from the bar, keeping the two uprights at an even distance.
7. Weight pegs.
Weight pegs are another dual purpose part of your squat rack.
The main purpose of them is to store weight plates, keeping them off the floor and removing a potential tripping hazard. (Safety first!)
Secondly, they can be used to help stabilize the squat rack in the event you cannot (or don't want to) bolt the rack to the floor in your home gym.
By loading up the weight plates on the storage pegs, the rack is anchored down with weight, giving the rack more stability that will keep it from wobbling, or worst case scenario, toppling over.
The Bottom Line
For people who are new to the gym, the squat rack can make for an intimidating piece of equipment.
Especially seeing the more experienced lifters push and pull a ton of weight within the uprights of the rack.
But now that you have a solid grasp of how each part of the squat rack can help you lift more safely, and with more confidence, it's time you stepped in for yourself.
---
More Squat Rack Guides
Squat Rack vs Smith Machine: Pros, Cons, and Best Time to Use Each. The squat rack and Smith machine look similar, but vary widely in function and results. Here's a detailed look at the differences between a squat rack and a Smith machine.
How to Do Squats Without a Squat Rack. No squat rack? No worries. Here are some effective barbell squat alternatives that you can do to conquer leg day.