Looking for the best dumbbells for your home workouts? Get stronger and fitter with the best dumbbells for every budget and type of lifter.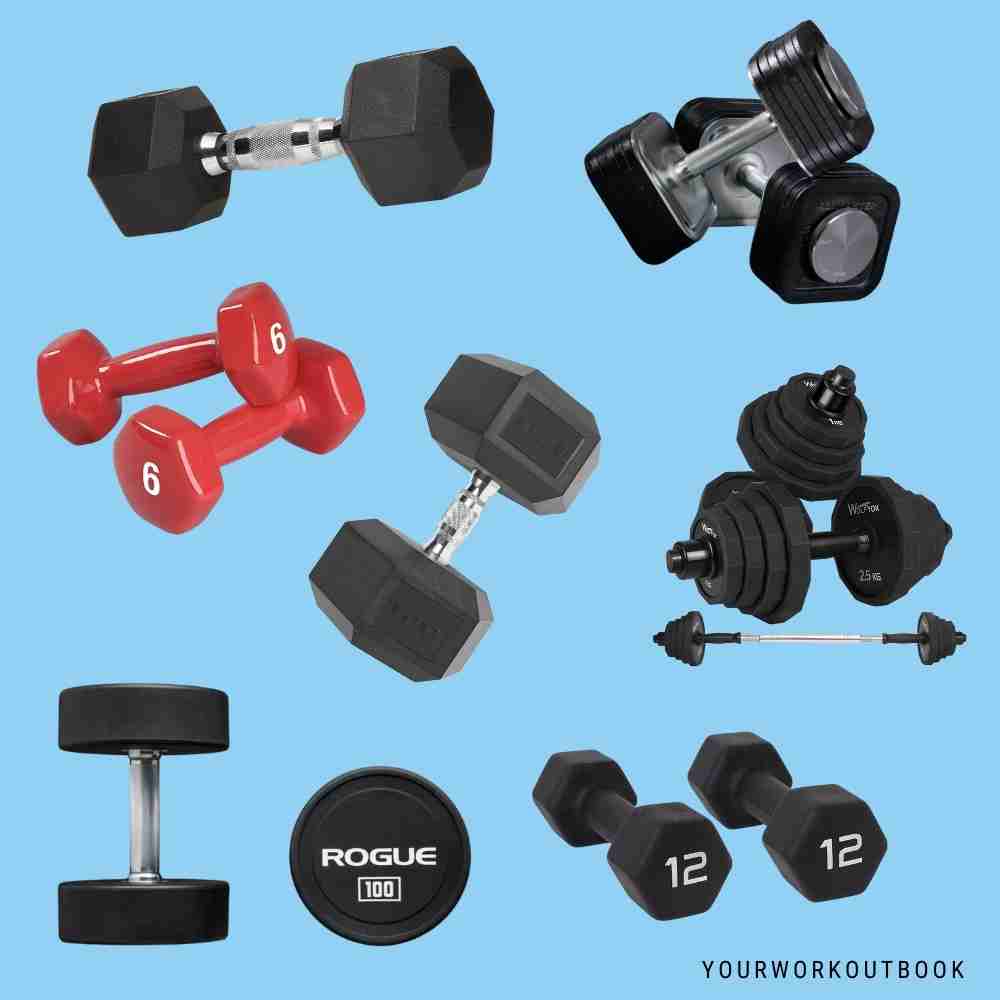 Dumbbells are an excellent way to level up your home gym and your health.
While dumbbells used to be priced at levels that only commercial gyms could invest in them, nowadays there is a dumbbell set for every budget and every kind of athlete and fitness enthusiast.
When you started digging into them, you will be staggered to learn just how many types of dumbbells there are out there.
? Adjustable Dumbbells. These have become wildly popular in recent years as people raced to outfit their home with exercise equipment as Covid shuttered gyms. Adjustable dumbbells are available in a wide spectrum, and I only included the best ones in this guide. You can check out a more comprehensive guide to the best adjustable dumbbells on the market here.
? Rubber Hex Dumbbells. These are one of my favorites, and they are perfect for home gyms. Rubber coated ends help silence the weights when racking or putting them down, and the hexagonal shape means you can stack them and they won't roll away on you. Rubber hex dumbbells also have a contoured and knurled handle that is more comfortable than straight bars.
? Cast Iron & Steel Dumbbells. These are the bad boys we most often see at the gym. Sometimes the heads of the dumbbell are made of steel, sometimes iron, and sometimes they are rubberized or bare steel for that familiar clang and bang sound that we are used to hearing when lifting.
? Vinyl and Neoprene Dumbbells. Smaller dumbbells, those that are best suited for aerobics, walking, or strength training, are often wrapped in vinyl or neoprene. The weight inside varies, from iron to sand. These types of dumbbells are great as the coating prevents damage from dropping and they are slip-free.
While dumbbells can look a bit pricey, the upside is that these (well, most of them), will last you a lifetime.
Unlike that recurring gym membership or the time sink that is commuting back and forth to the gym, dumbbells are a one-time investment that you can use to reap health benefits over and over again.
Let's take a look at the best dumbbells currently on the market, find the ones that match your training goals, and get those gainz.
CAP Barbell Hex Rubber Dumbbells
⭐ Best dumbbells for most home and garage gyms
Rubber hex dumbbells are awesome for the home gym enthusiast who is a little more experienced and wants dumbbells that will go the distance. Stackable to save space, with rubber tipped weights for silencing, and a hexagonal shape that prevents the dumbbells from rolling around, rubber hex dumbbells are an excellent investment.
CAP Barbell makes a range of quality home fitness equipment that I really like, including cast iron weight plates, barbells for home gyms, and E-Z curl bars.
They nail it with their rubber hex dumbbells, which feature a knurled and contoured bar that is comfortable in your hand and won't slide around as you sweat it up.
CAP Barbell sells these in a 150lb dumbbell set and as well as singles (5lb to 120lb per dumbbell), with prices varying depending on stock (check Amazon for up-to-date pricing and availability).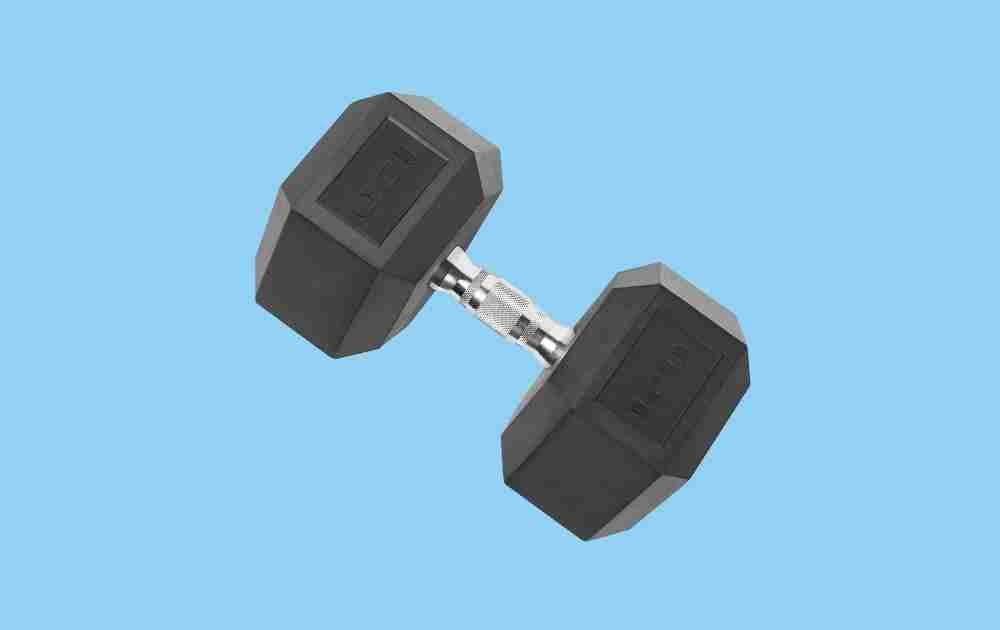 Amazon Basics Rubber Encased Dumbbells
Another rubber hex dumbbell, these are made by Amazon Basics. Amazon got into the fitness equipment game in recent years, and have a line of quality (if not relatively generic) gear, from kettlebells to flat weight benches.
Hex shaped ends make them easy to stack and store between workouts, and the flat edges mean they won't roll around between sets (safety first!). The weights are cast iron and the handle is a contoured and textured chrome that gives you excellent grip on your dumbbells.
In terms of available weights, the Amazon Basics dumbbells range from 10lb to 50lb and are sold individually. For pricing, these dumbbells are middle of the pack, costing about $40 for a single 30lb dumbbell (check Amazon for up-to-date pricing and availability).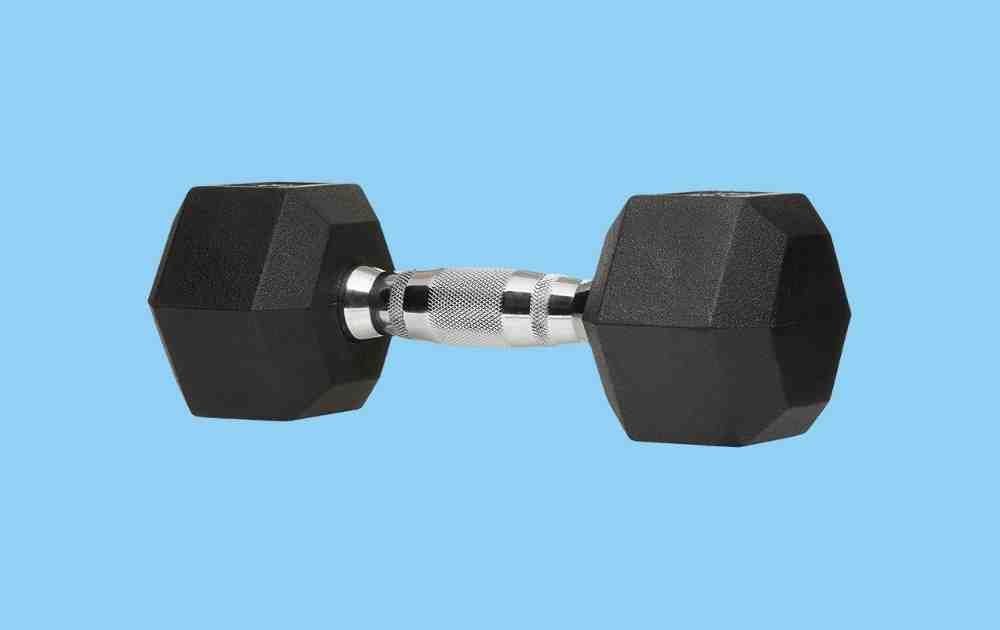 Wolfyok Adjustable Dumbbells (and Barbell)
These adjustable dumbbells have a feature that separates them from others in this list—they can be combined with a chrome connector to create a barbell. Yup, you read that right! Dumbbells that can be configured into a barbell.
As dumbbells, the Wolfyok DBs are excellent in their own right. Each dumbbell can be customized for up to 33lbs of weight resistance. Thickly threaded bars make locking the weight plates onto the bar painless and a spinlock keeps them locked in place.
Unlike alternative adjustable dumbbells that use sand for weight, these are made with solid steel and covered with TPU for extra durability. The handles are hard plastic and have a slip-free coating to keep your grip nice and strong on the bar.
Configuring the dumbbells into a barbell is surprisingly easy, but the barbell is far from the length of a regular Olympic barbell when fully assembled. Lifters with a wider wingspan will have a hard time using the barbell as the grippable part of the barbell is just over two feet in length.
Besides that, these dumbbells are awesome and are perfect for home gyms. They look great, sit comfortably in your hands, and are made with solid steel.
For a pair, Wolfyok sells these for around $170 (check Amazon for current pricing and availability), which is great for quality and adjustable dumbbells that can be rigged into a barbell.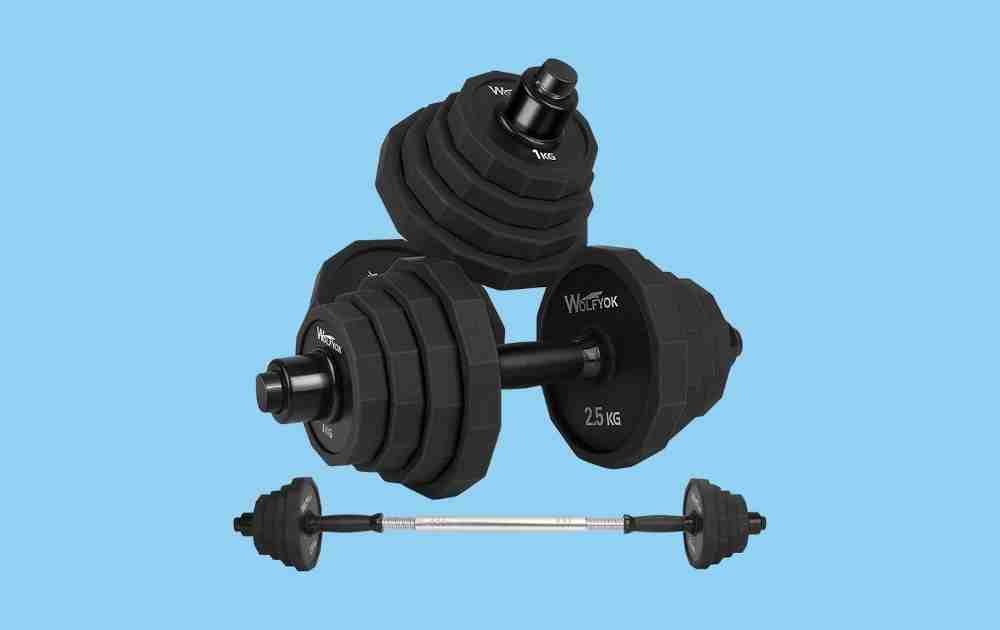 Rogue Urethane Dumbbells
⭐ Best "money is no object" dumbbells for home gyms
Rogue is one of my favorite brands on the planet. Whether it's their power racks, bumper plates, or their absolute beast of a leg press machine for home gyms, Rogue makes some of the best home gym equipment on the planet.
Rogue makes a bunch of different dumbbells, but the Urethane Dumbbells are my top pick for the more serious lifter looking to build out a legit home gym.
One of the issues with weights (this goes for dumbbell and cast-iron weight plates, too), is that they are very often not accurate. Just because it says 45lbs doesn't mean it weighs exactly 45lbs.
See also: 6 Best Urethane Dumbbells (and Buyer's Guide)
Many of the cheaper brands have weight variances of up to 10% from the stated weight. Rogue is one of the more accurate brands in the market and these dumbbells have a maximum weight variance of 3%.
Rogue sells these in pairs from 5lb all the way up to a monster 150lb per dumbbell (a pair of 150lb DBs will set you back about $800 in case you are wondering), and also in three separate dumbbell sets.
Shipping is one of the big sneaky costs of buying heavy weight equipment, but Rogue provides free shipping when you a buy a set of dumbbells, which is something you should keep in mind when stocking your home or garage gym with dumbbells.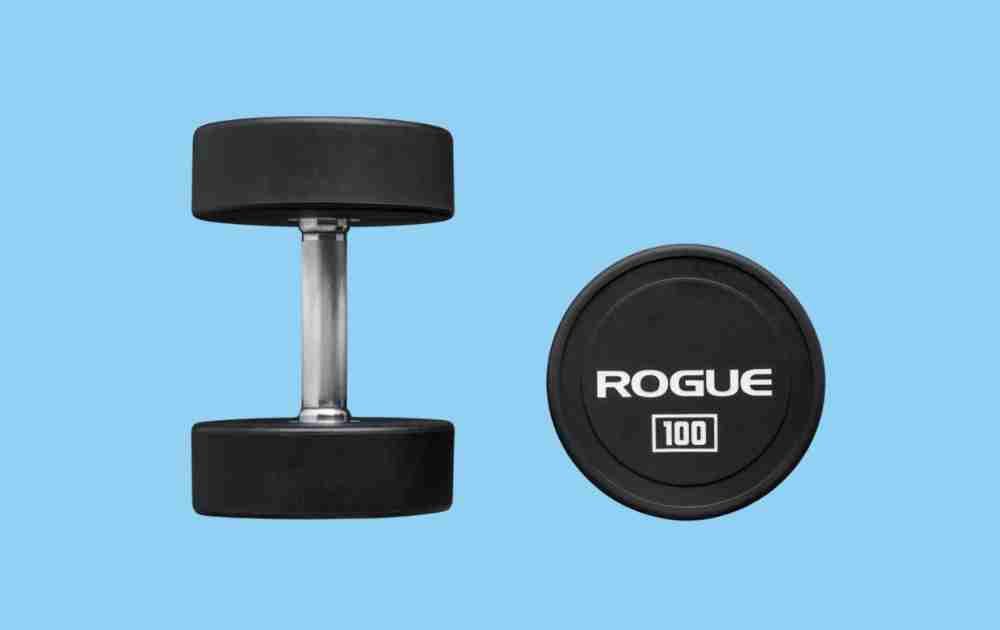 IronMaster Quick-Lock Adjustable Dumbbells
⭐ Best heavy-duty adjustable dumbbells
IronMaster makes adjustable dumbbells that come extremely close to replicating the feeling and size of traditional iron dumbbells. Made for heavy-duty use, these things are almost indestructible, and are completely fabricated of steel.
People who buy these consistently note how durable and tough they are. Steel plates are loaded and unloaded and tightened with a steel plate. When loaded, the weights don't slide or clang at all, giving you the sense that you are using a proper dumbbell.
IronMaster sells additional plates, giving you a maximum of 165lbs per dumbbell, which is far and away the most weight of any adjustable dumbbell currently on the market.
IronMaster brings in a batch of inventory every 5-6 weeks and use a lottery draw for purchases. Sold in pairs, these things aren't cheap, with a pair of 75lb adjustable dumbbells and a stand costing $749.
The price tag is a big upfront investment, but this price does include shipping, and again, if you are looking for something heavy-duty that is going to work as hard as you do, the IronMaster dumbbells are worth the money.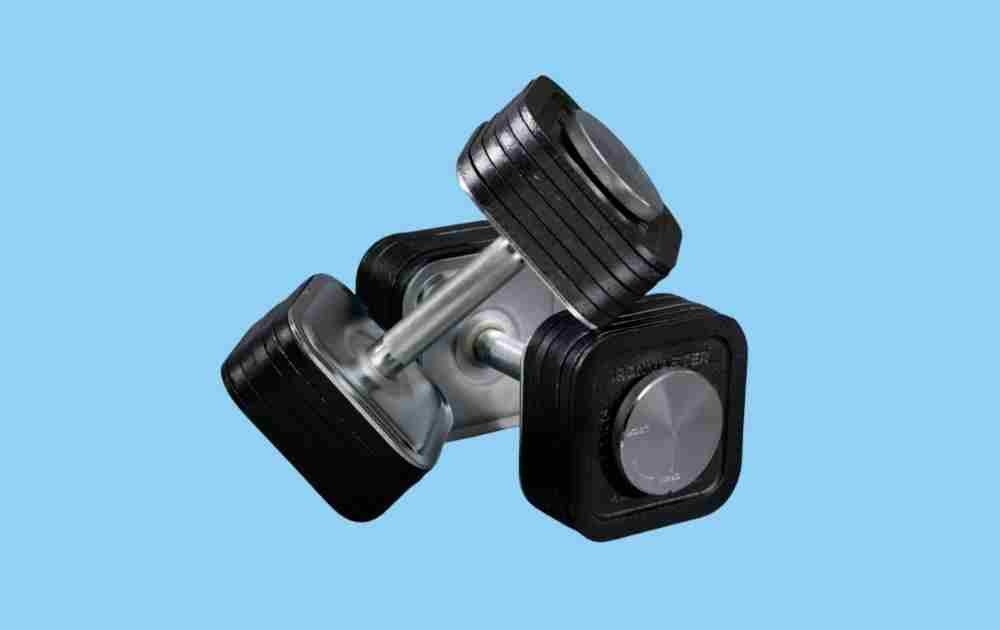 CAP Barbell Neoprene Dumbbell
Made with iron core, the CAP Barbell Neoprene Dumbbells come in fifteen different sizes (1lb to 15lb), have hex-shaped heads to keep in place between sets, and the black neoprene shell keeps your grip secure and wicks away moisture.
If you recently picked yourself up a Peloton or something similar, and want to level up the poundage of the weights for your classes, these quality-made dumbbells will do the trick.
CAP sells these individually or as a pair (be sure to confirm when you are ordering) and also a set with a dumbbell rack. Prices vary by weight, but you can expect to pay around $65 for a pair of 12lb dumbbells (check Amazon for current pricing and availability).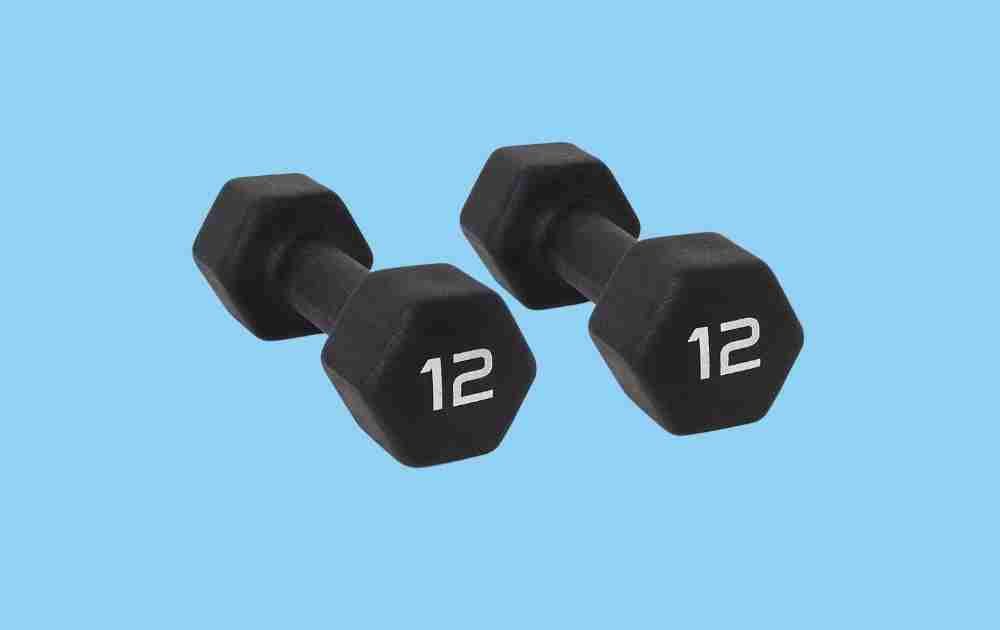 SPRI Vinyl Dumbbells
SPRI makes a ton of fitness accessories, including some of my favorite medicine balls. Brightly colored and wrapped in a slip-free nylon coat, these SPRI dumbbells are durable, look great, and are available in a wide range of weights, from 1lb to 20lb.
Whether you are walking, doing aerobics, or simply want something for strength training, these dumbbells will last. The vinyl coating keeps your hands firmly secured to the dumbbell, and the bright colors give your exercise equipment a nice "oomph" of color.
Pricing with the SPRI Vinyl Dumbbells is a little bit all over the place. For a pair of 20lb dumbbells, they cost around $80 while a pair of 5lb cost $22 (check Amazon for current pricing and availability).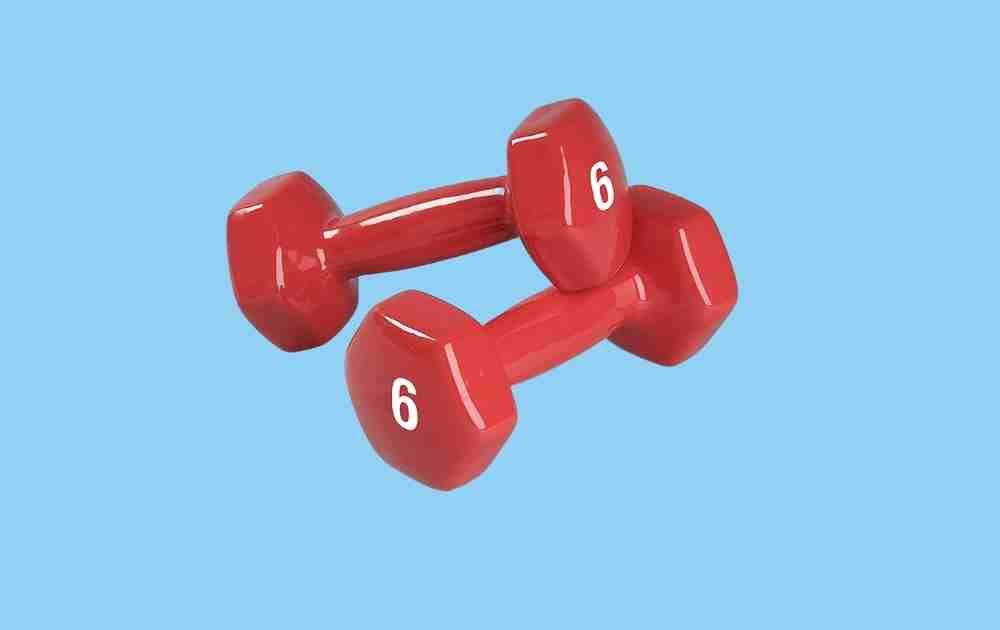 Things to Consider When Buying Dumbbells
Dumbbells are just about the simplest piece of exercise gear there is. They are literally a weight designed to help you get stronger by making you work against gravity.
And yet, there is a wild amount of variety when it comes to these things. Construction, handle diameter, fixed or adjustable, price, and so on.
If you are feeling a little overwhelmed, below are some of the most common things to think about when you are on the hunt for the perfect dumbbells for you.
? Your goals.
Chasing after big muscular gains? You will want several pairs or a full set of dumbbells so that you can progress and add resistance as you get stronger.
Doing lots of endurance-based workouts like riding your spin bike or aerobics? If that's the case, you'll want to pick up a pair or two of neoprene or vinyl dumbbells.
Choosing the right dumbbells comes down to matching their function and benefits with what you are trying to accomplish with your workouts.
? Handle shape and texture.
The handles on dumbbells are either straight or contoured. A contoured shape is more ergonomic while the straight handle has that old-school feel. Endurance-based workouts benefit from a neoprene-coated handle which maximizes grip when wet and sweaty.
Steel and chrome handles also have differing levels of knurling (knurling is the diamond-shaped "tread" on dumbbells). Knurling helps you maintain a secure grip on the dumbbell so that you can lift heavy with confidence.
Additionally, there is the diameter of the bar on your dumbbells, which tend to be in the neighborhood of 1-2". Smaller hands will appreciate the smaller handles and tighter grip, while people with large hands and long fingers should lean toward a thicker handle that spreads the weight out and keeps the bar from digging into the hand.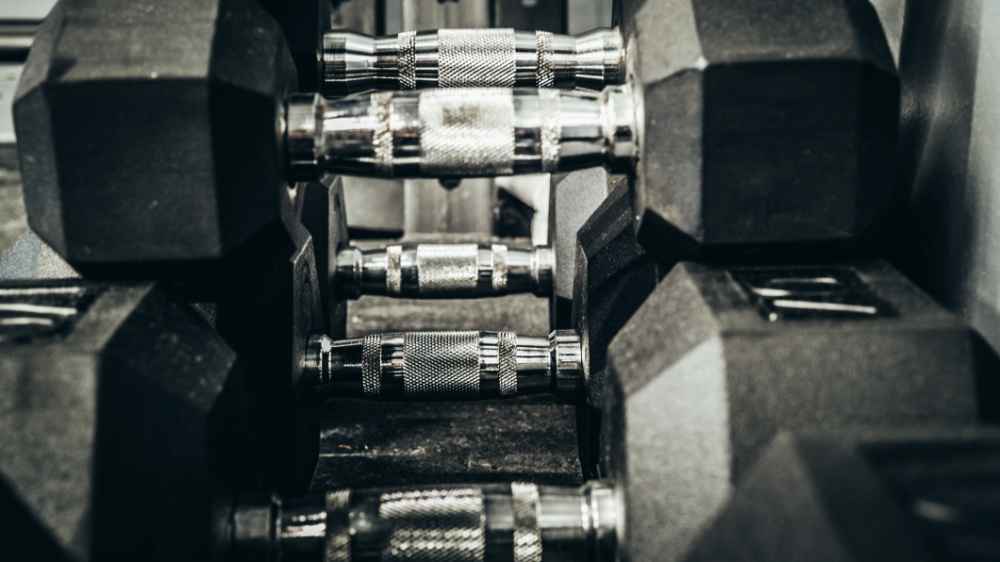 ? Adjustable or fixed weight.
For something as simple as a weight, dumbbells come in a huge variety of styles and formats.
Fixed dumbbells are the ones we usually see at the local gym. Handle and the weights at each end are coupled together. Because they are fixed and have fewer moving parts, they are more durable and last longer.
Adjustable dumbbells, as you can probably guesstimate, allow you to go up and down in weight, whether via loading more plates onto the bar (loadable dumbbells) or setting the desired weight (like with the Bowflex or the Powerblock Pro EXPs). Adjustable dumbbells cut down on space but require more maintenance.
? Space for your dumbbells.
A big consideration is how much space you have for your workouts.
Lifters short on space and who want to exercise at home will do well to invest in a pair of adjustable dumbbells. There are plenty of different and quality options for these kinds of weights, including steel and cast-iron dumbbells as well as plastic and iron dumbbells. Adjustable dumbbells can remove the storage requirements of up to 15 pairs of dumbbells.
Fixed dumbbells take up more space, but there are some workarounds for storing them and maximizing the area you have dedicated for your workouts at home.
One of my favorite kinds of dumbbells to use, hex dumbbells, are easy to stack with their flat ends, whether it's in a corner or on the floor of your home gym.
(Note: When buying fixed dumbbells, I super recommend getting a dumbbell rack—they are relatively cheap, protect your weights from the dirt and humidity of being on the ground, and dumbbells rolling around on the floor present a safety hazard).
While most of us would love to have a full range of dumbbells at our disposal, this isn't always practical given the space limitations of our workout area.
? Budget.
Dumbbells, like a lot of fitness equipment, are not very cheap. If you want the full weight variety of a set of dumbbells, you should consider going with a pair of adjustable dumbbells. Granted, they are more of an upfront investment, with Bowflex SelectTech 552's costing around $400 and the IronMaster Adjustable Dumbbells retailing for north of $700, but when you consider that this would replace 15 pairs of dumbbells, you start to see that you're coming out ahead in terms of cost.
Lifters who have larger workout areas and are ready for the best dumbbells money can buy should invest in urethane-coated dumbbells like Rogue's. When it comes to dumbbells, you often get what you pay for.
The Final Rep
Ultimately, the kind of dumbbells you choose should align with what you want to accomplish with the limited time we have with our workout routines each day.
To recap:
⭐ The CAP Barbell Rubber Hex Dumbbells are a tough and affordable dumbbell that is easily to stack, durable, and have ergonomic handles for secure lifting. For people looking to gain muscle at home, and want something that will last, this dumbbell is great, with a maximum weight of 120lbs.
⭐ More experienced lifters looking for a commercial-grade dumbbell will love the Rogue's Urethane Dumbbells. Available in a set and in pairs, they are the toughest, most durable dumbbells available (they are also the priciest form of dumbbell).
⭐ Endurance enthusiasts who want to inject resistance training into their cardio sessions will love the comfort and slip-free grip that comes with the CAP Barbell Neoprene Dumbbells. Neoprene, which wicks away moisture, also protects your dumbbells and your floor from the inevitable drop.
⭐ Adjustable dumbbells have come a long way in recent years, with plenty of new forms of this versatile and space-saving dumbbell. The O.G. adjustable dumbbell, the Powerblock Elite Pro EXP continues to lead the pack, with an easy-to-change system that allows you to replace 16 pairs of dumbbells.