Looking for the top belt squat machines on the market for home gyms? Here's a detailed look at the best options right now, including key features, where to buy, and more.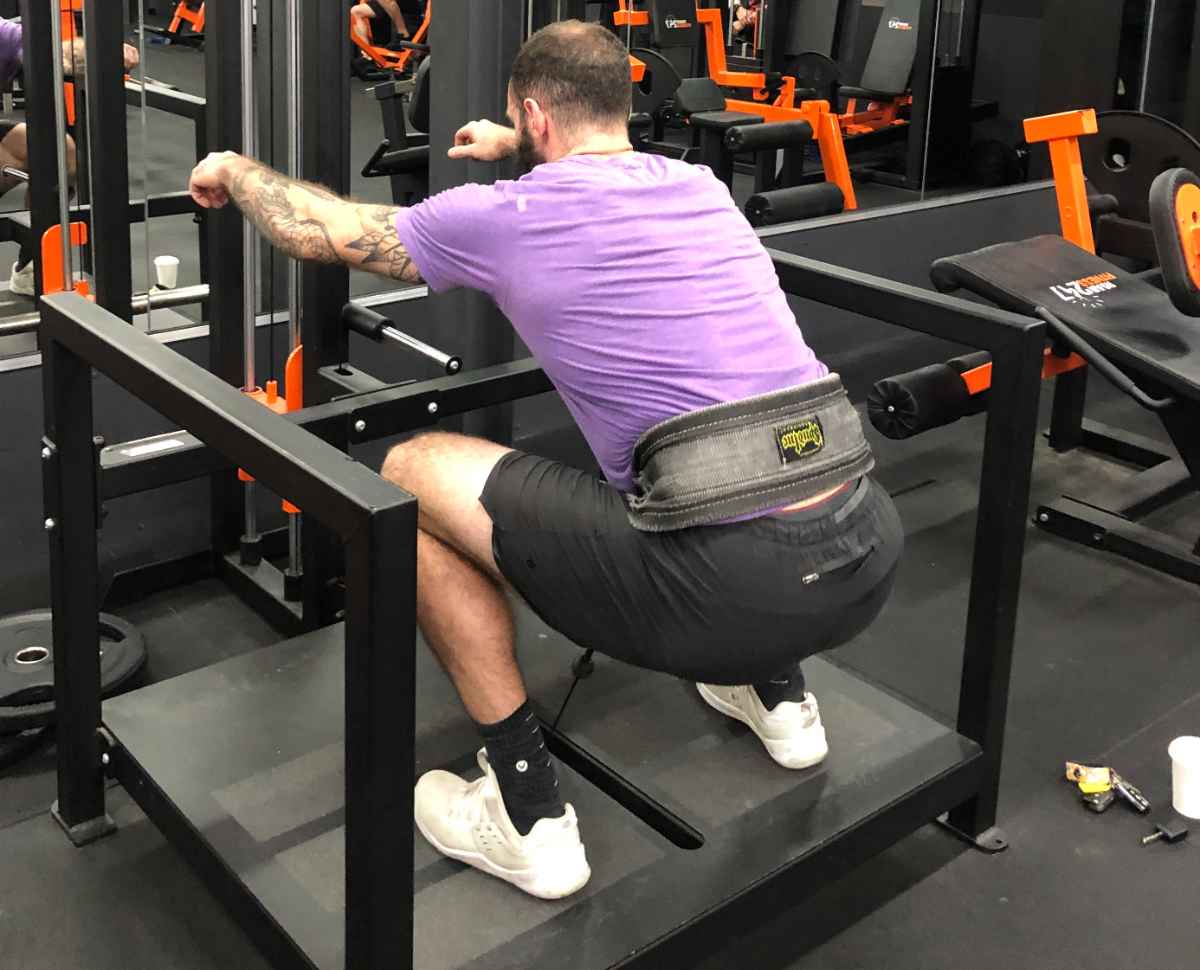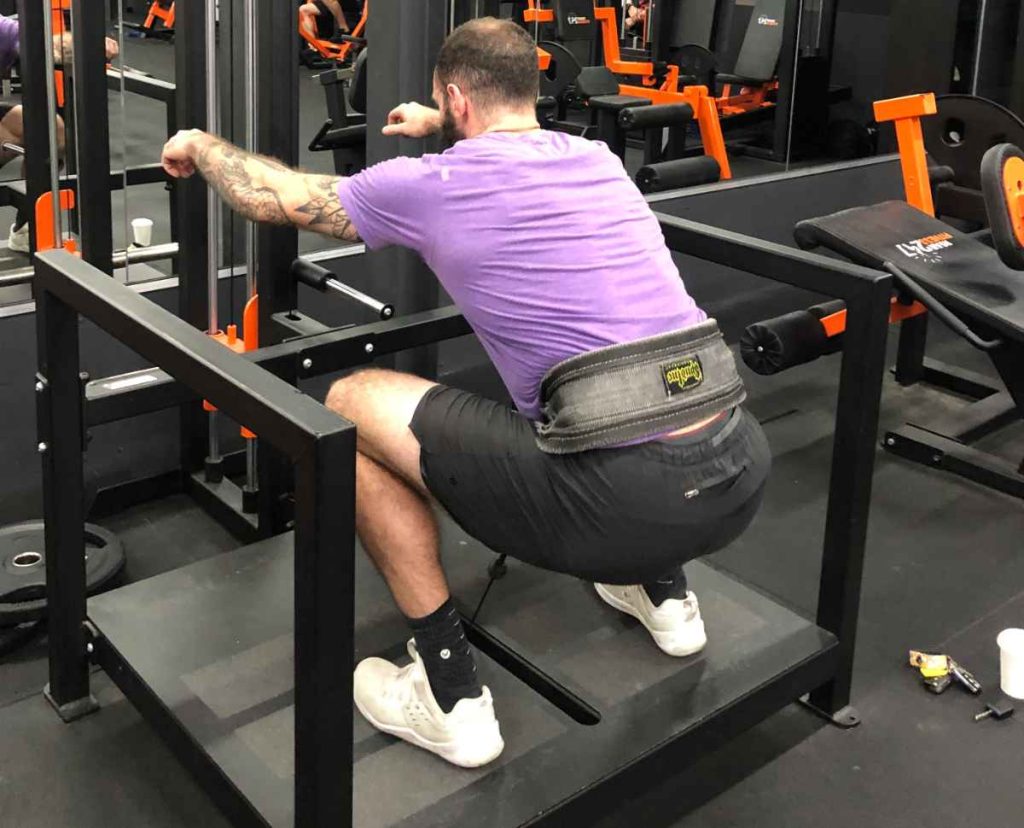 Belt squats are an excellent way to train the lower body without stressing your spine.
They can also generate a lot of the same muscle activation in the quads, hamstrings and plantar flexors compared to traditional barbell back squats…
Without the upper body limitations of poor shoulder mobility, a compromised back, or weak core musculature.
Although primarily designed for squats, they can be used for a ton of other exercises, including calf raises, Bulgarian split squats, lunges, and more.
While there are not a TON of belt squat machines on the market right now—they are a specialized piece of strength training equipment, after all—there are some excellent options.
In this guide to the best belt squat machines for home and commercial gyms, we will look at the top options for crushing your leg day workouts.
Let's get right into it.
Rogue Monster Rhino Belt Squat
⭐ Best overall choice for belt squat machines
Rogue makes equipment that borders on being overbuilt, from their best-selling air bike, the Echo bike, to their adjustable weight bench, the 3.0, my top pick for best adjustable weight bench on the planet.
This propensity for building bomb-proof fitness gear continues with the Rogue Monster Rhino Belt Squat machine, a 3" by 3" tank that features adjustable handle height and includes Rogue's Multi Belt.
Nearly 16" of sleeve length ensures that you can load a heaping pile of weight plates on the machine. Two front feet angle outwards for added stability.
Which you don't really need given that the Rhino weighs over 500 pounds. (Yes, you read that right.)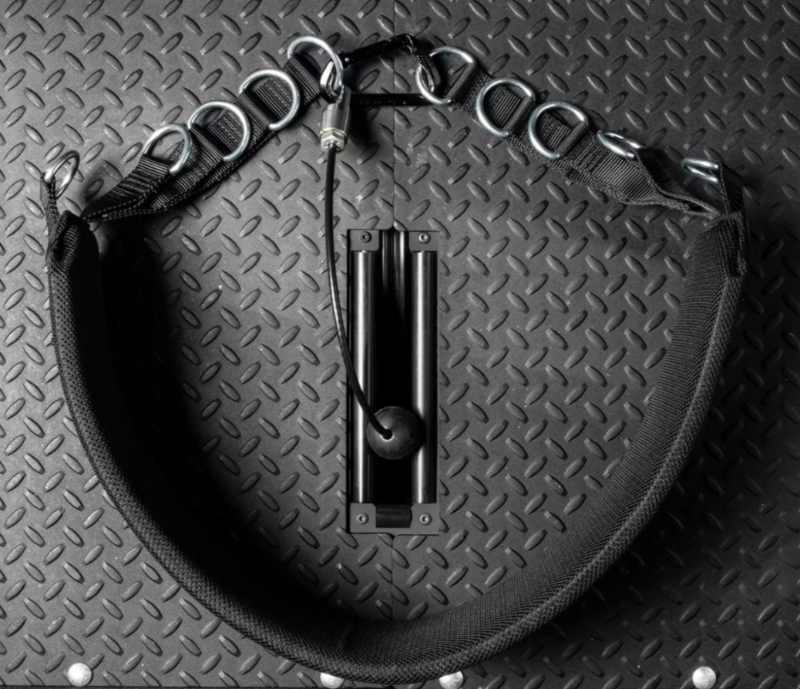 The Rhino also has band pegs for resistance bands, which you can add to your lifts for an increased time under tension (aka more muscle activation and growth) and the multi-grip handles allow for a variety of hand positions while lifting.
Like most of Rogue's equipment, the Rhino is built in the United States at their factory in Columbus, Ohio.
Being such a specialized piece of training equipment, you can imagine that it's a bit pricey…
You aren't wrong—Rogue retails the Rhino Belt Squat for about $2,300.
That said, it's an effectively versatile machine, it's built like a tank, and will handle just about all the weight you can throw at it.
? Key features: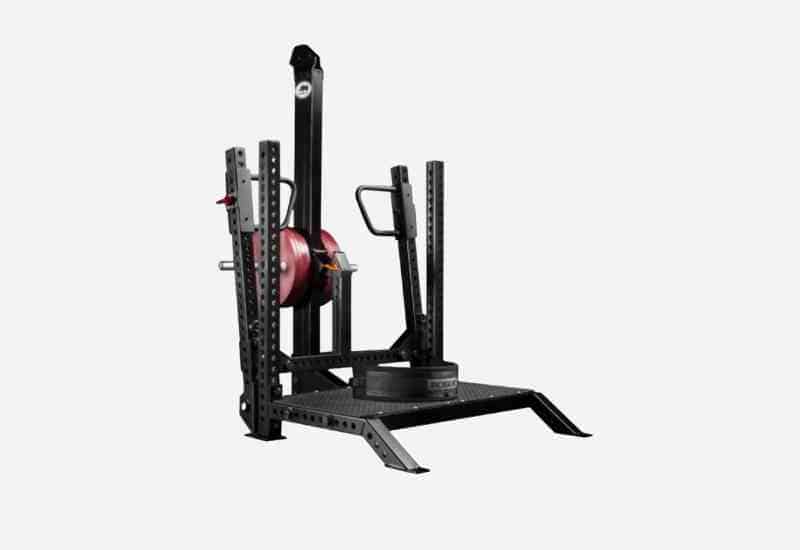 ---
Bells of Steel Belt Squat Machine 2.0
⭐ Best budget-friendly belt squat machine
Bells of Steel is one of my favorite strength training equipment companies that have emerged in recent years.
Founded by competitive powerlifters, they produce excellent gear at reasonable prices (see my reviews on the Bells of Steel crash pads and the BoS Commercial 3.0 Adjustable Bench), and they produce the best budget-friendly belt squat on the market.
With a weight capacity of 700bs, this plate-loaded machine features band pegs for added resistance and a smooth lever system to make racking a breeze.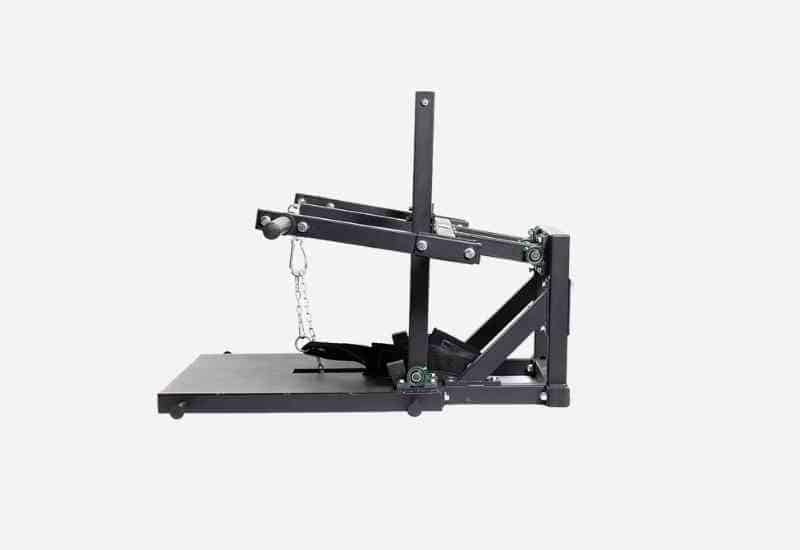 The frame is built with 11-gauge steel and it's powder coated for maximum resistance to corrosion. (You do plan on sweating on it a lot, after all.)
Each machine includes a belt and weight sleeves for loading all of your weight plates.
And, unlike some of the other big players in the strength training space, Bells of Steel has a comprehensive video library of how to assemble their equipment so you can spend less time swearing at the instructions and more time lifting weights.
? Key features: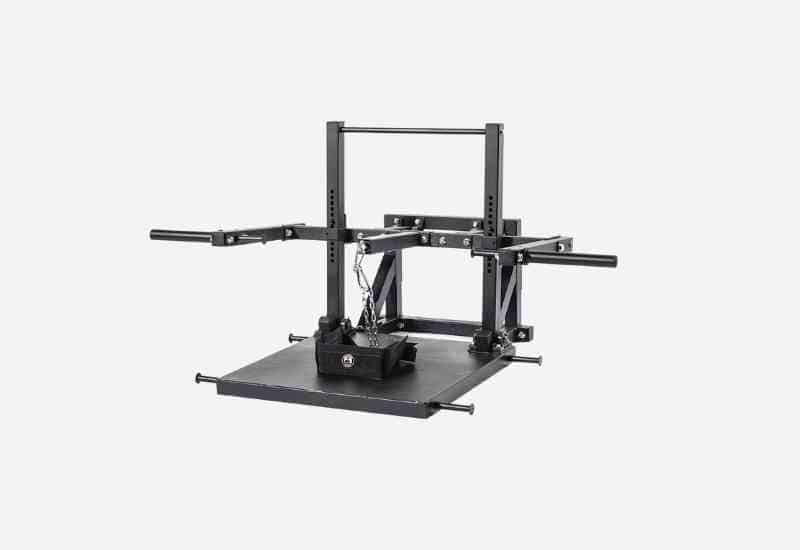 ---
Titan Fitness Belt Squat Machine
Titan Fitness makes excellent training gear at highly competitive prices (their folding squat rack is a prime example of this).
The Titan Fitness Belt Squat Machine continues with this commitment to building high-grade training equipment at low-grade prices.
In fact, this offering by Titan Fitness is the best-priced belt squat machine on the market right now.
With over 16" of sleeve length you've got plenty of room to load plates. How many plates? Titan Fitness rates the machine for up to 1,000lbs. That many plates.
The weight of the frame and machine is less than half than the Rhino, so it's not quite as sturdy, but when you are paying about 1/3 of the cost, the reduced weight doesn't seem like such a big deal.
The foot plate is made of aluminum and has a diamond-tread for added foot grip while knocking down your PRs like they owe you money.
? Key features: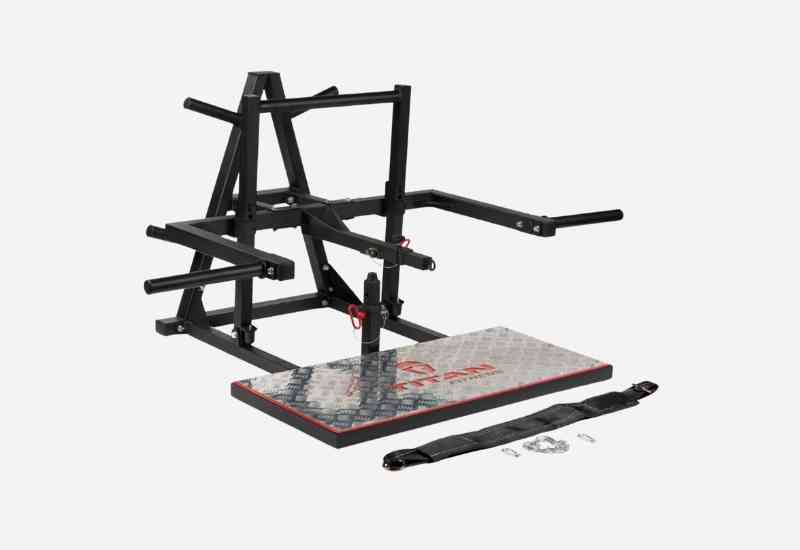 ---
REP PR 4000/5000 Belt Squat Machine
So far we've looked at stand alone belt squat machines.
But there are some other options on the market if you want something that can integrate into your squat rack.
This belt squat machine attachment, designed for REP Fitness's PR 4000 and PR 5000 squat racks, takes advantage of your rack to save space while also giving you the ability to train the lower body without taxing your back and shoulders.
Made with 11-guage steel, powder coated, and featuring a "real weight" ratio—what you lift is exactly the resistance levels, it's also the cheapest option for a belt squat machine at $299.
Additionally, the attachment can be removed easily so that you can move it between workouts and sessions and even attach it on either the back crossmember or the lateral bars.
That said, this requires you have the REP PR 4000/5000 squat rack as well as the lat pulldown attachment. And to be honest, you won't get the same experience as a stand-alone belt squat machine.
? Key features: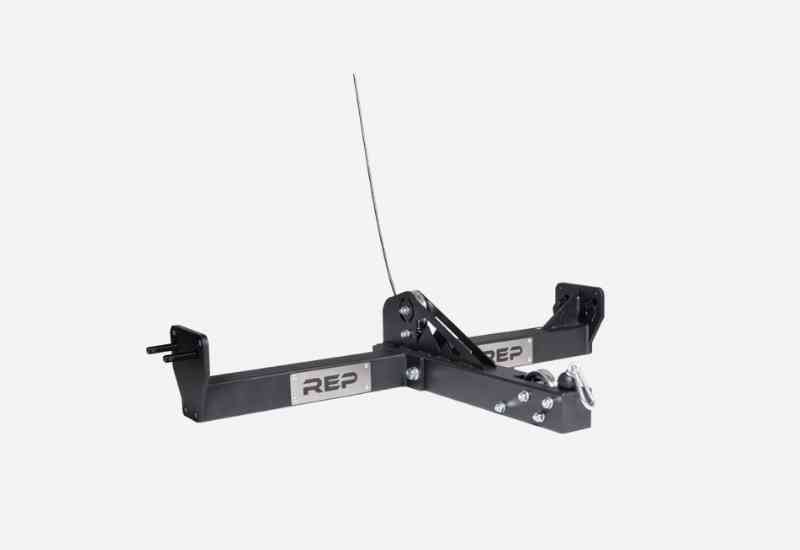 ---
Belt Squat Machines — FAQs
Are belt squat machines worth it?
Belt squat machines are definitely specialty leg machines. While there are some ways to spice up the variety with exercises you can perform on it, the machine is primarily a squatting tool.
For lifters who are serious about improving their squat, have limited shoulder mobility (cannot grip the bar on back squats properly), have an injured back or core musculature, it has a LOT of utility.
Belt squat machines are as effective as back squats for quad and hamstring muscle development, and superior for properly training the hip hinge movement.
If those things are premier goals in your training plan, then a belt squat machine can absolutely be worth the investment.
Do you have to bolt down a belt squat machine?
I absolutely love my squat rack, but there's that whole bolting it to the floor (or the wall, in the case of folding squat racks) that kind of stinks.
Belt squat machines generally* don't have to be bolted down, which means that you can unpack it, load some weight, and start blasting away at your quads without worrying about concrete anchors
* Some manufacturers highly recommend that you bolt the machine down to the floor. Rogue is an example of this with the Rhino, which they explicitly recommend bolting to the floor.
The Bottom Line
There is perhaps nothing better than getting a killer leg workout. Stronger legs not only look great in the mirror, but they also power athletic performance and because of their outsized measurements, can add a lot of muscle to our body quickly.
Fortunately, there are plenty of tools and machines for lifters to work these muscles that don't necessarily require a squat rack or free weights.
A belt squat machine is a killer option for anyone looking to get most of the benefits of traditional free weight leg exercises without undue spinal compression or shoulder/wrist discomfort.
Choose the best belt squat machine for you and your training goals and take to your leg day to the next level!
---
More Belt Squat Guides
6 Benefits of Belt Squats (And Disadvantages). Belt squats are an excellent exercise for developing lower body muscle and strength. Here are the main benefits of this powerful squat alternative.