Ready to level up your pull-up game? Here is a collection of the best free standing pull-up bars for blasting your upper body.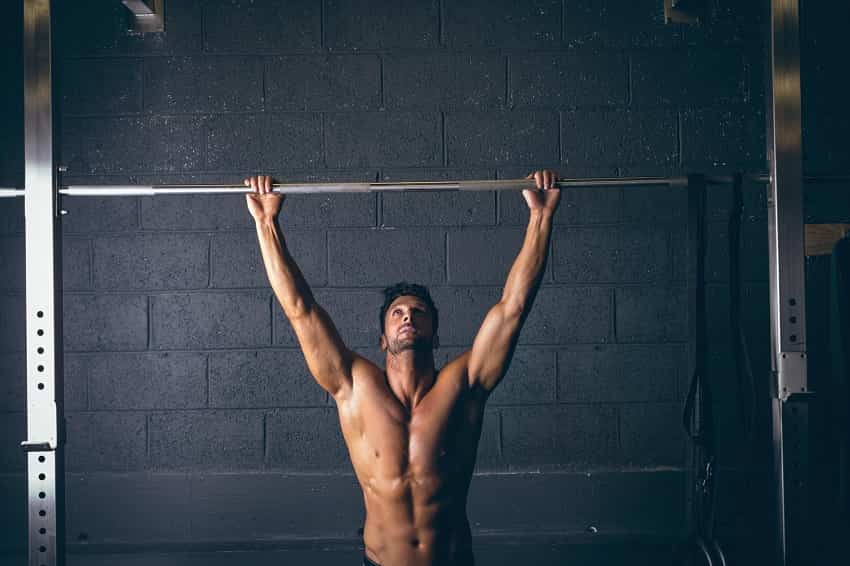 Pull-ups are a killer upper body workout that targets all of the major muscle groups between your neck and your hips.
Shoulders? Yup. Upper back? Core? You know it.
Pull-up bars are also one of the few "machines" that you can bring home.
They take up a small amount of space, are relatively inexpensive, and can be set-up anywhere you have a doorframe or some sturdy framing.
But there is a big drawback of doorway pull-up bars or chin-up bars that are fastened to the wall—they risk damaging the trim on doorframes and leave big holes in the wall.
Fortunately, there is a third option for the home pull-up aficionado: free-standing pull-up bars.
Free-standing pull-up bars are also more versatile than your typical home doorway pull-up bar. Often, they have J-hooks for a barbell (so you can do squats, lunges, shoulder press, etc), a dip stand/station, and/or a back pad to do leg raises.
Figuring out the best standing pull-up bar for you comes down to versatility, how much floor space you have, and cost.
Here is a rundown of our favorites.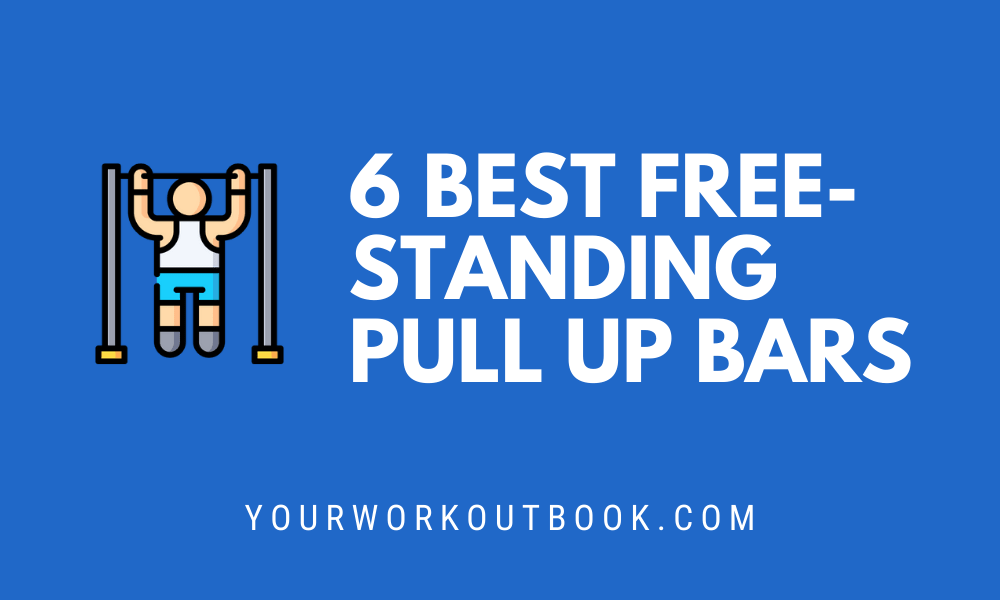 Fitness Reality X-Class High-Capacity Free-Standing Pull-Up Bar
One of the big requests that home-gym nerds have is a variety of exercises. Although we want the convenience of working out from home, we still want the full scope of exercises and modalities from our favorite neighborhood gym.
Grip variety is the big complaint when it comes to doing pull-ups at home. There are grips that are simply easier on your forearms and do a better job of targeting either the biceps or lats. And this is why I prefer pull-up bars that allow me to move between grips.
The Fitness Reality X-Class Free-Standing Pull Up Bar is a heavy-duty station, with a 400-pound weight capacity, that has a pull-up bar with a ton of different grip options.
You can use a hammer grip, extra-wide pull-ups, the more common narrower-grip chins, and so on. The pull-up bars are wrapped in foam, making your grip slip-free and comfortable.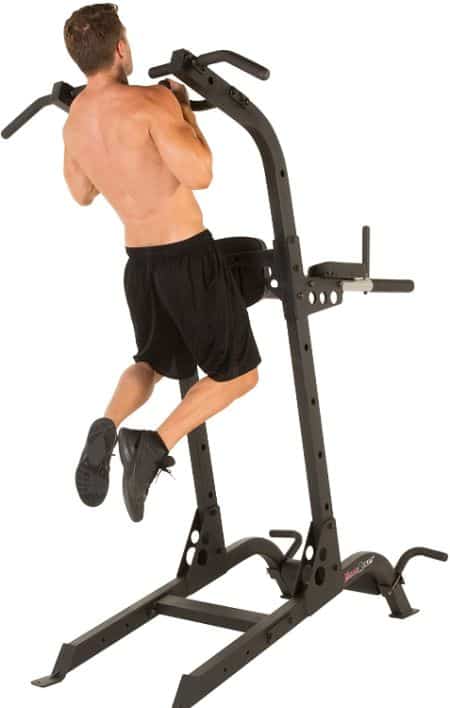 F2C Rack with Pull Up Bar
For the home lifter looking for a no-frills free-standing pull-up bar that can also be used as a rack for lifting weights, the F2C Rack is a perfect option. It features a sturdy H-base and the rack can be adjusted up to a height of 76" (helpful for us tall folk who don't want our knees dragging on the floor at the bottom of our pull-ups).
Although the frame looks like it won't take a lot of weight, the steel construction comfortably handles up to 550 pounds of weight. Because it is lighter than most free-standing chin-up bars and power racks, the F2C Rack can easily be pulled out for your workouts.
The only drawback, however, is that you only have two grip options with the pull-up bar (although you can most definitely vary the width of your grip on the bar).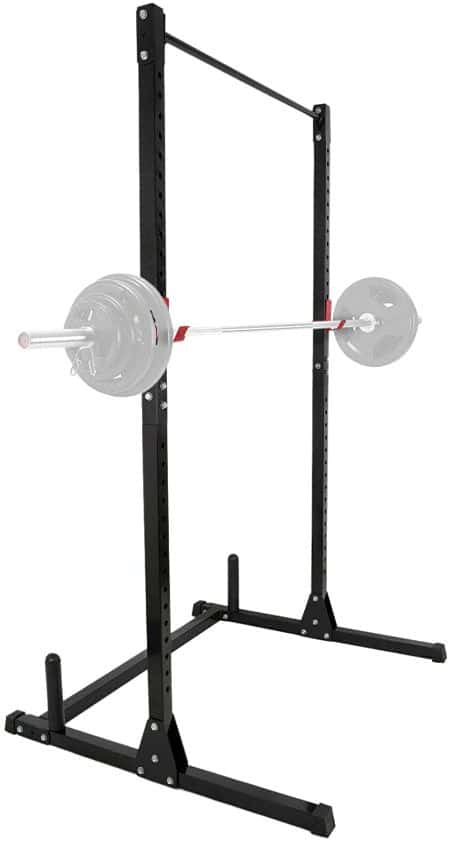 Weider WEBE99712 Stand Alone Pull Up Bar
Weider is one of the more recognizable names in the fitness gear industry. What the WEBE99712 lacks in roll-off-your-tongue naming, it more than makes up for in quality and durability.
The Weider WEBE-whatever is more than just a stand-alone pull-up bar. You get a full dip and leg raise station, and possibly my favorite non-pull-up related function, elevated push-up handles so that you can keep your hands off the cold garage concrete floor and maintain better push-up technique.
One thing reviewers consistently noted was how tall the unit was when fully assembled. (The height of the station is not adjustable, sadly.) Assembled, the Weider station is just over 7 feet tall. For a name-brand pull-up machine, the Weider is also exceptionally well-priced, coming in at just over $200.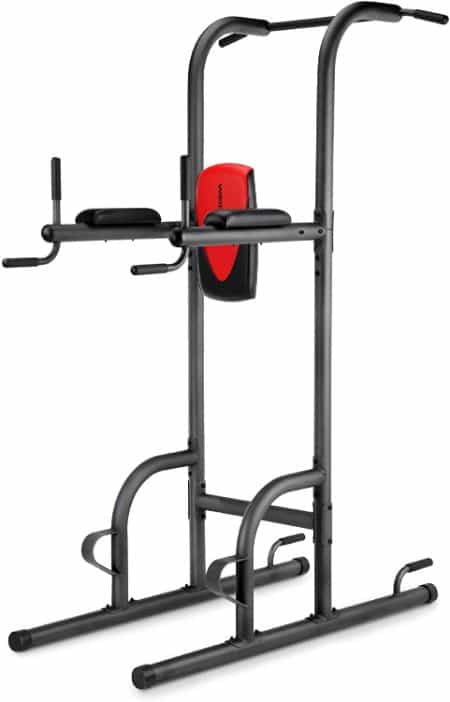 Marcy Multi Workout Home Gym with Pull Up Station
By now you have noticed that the base of most free-standing pull-up stations are similar to that of a squat rack or power rack—an H-frame that balances the user and barbell.
The Marcy Multi Workout Home Gym with Pull Up Station, an Amazon Editors Choice, changes things up, with a triangular base that means the unit can be squared away in a corner of your home gym, saving space while also providing the familiar sense of stability and durability.
While the standalone pull-up bar doesn't provide a ton of grip options, it does give you some flexibility with chin-up and pull-up grips, and the Marcy station does give you a ton of versatility for working your core (ideal for blasting away at the "Covid 30"), including foam rollers at the bottom of the unit.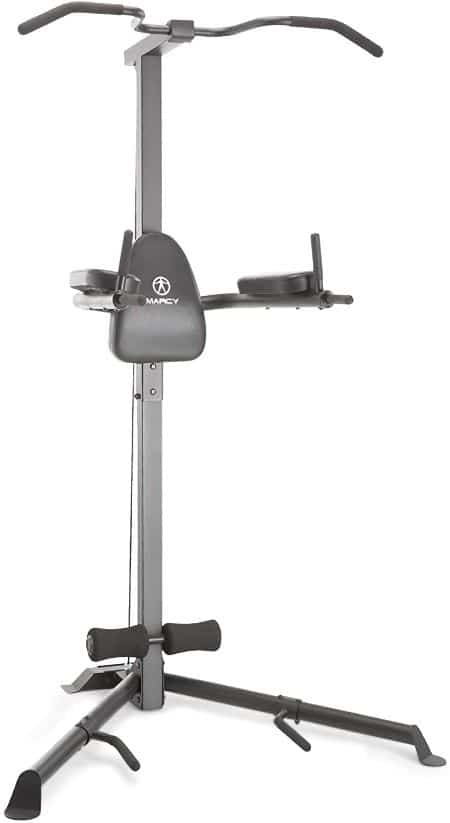 KT Toes Free Standing Pull Up Bar
Now for something a little different.
The KT Toes Free Standing Pull Up Bar is a well-designed and simple-looking pull up bar that you can set up anywhere.
Unlike traditional power racks and free-standing pull up bars, you can fold this thing up in just a few seconds and put it away or move it to another location. Personally, the idea of being able to set it up outside on sunny days and working out in the sunshine is the reason I love this free-standing pull up bar above all else.
The pull-up bar can be used for a variety of other uses as well, including as a stand for hanging a heavy bag, for dangling one of my favorite home gym essentials, TRX Straps, or even setting up a hammock for some post-workout recovery.
The KT Toes Free Standing Pull Up, once set-up, is also quite high, which means you mean need a box or mini step-ladder to wrap your fingers around the padded bar.
If you are looking for a pull-up station that you can use outdoors, the KT Toes Free Standing Bar is your ticket.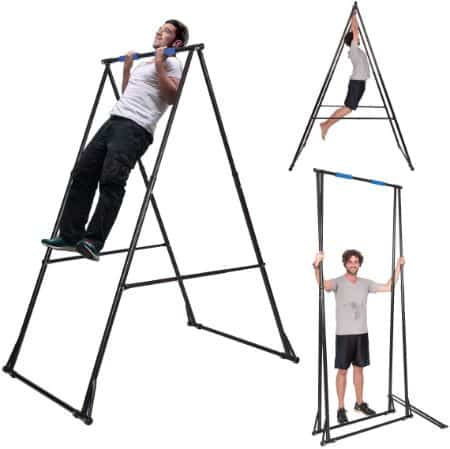 GoBeast Free Standing Pull-Up Bar
Another smartly-designed alternative to your typical pull-up bar station is the GoBeast Free Standing Pull Up Bar. Designed to be portable, the GoBeast set-up is built a set of smaller tubes that can be disassembled and tucked away into a bag.
If you can lug around 46-pounds, this pull-up bar has truly become portable.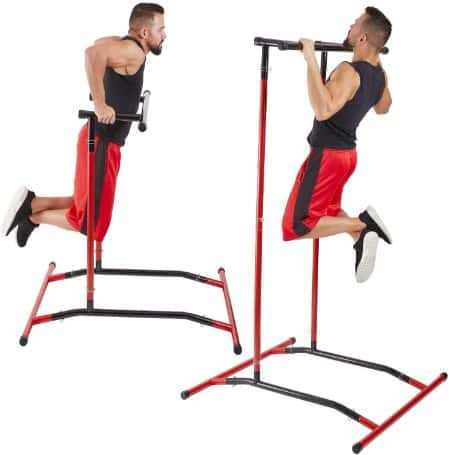 There are a couple other awesome perks to the GoBeast beyond the portability (which obviously on its own, is pretty fantastic). The unit can be changed into a dip station (which you could also slide under and do inverted rows).
The only catch?
The GoBeast, when fully assembled, isn't very tall. Taller users (6' and up) will have to bend their knees when doing pulls, and if you are like me and are a heavier fellow (276 pounds), the unit is rated at a max of 240-pounds.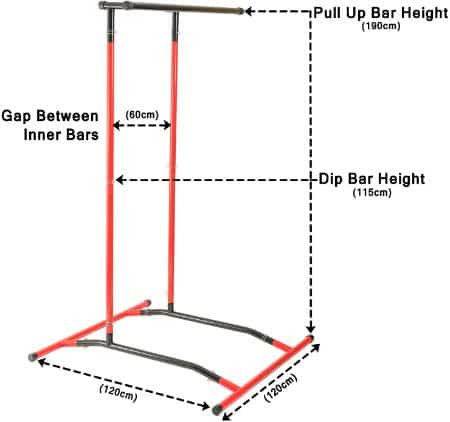 More Pull-Guides and Reviews
9 Benefits of Pull-Ups (Defy Gravity and Build Strength and Muscle). Pull-ups are pound-for-pound one of the best exercises you can do! Learn the full range of benefits of pull-ups, from strengthening the upper body muscles to improving posture and functional fitness.