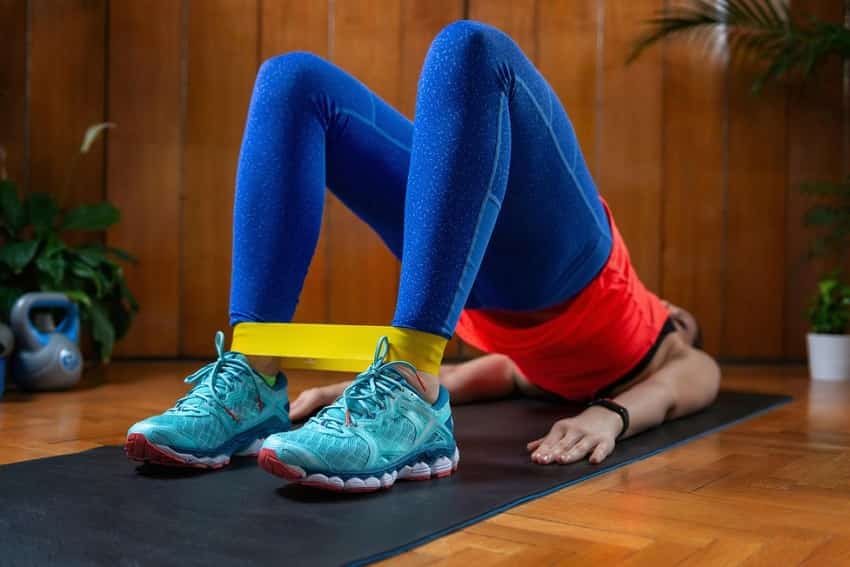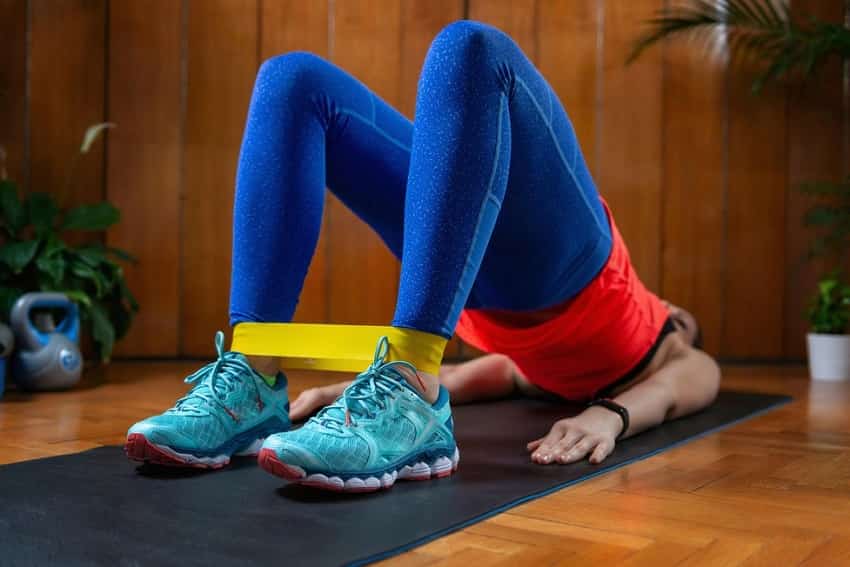 There is no shortage of equipment to use during your workouts. But few match the versatility, ease of use, and functionality of resistance bands. Here is a breakdown of the best resistance bands to take with you to the gym.
There are a lot of benefits to training with resistance bands:
Easy to travel with. Resistance bands don't take up much room. For the athlete and gym-goer who is on the road a lot, these bands pack tightly.
Dirt cheap. As far as gym equipment goes, resistance bands are very inexpensive.
Versatility. The only limit to the ways you can exercise with resistance bands is your imagination. Whether you are doing core work, hitting your glutes, or looking for a way to level up your shoulder stability, there is a way to get better using a resistance band.
Can be used for assistance, too. A great use of these high-grade bands is as an assist to help you perform pull-ups properly.
Improved performance. Using bands, particularly when lifting (looping bands on the bar doing bench press, as this study discovered), is a way to increase performance versus traditional lifts.
Perfect for training at home. With limitations in place on going to the gym, resistance bands are one of the absolute essentials for home gym equipment.
And on and on and on.
If you're gearing up for a workout and want an alternative to lifting the free weights or using weight machines, resistance bands can be the perfect solution.
But which resistance bands are best? Which will help you get in a great workout and ensure your muscles are challenged every step of the way? Let's take a closer look at some of the top recommendations.
Fit Simplify Resistance Loop Exercise Bands
If you want a great option on the go, this is it. You'll get five difference loop style resistance bands, each offering a different resistance level. This allows you to customize your workout so that no matter what exercise you're doing, you'll always feel challenged. Because some muscles are stronger than others, you never want to adopt a one-size fits all approach and use the same resistance band for each and every move you do.
This package also comes with a carry bag, ebook and an online workout video series so if you're new to fitness, it's easy to get started. The bands have easy identifiers and are labeled x-light, light, medium, heavy, and x-heavy for your convenience.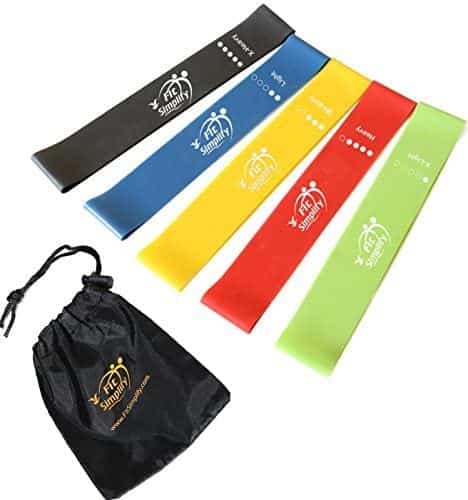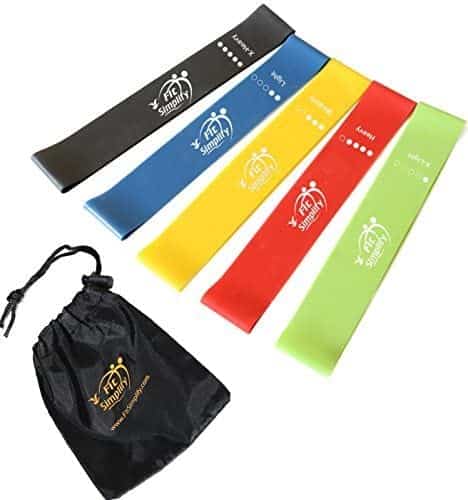 Tribe Resistance Bands Set
If you're a little more serious into your workouts and want to not only be able to change resistance levels but also be able to alter the handles that you use then working with the bands, the Tribe Resistance Band Set is for you.
This set comes with carabineers at the ends of the resistance bands so you can hook different handles with ease. These resistance bands also have an anti-snap promise, so you can feel confident that no matter what you do with the weight, it's going to hold up and support your goals.
With five different bands total, you'll be fully covered.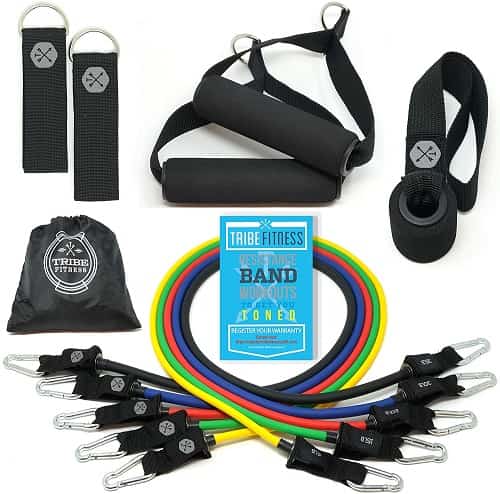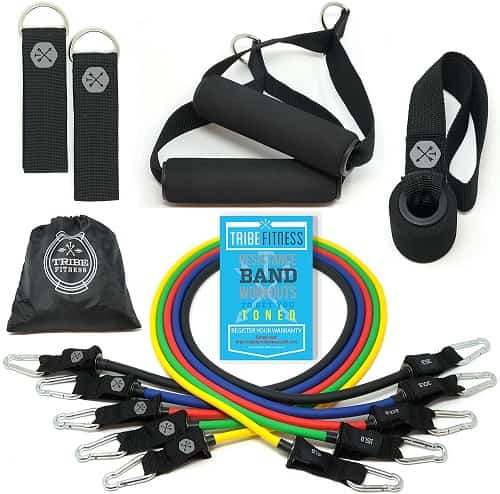 WODFitters Pull Up Assistance Bands – Stretch Resistance Band
If CrossFit is the name of your game, you'll probably be inclined to go for the WODFitters Pull Up Assistance Bands. These bands are great for allowing you to do a number of gym exercises such as assisted pull-ups or to add extra resistance when doing barbell lifts if you so prefer.
Many Crossfitters will also use them when doing ring dips and muscle-ups, so the possibilities are virtually endless. With five different strengths to choose from, these will work no matter what your fitness level happens to be.
With this brand, you can purchase just a single band if you wish or go for the package deal and set yourself up with all strengths.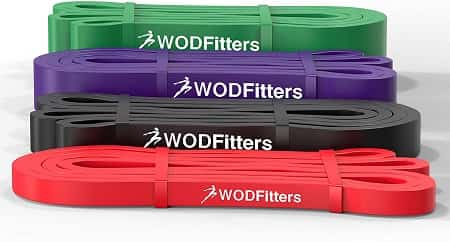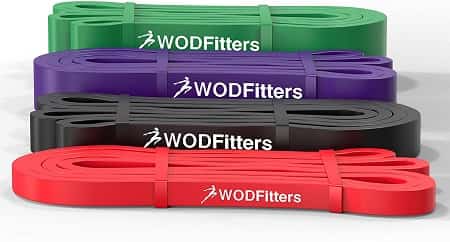 Resistance Exercise Bands For Legs And Butt
If you aren't looking for bands for an all-around workout session but instead want some bands that will specifically zero in on the hip and butt region, the Resistance Exercise Bands For Legs And Butt is a fantastic choice.
These bands are incredibly durable and come with an anti-slip design to ensure they stay put exactly where you need them. They're also going to provide three levels of resistance – light, medium and heavy so no matter what your fitness level happens to be, you can use them with ease.
I really like this type of band for glute banded exercises because they can provide more resistance compared to the fabrics of other bands, making them an excellent choice for high-resistance hip thrusts, glute bridges, and more.
You'll get a free carry bag with each purchase so you can easily tote them to and from the gym or keep them contained and organized at home.
These types of bands–fabric resistance bands–are designed to be as comfortable as possible as you wear them so will resist digging into the legs as you go about your exercises.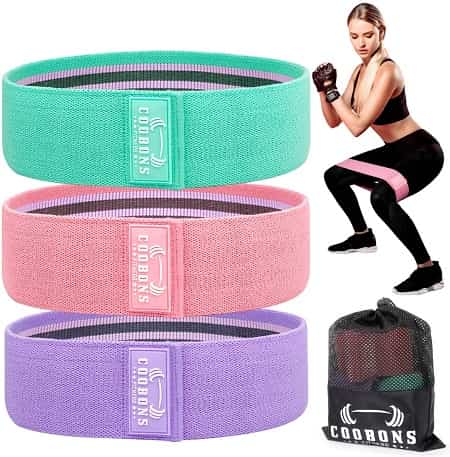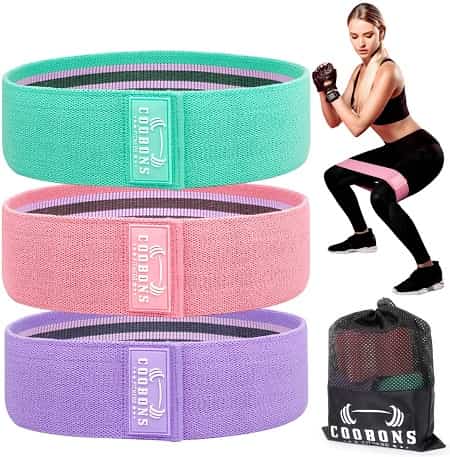 So there you have a closer peek into the different resistance band options available. Take some time to figure out what your fitness goals are and from there, you can then determine which type of band is going to be best suited to your program.
Bands are all quite cost effective so they are a very low-cost way to start your fitness journey or compliment whatever other equipment you may already be using.
---
More Gear Guides
7 Best Home Gym Essentials for Beginners. Looking to get started with working out at home? Here are the best home gym essentials to get you started.
Best Foam Rollers for Athletes and Gymgoers. Looking for reviews of the most popular foam rollers on the market? Here are the best foam rollers for boosting recovery, decreasing muscle soreness, and improving mobility and flexibility in your muscles and joints.
Best Barbell Pads for Hip Thrusts. Secure the bar, protect yourself from bruising, and perhaps more importantly, lift more weight with a pad for hip thrusts. Here is a list of my favorites.
7 Reasons the Rogue Monster Bands are the Best. Rogue Monster Bands are my favorite resistance bands. Here's why you should add them to your training and recovery work (and where to buy them).