Ready to crank up your dips? Here are reviews of my favorite dip belts for weighted dips and awesomeness.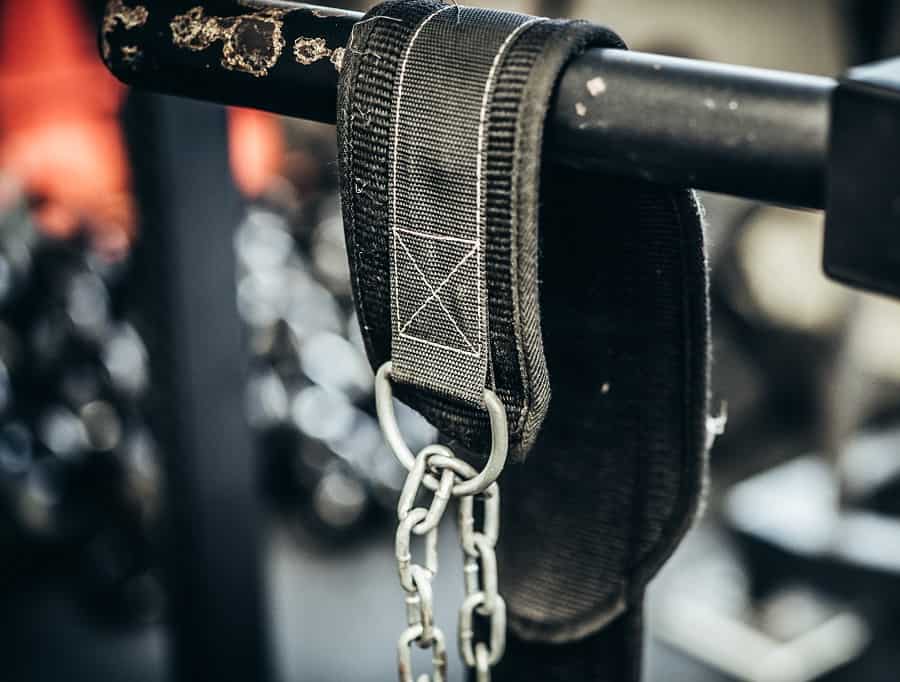 Dips are one of the best exercises you can do for your upper body.
As you progress with this exercise—which hammers your chest, triceps, forearms—you can add weight for further resistance and improved strength and size.
A dip belt, either made in leather, nylon, or neoprene, allows you to add weight to your dips. Simply hook up something with some weight to it, whether it's weight plates, a kettlebell, or a small child, to the chain dangling from the belt, and off you go.
There are a few different types of dip belts on the market, with each one featuring its own distinct features and benefits.
Over three decades in the gym I have had an opportunity to try the best of the best.
Below is a collection of my favorite belts for weighted dips.
Iron Bull Strength Multi-Function Dip Belt
Iron Bull is one of my all-time favorite manufacturers of gym equipment. They simply make good gear.
Their barbell pad for hip thrusts is my go-to for moving big weight, and their multi-use dip belt can be used for dips, pull-ups, as a sled harness, and just about anything else you can think of.
With weight and dip belts that you see at the gym, they tend to have a steel chain that dangles off of your waist. Iron Bull changes this up, with heavy-duty nylon that is light, flexible, and hilariously strong. The double-stitched nylon won't quit on you, and more importantly, takes up little space and almost no weight in your gym duffel bag.
Perhaps my favorite part of this dip belt is that it has three different hooks where you can anchor the weight strap. This gives you versatility in where you anchor the weight.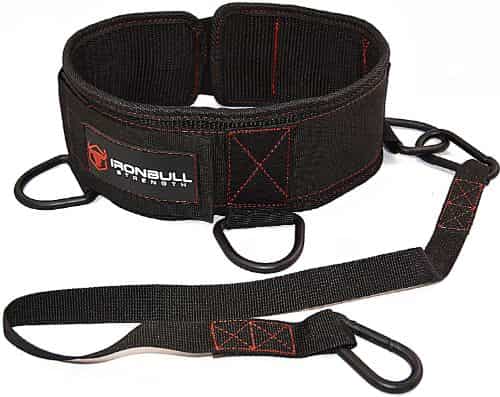 Fire Team Fit Dip Belt with Chain
For heavy-duty, power users, the Fire Team Fit Weighted Belt brings you stability and high-weight capacity.
The Fire Team Dip Belt has the look of a traditional belt, with a 44-inch chain that can be looped and shortened as needed. More importantly, for those of you putting up big numbers in the gym, the belt is able to load up to 300-pounds.
The material of the belt itself is surprisingly supple and comfortable. It is made of durable and very flexible neoprene foam.
I really liked the feel of this belt, as it didn't chafe or rip on my skin when the belt inevitably slid under my t-shirt.
Definitely recommended for power-lifters and lifters who prefer a non-leather dip belt when they are working out.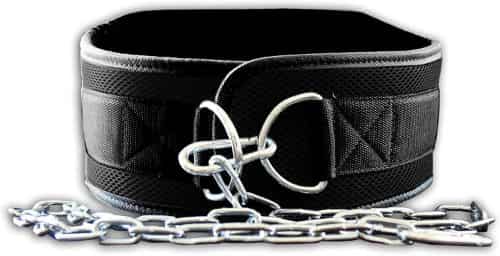 Rip Toned Dip Belt
For the lifter who is looking at taking a less aggressive and weighty approach to their dips, the Rip Toned Dip Belt is a solid bet.
Using a 36-inch stainless stell chain, the Rip Toned Dip Belt can dangle up to 200-pounds without coming apart. The belt is 6-inches wide at the back, providing plenty of support in the lower back, before tapering towards the D-hooks at the ends of the belt.
In terms of overall comfort, the material of the belt is largely neoprene (which means reduced chafing), and the reinforced stitching and wide-backed design keep the belt from digging into your sides under the heavier weight.
Although this Dip Belt isn't the best for versatility or maximum weight capacity, I do really like how quick customer service was in answering my questions.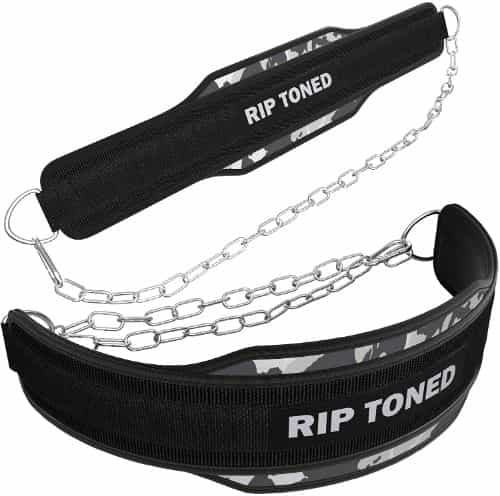 Dominion Strength Leather Dip Belt with Chain
Before all these fancy-pants neoprene and nylon dip belts came along, lifters relied on leather for support and bracing.
There is something to be said about old-school lifting gear, which sacrifices a little versatility and comfort for badass durability (Dominion Strength backs their belt with a lifetime warranty).
This leather dip belt is peak durability, tested and rated for 1,000 pounds. (Yup, that's not a typo.) The stainless-steel 36-inch chain is affixed through two carabineers that will help you dangle as many 45-pound plates as you can fit on the chain.
The Dominion Strength Leather Dip Belt is available in a black and gray suede finish. Some things don't need to be improved upon, and this butt-kicking leather dip belt is a perfect example.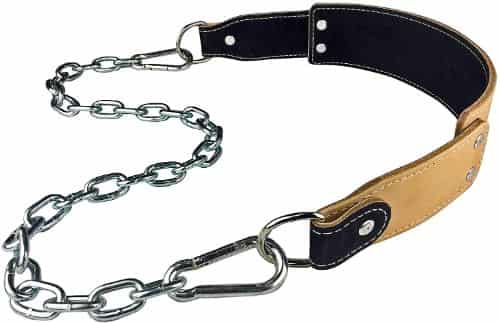 JuanFU Dip Belt with Steel Chain
The JuanFU Dip belt is another dip belt made of neoprene foam,
The belt's carabiner clips and D-rings are reinforced with extra stitching to prevent wear and tear under heavy weight. This dip belt is also the cheapest one on our little list, at just under $30 per belt.
The makers of the JuanFU Dip Belt have rated the belt up to 330-pounds, making it a perfect blend of comfort, affordability, and durability.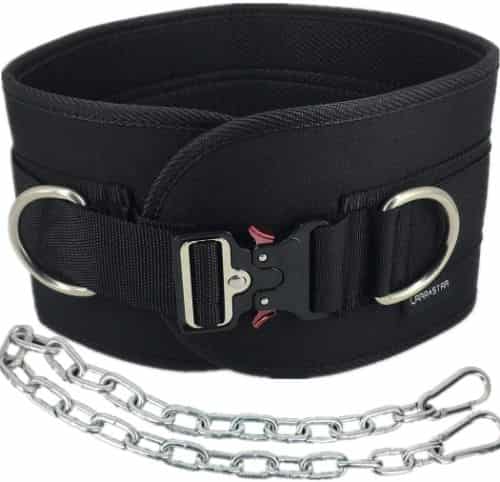 Grizzly Fitness Leather Dip Belt
Second entry in the leather dip belt line-up is long-time gym gear maker Grizzy Fitness with their unisex premium leather belt.
The back of the belt is larger than others, and while I wasn't crazy about how much the wrap-around leather sections tapered, the Grizzly leather belt provides a secure and durable fit.
The leather back of the belt is extra wide, generating all sorts of back support, which I found especially helpful when doing forward-leaning weighted dips, when there is more pressure placed on the lower back.
Like most leather dip belts, the Grizzly Fitness entry can lug around a lot of weight, rated at 750-pounds, making it an excellent choice for those who are looking for a little more back support without sacrificing the durability and weight-loading of leather belts.


---
More Stuff Like This
6 Best Dip Bars and Stands for Your Home Gym. Avoid the crowds by building your upper body at home with our collection of the best dip bars for working out at home.
7 Best Weight Lifting Belts for Women. The right lifting belt helps you lift more and helps you lift safely. Here's a look at the best lifting belts for women on the market.