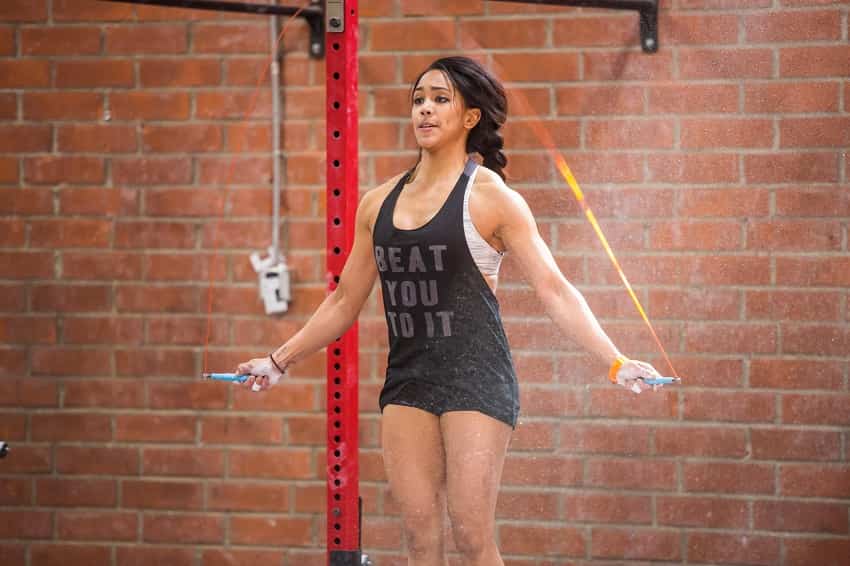 Ready to up your cardio game with a jump rope? Here's a breakdown of the best jump rope for every kind of athlete, including beginners.
Top Picks:
Below you will find more information on why jumping rope is such an efficient and versatile tool for getting in shape, as well as more detailed breakdowns on the jumping ropes that made the cut on our "best of" list.
Jumping Rope is a Killer Workout… Period.
Not just for children or boxers, the jump rope is a killer tool for getting in shape, getting stronger, and getting 30% better looking*.
(* Results may vary)
There are a too many benefits to jumping rope to list, but in terms of improving your cardio, jumping rope for ten minutes a day is the equivalent of 30 minutes of jogging [1]. Other benefits include building coordination, strengthening your ankles and feet, and torching calories.
And of course, when faced with limitations (gym closures), jumping rope is a dirt-cheap way to get and stay fit. It's why a jump rope is one of my all-time home gym essentials.
But when it comes to jumping rope, there are some considerations when picking out the best one for you and your workouts. Although they look simple, varying in length from 8 to 10 feet with ergonomic handles, there are some differentiating features.
Below is a list of the best jumping ropes for every type of athlete and gymgoer.
Let's go!
---
Best jump rope for beginners: XYL Sports Jump Rope
XYLSports' Jump Rope is super well reviewed on Amazon, with nearly 600 reviews averaging well over 4 stars out of five.
I like this jump rope for beginners as it has padded handles, an adjustable  durable nylon cable that can be extended up to 9'8" long. The rope is heavier than you would find for speed or competition jump ropes, which makes it more ideal for beginners and newbie rope jumpers.
The XYL Sports Jump Rope comes with a lifetime warranty. Note that the handles are also slightly smaller than typical jump rope handles.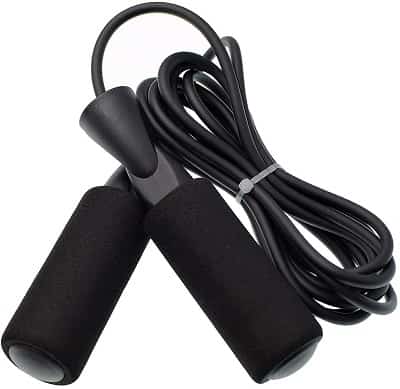 Where to Buy — XYL Sports Jump Rope

---
Best Weighted Jump Rope: Crossrope Weighted Jump Rope Set
The Crossrope Weight Jump Rope isn't so much a rope as it is a system. Compared to most cheap jump ropes, this one won't tangle, comes with both light ropes for speed work and heavier ropes designed for the beginner.
The handles are comfortable, the cables spin seamlessly and smoothly, and the Crossrope Weighted Jump Ropes come with a workout app (both on Apple and Android) that has a database of tons of rope jumping workouts to give you some ideas on what to do with your jump rope.
These weighted jump ropes, and all the features they come bundled with, are not cheap. All that versatility, jump rope workouts, and durable cables come in at nearly $100. Despite it's high price tag, this jump rope has nearly 500 five-star reviews on Amazon, showing that you get what you pay for.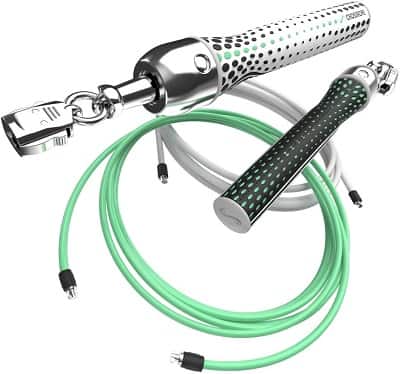 ---
Best Speed Jump Rope: Elite Surge 3.0 Jump Rope
For the athlete who wants more flexibility and options out of their jump rope, the Elite Surge 3.0 is the Cadillac of skipping ropes.
Made with thin aluminum handles, the Elite Surge 3.0 has a screw and collar system that allows you to easily adjust the length. It is compatible with six different cable types, from the competitive ultra-speed 1.1mm cables to the 4mm PVC training cords.
Far from your typical grade school jump rope, the Elite Surge 3.0 is the jump rope of professionals. The patented handles, with dual ball bearings, means that the rope flies smoothly and quickly. (Up to 7 revolutions per second). If you miss a skip, it's not going to be because the rope got tangled.
The Elite Surge 3.0 comes with a storage bag and the handles come in either copper or black.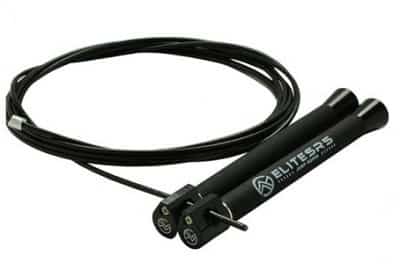 ---
Best Jump Rope for CrossFit: Rogue SR-1 Jump Rope
Rogue Fitness, one of the biggest workout gear companies in the world and the brand most synonymous with CrossFit, produces the SR-1 Jump Rope.
The SR-1 is an adjustable jump rope designed specifically for CrossFit athletes. It is adjustable from just one end, there is plenty of cable for taller athletes (up to 10 feet), and the handles are an ergonomic nylon resin handle that is light and sits comfortably in the palm.
Although the SR-1 Rope garnered plenty of five-star reviews on Amazon, with compliments on the smoothness of the bearings and comfort of the handle, a solid 20 percent of buyers issued 1-star reviews, citing durability issues with the cable.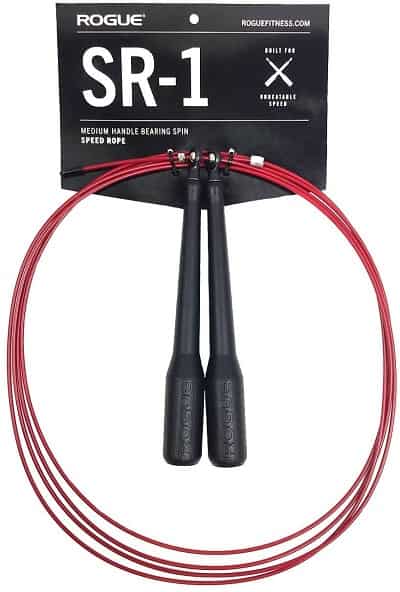 Where to buy the Rogue Fitness SR-1 Jump Rope

---
More Gear Guides
Best Muscle Roller Sticks for Improved Recovery and Performance. The muscle roller stick is a killer tool for bouncing back from a tough workout, improving mobility, and much more. Here's my breakdown of the best muscle rollers for deep tissue massage and more.
Best Foam Rollers for Athletes and Gymgoers. Interested in foam rolling, but don't know what kind to get or what to look for in one? Here are the best foam rollers for boosting recovery, decreasing muscle soreness, and improving mobility and flexibility in your muscles and joints.