Besides making you look like a total badass, weightlifting chains are a way to improve bar speed, stability, and strength. Here is a breakdown of the best weightlifting chains for crushing your lifts.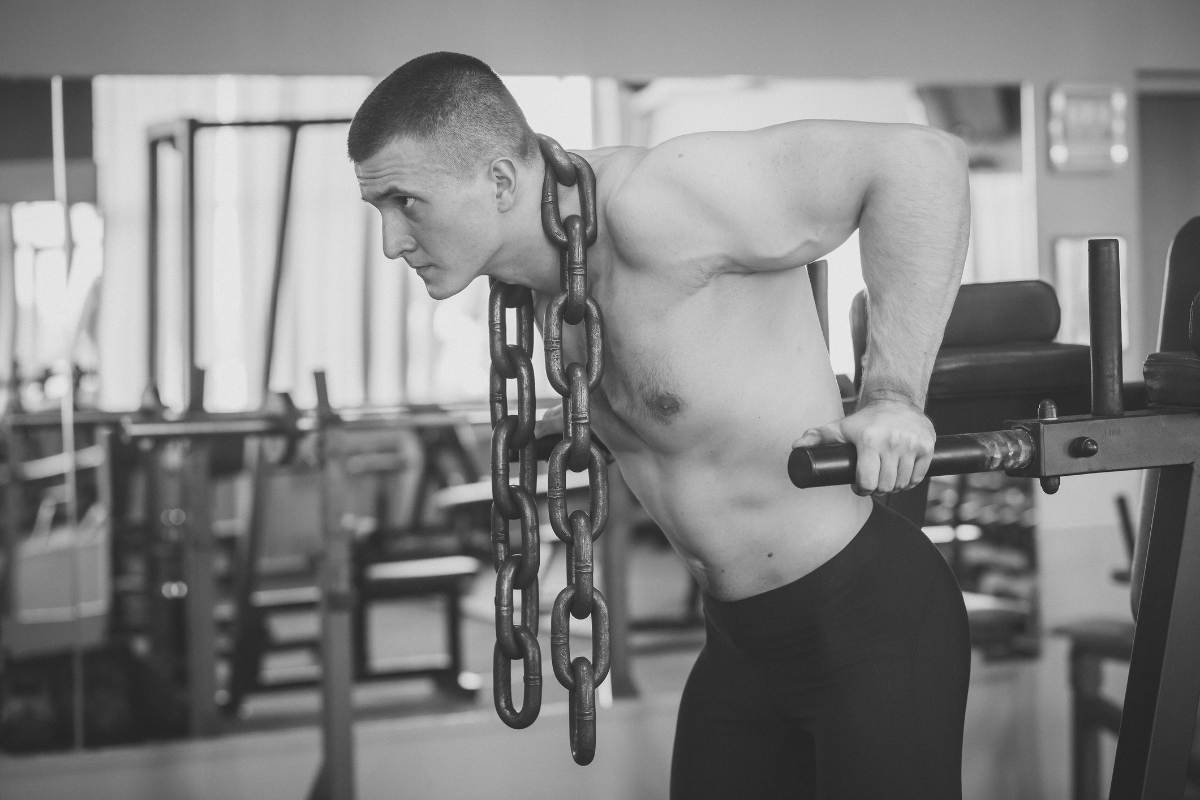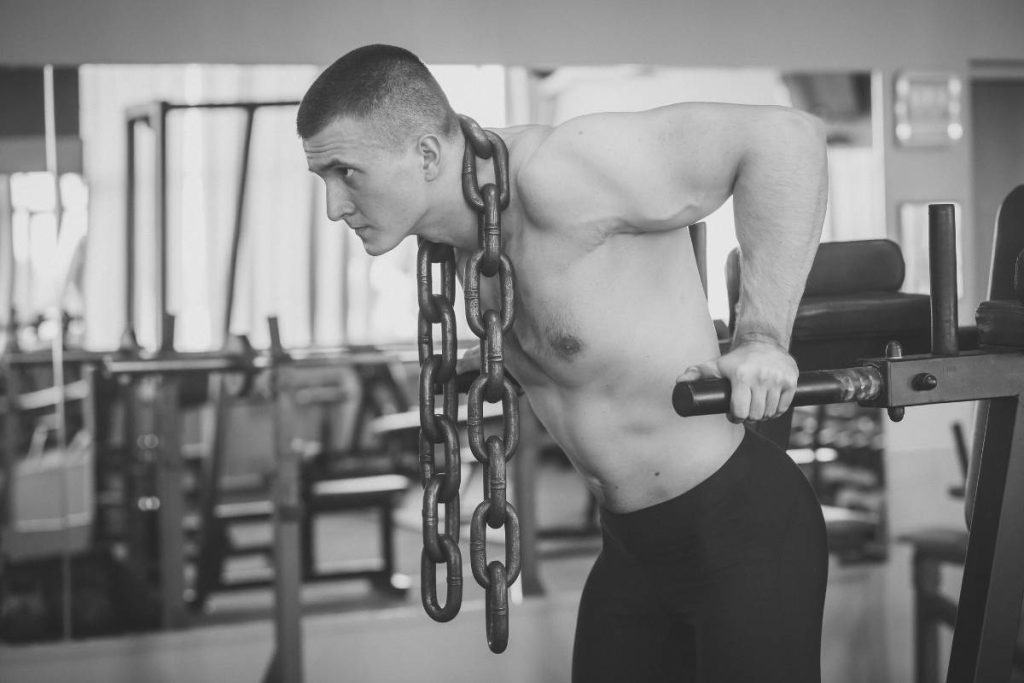 If you're looking to add a new dimension to your strength training routine, weight lifting chains are an excellent choice. These versatile pieces of equipment can help you increase strength and power, as well as improve your balance and stability.
There are plenty of free-range benefits to adding chains to your workouts:
Provide variable resistance through your lifts. Most lifters are strongest at the very top of the lift. Lifting chains add extra weight to this part of the lift without putting too much weight on the weaker parts of your lift where you might fail.
Improve bar velocity. Because there is less weight on the bar at the start/bottom of your lift, you can move the bar faster. Research [1,2] has shown that using chains can help improve bar stability and velocity with novice and experienced athletes and lifters.
Look like a certified badass. Let's just go out and admit it: Lifting with chains makes you look like a monster in the gym. I know—we are playing on aesthetics and social approval a little bit, but it's okay to admit it.
In other words, lift faster and stronger.
Sounds pretty good to me!
Below are my favorite lifting chains, including the key features of each.
Read on, find the right pair of weightlifting chains for you, and lift stronger and faster than ever.
Let's get into it.
---
Rogue Chain Kits
⭐ ⭐ ⭐ Best overall chains for lifting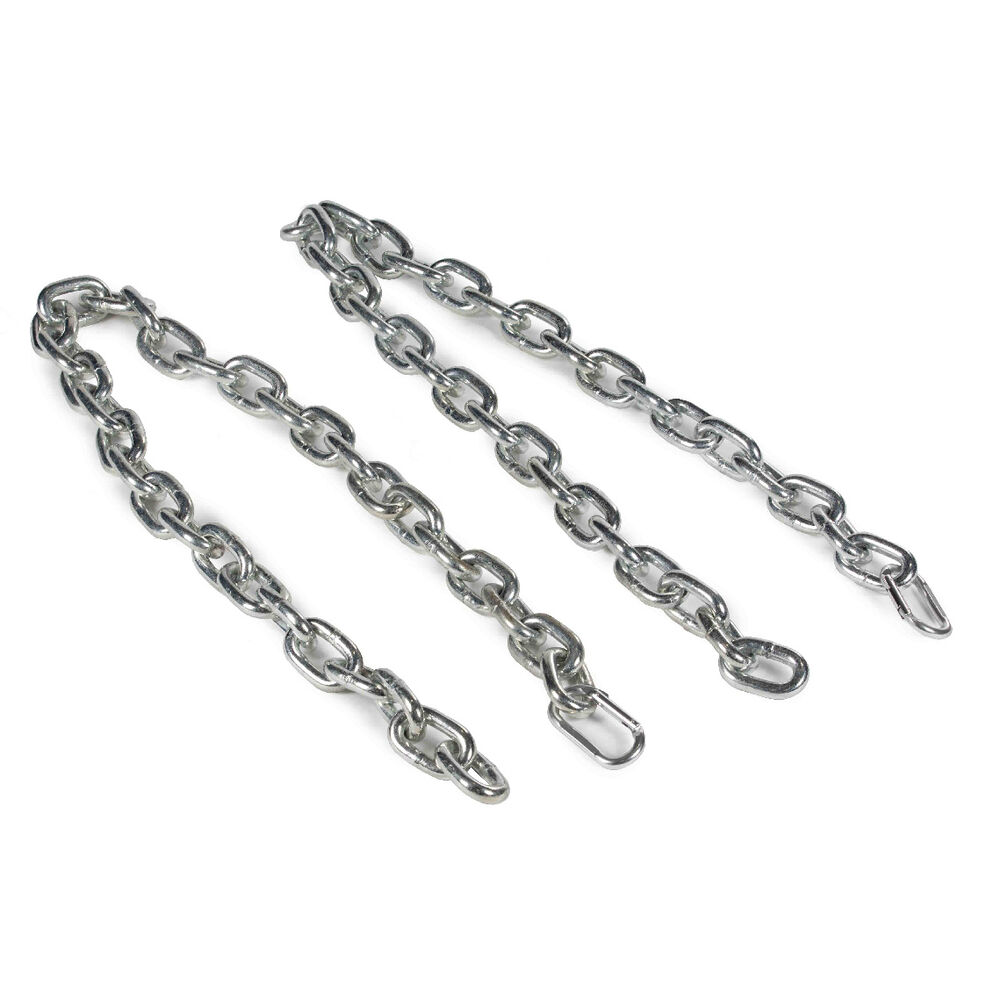 Rogue is one of the leading names in the strength training game. The Rogue Chain sets give you the ultimate in flexibility in terms of resistance, with a set for beginners and a set of intermediate lifters (more advanced lifters will simply want to 2x the order size) and high-grade construction.
The chains themselves are made in the United States with American steel and are zinc-coated to reduce rusting and corrosion. Both of the lifting chain sets are four feet in length and come with carabiners to easily mount the chain to your barbell of choice.
The Rogue Chain Sets are available either as two 10lb chains (1/2" chain thickness) or two 15lb chains (3/4" chain thickness) and they are primarily sold as pairs.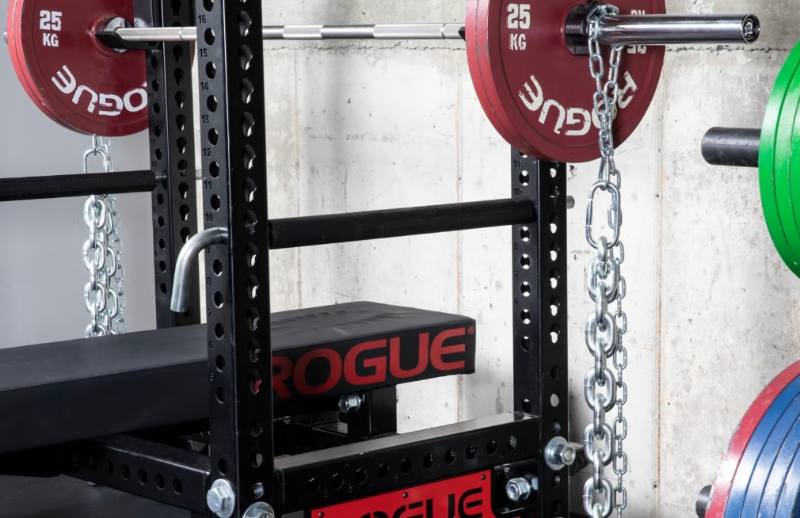 Rogue does, however, sell them as single without carabiners for lifters looking for extra weight. Also, if you want to protect your chains further, consider opting in for the chain sheath that Rogue offers with these chains.
The sheath will help keep the chains from swinging too much and protect them further from corrosion (highly recommended for humid training environments).
Rogue's lifting chains are a little pricier than the competition, but you get what you pay for with these weightlifting chains.
| | |
| --- | --- |
| ✅ PROS | ❌ CONS |
| Made in the USA with American steel | Relatively short length |
| Most durable lifting chains on the market | |
| Zinc-coating for eliminating rust | |
| Comes with carabiner for hooking up to barbells | |

---
Bells of Steel Weightlifting Chains
⭐ Best budget-friendly lifting chains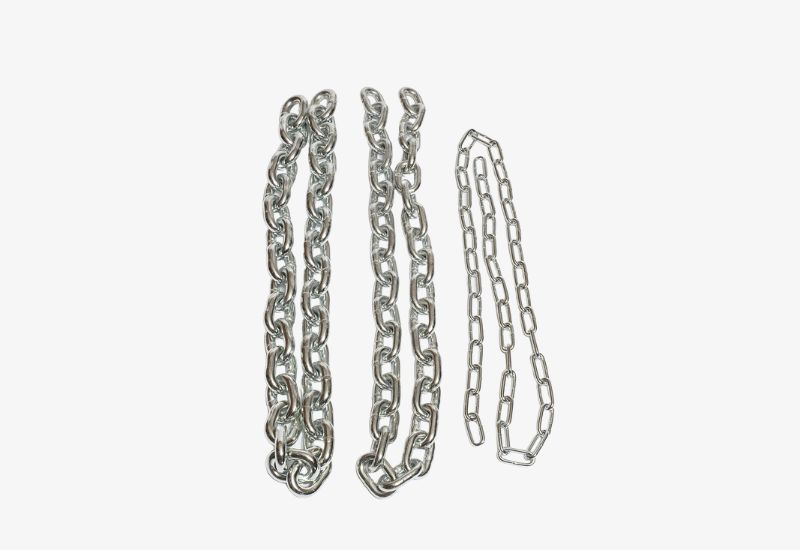 Bells of Steel makes killer stuff for serious and recreational lifters. From their medicine wall balls to deadlift pads, Bells of Steel kicks butt (I'm a little biased too—founder Kaevon and I worked together back in the day).
In terms of versatility, quality, and options, Bells of Steel's chains take the top prize.
Coated with zinc, these weightlifting chains are available in a wide variety of weights, from the Starter Set (2x 28lbs) to the monster-sized chains (107lbs), they cost between $80 and $400 depending on the size and weight (check Bells of Steel's website for current stock and pricing).
In sum: Quality gear made by people I trust. Giddyup.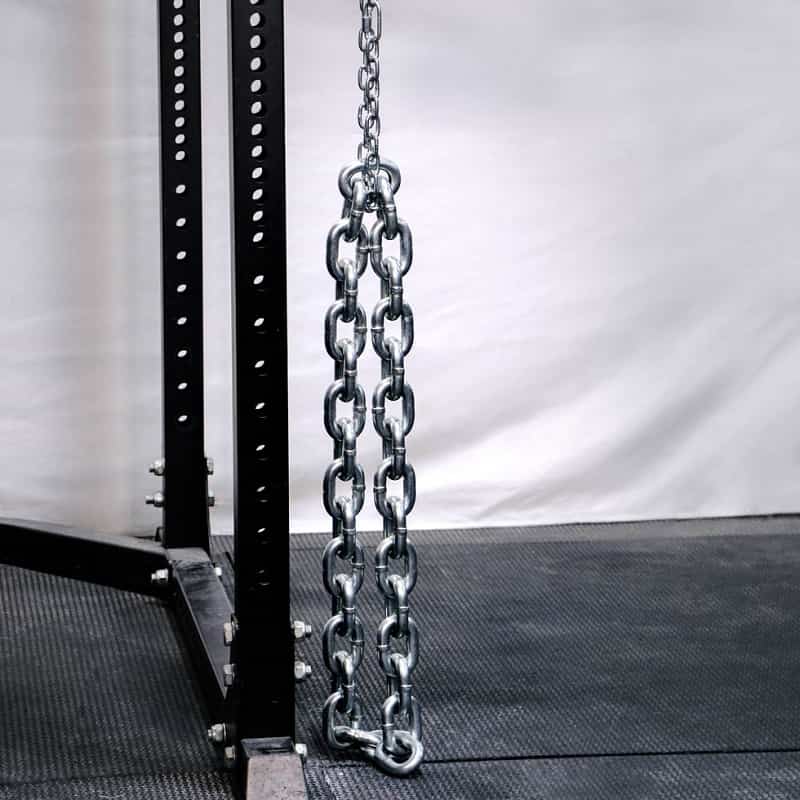 | | |
| --- | --- |
| ✅ PROS | ❌ CONS |
| Priced super competitively | Lighter chains are frequently out of stock |
| Heavy-duty options available | |
| Zinc-plated | |
| Available as sets or pairs | |

---
Titan Fitness Lifting Chains
⭐ Best extra-long weight lifting chains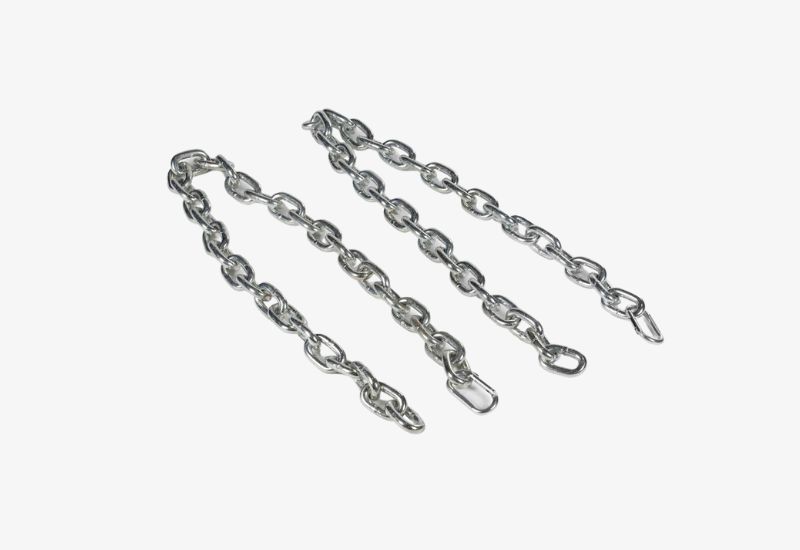 Looking for some added length with your lifting chains? A longer chain provides even more variable resistance and is a better option for taller lifters who use longer ranges of motion.
The Titan Fitness lifting chain is a longer chain (6ft long) and thick (5/8") making it the perfect lifting chain for larger and taller lifters.
The chains come as a set (two chains), with each chain weighing 21lbs, and a set of carabiners.
Titan Fitness prices their lifting equipment reasonably—the last time I checked, these chains were under $100, making them the best lifting chains for the taller user looking to add some serious acceleration and power to their big lifts.
| | |
| --- | --- |
| ✅ PROS | ❌ CONS |
| Budget-friendly | Fewer weight options |
| Longer length ideal for taller users | |
| Includes carabiners | |
| High-quality finish to reduce rusting | |

---
HappyBuy Weightlifting Chains
⭐ Best lifting chains on Amazon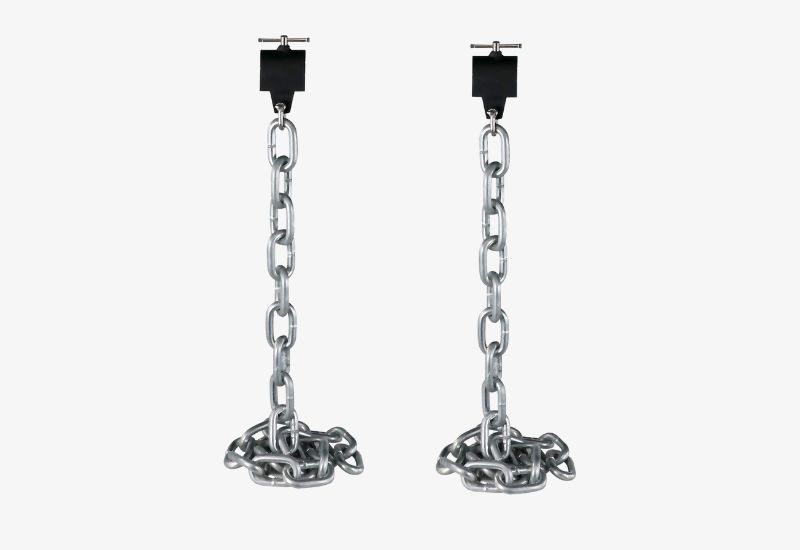 HappyBuy is one of the budget-friendly gym equipment companies on Amazon. They make some quality stuff, including some of my favorite weightlifting drop pads.
Coated with zinc, their heavy-duty weightlifting chains are made of steel and are about five feet in length. Collars make attaching the chains to the barbell easy.
The HappyBuy chains are also available in a range of weight, from 26-44lbs per chain. The chains come in a pair, and each chain can further be split in two with a spring snap hook in the middle of the chains.
HappyBuy retails these chains for just under $100 (check Amazon for current pricing and availability).

---
Logest Weight Lifting Chains with Collar
⭐ Runner-up for best lifting chains on Amazon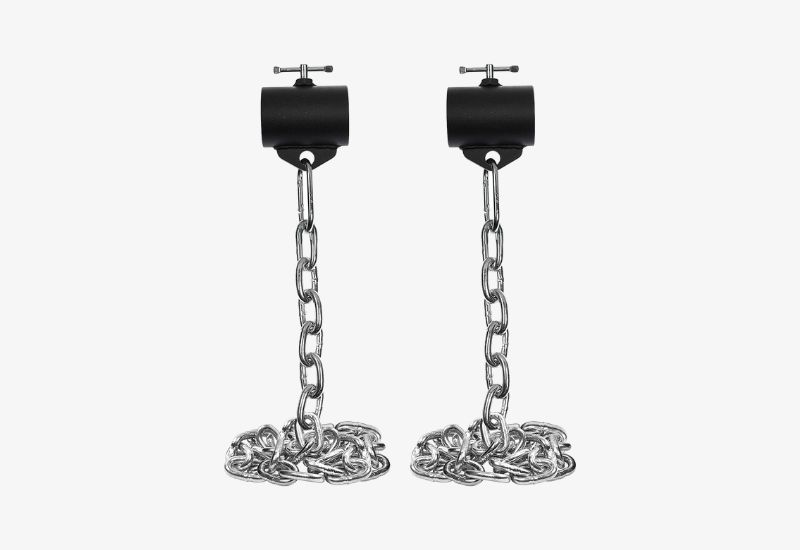 Chains are about as simple a product as you are going to find. The construction of them doesn't vary much, with almost all of them zinc-plated steel.
The Logest Fitness Steel Chains provide a slight deviation with a polished black zinc coating that looks pretty badass.
Besides that, you get the same bells and whistles as the other chains on this list, including collars with tightening pins, a length of about 5 feet, and alloy steel construction.
Cost-wise, these chains are on the budget-friendly side, costing $80 for a pair of 35lb chains (check Amazon for current pricing and availability). Logest offers these chains in 15lb, 25lb, 35lb, and even a 45lb weight, making them a solid choice for lifters of all levels of ability.
The main downside of these lifting chains, like a lot of strength training equipment these days, is that they are frequently sold out, so get your hands on them if you can.
| | |
| --- | --- |
| ✅ PROS | ❌ CONS |
| Four weight options | Frequently sold out on Amazon |
| Collars with locking pins included | |
| Budget-friendly pricing | |
| Easy to set up | |

---
How do I choose the right weight when selecting lifting chains?
Using the proper amount of resistance when lifting weights is always crucial, and nowhere is this more important than when incorporating lifting chains into your lifts.
Aim for a chain weight of no more than 25% of your 1RM for a particular lift. For example, if your 1RM on bench press is 315lb, you'd want to add no more than 78lbs in chain weight.
For most lifters, 15-20% is the sweet spot, light enough at the beginning of the lift to build acceleration into the end range of motion, where resistance is the hardest.
How do I add weight lifting chains to my workout?
The primary benefits of lifting chains are improving bar velocity and bar stability. Keep these two goals in mind when adding chains to your training regimen.
Which means:
Start light.
If you're new to chains, start light. The beginning of every chained lift feels easier—it's when you get to the peak range where things get really difficult, so start light to get a sense of how the chains affect your technique and strength.
Also, chains are not supposed to be used above and beyond your max weight on the bar. Start with half your 1MR and make sure that bar velocity is high.
Use them on deload weeks and technique days.
On weeks where I am deloading, or even on specific technique training sessions, I will use lifting chains to help dial in my technique.
Chains are also excellent for developing all of those little stabilizer muscles in your joints that steady the barbell. Similar to heavy resistance bands, chains alter the means of resistance subtly but noticeably, forcing your muscles to steady the barbell.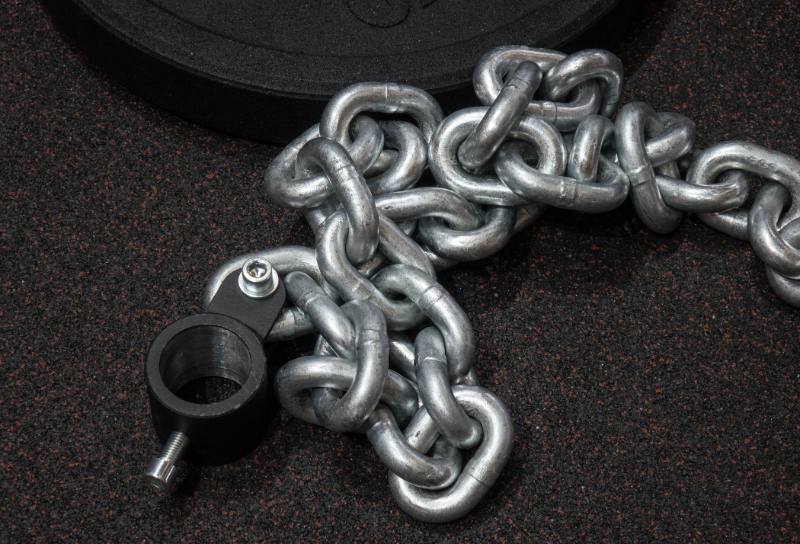 Aim for speed, not brute strength.
One of the key indicators of strength in the gym is the ability to move the bar (i.e. "bar velocity").
Chains are an excellent tool for training this part of your lifts. Focus on driving through the increasing resistance with increased velocity.
This will carry over well to unchained lifts, helping you complete the range of motion like a boss.
Stack the chains on the floor to start.
When setting up chains, you want as many of the links at rest at the beginning of the lift. Use a chain connector to dangle the chains as low as possible to the ground.
The Final Rep
Weight lifting chains are one of my favorite tools for mixing things up in the gym and developing faster, stronger trainees.
By providing variable resistance, teaching you to truly stabilize the bar, and training a faster bar movement, lifting chains can help you get closer to your training goals, whether you're a beginner or a seasoned lifting pro.
To recap the best weight lifting chains for crushing PRs:
The Rogue Chain Set leads the pack with a made-in-the-USA steel construction, multiple chain lengths, and an optional chain sheath. A little pricier than the other options, but Rogue's stuff is built to last.
Bells of Steel's line of weight lifting chains are my top budget-friendly option. They are also available in a huge range of lengths and thicknesses and were designed by competitive powerlifters.
Choose the right lifting chains that match your lifting goals, power up your bar velocity, and kick those PR's right where the sun don't shine!
---
More Weightlifting Guides
5 Best Mouth Guards for Weightlifting. The right mouthguard will help you lift more, protect your teeth, and help you breathe like a champ. Here's a breakdown of the best mouthguards for lifting weights.